ELEGANCE, FINESSE AND RICHNESS AT HIGHEST LEVEL!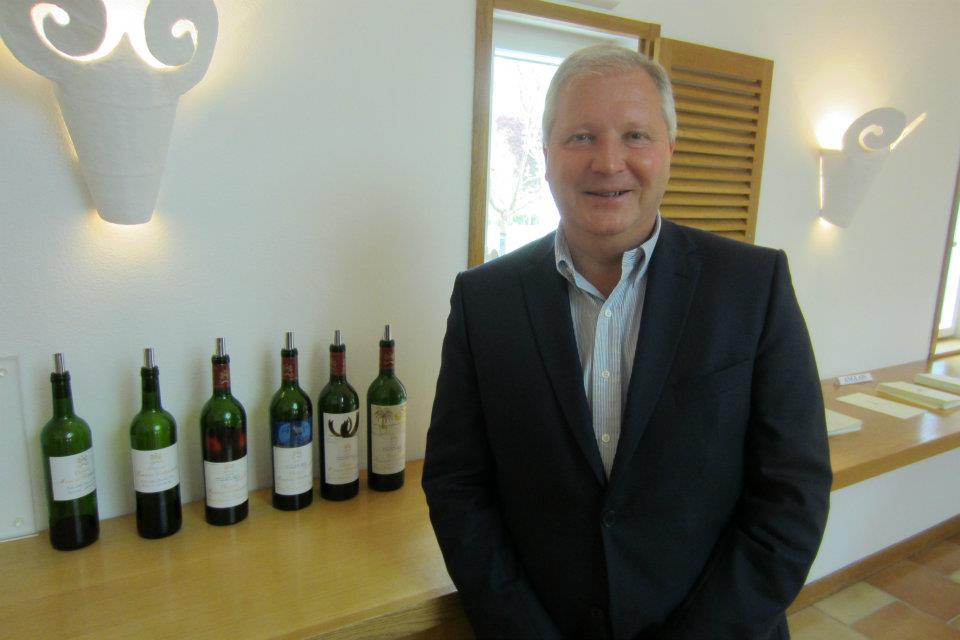 Philippe Dhalluin, managing directeur of Mouton Rothschild. April 2012
Chateau Mouton Rothschild is one of Bordeaux 5 First Growths and it's situated in the outskirts of Pauillac village. This property covers app. 75 ha of vines planted with 77% Cabernet Sauvignon, 12% Merlot, 9% Cabernet Franc and 2% Petit Verdot. However, this is not always the exact composition of grape varietes in Grand Vin, as it depends on the vintage. For instance, 2011 vintage's varietal mix is 90% Cabernet Sauvignon, 7% Merlot and 3% Cabernet Franc. Average age of vines here is around 50 years.
Mouton Rothschild is maybe the less concentrated of all First Growths, but compensates for it with extreme elegance and finesse, richness, complexity, sophisticated touch and strong yet finely composed structure. This wine is destined for long live and may be a little light-footed when young, but comes strongly back after 10 years and all the exceptional goodies are being released.
Mouton Rothschild's second wine is Le Petit Mouton de Mouton Rothschild, a very well made wine. Owners of Mouton Rothschild produce two other wines of very fine quality for the money - d'Armailhac and Clerc Milon. White wine, Aile d'Argent is also produced here and this is a splendid one.
-----
2015 MOUTON ROTHSCHILD (barrel sample) 97+p
Tasted in April 2016. It was refined, sophisticated, rich, excellent complexity and structure, great acidity and powerful finish. Immensly complete wine.
2014 MOUTON ROTHSCHILD (barrel sample) 96+p
Tasted twice - last time in June 2015. Consistent notes. Classic and stylish wine with stunning elegance and finesse, velvety inside with silky fruit and tannin, seamless structure and very long aftertaste. Sofisticated and refined. Cabernet Sauvignon at its very best. Imho, this is probably the best 1.Cru wine in 2014 vintage!
2013 MOUTON ROTHSCHILD (barrel sample) 93p
Tasted in March 2014. It had delicate nose of blackcurrants and raspberries, finesse and elegance, splendid structure and finish. Very fine effort for the vintage.
2012 MOUTON ROTHSCHILD 95p
Tasted twice - last time in November 2015. Consistent notes. From barrel, ths wine had black cherries/blueberries all over, velvety fruit and tannin, very complex nose and smooth silky finish. Fine midpalate. Lighter than usual but with striking elegance and finesse. In November 2015, it seduced the audience with very sophisticated nose of dark chocolate, pure elegance and finesse, remarkable complexity and as so impressive length. Among top wines of the vintage.
2011 MOUTON ROTHSCHILD 96+p
Tasted three times - last time in November 2014. Consistent notes. This wine displayed sublime touch, lot of elegance and finesse, silky cherry fruit and silky tannin combined with very impressive structure and finish. Stunning ripeness. On the nose is so captivating, intense and deep. Immense class. Low yield in 2011 - only 30 hl/ha.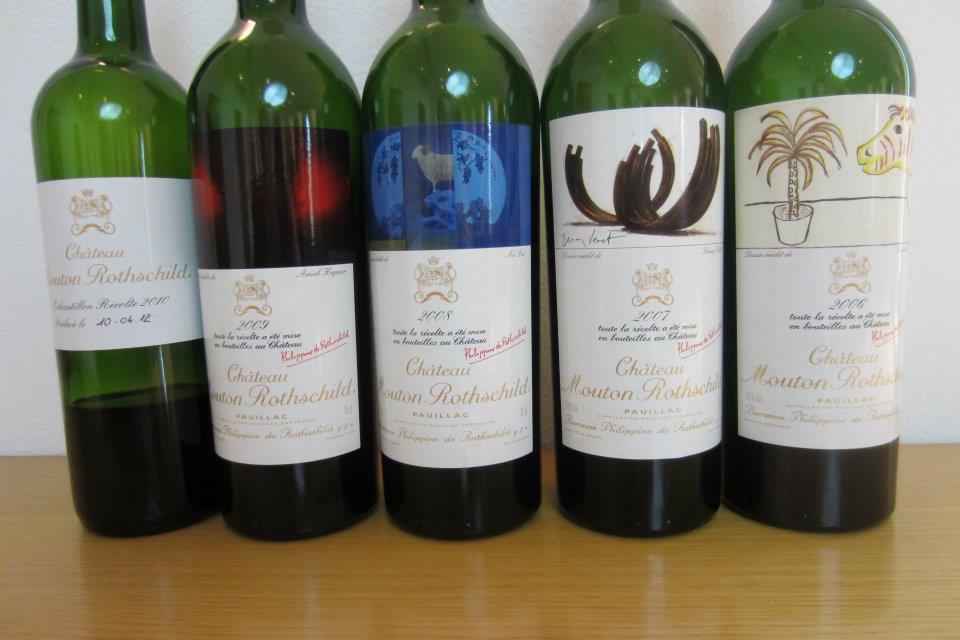 2010 (barrel sample), 2009, 2008, 2007 and 2006 ready to be tasted
2010 MOUTON ROTHSCHILD (barrel sample) 98-100p
Tasted twice - last time in April 2012. Consistent notes. Sophisticated and refined all the way, great richness, complexity and elegance, extremely long finish. Simply wonderful.
2009 MOUTON ROTHSCHILD 100p
Tasted three times - last time in January 2017. Consistent notes. Extremely refined and sophisticated, decadent and rich. Fantastic experience and pure enjoyment!
2008 MOUTON ROTHSCHILD 95p
Tasted twice - last time in April 2012. Consistent notes. Excellent nose of blackcurrant and cigar box, very long on the palate with minerality, strong backbone and persistent aftertaste. Return to classic Pauillac after flamboyant 2009 and 2010. Not in full blossom yet - have patience.
2007 MOUTON ROTHSCHILD 93p
Tasted in April 2012. Captivating nose of black cherries, round, surprisingly ripe fruit for the vintage, excellent structure, length and smooth finish. Lacks a bit of richness and depth, but this is a great effort for the vintage.
2006 MOUTON ROTHSCHILD 94p
Tasted in April 2012. Fleshy on the palate, spicy fruit, rich and powerful. Lot of stuffing but unevolved one. Needs time to soften and become approachable.
2005 MOUTON ROTHSCHILD 98p
Tasted three times - last time in November 2015. In May 2008 when tasted blind, against Lafite 2005, Latour 2005 and several wines from Italy and Chile - so-called Berlin tasting, was impressive. Black red coloured wine, dusty blackcurrants on the nose and palate, very sophisticated, fabulous length and wonderful balance. Elegant, not especially concentrated but incredibly well-knitted. My initial impression was 100% Bordeaux because of this wine's elegance and complexity and my guess was Lafite 2005. It turned out to be Mouton Rothschild 2005 and I was really impressed, because it tasted much better than out of barrel in April 2006. In November 2015 it was a wonderful experience with grated chocolate and cocoa on the nose, perfectly ripe grapes, sophisticated and sublime wine. Best appearence yet imho.
2001 MOUTON ROTHSCHILD 96p
Tasted in April 2009. Fabulously aromatic nose of blackcurrants and cherries, stunning structure, richness and length. Utterly impressive stuff.
2000 MOUTON ROTHSCHILD 100p
Tasted twice - last time in March 2010. Consistent notes. Still a baby! Enormous intensity, depth, length and concentration. Unbelieveable effort!
1999 MOUTON ROTHSCHILD 92p
Tasted in June 2015 during lunch at BPDR booth in Vinexpo. Shows its age with truffles, great elegance and finesse, well-balanced with very slight dry tones on the finish. Splendid wine-work.
1988 MOUTON ROTHSCHILD 94p
Tasted in May 1993. Deep and intense on the nose, refined with finesse. Well-balanced, well-constructed and complex with very long finish. Impresive stuff with many years to improve even further.
1985 MOUTON ROTHSCHILD 98p
Tasted three times - last time in November 2015. Consistent notes.
1982 MOUTON ROTHSCHILD 98-100p
Tasted twice - last time in October 1994. Consistent notes. Fantastic nose of perfectly ripe fruit with grace and depth. Heaven on the palate with perfect integration of fruit and tannin, strong structure, richness, exceptional purity, depth and length. Wow. I guess this wine will easily keep until 2040!
1949 MOUTON ROTHSCHILD 97p
Tasted in December 1990 from half bottle. Truffles, spicy blackcurrants, velvety structure, alive, extremely elegant and finesseful. Great complexity and length. Fabulous stuff.
1929 MOUTON ROTHSCHILD 98p
Tasted in March 2009 during dinner at Domaine de Chevalier. Truffles on the nose and palate, chocolate powder, awesome structure and balance, very elegant and sophisticated. Great bottle - still very much vivid and very much alive!