A POMEROL WINE OF VERY HIGH QUALITY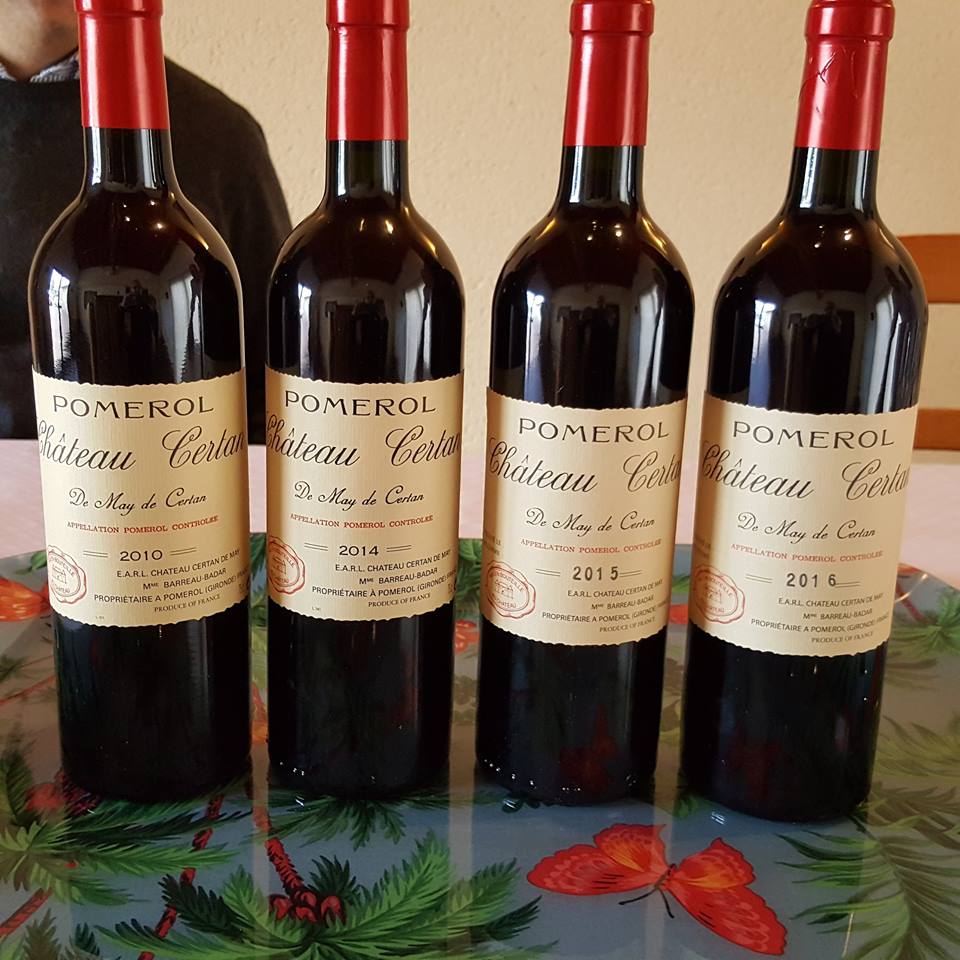 Château Certan de May (this property's full name is Certan de May de Certan) is situated in the middle of the so-called "Le Plateau Argileux", a 900 m wide and circle-shaped high-plateau with large content of clay and iron oxide in the subsoil, right next to Vieux Château Certan, Hosanna and Petrus a bit away down the road. This is the best part of Pomerol and here you find all the best vineyards!
The vineyard here is only 5 hectares of vines and is planted with 70% Merlot, 25% Cabernet Franc and 5% Cabernet Sauvignon. The average age of vines is 35 years and the yield per hectare is not exceeding 31 hl. The wine ferments and macerates in stainless-steel vats for 4-5 weeks and is kept in 30-50% new oak for a period of 16-18 months.
My first encounter with Certan de May was in 1987, when with help of wife of Jean-Pierre Estager (La Cabanne), a good friend of the owner of Certan de May (Mme Odette Barreau-Badar), I was granted access to this property. At that time it wasn't easy to visit Certan de May, you had to have good connections.
Mme Odette Barreau-Badar wanted to take care of her children, so she asked Bruno Prats from neighboring Petit Village to take care of harvest and vinification at Certan de May between 1968 and 1974. He accepted. Her son, Jean Luc Barreau, joined her mother in winemaking duties in 1975. Both are responsible for the fantastic effort in 1982 vintage. Jean-Luc Barreau has been fully in charge of running the property since 1998.
As the title of my profile implies, this property is highly regarded one in Pomerol. The wine from this property is very much a traditional styled one with some small inputs of modern techniques. Still, it's 100% true Pomerol, which reflects in a remarkable way the excellent soil conditions of the property. Power, strong structure, great complexity and truffles. 2016, 2015 and 2010 are the best vintages made since the otherworldy 1982.
-----
Certan de May 2016 (barrel sample) 95-96p
Tasted in April 2017. 65% Merlot, 31% CF and 5% CS. Very pretty and aromatic nose of blueberries and wild cherries, compact and tight, dense, very complex, silky tannin and long finish. Very impressive.
Certan de May 2015 (barrel sample) 95-96p
Tasted twice - last time in April 2017. Consistent notes. 70% Merlot, 25% CF and 5% CS. Delicious stuff, so silky, refined and complex, lively and really well-constructed, almost seamless, great length. Every bit as excellent as 2016!
Certan de May 2014 94+p
Tasted twice- last time in April 2017. 80% Merlot and 20% CF. Consistent notes. Captivating nose of black cherries and blueberries, splendid acidity, strong structure and great length. Very classic Pomerol, beautifully reflecting its soil.
Certan de May 2012 92p
Tasted in April 2013. This wine had very ripe fruit, nice structure and strong backbone. Fine effort.
Certan de May 2011 93p
Tasted in April 2013. This wine was more aromatic on the nose, tighter and longer on the palate and with better structure than 2012 vintage.
Certan de May 2010 95+p
Tasted three times - last time in April 2017. Consistent notes. 85% Merlot +15% CF. This wine's really blossomed since I tasted it 1.5 years ago. It had stunning nose of red berries, remarkably big intensity on the palate, strong backbone, long persistent aftertaste. As impressive as 2016 and 2015, but both are silkier in texture than 2010.
Certan de May 2009 (barrel sample) 95p
Tasted twice - last time in March 2011. Consistent notes. It had lots of ripe black fruit + cocoa, fleshy, very complex, great balance and great finish. Delightful experience.
Certan de May 2008 94p
Tasted twice - last time in March 2011. Consistent notes. This wine oozed of truffles, fine aroma of black cherries and fine complexity/length. Will keep a long time. Very seductive and stylish.
Certan de May 2000 94p
Tasted in May 2001. Dark, dense, aromatic with coffee, chocolate, blackberries and wild cherries. Complex nose, long taste with loads of ripe tannin Super wine with excellent future ahead.
Certan de May 1998 92p
Tasted in March 2001. Finesse, spicy fruit with delicious sweetness, truffles, complex and long.
Certan de May 1988 93p
Tasted in October 2017 together with Certan de May 1964 and Petit Village 1964. Same dark Pomerol style as in CdM 1964 and you can recognize the soil flavours noticed in 1964. Significant freshness here, dark chocolate, truffles, youthful tones and strong structure. Big and tightly styled. This vintage has really been successful in Pomerol.
Certan de May 1982 98p
Tasted twice - last time in July 2016. Consistent notes. First time tasted at the property in April 1996, second time tasted 20 years later in Copenhagen (bought at the property and stored in my wine-refrigerator). In April 1996 - Very dark, tight and dense. Great intensity of perfectly ripe raspberries / blackberries / blackcurrants, rare complexity and depth, lots of super concentrated fruit with sweetness, truffle, incredibly sophisticated and long. Wow - what a blast! In July 2016 - superb nose of blackberries. intense and distinguished, very powerful on palate with astonishing richness, complexity and length. 34 years old wine and only its colour can show you a bit of age. Incredibly youthful, not really big development during 20 years.There's plenty of live left in it. Fantastic stuff!
Certan de May 1979 92p
Tasted in March 2001. Elegant on the nose with finesse. Remarkable complexity, very truffy and fruity finish. A seductive and elegant wine from the property.
Certan de May 1971 94p
Tasted in January 1999. Excellent wine with lot of style and personality. Pretty, well-shaped, great complexity and stuff to keep this wine alive for next 15-20 years!
Certan de May 1964 88p
Tasted in October 2017. Better on the nose than on palate. Truffles, oily and fishy nose/palate indicating degradation of flavours. Good balance. It's a dark, traditional style of Pomerol.