GREAT VINTAGE YET AGAIN FOR BORDEAUX!!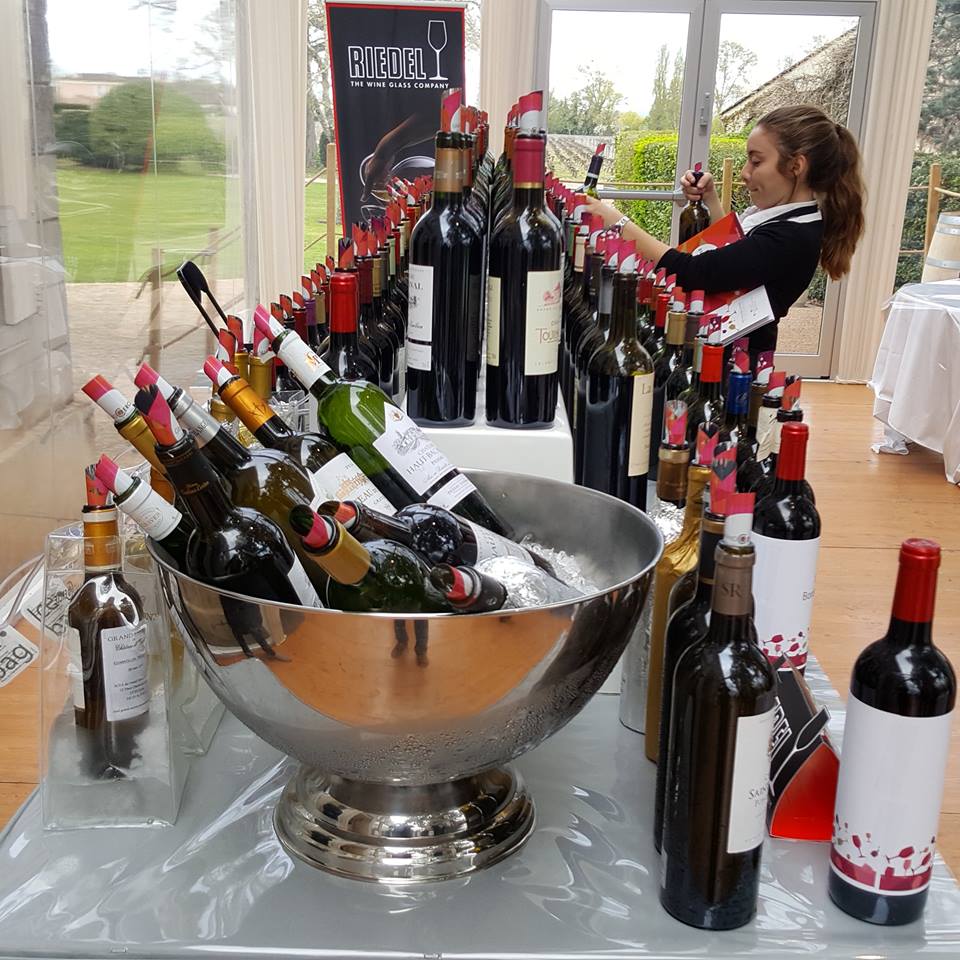 Tough job to fill in in rows with new barrel samples! - Grand Cercle at Ch. Montlabert, Saturday the 1st April 2017
Already in October last year during my usual visit in Bordeaux during harvest time and after tasting samples from vats, both before and after alcoholic fermentation, I felt the this vintage was really something special because of velvety fruit and tannin, striking sweetness of the must and incredible many nuances in taste.
App. 6 months later, in March/April 2017, and during 12 days of hard work filled with tastings, I've reached 420 tasted barrel samples, my yet highest ever amount of wines. I've felt that for the big majority of wines, my expectations were fulfilled.
After initial tastings it stood clear for me that 2016 isn't at all an exact copy of 2015, far from. The first adjectives which came to my mind were the ones like aristocratic and distinguished wines. Generally, 2016 vintage wines aren't as expressive as 2015 ones, but have in most cases lower or max. same alcohol level, more elegance and finesse, and same or even higher amount than in 2015 vintage of ripe tannin (IPT – Index Polyphenol Totale). I don't have any particular favourite district/commune.
This ripe tannin is so finely integrated with fruit, that you think you're drinking silk/velvet in many wines. There is something seductive and catchy over 2016, pure and classy style.
There are a lot of pretty wines all over Bordeaux in 2016, which will in most cases be even prettier after staying in vats/barrels/new barrels for designated time. As usual there are some overipped/overextracted/overdone wines in 2016 but they count for less than 1% of all wines. Some winemakers can't just resist to get the max. out of their wines. Funny enough, some properties went the opposite way in 2016, greatly decreasing extraction and amount of new oak, compared with heavy stuff in vintages before. More elegance and finesse in 2016. One of these properties is Pavie!
Reds are by far most successful in 2016, white dry wines are in my honest opinion below 2015 in quality, suffering a little of less acidity and Semillon not being that perfect. White sweet wines in 2016 are also lacking a bit of acidity and in my honest opinion not competitive with vintages 2013, 2014 and 2015. Still, it's very good vintage after all for these white wines.
HAUT MEDOC
Ch. Margaux
La Lagune
It's clear for me, that La Lagune is underestimated wine by wine-press. I love wines from this property, especially since 2005 vintage. During my visit at LL in the beginning of April and meeting LL's cellarmaster Maylis de Labordiere, I tasted 2016-2015-2014 vintages. I rated 2016 it 95-96p because of its stunning structure, elegance, length, balance and immensely seductive approach. This wine is 60% Merlot, 35% Merlot and 5% Petit Verdot.
2015 is special as very few journalists mentioned that there were two different cuvées to taste last year during primeur. Usual one with cepage 65% CS + 30% Merlot + 5% Petit Verdot and one with more CS from different parcels. The latter had more power, depth and acidity than the usual one. It was then.
Maylis told me in April 2017, that the final blend of 2015 was 70% C.S. + 20% Merlot +10% Petit Verdot. She preferred 2015 to 2016 for the moment. I rated 2015 last year 94p for usual blend and 94+p for CS blend, but after tasting final blend of it, I rate it the same as 2016, which means 95-96p!
Both are truly wonderful wines and I love them both!
Don't forget 2014 either - this wine had a pretty nose of black cherries, remarkable acidity, strong structure and long finish. A classic Bordeaux/La Lagune wine. Fail-free wine work.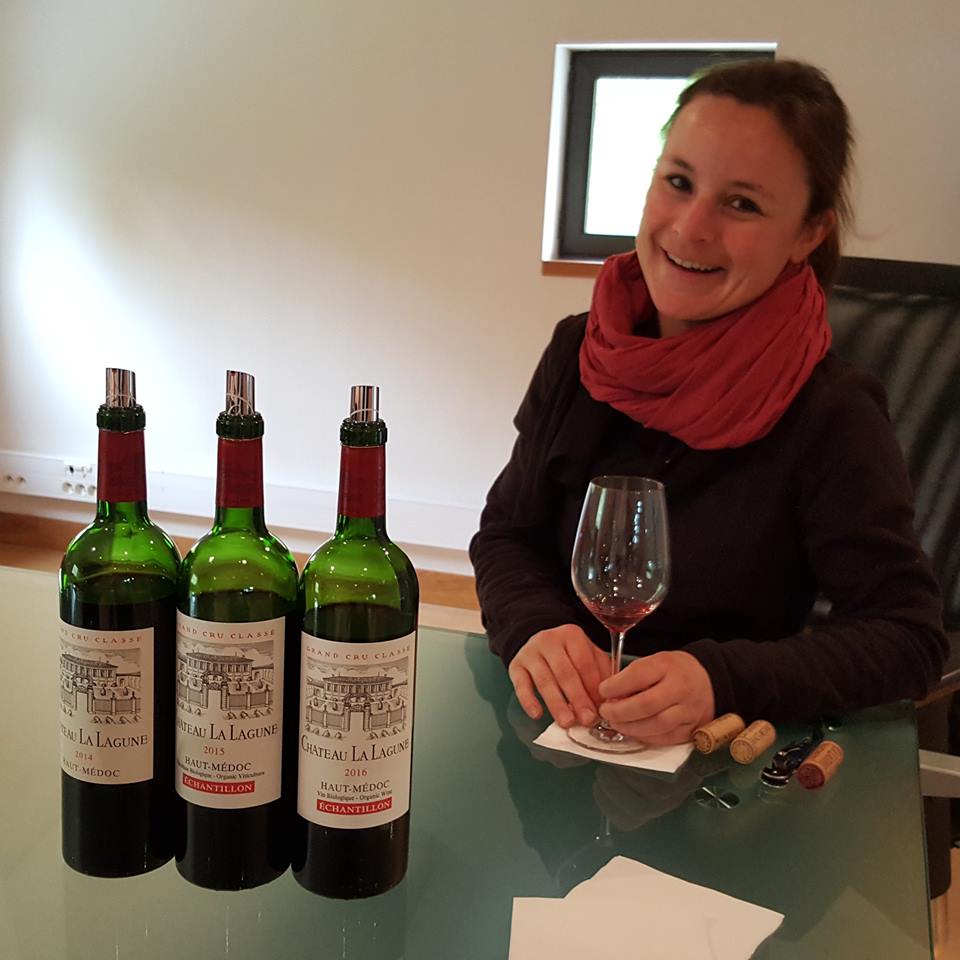 Very happy Maylis de Laborderie, La Lagune's cellarmaster - April 2017
Pichon Baron
Pichon Comtesse
Cos d'Estournel
Calon Segur
Leoville Lascases
Beychevelle
RATINGS
Sauternes & Barsac
Bastor-Lamontagne Sauternes 91p Broustet Barsac 91-92p Climens Barsac 96-97p Clos Haut-Peyraguey Sauternes 92p Coutet Barsac 93+p de Fargues Sauternes 94+p de Malle Sauternes 92p de Rayne Vigneau Sauternes 93+p Doisy-Daëne Barsac 90p Doisy-Védrines Barsac 92p Guiraud Sauternes 94+p La Tour Blanche Sauternes 94p Lafaurie-Peyraguey Sauternes 94+p Les Justices Sauternes 91p Raymond Lafon Sauternes 95p Sigalas Rabaud Sauternes 93p Suau Sauternes 92p Suduiraut Sauternes 94p Yquem Sauternes 98p
Graves & Pessac-Leognan red
Bouscaut Pessac-Léognan 90p Carbonnieux Pessac-Léognan 94p Chantegrive Graves 90p Clos Marsalette Pessac-Léognan 88p Couhins Lurton Pessac-Léognan 90p Crabitey Graves 88p Cruzeau Pessac-Léognan 88p de Fieuzal Pessac-Léognan 92p de France Pessac-Léognan 91p Domaine de Chevalier Pessac-Léognan 94-95p Domaine de la Solitude Pessac-Léognan 89p Ferrande Graves 90p Haut Bacalan Pessac-Léognan 89p Haut Bailly 97p Haut-Bergey Pessac-Léognan 91p Haut-Brion Pessac-Léognan 97-99p Haut Selve Graves 88p La Chapelle de La Mission Haut-Brion Pessac-Léognan 92p La Clarence de Haut Brion Pessac-Léognan 91-92p La Louvière Pessac-Léognan 88p La Mission Haut-Brion Pessac-Léognan 97p La Parde de Haut Bailly 91p Larrivet Haut-Brion Pessac-Léognan 89-90p Latour-Martillac Pessac-Léognan 89-90p Le Pape Pessac-Léognan 90p Le Sartre Pessac-Léognan 88 L'Esprit de Chevalier 90p Les Carmes Haut-Brion Pessac-Léognan 96+p Le C de Carmes Pessac-Léognan 91-92p Lespault Martillac Pessac-Léognan 90p Malartic Lagravière Pessac-Léognan 95p Olivier Pessac-Léognan 92p Pape Clément Pessac-Léognan 96p Picque-Caillou Pessac-Léognan 89-90p Rahoul Graves 90p Respide Medeville 90p Roquetaillade La Grange Graves 89p Seguin Pessac-Léognan 94+p Smith Haut Lafitte Pessac-Léognan 95p
Graves & Pessac-Leognan white
Bouscaut blanc Pessac-Léognan 90p Carbonnieux blanc Pessac-Léognan 92-93p Chantegrive blanc (Cuvée Caroline) Graves 88p Clos Floridene Graves white 88p Clos Marsalette white Pessac-Léognan 88p Couhins Lurton white Pessac-Léognan 89p Crabitey white Graves 88p Cruzeau white Pessac-Léognan 88-89p de Fieuzal blanc Pessac-Léognan 90p de France white Pessac-Léognan 90p Domaine de Chevalier blanc Pessac-Léognan 95-96p Domaine de la Solitude white Pessac-Léognan 89p Ferrande blanc Graves 89p Haut-Bergey white Pessac-Léognan 89p Haut-Brion white Pessac-Léognan 97p La Clarté de Haut-Brion (white) Pessac-Léognan 92p La Louvière white Pessac-Léognan 90p La Mission Haut-Brion white Pessac-Léognan 95p Larrivet Haut-Brion white Pessac-Léognan 90p Latour-Martillac white Pessac-Léognan 89-90p Le Sartre white Pessac-Léognan 88p L'Esprit de Chevalier Pessac-Léognan white 91p Lespault Martillac white Pessac-Léognan 92p Malartic Lagravière white Pessac-Léognan 95p Olivier white Pessac-Léognan 90p Pape Clément white Pessac-Léognan 90p Picque-Caillou white Pessac-Léognan 90p Rahoul white Graves 89p Respide Medeville white Graves 90p Rochemorin white Pessac-Léognan 88p Smith Haut Lafitte blanc Pessac-Léognan 94p
Bordeaux, Bordeaux Superieur, Blaye Cotes de Bordeaux, Cadillac Cotes de Bordeaux, Castillon Cotes de Bordeaux, Cotes de Bourg and Francs Cotes de Bordeaux
20 Mille Bordeaux Supérieur 91-92p Acte 8 G de Guinaudeau Bordeaux Superieur 91p d'Aiguilhe Castillon Cotes de Bordeaux 88p d'Aiguilhe white Bordeaux 88p Aile d'Argent blanc Bordeaux 92p Alcée Castillon Côtes de Bordeaux 91p Ampelia Castillon Côtes de Bordeaux 90p Bad Boy Bordeaux Clarendelle Bordeaux 88p Clos des Lunes Lunes Blanche Bordeaux 88p Clos des Lunes Lunes d'Argent Bordeaux 89p Clos des Lunes Lunes d'Or Bordeaux 90-91p Clos Lunelles Castillon Côtes de Bordeaux 91 Cos d'Estournel white Bordeaux 92p Cote Montpezat Castillon Côtes de Bordeaux 91p Croix-Mouton Bordeaux Supérieur 90-91pp de Francs Francs Côtes de Bordeaux 90p de Reignac Bordeaux Superieur 89p Domaine des Cambes Bordeaux 89p Domaine Virginie Thunevin Bordeaux 90p Girolate Bordeaux 87 Grand Village Bordeaux Supérieur 92p Grand Village blanc Bordeaux 91-92p Haut Bertinerie Blaye Cotes de Bordeaux 90p La Prade Francs Côtes de Bordeaux 90-91p L'Aurage Castillon Côtes de Bordeaux 90p Laussac Castillon Côtes de Bordeaux 89p Laussac, Cuvée Sascha Castillon Côtes de Bordeaux 89p Le Nardian (white) Bordeaux 91-92p L'Esprit de Pavie Bordeaux 90-91p Le Pin Beausoleil Bordeaux Superieur 88p Les Champs Libres (white) Bordeaux 92p Les Charmes Godard white Francs Côtes de Bordeaux 91-92p Monbousquet white Bordeaux 90p Montlandrie Castillon Côtes de Bordeaux 90p Mont Perat Bordeaux 88p Pavillon Blanc de Margaux Bordeaux 93p Puy Arnaud Castillon Cotes de Bordeaux 90p Puygueraud Francs Côtes de Bordeaux 91p Puygueraud blanc Francs Côtes de Bordeaux 92p Roc de Cambes Côtes de Bourg 93p Suduiraut blanc dry Bordeaux 91p Tour de Mirambeau Cuvée Passion Bordeaux 89p Veyry Castillon Cotes de Bordeaux 90p Virginie Thunevin Bordeaux 90p
Médoc/Haut Médoc
D'Agassac Haut Médoc 87p D'Arcins Haut Médoc 87p Beaumont Haut Médoc 89p Belgrave Haut Médoc 89-90p Camensac Haut Médoc 89-90p Cantemerle Haut Médoc 90p La Chapelle de Potensac Médoc 87p Citran Haut Médoc 90p Coufran Haut Médoc 91-92p Goulée Medóc 91p de Lamarque Haut Médoc 90-91p La Lagune Haut Médoc 95-96p Malescasse Haut Médoc 88p La Tour Carnet Haut Médoc 90-91p La Tour de By Médoc 88p Potensac Haut Médoc 90p
Listrac & Moulis
Chasse Spleen Moulis 90p Clarke Listrac 88-89p Fonréaud Listrac 89p Fourcas Dupré Listrac 88p Fourcas Hosten Listrac 88p Maucaillou Moulis 91p Poujeaux Moulis 91p
Margaux
Alter Ego 93p Brane-Cantenac 95p Cantenac Brown 95p d'Angludet 89p Clos Margalaine 90p Dauzac 92-93p Desmirail 93p Dufort Vivens 92-93p des Eyrins 91p du Tertre 91-92p Ferrière 92p Giscours 94-95p Kirwan 92-93p Labégorce 92p Lascombes 93-94p Malescot Saint-Exupéry 94-95p Ch. Margaux 97p Marojalia 90p Marquis d'Alesme 94+p Marquis de Terme 92-93p Monbrison 92p Palmer 96p Pavillon Rouge de Margaux 93p Prieuré-Lichine 91p Rauzan Gassies 92-93p Rauzan-Ségla 93-94p Siran 91p
Saint-Julien
Amiral de Beychevelle 90p Beychevelle 95+p Branaire Ducru 92p Clos de Marquis 93p Gloria 92-93p Gruaud Larose 92+p La Petite Marquise 91p Lagrange 92-93p Langoa Barton 93p Le Petit Lion 92p Léoville Barton 94-95p Leoville Las Cases 98+p Léoville Poyferré 95+p Moulin Riche 91p Pavillon de Leoville Poyferre 90p Saint-Pierre 93-94p Talbot 93+p
Pauillac
Batailley 93p Carruades de Lafite 92p Clerc Milon 93p Croizet-Bages 91-92p d'Armailhac 93p Duhart-Milon 92-93p Fonbadet 88p Grand-Puy Ducasse 93p Haut-Bages Libéral 93p Lafite Rothschild 98-99p Latour 98-100p Le Petit Mouton de Mouton-Rothschild 91-92p Les Forts de Latour 93p Les Griffons de Pichon Baron 91+p Les Tourelles de Longueville 91p Lynch-Bages 93p Lynch-Moussas 92-93p Mouton-Rothschild 99-100p Pauillac de Latour 91p Pibran 92p Pichon Baron 97+p Pichon Comtesse 98+ Pontet-Canet 95-96p Reserve de La Comtesse 91p
Saint-Estephe
Calon-Ségur 96p Capbern 91-92p Cos d'Estournel 97p Cos Labory 93p de Pez 92-93p La Dame de Montrose 92p Lafon-Rochet 92p Le Crock 91p Le Marquis de Calon 91p Les Ormes de Pez 91-92p Montrose 98p Pagodes de Cos 91-92p Phélan Ségur 92p Tronquoy-Lalande 91p
Canon-Fronsac/Fronsac
Dalem Fronsac 89-90p de La Riviere Fronsac 91p Fontenil Fronsac 91p Gaby Canon-Fronsac 89p Haut Carles Fronsac 91-92p La Dauphine Fronsac 91p Les Troix Croix Fronsac 92p Moulin Haut Laroque Fronsac 91-92p Moulin Pey Labrie Canon Fronsac 91-92p Villars Fronsac 89p
Lalande de Pomerol
de Chambrun 90-91p de Viaud 88p Domaine de Gachet 90p Domaine des Sabines 91p Grand Ormeau 90-91p La Chenade 91-92p La Gravière 90p La Sergue 88p L'Ambroisie du Chateau La Croix des Moines 91-92p Les Cruzelles 92p Perron La Fleur 90p Plaisir de Siaurac 86p St.Jean de Lavaud 89p Siaurac 89p Tournefeuille 88p
Pomerol
Beauregard 92p Beau Soleil 88-89p Bellegrave 89p Belle Brise 94+p Bonalgue 90-91p Bourgneuf 94+p Cantelauze 94-95p Certan de May 95-96p Clinet 96 Clos de la Vieille Eglise 92p Clos du Clocher 89p Clos Vieux Taillefer 88-89p Domaine de Compostelle 87p Feytit Clinet 90p Fugue de Nenin 88p Gazin 90p Haut Maillet 92p La Cabanne 95+p La Clemence 92p La Commanderie 92p La Conseillante 96-97p La Croix de Gay 92p La Croix Saint-Georges 95p La Fleur de Gay 91p La Petite Eglise 92p La Pointe 92p La Rose Figeac 88p La Violette 94-95p Lafleur 98-100p Le Bon Pasteur 92p Le Clos du Beau-Père 90p Lecuyer 91p Le Gay 94-95p Le Jardin de Petit Village 89p Le Pin 98-99p L'Eglise-Clinet 98-99p L'Enclos 91p Les Pensées de Lafleur 93p Manoir de Gay 91p Mazeyres 90p Montviel 90p Nenin 92p Petit-Village 96+p Petrus 98+p Rouget 90p Sácre Coeur 93p Taillefer 89p Vieux Château Certan 97-98p Vieux Maillet 89p Vray Croix de Gay 90p
Montagne Saint-Emilion/Puisseguin Saint-Emilion/St. Georges Saint-Emilion
Calon St.Georges-Saint-Emilion 91p Cap St.George St.Georges-Saint-Emilion 93p La Papeterie Montagne Saint-Emilion 90p Soleil Puisseguin Saint Emilion 89p
Saint-Emilion
Amélisse/Saintayme 90-91p Angelique de Monbousquet 89p Aromes de Pavie 89p Ausone 98-99p Balestard La Tonnelle 90p Beausejour Duffau 95p Bel-Air Ouy 91-92p Bellevue Mondotte 97+p Bellefont Belcier 92p Berliquet 91p Canon 97+p Canon La Gaffelière 92p Cap de Faugeres 91p Cap de Mourlin 91p Cheval Blanc 97-99p Clos Badon Thunevin 92p Clos Dubreil 89p Clos de L'Oratoire 89p Clos des Prince 89p Clos de Sarpe 91p Clos Fourtet 93-94p Clos La Madeleine 92p Clos St. Martin 92+p Corbin 94p Corbin Michotte 94p Cote de Baleau 92p Croix Canon 90-91p Dassault 91 de Fonbel 91p Destieux 91-92p Domaine des Gourdins 89p Faugeres 90p Figeac 97+p Fleur Cardinale 95p Fombrauge 91-92p Fonbel 90p Fonplegade 91-92p Fonroque 91-92p Franc-Mayne 93p Grand Barrail Lamarzelle Figeac 89-90p Grand Corbin Despagne 91-92p Grand Mayne 91-92p Grand Pontet 92p Grandes Murailles 92p Harmonie 91-92p Haut Simard 90p La Chapelle d'Ausone 91-92p La Clotte 90p La Confession 94-95p La Couspade 92-93p La Croizille 91p La Dominique 92p La Mondotte 95+p La Tour Figeac 91-92p Laforge 91-92p Larcis Ducasse 94p Larmande 92-93 Laroze 89p Le Carre 88p Le Dôme 96+p Le Dragon de Quintus 89p Le Pontet Labrie 92p Le Prieure 89p Les Asteries 92+p L'If 94-95p L'Interdite de Valandraud 92p Lynsolence 89p Magnan La Gaffeliere 89p Magrez Fombrauge 93+p Mangot 91-92p Mangot Todeschini 92p Monbousquet 92p Montlabert 90p Moulin du Cadet 92p Moulin Saint-Georges 91p Pavie 98p Pavie Decesse 97p Pavie-Macquin 97p Peby Faugeres 90p Petit Cheval 91-92p Quinault L'Enclos 89p Quintus 92-93p Sansonnet 92p Simard 88p Soutard 93p Tertre Roteboeuf 98p Teyssier 91p Tour Baladoz 91+p Tour St. Christophe 91p Troplong Mondot 96-97p Trottevieille 94-95p Valandraud 97p Vieux Chateau Mazerat 95+p Villemaurine 89p Virginie de Valandraud 92 Yon Figeac 89-90p
TO BE CONTINUED.....