FABULOUS VINTAGE YET AGAIN FOR BORDEAUX!!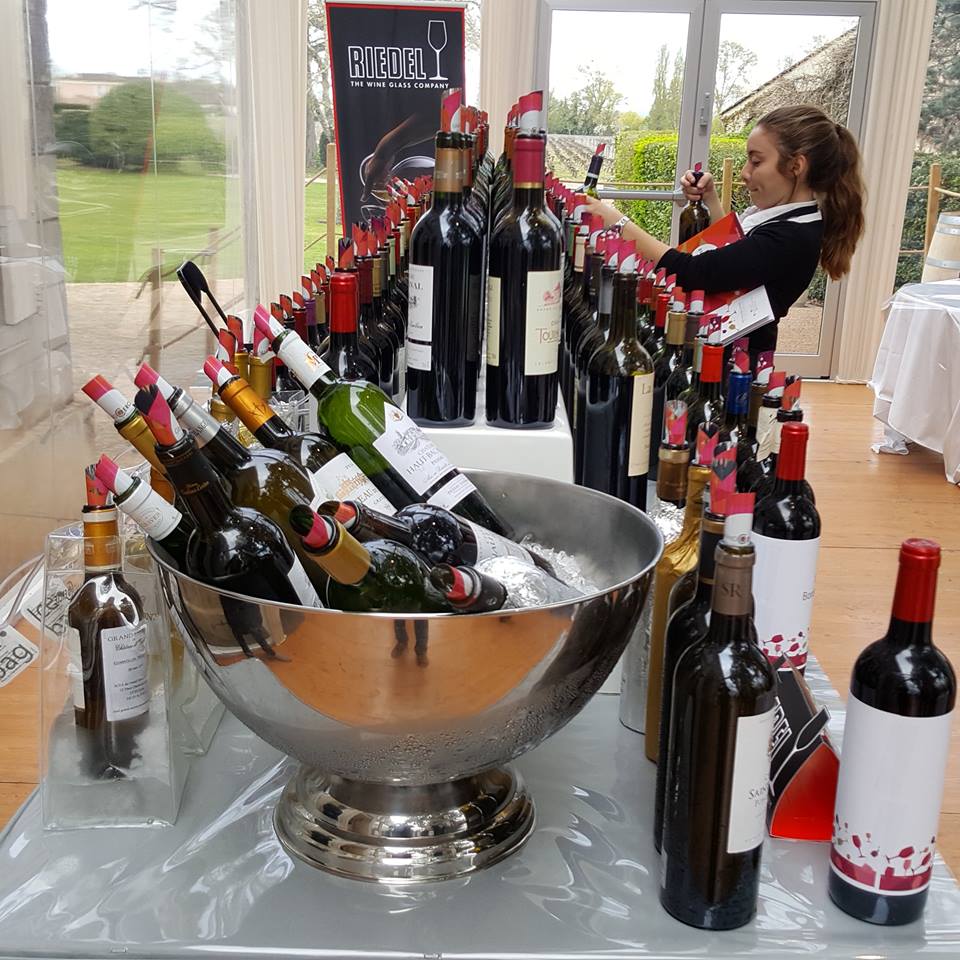 Tough job to fill in in rows with new barrel samples! - Grand Cercle at Ch. Montlabert, Saturday the 1st April 2017
Already in October last year during my usual visit in Bordeaux during harvest time and after tasting samples from vats, both before and after alcoholic fermentation, I felt the this vintage was really something special because of velvety fruit and tannin, striking sweetness of the must and incredible many nuances in taste.
App. 6 months later, in March/April 2017, and during 12 days of hard work filled up with tastings, I've reached app. 420 tasted barrel samples, my yet highest ever amount of wines. I've felt that for the big majority of wines, my expectations were fulfilled.
After initial tastings it stood clear for me that 2016 isn't at all an exact copy of 2015, far from. The first adjectives which came to my mind were the ones like aristocratic and distinguished wines. Generally, 2016 vintage wines aren't as expressive as 2015 ones, but have in most cases lower or max. same alcohol level, more elegance and finesse, and same or even higher amount than in 2015 vintage of ripe tannin (IPT – Index Polyphenol Totale). I don't have any particular favourite district/commune.
This ripe tannin is so finely integrated with fruit, that you think you're drinking silk/velvet in many wines. There is something seductive and catchy over 2016, pure and classy style.
There are a lot of pretty wines all over Bordeaux in 2016, which will in most cases be even prettier after staying in vats/barrels/new barrels for designated time. As usual there are some overipped/overextracted/overdone wines in 2016, but they count for less than 1% of all wines. Some winemakers can't just resist to get the max. out of their wines. Funny enough, some properties went the opposite way in 2016, greatly decreasing extraction and amount of new oak, compared with heavy stuff in vintages before. More elegance and finesse in 2016. One of these properties is Pavie!
Reds are by far most successful in 2016, white dry wines are in my honest opinion below 2015 in quality, suffering a little of less acidity and Semillon not being that perfect. White sweet wines in 2016 are also lacking a bit of acidity and in my honest opinion not competitive with vintages 2013, 2014 and 2015. Still, it's very good vintage after all for these white wines.
-----
VISITS
Here, I'll chronologically write impressions from my tasting/visits, some short some long, depending on how many vintages I did taste at given chateau. All the ratings and how they have been graded, are published below my impressions from primeur tastings (at the bottom of this page).
Thursday the 30th March 2017
Seguin - tasted 3 vintages, 2016, 2015 and 2014. 2016 harvest finished on the 24th October, late, but because of perfect weather there was time to get the grapes perfectly ripe, especially Cabernet Sauvignon. 2016 is 45% Cabernet Sauvignon and 55% Merlot, yield 43 hl/ha. Very intense blackberries and cherries on the nose, velvety fruit and tannin, seductive fruit sweetness, long aftertaste. Sleek and attractive, impressive stuff. 94+p. Maybe the best ever vintage for the property. 2015, 55% Cabernet Sauvignon and 45% Merlot, 41 hl/ha, was more expressive on the nose with delightful aromas of grated chocolate, black cherries and wild cherries, As seductive, sllek, complex and catchy as 2016. 94+p. 2014, 60% Merlot + 40% Cabernet Sauvignon, 38 hl/ha, showed classic Bordeaux stuff with a bit rusticity, cool tannin, excellent aromatic nose, concentrated on the palate with supporting acidity. Impressive. 93p.
Les Carmes Haut Brion - it was a great visit, because Guillaume Pouthier, technical director here and who arrived from Rhone in 2012, is never shy to exactly explain in entertaining way how he intends to steer LCHB in right direction which is up and up. He's neither shy to introduce some new winemaking techniques, like f.i. using whole bunches in vinification. Several Bordeaux winemakers shaked their heads in disbelief when he introduced this technique, but there were some anyway who had copied it and found out that it was quite beneficial for the wine!
When I visited him in October 2016, he was so, so happy and enthusiastic about 2016 vintage - "Izak, I've probably made my best vintage at LCHB, this is best vintage for LCHB, what a thrill, everything was perfect!". 6 months later, I can confirm - he made a stunning wine. Thick aromatic nose with essence of blueberries, very concentrated yet refined, incredibly complex, precise and focused.1 minute+ long finish. Certainly a wine to compete with big guns in this vintage! 96+p. Second wine, Le C des Carmes Haut Brion was delightful with very aromatic nose of blueberries, palate covered with silky fruit, freshness and acifdity. 91-92p.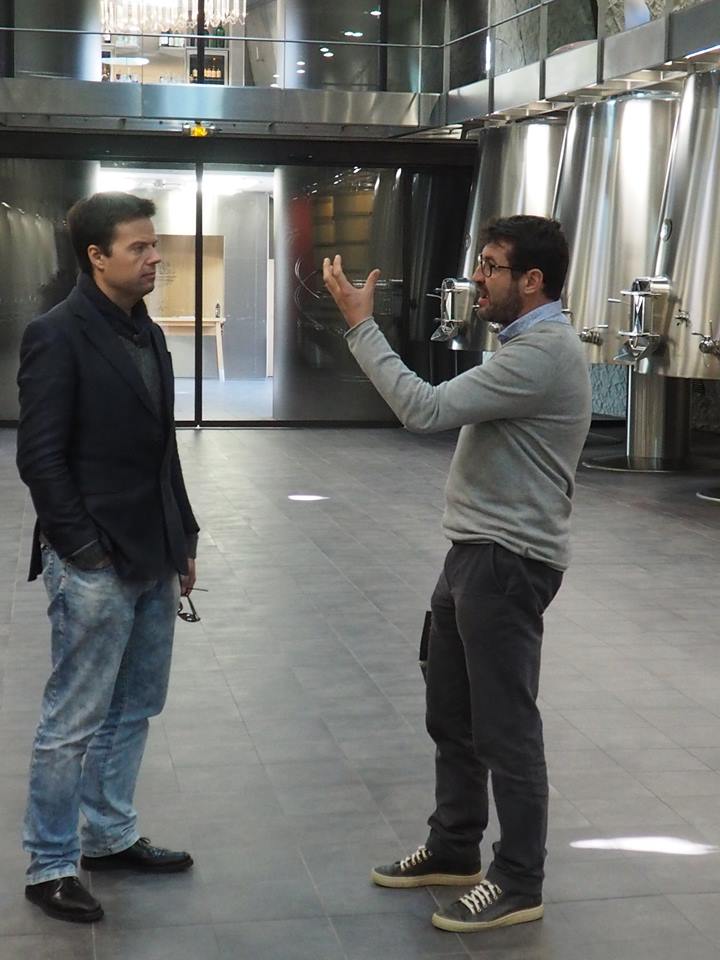 Guillaume Pouthier, LCHB's manager and head winemaker, explains Niko Dukan all the tricks he used in vinification of 2016 vintage!
Haut Brion/La Mission H.B.
Valandraud - Murielle and Jean-Luc Thunevin continue their excellent work and can be proud of their 2016s.
2016 Bad Boy - aromatic, silky, good concentration and length. Drinks just fine. 90p.
2016 Virginie Thunevin - nice wine with good grip, good acidity, sappyand with nice composure. 90p.
2016 Domaine des Sabines - fresh cherry aroma, well-balanced, fine complexity and length, fine aftertaste too. 91p.
2016 Le Clos de Beau Pere - similar to Domaine des Sabines, just more concentrated. 91-92p.
2016 Bel-Air-Ouy - potent yet fruity, balanced, nicely structured, persistent aftertaste. 91-92p.
2016 Clos Badon - woody and a bit pushed on the palate, potential is there but will it come together later on? 89p?
2016 Virginie de Valandraud - black fruit and oak, strong, complex, splendid composure and long aftertaste 92p.
2016 Valandraud - very potent wine, excellent complexity, structure and depth, rich and with sophisticated touch. A winner. 97p.
2016 L'Interdite de Valandraud - a parcel which hasn't INAO's permission to be included in Grand Vin. Similar in style to Valandraud of course, but lighter, more elegant and less intense. 92p.
There was also opportunity to taste wines from properties Jean-Luc's consulting:
2016 Sansonnet was quite intense, complex, silky structure, splendid depth and long fruity finish.. Splendid effort. 92p.
2016 Moulin du Cadet from the owner of Sansonnet, which is recent purchase (2015) was on the level with Sansonnet in quality and same style. 92p.
2016 Harmonie, also from Sansonnet's owner and also recent purchase (2015), had just slightly less intensity and depth. Gentle and with a great deal of finesse. 91-92p.
2016 Fleur Cardinale from Decoster family left no doubt about its great apperance! Big, rich, excellent silky fruit and tannin, distinguished, great complexity and structure. Very long finish. 95p.
Corbin - Anabelle Cruse Bardinet continues to make great wines at the property, pretty ones with a lot of elegance, finesse and precision. She told me during primeur last year that 2015 vintage was her best achievement yet, but I think she changed her opinion this year, because 2016 here is a excellent thrill! New cellar with vats for each parcel was ready for 2016 harvest and allowed much more precise and personal vinification.
2016 had great aromas of violets and blueberries, very subtle and distinguished, great complexity and balance, great precision, elegance and finesse. 94+p.
2015 was in vats waiting for bottling, so it tasted a bit tired and disjointed. NR understandably.
2014 impressed once again with seductive sweetness and elegance, finesse and splendid acidity. Fresh and well-defined wine. 92-93p.
Clinet - very impressive 2016 here. 70% new oak, Dense wine filled with blueberries and dark cherries, concentrated and complex, velvety texture, rich, long creamy finish. 96+p.
La Cabanne - I tasted full line-up of 2016s from the portfoljo of La Cabanne's owner, Francois Estager. In addition to it, he presented a vertical of La Cabanne in vintages 2000-2015, which was originally prepared for James Suckling. TNs from the vertical will soon. appear in separate profile here on the website.
2016 La Papeterie (Montagne St.E) was attractive, round, very fruity and tasty wine. Very enjoyable indeed. 90p.
2016 Domaine de Gachet (Lalande de Pomerol) offered sweet fruit, roundness, soft texture and was very attractive/seductive. 90p.
2016 Domaine des Gourdins (St.E) had nice fruity nose, was very pleasant on the palate with smooth fruity finish. 89p.
2016 Domaine de Compostelle (2nd wine of La Cabanne) was nice fruity wine, attractive. Good length. 87p.
2016 Haut Maillet (Pomerol) had quite impressive nose of black fruit, deep and aromatic, splendid acidity and complexity, and persistent fruity finish.
2016 Plincette (Pomerol) displayed splendid nose of black cherries, seductive and strongly aromatic, strong on the palate, complex and with long finish. Not bad at all. 92p.
2016 La Cabanne (Pomerol) surprised a lot as it probably is the best vintage ever made at this property! I didn't expect this wine to be that intense and powerful. Great acidity, depth and length. Fabulously intense nose of black cherries. I think 2016 will surpass 2015 here....95+p.
-----
Friday the 31st March 2017
Nenin - 2016 Fugue de Nenin, second wine of Nenin, was round, very pleasant, tasty and attractive with silky fruit/tannin and velvety structure. 88p. 2016 Grand Vin had splendidly aromatic nose of violets and black/red fruit, very good intensity and concentration, was well-defined. Rather elegant than powerful. Very well-made. 92p.
Canon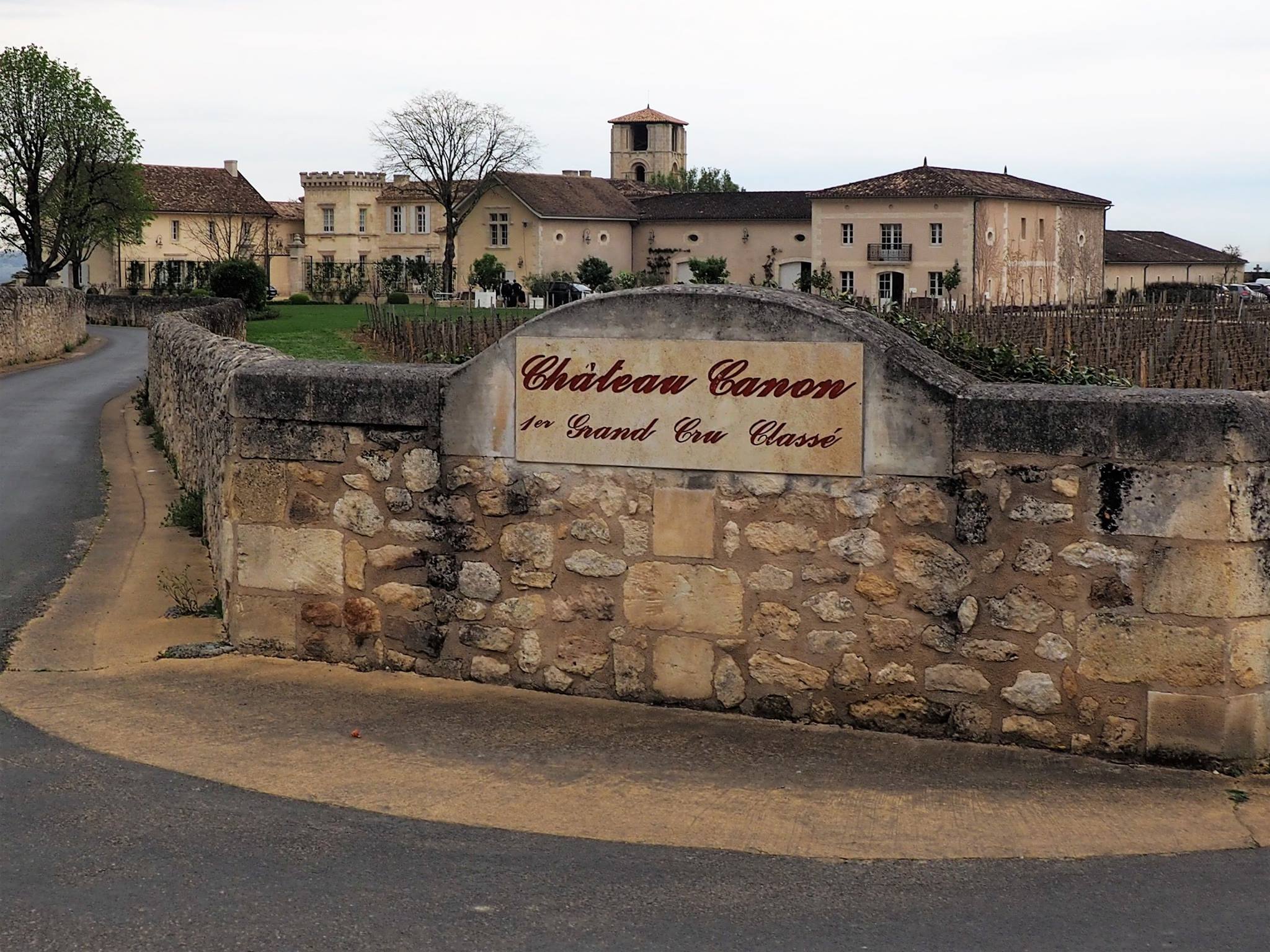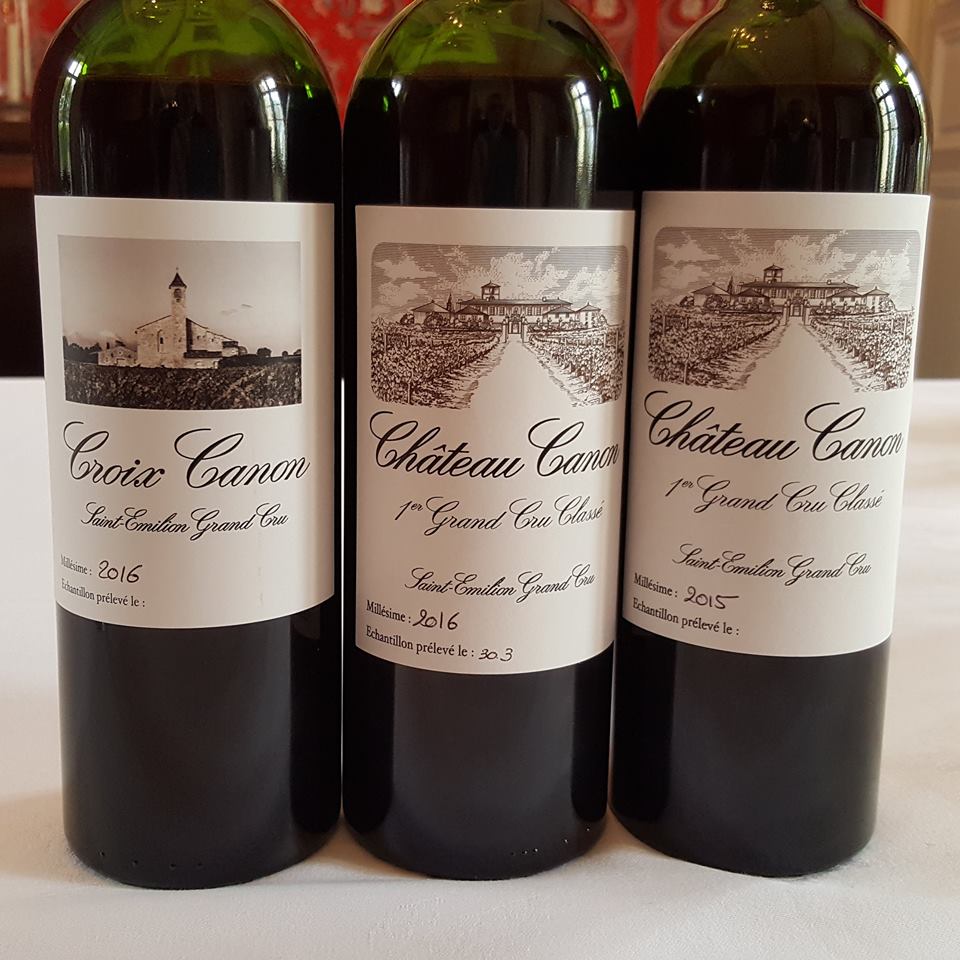 Canon is on a roll, no doubt about it. In recent vintages I "accused" this property of not fullfilling its potential. It's certainly not the case with 2015 and 2016!! 2016 Croix de Canon, second wine of Canon, was very aromatic, cucculent, sleek, silky polished, very fruity and with smooth finish. Very seductive wine. 90-91p.
2016 Canon, 74% Merlot + 26% C. Franc) showed fabulous aromas and complexity on the nose, silky fruit and tannin, was distinguished, pure and refined, great finesse and great precision. Long. long aftertaste. 97+p.
2015 Canon benefitted a lot of staying in oak, because it's improved since I tasted it last time in September 2016. It had great aroma of black fruit, excellent complexity, structure and focus. sophisticated touch and great length. Fabulous stuff. 97p. Difficult to choose one's favourite between those two vintages - they are like identical siblings!
Pavie - as usual impressive line-up of 2016, no controversial wines this time! It seems that 2016 vintage here is a bit more successful than 2015.
2016 Angelique de Monbousquet (St.Emilion) - sweet and concentrated fruit, black cherries, aromatic, very seductive and tasty. Nice effort. 89p.
2016 Monbousquet (St.Emilion) - splendid acidity, velvety fruit and tannin, silky texture, long, complex and well-defined. Very fine effort for the vintage. 92p.
2016 L'Esprit de Pavie (Bordeaux) - aromatic with scent of violets, soft fruit and tannin, very accessible, seductive and smooth on palate. 89p.
2016 Aromes de Pavie (St.Emilion) - fine nose of blackberries/black cherries, C.Franc dominates (touch of greeness), oaky finish. 89p. 89-90p.
2016 Clos Lunelles (Castillon Cotes de Bordeaux) - gentle extraction, silky fruit and tannin, spicy, well-structured, fine length, persistent fruity aftertaste. 91p.
2016 Pavie Decesse (St.Emilion) - dark fruit, tannin very well complimented by sweet ripe fruit and as ripe tannin, excellent complexity and structure. Rich with strong backbone. Impeccably made. 97p.
2016 Bellevue Mondotte (St.Emilion) - more fruity, gentle and elegant than PD, more aromatic and silky, otherwise same fabulous qualities. Slight change of the style here to more delicate wine? Just awesome. 97+p.
2016 Pavie (St.Emilion) - I could already sense change of style in 2014 vintage toward more gentle appearance, elegance and finesse combined with taste of the soil. 2015 had sheer power, excellent fruit on the nose and palate, succulent and vibrant fruit, excellent complexity and backbone. Rich and lush. Long fat finish. I wrote - "Who said overextracted wine - zero of this here!" All of this was in 2016 too with added elegance and finesse. No overextraction/no overripeness! Fabulous stuff. 98p.
Lafleur - 2016s here tasted great and this vintage seems to top 2015. A new cellar is in the process of rebuilding together with other operational buildings to be ready for harvest 2018.
2016 Grand Village was very aromatic on the nose with violets and cherries, seductive, silky tannin, polished, quite complex and long on the palate. Imho, this might be the best vintage for GV ever! 92p.
2016 G de Guinaudeau Acte 8 reminded a great deal of GV but didn't have the same level of intensity and complexity. 91p.
2016 Pensées de Lafleur had great, stylish nose with intense aroma of blueberries, silky and polished palate, very complex and with persistent fruity aftertaste. Great balance here. Beautiful second wine. 93p.
2016 Lafleur was big, broadshouldered wine with classy and sophisticated nose of black fruit, velvety texture, rich, incredibly complex and long. Distinguished beauty to remain beautiful for many, many years. 98-100p.
2015 Pensées de Lafleur was different than its one year older brother. More red fruit here, not that silky and less intense and complex. Still splendid wine. 92p.
2015 Lafleur displayed power, strong backbone, creamy fruit, big tannins and firm finish. Lacked a bit the silkiness of 2016. 96-97p.
2016 Grand Village white had fine aroma of green apples and lemon grass, acacia flower, fine concentration on palate, good acidity and smooth finish. 91-92p.
2016 Les Champs Libres (white wine) displayed fine freshness, minerality and acidity. Splendid intensity of fruit. 92p.
Figeac - regretably very short visit (<20 minutes), compared it to 1.5 hours one in October 2016. Obviously, Figeac's manager, Frederic Faye had an incredibly busy day that particular day, because I wasn't even offered to taste 2014 vintage, despite email confirmation. Never mind however, I just write few words about fabulous 2016 here. 36% Merlot + 26% C.Franc + 38% C.Sauvignon. Velvety, distinguished and incredibly precise wine! 97+p.
Tertre Roteboeuf - I'll repeat myself again and again, stating that Francois MItjavile did it again. Did what? Magics with 2016!
2016 Domaine de Cambes offered blueberry compote on the nose and fruity palate, round and soft. Very tasty and attraciive wine. 89p.
2016 L'Aurage (made by Francois son, Louis) had vast quantities of aromatic dark fruit on the nose and palate, backed up by silky tannin, was round, tasty and finished smoothly. 91p.
2016 Roc de Cambes was very impressive on the nose with great aromatic intensity, concentrated on the palate with great complexity, depth and fat fruity aftertaste. This is rivetting effort. 93p.
2016 Tertre Roteboeuf was purely magical and extravagant, fabulously scented nose and richness on the palate. You drink silk here! 98-99p.
2012 Domaine de Cambes displayed nice dark fruit aromas, roundness, charm and tasty fruit. 88p.
2012 Roc de Cambes had black cherries, chocolate, very tasty, attractive, sappy and fresh, splendid acidity and velvety finish. Really splendid for the vintage. 92p.
2012 Tertre Roteboeuf entertained with fabulously constructed wine which shows incredible class and style. Great freshness and beautiful balance. 95p.
2015 Roc de Cambes filled with dark fruit on the nose and palate, potent and with strong backbone, earthy flavors on the palate, long aftertaste. Awesome. 93p.
------
Saturday the 1st April 2017
Grand Cercle
I managed to taste app. 90 wines from 2016 vintage. Below, I list here my choice of wines from this tasting and all mentioned wines are fine quality for money:
In Blaye Cotes de Bordeaux -
In Bordeaux -
In Castillon Cotes de Bordeaux -
In Francs Cotes de Bordeaux -
In Fronsac/Canon-Fronsac -
In Graves -
In Lalande-de-Pomerol -
In Pauillac -
In Pessac-Leognan -
In Pomerol -
In St.Emilion -
Teyssier
Domaine de Chevalier
-----
Sunday the 2nd April 2017
Les Cles des Chateaux (Michel Rolland own wines and properties he consults) - took place at La Dominique. Managed to taste 20+ wines in 2016 vintage. Several wine of high quality - topscorers - Clos St. Martin (92+p), Cote de Baleau (92p), Grandes Murailles (92p), Grand Pontet (92p, Mangot Todeschini (92p), all St.Emilions, then Le Bon Pasteur (92p) from Pomerol. Mangot from St.Emilion (91-92p), L'Enclos and La Fleur de Gay from Pomerol 91p, Clos de Sarpe and Tour St.Christophe, both from St.Emilion and both rated 91p.
Siaurac - this is very nice chateau idylically situated in Lalande de Pomerol, not that far from small river Barbanne, which separates Pomerrol and Lalande de Pomerol. Great surroundings there! 2016 Plaisir de Siaurac, second wine of Siaurac, was very pleasant, round and charming and fruity, simple but tasty. 86p. Second wine here doesn't see oak, spends 9 months in tank instead.
2016 Siaurac, 73% Merlot, 20% Cabernet Franc and 7% Malbec, had silky fruit, velvety texture, much charm and fruitness, was well-balanced with smooth fruity aftertaste. eSductive one. 89p.
The owner's other property, Vray Croix de Gay in Pomerol, was in 2016 similar to Siaurac, but had a bit more complexity and length. 90p. Third property of Goldschmidt family, Le Prieure in St.Emilion, kept this elegant and fruity style, and had also nice acidity. 89p.
Haut Bailly - tasting of 2016s took place at Cité du Vin in Bordeaux, new attraction for wine-lovers.
2016 Le Pape was succulent, fresh with fine acidity, fine balance and fruity, smooth finish. 90p. Haut Bailly's second wine,
2016 La Parde Haut Bailly, had fine aromas of dark berries, velvety texture, fine balance and persistent fruity finish. 91p.
2016 Grand Vin did confirm all the promises. Strong and well-packed with silky fruit and tannin. Aromatic nose, great acidity, everything´was in excellent harmony with eachother. Stunning structure, depth and complexity. 97p.
-----
Monday the 3rd April 2017
Petrus - stupendous effort in 2016, seamless wine, very sophisticated, rich, velvety and silky, precise. Strong candidate for three digit score. 98+p.
Le Gay - Henri Parent did very well with all his properties, very close to 2015 vintage.
2016 La Graviere had aromatic black fruit on the nose and palate, nice intensity and structure and smooth fruity finish. 90p.
2016 Montviel was similar with blueberries and blackberries, nice acidity, structure and length. 90p.
2016 Manoir de Gay showed some grained chocolate flavour, black cherries, silky fruit and tannin, some eklegance and fruity finish. 91p.
2016 Le Gay was powerful and elegant at the same time, well-packed with silky fruit and tannin, splendid balance, structure and long aftertaste. Great effort. 94-95p.
2016 La Violette had different approach this time. More elegant than powerful. Velvety texture, great complexity and length. 94-95p.
Corbin Michotte - pretty 2016s here!
2016 Calon (St.Georges de St.Emilion) - was fresh, red fruit on the nose, aromatic, tasty fruit, nicely structured, fine balance and length. 91p.
2016 Corbin Michotte had aromatic, velvety texture, perfectly ripe fruit and tannin with seductive sweetness, fine acidity, balance and length. Certainly a wine of Grand Cru Classe quality!! 94p.
2016 Cantelauze - showed very aromatic nose of black cherries and blueberries, chewy, splendid acidity, sufficient of oak to balance the fruit, well-composed and long. Splendid effort for the vintage. 94-95p.
2015 Corbin Michotte was more expressive and intense that 2016 but style is the same. 94+p.
2014 Corbin Michotte rounded up three vintages from this property and clearly underlined that quality of wines from this property was wrongly devaluated by the classification comitée in 2012! Classic St.Emilion with aromatic nose, fine intensity and structure, meaty and with persistent aftertaste. Fine reference to its soil. 93p.
2014 Cantelauze showed great style and intense nose of black fruit. great complexity depth and finish. Truffles. Splendid Pomerol for the vintage! 93-94p.
La Conseillante - only Grand Vin to taste, second wine wasn't ready for tasting that day. In my honest opinion, Marielle Cazaux, winemaker since summer 2015, made better wine in 2016 than in 2015. Great elegance and finesse here, silky fruit and tannin, velvety texture, very precise and focused. 96-97p.
d'Yquem - 2016 was tasted at the property. Incredibly intense nose of pear, peach and melon, sheer power on the palate, great acidity but not as remarkable as in 2014 and 2015 vintages. Fabulous intensity, great depth and length. 98p. 2006 offered splendid nose of blood oranges, mandarines and apricots, remarkable sweetness and excellent acidity. Stunning wine for the vintage. 96-97p.
Ch. Margaux - 2016 wines here underperformed a little bit compared with 2015.
Nevertheless, 2016 Pavillon Rouge de Chateau Margaux impressed a lot with excellent aromatic nose of black fruit, dense structure, splendid complexity, silky fruit and tannin, splendid concentration and length. 93p.
2016 Chateau Margaux didn't show the heights of otherworldy 2015 but still had genuine spark of blue/blackberries, seamless structure and sophisticated touch. Pure elegance and finesse here! 97p.
2016 Pavillon Blanc de Chateau Margaux showed freshness, excellent acidity and fine complexity. Splendid structure and length.
Palmer - 2016 Alter Ego (40% Merlot + 48% C.Sauvignon +12% P. Verdot) had intense nose of blueberries/cherries, splendid concentration, excellent balance and hallmark of the vintage, silky fruit and tannin. 93p.
2016 Grand Vin (47% M + 47% CS + 6% PV) was rather tight, not that impressive as expected, a bit bland in appearance. Probably not the best day to taste it. 96p. My rating is maybe far too generous, but I just believe in positive evolution of this wine.
Latour - very, very successful 2016s and other wines served were not too bad!!
2016 Pauillac was very aromatic, round, pleasant and fruity, nice structure and length. Fine balance. Crowd pleaser. 91p.
2016 Les Forts de Latour appeared as very expressive wine with lot of dark fruit and silky tannin, splendid backbone, structure and length, excellent balance. A warrior. 93p.
2016 Latour showed seamless structure, sophisticated touch, big concentration and intensity on the nose and palate. Perfect balance. Stupendous future waits. 98-100p.
2012 Pauillac was attractive and seductive, truffy nose, round and tasty, sweet fruit. A joy to drink now. Would make a really nice restaurant wine. 90p.
2011 Les Forts de Latour acted strong and chewy, sappy and tasty, well-trimmed and with fine balance.92p.
2005 Latour - closed at first sniff but immense potential waiting to come forward, extremely rich, complex and long. Everything is here to make this wine a legend. 99-100p.
-----
Tuesday the 4th April 2017
UGCB tasting - Graves/Pessac Leognan red and white + Saint-Emilion and Pomerol
Lafite - fine but short visit with impressive wines.
2016 Duhart Milon - aromatic black berries, sappy, sleek, silky fruit and tannin, well-balanced. Fine complexity. Seems to have an edge over 2015. 92-93p.
2016 Carruaders de Lafite - similar in style to Duhart Milon. Fine second wine. 92p
2016 Lafite - 92% Cabernet Sauvignon + 8% Merlot. Incredibly precise, refined and sophisticated, rich and complex, fabulous structure and length. 98-99p. Awesome effort. You'll not be able to find Lafite's striking elegance and finesse many places in Bordeaux!
Mouton Rothschild - I always enjoy this short ride in golf car from reception to tasting room here. Philippe Dhalluin's every reason to be proud of his range of 2016s.
2016 D'Armailhac - splendid aromatic nose of blackberries, polished, silky fruit and tannin on the palate, well-composed, persistent fruity aftertaste. 93p.
2016 Clerc Milon (55% C.Sauvignon + 29% Merlot + 13% C.Franc + 1% P:Verdot + 1% Carmenére) - as impressive as d'Armailhac with splendid acidity and fine structure. 93p.
2016 Le Petit Mouton - aromatic, elegant and seductive, splendid backbone, structure and fruity finish. 92p.
2016 Mouton Rothschild (83% C.Sauvignon + 15% Merlot + 1% C.Franc + 1% P:Verdot) - aristocratic nose of blackberries, cigar box and tobacco leaves, classy stuff with great acidity, velvety all over, stunning richness and structure, excellent complexity, powerful finish. Immensly complete wine. My pick for best wine of the vintage on the Left Bank! 99-100p.
2016 Aile d'Argent - white Mouton Rothschild. Fresh with distinct aroma of pear and apple, nice structure, smooth finish. Very good for the vintage. 92p.
Pontet Canet - the news are that Melanie Tesseron (Alfred Tesseron's niece) went back to London and now it's Alfred Tesseron's daughter, Justine, who will at some point in the future, take over responsibilities here.
2016, 60% Cabernet Sauvignon + 35% Merlot + 4% Cabernet Franc + 1% Verdot, treated with 55% new oak, 35% amphora and 10% 1 year old barrels, was strong and powerful, succulent, quite dense, complex and precise, long and silky. 95-96p.
Montrose - this property just doesn't stop. Maybe 2016s are better than 2015s, maybe not. Personally, I Time will tell
-----
Wednesday the 5th April 2017
UGCB tasting - Medoc/haut Medoc, Listrac, Moulis, Margaux, St.Julien, Pauillac and Saint Estephe + Sauternes and Barsac.
Vieux Chateau Certan - very strong effort in 2016 and on the level with 2015. Incredibly intense on the nose with blackberries and blueberries, iron-dirt (truffy taste), tight and very concentrated on palate, with great richness, depth and structure. Perfectly ripe fruit and tannin covered in silk. 97-98p.
Le Pin - awesome 2016 here, 100% Merlot, low yield per ha (only 28 hl!), would have liked to compare it to 2015, but it wasn't possible as 2015 was resting in vats for upcoming bottling. Very distinguished, refined, rich, velvety wine with stunning complexity and depth. 98-99p. Btw, 2016 is the first vintage at the property to be harvested in October (4th-8th)!
Jacques Thienpont's another adventure, L'If in St.Emilion, 100% Merlot in 2016, was succulent, with excellent acidity, great complexity, fine structure and velvety fruit and tannin. 94-95p. Harvest finished on 20th October - vendage tardive someone?
-----
Thursday the 6th April 2017
Ausone
Cheval Blanc
La Confession
Canon-La-Gaffeliere
Bourgneuf - Frederique Vayron, the winemaker, made a delicious 2016. Elegant, distinguished, precise and focused, with silky fruit and tannin. Persistent fruity finish. Heartbreaker wine. 94+p.
2015 was more expressive and stronger, seemed to put on weight in barrel. As impressive as 2015. 94+p.
2014 showed big acidity, strong backbone and long firm aftertaste. Classic Bordeaux/Pomerol wine, stylish, lot of stuffing, many years to go. 93p.
L'Eglise Clinet
Belle Brise - Henri-Bruno de Coincy, the owner of Belle Brise, was overly happy when I visited him in the beginning of April 2017.
2016 - very cherry, very pretty wine, seamless, fresh, excellent acidity, silky fruit and tannin, refined and sophisticated. An excellent Pomerol wine with touch of modern style. 94+p.
2015 - this wine was simply a knock-out for me. Incredibly aromatic, velvety, packed with perfectly ripe fruit and tannin, seamless, long and sophisticated. Very dense nose of black cherries. 95+p.
2014 - black cherries again and again, not the same ripeness of fruit and tannin as in 2016 and 2015. Still, it's effortlesly made wine. 92+p.
-----
Friday the 7th April 2017
Raymond Lafon
Gilette
Climens
-----
Monday the 10th April 2017
8 visits that day and I was accompagned by my friend from Bordeaux, Alexandre Rychlewski (Traduction Aquitaine). Hard work par excellence!
La Lagune
It's obvious for me, that La Lagune's been and still is an underestimated wine by wine-press. Personally, I love wines from this property, especially since 2005 vintage. During my visit at LL in the beginning of April and meeting LL's cellarmaster Maylis de Labordiere, I tasted 2016-2015-2014 vintages. I rated 2016 95-96p because of its stunning structure, elegance, length, balance and immensely seductive approach. This wine is 60% Merlot, 35% Merlot and 5% Petit Verdot.
2015 is special and very few journalists have mentioned, that there were two different cuvées to taste last year during primeur. Normal one with cepage 65% CS + 30% Merlot + 5% Petit Verdot and one with more CS from different parcels. The latter had more power, depth and acidity than the usual one. It was then.
Maylis told me in April 2017, that the final blend of 2015 was 70% C.S. + 20% Merlot +10% Petit Verdot. She preferred 2015 to 2016 for the moment. I rated 2015 last year 94p for normal blend and 94+p for CS blend, but after tasting final blend of it, I rate it the same as 2016, which means 95-96p!
Both are truly wonderful wines and I love them both! Don't forget 2014 either - this wine had a pretty nose of black cherries, remarkable acidity, strong structure and long finish. A classic Bordeaux/La Lagune wine. Fail-free wine work. 94p.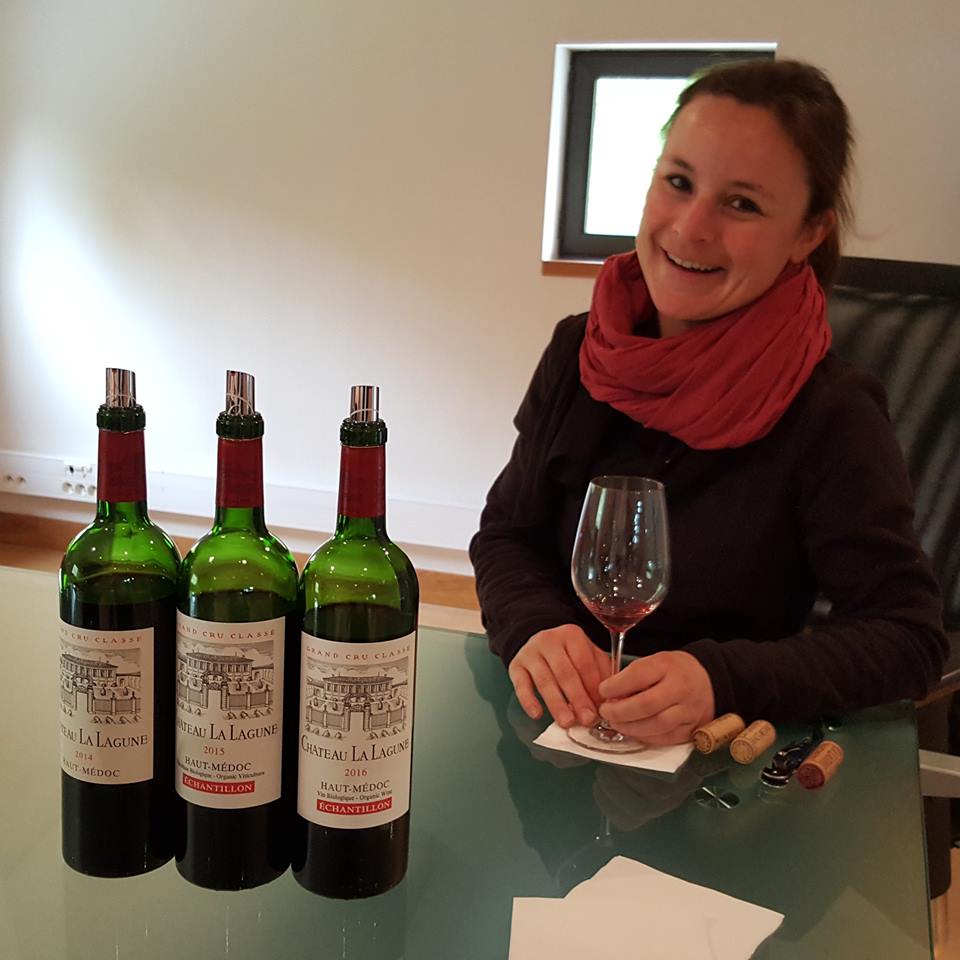 Very happy Maylis de Laborderie, La Lagune's cellarmaster - April 2017
Pichon Baron
Pichon Comtesse - outstanding visit, one of the best of whole stay in Bordeaux. Nicolas Glumineau had time to speak with us and explain things about 2016 vintage. I kindly asked for tasting Grand Vin in vintages 2016-2015-2014-2010 and it was confirmed. All of these wines were put in decanter 1 hour before our visit. We also tasted Comtesse's second wine, Reserve de La Comtesse, in same four vintages.
Nicolas Glumineau explained, that at Pichon Comtesse, there's no malolactic fermentation in barrel. 2016 Reserve d.l.C. seduced with aromatic nose, velvety fruit and tannin and smooth finish. 91p. I found 2015 to be more expressive and more concentrated, As seductive as 2016! 91-92p.2014 showed more obvious acidity and some flavours of Cabernet Sauvignon like roasted bacon and pencil. 90p. 2010 made by previous winemaker, bordered overripeness, lacked precision and had tired fruit. 85p.
Then Grand Vins. IPT (Index PolyphenolTotal) was very high in 2016, reached 81 compared with 74 for 2015. 2016 was a showcase, an incredibly styled wine and a hit. 75% Cabernet Sauvignon, 21% Merlot and 4% Cabernet Franc. Impressive nose of blueberry essence, very precise and focused, velvety texture, extremely sophisticated and rich, awesome depth and length. Masterpiece of Nicolas Glumineau! 98+p.
2015 got very close to 2016. it was like to choose between two equally beautiful women for girlfriend/wife, both very intelligent and classy, one with blond hair and one with red/black hair! 98p.
2014 was a cool man's wine with awesome nose of black cherries, great acidity and complexity and intense flavours of tobacco leaves and pencil. Even better after bottling! 96p.
2010 was a classic example of slightly overdoing a wine in great vintage. It lacked focus, precision and it was obvious that grapes were harvested a bit too late resulting in slightly overripe flavours and slightly tired fruit and dryness in tannin. Nicolas Glumineau came in 2012, so he wasn't responsible for 2010, it was previous winemaker. This wine didn't show well this particular morning in April compared to tasting it in October 2016. It looked like it got aged in 7 months at tremendous speed. 93p?
Cos d'Estournel -
Calon Segur - this property maintains its fine and stable quality. After excellent 2015s, wines are imho even better in 2016. We were also offered to taste 2014 vintage, which we gladly accepted.
2016 Capbern - fresh, fruity and succulent, touch of oak, mineral, fine structure and finish. Fine quality. 91-92p.
2016 Le Marquis de Calon - oaky but with lot of tasty black berries, fine complexity, structure and persistent finish. 91p.
2016 Calon Segur - 60% C.Sauvignon, 20% Merlot, 18% C.Franc and 2% Petit Verdot. Very fruity, stylish, with big concentration and length, great complexity, remarkable structure and length. 96p.
2014 Capbern - very aromatic on the nose, well-composed, fine acidity, persistent finish. Classic style. 90p.
2014 Le Marquis de Calon - potent, well-packed with fruit and tannin, fine structure and length. 90p.
2014 Calon Segur - excellent fruity nose of blackberries, strong structure, splendid complexity, long finish. Impressive effort. 94p.
Leoville Lascases
Beychevelle - new cellar, I'd say controversial one. If you come from Bordeaux you will see chateau, if you come the opposite way, this cellar mask the view of chateau. Geraldine Marquay Santier (Beychevelle's PR-manager) explained to me, that all staff of workers at Beychevelle was asked to come with inputs about building this cellar, before the work started. So result can't really be a surprise. It's impressive inside and the view from the top of the cellar towards Ducru Beaucaillou and St.Julien is great.
I asked Geraldine if she knew Nicolas Santier (same second name as hers) at Pichon Baron, whom I met in the morning same day. She laughed a lot and told me that of course she knew him very well and still does...they've been married for more than 10 years!
2016 wines then - Amirail de Beychevelle tasted well with very seductive approach, silky fruit and tannin and velvety texture. 90p. Grand Vin showed great elegance and finesse, velvety texture, excellent balance and structure, and persistent fruity finish. Heartbreaker wine. 95+p.
RATINGS
Grading of my ratings:
98-100p - perfectly made wines, well on the way to become legends.
96-98p - truly remarkable wine with lot of style and class, great, great potential, fabulously made
94-96p - very focused wines with great precision, personality and complexity
92-94p - remarkable wines with style and class.
90-92p - well made wines with obvious personality and focus
88-90p - very good quality for money
86-88p - correct wines, good quality
+ after rating means that given wine is better overall than the one without it
Sauternes & Barsac
Bastor-Lamontagne Sauternes 91p Broustet Barsac 91-92p Climens Barsac 96-97p Clos Haut-Peyraguey Sauternes 92p Coutet Barsac 93+p de Fargues Sauternes 94+p de Malle Sauternes 92p de Rayne Vigneau Sauternes 93+p Doisy-Daëne Barsac 90p Doisy-Védrines Barsac 92p Guiraud Sauternes 94+p La Tour Blanche Sauternes 94p Lafaurie-Peyraguey Sauternes 94+p Les Justices Sauternes 91p Raymond Lafon Sauternes 95p Sigalas Rabaud Sauternes 93p Suau Sauternes 92p Suduiraut Sauternes 94p Yquem Sauternes 98p
Graves & Pessac-Leognan red
Bouscaut Pessac-Léognan 90p Carbonnieux Pessac-Léognan 94p Chantegrive Graves 90p Clos Marsalette Pessac-Léognan 88p Couhins Lurton Pessac-Léognan 90p Crabitey Graves 88p Cruzeau Pessac-Léognan 88p de Fieuzal Pessac-Léognan 92p de France Pessac-Léognan 91p Domaine de Chevalier Pessac-Léognan 94-95p Domaine de la Solitude Pessac-Léognan 89p Ferrande Graves 90p Haut Bacalan Pessac-Léognan 89p Haut Bailly 97p Haut-Bergey Pessac-Léognan 91p Haut-Brion Pessac-Léognan 97-99p Haut Selve Graves 88p La Chapelle de La Mission Haut-Brion Pessac-Léognan 92p La Clarence de Haut Brion Pessac-Léognan 91-92p La Louvière Pessac-Léognan 88p La Mission Haut-Brion Pessac-Léognan 97p La Parde de Haut Bailly 91p Larrivet Haut-Brion Pessac-Léognan 89-90p Latour-Martillac Pessac-Léognan 89-90p Le Pape Pessac-Léognan 90p Le Sartre Pessac-Léognan 88 L'Esprit de Chevalier 90p Les Carmes Haut-Brion Pessac-Léognan 96+p Le C de Carmes Pessac-Léognan 91-92p Lespault Martillac Pessac-Léognan 90p Malartic Lagravière Pessac-Léognan 95p Olivier Pessac-Léognan 92p Pape Clément Pessac-Léognan 96p Picque-Caillou Pessac-Léognan 89-90p Rahoul Graves 90p Respide Medeville 90p Roquetaillade La Grange Graves 89p Seguin Pessac-Léognan 94+p Smith Haut Lafitte Pessac-Léognan 95p
Graves & Pessac-Leognan white
Bouscaut blanc Pessac-Léognan 90p Carbonnieux blanc Pessac-Léognan 92-93p Chantegrive blanc (Cuvée Caroline) Graves 88p Clos Floridene Graves white 88p Clos Marsalette white Pessac-Léognan 88p Couhins Lurton white Pessac-Léognan 89p Crabitey white Graves 88p Cruzeau white Pessac-Léognan 88-89p de Fieuzal blanc Pessac-Léognan 90p de France white Pessac-Léognan 90p Domaine de Chevalier blanc Pessac-Léognan 95-96p Domaine de la Solitude white Pessac-Léognan 89p Ferrande blanc Graves 89p Haut-Bergey white Pessac-Léognan 89p Haut-Brion white Pessac-Léognan 97p La Clarté de Haut-Brion (white) Pessac-Léognan 92p La Louvière white Pessac-Léognan 90p La Mission Haut-Brion white Pessac-Léognan 95p Larrivet Haut-Brion white Pessac-Léognan 90p Latour-Martillac white Pessac-Léognan 89-90p Le Sartre white Pessac-Léognan 88p L'Esprit de Chevalier Pessac-Léognan white 91p Lespault Martillac white Pessac-Léognan 92p Malartic Lagravière white Pessac-Léognan 95p Olivier white Pessac-Léognan 90p Pape Clément white Pessac-Léognan 90p Picque-Caillou white Pessac-Léognan 90p Rahoul white Graves 89p Respide Medeville white Graves 90p Rochemorin white Pessac-Léognan 88p Smith Haut Lafitte blanc Pessac-Léognan 94p
Bordeaux, Bordeaux Superieur, Blaye Cotes de Bordeaux, Cadillac Cotes de Bordeaux, Castillon Cotes de Bordeaux, Cotes de Bourg and Francs Cotes de Bordeaux
20 Mille Bordeaux Supérieur 91-92p Acte 8 G de Guinaudeau Bordeaux Superieur 91p d'Aiguilhe Castillon Cotes de Bordeaux 88p d'Aiguilhe white Bordeaux 88p Aile d'Argent blanc Bordeaux 92p Alcée Castillon Côtes de Bordeaux 91p Ampelia Castillon Côtes de Bordeaux 90p Bad Boy Bordeaux Clarendelle Bordeaux 88p Clos des Lunes Lunes Blanche Bordeaux 88p Clos des Lunes Lunes d'Argent Bordeaux 89p Clos des Lunes Lunes d'Or Bordeaux 90-91p Clos Lunelles Castillon Côtes de Bordeaux 91 Cos d'Estournel white Bordeaux 92p Cote Montpezat Castillon Côtes de Bordeaux 91p Croix-Mouton Bordeaux Supérieur 90-91pp de Francs Francs Côtes de Bordeaux 90p de Reignac Bordeaux Superieur 89p Domaine des Cambes Bordeaux 89p Domaine Virginie Thunevin Bordeaux 90p Girolate Bordeaux 87 Grand Village Bordeaux Supérieur 92p Grand Village blanc Bordeaux 91-92p Haut Bertinerie Blaye Cotes de Bordeaux 90p La Prade Francs Côtes de Bordeaux 90-91p L'Aurage Castillon Côtes de Bordeaux 90p Laussac Castillon Côtes de Bordeaux 89p Laussac, Cuvée Sascha Castillon Côtes de Bordeaux 89p Le Nardian (white) Bordeaux 91-92p L'Esprit de Pavie Bordeaux 90-91p Le Pin Beausoleil Bordeaux Superieur 88p Les Champs Libres (white) Bordeaux 92p Les Charmes Godard white Francs Côtes de Bordeaux 91-92p Monbousquet white Bordeaux 90p Montlandrie Castillon Côtes de Bordeaux 90p Mont Perat Bordeaux 88p Pavillon Blanc de Margaux Bordeaux 93p Puy Arnaud Castillon Cotes de Bordeaux 90p Puygueraud Francs Côtes de Bordeaux 91p Puygueraud blanc Francs Côtes de Bordeaux 92p Roc de Cambes Côtes de Bourg 93p Suduiraut blanc dry Bordeaux 91p Tour de Mirambeau Cuvée Passion Bordeaux 89p Veyry Castillon Cotes de Bordeaux 90p Virginie Thunevin Bordeaux 90p
Médoc/Haut Médoc
D'Agassac Haut Médoc 87p D'Arcins Haut Médoc 87p Beaumont Haut Médoc 89p Belgrave Haut Médoc 89-90p Camensac Haut Médoc 89-90p Cantemerle Haut Médoc 90p La Chapelle de Potensac Médoc 87p Citran Haut Médoc 90p Coufran Haut Médoc 91-92p Goulée Medóc 91p de Lamarque Haut Médoc 90-91p La Lagune Haut Médoc 95-96p Malescasse Haut Médoc 88p La Tour Carnet Haut Médoc 90-91p La Tour de By Médoc 88p Potensac Haut Médoc 90p
Listrac & Moulis
Chasse Spleen Moulis 90p Clarke Listrac 88-89p Fonréaud Listrac 89p Fourcas Dupré Listrac 88p Fourcas Hosten Listrac 88p Maucaillou Moulis 91p Poujeaux Moulis 91p
Margaux
Alter Ego 93p Brane-Cantenac 95p Cantenac Brown 95p d'Angludet 89p Clos Margalaine 90p Dauzac 92-93p Desmirail 93p Dufort Vivens 92-93p des Eyrins 91p du Tertre 91-92p Ferrière 92p Giscours 94-95p Kirwan 92-93p Labégorce 92p Lascombes 93-94p Malescot Saint-Exupéry 94-95p Ch. Margaux 97p Marojalia 90p Marquis d'Alesme 94+p Marquis de Terme 92-93p Monbrison 92p Palmer 96p Pavillon Rouge de Margaux 93p Prieuré-Lichine 91p Rauzan Gassies 92-93p Rauzan-Ségla 93-94p Siran 91p
Saint-Julien
Amiral de Beychevelle 90p Beychevelle 95+p Branaire Ducru 92p Clos de Marquis 93p Gloria 92-93p Gruaud Larose 92+p La Petite Marquise 91p Lagrange 92-93p Langoa Barton 93p Le Petit Lion 92p Léoville Barton 94-95p Leoville Las Cases 98+p Léoville Poyferré 95+p Moulin Riche 91p Pavillon de Leoville Poyferre 90p Saint-Pierre 93-94p Talbot 93+p
Pauillac
Batailley 93p Carruades de Lafite 92p Clerc Milon 93p Croizet-Bages 91-92p d'Armailhac 93p Duhart-Milon 92-93p Fonbadet 88p Grand-Puy Ducasse 93p Haut-Bages Libéral 93p Lafite Rothschild 98-99p Latour 98-100p Le Petit Mouton de Mouton-Rothschild 91-92p Les Forts de Latour 93p Les Griffons de Pichon Baron 91+p Les Tourelles de Longueville 91p Lynch-Bages 93p Lynch-Moussas 92-93p Mouton-Rothschild 99-100p Pauillac de Latour 91p Pibran 92p Pichon Baron 97+p Pichon Comtesse 98+ Pontet-Canet 95-96p Reserve de La Comtesse 91p
Saint-Estephe
Calon-Ségur 96p Capbern 91-92p Cos d'Estournel 97p Cos Labory 93p de Pez 92-93p La Dame de Montrose 92p Lafon-Rochet 92p Le Crock 91p Le Marquis de Calon 91p Les Ormes de Pez 91-92p Montrose 98p Pagodes de Cos 91-92p Phélan Ségur 92p Tronquoy-Lalande 91p
Canon-Fronsac/Fronsac
Dalem Fronsac 89-90p de La Riviere Fronsac 91p Fontenil Fronsac 91p Gaby Canon-Fronsac 89p Haut Carles Fronsac 91-92p La Dauphine Fronsac 91p Les Troix Croix Fronsac 92p Moulin Haut Laroque Fronsac 91-92p Moulin Pey Labrie Canon Fronsac 91-92p Villars Fronsac 89p
Lalande de Pomerol
de Chambrun 90-91p de Viaud 88p Domaine de Gachet 90p Domaine des Sabines 91p Grand Ormeau 90-91p La Chenade 91-92p La Gravière 90p La Sergue 88p L'Ambroisie du Chateau La Croix des Moines 91-92p Les Cruzelles 92p Perron La Fleur 90p Plaisir de Siaurac 86p St.Jean de Lavaud 89p Siaurac 89p Tournefeuille 88p
Pomerol
Beauregard 92p Beau Soleil 88-89p Bellegrave 89p Belle Brise 94+p Bonalgue 90-91p Bourgneuf 94+p Cantelauze 94-95p Certan de May 95-96p Clinet 96+p Clos de la Vieille Eglise 92p Clos du Clocher 89p Clos Vieux Taillefer 88-89p Domaine de Compostelle 87p Feytit Clinet 90p Fugue de Nenin 88p Gazin 90p Haut Maillet 92p La Cabanne 95+p La Clemence 92p La Commanderie 92p La Conseillante 96-97p La Croix de Gay 92p La Croix Saint-Georges 95p La Fleur de Gay 91p La Petite Eglise 92p La Pointe 92p La Rose Figeac 88p La Violette 94-95p Lafleur 98-100p Le Bon Pasteur 92p Le Clos du Beau-Père 90p Lecuyer 91p Le Gay 94-95p Le Jardin de Petit Village 89p Le Pin 98-99p L'Eglise-Clinet 98-99p L'Enclos 91p Les Pensées de Lafleur 93p Manoir de Gay 91p Mazeyres 90p Montviel 90p Nenin 92p Petit-Village 96+p Petrus 98+p Rouget 90p Sácre Coeur 93p Taillefer 89p Vieux Château Certan 97-98p Vieux Maillet 89p Vray Croix de Gay 90p
Montagne Saint-Emilion/Puisseguin Saint-Emilion/St. Georges Saint-Emilion
Calon St.Georges-Saint-Emilion 91p Cap St.George St.Georges-Saint-Emilion 93p La Papeterie Montagne Saint-Emilion 90p Soleil Puisseguin Saint Emilion 89p
Saint-Emilion
Amélisse/Saintayme 90-91p Angelique de Monbousquet 89p Aromes de Pavie 89p Ausone 98-99p Balestard La Tonnelle 90p Beausejour Duffau 95p Bel-Air Ouy 91-92p Bellevue Mondotte 97+p Bellefont Belcier 92p Berliquet 91p Canon 97+p Canon La Gaffelière 92p Cap de Faugeres 91p Cap de Mourlin 91p Cheval Blanc 97-99p Clos Badon Thunevin 89+p Clos Dubreil 89p Clos de L'Oratoire 89p Clos des Prince 89p Clos de Sarpe 91p Clos Fourtet 93-94p Clos La Madeleine 92p Clos St. Martin 92+p Corbin 94p Corbin Michotte 94p Cote de Baleau 92p Croix Canon 90-91p Dassault 91p de Fonbel 91p Destieux 91-92p Domaine des Gourdins 89p Faugeres 90p Figeac 97+p Fleur Cardinale 95p Fombrauge 91-92p Fonbel 90p Fonplegade 91-92p Fonroque 91-92p Franc-Mayne 93p Grand Barrail Lamarzelle Figeac 89-90p Grand Corbin Despagne 91-92p Grand Mayne 91-92p Grand Pontet 92p Grandes Murailles 92p Harmonie 91-92p Haut Simard 90p La Chapelle d'Ausone 91-92p La Clotte 90p La Confession 94-95p La Couspade 92-93p La Croizille 91p La Dominique 92p La Mondotte 95+p La Tour Figeac 91-92p Laforge 91-92p Larcis Ducasse 94p Larmande 92-93 Laroze 89p Le Carre 88p Le Dôme 96+p Le Dragon de Quintus 89p Le Pontet Labrie 92p Le Prieure 89p Les Asteries 92+p L'If 94-95p L'Interdite de Valandraud 92p Lynsolence 89p Magnan La Gaffeliere 89p Magrez Fombrauge 93+p Mangot 91-92p Mangot Todeschini 92p Monbousquet 92p Montlabert 90p Moulin du Cadet 92p Moulin Saint-Georges 91p Pavie 98p Pavie Decesse 97p Pavie-Macquin 97p Peby Faugeres 90p Petit Cheval 91-92p Quinault L'Enclos 89p Quintus 92-93p Sansonnet 92p Simard 88p Soutard 93p Tertre Roteboeuf 98p-99p Teyssier 91p Tour Baladoz 91+p Tour St. Christophe 91p Troplong Mondot 96-97p Trottevieille 94-95p Valandraud 97p Vieux Chateau Mazerat 95+p Villemaurine 89p Virginie de Valandraud 92 Yon Figeac 89-90p