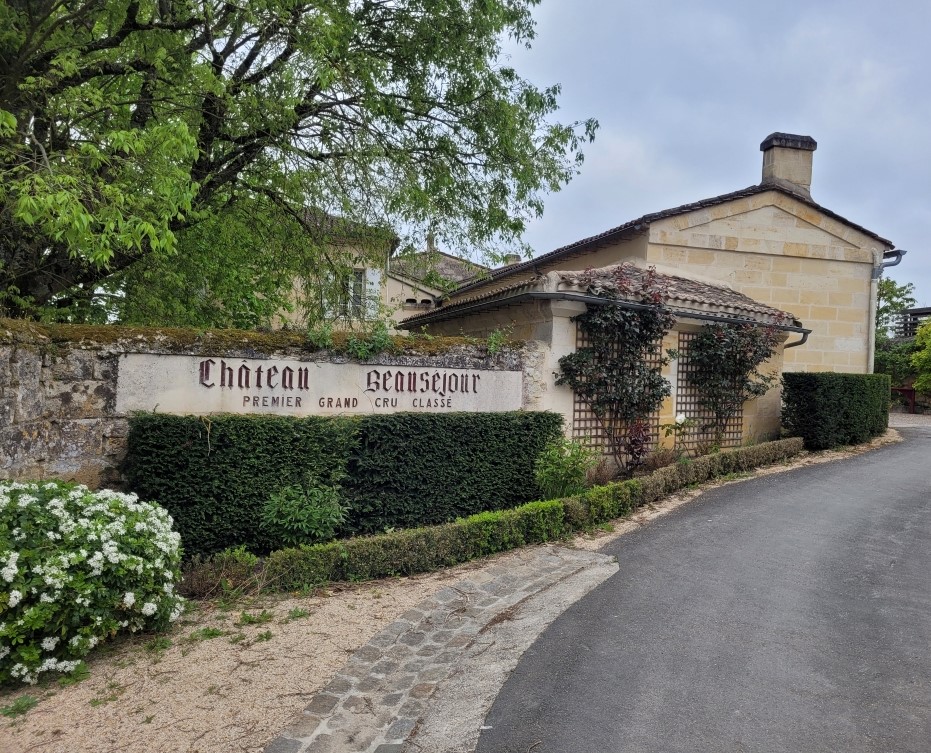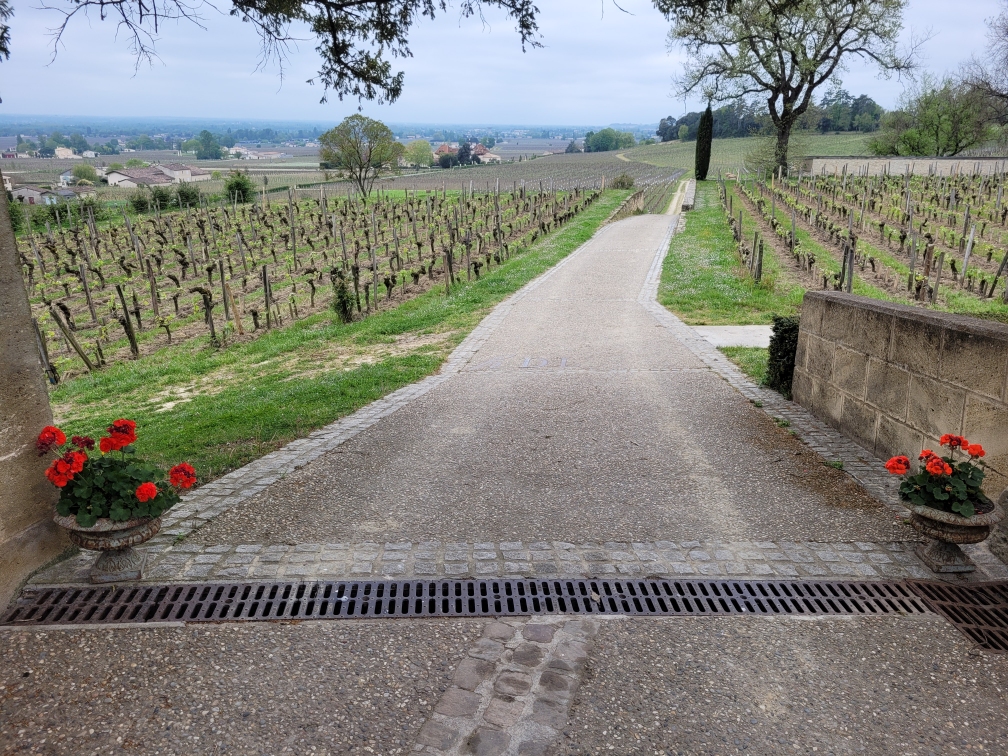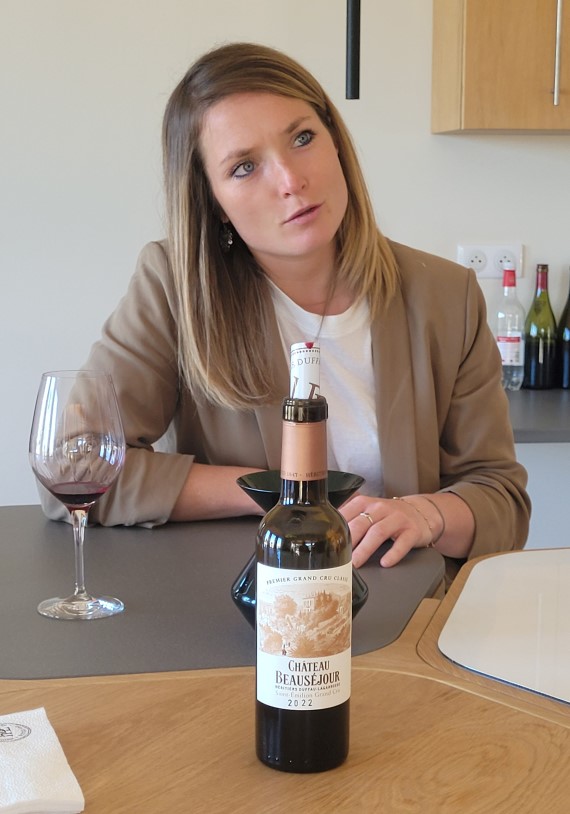 Left - inside Beasejour Duffau-Lagarrosse. Right - Josephine Duffau Lagarrosse presents a barrel sample of 2022 vintage - April 2023
Pierre-Paulin Ducarpe bought this property in 1847, and before he died in 1869, he gave half of it to his son and half to his daughter. His son's part became Beau Sejour Becot, and his daughter's Beausejour Duffau Lagarrose, as she got married to a Duffau Lagarrosse male. So Beausejour Duffau Lagarrosse has been owned by the same family for over 150 years.
Beausejour Duffau Lagarrosse is perfectly placed on the hill and slope just outside the village of St Emilion, and it's a close neighbor to Canon and, of course, to Beau Sejour Becot. The vineyard consists of 6.5 ha planted with 75% Merlot and 25% Cabernet Franc. Vines are, on average, 45 years old. The soil is mainly clay on the bed of whole and crushed limestones.
This property became famous with the 1990 vintage, rewarded with a 100p rating by wine critic guru Robert Paker. It's also a benchmark of what BDL is capable of. I asked in May 1998, while visiting BDL, Jean-Michel Dubos, the winemaker at that time (since 1983), what made 1990 so stunning, and his answer was - "A heavenly combination of weather, quality of grapes, ripeness inside and outside the grapes and perfect chosen time of the harvest!". He left BDL in 2012.
After 1990, the property had a period of inconsistency. In 2009, Duffau Lagarrosse's heirs hired Nicolas Thienpont, David Suire, and famous oenologist Stephane Derenencourt to get the property back on track. The quality quickly improved during the reign of the new winemaking staff. Vintages 2018, 2019, and 2020 echoed much of the achievement in the 1990 vintage!
Nicolas Thienpont and David Suire continued until 2021, with 2019 as the last vintage made 100% by them. They initially also made the final blend of the 2020 vintage.
In April 2021, Beausejour Duffau Lagarrosse was put on sale by 30 members of the Duffau Lagarrosse family. After some early bids by the Cuvellier family from nearby Clos Fourtet and Stephanie Rivoal-Bouard from Angelus, it ended with Josephine Duffau Lagarrosse buying the property with financial backing from Clarins (a world-famous cosmetic company) investment fund run by her friend Prisca Courtin-Clarins. Josephine Duffau Lagarrosse is the granddaughter of the previous owner, doctor Duffau-Lagarrosse.
She arrived at the property in April 2021 after working for Bernard Magrez. Before her stint with Bernard Magrez, she gained a lot of winemaking experience in Napa Valley, New Zeeland, Mexico, and Burgundy (Domaine Georges Noëllat in Vosne Romanée).
She corrected the blend of 2020 BDL (done originally by Nicolas Thienpont and David Suire) by adding more Cabernet Franc at the expense of Merlot. 2021 was the first vintage of her own.
Josephine Duffau Lagarrosse has financial backing from Clarins (a world-famous cosmetic company) in the form of an investment fund run by her friend Prisca Courtin-Clarins. She's a very ambitious winemaker with many plans to get BDL even better quality-wise. She applied to get it higher in the revised classification, published in September 2022, but Beausejour Duffau Lagarrosse wasn't upgraded. It's been a PGCC "B" since 2006.
Since her arrival at BDL, Josephine Duffau Lagarrosse gets advice from two consultants, a professor in oenology at Bordeaux University, Axel Marchal, and oenologist Julien Viaud (Michel Rolland Consulting).
The wine here is the perfect mix of power and elegance. Multi-layered and sophisticated. Opulent and delicate. Vibrant and luscious. A great delicacy to enjoy for many years. It's among the very best wines in Saint-Emilion.
-----
2022 (barrel sample) 98-100p
Tasted in April 2023. The soil here, a limestone one, is exceptional, and during the hot period in the summer of 2022, it has "cooled" down the vines with a fantastic result! For me, 2022 marks a style change towards a more elegant, refined, and sophisticated one than vintages 2019, 2018, and 2016. A wine with a well-integrated mix of finesse and power, minerality, and Burgundian delicacy and opulence of highly-esteemed Grand Cru wines from Chambolle Musigny/Gevrey Chambertin/Vosne Romanée. The blend for the 2022 vintage has 10% more C. Franc than in previous vintages - 69% Merlot + 31% C. Franc; the harvest of Merlot took place from the 6th to the 9th of September, and C. Franc was collected on the 23rd of September. ABV is 14.9%, but you can't feel it while tasting. This is a mind-boggling effort and clear proof of extraordinary winemaking skills from Josephine Duffau Lagarrosse. Bravo!!
2021 (barrel sample) 95+p
Tasted twice - last time in April 2023. Consistent notes. 79% Merlot + 21% C. Franc, 13.5% alcohol. The vineyard here wasn't affected by frost. Harvest finished rather late, meaning mid-October, with C. Franc perfectly ripe. This is the first vintage made 100% by Josephine Duffau Lagarrosse. Dark red, fresh, pure, mineral, violets and roses, raspberries, C. Franc, shined through, was precise, focused, and with superb midpalate, structure, and length. It's more complex and longer compared to the one I tasted last year. Quite an achievement for her first vintage. A great future awaits!
2020 98+p
Tasted twice - last time in April 2023. I tasted it first, along with 2019 and 2018 vintages, in November 2021. 79% Merlot + 21% C.Franc. This wine was as thrilling from the bottle as from the barrel when tasted in April 2023. Similar in many ways to 2022. Creamy berries and silky tannin. Multilayered, sophisticated, and seamless. Fabulous structure and mid-palate and a superb finish. Fantastic effort.
2019 97-98p
Tasted in November 2021. I wrote in June 2021 following tasting a barrel sample of 2019 BDL. "It's a beautiful effort! It had a great nose with a remarkable intensity of black cherries, dark chocolate, and cocoa powder, fleshy on the palate with high complexity and sophisticated touch, and a luxurious and lingering finish. This wine oozes sheer class! 97-98p". From the bottle, it was identically impressive and got some elegance too.
2018 98+p
Tasted twice in 2021 from the bottle. Consistent notes. It's a badass sublime wine. High-class nose with a riveting intensity of black cherries, grated chocolate, and mocha, creamy on the palate with exquisitely grained tannin, extraordinary complexity, sophisticated touch, and lingering finish for over 60 seconds.
2017 (barrel sample) 95p
Tasted in April 2018. Fresh, oaky, with plenty of dark berries, juiciness, and length. Silky tannin, elegance, and splendid structure. Delicate complexity and persistent finish. Strong performance for the vintage.
2016 (barrel sample) 95p
Tasted in April 2017. Excellent nose of black fruit, velvety texture, excellent acidity, great composition, very complex and refined. Stupendous effort.
2010 (barrel sample) 96p
Tasted in April 2012. Great intensity of aromas of black cherries on the nose and palate, with excellent purity, structure, and length. Excellent effort.
2009 94p
Tasted twice - last time in April 2012. Consistent notes. Almost a twin brother of 2010. Less complex, however, and without the grace and lusciousness of 2010.
2008 93-94p
Tasted twice - last time in April 2012. Consistent notes. I liked it a lot! Aromatic and deep nose of black cherries and raspberries. Sappy, vibrant long, and complex, with fine acidity, structure, and meaty finish.
2005 93+p
Tasted twice - last time in April 2012. Consistent notes. Full-bodied, fine aromas of perfectly ripe berries, rock-solid structure, big depth and length on the palate. Splendid effort.
2000 94p
Tasted in April 2003. Aromatic dark berries, splendidly composed, fine length, and remarkable balance. It was a very stylish wine of the traditional school, and this wine can keep for many years.
1990 93-100p?
This vintage is the birth year of the present owner, Josephine Duffau-Lagarrosse. The bottle of this wine tasted in December 2016 was disappointing if you take its fame into context. I'd it a few times earlier, and it was much better with breathtaking complexity, richness, length, and finish. The first time I tasted it, I rated it 100p. Delicate complexity but not striking concentration and richness. My bottle was closed on the tasting day or a bit faulty. I've one bottle left in my cellar and will keep it for a vertical tasting in the near future. Hope it'll show its true colors then!!
1918 96p
Tasted in November 2018. A rich nose of black fruit, intense, thick on the palate, long, still fresh. Excellent balance and complexity. Smooth fruity finish. Vibrant and full of life. This was fabulous stuff! Chateau bottling.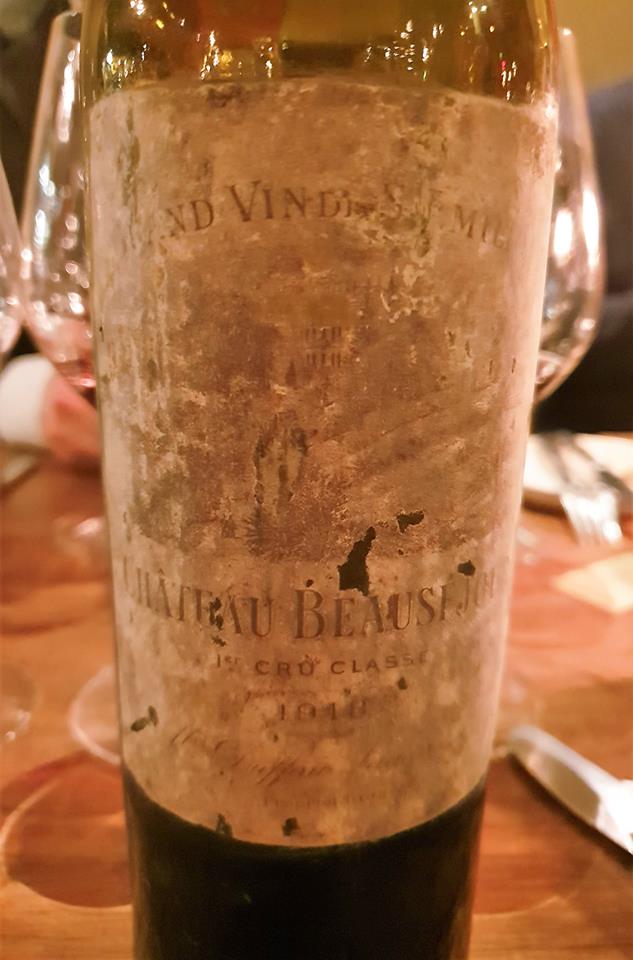 A fantastic and sublime experience!