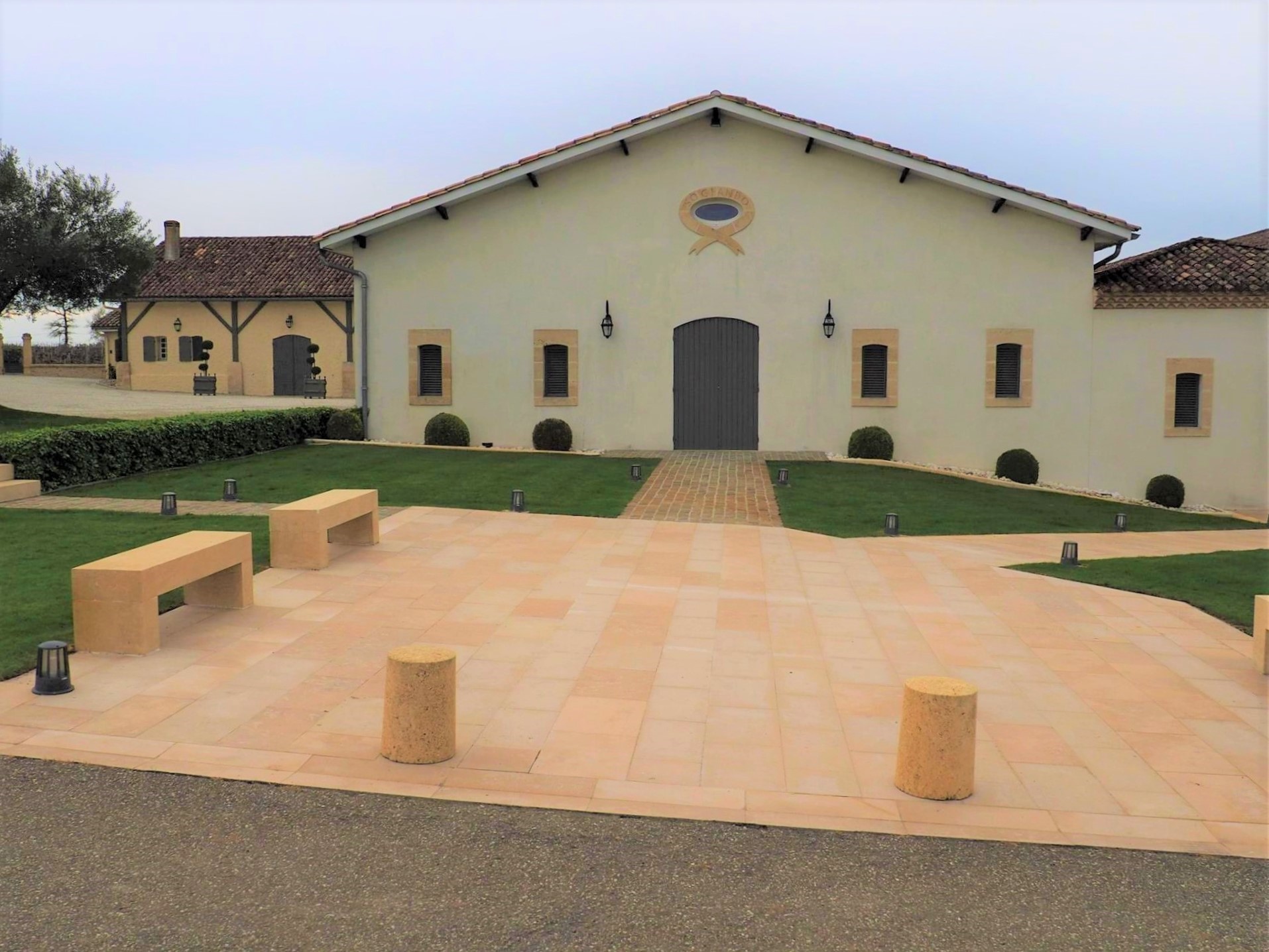 Cellars of Sociando Mallet in April 2019
Sociando Mallet is situated in the village Saint Seurin-de-Cadourne, less than five kilometres north of Saint Estephe and outside its appellation. This property bears appellation Haut-Medoc and is 120 ha big of which 88 ha are in production. The soil here is gravel on the deep bed of clay and limestones. This is a typical soil condition for Saint-Estephe properties and close neighbouring ones. The microclimate here is perfect, as Sociando Mallet overlooks Gironde river banks, which assures no significant temperature fluctuation and protection from frost.
The vIneyard here is planted with 42% Cabernet Sauvignon, 54% Merlot, and 4% Cabernet Franc, vines are 35 years old on average. The soil here favours Cabernet Sauvignon particularly.
Sociando Mallet fame started in 1969 when Jean Gautreau became fascinated by soil so perfect for Cabernet Sauvignon and acquired it. He started with only 5 ha and inadequate technical facilities. Through the years he enlarged vineyard by buying from neighbours and modernised the whole thing. His daughter Sylvie runs the property now with the recently appointed property manager Francois Hugueniot and sales manager Pascale Thiel.
Sociando Mallet has a large following among wine-lovers because of its special style and affordable prices. It's of Cru Bourgeois status. From time to time, it can challenge several Cru Classes in Margaux, St.Julien, Pauillac and Saint-Estephe.
For sure it's a wine you should try when you are in Bordeaux.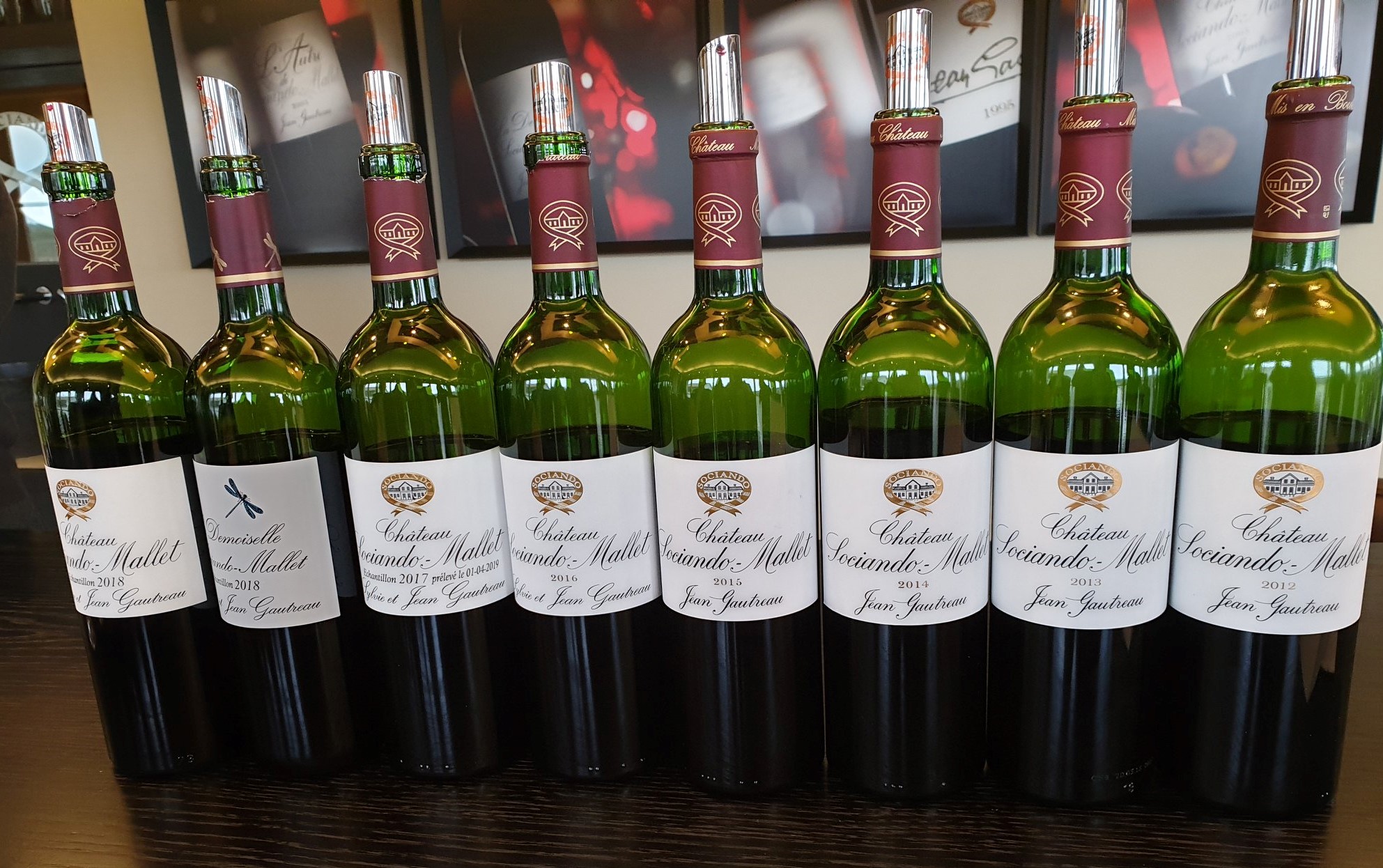 Vertical of Sociando Mallet in April 2019
-----
2019 SOCIANDO MALLET (barrel sample) 95p
Tasted in June 2020. 55% Merlot + 43% Cabernet Sauvignon + 2% Cabernet Franc. Deep nose and palate with tobacco leaves and cigar box scent, intermixed with creamy blackcurrants and blackberries. Very potent on the palate with depth, strong backbone and great complexity and balance. Fat tannins and fat creamy finish. It matches in every corner 2018 version and may show even better after bottling.
2018 SOCIANDO MALLET 95p
Tasted twice - last time in January 2021. Consistent motes. 55% Merlot, 40% Cabernet Sauvignon and 5% Cabernet Franc. Black label instead of usual white one to celebrate the 50th vintage made by Jean Gautreau. Densely aromatic with dark berries and some mint, creamy on the palate with strong backbone, great precision and focus, dense and long, excellent structure, depth and complexity. As thrilling as from barrel. Gives several classified growths run for their money.
2018 CUVÉE JEAN GAUTREAU 95+p
Tasted in January 2021. 70 % Cabernet Sauvignon and 30 % Merlot. This wine is a unique selection of 15 barrels out of 60 produced in this vintage. These 15 barrels' choice is made after a 1-year stay in the barrel by the property's oenologist, Jean Gautreau (he passed away in November 2019) and his daughter Sylvie Gautreau. This special cuvée has more Cabernet Sauvignon than Grand Vin and is intended to show another version of Grand Vin by mixing these 15 barrels. To avoid confusion between Grand Vin and this cuvée, the bottle here is brown and taller and has another shape of the neck. The wine itself then? Very similar to Grand Vin but tastes denser and fatter with some more intense flavour of cigar box and tobacco leaf. For sure, it's remarkably stupendous stuff!
2017 SOCIANDO MALLET 2017 (barrel sample) 91-92p
Tasted in April 2019. Silky texture, velvety fruit and tannin, elegance and finesse. Lighter than 2018 and 2016. A delicacy to enjoy.
2016 SOCIANDO MALLET 93-94p
Tasted in April 2019. Sensual wine with splendid concentration, complexity, structure and length. Showing what this vintage is about!
2014 SOCIANDO MALLET 92p
Tasted in April 2019. Meaty and sappy wine with splendid acidity and complexity. Firm finish. Very typical for the property and a classic cool climate Bordeaux wine.
2013 SOCIANDO MALLET 87p
Tasted in April 2019. If you take the troublesome weather conditions in this vintage context, this wine understandable lacked some ripeness and had a bit jammy fruit. Light, round and charming. Quick consumption advised.
2012 SOCIANDO MALLET 89p
Tasted in April 2019. Very seductive and attractive wine with tasty with polished fruit and silky tannin. Smooth fruity finish. To enjoy now and 10 years more.
1982 SOCIANDO MALLET 93p
Tasted in December 2007. Dense, black-red, incredibly concentrated with glorious blackcurrant fruit, powerful tannins, firm structure and long aftertaste. Awesome wine.