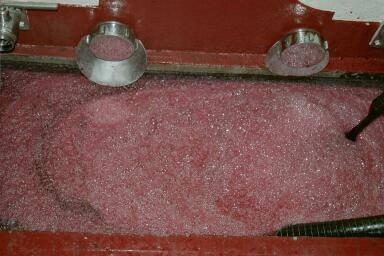 This thick rosa "foam" (mousse) is a trademark of 2000-vintage's outstanding quality
Weather conditions
Vintage 2000 has, from the very start, been proclaimed one of the best vintages of modern times. In spring 2003, I had many opportunities to discover if we had a true dream vintage in our hands.
During harvest 2000, while doing a "personal inspection" in the vineyards, I noticed that something extraordinary big was coming. The grapes looked extremely healthy.
While the sorting table was rolling, I observed, that there were few leaves, stalks and weeds among the grapes. That's why sorting out grapes went so easy and quick. It must be one of the hallmarks of the 2000 vintage because, usually, even the great vintages require a lot of work at the sorting table.
2000 vintage is classic, extravagant and extremely long-lived Bordeaux with dark, extremely dense wines, which have an enormous concentration of fruit, length and superbly concentrated tannin. The tannin is not allowed to dominate because it's well wrapped up by fruit. A scent of sub-maturity is only present in a few wines. One of this vintage's trademarks is an intense aroma of dark berries, like blueberries, blackberries and black cherries.
All red grape varieties reached perfect maturity, including Bordeaux's most capricious and unruly grape variety, Petit Verdot. Petit Verdot gives the much-needed contribution of backbone and power to the wines.
Also, the grapes for whites, like Sauvignon Blanc, Sémillon and Muscadelle, riped perfectly and produced fine dry white wines. Sweet white wines turned unfortunately to be a few lights, elegant and charming wines, which were based 100% on September pickings. Beginning on the 11th of October, it rained heavily in Bordeaux and continued until the end of the year.
This year's most extensive tasting of Bordeaux wines in fantastic vintage 2000 was arranged by Philipson Wine in Copenhagen at the end of April 2003. And it turned to be an excellent one. Here are the tasted wines, one by one:
Château Lynch Moussas is on its way up in terms of quality. It was a delightful wine with well-integrated fruit and tannin. It started a bit rustic and edgy, but this disappeared very quickly. This wine will surely get better after some time. 90p.
Château Grand Puy Ducasse and Château Talbot lacked some more power in their guns, but they compensated for this just fine, with sweet ripe fruit everywhere and elegance and finesse. 89-90p.
Château d'Issan was almost as strikingly beautiful as Lascombes, but here we had a wine of the traditional school. Soft and incredibly attractive. 91p.
Château Lascombes seems well on the way back to fame. Sophisticated with elegant and gracious "steps", aromatic and deliciously ripe fruit in a perfect marriage with silky tannin. Very long aftertaste. Lovely and riveting wine in modern style. 91+p.
Château Beychevelle is well-known for its elegant and finesse-full wine. In vintage 2000, it's a beautiful but light one. I would have wished for a more intense and concentrated wine, but it's not because I will replace Julia Roberts with Arnold Schwarzenegger. 90p.
Château Cos d'Estournel defended the "colours" of Saint-Éstephe nicely. Not quite as refined and multidimensional as Montrose, but this wine's intensity, depth and complexity were outstanding. Extremely well-deserved 94+p.
Vegetable aromas slightly marked Château Figeac. Cabernet Franc tastes like that when young. Anyway, splendid, intense, creamy berry fruit, full-bodied and refined wine with a nice structure. It will require quite some time to improve. 92p.
Château Gruaud Larose did impress enormously. It was strong and robust, with lots of sweet, creamy and concentrated cherries, blackberries and blackcurrants. The balance, complexity and depth of this wine were simply extraordinary. A bull's eye that assures 20-30 years of pleasant enjoyment. 95p.
Château Lynch Bages is a favourite of many wine lovers, and deservedly so. It's not so often you get such a generous wine with luscious fruit and high class. In vintage 2000, it was incredibly tasty, well-balanced, and silky tannin. It will keep with ease for 20 years from now. My vote is 93p.
Château Montrose has always been one of Bordeaux's most constant and classic wines. In vintage 2000, it was so sublime, so sophisticated, so aromatic, and so luscious that it took some time to digest all the nuances and finesses in this wine. It fulfilled its promises from the cask sample completely and more so. This wine is a masterpiece to enjoy for 25-35 years. Saint-Éstephe's Lafite. 96+p.
Château Ducru Beaucaillou was a big, fat wine, sappy and powerful. Not quite as luscious and creamy fruit here as Gruaud Larose's. If the balance keeps up, we will expect more goodies from this wine. 93p.
Château Clinet has always had the potential to be one of the top wines in Pomerol, but unfortunately, this wine rarely impresses. In vintage 2000, it tasted of sweet and candy fruit, was quite complex and well-defined, but obviously lacked extravagance and intensity found in many other wines. Only 90-91p here.
Château Leoville Barton was, as always, classic Bordeaux with pure lines, lots of luscious berries, and very nuanced and exemplary balanced. It was a great pleasure to meet this wine, which easily lasts for at least 25 years. 95+p.
Château Pichon Comtesse showed a high class. Strong and powerful, but also with many elegant, refined and finesse-full elements. Very nuanced and dense in structure. 95p.
Once again, Château Palmer proved it is in Bordeaux's absolute elite. 2000 wine is sophisticated and refined and has many facets to show that you jump with joy. Sweet berries and tannin in a silky-soft package added incredible elegance and complexity. Pure extravaganza at 96+p.
When I tasted Château Leoville Las Cases 2000, I asked myself if this wine could match 1. Crus. It almost did! This wine can conquer the whole world with the richness of nuances, concentration, depth and length. A masterpiece for 30-40 years lay in the cellar. Jean-Hubert Delon continues his father's outstanding wine work in the most exemplary way. 98p.
Pomerol's undisputedly most gracious and elegant wine, Château La Conseillante, didn't disappoint. Light but very refined. Incredibly nice harmony between fruit and tannin and a round and joyful finish. 94p.
The very powerful Château L'Evangile offered truffles and sweet blackberries in huge quantities, plus an extremely long aftertaste. This wine wasn't the easiest to make friends with, but it will come later. Wait for another 10-12 years. Comes from the same "source" as Lafite. 94+p.
So Château Lafite. A legend, the world's best wine and perfectionism at the phantom level. Here, one's senses were working at the highest gear to captivate all these fireworks of nuances this wine possesses. This wine is the true essence of Bordeaux – it's unique and not imitable. 100p!
Château Mouton Rothschild had an over-delicious fragrance of perfectly ripe blackcurrants and blackberries, almost aristocratic. The palate wasn't, however, of the same standard, but still in the upper stratosphere. This wine has a good portion of extravaganza and sublime quality. 97+p
Château Latour was quite different from the other tasted 1. Crus. Why? - Because of its modern style, which means a lot of extracts, enormous concentration and power. A wolf in sheep's clothes. Are 30 years horizontally enough? 99p.
In addition to the wines above, several 2000 wines were tasted in Bordeaux during the spring of 2003:
Château Cantelauze continues without any hesitation in a sophisticated and elegant style. Perfectly ripe creamy fruit with strong scents of dark cherries, blackberries, chocolate and truffles, much finesse, exemplary balance and sensational structure. It's the best vintage yet for this property, and the wine is a big, big winner. Classic Pomerol at a sky-high level. 94p.
Domaine de Chevalier 2000 was a true heartbreaker. Very complex and finesse-full. There was a beautiful aroma of blueberries, blackberries and blackcurrants. Incredibly sophisticated and refined. It's maybe the best vintage Olivier Bernard has ever made while managing this estate (since 1983). 93+p.
White Domaine de Chevalier 2000 was also something extraordinary! Sublimely shaped, the sublime aroma of acacia, pears and citrus was sublime on the palate and sublime everywhere. It was a stunning piece of wine work! 94p.
After being leased since 1985 to Sylvie & Jacques Guinaudeau, Château Lafleur is now 100% their own. Jacques' aunt and the owner of Lafleur, Marie Robin, died last year. It was necessary to sell her another property, Le Gay, to pay the astonishingly high inheritance taxes because of her death. It's a god-blessed wine made here, without the technical tricks of the modern school and based on tradition. I've tasted Lafleur 2000 three times – May 2001 (from barrel), April 2002 and April 2003. Every year, it gained more and more nuances and taste components, despite being already complete and sensational in 2001. Here, the soil speaks, and this wine links in fantastic way power and finesse. This is a hand-made delicacy from Jacques Guinaudeau worth 100p!
Jean-Philippe Janouiex is now the owner of four estates. In addition to Château de Chambrun (1994) and Château Mouton (1997, two more have arrived. Château La Confession in Saint-Émilion (2001) and Château Le Conseiller (2002). The last-mentioned property borders Mouton. Since the 1999 vintage, he has been responsible for the Janouiex family's Château La Croix St.Georges (neighbouring Le Pin) and the estate's 2000 hits bull's eye. Strong and powerful, with lots of sweet berries everywhere and incredibly complex. This wine has a pretty modern style but hasn't lost the character of the soil. 95p. His own de Chambrun tasted outrageously delicious and intelligent for 92p, while the energetic and friendly Mouton got 88p.
Dany and Michel Rolland arranged an exciting tasting of their wines for me in vintages 2000, 2001 and 2002. Here are tasting notes concerning the 2000 vintage:
Château Rolland Maillet was very entertaining, with creamy and tasty fruit. 88p.
Château Bertineau-St.Vincent tasted nice, offering sweet cherries and blueberries. This is a happy, harmonious and well-structured wine that should be enjoyed from 2006 to 10 years ahead. 88p.
Château Fontenil had creamy fruit in large quantities, great maturity and fantastic length on the palate. A Fronsac wine of superior quality and delicacy. 91p.
Le Défi de Fontenil, lot 00 (stands for 2000), is Vin de Table. It origins from that part of the vineyard (100% Merlot from old vines) covered by black plastic sheets to avoid the rain. This was not acceptable for I.N.A.O. – they called the action illegal and declassified the wine. But this Vin de Table was superb. More concentrated and more complex than Fontenil itself! 92p.
Château Le Bon Pasteur fulfilled all expectations. Very aromatic and intense, with many layers of creamy fruit and great length on the palate. A dense and well-equipped Pomerol wine and a true delicacy. 94+p.
SAINT-ÉMILION 2000 - P.G.C.Cs and G.C.Cs
In Saint-Émilion, everybody discusses if the vintage 2000 is better than 1998, and the latter has been rated the best vintage in this area since 1982. I made an appointment with many bottles from vintage 2000 in April 2003 to find the truth.
Precisely as in other parts of Bordeaux, the weather conditions in Saint-Émilion were extremely advantageous in August and September. It resulted in wonderfully ripe Merlot and, so, equally ripe Cabernet Franc. But unlike in 1998, when August was tropical hot and had high desert-like humidity, August in 2000 was very dry and comfortably low humidity. September 1998 began with some rain but ended with warm and sunny weather, while September 2000 enjoyed pleasant and hot weather and almost no rain in the first three weeks.
1998 was easier to harvest because of grapes' homogenous ripening process, while 2000 needed precise harvesting time because of longer and not-so-homogenous ripening. It was clear to observe several places at the right bank with clay in the underground, where grapes seemed to be perfectly ripe, but not from the physiological point of view. Tannins were not ripe, and it was necessary to wait until fruit and tannin became harmonious.
The difference between these two vintages lies mainly in fruit – 1998 tastes of raspberries, blackcurrants and red berries, while 2000 tastes of blackberries, blueberries and dark cherries. The intensity of fruit, depth and concentration is almost the same for both vintages. Vintage 2000 seems to have slightly more nuances, intensity, and aromas. But 1998 is ahead of a little bit 2000 when we talk about breed.
There were many happy proprietors with shining eyes in Saint-Émilion in the second part of September 2000. Hubert de Bouard from Château Angelus, Premier Grand Cru Classé, had just finished harvesting Merlot with 14-14.5% potential alcohol and was extremely joyful. He said - "I've never seen anything like that".
Monsieur Duffau-Lagarrosse, whom I met during a tasting of 12 Premier Grand Cru Classés at Château Figeac, was also very satisfied with the first results of 2000. If it will be better than Beauséjour, Duffau's legendary 1990 was far too early to say because, in 1990, everything went perfectly at the same time (weather, maturity and concentration) in a rarely seen manner.
During my visit to Château Corbin, Grand Cru Classé, I met the owner since 1999, Anabelle Cruse Bardinet, who was one big smile: "The whole thing looks incredibly nice, and 2000 is only my second vintage here. Merlot is formidable, but Cabernet Franc looks like a million", she said. Her 90 years old aunt couldn't resist the temptation, so she parked her car near the vineyard and walked glad and satisfied between rows of vines full of healthy and good-looking grapes. 2000 vintage brought the best from human nature because the aunt isn't usually so mobile!
But I'll probably never forget a fascinating trip with Francois Mitjavile (Tertre Roteboeuf) on the 29th of September 2000. We drove in his car in all directions in Saint-Émilion and the neighbourhood and made stops in several places. He went towards vines in several vineyards and explained to me why grapes should have been picked too early or should have stayed on vines for a few more days. His vineyards, Tertre Roteboeuf and Roc de Cambes were harvested at the very right time, resulting in the exceptional quality of both wines.
Blind tasting again - bottles are in classification rank/alphabetic order, but wine glasses aren't!
2000 Premier Grand Cru Classes
During the blind tasting of 2000 P.G.C.C. at Château Figeac in April 2003, it was apparent to see how excellent and remarkable this vintage is. Here are the tasted wines in order of preference:
Château Cheval Blanc – shows lots of blueberries, blackberries and dark cherries. Silky and soft tannin and gorgeous sweetness of the fruit. Magnificent depth, numerous nuances and refinement combined with fantastic length on the palate. This is masterly made wine, which will delight wine-lowers in 3-4 decades because of its exceptional balance. 98-99p.
Château Canon – a huge surprise and proof that the manager of this property, John Kolasa, has finally got everything under control. Dense, creamy, luscious fruit with a thick and intense aroma of blueberries and blackberries, and extremely nuanced and with sheer finesse. Fabulous and sophisticated wine which makes you yell with joy. 96+p.
Château Pavie – ink-red, dark cherries, a lot of extract and modern style. It's very concentrated, full-bodied and long on the palate. Possess delicious fruit with gorgeous sweetness. It seems not over-extracted at all, which I feared while tasting it in May 2001. A strikingly beautiful wine which will break many wine-hearts in the coming years (20-25 years) and empty many well-lined money pockets at express speed. Together with 1998, it's an incredible nice pair. 96p.
Château Angelus – is sophisticated on the nose, extremely full-bodied, with finesse and refinement. Dark berries in large quantities and a long aftertaste lasts 30 seconds. It keeps its style splendidly and, together with Pavie, represents the modern generation of Saint-Émilion wines. 95p.
Château Beau-Séjour Becot – was well-made wine with many blueberries, blackberries and dark cherries. It's stunningly aromatic and tasty, full-bodied and complex, and with a long aftertaste. It's a sublime wine, which for this property is another step up in quality after the magnificent 1998. 95p.
Château Beauséjour Duffau – dark aromatic berries, splendidly composed, acceptable length and remarkable balance. It's a stylish wine of the traditional school and one more example of this property's stable appearance over many years. It's a delicacy to enjoy for at least 20 years. 94p.
Château Clos Fourtet – dark colour, very ripe berries, medium-full, the lovely intensity of fruit. Possess splendid harmony between fruit and tannin. This very well-made wine is more female ballet dancer than weightlifter, or in other words, all in finesse. 93p.
Château Magdelaine – presented a deep and intense nose of ripe berries (blackberries and cherries), subtle and with a lot of finesse, exquisite structure and an exemplary balance. This wine shows a lot of pure splendid style and class. Very classical for the district and will keep with ease for at least 20 years more. 93p.
Château Figeac – slightly marked by vegetable aromas - Cabernet Franc tastes like that when young – but splendid, intense, creamy berry fruit, full-bodied and refined with nice structure. It will require quite some time to improve. 92p.
Château La Gaffeliere – reminds a lot of Beauséjour Duffau concerning fruit, but isn't so well put together and classic. Anyway, it's an excellent and impressive wine. 92p.
Château Trottevieille – sourish but meant positively. It tastes a little disjointed but possesses good length and a nice concentration of dark berries. Is this wine in the transition phase to something better? We shall see. For now, I prefer this property's fabulous 1998. 89-90p.
Château Belair – has a medium body, intense and delicious berry fruit of spicy and luscious kind, fine structure and length. Maybe a little too old-fashioned in style, but it's the best wine I've tasted from this property since 1982. 89+p.
45 Grand Cru Classé wines are ready for tasting blind!
45 Grand Cru Classé wines were tasted blind at Saint-Émilion's Syndicat Viticole in April 2003. There were some great surprises. Here are the best wines:
One of my absolute favourites was Château Troplong Mondot, with whom I haven't had a good relationship because wines from this property have disappointed me several times. But 2000 Troplong Mondot has taken an extremely deserved revenge. Dark berries (blueberries and blackberries) are incredibly aromatic, deep and complex on the nose. Great power and length. Rich and fabulous wine, which fully deserves lots of applause. 94-95p.
It was Château Tertre Daugay also! This estate has the same owner as La Gaffeliere, but in 2000 it looked like "little brother" had beaten big brother quite some distance. There are lots of sweet, aromatic and intense fruit, well-integrated with soft tannin, exquisite balance and a great richness of nuances. Wildly delicious. 94-95p.
Château Bellevue also belonged to the day's winners and made my knees weak. 2000 is the first vintage under the management of Nicolas Thienpont and the new shooting star on Bordeaux wine firmament within consulting, Stephane Derenencourt. Both also work together at Pavie Macquin. Their debut here is simply knock-out. Very sappy and tasty wine with splendid complexity, sophistication and many facets. Creamy berry fruit everywhere and a long aftertaste. Modern and lively style. Well-deserved 94+p.
Château Fonroque produced a super-duper wine full of incredibly aromatic fruit with remarkable lusciousness, exemplary balance and goodies on the palate. Maybe the best Fonroque ever! 93p.
Château Cadet Piola kept firm by the traditional style, and it paid off comfortably in 2000. Delicate and refined, extremely elegant and complex, and splendidly shaped. A delicacy wine with a vengeance! 92p.
Then followed the brilliant and masculine Château Grand Mayne with its incredibly deep aroma of ripe dark berries. Very concentrated and with iron structure. Splendid wine in modern style. 91+p.
Château Corbin, which is said to have almost the same soil as Cheval Blanc, is on a strong climb up in quality. Raspberry drops very luscious, creamy, very tasty and well-defined fruit. Delicate, finesse and sheer elegance. A true delicacy in classic style. 91p.
Château Laroze (90p) smelled extraordinary delicious of blueberries and dark cherries, the refined and intense Château Pavie Macquin (90p) was a little backward. At the same time, Château Corbin Michotte (90p) presented purely stylish, robust and sensual wine.
Château Cadet Bon, Château Bergat, Château Chauvin, Château La Clotte, Château Dassault, Château Fonplegade and Château Haut Sarpe were simply delightful and received really well-deserved 89p.
Château L'Arrosee, Château Balestard La Tonnelle, Château Berliquet, Château Clos de Jacobins, Château La Couspade, Château Faurie de Souchard, Château Grand Pontet, Château Larcis Ducasse, Château Laroque and Château Matras tasted all just delightfully and it was rewarded with 88-89p.
Château Cap de Mourlin, Château Clos St. Martin, Château Haut Corbin, Château Petit Faurie de Soutard and Château Yon Figeac can really be satisfied with 88p.
Other wines tasted (not blind) while visiting Saint-Émilion in April 2003.
Tertre Roteboeuf, Grand Cru, is one of the top wines in the district and is loved by many wine freaks for its striking and sophisticated style. This property's 2000 offered lots of presents. Pick up what you want. Incredibly sensual and incredibly sophisticated wine. 98+p.
Château Ausone Premier Grand Cru Classé is a showcase for itself. Since 1995 vintage, this property has been managed personally by Alain Vauthier, with Michel Rolland as a consultant. The quality is getting better and better. Ausone's 2000 was true fireworks of nuances, incredibly sophisticated, with fantastic complexity and enormous length. No body-builder wine here, neither wine in light-weight class! A strong contender to get a maximum rating in the future, but gets "only" 98+p for now. Ausone's second wine, Chapelle d'Ausone impressed with its aromatic and tasty attitude. Delightful sip at 89+p. Alain Vauthier's two Grand Cru properties in Saint-Émilion, Château Moulin St. Georges and Château Fonbel were also very successful. The complex and well-trimmed Moulin St.Georges got 88-89p, while the luscious and tempting Fonbel gained a well-deserved 87p.
WINES TASTED ON THE 1ST NOVEMBER 2011 - COMMANDERIE DE BORDEAUX COPENHAGEN CHAPTER
Flight 1 – de Chambrun, Clos Rene, Corbin (only Corbin was served from a magnum bottle)
Flight 2 – Clos de Marquis, Rauzan Gassies, Roc de Cambes, Talbot
Flight 3 – Beychevelle, Giscours, Monbousquet
Flight 4 – Pape Clement, Pichon Comtesse, Troplong Mondot
Flight 1
1. Dark red, slightly watery edge, elegant blueberry nose, ripe tannin but a little edgy, finishes relatively short on the aftertaste. In all quite good wine, but it was too light for me for the vintage. My guess was Clos Rene, but it turned out Corbin from Saint-Emilion. Corbin's owner, Anabelle Cruse Bardinet, bought it in 1999, and finished vinification of the 1998 vintage, so 2000 was her second 100% own vintage. She told me that Corbin didn't show its true potential in 2000 vintage due to not the good shape of the vineyard. 88p
2. Dark red, more intense blueberries on the nose, well-balanced, fine structure and long aftertaste. Tastes very well already. Fine effort indeed for the vintage. 90p. Guessed Corbin here, but it was Clos Rene from Pomerol.
3. Almost black red. Easy to guess with its modern style. Plenty of fruit supported by plenty of oak, clearly well-extracted, splendid balance and length, pretty lively. I assumed de Chambrun, and it was de Chambrun. I will probably keep for 5-10 years more. 91p. Made by Jean-Philippe Janouiex (Croix Mouton and La Confession).
Flight 2
1. Dusty flavours, spicy and very special on the nose. Cranberries? Not showing that much, too young to taste. Well-balanced and well-structured. 89p. I guessed Roc de Cambes and it was Roc de Cambes from Cotes de Bourg. I expected it to be better than its present showing.
2. Really fine nose of blackberries/blueberries, very captivating, splendid balance, sappy, deep and long aftertaste. I was pretty sure it was Talbot but I guessed wrong. But no, it was Rauzan Gassies, this perennial underachiever from Margaux commune and neighbour to R.Segla. What a pleasant surprise!! 93p.
3. Similar to wine nr. 2 in this flight, but slightly less intense on the nose and the palate. Guessed Rauzan Gassies, but it was Talbot from Saint-Julien. 93p.
4. Powerful stuff, tight, deep and long. Great structure and style. Stupendous wine with great possibilities. My guess was Clos de Marquis from Saint-Julien and a correct one. Well done! 94p.
Flight 3
1. Almost black red. A very captivating nose of perfectly ripe blueberry/blackberry fruit, deep, strong structure, rich, sophisticated touch, and finesse. Beautifully balanced. Long and firm aftertaste. This wine oozed class and classical Bordeaux style. Giscours, not really, it was Beychevelle from Saint-Julien. This bottle was better than the one I tasted five years ago. Long life. 95p.
2. Almost similar to wine nr.1 in this flight with slightly less fruit sweetness. Still, it was fabulous stuff. Guessed Beychevelle, but it was Giscours from Margaux commune. 95p.
3. Raspberries, spicy, it was overtaken by these two beautiful wines on this flight. Nice depth and concentration. Easy to guess – Monbousquet from Saint-Emilion, and it was. 88p.
Flight 4
1. Dusty flavours, intense on the nose and palate. Iron strong structure, multifaceted, exquisite balance and length. Very young wine but already showing its formidable qualities. I guessed Troplong Mondot, but I was incorrect. It turned out to be Pape Clement from Pessac-Leognan. 15-25 years more. 96p.
2. Stunningly elegant wine full of finesse and sophisticated movements. Very stylish with enchanting blackberry fruit. Outstanding, great balance, great length and a caressing aftertaste. It had to be Pichon Comtesse from Pauillac, and I was right. May it live forever! Magnificent bottle. 96+p
3. Very, very oaky, iron strong structure, deep, immensely concentrated (black-/blueberry fruit) and long. Many, many years ahead. I guessed Pape Clement, and I was wrong. It was Troplong Mondot from Saint-Emilion. Great bottle. 96p.