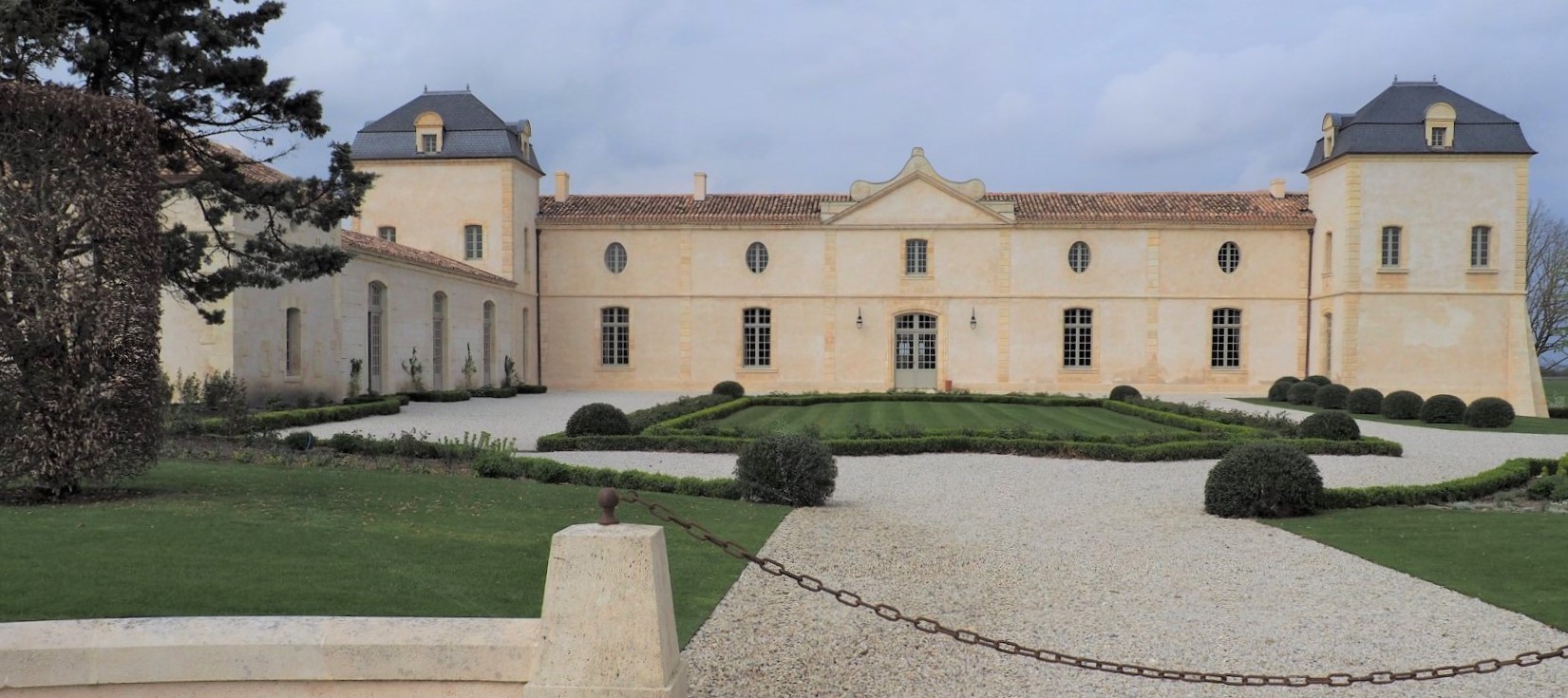 Calon Segur is situated most north of any classified growths in Medoc. You will find it while passing Syndicat Viticole in the tiny village of Saint-Estephe on the left side of the road, and while seeing the big wall on the same left side around a property, you realise that you have just arrived at Calon Segur!
This property is one of the oldest in Bordeaux, and there's been made wine since the 12th century. The man who made Calon Segur famous was Marquis de Segur, who owned Latour, Mouton Rothschild and Lafite. His nickname was Prince of Vines. Since the 20th century, a heart has been engraved on the label with a property name inside the heart.
Gasqueton family had owned Calon Segur from 1894 to 2012. I visited Calon Segur first time in 1987, meeting Mme Gasqueton husband, then it took me more than 20 years to revisit the property, and it happened in April 2012. Mme Gasqueton was quite an excentric proprietor and had strict rules about making appointments. I tried to visit Calon Segur several times before April 2012 with no luck. She died in September 2011 and her heirs, after a short attempt to continue to run the property, decided to sell it to an insurance company, Suravenir. Extensive modernisation of wine facilities, renovation of chateau and makeover of gardens have been planned by new owners. A new vinification cellar with 70 stainless steel vats of different volumes and an ageing wine cellar has been in use since 2016, and the renovated chateau itself has been ready at the beginning of 2019.
The vineyard here on some hilly slopes covers 55 ha, of which 45 ha is in production. The whole vineyard is in one block inside the wall. It's planted with 56% Cabernet Sauvignon, 35% Merlot, 7% Cabernet Franc and 2% Petit Verdot. Vines are, on average, 22 years old. New owners want to increase the percentage of planted Cabernet Sauvignon and decrease the grown rate of Merlot in the coming years. The soil is typical Saint-Estephe, a thick layer of gravel with big pebbles on the top and clay as subsoil. The close neighbourhood of the vineyard to the estuary of Gironde ensures perfect microclimate and keeps frost danger away. Grand Vin matures in 100% new oak for 20 months.
For sure, the quality of Calon Segur has rocketed a great deal since the 2015 vintage, but it was apparent already in the 2014 vintage that a significant improvement was on its way. More precision, focus and care for details. Laurent Dufau (arrived in 2013) and Vincent Millet (come in 2006), general manager and technical director/winemaker, respectively, have been pushing this property up quality-wise. Calon Segur combines perfectly power and elegance, subtlety and a strong backbone. For me, it's a typical St.Estephe wine with flair and character of the soil. It complements its two nearby competitors, Cos d'Estournel and Montrose, perfectly. Laurent Duffau left Calon Segur at the end of 2019, and from January 2020, it's Vincent Millet who is the general manager.
Sister property, Capbern (ex. Capbern Gasqueton), a Cru Bourgeois, managed by the same people, is often an excellent value for money, especially since the 2014 vintage.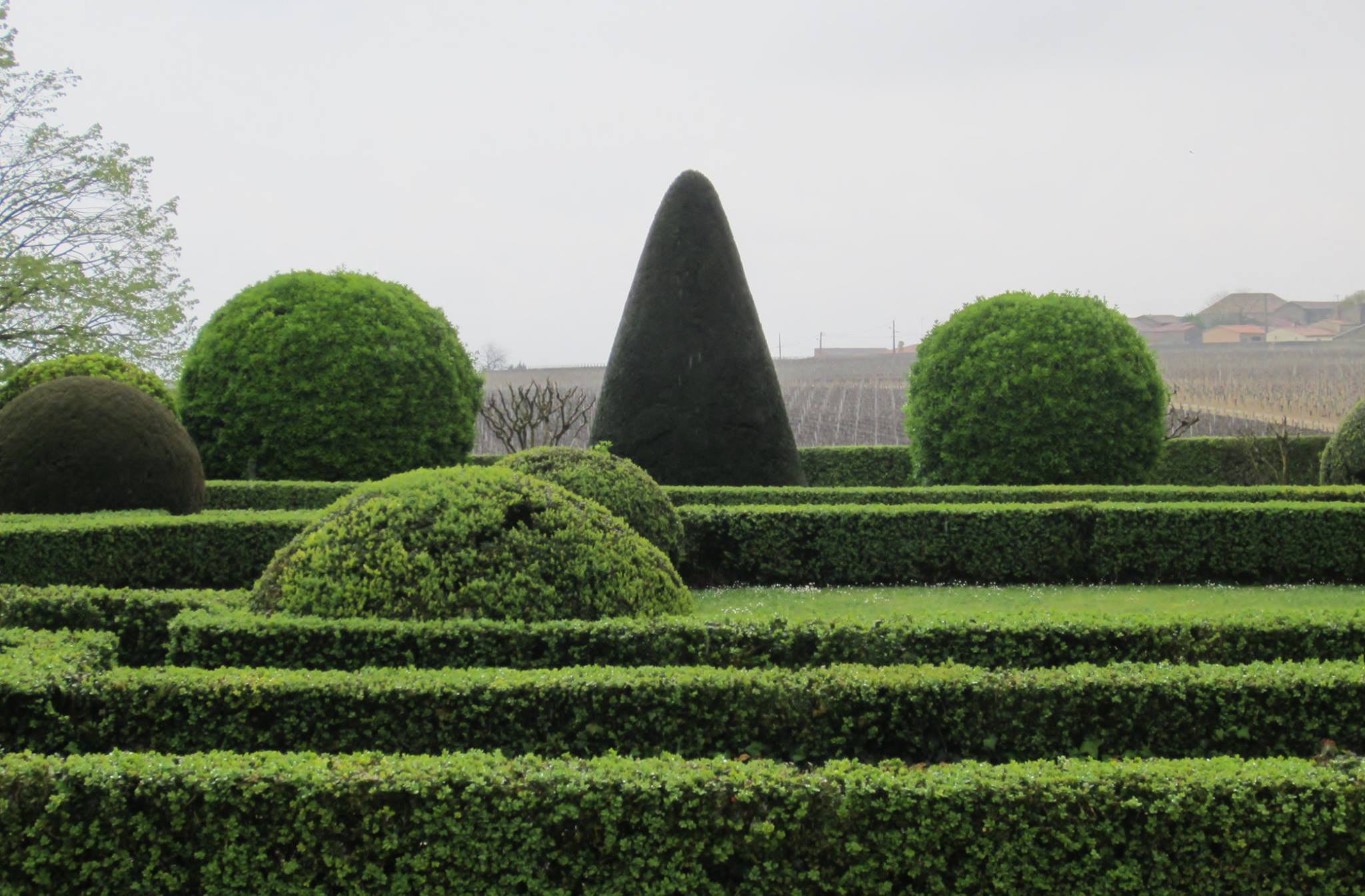 The pretty garden behind the chateau in April 2014
-----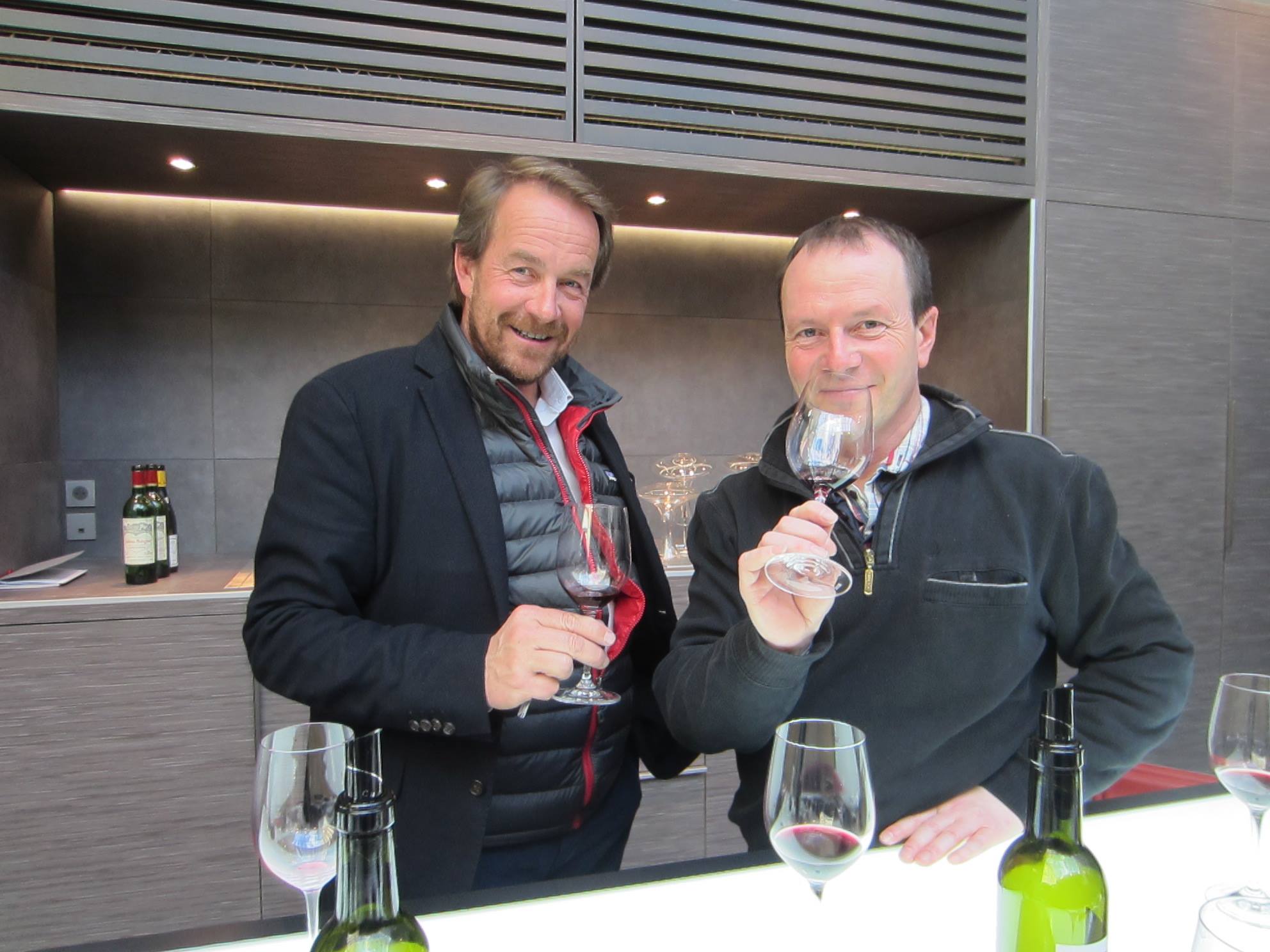 Laurent Dufau (left) and Vincent Millet (right) have taken Calon Segur to the new heights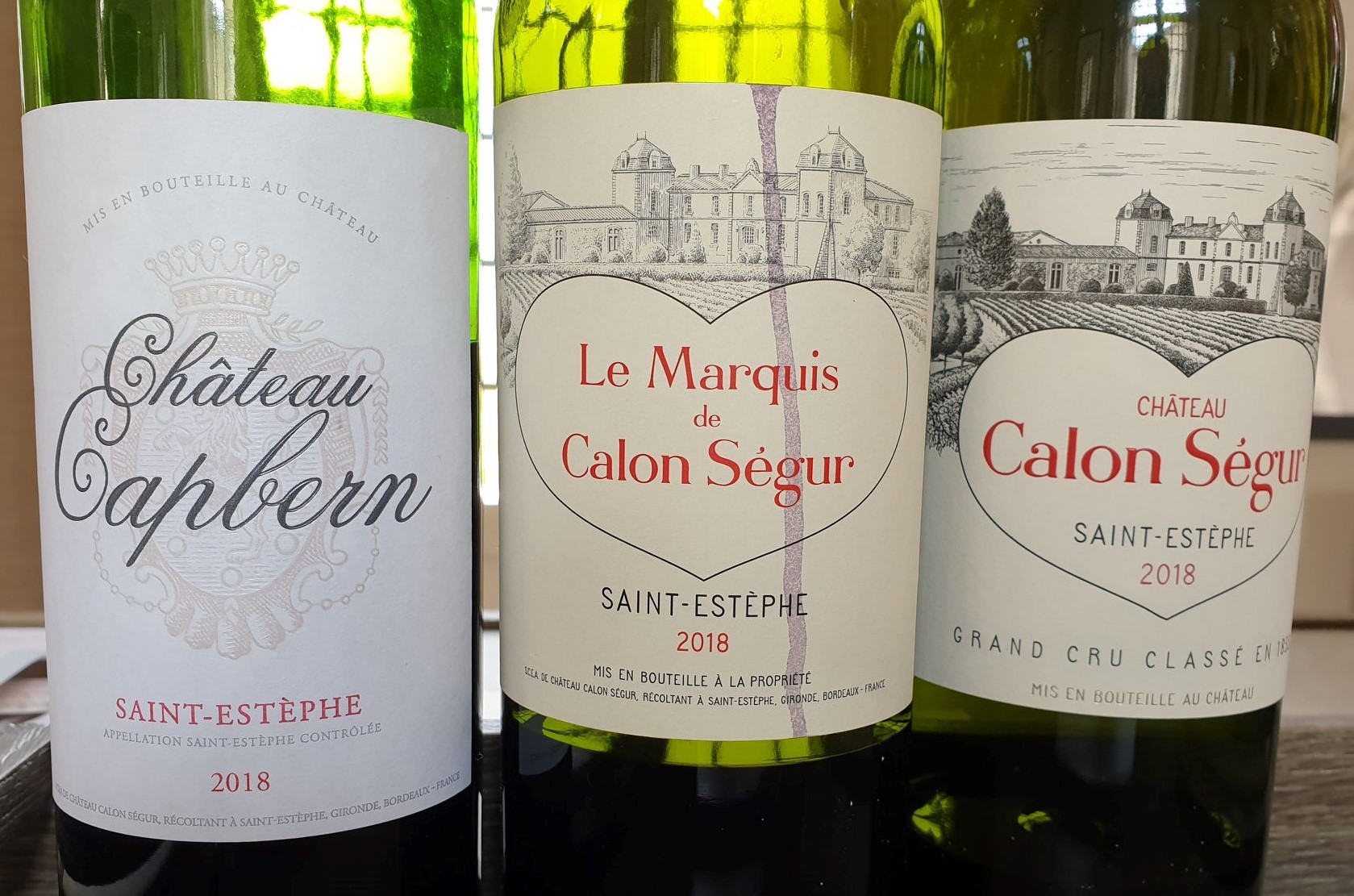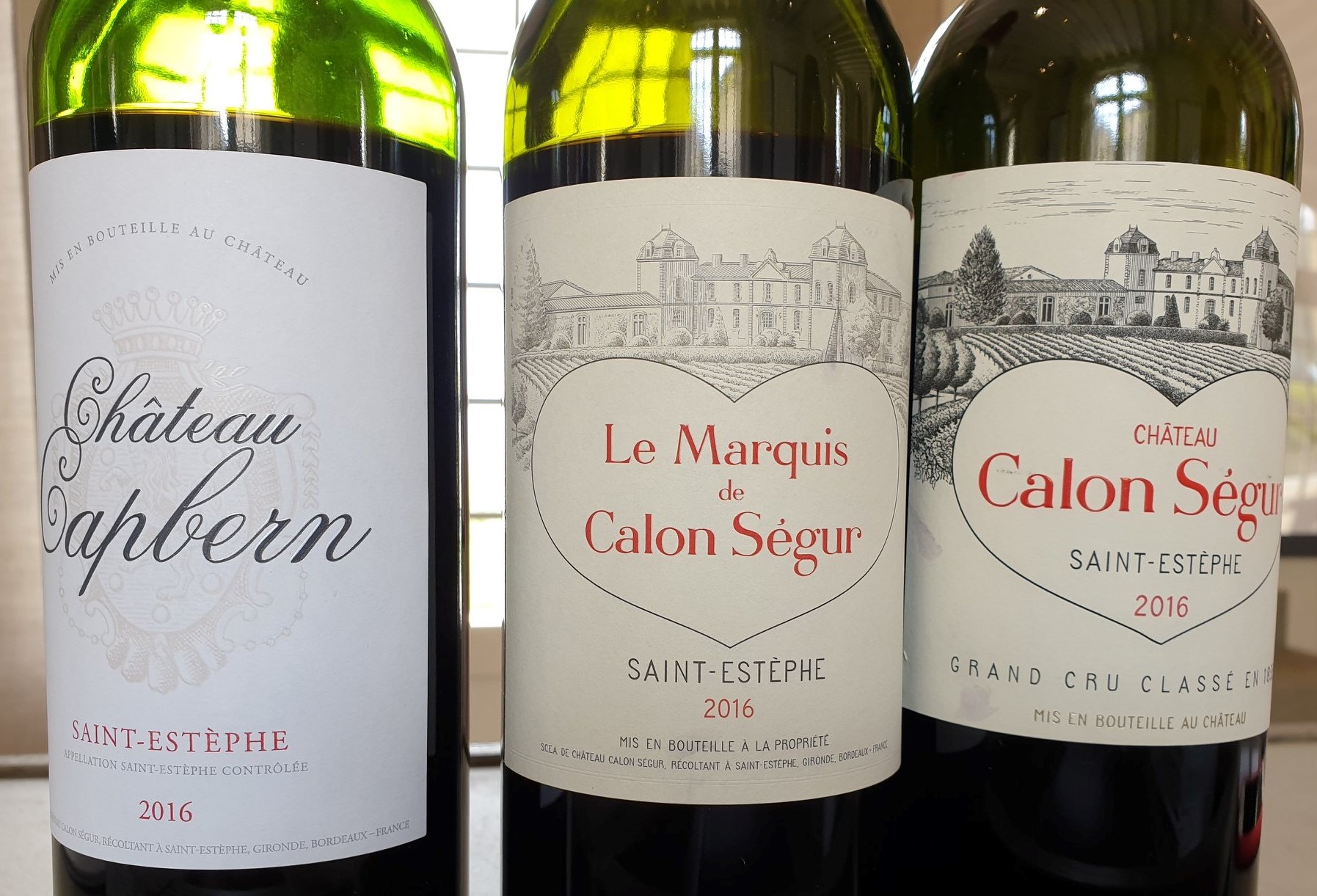 2020 (barrel sample) 98p
Tasted in May 2021. 78% Cabernet Sauvignon, 12% Merlot, 9% Cabernet Franc and 1% Petit Verdot. 13.8% alcohol. This wine was less abundant compared to the monstrous 2018. It's 1% down on alcohol and a bit lighter and more classic St. Estephe one. A classy nose of cigar box and forest floor. Touch of black winter truffle. Distinguished with a strong backbone. Potent with fat tannin, complexity, structure and length, excellent acidity. Long-lasting finish. Tremendous effort!
2019 98+p
Tasted twice - last time in February 2022. Consistent notes. 73% C. Sauvignon + 14% Merlot + 12% C. Franc + 1% Petit Verdot. This property made a blockbuster wine in the 2018 vintage, and 2019 is very close to that effort. Similarly expressive and concentrated with stunning structure and length and sophisticated touch. Great display of St.Estephe's soil characteristics. Among the best wines in this vintage, that's for sure!
2018 99p
Tasted three times - last time in December 2020. Consistent notes. 65% Cabernet Sauvignon, 17% Merlot, 15% Cabernet Franc and 3% Petit Verdot. The joint forces of Laurent Dufau (general manager since 2013) and Vincent Millet (technical director/winemaker since 2006) seem to have produced the best vintage at Calon Segur in the last 50 years. Beautifully scented nose, distinctive, precise, focused, stylish, elegant, and powerful simultaneously with excellent complexity, structure, and length. Once again, wow! 14.9% alcohol, but it's well-covered by huge amounts of perfectly ripe fruit and tannin. Excellent acidity completes this masterpiece! Now in the bottle - tasted as extraordinary as from barrel in December 2020.
2017 (barrel sample) 96p
Tasted in April 2018. This property's been remarkably consistent for a long time, and its 2017 blends power and elegance excellently. Out of 76% Cabernet Sauvignon in 2017 Calon Segur, 15% are 10 years young vines. 13% Merlot, 9% Cabernet Franc and 2% Petit Verdot are the remaining grape varieties used. Very potent, strong, tight, very complex and aromatic. A stylish wine with elegance.
2016 96-97p
Tasted twice - last time in April 2019. Consistent notes. 60% C.Sauvignon, 20% Merlot, 18% C.Franc and 2% Petit Verdot. Very fruity, stylish, with big concentration and length, great complexity, remarkable structure and length. Awesome wine.
2015 (barrel sample) 96-97p
Tasted twice - last time in April 2017. Not consistent notes. 82% Cabernet Sauvignon, 16% Merlot and 2% Petit Verdot. It was even better than I remember it from the barrel. Fresh, aromatic, potent, long and with persistent finish.
2014 94p
Tasted three times - last time in April 2017. Consistent notes. Excellent fruity nose of blackberries, strong structure, splendid complexity, long finish. Impressive effort.
2013 (barrel sample) 91p
Tasted in April 2014. Aromatic, sappy, splendid structure and delicate complexity, and long aftertaste. Very attractive at the time of the tasting. The question is how long this wine will keep fine after the bottling. Weather conditions in this vintage were far from perfect.
2012 (barrel sample) 92+p
Tasted in April 2013. 78% C.Sauvignon, 20% Merlot and 2% C.Franc. Flowery and aromatic on the nose with silky fruit and silky tannin, elegant with finesse. Splendid grip, structure and length. Heart-breaker wine!
2011 (barrel sample) 92p
Tasted in April 2012. Tasted together with 2010 and 2009. Despite not having the ripeness, flair, concentration and depth of the vintages mentioned above, it showed good vibes with an elegant approach, good complexity and nice balance. It will only improve after bottling.
2010 (barrel sample) 95p
Tasted in April 2012. Big, bold, fat fruit and tannin, great depth and length, rich and persistent finish. Combines perfectly power and elegance. A great future awaits!
2009 95p
Tasted twice - last time in September 2019. Consistent notes. Impressive wine with perfectly ripe fruit full of sweetness, strong and elegant at the same time, sophisticated on the palate with a long finish. This vintage was characterised by high alcohol in Bordeaux, but it's not tasteable here, meaning perfectly integrated with fruit!!
2006 92p
Tasted in September 2018. Powerful, very much terroir of Saint-Estephe, fine complexity, acidity and length. Long and meaty finish. Splendid effort.
1946 90p
Tasted in December 2006. Powerful, juicy, strong and quite full-bodied. An excellent effort in the context of the vintage, which is ranked low. At 60 years of age, this wine was still a great one to taste. Fine old wine.
1918 96p
Tasted in November 2018. Stand A/B. Chateau bottled. Dark colour! Elegant and gracious on the nose, intense on the palate, great acidity and long finish. Not precisely showing its age with remarkable freshness and complexity. Young and kicking! Real badass wine for a 100-year-old one!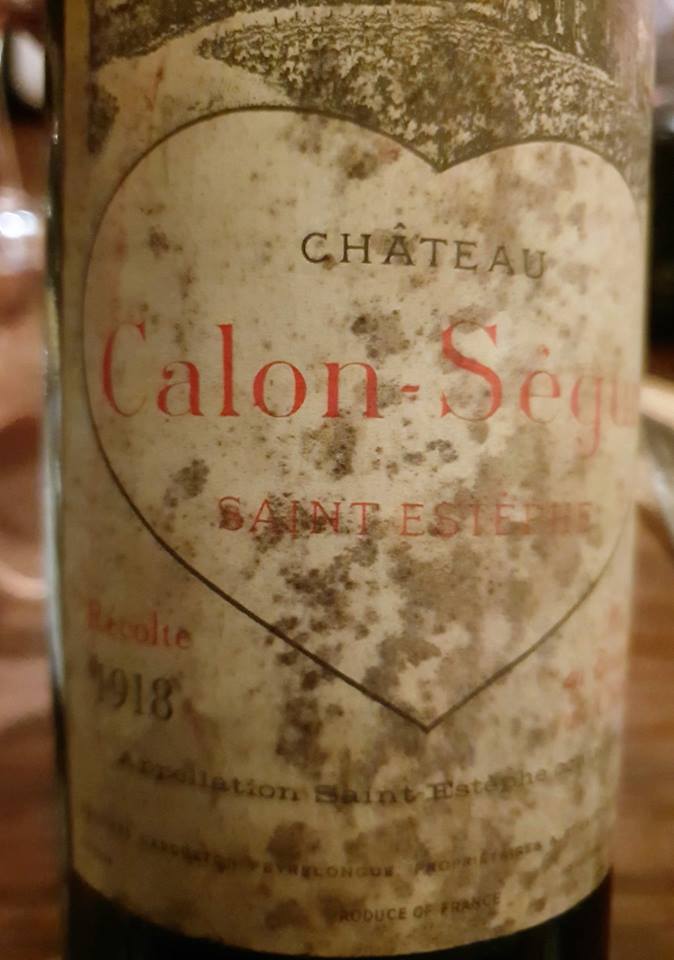 A blast from the past