I visited Bordeaux between 24th September and 4th October 2012. The first two days were reserved for Voyage de Presse 2012 – Graves & Pessac-Leognan. In September 2010, when I attended this Voyage de Presse event, the properties chosen for me this time weren't ones I heard so much before. I like this kind of event where you are entirely down to earth and refresh/widen your wine horizons. This was the opposite of what I usually do during primeur time, running from one high-esteemed property to another. I had a great time, and the organization of this Voyage de Presse was excellent.
After Voyage de Presse, it was time to do my visit. However, I chose a quiet mix of properties I had visited several times before and ones I wanted to see for the first time.
At the time of my stay in Bordeaux, mostly white grapes were picked. In many places, they haven't even started red and sweet whites. It will be interesting to see what Bordeaux will be capable of this time. If the weather behaves, we can expect a vintage exceeding 2011 in terms of concentration and richness. I doubt sweet white wines will reach the quality level of the last three vintages, and dry white wines will probably find it difficult too.
Here are my impressions:
VOYAGE DE PRESSE 2012 - GRAVES & PÉSSAC-LÉOGNAN
Monday, the 24th September 2012
Château Bardins
This property is situated in Cadaujac (Pessac-Léognan appellation), 18 km south of Bordeaux, and is managed by Stella Puel, whose family has been here since 1903. There are 9 ha of red vines, 50% Merlot, and 25% of Cabernet Franc and Cabernet Sauvignon; Vines are 20 years old on average. Traditional vinification with wine staying in 25% new oak for 12 months. Bardins also produces white wine from 0.4 ha (1/3 of Sauvignon, Semillon, and Muscadelle) of 50 years old vines. Fermentation in barrel with batonnage de lie and stay in oak for ten months.
I tasted 2009 and 2006 red, special cuvée Les Helloties de Bardins in vintage 2003 (70% Cabernet Franc, 20% Malbec + Petit Verdot and 10% Merlot) and 2011 white. Both 2009 and 2006 were of acceptable quality. Robust wines, well-filled with black fruit and tannin, very good acidity, and well-balanced. They will surely be better with age. Special cuvée, Les Helloties de Bardins, showed fine things coming from Cabernet Franc and Petit Verdot, such as power, concentration, and strong backbone. 2011 white had a delicate aroma of apple and pear, well-defined acidity, delicate balance, and a fine fruity finish. Bardins is certainly fine value for the money.
White grapes anno 2012 were already brought in at my visit, but Stella Puel told me that red ones had to wait one week or longer, depending on the weather.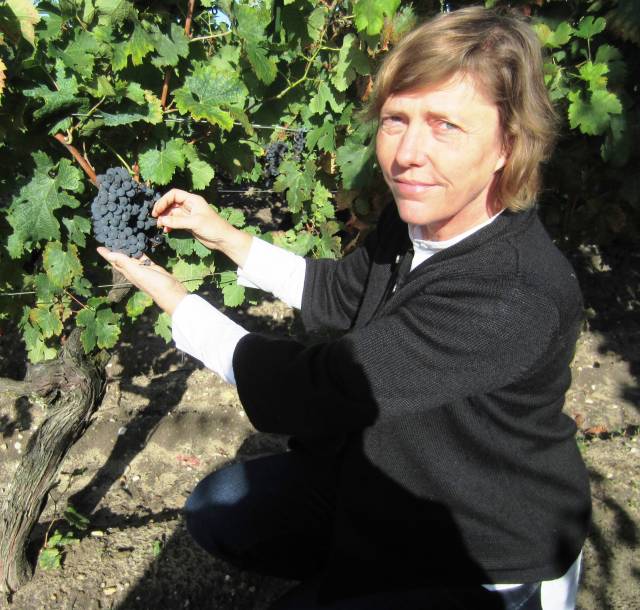 Stella Puel, who runs Chateau Bardins
Tuesday, the 25th of September 2012
Chateau Grand Abord
This property is situated in Portets, AOC Graves. There are 6 ha of red vines (80% Merlot + 20% Cabernet Sauvignon, 25 years old on average) and 4 ha of white vines (80% Semillon + 20% Sauvignon, 35 years old vines). I tasted 2010 vintage in red, Grand Abord regular cuvee, and Grand Aboard Cuvee Passion. The regular cuvee was round and fruity, with good intensity and length. A bit too simple for my taste. Cuvee Passion kept in 400 hl oak barrels (30% new) for 12 months, displayed better structure, concentration, and integration of fruit and tannin. Good quality but not a wine for extended cellaring.
Tasting of 2009 red Graves and 2010 white Graves at Chateau Magence
Among 2009 reds, my cherry picks: de Sauvage was splendid, packed with cherry fruit, fine structure, length, and long fruity finish. It would merit a score of 89-90. D'As, Chantegrive, Domaine de La Chouette, Crabitey, Grand Abord, du Haut Maray, Lasalle, Magence (oak matured), Magneau, Cuvee Paumarel (de Reys), Pont du Brion, Roqutaillade La Grange, and Toumilon, were all well-made wine with ripe fruit, lovely balance, very good structure, and fruity aftertaste. Scores would be 88p.
Among 2010 whites, I liked Chantegrive Cuvee Caroline, a complex, fresh wine with loads of fruit, finesse, splendid structure, and a long meaty finish. 91+p. Other wines which caught my attention were: de Cerons, Grand Abord, du Haut Maray, Lusseau, des Places, Pont de Brion, de Respide, Roquetaillade La Grange, de Sauvage, and Toumilon. All deserving 88p.
Chateau Lusseau
This property was my next stop, and I did taste 2011 white plus 2008 and 2006 red. White is 0.5 ha planted with 50% Semillon and 50% Sauvignon, while red is 6.5 ha planted with 50% Merlot, 40% Cabernet Sauvignon, 5% Cabernet Franc and 5% Malbec. Both wines are aged in barrels for 12-14 months. 2011 white was a delightful wine with nice acidity, lemon grass, acacia flower on the nose, smooth and round on the palate. 2008 red was a potent and tannic wine, well-structured and with a nice future, while 2006 showed the same qualities as 2008 but was more round and softer. Nicely made wines here.
Chateau Crabitey
De Butler's family owns this property. There are 26 ha of red vines (40% Cabernet Sauvignon and 60% Merlot), 28 years old on average, and 2 ha of white vines (50% Semillon and 50% Sauvignon), 22 years old on average. Red wine is aged in 33% new oak for one year, while white is treated with 20% new oak for nine months. The owner kindly presented a small vertical of red Crabitey - 2001, 2002, 2005, 2006, 2007, 2009, and 2010, and a single white one - 2010. My cherry picks among reds were vintages 2009 and 2010, potent, strong, well structured, with lots of ripe black cherries and blackcurrants, and a long finish. 2005 and 2006 were rather tough and rustic, needing time to get round and friendly; 2007 was very good for the vintage with nice intensity, fat tannin, and persistent finish, while 2001 was very drinkable with nice structure and length. 2010 white showed delicate fruit, acidity, and a long caressing finish. Interesting property to visit - very fine quality. There is room for more attention to detail at Crabitey because this property could make even better wines, as they have great soil.
Wednesday the 25th September 2012
Chateau Le Sartre
This property is owned by Rene Leriche and his wife, Marie-José Leriche (sister of Anthony Perrin fra Carbonnieux). It is situated in Léognan commune, close to Domaine de Chevalier, Fieuzal, and Malartic Lagraviere. There are 8.2 ha Sauvignon Blanc, 2 ha Semillon, 12.7 ha Merlot, 12 ha Cabernet Sauvignon, and 1.1 ha Cabernet Franc. On average, red vines are 21 years old, while whites are 19. Both red and white wine is aged in 33% new oak for 12 months. Le Sartre produces splendid wines, confirmed at the tasting of 2010 reds/2011 whites at Couhins (see below). This property was in the process of harvesting white grapes when I visited it. Harvested white grapes are kept overnight at 6-7˚ before pressing them.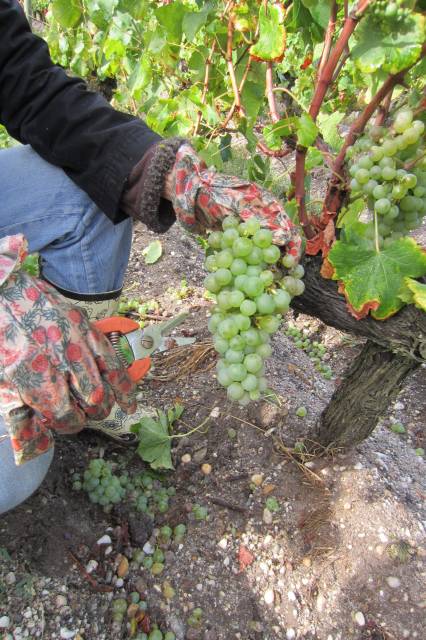 Picking white grapes at Le Sartre - 26th September 2012
Tasting of 2010 red Pessac-Leognan and 2011 white Pessac-Leognan (both classified and not classified properties) at Chateau Couhins:
There were many goodies among the reds. Smith Haut Lafitte (94p), La Louviere and Malartic Lagraviere (93p), Carbonnieux, Couhins Lurton and Le Sartre (92p), Bardins, Brown, Bouscaut, de Fieuzal, Luchey Halde (!), Olivier, Picque Caillou and Rochemorin (91p), Le Bruilleau, La Garde and de Grand Maison (90p). Real good wines and the remaining 17 wines were to be found in the 86-88 points range. Really fine performance, but the 2010 vintage made things easy for proprietors.
Whites were generally of really splendid quality. My cherry picks - Smith Haut Lafitte (94p), Latour Martillac (93p), Carbonieux, de Fieuzal, La Louviere and Picque Caillou (92p), Bouscaut and Couhins Lurton (91p). Brown, Cantelys, Cruzeau, Ferran, de France, Luchey Halde, and Le Sartre deserved all 90p scores.
Chateau Brown
This property, situated in Leognan, owes its name to Scottish wine trader John Lewis Brown, who also owned Cantenac Brown in Cantenac, Margaux. Nowadays, Brown is owned by the fifth generation of the Mau family, Jean-Christophe Mau, who is also a negociant. There are 28 ha vines, split between 23.5 ha of red vines (55% Cabernet Sauvignon, 40% Merlot, and 5% Petit Verdot, 20 years old on average) and 4.5 ha white vines (70% Sauvignon + 30% Semillon, 15 years old on average). Red wine is matured in 33-40% new oak for 14 months and white in 50% new oak for eight months. Brown has excellent vinification facilities. For red wine, Brown has a famous consultant, Stephane Derenencourt. Despite the relatively young age of vines, this property makes splendid wines, confirmed by tasting 2009 red and 2010 white. 2009 red had silky fruit and tannin, strong structure and delicate balance, fruit sweetness, and a persistent fruity finish. 2010 white had a great freshness, acidity, copious quantities of acacia flower/lemon grass aromas, delicate balance, and a caressing fruity finish.
La Mission Haut Brion
There was an exciting conference, but imho mostly for people with vast vine cultivation knowledge, about the geographical history of soil for vines in Graves/Pessac-Leognan. Afterward, we could taste the 2008 La Mission Haut Brion and 2008 Haut Brion, both in red. Both were rare treats, with Haut Brion edging La Mission Haut Brion, imho. 2008 La Mission was intense with copious black fruit and fat tannin, great depth and complexity, and a long persistent aftertaste. 2008 Haut Brion was more polished and fruitier than its sister, with more nuances and a longer finish. Excellent wines for the vintage.
It was a well-organized trip this Voyage de Presse and a great possibility to learn about less-known properties from Graves/Pessac-Léognan. Thanks!
All the mentioned properties have their website, so if someone needs more detailed information, Google it or/and ask Syndicat Viticole de Pessac-Leognan/Syndicat Viticole des Graves for more info.
IMPRESSIONS FROM HARVEST 2012 AND VISITS TO OTHER PROPERTIES
Thursday, the 27th of September, 2012
La Mission Haut Brion
I returned to La Mission for previously arranged rendez-vous; this time, it was the highly heralded 2009 vintage on the "menu". Both Grand Vins + second wines in red and both whites were tasted. Chapelle de La Mission Haut Brion, the second wine of La Mission, presented itself very well with sweet and aromatic fruit, fine ripe tannin, fine structure and concentration, and a smooth fruity finish. 91p. Le Clarence de Haut Brion, the second wine of Haut Brion, had more of everything than Chapelle with a firmer and longer finish. 92p. La Mission Haut Brion exhibited a very complex nose of black cherries, excellent concentration on the palate, great depth and structure, sophisticated touch, and a long finish. Fabulous stuff. 97p. Haut Brion was even more aromatic than La Mission on the nose and deeper on the palate with stunning complexity. Very long aftertaste, fruity and firm. Stunning performance. 99p.
Whites gave every reason to be impressed. La Mission Haut Brion offered a stupendously complex nose of acacia flower and pear and was fabulously refined on the palate with excellent acidity and fat, caressing fruity finish. It was an imposing wine. 96p. Haut Brion displayed more strength, power, complexity, length, and fatness, and longer finish than La Mission. Exceptional stuff. 97p.
Seguin
The owner, Dennis Darriet, told me they still waited for harvest at Seguin as grapes have yet to approach the full phenolic ripeness. I tasted the last three vintages - 2009, 2010, and 2011. For me, this property has emerged as one of the greatest values for the money in the district and in the whole of Bordeaux. And it's not even a classified growth!!
2009 was intense wine with gobs of blackberries, black cherries, stunning balance, finesse and elegance, and sophisticated touch. Beautiful, classy wine and great effort indeed. 94p. 2010 was a masterclass wine with more intensity, concentration, fatter and silkier tannin, stronger structure, and longer finish than 2009. 96p. 2011 offered a splendid nose of ripe cherries, remarkable depth, and intensity. Silky on the palate with strong structure, fine length, and smooth aftertaste. It seemed to have improved further since tasting it in March 2012. Excellent effort for the vintage. 93p.
Friday the 28th of September
On my way to Bon Pasteur, I stopped at La Consellante. They were harvesting young Merlot grapes, and I saw this property's new cellar.
Bon Pasteur
I had an appointment with Dany Rolland, but as she was obliged to go to Paris for a very important meeting this particular day, I was received by Florent Benoit, Rolland's European export manager. I did taste 2011-2010-2009 vintages and must admit I expected an attack of tannin and extraction in these wines. Nothing of this, ladies and gentlemen, wines showed as gentle as a lamb.
With 2008 vintage, Michel Rolland significantly changed vinification at Bon Pasteur, which covers 7 ha split between 52 (!) parcels. After manual sorting, whole grapes were transferred to barrels, plot by plot, and maceration happened by simply turning the barrels. Maceration lasted for 40-60 days, with half of the period where barrels were not moved. In his opinion, this was a far more precise vinification than before. So 2009, 2010, and 2011 were made after the same procedure.
2009 was flavourful (cherries and violets), had splendid complexity, silky fruit and tannin, finesse and elegance, and a smooth fruity finish. Very seductive wine. 94p. 2010 exhibited excellent purity and silkiness, aromatic black cherries, mocha, chocolate powder, cocoa, fat and perfectly ripe tannin, richness and sophisticated touch, and long fruity and caressing aftertaste. Beautifully crafted wine worth every point of my 95+ rating! 2011 was not far from 2010 and 2009, with black cherries and blueberries, very aromatic, violet scent very present, great complexity, and a long persistent finish. Great success for the vintage here. 93p.
Bourgneuf
I'm sincere and admit that this property has become one of my favorites in Pomerol. I love coming back here every year and following recent vintages' development. I spent 5 hours at Bourgneuf this day and tasted vintages 2010-2009-2008-2001-2000-1975. My visit was spiced up by the visit of Gilles Pauquet, a famous consultant on Right Bank (Bourgneuf sends grape juice samples to his wine laboratory for analysis), and later by the visit of well-renowned French wine critic Michel Bettane. We discussed the new classification in Saint-Emilion; who deserved elevation to a higher rank, who didn't, and who missed the glorious chance of going up in the hierarchy.
2010 (now in bottle) confirmed the staggering quality it showed from the barrel, and for me, it's the best vintage ever made at Bourgneuf. What an achievement for Frederique Vayron, as she only started to take over vinification at Bourgneuf with the 2008 vintage. This masterclass wine offered an intense nose of black cherries and grated chocolate, stunning complexity, sophisticated touch, fat ripe tannin, and an extremely long finish—true and refreshing Pomerol wine without modern gimmicks. Wonderful stuff. 96p. 2009 was almost identical to 2010 in intensity, flavors, and complexity. The only difference was tannin, less perfectly ripe and fat than in 2010. Nevertheless, a beautifully made wine. 95p. 2008 was quite different from 2010 and 2009, with meaty and chewy wine, tannin in front but balanced with red fruit, and a persistent finish. Tight and a little old-fashioned style here. 91p. Then 2000 against 2001. 2000 was powerful and showed dusty fruit, still young, concentrated, and full of black fruit. 93+p. 2001 was surprisingly fresher, truffy, stronger, and longer on the palate than 2000. Gilles Paquet made a point here, saying that the 2001 vintage is better than 2000 in Pomerol and that Frederique Vayron succeeded extremely well in creating precise fruit expression in 2009, 2010, and 2011, compared to older vintages. The tasting finished with 1975 vintage, which tasted somewhat older than the bottle I had a week before in Copenhagen. It was delicate and tasty, with splendid balance, splendid structure, and a caressing finish with fine acidity that kept it together. Thirty-seven years old wine at its very peak and just delicious. 92p.
I came back to Bourgneuf 3 days later to see the harvest. With me, I had Francois Mitjavile from Tertre Roteboeuf, and Veronique Vayron invited him to taste the grapes lying on the sorting table. He agreed 100% with Vayrons that they were at their optimum harvest time.
Monday the 1st October 2012
Beautiful sunny day with blue skies! I'm going to Jean-Luc Thunevin's offices to retaste the 2011 vintage from his properties.
Jean-Luc Thunevin
Retasted eight 2011s and one 2009. For the 2011s, the impression was almost identical compared to March 2012.
Bellevue de Tayac (Margaux)had a fine nose of red + blackberries, fine structure, and complexity. Caressing and long finish. 90p. Bel-Air Ouý (St-Emilion) had the fresh aroma of crushed blackcurrants and blueberries, discrete tannin, attractive fruit, and a fruity finish. 89p. Clos Badon Thunevin (St-Emilion) showed sweet fruit, strong and fatty tannin, some oak, fine balance, and a firm finish. 91p. Clos de Beau-Pere (Pomerol) was meaty and fleshy with a fine concentration of black cherries, fine structure, complexity, and firm aftertaste. 92p. Domaine des Sabines (Lalande de Pomerol) showed intense fruit with earthy and spicy notes, a strong backbone, and a firm finish. Outstanding effort. 89p. 3 de Valandraud reminded me a lot of Bel-Air Ouý. 88p. Virginie de Valandraud (St-Emilion) had fine fruit, elegant nose, silky tannin, fleshy palate, balance, and smooth fruity finish. 91p.
Valandraud offered an extremely complex nose of black cherries with great intensity, length, depth, and structure on the palate. Vibrant and complex wine. 95p. 2009 Valandraud was very potent and robust, with excellent fruit intensity on the nose and palate, a full load of black cherries and blackberries, impressive complexity, fabulous balance, and a long-lasting finish. Exceptional wine. 97p.
At the time of my visit, red grapes were not yet harvested at Jean-Luc Thunevin's properties.
Tertre Roteboeuf
Francois Mitjavile - I've known this guy for 24 years, and every visit here has been one to remember. What he does with his grapes, turning these into mind-boggling wines is a genuinely fantastic story. He doesn't make the second wine, his decision to discard only rotten grapes from entering vats, allowing raisiny ones to pass (he says that raisiny grapes give roasted character to wine), no state of art cellar and equipment, and yet how he manages to make such fantastic wines. Incredible winemaking skills.
I had time to spend at Tertre Rotebouef on this particular day, so I took my time to taste the wine Francois prepared for me. 2004, 2009, 2010 and 2011 of both Tertre Roteboeuf and Roc de Cambes.
2004 TR was charming and elegant, subtle, with splendid balance and length, and had a very fruity and caressing finish. Lighter style in this vintage. 93p. 2004 Rdc opened at last after several closed years and showed a very aromatic style, was meaty, and had fine black fruit intensity, fine length, and long fruity aftertaste. 90p.
2009 TR had the stunning aroma of black cherries, a sophisticated approach, velvety fruit and tannin on the palate, fabulous purity, richness, balance, and a long, long finish. Simply awesome wine. 96p. 2009 RdC was surprisingly stronger than TR, with less richness and purity; seductive, sweet black cherries and blueberries. Excellent quality. 92p.
2010 TR made me almost cry. It's the best vintage ever Francois Mitjavile has produced. This wine is no less than phenomenal now after bottling. It's the fourth time I tasted it, and aging in oak kicked this wine higher in quality. What an intensity, opulence, richness, length, depth, velvety fruit, tannin, and silkiness. Wow!! 99p, and I'm maybe a tad conservative. 2010 RdC was incredible stuff with an obvious character of TR, but less rich and intense. Also, the best Rdc I've ever experienced here. 94p.
2011 TR tasted less expressive and lighter than in March 2012, and I thought it was close to 2010 TR. But in 2010, TR seemed to run away from its one year older brother. It still had immense quality. 95p. The same happened to 2011 RdC, but the quality is extremely impressive here. 92p.
2011 Domaine de Cambes (part of RdC vineyard situated very close to the river) was an easygoing, soft, round, and charming wine. 87p.
Lafleur
On my way to Libourne in Francois Mitjavile's car, we stopped at Lafleur. They expected to harvest the day after, and Baptiste told me they had great expectations for the 2012 vintage.
Tuesday the 2nd October 2012
Nairac
Botrytis had yet to cover grapes in the vineyard fully, so harvest wasn't started. I tasted vintages 20on 04-5-6-7-8-9-10-11.
2004 had spicy and intense fruit like pineapple and apricot, fine fruit sweetness and corresponding acidity, finesse, balance, and honeyed finish. Splendid wine. 92p.
2005 displayed an intense nose of apricots, many botrytized flavors on the palate like pineapple, guava, and honey melon, sublime richness, sophisticated touch, and long lingering aftertaste. Extraordinary stuff. 95p.
2006 offered spicy botrytised flavors of grapefruit and apricot on the palate and crème brulée on the nose. Splendid balance and plenty of finesse. Honeyed aftertaste. Fine effort. 92p.
2007 had more of everything than 2005; it was fatter, deeper, and with a longer finish. More flavourful. Fabulous balance, acidity, and depth. 96p
2008 was more precise than 2006; acidity seemed better intermixed with fruit, more intensity, and a longer finish. 93p.
2009 had a very impressive nose of sweet pineapple, peach, and apricot, with stunning richness, acidity, balance, and length. Very long honeyed aftertaste which went on and on. Exceptional wine. 97p.
2010 was just bottled and, therefore, quite disturbed and difficult to assess. I'm sure it'll be great when I taste it next time. NR.
2011 had petrol on the nose big range of botrytised flavors like grapefruit, lemon peel, pineapple, and pear. It was distinguished, rich, and long on the palate with great sweetness, acidity, and graceful aftertaste. Silky texture. Imposing wine. 95+p.
Wednesday the 3rd October 2012
La Tour Carnet
This was the last day of visiting properties, and my friend from Bordeaux and I left the busy town of Bordeaux to go to La Tour Carnet, one of many properties owned by Bernard Magrez.
It's a beautifully situated estate with a tower from the 11th century, so you feel the clock had been turned back ten centuries. Buildings have been impeccably restored.
The property covers 126 hectares, including a little lake around the chateau and woods/park. 73 ha are planted with vines - red - 50% Merlot, 45% Cabernet Sauvignon, 3% Cabernet Franc and 2% Petit Verdot - white - 60% Sauvignon, 30% Semillon and 10% Muscadelle. Vines are 30 years old on average. White wine is made in tiny quantities.
We tasted 2010 white, which was pleasant and round, fruity, and with nice acidity. Good quality but not a remarkable one for the vintage. 87p.
Reds were another story. I fancy La Tour Carnet during primeur when I taste it blind during UGC tasting of the new vintage. And the splendid quality of La Tour Carnet was confirmed while tasting 2006, 2008, and 2009 vintages. 2006 was aromatic with good tannin, intensity and balance, fine structure, and a strong backbone. Persistent aftertaste. 90p. 2008 showed more ripeness and was richer than 2006, with splendid structure and better mid-palate, meaty long finish. Splendid effort. 91p. 2009 exhibited more power, strength, and concentration than 2008. Riper fruit with more sweetness and better complexity. 92p.
From La Tour Carnet, we went to Leoville Poyferre, one of the top performers in Bordeaux.
It was a pretty funny experience to find out where the cellars and offices of Leoville Poyferre are, as they share the same drive-ins with Leoville Las Cases.
Anne Cuvelier and her cousin Didier received us. After visiting impressive and impeccably clean cellars and modern offices, we went to the tasting room to taste 2011, 2010, 2009, and 2008. I tasted these four vintages in different order (20011, 2008, 2009, and 2010).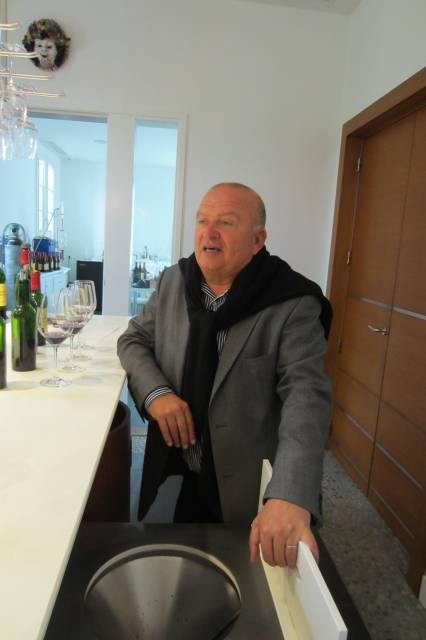 In Leoville Poyferre's tasting room. Didier Cuvelier speaks about history, vinification, and comments on vintages we tasted (2011, 2010, 2009, and 2008). 3rd October 2012
2011 offered aromatic fruit (black cherries), which was intense and powerful on the palate, with fine structure, balance, and finish. 32 hl/ha. 94p.
2008 was almost the same style as 2011, more developed, with a strong backbone and long finish. Only 28 hl/ha. 93p.
2009 had more power and stuffing than 2011 and 2008, much better ripeness of fruit, and far more complexity. I remember this wine being not that impressive imho from the barrel, but it changed dramatically for the better while aged in oak. There's strength; there's big depth and a long finish. 42 hl/ha. 95p.
2010 outshined, in my opinion, 2009, strong and potent wine with gobs of perfectly ripe black cherries and fat-ripe tannin, silky texture, excellent balance, and a very impressive long finish. Stunning effort. 40 hl/ha. 97p.
At the time of my visit, harvest was still ongoing.
Brane Cantenac
This was the day's last stop, and we were treated with a small vertical - 2011-10-9-8-7-6-5. Henri Lurton is pulling strings here, and this property has been very stable since the 2005 vintage, making high-quality wines. I remember, however, the stunning 2000 vintage tasted in May this year and the excellent 1959 tasted in 2004.
I tasted these seven vintages in the following order:
2007 - round, fruity, and charming wine with very nice structure, fine balance, and gentle tannin at the finish. Very good for the vintage. 88p.
2006 - of course, more intensity and length here, more concentration, fatter tannin, strong backbone, persistent finish, and many blackcurrants here. Splendid effort. 92p.
2008 - similar in style to 2006, slightly richer and longer. Well-balanced. 92p.
2011 - had the edge over 2008 as fruit and tannin here are riper, the structure is stronger, complexity is bigger, and finish is longer. Excellent effort for the vintage. 93p.
2005 - impressed a lot with aromatic black cherries, blueberries on the nose, and fat ripe tannin on the palate. Splendidly constructed, excellent structure and balance, long lush aftertaste. Great stuff. 94p.
2009 - very similar to 2005 with the more apparent sweetness of the fruit. Same great stuff. 94p.
2010 - black cherries, chocolate, excellent concentration, strong backbone, very tannic on the finish. Very tight wine of excellent quality. It needs time to soften. 95p.
I also tasted 2011 Carmenere - an intense spicy, concentrated, and tannic wine. Carmenere may be a part of the assemblage at Brane Cantenac in coming vintages.
I finished this article on the 28th of October, and harvest for all Bordeaux except Sauternes & Barsac is over. Right Bank could succeed in 2012, especially Pomerol, if properties finished harvest before 10th October. I'm still curious about Left Bank as properties there received a lot of rain during the weekend of 19-21st October and some rain week before. We'll see what Bordeaux winemakers can produce in this challenging vintage, where the weather could have been more kind to them.