Wednesday, the 21st September 2011
Took train early in the morning from Libourne to Saint-Emilion. Clear blue sky but not yet warm weather. After a quick breakfast at the local coffee bar, I arrived at my first place to taste wines.
It was Jean-Luc Thunevin's wine-bar "Essentiel". His wife, Murielle, was kind to open all bottles I was going to taste in vintage 2009 and 2010. I tasted first all 2009s and then all 2010s, but to make these wines easier to compare, I'll comment wines in pairs, where it's possible.
The tasting started with 2009 Domaine des Sabines (Lalande de Pomerol), a wine with intense earthy notes and blueberries, very aromatic and well balanced, fine structure and firm finish. Fine effort. 90p. 2010 Domaine des Sabines was even better with more complexity and longer finish, fine black cherries supported by sweet tannin. 91p. Splendid wine.
Bad Boy 2009 (Bordeaux AOC) had good berry aromas, was nicely structured and balanced and had a nice smooth finish. 88p.
2009 Bellevue de Tayac (Margaux) was earthy and spicy on both nose and palate with nice grip and fine balance. A little bit edgy tannin. 88p. 2010 Bellevue de Tayac acted more refined, softer and smoother, and had a longer aftertaste. 89p. Both fine efforts.
2009 Clos de Beau Pere (Pomerol) offered sweet black cherries, velvety texture, splendid balance and smooth long finish. Splendid wine. 89p. 2010 Clos de Beau Pere had slightly more grip, more concentration and more depth. Great effort. 90p.
2009 Clos Badon (Saint-Emilion) displayed fine and aromatic nose of dark berries with splendid balance, fine structure and fine aftertaste, while the 2010 version was a tad more concentrated and had longer finish. 91p for 2009 and 92p for 2010. Both were stupendous wines.
2009 Virginie de Valandraud (Saint-Emilion) resembled a great deal of 2009 Clos Badon but had more grip and tannin. 92p. 2010 Virginie de Valandraud displayed more concentration and more depth than the 2009 version. 93p. Extremely well-made wines, both of them.
2010 3 Valandraud is made from 14 ha vines out of 24 ha Jean-Luc and Murielle Thunevin own in Saint-Emilion. 10 ha are Valandraud and Virginie de Valandraud. Sweet, round and supple, delicate and with a smooth fruity finish. Fine drinking already. 89p.
2009 Valandraud (Saint-Emilion), which was bottled in July 2011, was extremely well-made, gentle, rich, incredibly smooth and sensual wine. 96p. 2010 Valandraud tasted exactly exquisite as 6 months ago during primeur week - a seamless, long, deep, exquisite blend of black cherries and chocolate, sophisticated touch, sweet fat tannins, impeccable balance and long caressing finish. 97p. Sublime stuff both of them!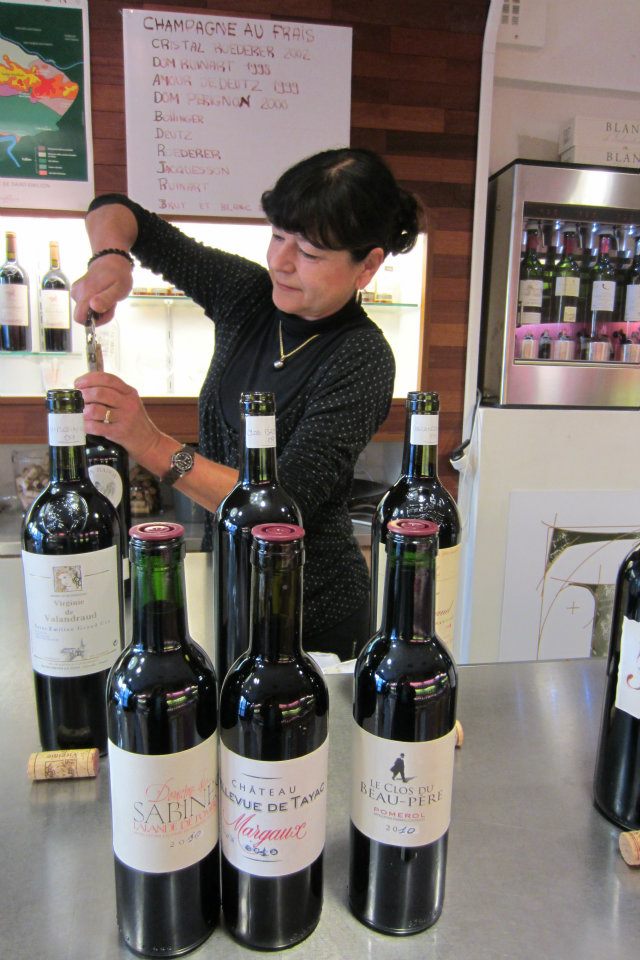 Murielle Andraud-Thunevin opening the bottles for tasting, September 2011
Murielle told me that she already participated a lot during 2007 harvest, when she tried to learn as much as possible, working with her husband Jean-Luc, before taking over 100% for 2008 harvest. She wants to harvest late when grapes have reached full phenolic ripeness. That's why she didn't even start harvesting grapes on the day on my visit – they were not ready! She explained that 2011 is a very difficult vintage and will need a very precise selection of grapes and careful vinification.
She also oversees the harvest and vinification of white wine. "White" vineyard is situated after the cellars of Chateau Fleur Cardinale and she started with white wine in 2003. M. Fakonellis (associated with Michel Rolland), who was consulting famous domains in Burgundy, is consulting here, and vinification is made after Burgundy method (batonnage de lie, etc).
I tasted 2010 Virginie de Valandraud white – fresh, lemongrass, subtle, fine acidity, aromatic apple, pear and acacia. 90p. Delightful one. 2009 version of same wine but named Nr. 2 blanc, was less intense and shorter than 2010 version, but tasted just fine. 89p. 2009 Nr. 1 blanc had great acidity, very intense flavours of lemon, acacia and pear, great mineral taste and long finish. Stays in new oak for one year. 92p. Excellent stuff.
Next stop was Tertre Roteboeuf. Francois Mitjavile decided to harvest this particular day as he felt grapes couldn't be better if he waited longer. He doesn't make second wine at Tertre Roteboeuf, so all the good grapes (even the raisiny ones as a result of strong heat/sunshine) will be included in Grand Vin, only the green, pink, and ones attacked by bad botrytis would be discarded. He wouldn't give me a clear indication of which vintage 2011 can be compared. Maybe á la 2001 he said. I've to say I'm incredibly impressed how few technical gimmicks he uses for sorting grapes, vinification and maturation, being able to produce stunningly impressive wines vintage after vintage!
I retasted 2009 (already bottled) and 2010 of both Tertre Roteboeuf and Roc de Cambes.
2009 Tertre Roteboeuf displayed fabulous aromas of wild cherries and cocoa powder, seamless texture, stunning balance, great complexity and sophisticated touch. Long, long finish underlined the beauty of this wine. 2010 version was a little bit more concentrated and had an irresistible aroma of bitter dark chocolate (Valrhona?). 97p for both wines.
2009 Roc de Cambes improves all the time. Very powerful, strong, very intense on the nose with blueberries and black cherries, with splendid balance and firm aftertaste containing ripe flavours. Stupendous effort in the same class as 2005. 93p. 2010 version had reduced flavours and seemed closed. It 'll surely come around pretty soon. 92-93p?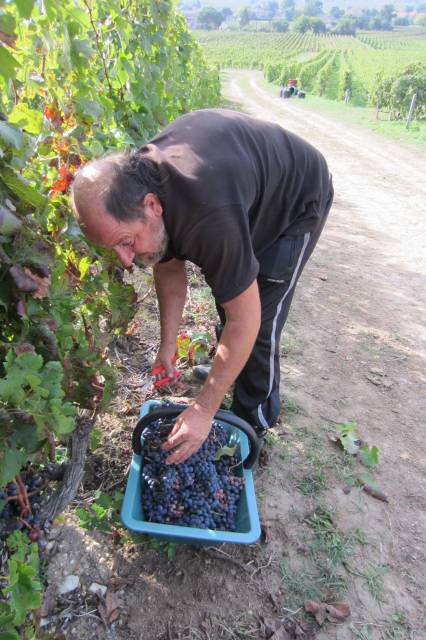 Picking grapes at Tertre Roteboeuf
Then a short visit at Corbin, because it's ever-charming and chicky owner Anabelle Cruse Bardinet, was extremely busy with the harvest and preparing necessary documents to pass to Syndicate for the next classification. 2009 Corbin showed excellently ripe fruit, very aromatic approach, great balance and a lot of finesse, elegance and smooth sweet aftertaste. Extremely catching wine and with 2010 the best wines she's ever produced. 93p. 2008 Corbin was a splendid effort compared to 2009, but tannin wasn't that fine-grained. Nothing to complain, however, as the fine intensity of dark fruit, fine balance and the firm aftertaste was there. 90p.
Anabelle was very satisfied with the quality of grapes and expected to finish harvest by the end of the week (26th September or at the beginning of the following week).
To finish Saint-Emilion off, I refer what Jean-Philippe Janoueix said about 2011 harvest. At Croix Mouton he was still harvesting, La Confession was not ready yet but at La Croix St.Georges all the grapes were brought in. He was also very satisfied with the comeback of sunny and warm weather and expected 2011 to be a cross between 2001 and 2004 vintage.
In the evening I travelled across Bordeaux to Domaine de Chevalier, where I stayed until the next day.
Thursday, the 22nd September 2011
During the dinner last night at Domaine de Chevalier with several proprietors from Graves/Péssc-Leognan, I retasted the incredibly stunning 2010 red Chevalier (95p) and 2010 white Chevalier (97-98p). Among the other wines I tasted the most memorable were great 2000 red Malartic La Graviere, still young and very truffy (92p), splendid 2001 La Louviere red from magnum (91p), excellent 2008 white Chevalier (94p) and splendid 2008 Clos Floridene with fine acidity (91p), and very impressive 2001 red Chevalier which was very aromatic, gentle, elegant and with fine balance. 92p.
Domaine de Chevalier's owner Olivier Bernard, told me, that despite the all the difficulties 2011 vintage has experienced, the sunshine and warm weather which came back on the 20th September, really saved the vintage. Cabernet Sauvignon harvested today was overall in pretty good shape.
He was very happy with 2011 white Chevalier and hoped that 2011 red Chevalier could rival 2001 or maybe 2004/2008 vintage.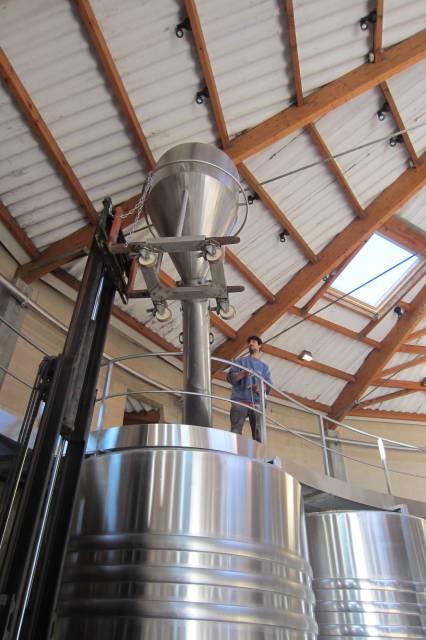 Container with grapes elevated high up and grapes poured down the vat with the help of chute. Domaine de Chevalier
After harvest observations at Chevalier, I switched over to Latour Martillac in Martillac. This property makes splendid red and white wine, while not among the very top wines of the district, they both are always very reliable. Before the lunch, I visited the vineyard with Tristan Kressmann who runs the property together with his brother and experienced how the harvest of 2011 Cabernet Sauvignon was going on. Then I was joined by a group of 6 Argentinian winemakers and we tasted 2011 Sauvignon Blanc from the barrel, which was extremely impressive.
We tasted 2009 white Latour Martillac, which had a fine aroma of acacia flower and heather, fine acidity and smooth aftertaste. 91p. 2007 red Lagrave Martillac (second wine) was pleasant, round and very drinkable (86p) while 2007 red Latour Martillac displayed surprisingly fine concentration of dark fruit, fine balance, length and finish. Splendid effort for the vintage - 89p. 1995 red Latour Martillac showed very mature flavours and was ready to drink. Tristan Kressmann explained, that Merlot was successful that year but Cabernet Sauvignon wasn't. 87p. 2005 red Latour Martillac was a great example of good things this vintage offers - perfectly ripe fruit, sweetness, many nuances and excellent length. 92p. Then a showstopper - 1975 red Latour Martillac. Still young and vivid with well-preserved aromas, truffles and excellent balance. 95p. Great experience!
From Latour Martillac I went to La Mission Haut Brion to taste 6 wines in 2008 vintage. Initially, I asked in my email to have the possibility of tasting 2010 and/or 2009 vintage but received polite "no" and explanation that 2010 was undergoing difficult phase in development (barrel) and that 2009 has been bottled 2 months ago (July 2011) and therefore both vintages not available for tasting. 2008 Le Clarence de Haut Brion was round, nicely balanced, soft texture, sweet cherry fruit and splendid structure. 90p. La Chapelle de La Mission Haut Brion acted mineral, more gentle on the palate than Clarence, with good tannin grip and fine balance. 89p.
2008 red La Mission Haut Brion was strong with fine tannin and great depth, firm finish. Classy and stylish wine. 95p. 2008 red Haut Brion offered more complex wine than La Mission with more nuances, excellent balance, finesse, richness and very long, smooth and caressing finish. Stunning wine worth all these 97p. 2008 Laville Haut Brion displayed fresh aromas of lemongrass, citrus and apple, great acidity, finesse, elegance and delicate finish. Awesome wine. 95p. 2008 white Haut Brion showed intense aromas of pear, pineapple and acacia flower, was formidably knitted together, had impeccable balance and length. Fantastic stuff. 97p. I was told that harvest would finish on the 27th September and so far they were satisfied with the quality of grapes despite the well-known weather problems in 2011.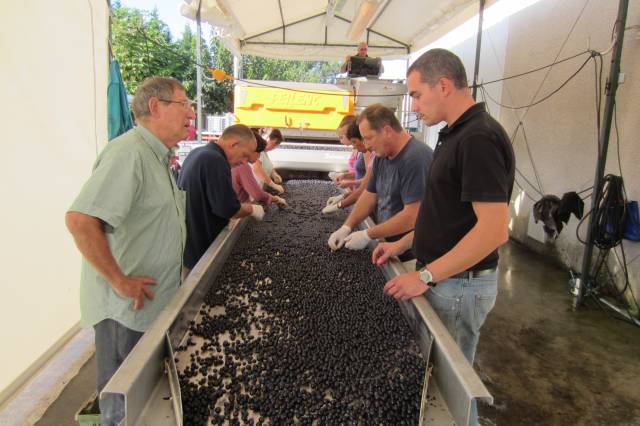 Sorting table at Seguin - the first guy on the right side is Xavier, cellar master of Seguin since 2007 and mainly responsible for its great uprise
Next stop and last visit of the day was Seguin, which I discovered one year ago during my harvest trip organized by wine syndicate of Graves/Péssac-Leognan. At Seguin, the harvest was going at full speed and Cabernet Sauvignon grapes were of very, very good quality. I was left speechless tasting 2010 Seguin at the end of March and this wine continues to amaze me with all these chocolate/wild black cherry aromas, power on the palate, extremely long, sophisticated and stunning richness. The best Seguin ever produced!! 95+p. 2009 Seguin was excellent too but didn't have the flamboyance and richness of 2010. 93p. 2008 Seguin was very mineral, multi-faceted, well constructed and structured, big on the palate and with a sophisticated touch. Splendid effort for the vintage. 92p.
Friday, the 23rd of September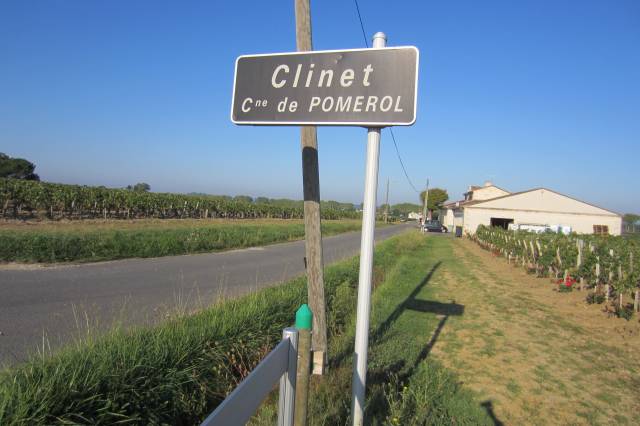 You can't ask for better weather during harvest, can you? It was like that all day and between 22-29 degrees Celsius.
It's a Pomerol day and I'm on my way to Clinet. My first visit ever at this property.
Ronan Laborde arrived at Clinet in September 2003 and he told me it was quite a difficult year, to begin with, and learn all the necessary things. Last three vintages (2008-2009-2010) witnesses a lot of his excellent work.
He was very happy with the weather during the week of 19th-26th September 2011, which according to him allowed grapes to get ripe and steady after barely perfect weather in the previous week. Ronan expected to finish harvest at the beginning of the following week.
Clinet is 85% Merlot, 12% Cabernet Sauvignon and 3% Cabernet Franc. 20% of Clinet's vineyard is planted with 75 years old vines, which give a big concentration of fruit and tannin to the wine. Many vines are over 35 years old. Because of large content of clay in the subsoil, Clinet harvests late.
2008 Clinet displayed a lot of black cherries, minerality, sweet creamy fruit and sweet long finish. A very complex and rich wine. Ronan told me, that late harvest (17th October!) that year allowed him to get the best possible out of Merlot grapes. Stunning wine worth every point of 94p. Pomerol was very successful in 2008 vintage, so Clinet fits very much in the top wines of this vintage.
2009 Clinet was strong, intense, had cherries mixed with grated chocolate, mocha, fine acidity, great balance, depth, fat ripe tannin, sophisticated touch and long firm finish. Flamboyant wine of excellent quality. 96p.
2010 Clinet seemed to be on the same level as 2009, maybe slightly less concentrated, less powerful softer and more elegant. Still, a wine of immense quality. 95p.
Great visit and assurance, that Clinet is in the hands of very dedicated and talented young winemaker.
After Clinet I went to Bourgneuf, a property just behind Trotanoy. I have visited this property several times since my first visit in 1998.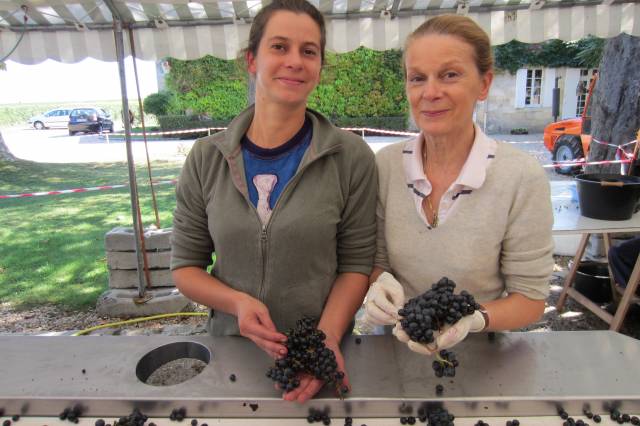 Daughter and mother, Frederique and Dominique Vayron, examining bunches of Cabernet Franc. Look very happy what they see and have, don't they?
I spent several hours at Bourgneuf looking at the harvest and work in the cellar. This was the last day of the harvest (Cabernet Franc) at Bourgneuf and Vayron family felt the quality of it was excellent, not unlike 2008. Overall, they were very satisfied with the 2011 harvest and especially the final part of it is brought in beautifully sunny and warm weather.
Amid watching Frederique and Dominique Vayron spinning in and out of the cellar and also participating at sorting table, I tasted 2009, 2008, 2007 and 2005 Bourgneuf.
2009 had great intensity of sweet black cherries on the nose, chocolate flavour, fat ripe tannin, great balance, seamless structure, depth and long, intense and fruity finish. Really great effort for the vintage and Frederique's clear imprint on it. 94+p.
2008, first vintage made by Frederique Vayron with the help of her father, was tight and backward with splendid concentration, well-balanced, mineral, long and nuanced. A bit of old fashioned style her with slightly rustic tannin, but anyway a splendid effort for the vintage. 92p.
2007 had a hint of cocoa powder, truffles, was light and with somewhat ripe fruit, round and with good grip. Pleasant to drink already. 87p. 2005 made by Frederique's father, Xavier, had many similarities with 2008, but of course, 2005 provided more ripeness and sweetness to the fruit and tannin to this wine, and not to forget balance and depth. 100% Pomerol wine here! 93p.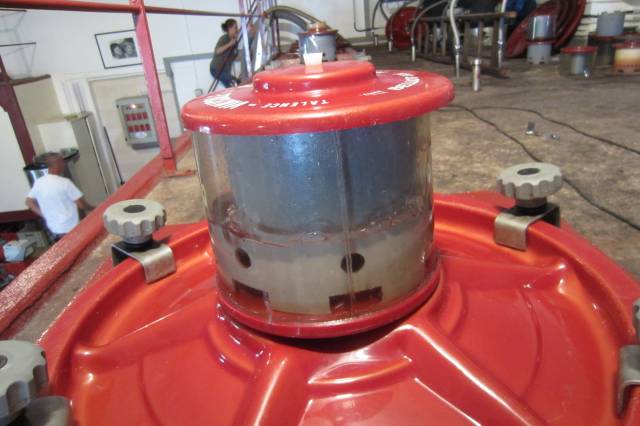 A "hat" to close fermenting vat and to keep CO2 and warm temperature inside, instead of thermoregulating. At Bourgneuf
After Bourgneuf, I arrived at Lafleur. It was the last day of the harvest too and Jacques Guinaudeau view on the outcome of the vintage was much better now than some weeks ago. Of course, he doesn't expect something similar to 2009 and 2010 vintage, merely a classic Bordeaux á la 2008.
Monday, the 26th of September
To something completely different - it's botrytis time - Sauternes and Barsac!
My first visit of the day (Monday the 26th September) was Nairac in Barsac commune. Nicolas Tari-Heeter told me that quantity will be significantly less than in 2009 and 2010, due to problems with the weather, ripening and presence of bad rot. Quality of the juice from already harvested grapes is splendid and he hoped that Semillon grapes around the property would gain more in alcohol content, to make a better selection. He wouldn't say which vintage 2011 will resemble, but certainly, it will be a fine one.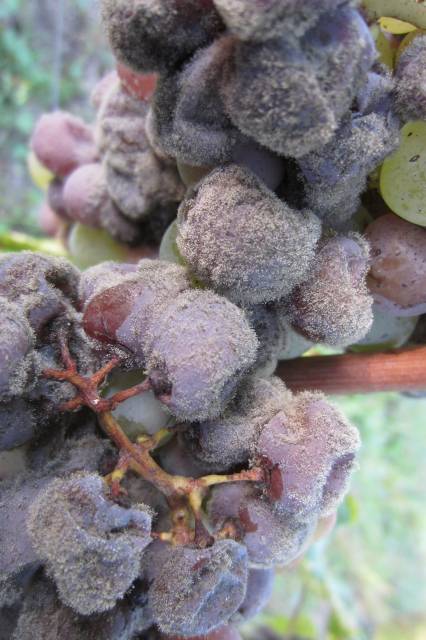 Close up of botrytis at Nairac in Barsac
I tasted vintages in 2004, 2006, 2007, 2008 and 2009.
2009 (barrel sample) - very aromatic, sweet pineapple, apricot, honey melon, excellent support of acidity to intense and luscious fruit, long and hoyened aftertaste, great complexity and style. Sophisticated and refined. Fabulous stuff. 96p.
2008 - only 2.5 hl/ha in yield for Grand Vin because of frost in April 2008, which destroyed more than 50% of buds meaning heavy loss of grapes. It had botrytised flavours of guava on the nose, crème brulée, great intensity, fine acidity and structure. Long on the palate with a graceful aftertaste. Terrific effort. 94p.
2007 - this wine showed big, big nose of intermixing flavours of grapefruit, apple, orange peel and pear. Full-bodied. Splendid acidity and beautiful balance. Rich and refined. Smooth and long finish. Fabulous stuff! 96p.
2006 - spicy botrytised flavours of grapefruit and apricot on the palate, crème brulée on the nose. Splendid balance and plenty of finesse. Honeyed aftertaste. Fine effort. 93p.
2004 - walnuts and grilled flavours (reduction), very elegant, splendid balance, stylish and rich wine. Smooth and long aftertaste. A real charmer wine. 92p.
Then over to another property in Barsac, Coutet. Was welcomed by Aline Baly and after some sightseeing around the property and in the cellar, Aline kindly offered me to taste 2010 and 2003 Coutet.
2010 Coutet offered an intense flavour of acacia honey, orange peel and pear, great combination of sweetness and acidity, superb concentration of candied fruits on the palate and smooth finish. Refined with great elegance and style. It's for sure gained more intensity and concentration since primeur week. 93p.
2003 Coutet was extremely impressive – orange marmalade, candied orange peel, crème brulée with stunning intensity and acidity, rich and sophisticated, great balance and long caressing aftertaste. 95p. This vintage offers almost unlimited combination with food, especially Asian ones. I wonder btw how 2003 Coutet would suit dishes with cépes? – I'll certainly find out of the combination, as I own both several half and normal bottles of this wine.
Harvest was still going on at Coutet when I visited it and Aline told me it would take additional 2-3 weeks to finish it.
After Coutet, I went to "old friend " since 1987, Gilette in Preignac. Andrée and Christian Medeville retired in 2004, and their daughter Julie and her husband Xavier Gonet, have been running family properties since then. Amid very busy harvest time, there was only time to quick visit. Julie prepared the following wines in 2010 vintage (except Gilette) for tasting:
Cru Monplaisir (Bordeaux Superieur, situated close to Gironde, just outside Margaux appellation) - ripe fruit, terroir very present, soft and well-balanced with nice grip and intensity on the palate. 88p.
Eyrins (Margaux) – mineral, strong tannin, nice acidity, quite powerful. Looks very promising. 89-90p.
Respide Medeville red - very aromatic with a clear wild cherry aroma, powerful with plenty of fruit and tannin in fine balance. Glorious effort. 91p.
Les Justices - nose and palate of sweet pineapple marinated in sugar, excellent acidity to support thrilling sweetness of the fruit. 92p.
1989 Gilette – latest vintage release of this wine. Heavy style with alcohol very present but not dominating. Extremely intense botrytised flavours of creme brulée, pineapple and molasses, great interplay between sweetness and acidity, stunning concentration and depth, very strong structure, extremely long finish. Typical of the vintage. 96-97p.
The last visit of the day took place at Raymond Lafon, a property which makes high-value wines. Jean-Pierre Meslier, always very good to have a discussion with and not only about wine, told me that harvested grapes looked just fine and that the harvest would take around two weeks more. He was very kind to prepare tasting for me of following vintages, 2000, 2003, 2004, 2005 and 2007.
2000 – September pickings were of high quality but then the rain came and didn't stop for remaining months of the year. Acacia honey, sweet pineapple, light but elegant with finesse. Very charming and nice to drink now before the big vintages get mature. 89p.
2003 - 99.9% of the entire harvest became Grand Vin!! Extremely intense nose of molasses, mango, candied mandarin peel, crème brulée. These botrytised flavours were incredible and deep. Extremely rich, unctuous and extremely long on the palate, with acidity matching perfectly gobs of sweetness. This was extraordinary stuff, pure extravaganza I say, 99.9% legend and a perfect example of a flamboyant style of Bordeaux stickies. I think those who criticize 2003 vintage for being too much sugar and too little acidity, can really eat their words now! This vintage's really opened for floodgates this year with fantastic wines matching all kinds of food perfectly. 99p.
2004 - Only 1/3 of the entire harvest went into Grand Vin - grapes were picked between 27th September and 7th October. It possessed extremely fine botrytis and intensely aromatic nose of pear and guava and crème brulée. On the palate, there was citron fromage, great depth and complexity, and acidity mingled perfectly med sweetness. Stunning wine for the vintage! 95p.
2005 - 70% of the harvest went into Grand Vin. Light yellow. Pure, very aromatic with big intensity of botrytised flavours like apricots and walnuts, very rich, great balance and sophisticated touch. Fabulous wine with great potential. 96p.
2007 - Strong botrytised aromas of lemon, grapefruit, orange peel and citrus, strong and powerful on the palate, mineral, beautiful acidity and honeyed aftertaste. Great effort for the vintage. 95p.
Marvellous ending of the day in Sauternes & Barsac.
Tuesday the 27th September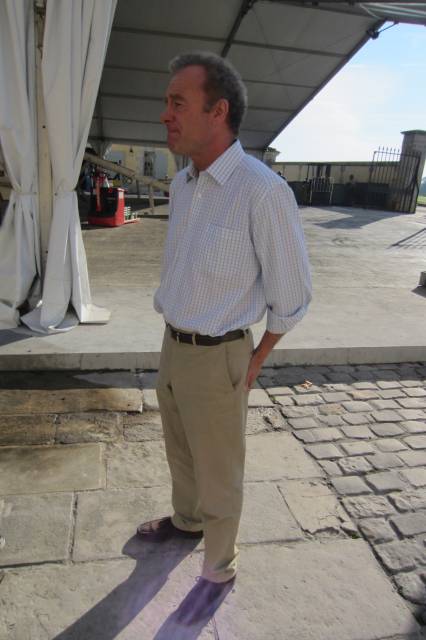 Paul Pontalier explaining his view on 2011 vintage
This last day of visits in Bordeaux turned out to be a very special day and one always to remember.
Early in the sunny morning, my Bordeaux friend, Alexandre Rychlewski drove me to first stop in our visiting schedule, Château Margaux. For me, entering the "land" of Château Margaux is always a very special and extraordinary feeling and for once I forgot during all my visit, how expensive it has become. We came 20 minutes too early, but on our way to parking, we noticed Paul Pontalier, Château Margaux' manager, checking around the vineyard if everything was OK.
He joined us app. 20 minutes later and just imagine that he stayed with us for almost 1½ hour of his precious time, despite the fact that it was the last day of harvest. Incredibly nice gesture from him! I've always had a great admiration for Paul Pontalier as he's never let me down during my visits at Château Margaux and has opened the bottles I've asked for.
He told us, that grapes were not affected by rot here, yield per ha will barely exceed 28 hl and first vats indicating something similar to 2008. After some sightseeing in the vineyard and looking at work of 50 pickers in one part of the vineyard (there were 6 groups á 50 pickers in different places of Margaux' vineyard), we went inside away from blue skies and hot weather, and to our surprise, we saw operational centre in the room Margaux uses for tastings during primeur week. Every bin is analysed, the position of the pickers visible, filling of the vats and analyse result s of harvested grapes. Two computer experts are included full time in the staff at Margaux and they've both developed the software for monitoring the harvest.
Talking about 2011 vintage, he said, that seeing burnt grapes at the end of June (42 degrees Celsius) was something he hasn't experienced for 45 years, not even in 2003!
Then, vintages 2010, 2009 and 2008 were ready to be tasted.
2010 Margaux – great elegance and class, stunning depth and structure, velvety, sweet cherries, wonderful balance, great depth, extremely long and lingering aftertaste. Racking last month affected this wine just slightly. 98p.
2009 Margaux – what a jaw-dropping wine! My friend told me that this wine stole his heart, but obviously it took mine too. Wonderful, penetrating, extremely intense and deep nose of black cherries and grated Valrhona chocolate. Paul Pontalier said that the nose of this wine reminded him of 1953 Margaux and I couldn't agree more! Did taste this wine in 1990 and the fragrance of it is sensational. Back to 2009 – great distinction, seamless, sophisticated, extremely long with many layers and with a lingering velvety aftertaste. Flamboyant and breathless wine. 100p.
2008 Margaux – I own a few bottles of this wine and was curious to see how it fared. It started with great notes of cherries, freshness, seamless structure and great minerality. Not as flamboyant as 2009, but still classy and stylish wine with a great personality. Wonderfully balanced and with excellent acidity. After tasting it, I've every reason to jump of joy, having purchased this wine primeur at 1/5 of the price of 2009 vintage or 1/7 of the price of 2010 vintage. 97p.
After tasting, we circled around the sorting table and in the cellars. This was a fantastic visit with so many impressions. Thank you very much Paul Pontalier!
Next visit took place at Lascombes, situated just outside Margaux town. Recently sold to a French mutual insurance company.
Harvest of Cabernet Sauvignon was still going on there. We were received by the youngest member of staff at Lascombes, Anais (it's true - the same name as Cacharel perfume), pretty woman in her mid-20s. Bright and intelligent. After quick sightseeing in high mood, we tasted 2010 Lascombes. It showed much better than during the primeur week. Much more intensity and concentration, better balance, more power and longer finish. 92p.
Then some close look at the harvest. Lascombes is renting an optical sorting machine, which cost around 1.500 €/day. However, to be sure, there was a sorting table placed after this optical wonder. We saw some bunches with rotten grapes but they didn't pass the final sorting. A lunch with pickers followed and we were treated with fruity and round 2008 Chevalier de Lascombes (second wine 86p) and fine 2006 Lascombes (91p) with splendid minerality, complexity and firm finish.
Dominic Bevfe, Lascombes' manager, was pretty satisfied with what he had in vats, especially after very sunny and warm weather arrived on the 20th September and allowed grapes to get final "touch", following very changeable weather conditions in spring and summer, resulting in uneven ripening, lack of water and rot.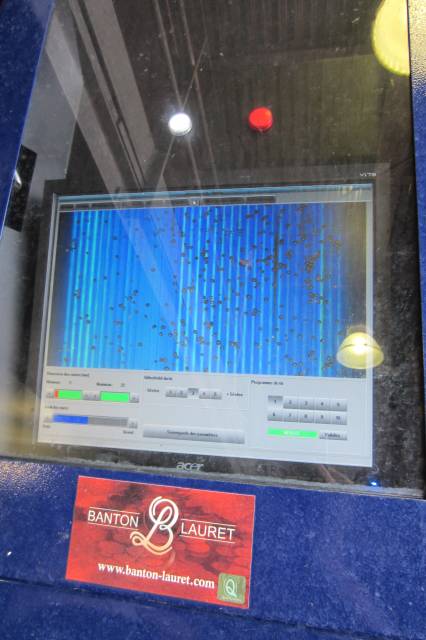 Optical sorting at Lascombes
The day ended at Château Saint-Pierre in Saint-Julien, where we tasted 2010, 2008 and 2007 of both Saint-Pierre and Gloria, who have the same owner.
2010 Gloria – very aromatic on the nose with cherries, splendid ripe tannin, fine balance and firm finish. Splendid wine. 91p.
2010 Saint- Pierre - more powerful and more structured than Gloria and also more concentrated with bigger depth and longer finish. Excellent wine. 93p.
2008 Gloria – more mineral than 2010 version, cherries on the nose, meaty wine firm tannins, fine balance. Slightly dry on the finish. 89p.
2008 Saint-Pierre – softer texture than in Gloria, more refined tannins and ripe cherries. Aftertaste could have been smoother here as it's quite dry. 91p.
2007 Gloria – some green flavours on the nose, round, light, fruity and with nice length. Rather anonymous wine. 86p.
2007 Saint-Pierre – more concentration and tannin on the palate, and stronger finish than in Gloria. Nothing more than just a nice wine. 87p.
I wonder if 2010 vintage comes without wounds through the hands of winemaker/cellar master at Gloria/Saint-Pierre because 2008 and 2007 could have been a lot better if there was more attention to details during vinification.
Final thoughts:
1. Wines from best soils, gifted and clever winemakers, very strict selection, careful maceration/extraction, not too high temperature during fermentation and reasonable use of new oak - this is prescription for successful 2011.
2. Even with low production in 2011, I predict prices going down at least 50% next year.
3. Which vintage can 2011 be compared to? I heard Bordeaux winemakers say, 2001, 2003 (?), 2004, 2006 and 2008, and of course not close to 2009 and 2010. We'll know better in January next year after malolactic fermentation is finished. White Bordeaux is very successful and predicted to be between 2008 and 2009 vintages, while Sauternes & Barsac seems to continue its excellent run since 2001 vintage and expect 2011 to be low in yield but high in quality á la 2007 vintage.
4. I love going to Bordeaux twice a year - to taste a vintage in March/April, which birth I witnessed 7 months before, and then going in September/October to witness the birth of new "child". I believe seeing the vintage being born to help me to understand better wines presented 7 months later. 2011 was my 12th harvest experience and I can say that all these 12 vintages have been different.
To finish my report in a good mood I put links to videos I recorded during harvest:
D.d.Chevalier - http://www.youtube.com/watch?v=N1VXxoqrrko
D.d.Chevalier - http://www.youtube.com/watch?v=kCCWKwDQEns
Latour Martillac - http://www.youtube.com/watch?v=rYIpti43x4g
Bourgneuf - http://www.youtube.com/watch?v=CZ4-0HAlMGo
Lafleur - http://www.youtube.com/watch?v=gy8-Yu7znHo
Just a comment about the last mentioned video. It's a tradition at Lafleur on last day of harvest to cut the bunch with grapes on vine growing up the wall of the house. Funny stuff!