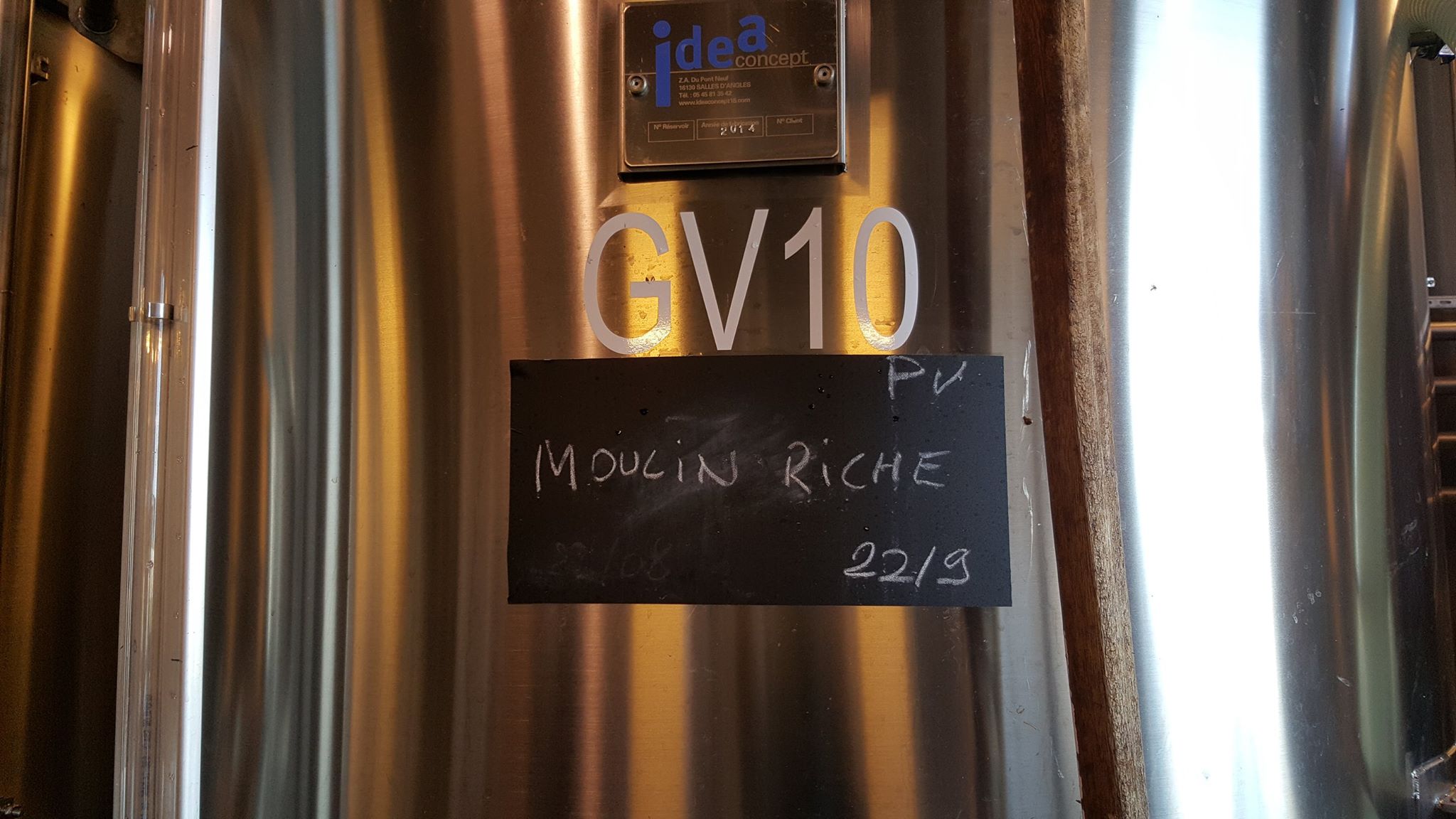 2017 vintage in vat - here from single parcel - Pichon Comtesse
The hot streak of very good vintages in Bordeaux continues, and it looks like 2017 will be the best vintage ending with seven since 1947, making four very good to exceptional vintages in a row.
1947 was followed by 1948, 1949 and 1950, with 1947 and 1949 being monumental ones, 1950 was rare and excellent, especially on Right Bank, and 1948 was very good indeed.
2014 is a very classic Bordeaux vintage of splendid quality, 2015 and 2016 are exceptional ones rivalling 1947 and 1949, while 2017's potential is to be seen, but it looks promising. Bordeaux people say there are similarities in the 2017 vintage with 2014, 2011, 2012 and 2004. Indeed, it won't be another 2016, 2015, 2010, 2009 or 2005.
Dry whites will be of very good quality, and sweet whites look extremely promising with plenty of botrytis.
Red harvest finished on both Banks at the end of September/beginning of October, and in most places, it was a long one, and the quality of the grapes depended on the time of the harvest because of the rain on the 10th of September. For sure, it'll be a winemaker's vintage. However, April's frost did damage the lower-situated vineyards, especially on the Right Bank, and significantly reduced the yield per ha.
I visited Bordeaux between 5th October and 12th October - here are my impressions:
Thursday, the 5th of October
Seguin
As usual, I came to Seguin shortly after landing in Merignac. Seguin lost app. 95% of buds during three days of frost in April, when the temperature was minus 5 degrees C at night. They have only 20 hl of Cabernet Sauvignon divided between two vats but are unsure if there will be Grand Vin or second wine due to vinification.
In the meantime, they kindly opened me vintages 2016, 2015, 2014, 2010 and 2009. I tasted wines in the order specified below.
2009 had ripe black/red fruit on the nose and palate, was tasty and complex with good bite and finish. 92p.
2010 displayed a very attractive cherry nose and was tightly crafted, powerful with great complexity and structure, excellent acidity and length. The best vintage for Seguin ever by any means - stunning effort! 95+p.
2014 was a cool and quiet vintage than the mighty 2010, a really stylish and classic Bordeaux with great acidity, depth, structure and fine balance. Definitely a long-keeper. 93p.
2015 reminded me in some way of 2010 but was rather scaled down. Excellent sweetness and balance, splendid support of oak to the fruit, and long aftertaste. 93-94p.
2016 was impressive, with more tension, concentration, acidity and complexity than 2015. Beautifully structured and with a long finish. 94p.
Friday the 6th of October
Thunevin
On my kind request, several 2015s were opened, plus Valandraud 2014.
2015 Virginie Thunevin - pretty nose, very seductive wine, red fruit, good acidity and bite, well-balanced, round and tasty. Very good effort. 90p.
2015 Bad Boy - aromatic, very nicely structured, round, seductive, tasty, and well-balanced. 89p.
2015 Domaine des Sabines - similar to Virginie Thunevin but spicy fruit here. 90p.
2015 Les Clos de Beau Pere - really splendid wine, concentrated, classy bouquet, delicate balance and structure. Meaty finish. 91p.
2015 Virginie de Valandraud - seductive, fruity, sweetness, splendid structure and depth, firm, fruity finish. Splendid effort. 92p.
2015 Valandraud - bottled just two weeks ago before my visit to L'Essentiel. Powerful and intense, with excellent structure, length and finish. Chewy and fat texture. A winner! 96+p.
2014 Valandraud - very seductive and intense næse of blackberries, rich and multi-layered, with great acidity and length. Very stylish wine for the property in this vintage. 95+p.
2015 Virginie de Valandraud blanc - fresh, green apple, lemongrass, attractive, crispy and with fine acidity. A fine effort for the vintage. 92p.
Tertre Roteboeuf
I had, as always, a wonderful time at the property. Francois Mitjavile was so kind to let me taste 2016 and open 2015, 2012 and 2010 of Domaine de Cambes, Roc de Cambes and Tertre Roteboeuf. I tasted wines together with Francois and an American wine couple. Before going into a clinch with the vintages, as mentioned earlier, we had a sniff of 2017 vintage. Fermented sample from the vat had deep colour, roundness and elegance. It promised a lot.
Domaine de Cambes 2016 - blueberry compote, aromatic, fruity, silky and tasty. 89p. This vineyard is situated between Garonne and Roc de Cambes.
Roc de Cambes 2016 - impressive, great aromatic nose of blackberries, great complexity and length. 93p.
Tertre Roteboeuf 2016 - magical, something extravagant, fabulous fruit and tannin, rich and sophisticated. Bull's eye! 98+p.
Domaine de Cambes 2015 - fine ripeness, intensity and length, seductive, tasty and round. Delicious! 90p.
Roc de Cambes 2015 - powerful, splendid all the way, catchy aroma of black fruit, delightful complexity and long finish. 93p.
Tertre Roteboeuf 2015 - sensual, aromatic, incredibly sophisticated, refined, silky liquid. Exceptional for the vintage. 98-99p.
Domaine de Cambes 2012 - supple, round, attractive, tender with a fruity finish. 88p.
Roc de Cambes 2012 - more of everything here than in Domaine de Cambes, also more C.Sauvignon in the blend. It tastes just so well. 90p.
Tertre Roteboeuf 2012 - very complex, smooth and tender, and aromatic with great structure and length. Impressive for the vintage. 95p.
Domaine de Cambes 2010 - strong, full of ripe fatty fruit and tannin, long finish. Simply impressive. 91p.
Roc de Cambes 2010 - strong, lots of fat fruit and tannin, mega long finish. Iron fist in a velvet glove - this is exactly what this wine is!
Tertre Roteboeuf 2010 - what an intensity, opulence, richness, length, depth, velvety fruit and tannin, silkiness all over. Wow!! 100p.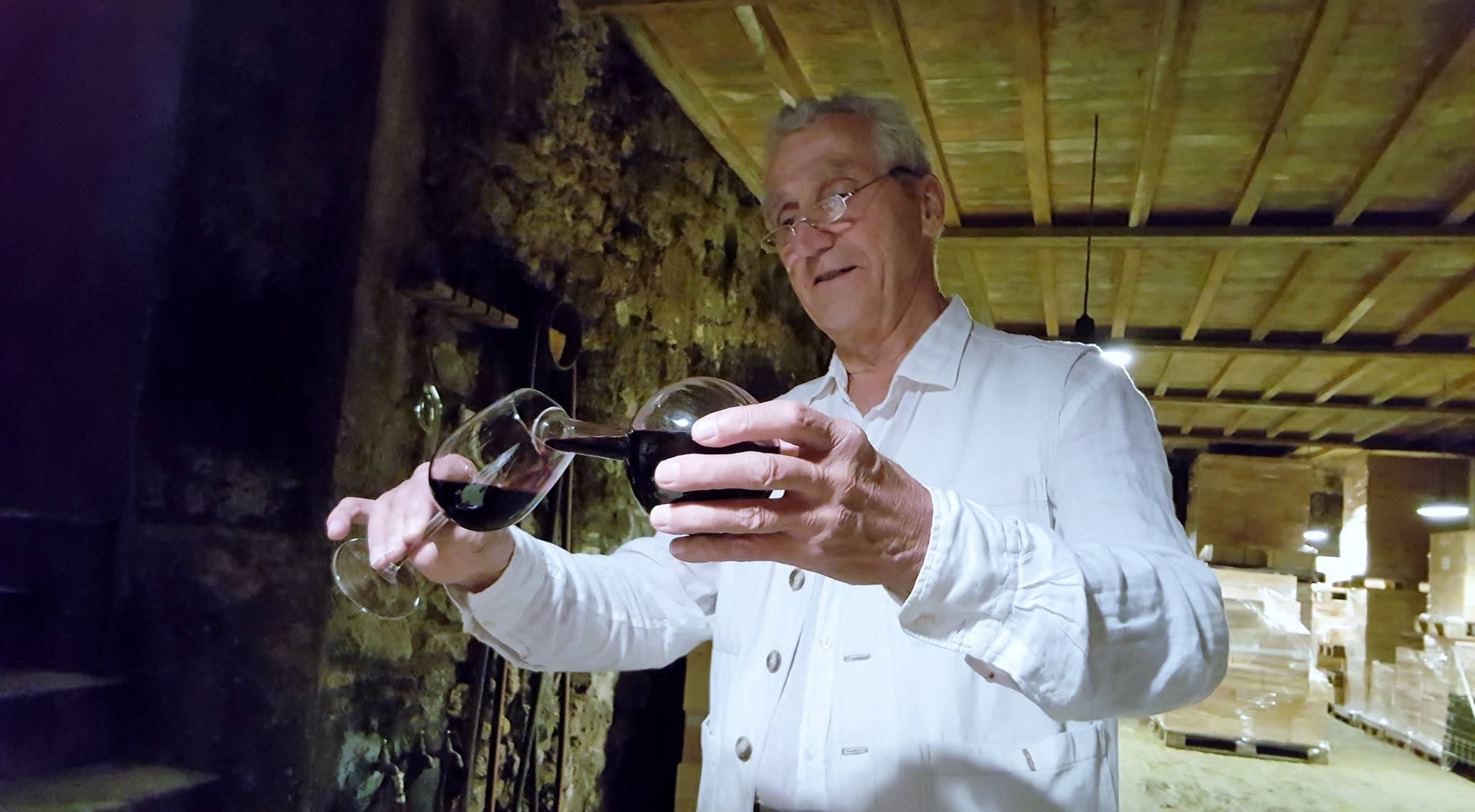 Francois Mitjavile uses a small decanter to pour 2016 vintage for me!

After Tertre Roteboeuf, I enjoyed a great lunch at La Table de Catusseau in Pomerol, an excellent restaurant that has grown in reputation.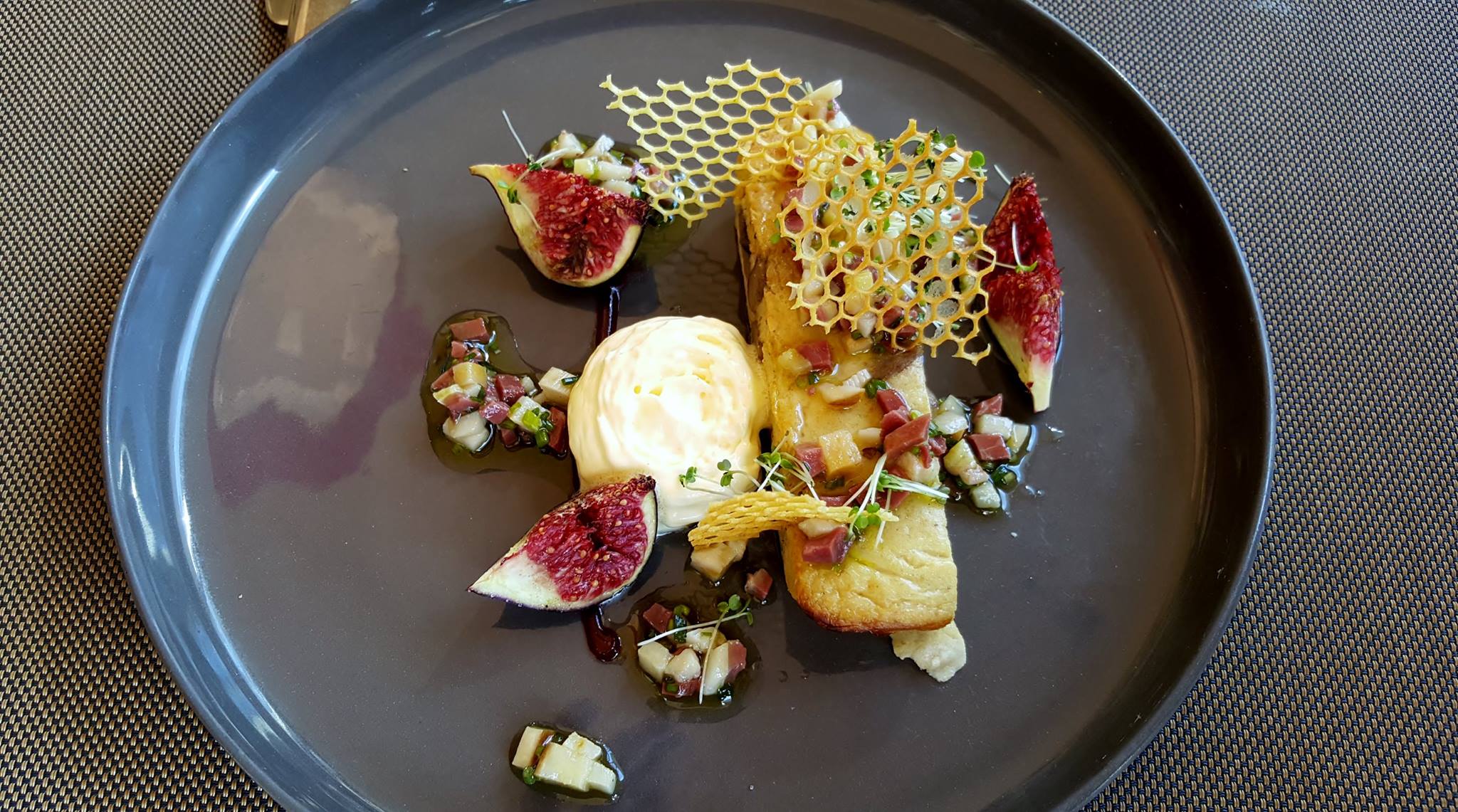 Lunchtime - beautiful first dish - a cake of cepes with duck and figs. Colourful one - isn't it?!
Bourgneuf
As always interesting visit and tasting with Dominique Vayron and her viticulture daughter, Frederique. We tasted vintages in 2015, 2014, 2010 and 2008.
2015 had a lot of violets, blackberries, typicity of Pomerol, very dense, tight, strong backbone and long finish. Great effort for the vintage and I'm sure of excellent evolution of this wine in coming years. 34 hl/ha. 95p.
2014 possessed fine acidity, a classic cool Pomerol style with splendid structure and depth. Firm finish. Has many years to go. 93p.
2010 was truly a monster wine like an iron fist in a velvet glove. Frederique revealed that the yield in 2010 was as low as 22 hl/ha. This explains the fatness and impressive concentration, intensity and length of Bourgneuf! 95+p.
2008 was the first vintage made by Frederique Vayron with the help of her father. It appeared tight and backward with splendid concentration, well-balanced, mineral, long and nuanced. Cool style.Splendid effort for the vintage. 92-93p
Dominique and Frederique Vayron saved Bourgneuf from frost damage in April 2017 by using candles with paraffin among vines in joint forces with neighbouring properties and are pretty optimistic concerning 2017 vintage.
Le Pin
Jacques Thienpont told me that the harvest was very close to normal, and frost didn't affect the vineyard at all. I tasted two samples of 2017 after alcoholic fermentation - one from an 18-year-old parcel and one from 40 year old. Both were very promising.
He was so kind to let me taste 2016 and 2015 Grand Vin. 2016, which is 100% Merlot, with low yield per ha (only 28 hl!) and for the first time harvested entirely in October Very distinguished, refined, rich, velvety wine with stunning complexity and depth. 98-100p. One of the best wines in 2016 vintage, that's for sure. 2015 wasn't quite up to 2016, another style, more red fruit and barely as noble and kinky as 2016. 94-95p.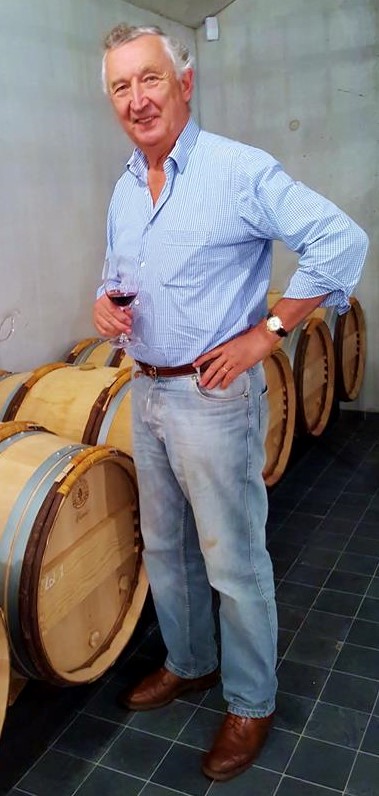 Jacques Thienpont offers me a sample of 2016 Le Pin
Lafleur
A quick visit at the property and meeting handyman Omri. I tasted the following wines:
2016 Pensées de Lafleur had a great, stylish nose with an intense aroma of blueberries, a silky and polished palate, very complex and with a persistent fruity aftertaste. Great balance here. Beautiful second wine. 93p.
2016 Lafleur (55% Cabernet Franc) was a big, broad-shouldered wine with a classy and sophisticated nose of black fruit, velvety texture, rich, incredibly complex and long. Distinguished beauty to remain beautiful for many, many years. 98-100p.
Omri told me that 2017 looks very promising and that frost didn't affect the vineyard.
VCC
Walked during a very busy time in the cellar during vinification and tasted vintages 2016 and 2008. Very strong effort in 2016. Incredibly intense on the nose with blackberries and blueberries, iron-dirt (truffle taste), tight and very concentrated on the palate, with great richness, depth and structure. Perfectly ripe fruit and tannin covered in silk. 97-98p.Alexandre Thienpont let me taste 2008 too, which was, of course, a downscaled version of 2016 with good structure and complexity.94p. He told me that he was satisfied with 2017 grapes and an initial tasting of samples from vats.
Saturday the 7th of October
Took a break from chateaux visits on Right Bank and went to Bordeaux. Ate my lunch at cult place La House du Pata Negra in Bordeaux's most famous market, Marché des Capucins. Great choice of tapas, and they just tasted delightful. The offerings of vegetables, fish, meat and olives at Marche des Capucins are just breathtaking!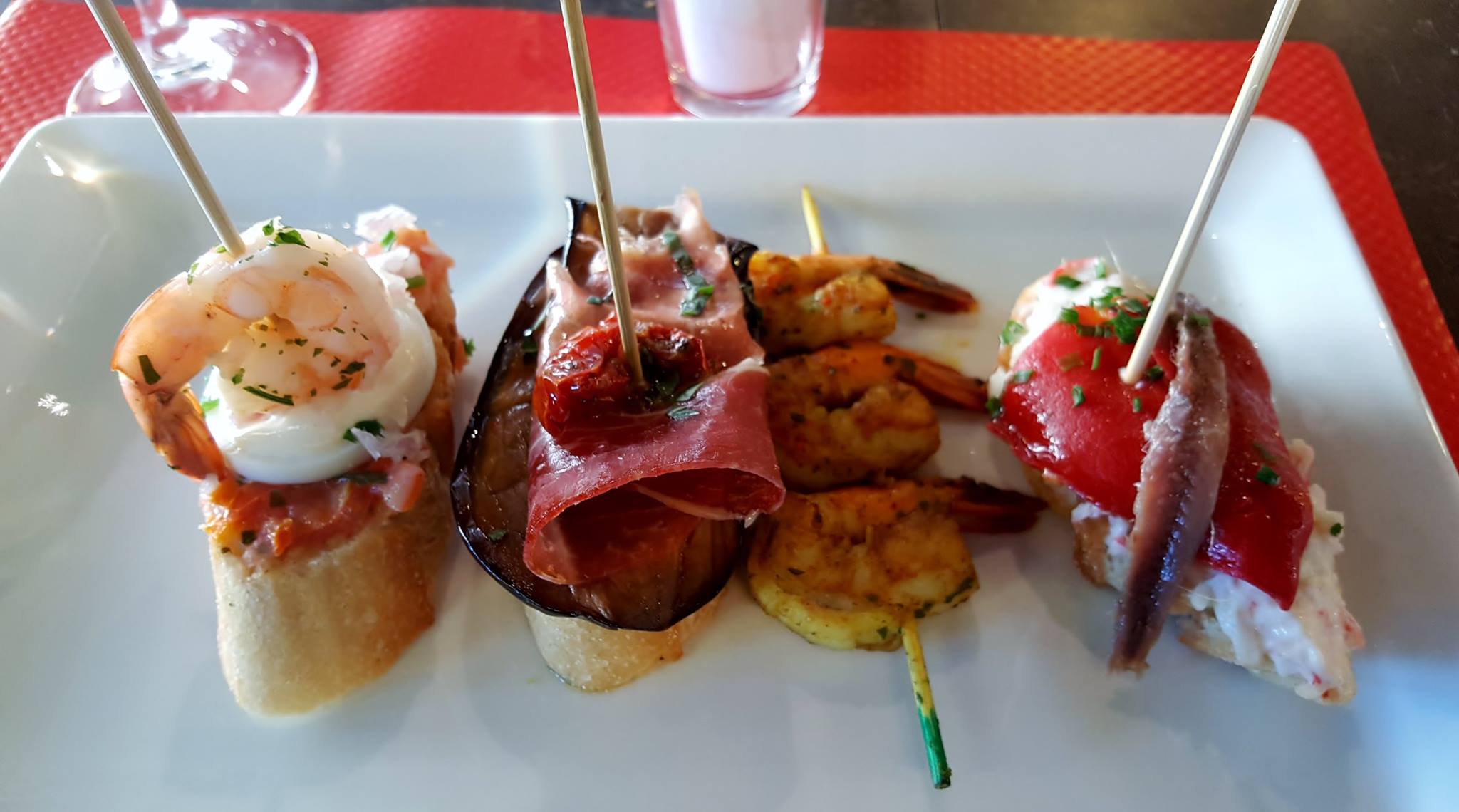 Delicious tapas at cult place La House du Pata Negra at Marche des Capucins in Bordeaux!
Sunday the 8th of October
Visited local market in Libourne. In the afternoon, I went back to Bordeaux and had my evening meal at the restaurant Comptoir Cuisine just next to the Grand Hotel. The food wasn't great - I'd say rather bland.
Monday the 9th of October
Les Carmes Haut Brion
Guillaume Pouthier, LCHB's technical manager and me arrived at the same time at the property, he arrived by car, and I arrived by foot from a nearby bus stop. He's always so enthusiastic and passionate, so it's a great pleasure to spend some time in his company. LCHB didn't experience any frost in April 2017 as the vineyard is well sheltered, and the temperature here is always 2-3 degrees higher than out in the country. Please notice that LCHB use the biggest amount of Cabernet Franc in the blend of all properties at Left Bank.
I was allowed to have some tasting samples of 2017 from a vat - tasty, round, reduction, smoky, and reminded somewhat of Hermitage. Great future. 50% whole bunches were used in vinification. Some wine info - 13.2% alcohol, acidity 3.5 and Index Polyphenol Totale = 70.
2016 LCHB - 41% C.Franc + 39% Merlot + 20% C.Sauvignon. 13.8% alcohol, IPT=80. Thick aromatic nose with the essence of blueberries, very concentrated yet refined, incredibly complex, precise and focused. Impressively long finish. Certainly, a wine to compete with big guns in this vintage! 96+p.
2015 LCHB - 44% C.Franc + 32% Merlot + 24% C.Sauvignon, 14% alcohol, IPT=75. This wine had a beautifully scented (rosebush perfume) nose, refined and intense, you could feel/taste the precision, purity and length of this wine. More concentrated than in recent vintages. Impressive stuff, which will even be better for sure. 95+p.
Haut Brion/La Mission Haut Brion
This time I was kindly offered to taste the line-up of 2014s. As usual, Turid Alcaras, head of the PR department, was my host. Neither here frost had been around, so the wine team here is expecting a really good vintage in 2017.
Reds:
Clarendelle line is made from purchased grapes.
Clarendelle Bordeaux - round and tasty, quite linear, fruity with a good finish. Perfect for immediate consumption. 87p.
Clarendelle St.Emilion - more forward and developed than Bordeaux one, spicy, tasty, round and pleasant. 86-87p.
Clarendelle Medoc - best one of three Clarendelles served. Potent and aromatic on the nose and palate, meaty finish. 88p.
Saint-Emilion (declassified Quintus) - also really nice, fruity, nice texture, good structure and length. 86p.
Le Dragon de Quintus - second wine of Quintus. a bit closed, sappy, juicy, good structure and length. 87p.
La Chapelle de La Mission HB - very attractive on the nose in the palate, cherry flavours, fine ripe tannin and fine acidity on the palate, well-balanced and with a smooth finish. 90p
Le Clarence de HB - more acidity than in La Chapelle de LMHB, otherwise, the same style. 90p.
Quintus - fine acidity, fruity, very complex, fine mid-palate, well-structured with a long finish. Well-made wine. 90p.
La Mission HB - very elegant and refined wine with great acidity, excellent structure, and finish. Beauty wine. 95p.
Haut Brion - more intensity here than in LMHB, tighter structure, and a bit longer finish. 95+p.
Whites:
La Clarte de HB - nice acidity, scents of acacia, lemon, apple, citrus, round and tasty. 90p.
La Mission HB - remarkable acidity and structure, great complexity, intense and fresh, green apple, was refined and with a long finish. 96p.
Haut Brion - more bite here than in LMHB, more intensity and concentration, richer and longer finish. 96-97p.
Haut Bailly
I had an excellent vertical of Haut Bailly - vintages from 2016 to 2008. Check out the profile of this property in the chapter "Chateau profiles". Despite some frost damage in April, the owner, Veronique Sanders Van Beek, is pretty satisfied with the first wine "steps" of 2017.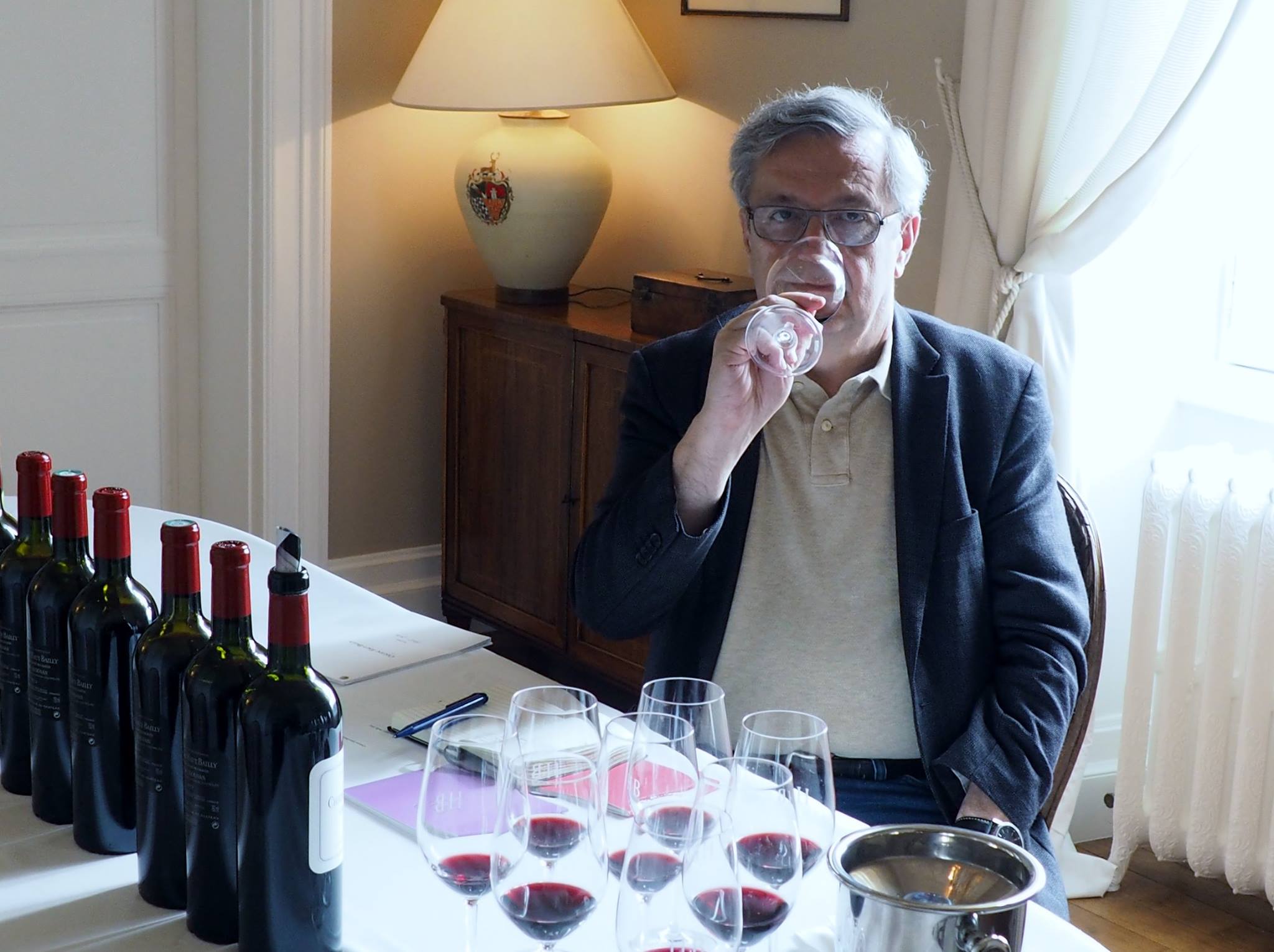 Vertical at Haut Bailly - I've 2009 Haut Bailly in the glass
I stayed one night at the excellent Hotel 4 Soeurs, just next to a splendid Café Napoleon 3. Here's the view from my hotel room, 5th floor, to Place de la Comedie (picture below).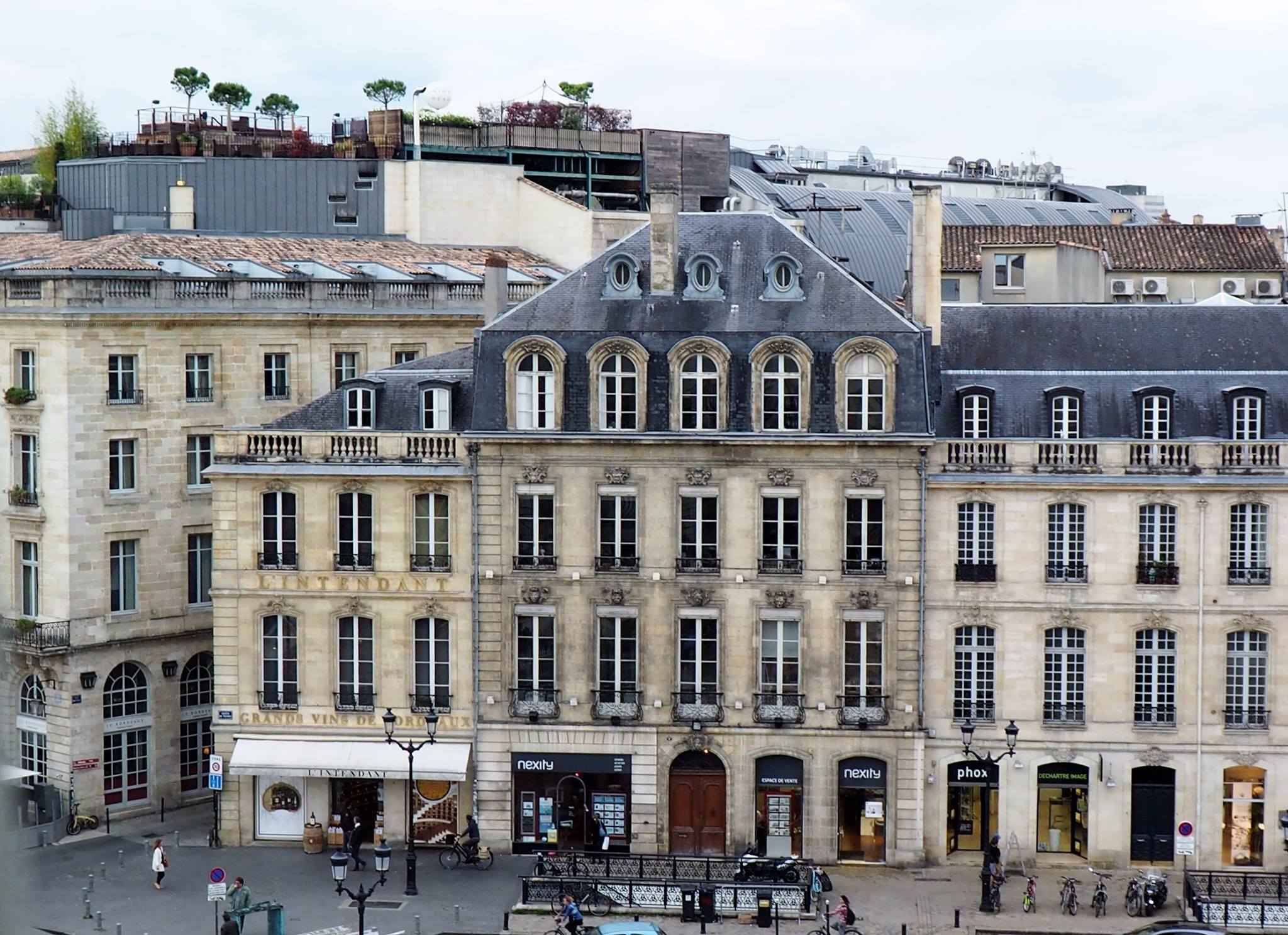 After returning from Haut Bailly to Bordeaux, I badly wanted to eat some cake. Walking along the famous pedestrian street, Rue St. Catherine, I turned right around the corner after Galleries Lafayette and found myself on another walking street, Rue de la Porte Dijeaux, and after a few minutes walk, I found a place called Opera Patisserie on the little street, right side. It's been open since February 2017. Extremely tasty cakes!! (see picture below).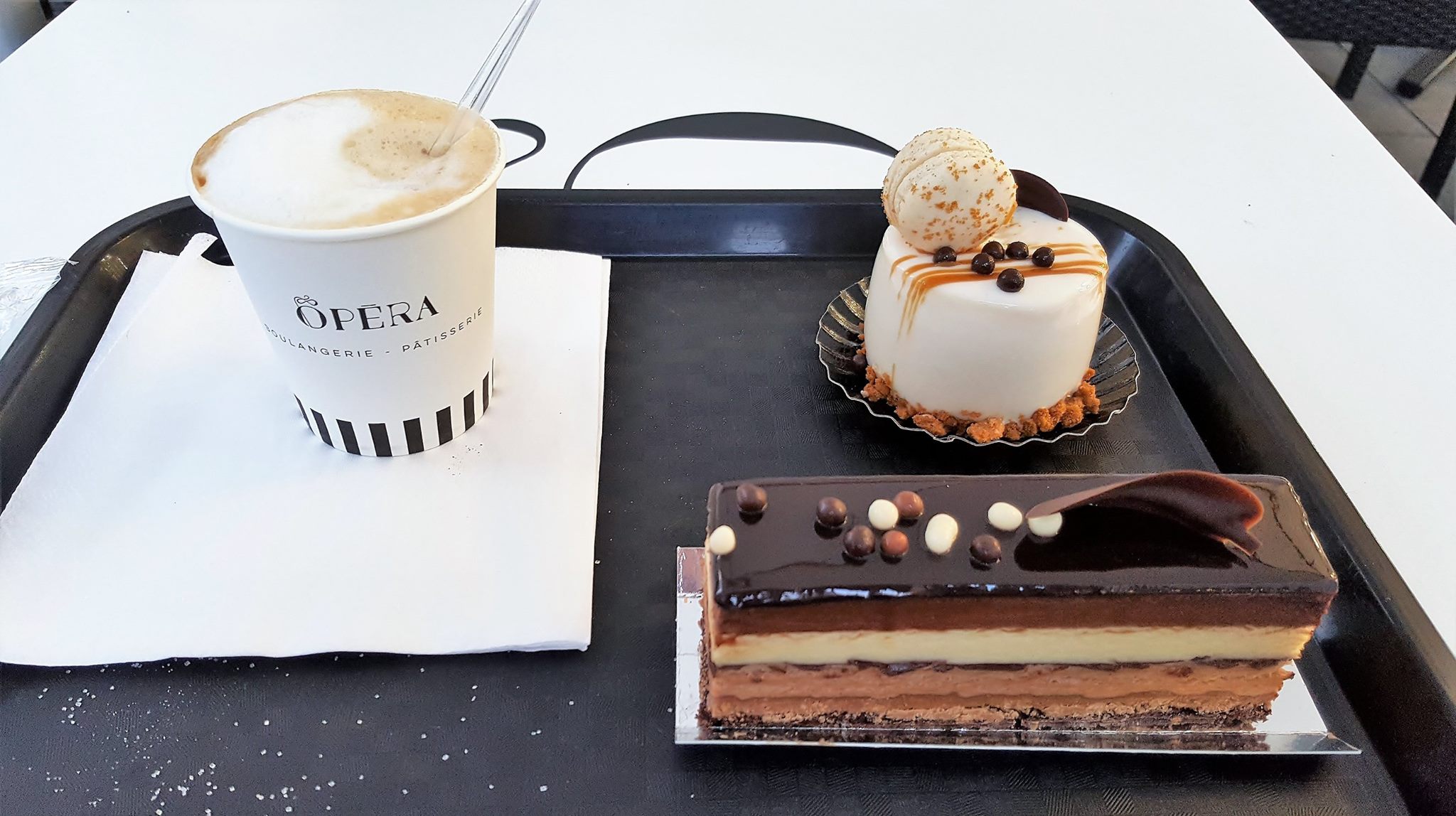 Tuesday the 10th of October
Ch. Margaux
Very interesting tasting of Pavillon Rouge, Ch. Margaux and Pavillon Blanc in vintages 2015 and 2016, together with two very important men now at Chateau Margaux - general director Philippe Bascaules (right) and property manager Sébastien Vergne (left). They expect a really good 2017 vintage.
Pavillon Rouge 2016 - intense, black fruit + flavour of roasted bacon, complex, elegant, well-structured and long. 93p.
Ch. Margaux 2016 - elegant with finesse, refined, great complexity and structure, velvety structure, palate ends with long persistent finish. 97p.
Pavillon Rouge 2015 - shows more concentration than in 2016, sweet fruit and tannin, same complexity, structure and length. 93+p.
Ch. Margaux 2015 - all in silk, epic wine, which was the last vintage late Paul Pontallier made. Very probably the wine of the vintage with its immense richness, complexity and elegance. Will live forever. 100p.
Pavillon Blanc 2016 - showed freshness, excellent acidity and fine complexity. Splendid structure and length. 93p.
Pavillon Blanc 2015 - small yield, only 20 hl/ha, 100% Sauvignon Blanc which reached 14% in alcohol (perfect ripeness). This vintage is the first one with organic treatment in the vineyard. Aromatic and fresh, the significant scent of acacia and grapefruit, with richness, refinement and great acidity. Maybe the best vintage yet for this wine. 93+p.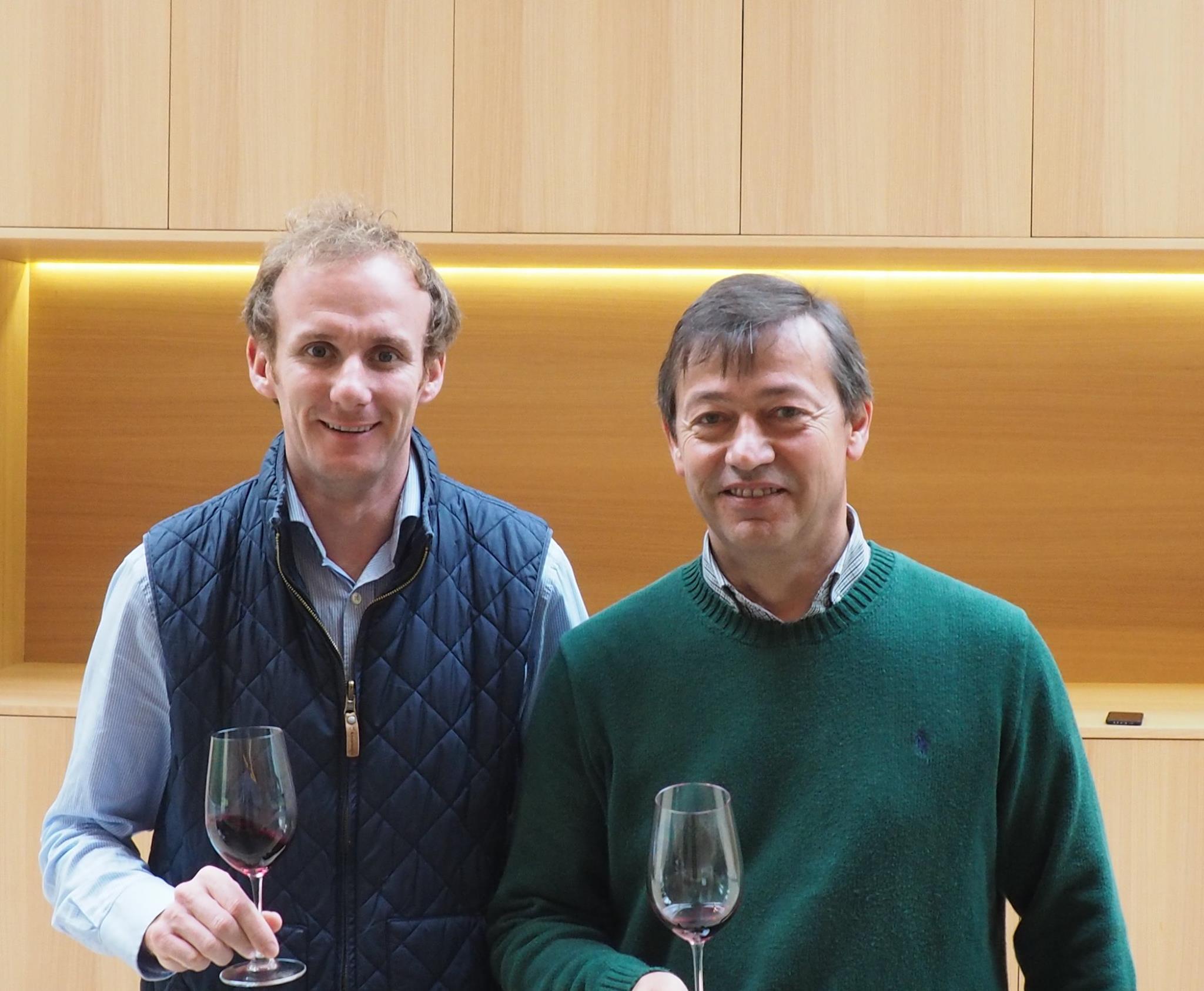 Two very important men at Chateau Margaux - general director Philippe Bascaules (right) and property manager Sébastien Vergne (left)
Lascombes
This property, under the management of Dominique Befve, produces very seductive, elegant and classic Margaux-styled wines, especially since 2010 vintage. There are now new offices and a reception room. Lascombes PR-manager, always smiling Karine Barbier, presented all three grapes varieties separately used in the final blend of 2016, second wine Chevalier Lascombes 2016 and the final blend of 2016, plus vintages 2015, 2014 and 2010 we enjoyed during lunch with Dominique Befve.
Merlot 2016 - fine fruity, aromatic, gentle, round and silky.
Cabernet Sauvignon 2016 - grilled bacon, tobacco/tobacco leaves, acidity and body.
Petit Verdot 2016 - backbone, structure, concentration and length.
Chevalier Lascombes 2016 - 50% Merlot + 50% C.Sauvignon. Round and tasty, fruity, quite intense, well-balanced, soft finish. A pleasure to drink in a few years. 89p.
Lascombes 2016 - big, full, complex, precise and focused wine with pretty fruit and tannin, well-defined, elegant, fine acidity. Persistent finish. Impressive stuff. 94p
Lascombes 2015 - 50% Cabernet Sauvignon, 47% Merlot and 3% Petit Verdot. Big, full, complex, more concentration and power than usual. Precise and focused wine with pretty fruit and tannin. Liquid silk with a lot of sweetness. 94+p.
Lascombes 2014 - classic coolish style, great acidity, finesse and elegance, harmonious and with persistent finish. 93p.
Lascombes 2010 - elegant monster, fat and creamy texture, all wrapped in silk. This wine has really turned on all its cylinders after a so-so period in the barrel. After bottling, it was only one way concerning quality - up! 93+p.
Some minor damages in the vineyard because of April frost were recorded, but these didn't affect Grand Vin, so a very good vintage á la 2014 is expected.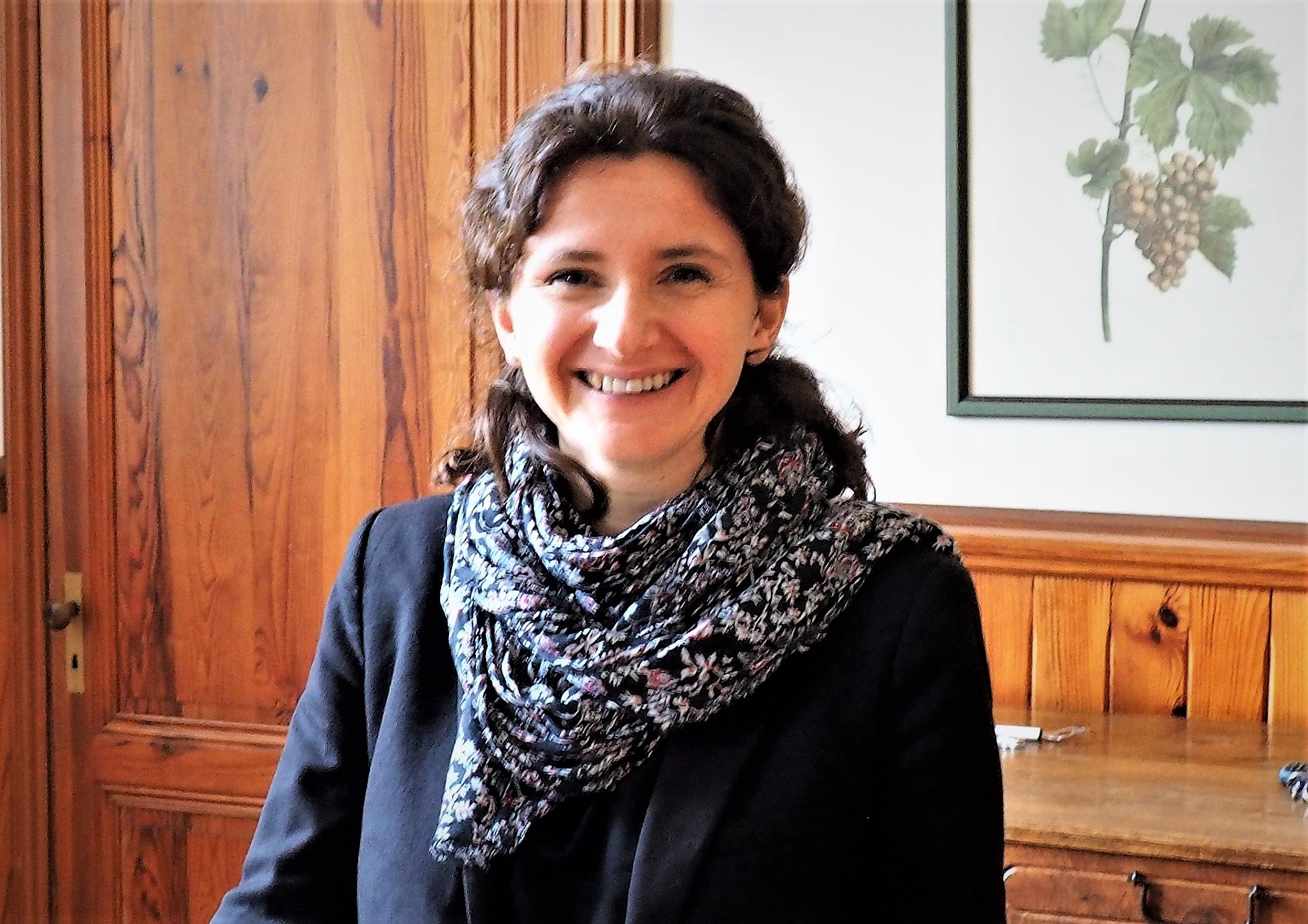 Karine Barbier, PR boss, always makes you feel extremely welcome at Lascombes!
Marquis de Terme
This is a property in Margaux commune, which in recent years has heavily invested in upgrading facilities and expecting a significant rise in quality. The present technical manager, Ludovic David, arrived here in 2009. The wine here is a stylish and elegant one, but imho it lacks a bit of personality and excitement. Ludovic David kindly opened vintages 2016, 2015 and 2014 for me.
2016 - elegant, fruity. fine complexity, harmonious, finesse, stylish with a silky finish. 92p.
2015 - more concentration here than in 2016, less elegance and finesse, a bit alcoholic on the nose, fine acidity and persistent finish. 92p.
2014 - overall, a correct-made wine which surprisingly lacks acidity, so characteristic and present in many Bordeaux wines in this vintage. 88p.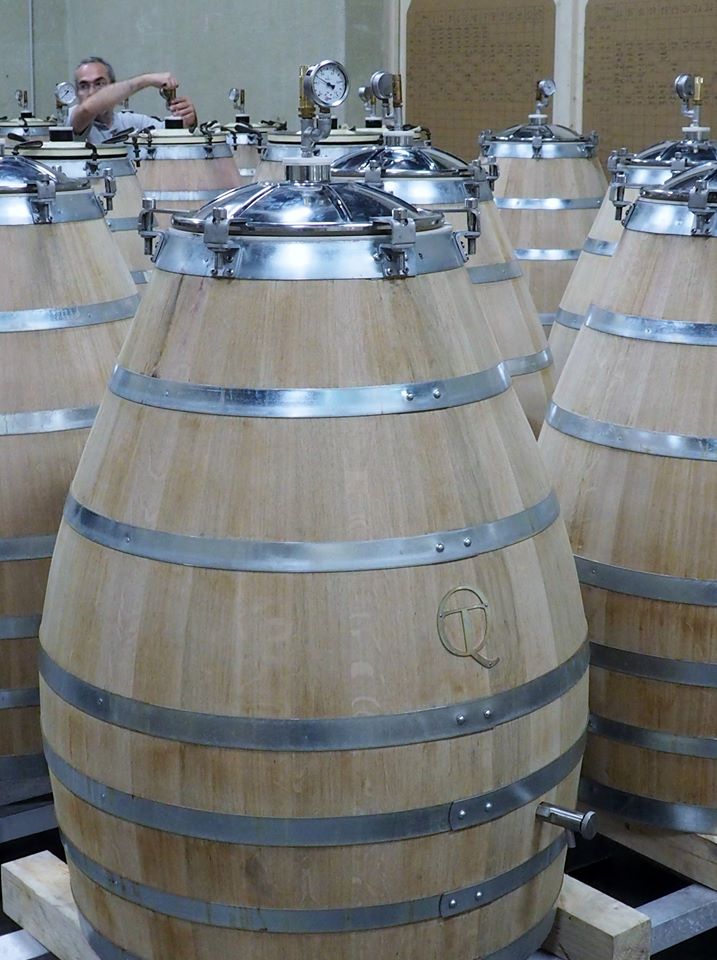 Specially made barrels for vinification at Marquis de Terme
Palmer
On my request, vintages 2016 and 2014 were presented. Concerning 2017, Palmer's technical staff was very satisfied with the quality of grapes brought in during harvest.
2016 Alter Ego - 40% Merlot + 48% C.Sauvignon + 12% Petit Verdot.. Fine acidity, perfectly ripe fruit, fine sweetness and complexity, well-structured and with a long finish. 93p.
2016 Palmer - 47% of both C.Sauvignon and Merlot + 6% P.Verdot. I felt slightly disappointed over the barrel sample of this wine back in April this year, but half a year later, it showed significantly better. More intensity and length. More complexity too. 96p.
2014 Alter Ego - 52% Merlot + 35% C.Sauvignon + 13% P.Verdot. Strong, powerful, obvious acidity shows cool Bordeaux style. Great stuff. 92p.
2014 Palmer - 45% Merlot, 49% Cabernet Sauvignon and 6% Petit Verdot. Big and corpulent wine with great richness, high acidity, strong backbone, great depth and long, long finish. At the same time, it was a powerful and elegant wine with a sophisticated touch. Among the top wines in this vintage. 96p.
Domaine de Chevalier
In the evening, I had a tasting and dinner with Olivier Bernard. We tasted 2013 white D.d.Chevalier, with a fine aromatic nose of apple and acacia, a lush palate with excellent acidity, fine balance, and smooth aftertaste. 94p. 2012 red D.d.Chevalier was very aromatic, gentle, tasty and with a fruity finish. 93p. 2011 D.d.Chevalier was firm and with a persistent finish (92p), while 2010 D.d.Chevalier displayed excellent ripeness of fruit and fatness of tannin. 95p.
Frost did some damage here, and yields will be lower in 2017.
Wednesday the 11th of October
Pichon Baron
It was great to compare 2016 and 2015 vintage here. Concerning 2017 vintage, the frost did minimal damage, so there are big hopes for a really good vintage.
Pibran 2016 - black fruit, freshness, splendid acidity and intensity, velvety texture, silky fruit and tannin. Splendid quality from this property, which always is great qpr. 92p.
Tourelles 2016 - Merlot-based second wine. It was attractive and seductive, very elegant, tasty and with a fruity finish. 91p.
Griffons 2016 - Cabernet bases second win. This sample showed more concentration and acidity than Tourelles, and also a longer finish, but the quality was similar. 91+p.
Pichon Baron 2016 - has the highest proportion of C.Sauvignon ever in the blend, a whopping 85%. was powerful yet elegant with a velvety texture, strong backbone, excellent complexity and depth and long fruity finish. Fabulous effort! 98p.
Pibran 2015 - sweet fruit, less intense and less concentrated than 2016, but the fine quality is indisputable.90p.
Tourelles 2015 - 55% Merlot here. Sweet fruit, silky tannin, well-structured and with a smooth finish. Very seductive wine. 90p.
Griffons 2015 - 60% C.Sauvignon here. powerful, strong backbone, very nice acidity, sappy, nice complexity and length. 91p.
Pichon Baron 2015 - a bit lighter than 2016. 77% C.Sauvignon here in the blend. Possesses excellent ripeness, balance, complexity and length. Impressive mid-palate. 96p.
Pichon Comtesse
I had a very nice tasting with Charles Fournier, PC's commercial and marketing director. On my request, we tasted 2016, 2015, 2013 and 2008. Before that, we went to the cellar and tasted samples from several parcels of 2017 after alcoholic fermentation. As Pichon Comtesse's main vineyard is close to Gironde river, the frost was absent here. Both Merlot and Cabernet samples from the vats promised well.
2016 was just insanely impressive, just like in April and September 2017. 98p.
2015 suffered from bottle shock after recent bottling. NR.
2013 was Nicolas Glumineau's first vintage and an extremely difficult one. The new cellar wasn't quite ready, and some deliveries of wine equipment were late, so there was some stress among staff. Anyway, Nicolas Glumineau and his staff managed to deliver a very good wine. Extremely rigorous selection resulted in a "minuscule" yield of only 20 hl/ha. The wine's 100% Cabernet Sauvignon. Roasted/grilled bacon on the nose, tobacco leaves, round, fruity and spicy. Already drinkable with a nice fruity finish. Not bad at all. This wine is sold out from the property - I guess many restaurants have bought it. 90p.
2008 was made by a previous winemaker. I liked this wine a lot from the barrel in October 2009, but 8 years later, it was obvious that baby fat had gone and that the wine suffered a little bit from overdone vinification and resembles the old style of the property. I have to retaste it in a few years. 91p.
Mouton Rothschild
Great visit and a fantastic possibility to taste 2015 and 2016 vintages of four wines, D'Armailhac, Clerc Milon, Le Petit Mouton and Grand Vin. All wines performed excellently!
2015 d'Armailhac - 60% CS + 29% M + 9% CF + 3% PV. Sweet fruit, fine acidity, fine structure and fine complexity, splendid length, delicious grained tannin and smooth finish. Bottled in March/April 2017. Great effort. 92+p.
2015 Clerc Milon - 56% CS + 24% M + 13% CF + 1% PV + 1% Carmenere. Same sweet fruit and tannin as in d'Armailhac, same style and quality as well. 92+p.
2015 Le Petit Mouton - 78% CS + 17% M + 5% CF. Bottled in June 2017. The same fine acidity, structure and finish are found in the aforementioned wines. A bit lighter, though. Peppery on the palate. Fine quality, indeed. 91+p.
2015 Mouton Rothschild - 82% CS + 16% M + 2% CF. Refined, sophisticated, rich, excellent complexity and structure, great acidity and powerful finish. An immensely complete wine. 98p.
2016 d'Armailhac - 62% CS + 28% M + 8% CF + 2% PV. More intensity and length here compared to 2015 version and more distinguished wine. Excellent effort. 93p.
2016 Clerc Milon - 55% CS + 29% M + 13% CF + 2% PV + 1% Carmenere. Twin brother of d'Armailhac. 93p.
2016 Le Petit Mouton - aromatic, elegant and seductive, with splendid backbone, structure and fruity finish. 92p.
2016 Mouton Rothschild - 83% C.Sauvignon + 15% Merlot + 1% C.Franc + 1% P:Verdot. An aristocratic nose of blackberries, cigar box and tobacco leaves, classy stuff with great acidity, velvety all over, stunning richness and structure, excellent complexity, and powerful finish. An immensely complete wine. Probably the best wine of the vintage. 100p.
At Mouton Rothschild, they have great hopes for a classy vintage 2017.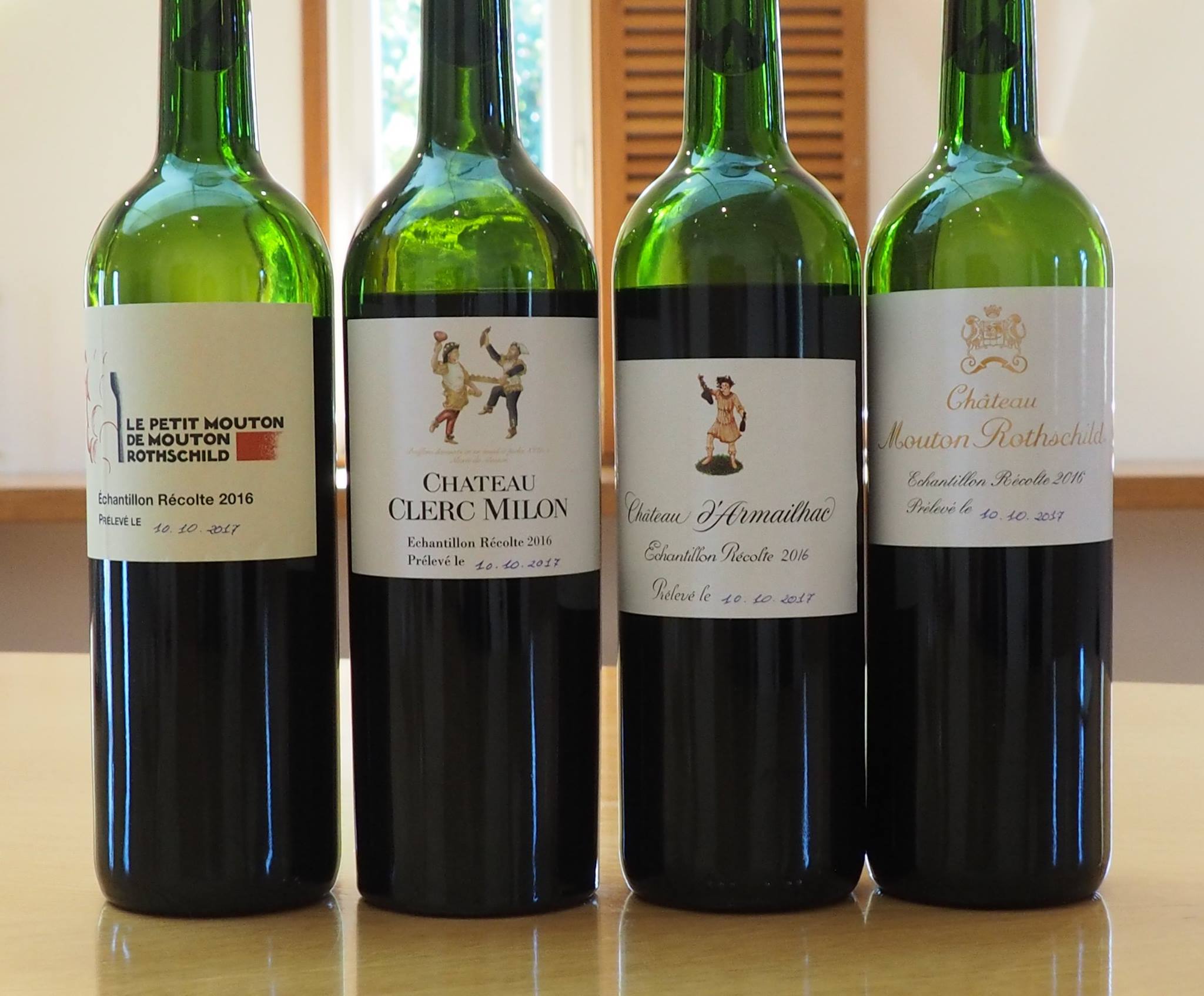 Riveting 2016s tasted at Mouton Rothschild!