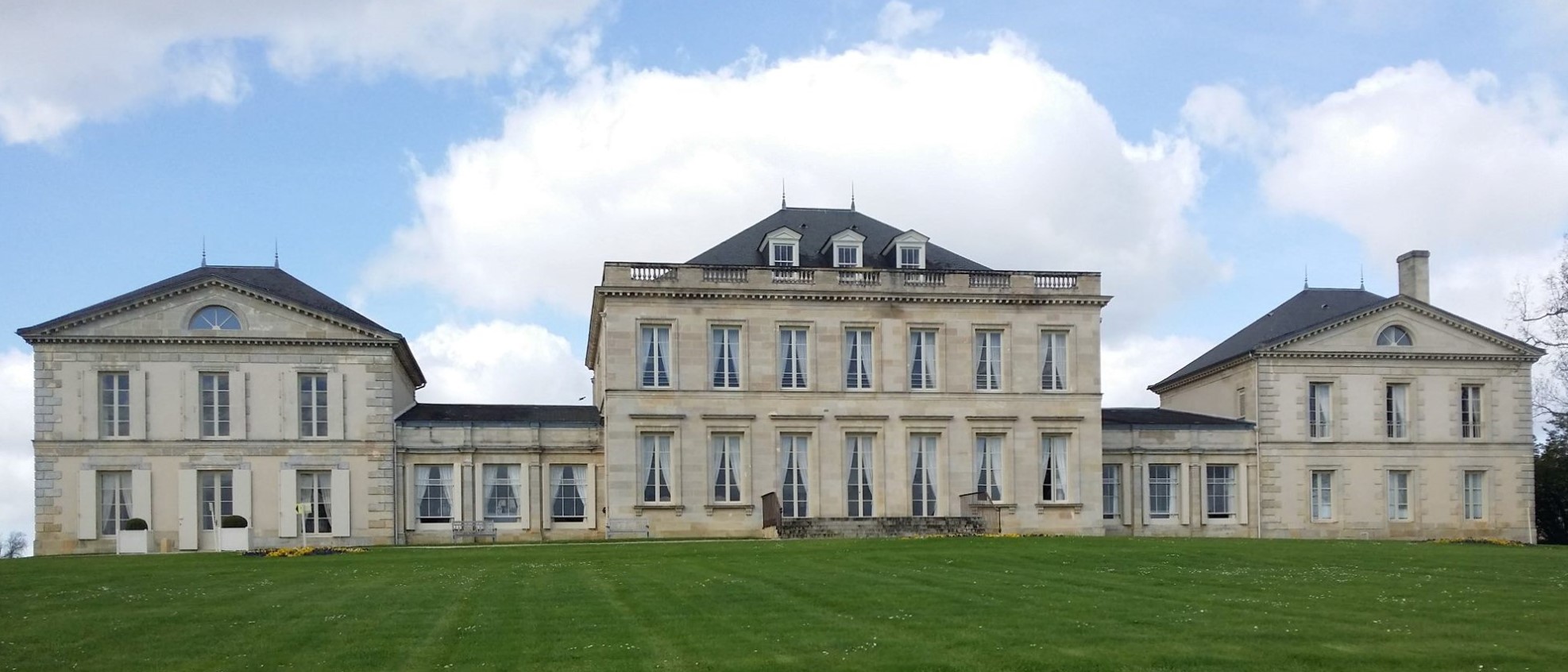 Phelan Segur is situated on the same slopes in Saint Estephe as its closest neighbors, Montrose and Meyney. It overlooks Gironde river banks and is in a safe environment when white or black frost strikes. The mIcroclimate here is just very advantageous.
Phelan Segur was already a big estate of Irish origin in the middle of the 19th century, thanks to Franc Phelan. It was he who built the imposing chateau. The name Phelan Segur was first introduced at the beginning of the 20th century. Before that, the property was named Segur de Garamey.
Delon family, who already owned Leoville Las Cases, purchased the property in 1946. In 1985, they sold it to a Gardinier family. The new owner begins to make a lot of modernization of winemaking facilities. Because of herbicide contamination, they had to take the 1983 vintage back from the market and weren't allowed to release 1984 and 1985 vintages. 1986 was the first vintage produced by the new owner.
The new technical director, Veronique Dausse, arrived in August 2010, just before harvest. Her arrival has made Phelan Segur more stable in quality and improvement.
In 2017, the Gardinier family sold Phelan Segur to a Belgian investor, Philippe van de Yvere.
Phelan Segur's vineyard covers 70 ha, planted with 58% Cabernet Sauvignon, 39% Merlot, 1.5% Cabernet Franc and 1.5% Petit Verdot. The vineyard is divided into four blocks, and some of these touch the ones of Montrose and Calon Segur. The soil is of excellent quality, mostly gravel, moldy, sandy, and clay. Vines here are, on average, 40 years old, and 50% of new oak is used for aging.
Phelan Segur is only Cru Bourgeois, but it challenges classified growths in several vintages since the 2010 vintage. Thanks to Merlot's large content, it can be very aromatic, polished, elegant, and fleshy, while Cabernet Sauvignon provides a strong backbone, structure, and concentration. Both grape varieties complement each other here!
In 2018, this property excelled and made a simply spectacular effort. I sincerely hope there will be no filtration or a very light one before bottling in 2020, so no great elements will be removed!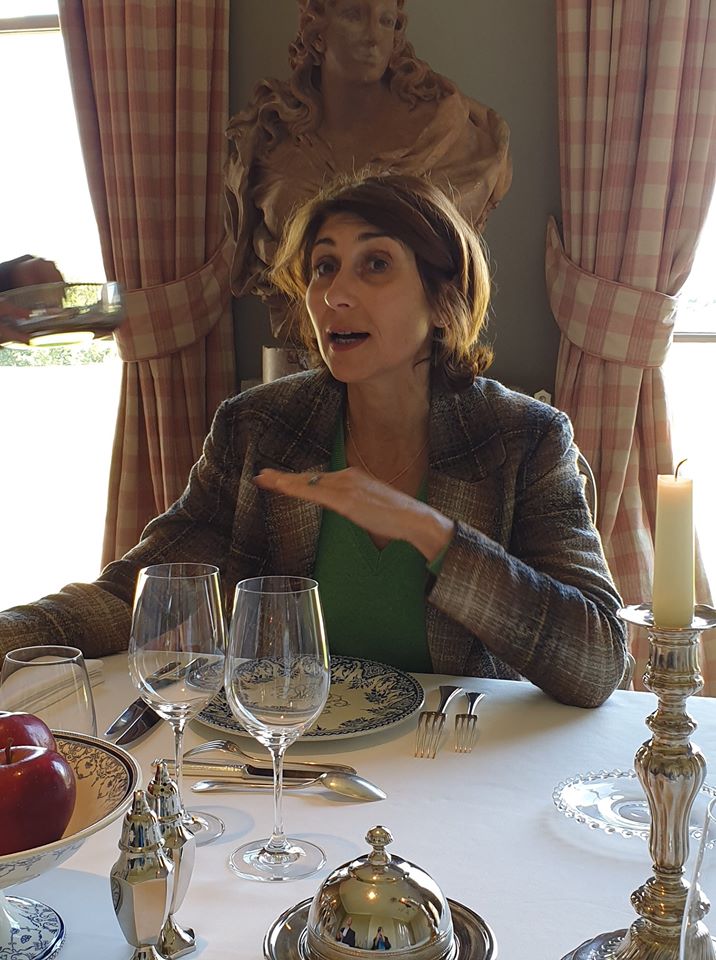 Veronique Dausse, manager of the property since august 2010. Pictured in April 2019
-----
2021 (barrel sample) 93-94p
Tasted in April 2022. 75% C.Sauvignon, 21% Merlot and 4% P.Verdot. 13.5% alcohol. There's 50% less Merlot in the blend compared with 2020 and 2019. It was a juicy and vibrant wine with great complexity, strong structure, and splendid length. Very C.Sauvignon with sappy black-/redcurrantsand flavors of tobacco leaves and black winter truffle. This property's been on the great run in recent vintages. Impressive stuff.
2019 (barrel sample) 95p
Tasted in June 2020. 56% Cabernet Sauvignon, 42% Merlot, 2% Cabernet Franc, 14.5 alcohol. There is more Cabernet Sauvignon in 2019 than in 2018 (40%) and less Merlot (52%). You can taste the change in the blend proportions immediately! Aromatic cherries and blackcurrants in big numbers! Deep and big scaled nose, strong backbone, high complexity, and significant concentration. Large, very complex, big ripe tannins. A beast in ship clothes! Different than 2018, which was much more sheep clothes than the beast. Will it outperform 2018 vintage – I think it will!
2018 94-95p
Tasted four times - last time in December 2020. Consistent notes. 57% Cabernet Sauvignon + 43% Merlot. Superb nose of grilled bacon and tobacco. Mighty wine with a velvety texture, silky fruit and tannin, splendid complexity, splendid structure, and long finish. Great effort for the vintage. Entirely on the level quality-wise with several Crus Classes! This is the first vintage of the new owner.
2017 (barrel sample) 92p
Tasted in April 2018. Meaty wine with fine acidity and ripe fruit. Well-balanced, complex, and long finish. Splendid effort for the vintage.
2016 (barrel sample) 92-93p
Tasted in April 2017. Aromatic, delicious on the palate with tight structure and meaty finish. Some elegance. Well-made. This wine will, for sure, perform even better in the bottle.
2015 (barrel sample) 93p
Tasted twice - last time in April 2016. Consistent notes. 53% Cabernet Sauvignon + 47% Merlot, 13.5% alcohol. It is very aromatic with a powerful aroma of blueberries and blackberries, well-knitted, splendidly balanced, sweet fruit, refined and complex with a long fruity aftertaste. Impressive.
2014 92p
Tasted twice - last time in April 2016. Consistent notes. Earthy, dark cherries, spicy, strong structure and backbone, fleshy and with a long finish. Well-balanced. This is a superb wine.
2012 90p
Tasted in April 2016. Tasted delicious, round, fruity, and sappy with fine structure and length. A real crowd-pleaser and the perfect restaurant wine!
2011 91p
Tasted twice - last time in April 2016. Consistent notes. Splendid acidity, fine structure, and long finish. Reminiscent of 2014 but with less complexity and concentration.
2010 92-93p
Tasted in April 2016. Fat fruit and tannin, both perfectly ripe, with great complexity and depth. Strong backbone but also finesse and elegance. This vintage marked the arrival of a new manager of Phelan Segur, Veronique Dausse.
2009 92-93p
Tasted twice - last time in April 2012. Consistent notes. Chocolate and black cherries splendidly structured and complex. Tannin wasn't as fat and grained as in 2010, but 2009 was a little longer on the palate. Excellent effort as well.
2008 89p
Tasted twice - last time in April 2012. Consistent notes. Very traditional and a bit rustic wine here in a cool vintage. Very nice structure and length, and it needs time to soften.
2007 86p
Tasted twice - last time in April 2012. Consistent notes. Difficult vintage, but the wine here was already charming people with attractive and tasty fruit. Already drinkable.
2006 85p
Tasted twice - last time in April 2012. Consistent notes. Tight and a bit edgy, with some dryness in fruit and tannin. Harvested too late?
2005 92p
Tasted twice - last time in April 2012. Consistent notes. Aromatic, well-knitted, perfectly ripe dark berries and ripe tannin, splendid complexity, strong backbone, and structure. Long finish.
2004 91p
Tasted in September 2007. Very aromatic, fine structure and depth, complex, concentrated, and well-balanced. Tannin isn't dominating here, and this wine is well-made.
2000 92p
Tasted in August 2006. A delicious, hugely aromatic, well-structured wine with a robust approach, strong backbone, and firm finish.
1999 88p
Tasted in August 2005. Ripe fruit, elegant, nice structure with tasty fruit. Round and charming. It's pretty pleasant right now.
1990 91p
Tasted in May 2012. This 22-year-old wine from a highly acclaimed vintage was a real heartbreaker with its aromatic, attractive, elegant approach, finesse, and soft fruity finish. Delicious stuff.