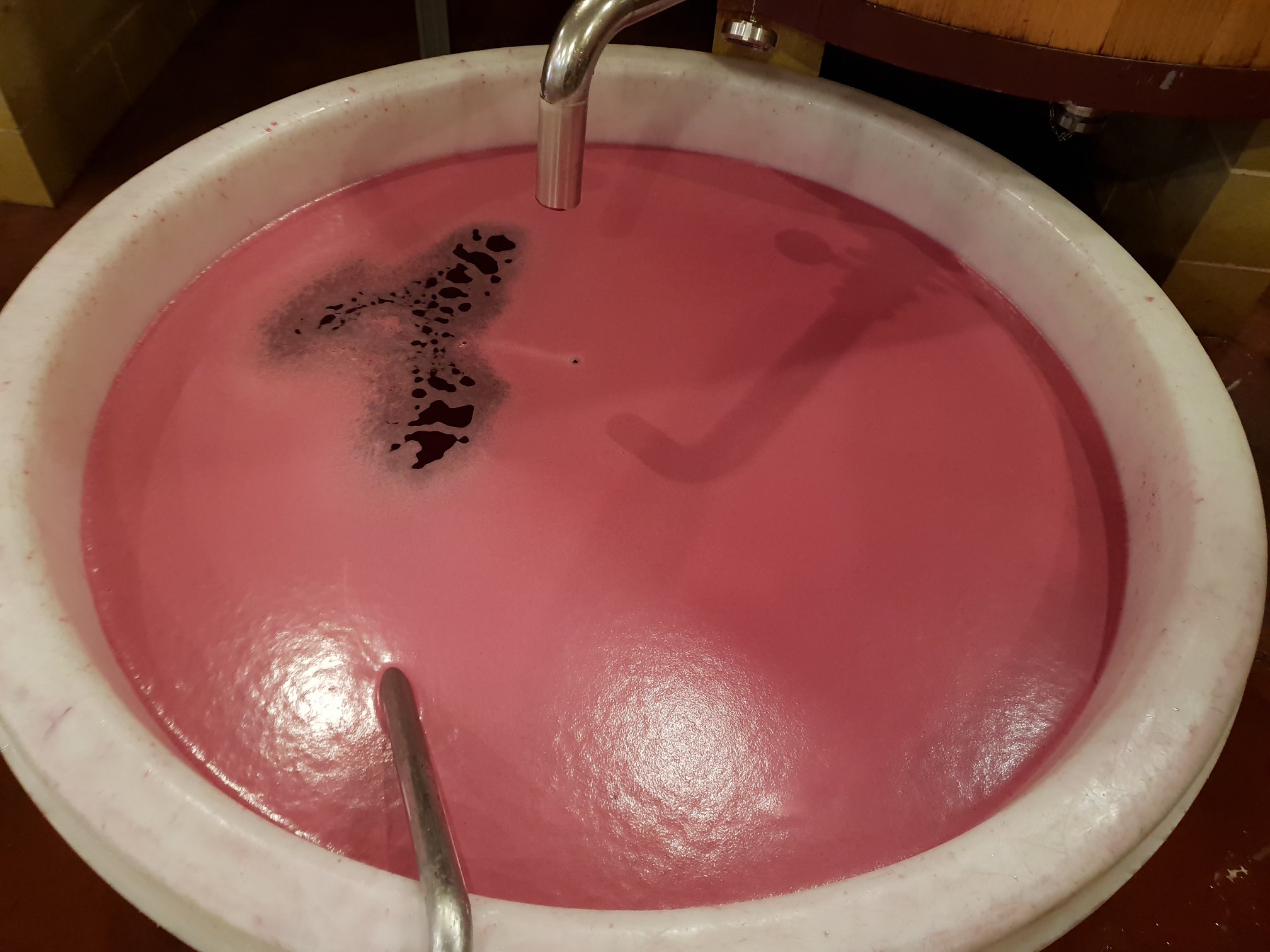 Hallmark of 2018 vintage - pink-red foam (mousse)!! Indicates big concentration and fatness. Domaine de Chevalier, October 2018
Incredible things happen, and it seems Bordeaux will enjoy something like a vintage of the century and the fifth successful vintage in a row. 2014, 2015, 2016, 2017 and 2018!! It's never happened like that, and 2018 is, according to several chateau owners, better than the gloriously distinguished 2016 vintage and among the three best vintages they've ever made.
It was a year of two extremes - a lot of rain in the spring, causing many outbreaks of mildew, which mainly attacked Merlot and a glorious summer during July, August and September. All these three months were particularly dry and created a fundament for great quality.
Water from the spring showers was well stored in limestone/clay-based soils, allowing vine roots to "drink" it when needed. Mildew cut production at some chateaux by the app. 50%. Grapes from vines on gravelly soils looked pretty small to me. Warm days and cool nights did once again preserve aromas and freshness.
With long-term forecasts promising perfect weather during harvest, there was no need to rush it, but winegrowers could risk high alcohol levels if they waited too long. Harvest of grapes in two colours started at the usual time in Bordeaux, white finished by mid-September and red finished more or less on Right Bank by the 5th of October, while late-ripening soils (f.i. around St.Etienne de Lise) have more or less finished by mid-October. Haut Medoc finished harvest by mid-October.
Sauternes & Barsac, I think, is still waiting for the great attack of botrytis. By the 1st of November, they had it towards the end of October, but generally, they will have low acidity in wines. Both dry whites and sweet whites won't challenge 2017 vintage.
Yields will be normal in 2018, except for chateaux who suffered from mildew. One hallmark of 2018, which is very difficult to avoid mentioning, is the colour of the mousse (foam). Pink-red one witnessed huge fatness and big concentration. The last vintage I noticed this colour was 2000! The other things were red stalks and red seeds inside grapes, which witnessed big, big ripeness inside and outside grape skins. Those skins were thick as well!
Dry whites will not be close to the quality of reds in 2018, mainly due to a lack of acidity and concentration.
I've tasted many 2018 samples directly from the vats before and after the alcoholic fermentation. Fantastic sweetness and concentration. Yes, we have something extraordinary here, but it will be confirmed 100% when malolactic fermentation is over and when big tastings during primeur will be staged! For sure, nothing can go wrong.
Now it's time to write my impressions from visits and proprietors' views on the 2018 harvest.
Monday the 8th of October 2018
As usual, I took an early train from Libourne to Saint Emilion, stopped for breakfast at a very good bakery situated just before you enter the village after passing Ausone on the left, Mie & Merlot, and went afterwards to Jean-Luc Thunevin's shop, L'Essentiel, where 2016s were prepared for me. I tasted the following wines:
Domaine Virginie Thunevin - nice wine with a good grip and good acidity. 90p.
Bad Boy - aromatic, silky, good concentration and length. 90p. Bad Boy Syrah Vin de France - typical flavour of this grape variety, green pepper, perfumed and strong. 90p,
Domaine des Sabines - sweetness, well-balanced, delicate complexity and length, and pleasing aftertaste. 91p.
Le Clos du Beau Pere - potent, meaty, long, complex. 92p. Clos Badon - strong, earthy flavours, fine length. 91-92p.
Virginie de Valandraud - black fruit and oak, strong, complex, splendid composure and long aftertaste. 92p. Valandraud - very full-bodied wine with excellent complexity, structure and depth. A winner. 97p.
Bad Boy Chardonnay - not a typical flavour here for this grape variety, in my honest opinion. It tasted a bit thin. NR.
Virginie de Valandraud white - acacia and green apple, very good acidity and length. 89p. Valandraud white - acacia flower, crispy, fine acidity, quite potent and long. 91-92p.
I was then visiting a magic place in St.Emilion, Tertre Roteboeuf. I was told the story of 2018 vintage, and Francois Mitjavile told me that he has never experienced such vintage with extremes and surprising turns of weather plus extravagant flavours. He thinks 2018 may be among the best vintages he's ever made. Before tasting 2017, 2016 and 2015 vintages of Tertre Roteboeuf, Roc de Cambes and Domaine des Cambes, I was allowed to taste a sample of 2018 Tertre Roteboeuf before fermentation (harvest here finished on Friday the 5th of October). It was very concentrated, lovely and raisiny. Excellent future, in my opinion.
Domaine des Cambes is usually 70% Merlot + 30% old Cabernet Franc. 2017 was aromatic and fruity, with good length and balance. 90p. 2016 provided more acidity and concentration than 2017, and Cabernet Franc shined through here. 91p. 2015 reminded me a lot of 2016s, but the alcohol level was higher and more detectable. 91p.
Roc de Cambes - 2017 was spicy and voluptuous, with lots of blackberries, complex and long. 93p. 2016 acted as a stricter version of 2017, big, powerful, strong backbone, great complexity and length. Very impressive. 94p. 2015 was more direct than 2016 and less elegant. Excellent quality. 93p.
Tertre Roteboeuf - 2017, 2016 and 2015 all rated 99p. Three magnificent wines, different style, but so sophisticated and magical.
Lunch in Saint-Emilion followed, and then I was driven to Fleur Cardinale by Caroline Decoster, It's situated in commune St.Etienne de Lisse, some 5-6 kilometres from St.Emilion village. Beautiful countryside with hills, and the views are just stunning. I got a tour de vignoble by Caroline Decoster, and she showed me the perfectly looking grapes of both Cabernets. Fleur Cardinale's closest neighbour is Valandraud. Because of late ripening ("cold" soil), Cabernets weren't ripe enough (phenolic ripeness) on the 8th of October. There were plenty of grapes in the vineyard, which was a much-needed boost after such a dreadful experience in April 2017, when the black frost wiped out 98% of potential grapes. Fleur Cardinale announced on the 24th of October that the harvest was finished, and they were pleased with the quality of the grapes.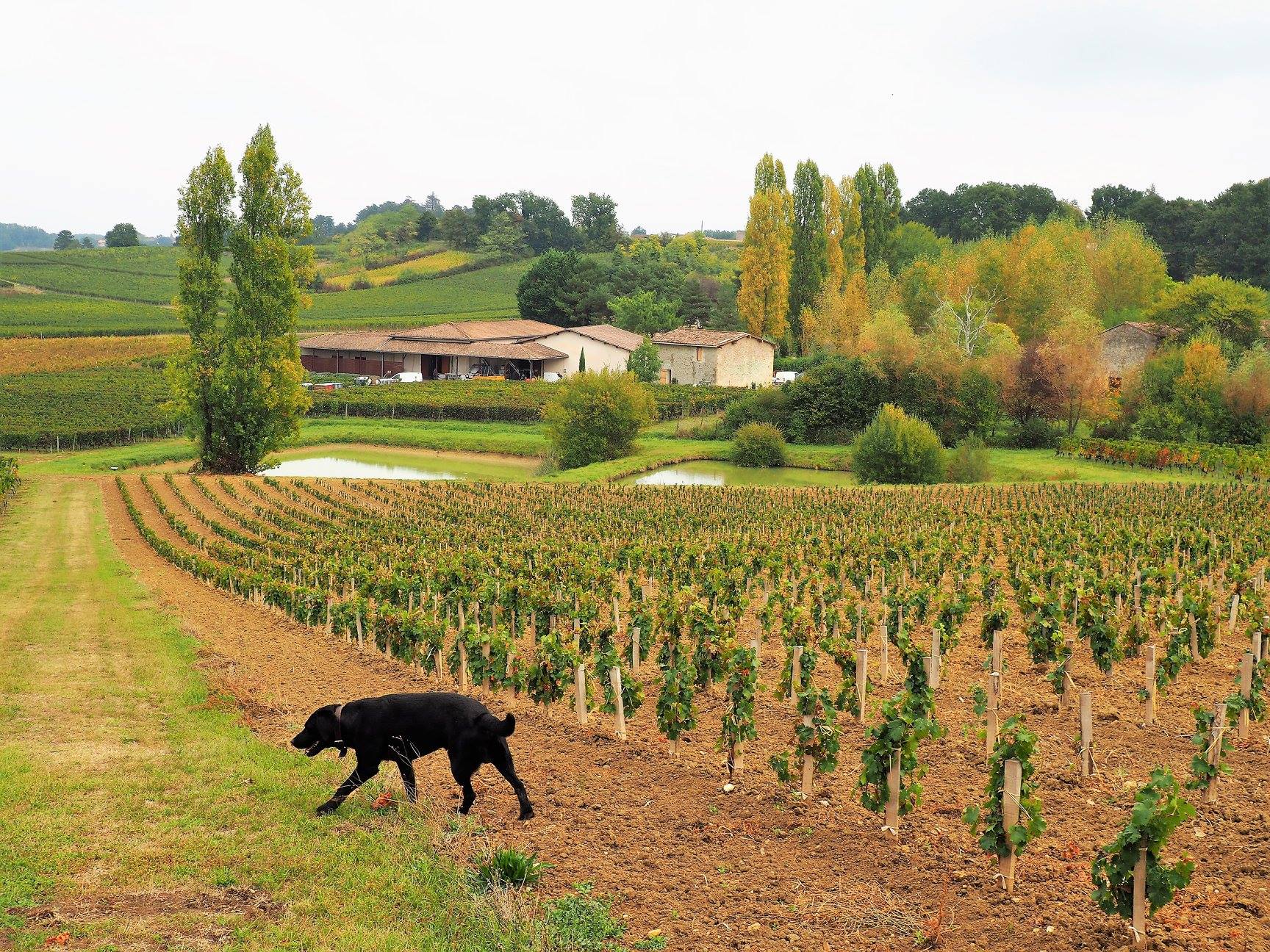 Looking down to Fleur Cardinale's cellar - what a magnificent view with late autumn colours
2016 - classic and stylish St.Emilion wine, aromatic, fine acidity, great elegance and finesse, splendid complexity. Perfect balance and excellent length. 95p. 74% Merlot, 18% Cabernet Franc and 8% Cabernet Sauvignon.
2015 - a lot of sweet fruit here, spicy, very complex and with a long finish, silky texture and velvety tannin. Heartbreaker wine. 94p. 75% Merlot, 15% Cabernet Franc and 10% Cabernet Sauvignon.
2014 - typical wine for a cool vintage. Earthy flavours, spicy fruit, some elegance and strong tannin. More C.Franc in the blend than usual gave this wine a strong backbone, which needs several years to soften up. 93p. 70% Merlot, 25% Cabernet Franc and 15% Cabernet Sauvignon.
Tuesday, the 9th of October 2018
Vayron family at Bourgneuf is, of course, delighted with 2018 harvest and Frederique Vayron, the winemaker, compares it to 2010 vintage here. While 2010 had a low yield/ha, there's a normal yield in 2018. I tasted the Merlot sample of 2018, just nearing the end of alcoholic fermentation, and it was dark-coloured, fat and very promising. I did taste 2014, 2015 and 2016 vintages. 2014 was very Pomerol, classic wine of a cool vintage, meaty with pleasing complexity and length. Will keep for many years to come. 93p. 2015 had great balance, intense black fruit, sweetness, great complexity and a long finish. An imposing wine. 94+p. Then 2016 resembled 2015 but had a bit more concentration and nobility, so typical of this vintage, plus a very velvety texture. Hedonistic wine. 95+p.
Amid the busy period after harvest, it arranged a quick rendezvous with Marielle Cazaux, manager at La Conseillante. She was all smiles when I asked her about 2018 vintage, something great in the making, she said. I had a little vertical, 2014-2015-2016-2017, vintages. She wasn't present at La Conseillante when 2014 was born. The bottle I tasted at the property seemed a bit disjointed, with slightly jammy flavours and earthiness. 91p. I had a much better sample of this wine in September 2018 in Copenhagen. 2015 was a different story, much sweeter, riper, alcohol kept in check, and great finesse and elegance. 95p. 2016 is, imho the best vintage yet she accomplished at La Conseillante. A complete wine, more intensity and complexity, more refined and sophisticated, all in silk, great length. 97p. Astonishing effort. 2017, which I didn't taste properly in April 2018 due to too many people in the cellar on the first day of primeur, welcomed me with a lot of charm, elegance and finesse. It had pleasing complexity and length. 94p.
Then I found my way to Corbin, a few kilometres down the road from La Conseillante, for a very quick visit. The owner, Anabelle Cruse Bardinet, whom I've known since 1996. I've tasted all the vintages she's made at Corbin (since 1999) and was extremely satisfied with 2018. She told me she needed 2018 to be that great, especially after losing the entire production because of black frost in April 2017. I was allowed to taste several samples of 2018 during fermentation, which looked very promising.
Afterwards, I landed at Larmande, where I saw the winemaker Veronique Corporandy working full swing. During primeurs this year, I met her at sister property Soutard, where she also is the winemaker. They were harvesting at Larmande that particular day and Cabernet Franc was perfect. Veronique Corporandy was "wearing" a big smile too, when asked about the potential of 2018 vintage.
I look forward to tasting it and what she's accomplished at both properties next year!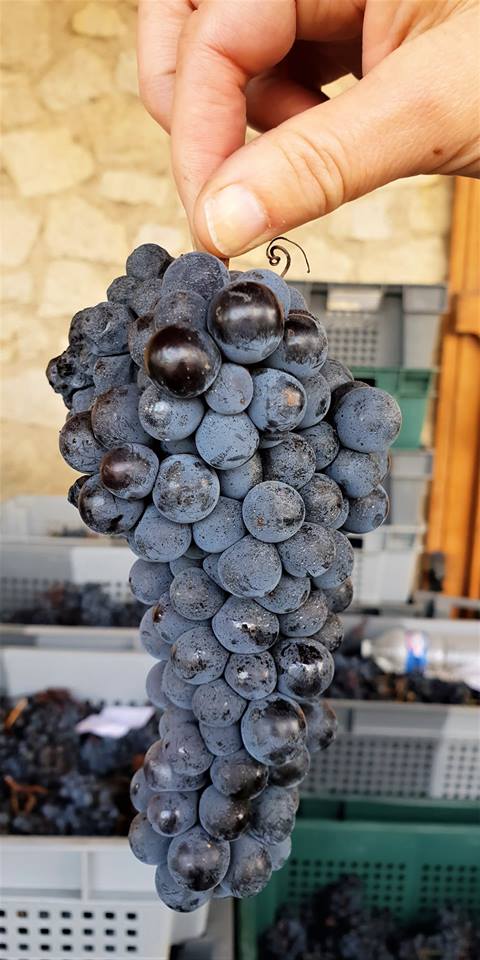 Perfect Merlot at Larmande - October 2018
After some rest at my staying place in Libourne, I had an appointment with Lahcene Boutoba (Clavis Orea) in the late afternoon to visit some exciting places and taste some nice wines. We started at La Fleur de Bouard in Neac (Lalande de Pomerol), where we met Matthieu de Bouard. He was, of course, as many others in Bordeaux, thrilled about the potential of 2018 vintage. I tasted wines made by his sister, Coralie, Clos de Bouard from Montagne St.Emilion (first vintage 2016), second wine Dame de Bouard, La Fleur de Bouard and Le Plus de La Fleur de Bouard, both from Lalande de Pomerol.
Dame de Bouard 2017 - fruity and fresh with a lovely intensity of flavours, elegant and tasty. Very charming wine. 87p. Dame de Bouard 2016 - more earthy flavours, deeper and longer, more fruity sweetness. A pleasure to drink. 88p.
Clos de Bouard 2017 - very aromatic (violets), gentle and fruity, mineral, silky texture, nice acidity, very good fruity finish. Very catchy wine. 90p. Clos de Bouard 2016 - bigger and stronger than 2017, more mineral and complex. Long and meaty aftertaste. Just splendid! 91-92p.
La Fleur de Bouard 2017 - modern touch, lot of black cherries, silky fruit and tannin, nice acidity, pretty lovely aftertaste. 91p. La Fleur de Bouard 2016 - more intensity, concentration, and length than in 2017. Mineral finish. Very well made. 92p. La Fleur de Bouard 2015 - my favourite among the three vintages of this wine. Black cherries, seamless, velvety texture. Fine complexity and length. Very, very tasty and slick. 92+p.
Le Plus 2015 - evident alcohol stick on the nose, relatively modern, long and concentrated. Very showy wine, which I would like to own the scene. 93+p. Le Plus 2016 - I liked this wine more than the 2015 version. Less alcohol, fatter, thick layers of black cherries, great complexity and long finish. Excellent. 95p.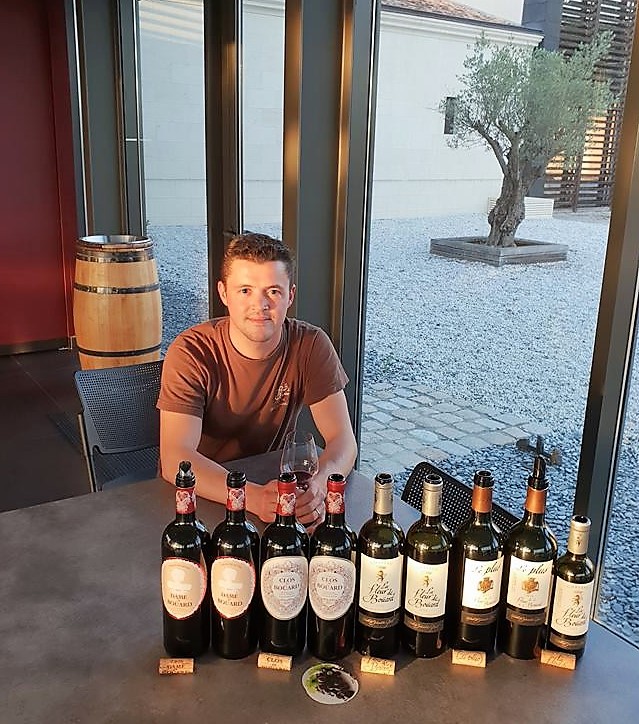 Matthieu de Bouard with wines for tasting
I didn't expect to go to La Vôute after La Fleur de Bouard, but Lahcene Boutoba had other plans for me. I know my fellow wine journalist, Yves Beck, the Beckustator, raves about this property. My only encounter with La Voute, until an unexpected visit, was a bad sample of 2017 at Vintex tasting this year in April. But my stay turned out to be very fine indeed. The owner, Gaetan Moreau, who has resided here since 1993, has hit the stride in recent vintages. At the moment, a new cellar is being built at La Voute.
La Voute is 1.42 ha of vines, planted entirely with Merlot, 45 years old on average and the wine aged in 100% new barrels for 15 months. It's situated in the commune St.Etienne de Lisse, and its neighbours are Valandraud, Fleur Cardinale, Faugeres and Pressac.
2015 - freshness, alcohol was evident here, sweetness, grained tannin, complex with some minerality, velvety texture and smooth finish. Not bad at all. 91-92p. 2016 - creamy with very fine acidity and minerality, silky fruit and tannin, splendid complexity and length. This is splendid wine which immediately catches your attention. 93-94p.
I also tasted another wine made by Gaetan Moreau, La Clef de Voute. It is made from 100% Merlot, 30 years old vines on average, grown in Saint-Sulpice de Faleyrens on 0.85 ha. Ageing is carried out in stainless steel tanks. 2015 - was relatively straight and uncomplicated, sweet fruit, delicious, charming and attractive. 88p. 2016 - refined and gentle, more concentration, silkier tannin, lovely intensity and smooth fruity finish. 91p.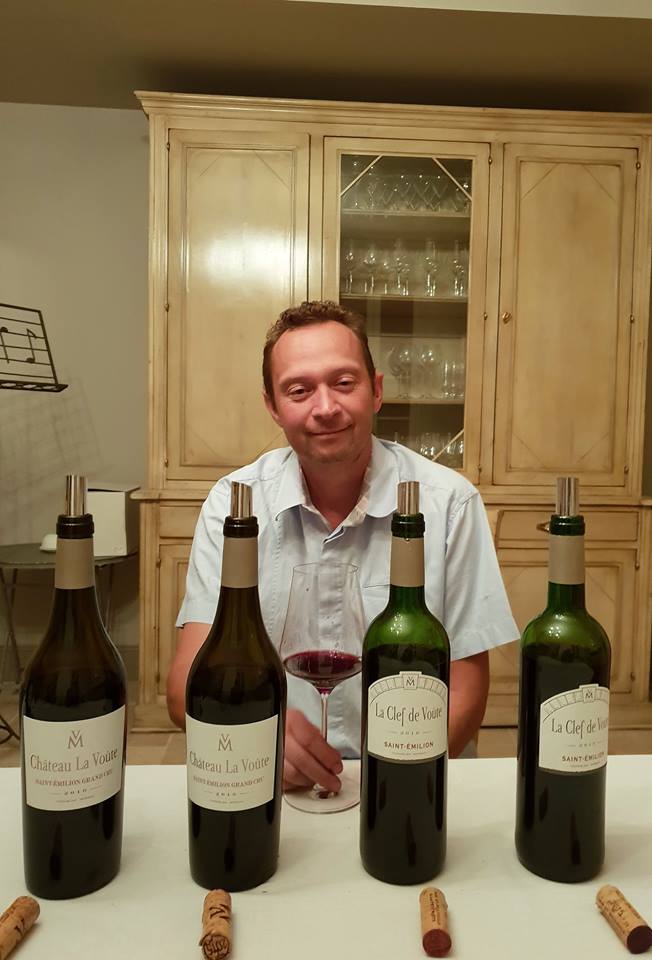 Gaetan Moreau with his wines
I also tasted 2016 Clavis Orea, a partnership between Lahcene Boutoba (Amphora Wine Management) and Franck Jugelmann (Á Capella). 2015 Clavis Orea was the first vintage from both, and I rated it 93p. Info and my Tns from September 2018 posted on Facebook:
70% Merlot, 20% Cabernet Franc and 10% Cabernet Sauvignon. Grapes come from Ch. Fourney St.E. GC. Medium-dark colour, typical for the vintage alcohol stick, but not interfering. This is Merlot in full blossoming with the discrete contribution of Cabernets backbone and acidity. Great sweetness and a deliciously fragrant nose with cherries and violets. Smooth and silky on the palate with fine-grained tannin, acidity and minerality. The delicate balance and a long finish. A very stylish and elegant wine. Cool and clever winemaking. 93p.
2016 was a twin brother of 2015 with less alcohol, sweeter fruit and more polished tannin. 93p. Lahcene told me that they have great hopes for 2018! Some more info on the origin of the grapes - partly from the foothills in Saint-Etienne de Lisse and partly from the plateau between Saint-Etienne de Lisse and Saint Pey d'Armens, with a plot adjacent to Fleur Morange, St.E. Grand Cru Classe.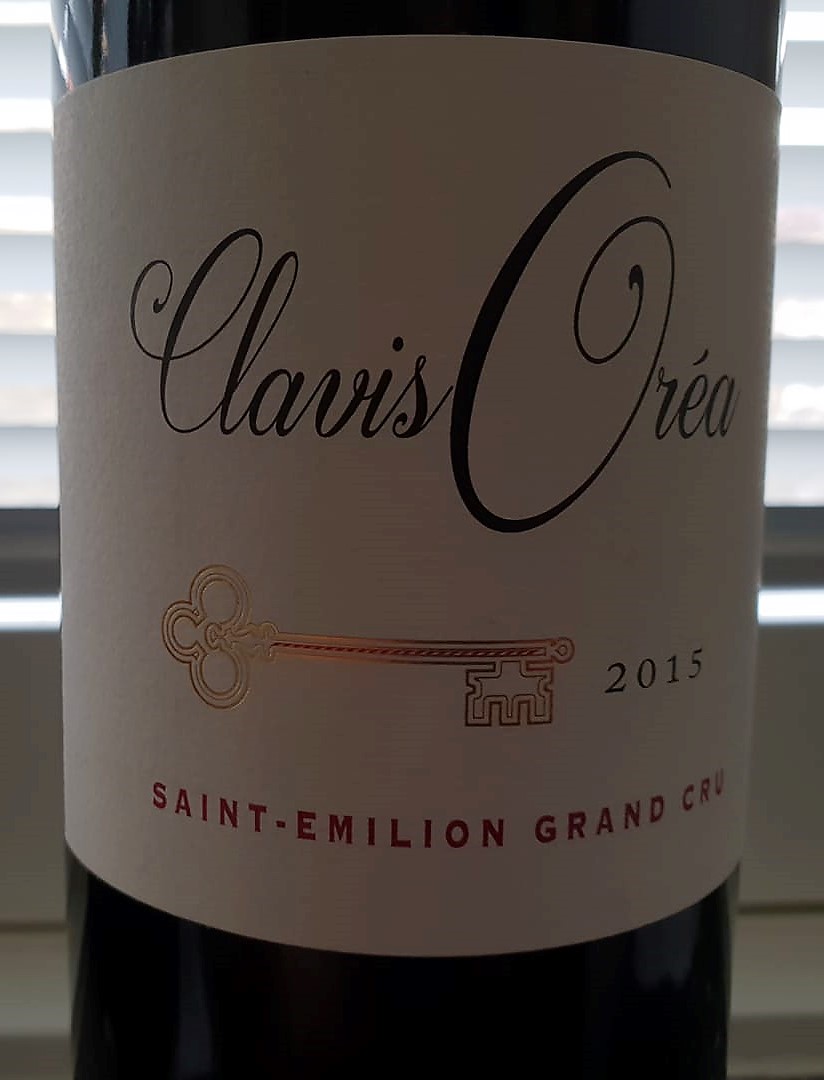 2017 Á Capella (100% Merlot) tasted better than in April this year at Vintex primeur tasting - thick, big, concentrated, very complex and long. This wine is very promising. 92p. Grapes for this wine came from foothills around lieu-dit La Petite Chapelle in Saint-Etienne de Lisse. It's a partnership between Helene Rollet (owner of Ch. Fourney) and Franck Jugelmann. The first vintage was in 2016. Franck Jugelmann had worked as an assistant winemaker at Haut Brion.
I finished the busy day off with an utterly sublime dinner at the restaurant Logis de la Cadenne in Saint Emilion. Very high class of culinary treatment! The site, seating, service and treatment - oh-la-la!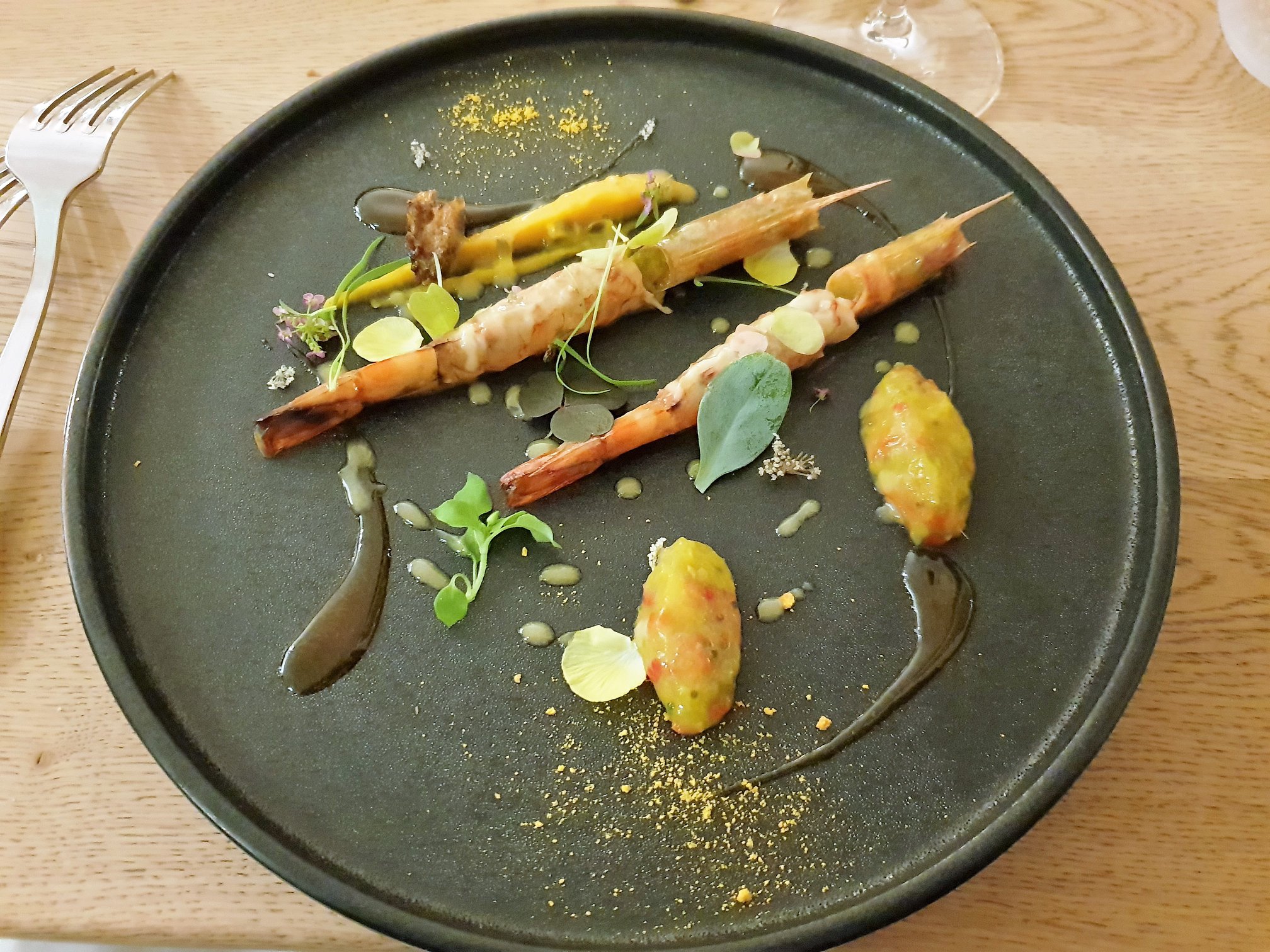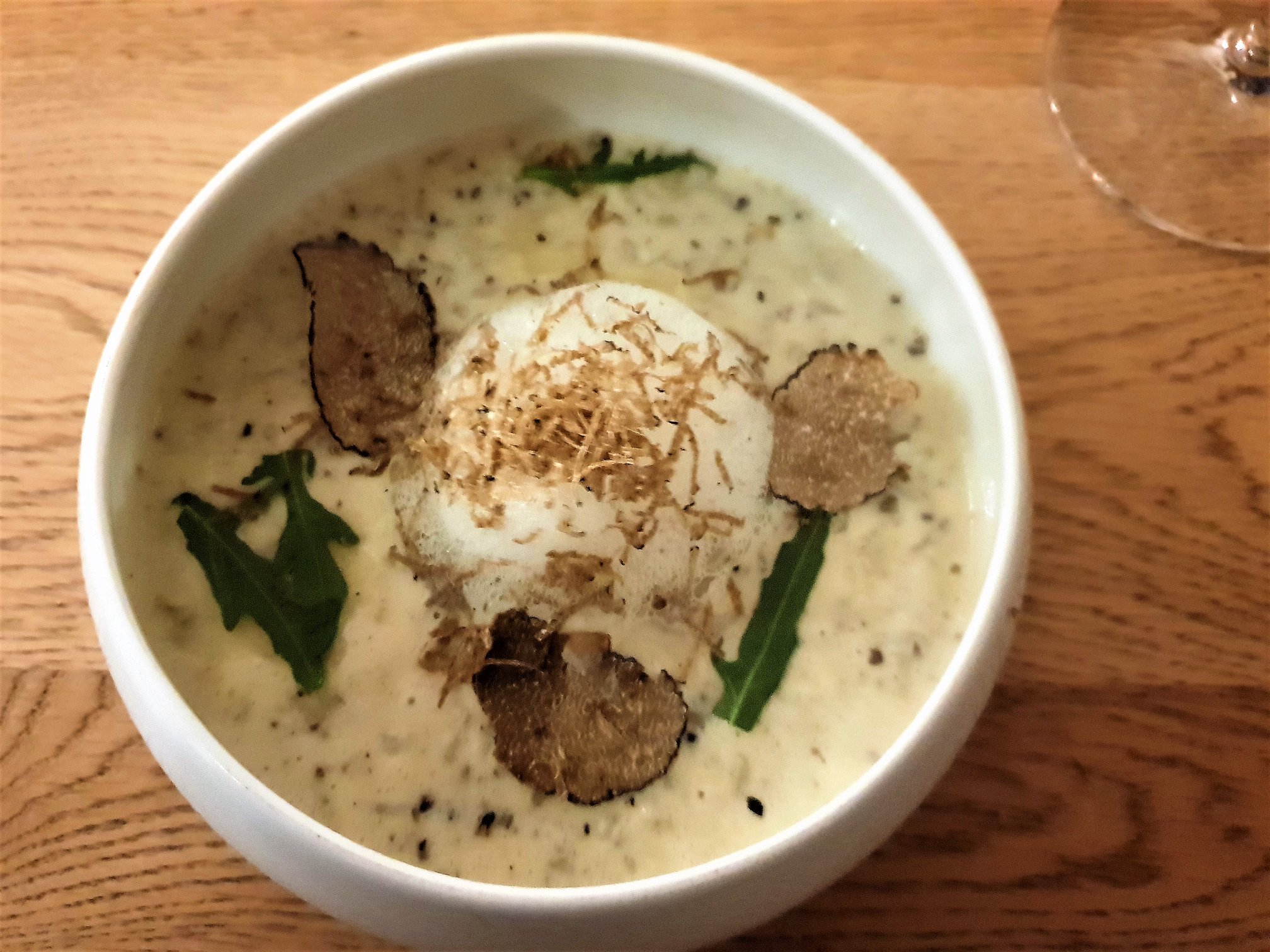 Left: Colourful, delicate and sophisticated cuisine! Right picture - heavenly dish and a gift from the chef - best risotto I've ever tasted!! Logis de la Cadenne, October 2018
Wednesday the 10th of October 2018
It's always a great experience while visiting Les Carmes Haut Brion, mostly because of the whole-hearted reception and, not least, the explanation of the new vintage! Guillaume Pouthier, the manager and technical director of the property, told me that Cabernets were better in 2018 than Merlot. He pointed out that IPT (Index Polyphenol Total) reached a whopping 90, while in 2015, it was 75 and in 2016, 82. It witnesses a great concentration of flavonoids (antioxidants) and ripeness. Harvest lasted for two weeks, 14/9-29/9; potential alcohol is app. 13.5 degrees and pH. 3.45. Guillaume Pouthier was extremely satisfied with 2018 - maybe his best vintage at Carmes Haut Brion?!
After visiting the cellar and tasting some samples of 2018 from the vat, we tasted the following wines:
2014 - 55% C. Franc (!) + 15% C.Sauvignon + 30% Merlot. 75% new oak + 15% big oak barrels + 10% amphoras. Pretty aromatic and well-composed wine with finesse and a caressing fruity finish. Fine acidity, balance and complexity. Classic Bordeaux wine from a cool vintage. Impressive effort. 94p.
2015 - 44% C.Franc + 32% Merlot + 24% C.Sauvignon, 14% alcohol, IPT=75. 80% new oak + 10% one year old barrels + 10% amphoras. This wine had a beautifully scented (rosebush perfume) nose, refined and intense; you could feel/taste the wine's precision, purity and length. It is sophisticated and silky. A great future awaits! 96p.
2016 - 41% C.Franc + 39% Merlot + 20% C.Sauvignon. 13.8% alcohol, IPT=82. 70% new oak + 20% 1 year old barrels + 10% amphoras. Thick aromatic nose with the essence of blueberries, very concentrated yet refined, incredibly complex, precise and focused. Impressively long finish. Certainly, a wine to compete with big guns in this vintage! 97p.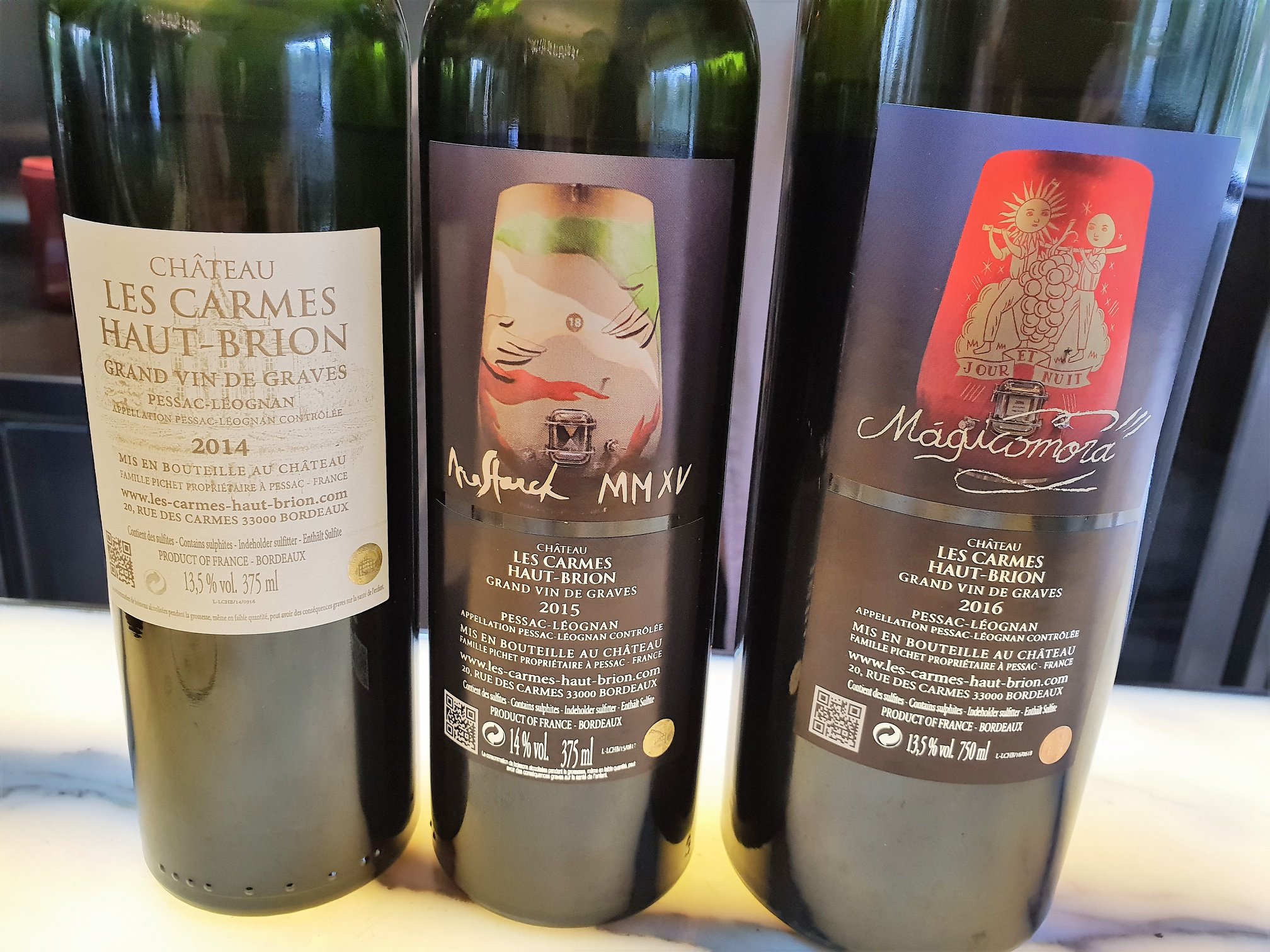 Back labels!
They were pretty busy at Haut Bailly when we arrived, as they prepared lunch for harvesters after well-done harvest work. Harvest ended a few days ago; Gabriel Vialard, Haut Bailly's technical director, had just time to tell us that 2018 looked incredibly promising and maybe the best vintage he will make. We tasted the following vintages:
2017 - 60% Cabernet Sauvignon, 32% Merlot, 4% Cabernet Franc and 4% Petit Verdot. Very mineral, tight, silky fruit and tannin, with great intensity, complexity and length. A complete wine. 96p.
2016 - 53% C. Sauvignon + 40% Merlot + 4% Petit Verdot + 3% C.Franc. Succulent and tight, with remarkable acidity and minerality, it reflects the great soil of the property and old vines. Excellent structure and complexity. Distinguished and remarkably long finish. Extremely impressive effort. 98p.
2015 - 60% C. Sauvignon + 36% Merlot´+ 4% Petit Verdot. It showed a bit more freshness, fruitiness, and sweetness than in 2016 but also slightly less intensity and concentration. Anyway, there is excellent structure, complexity and minerality. Long finish too. 96p.
The next stop was Seguin in Canejan, close to Pessac and Leognan. They harvested that particular day. Like several other properties in Bordeaux, Seguin was hit by frost in April 2017. It lasted three nights with temperatures under -5 degrees C and wiped 100% of all potential grapes. Denis Darriet, the owner, thanked God for 2018, saying it was a gift from heaven. Amid busy time in the cellar, he let us taste the following wines:
2015 normal cuvée - intense black cherries, mineral and tannic. It seemed a bit closed when we tasted it. 93p.
2016 normal cuvée - 45% Cabernet Sauvignon + 55% Merlot. Very intense blackberries and cherries on the nose, velvety fruit and tannin, seductive fruit sweetness, and long aftertaste. Sleek and attractive wine, impressive stuff indeed. 94p.
2016 special cuvée Confidence(s) de Chateau Seguin - fat, very concentrated, great depth, complexity and length. Awesome stuff. 96p.
A visit to Domaine de Chevalier rounded off the day. It was also the last day of the harvest, and Olivier Bernard told me that 2018 will be the best red vintage of my life yet! We walked into the cellar and saw a lot of work going on. Afterwards, we tasted three vintages in red and three in white Grand Vin.
2014 red had black fruit on the nose, a strong backbone, fine acidity and depth, superb balance and a long finish. The classic style here. 94p. 2015 red showed sweeter fruit than 2014, more gentle tannin, excellent balance and complexity, and a long finish. Excellent effort. 95p. 2016 red looked like a twin brother of 2010 vintage with more complexity, intensity, length and power. Distinguished wine with style! 95-96p.
2014 white had great acidity, crispiness, flavours of acacia flower and green apple, finesse, sophisticated touch and a long fruity finish. Pure delicacy! 97p. 2015 white was different from 2014, with not the same crispiness, purity and acidity level. Still a magnificent wine with sophisticated touch and finesse. 96p. 2016 white was similar to 2015, with slightly less intensity, concentration and length. 95p.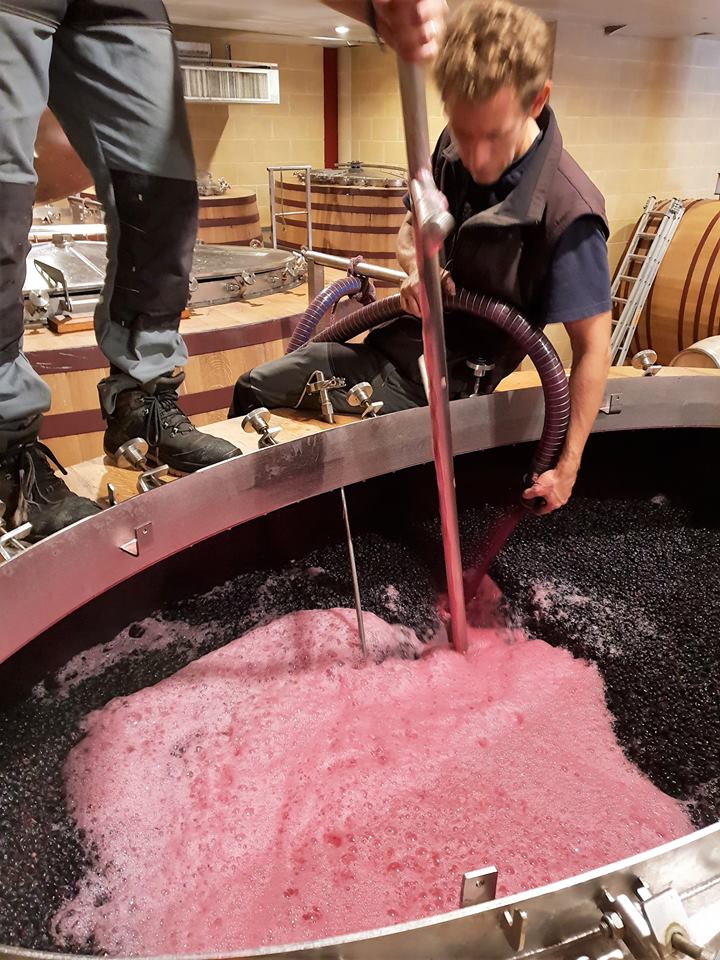 Pigeage (breaking the cap) at D.d.Chevalier - October 2018
Thursday, the 11th of October 2018
Our first visit in the morning was to Pontet Canet. We met Justine Tesseron, daughter of Alfred Tesseron, the owner. She arrived at Pontet Canet 2 years ago after Melanie Tesseron (Alfred's niece) had decided not to stay at the property. Justine Tesseron told us about her continuous gathering of experience with harvest and winemaking. When her father steps down, she will participate in property management. She also said that 2018 looked like a stellar vintage, and they expect something similar to 2016 or maybe even better!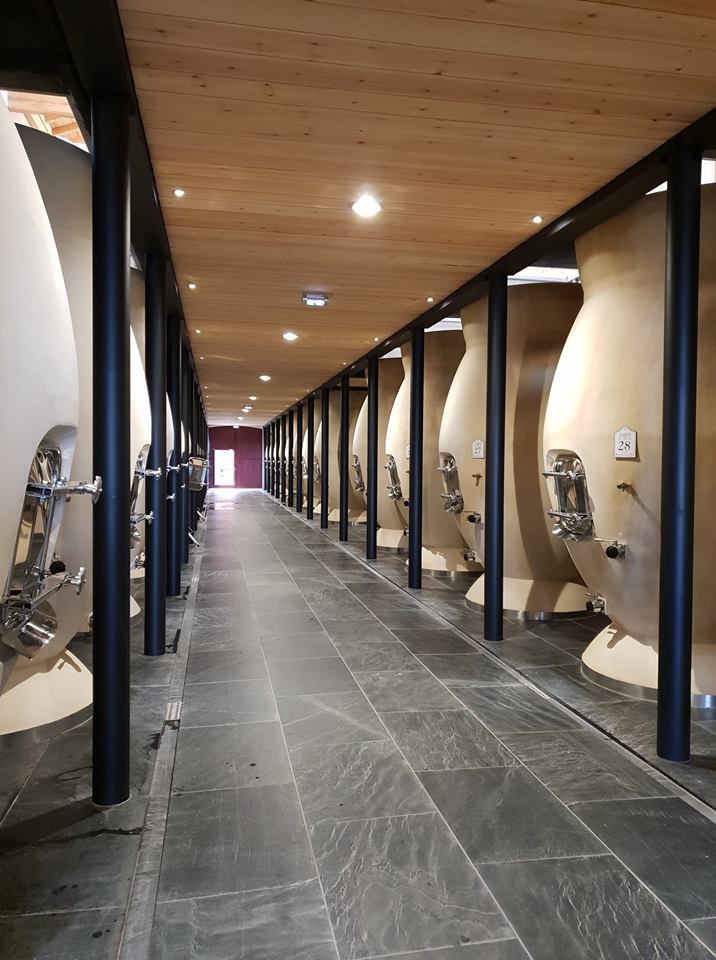 A cellar is full of amphoras, clay inside and concrete outside. 2018 will be made 100% in these special vats. Pontet Canet, October 2018
2017 was made 1/3 in the amphoras above. Elegance and finesse here, silky texture, a violet aroma on the nose, and splendid complexity. 95p. 2016 was distinguished, smooth and velvety with great interplay between perfect fruit and tannin, precise and long. Fabulous stuff. 97p. 2015 tasted almost as stunning as 2016. Slightly less concentrated and intense, but all other things were similar! Well-deserved 96p.
I don't visit Haut Marbuzet too often, but maybe I should. I remember seeing this property regularly in the '90s when they had an English woman, Rachel, a pretty and charismatic daughter of some high profile wine-merchant in London, doing her wine training and customer care. You could say that she and her excellent wine quality attracted many people to come to Haut Marbuzet! Henri Duboscq, the owner, has always compared his wines to beautiful women. Anyway, Haut Marbuzet is an excellent value for money.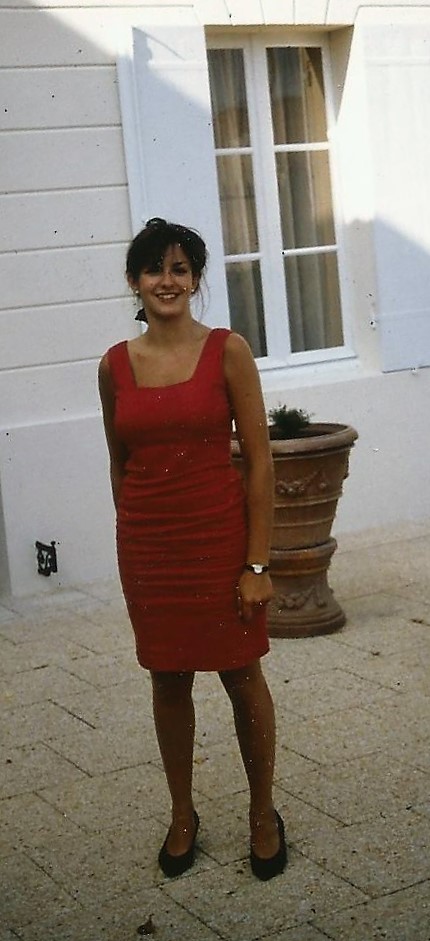 Back then, in June 1990 at Haut Marbuzet - Rachel. Memories!
On my request, we were offered to taste the last three vintages, 2017, 2016 and 2015. Not surprisingly, the style here is catchy, attractive and fruity wines with a great deal of elegance and finesse, intensity and length. 2017, 48% Cabernet Sauvignon, 40% Merlot, 10% Cabernet Franc and 2% Petit Verdot was silky, velvety, and aromatic, with pleasing composition and length. 91p. 2016, 55% CS, 35% M, 5% CF and 5% PV, had seamless structure, the great aroma of perfectly ripe blackberries/black cherries and violet, sophisticated touch and great complexity. Impressive effort. 93p. 2015, 50% CS, 40% M, 5% CF and 5% PV, had only 13.5% alcohol and was succulently sweet, well-balanced and with great finesse. Lovely wine, indeed! 92p.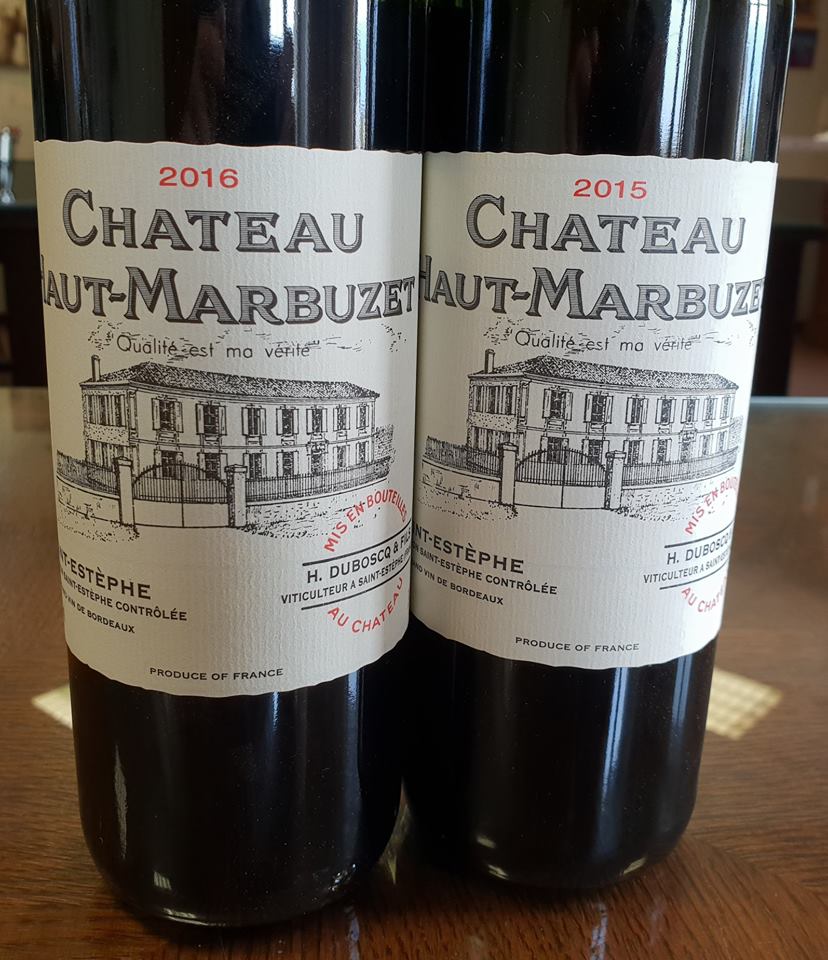 A pair of delicious and attractive wines
We came to Pichon Comtesse on the last day of harvest. Charles Fournier told us that 2018 would be a staggering vintage, maybe the best Nicolas Glumineau, P.Comtesse's manager, has ever made. After tasting very promising 2018 samples from several vats, we tasted 2015 and 2016 vintages of Grand Vin and the second label.
2015 Reserve de la Comtesse was very perfumed (cherries), strong, complex and tasty. Smooth and fruity on the palate with a meaty aftertaste. 91p. 2016 Reserve de la Comtesse appeared fatter, more complex and longer than one year older sister. 92p.
2015 Grand Vin was powerful, sweet black fruit everywhere, rich, classy, complex, silky texture, velvety tannin and mega long aftertaste. Wonderful wine! 98p. 2016 Pichon Comtesse did a walk of fame! Impressive nose of blueberry essence, very precise and focused, velvety texture, extremely sophisticated and rich, great depth and length. A masterpiece of Nicolas Glumineau! 98+p.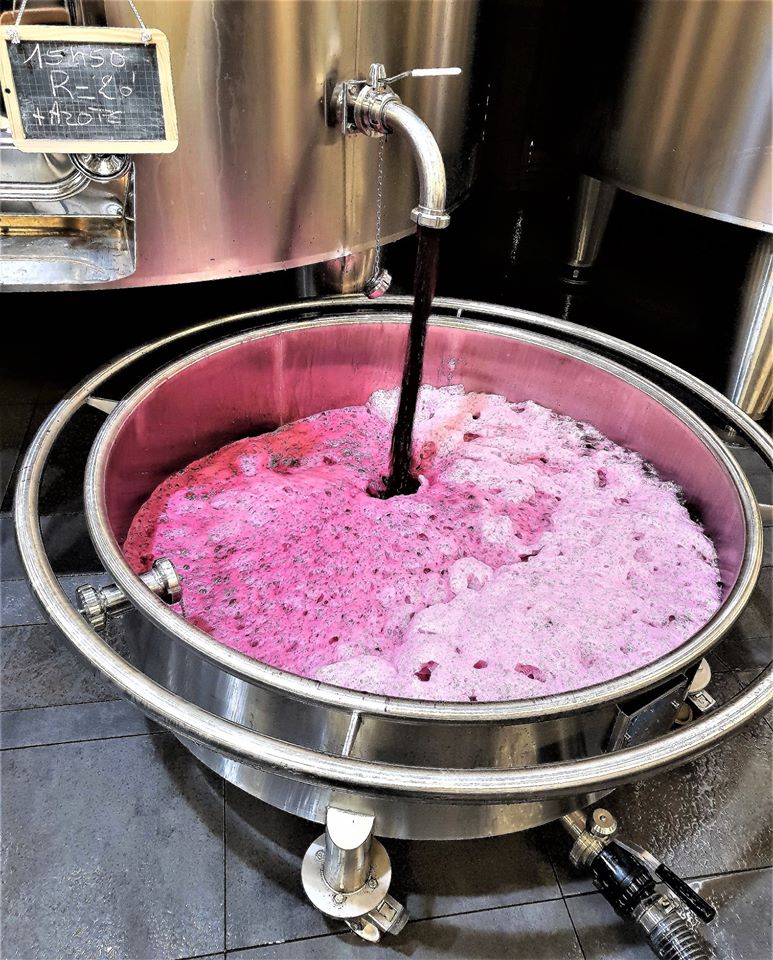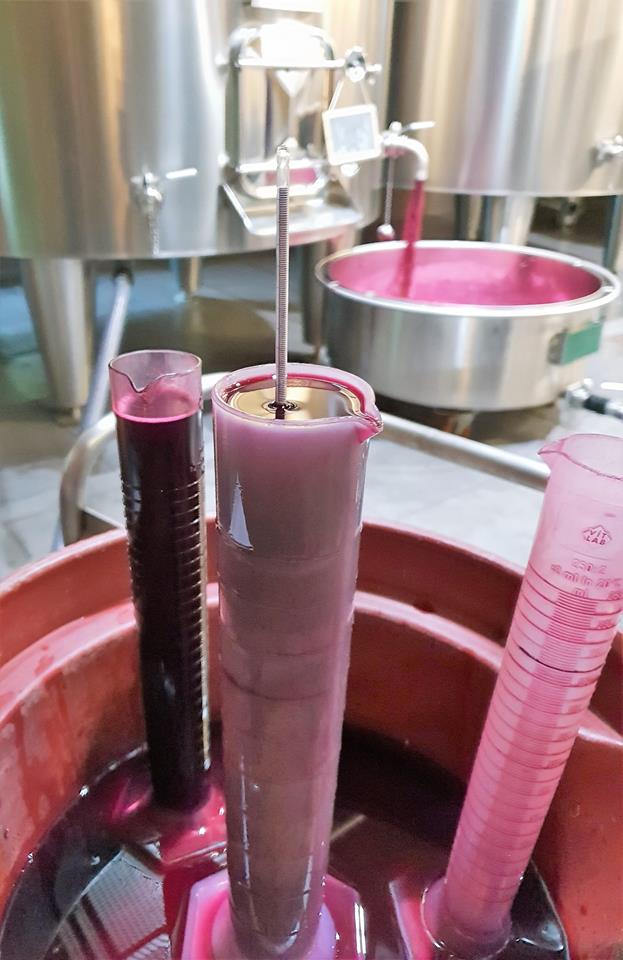 Hallmark of 2018 vintage - pink-red "mousse" (left). Checking potential alcohol (right)
We were unfortunately delayed on our way to Palmer from Pichon Comtesse and missed our appointment with Thomas Duroux. A member of technical staff at Palmer, Annabelle, received us instead. She told us that 2018 here has immense potential, but they lost many grapes due to mildew, so that production will be at the lower end. 2017 Alter Ego was succulent, juicy, mineral, quite complex and with splendid length. 92p. 2017 Palmer showed freshness, pure elegance, excellent acidity and structure. Sophisticated on the palate with a meaty finish. Top, top quality. 96p. 2015 Alter Ego had an aromatic nose of black fruit, silky fruit and tannin, velvety texture, excellent acidity, great depth and length. 93p. 2015 Grand Vin was like always aristocratic with its refined and sophisticated touch, richness, intensity, structure and long finish. A great future awaits. 97p.
On the way back to Bordeaux, we made a short stop at Belle-Vue in Haut Medoc, not far from Margaux commune, as my friend (driver) wanted to pick up his bottles of Petit Verdot 2016, a special cuvée made from very old vines. First vintage. We managed, however, to taste 2016 and 2015 vintages of "normal" Belle-Vue, both charming fruity wines, polished, silky and velvety. I liked 2016 more, and I rated 2015 90p and 2016 91p.
Friday the 12th of October 2018
I went in the morning to Jean-Pierre Moueix headquarters in Libourne to check out 2015 and 2016 vintage of selected vineyards. Christian Moueix and his son Edouard welcomed me. Christian Moueix told me that 2018 would be among the three best vintages he's experienced during his many years of work! I tasted the following wines in both vintages:
2015 Latour-á-Pomerol - powerful, meaty, fine grip and depth, splendid complexity and long aftertaste. 94p. 2016 Latour-á-Pomerol - more refined and polished than 2015, more sweetness, more distinguished and longer. Impressive effort. 95p.
2015 Hosanna - similar to Latour-á-Pomerol, more intensity and length, more complex. Aromatic black cherries. 94-95p. 2016 Hosanna - more sweetness, noble, long smooth finish. 95p.
2015 La Fleur Petrus - more refined and sophisticated wine here than the two wines that tasted before, more intense and with greater depth. Simply excellent. 96p. 2016 La Fleur Petrus - just more touch of nobility, complexity and length. Sublime stuff! 97p.
2015 Trotanoy - fat wine with a thick texture, gobs of fruit and tannin, unmistakable scent of terroir (crasse de fer - iron dirt), outstanding balance and great length. A great, great vintage for the property. 97p. 2016 Trotanoy - thick aroma of superbly intense black cherries and blackberries, exceptional purity and precision, velvety tannin, ultralong and coating aftertaste that lasts more than 30 seconds. 98+p.
2015 Belair Monange - intense wine, gobs of perfectly ripe black fruit, soil-driven, splendid complexity, length and balance, great sweetness. Great effort. 97p. 2016 Belair Monange - more refined and distinguished than 2015, more complex and with more sweetness. Pure class! 98p.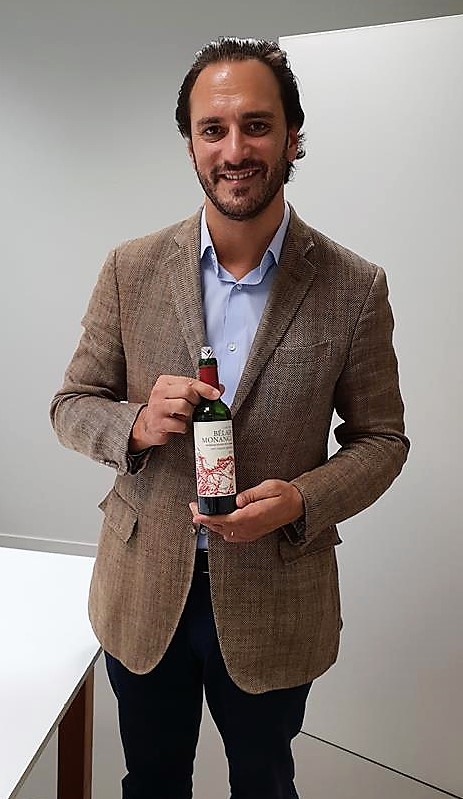 Edouard Moueix with the bottle of Belair Monange
I left Libourne for Bordeaux in the afternoon. Jean-Philippe Janoueix, owner of Croix Mouton and La Confession, winemaker at La Croix, Sacre Soeur and La Croix St.Georges, was still harvesting at Cap St.Georges, which has late-ripening soil. He told me the whole truth about the 2018 vintage, which he had without a blink compared to the 2010 vintage. Maybe the best vintage he's ever made? I'll judge this in April next year during primeurs!
In the afternoon, it was a short trip by bus nr. 1 and 4 from Bordeaux to Haut Brion (less than 15 minutes) to taste 2012 vintage. This is, in general, very nice vintage, easy to drink with tasty fruit and very attractive.
Reds. The second wine of La Mission HB, La Chapelle de LMHB, was aromatic on the nose and palate, well-knitted and tasty, smooth, and soft fruit and tannin. Enjoyable, 88p. The second wine of H.Brion, Le Clarence de HB, was better overall than La Chapelle de LMHB, as it contains more Merlot, flesh, and concentration here. 88-89p. La Mission was full of finesse and elegance, silky and long aftertaste. Fine complexity. 94p. Haut Brion had more grip and depth than La Mission and was stronger. Splendid effort. 94+p.
Over to whites. La Carte de Haut Brion, the second wine of both LMHB and HB, had lovely fruit and acidity, a delicate aroma of apple and pear, and a mellow finish. 88p. La Mission Haut Brion was refined with fine acidity, intense aroma of apple, citrus and lemongrass, great complexity and length. 94p. Haut Brion then had more of everything than LMHB. The crispy, intense aroma of green apple and lemongrass and long aftertaste. Impressive effort. 96p.
The next day, I went to Biarritz in the Basque country for a well-deserved two days holiday break. A very hilly, charming and friendly town with a big seafront and large beach. There are lots of tourists and holiday visitors here, and the prices to eat at good restaurants are generally pretty high, higher than in Bordeaux. But I surely will come back next year, as I didn't manage to see everything during my holidays, and will probably combine revisiting Biarritz with going to St.Jean de Luz and San Sebastian.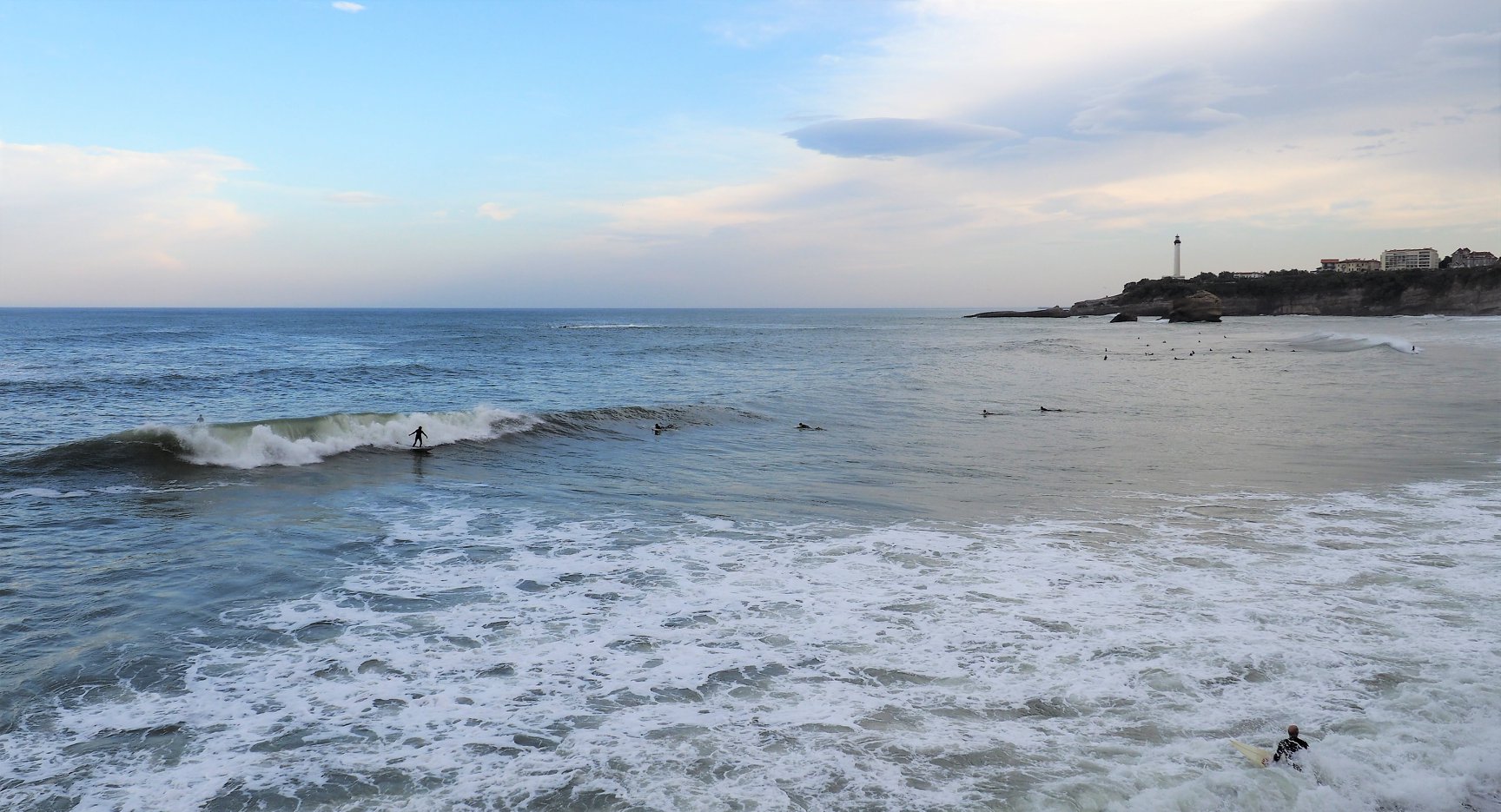 Surfers paradise! Seafront in Biarritz - October 2018
Then return to Bordeaux. Goodbye, thanks for this time and see you in April 2019...I'll be back!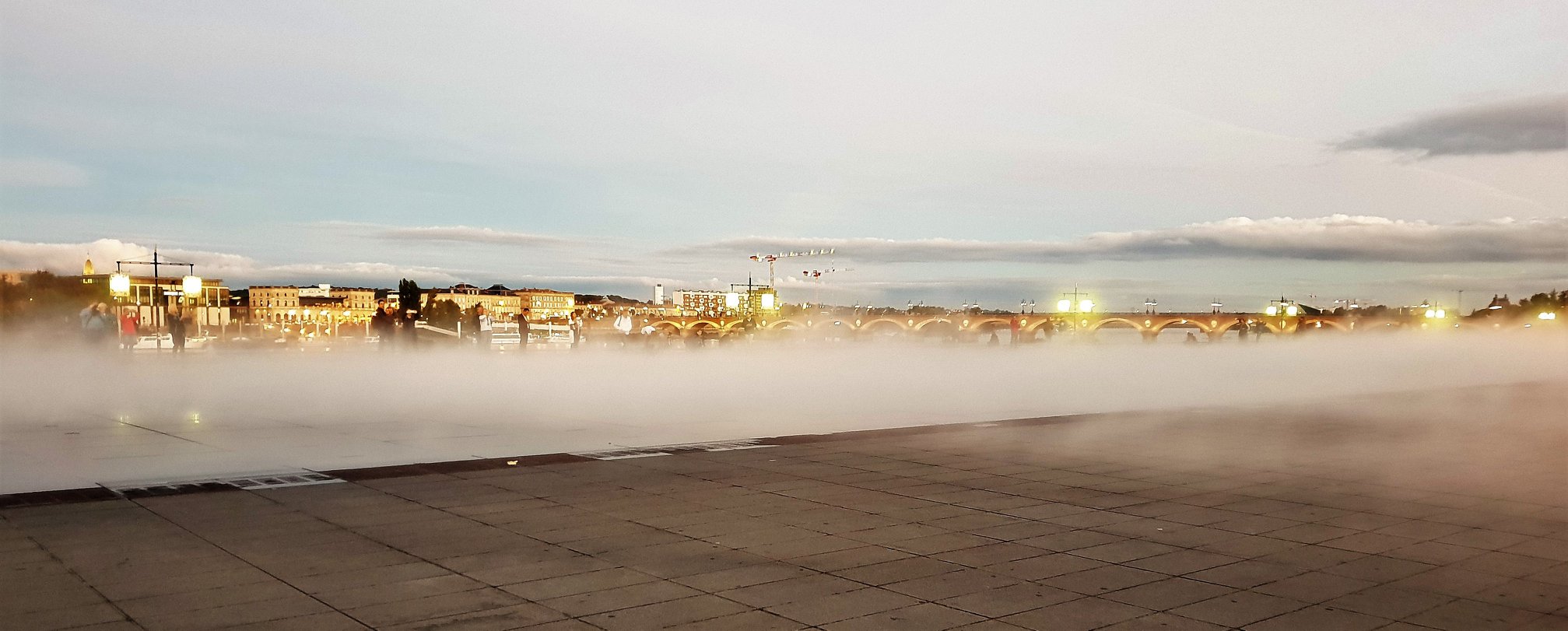 Evening walk along Bordeaux quays! Staggering view!