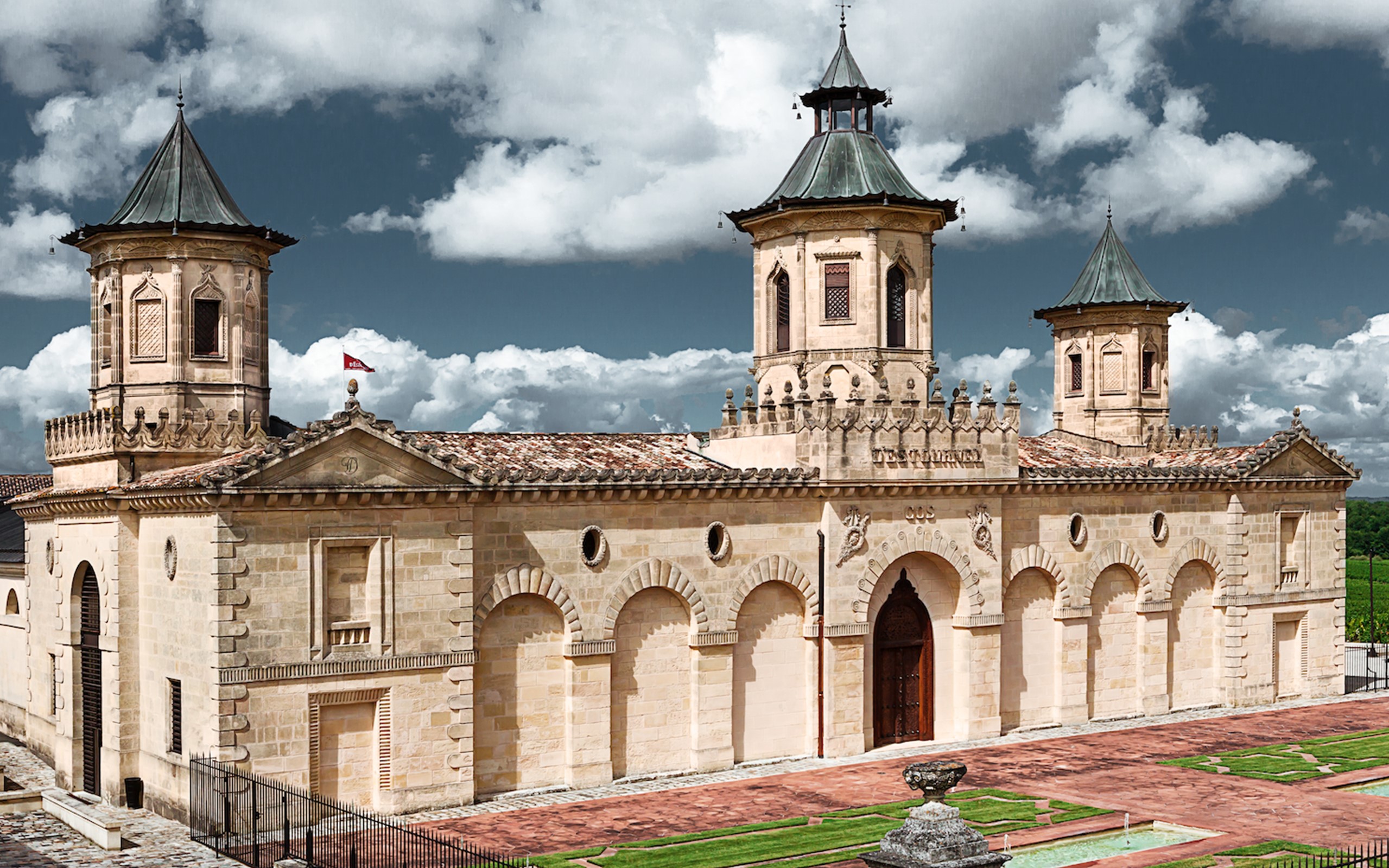 Cos d'Estournel's photo library has kindly provided this beautiful picture.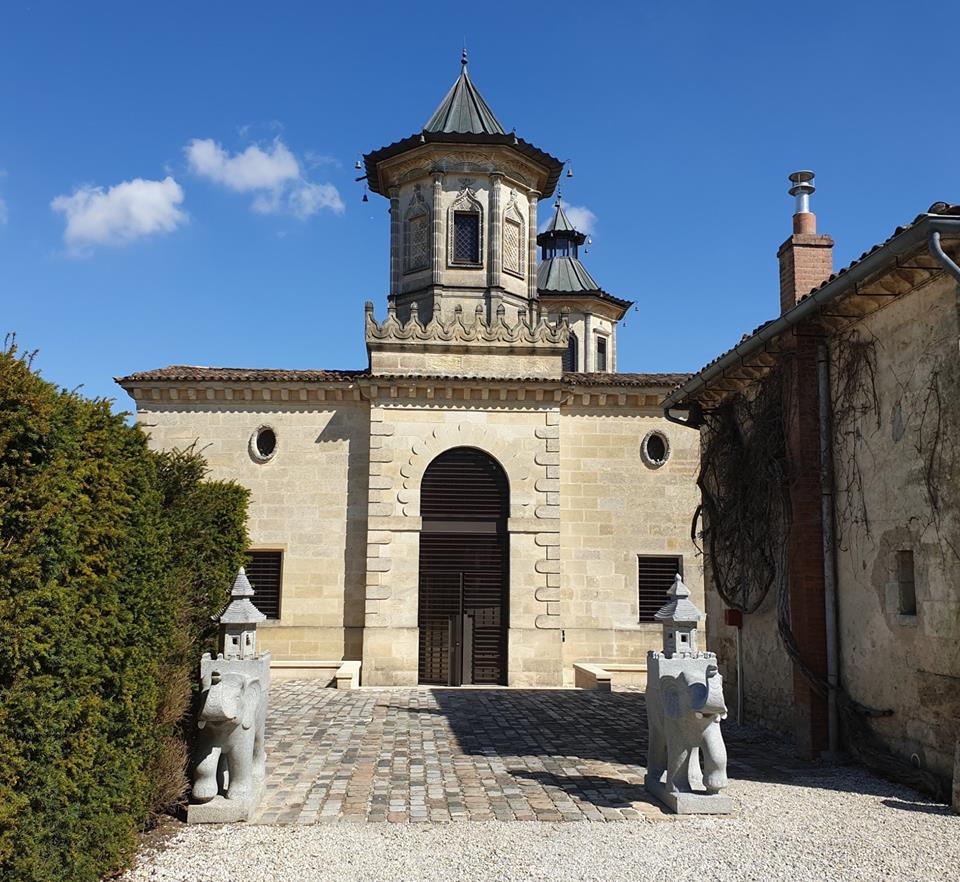 Inside the property
Cos d'Estournel is situated on the hill in Cos hamlet (lieu-dit) some 1.5 km after you pass Lafite on the road's left side (Route des Chateaux) and follow a sharply rising uphill on your way to Saint-Estephe.
The name Cos which means "hill of pebbles" in the Gasconian dialect, was given by its first owner, Louis Gaspard d'Estournel, in 1810. After several ownership changes, the most significant was the purchase of Cos by Louis-Victor Charmolüe in 1894, the owner of neighboring Montrose. In 1917 however, he sold Cos to the Ginestet family. In 1970, another branch of the Ginestet family joined the Ginestet family, the Prats. Bruno Prats managed Cos d'Estournel until the change of ownership in 1998.
In 1998, Ginestet and Prats's families sold Cos to an insurance group Taillan and two years later, an entrepreneur, Michel Reybier, purchased it. He appointed Jean-Guillaume Prats (son of Bruno Prats) as a general manager/winemaker. Jean-Guillaume Prats was responsible for a great uprise in the quality and change to heavy, extracted, and modern-styled wine.
He left in 2013 and was replaced by Aymeric de Gironde, and with his arrival, the style has changed from extracted and modern wines to more elegant, softer, and more soil-reflecting ones. That new style's remained the same since the 2014 vintage.
Aymeric de Gironde didn't stay long at Cos as he left for Troplong Mondot in 2017. The owner, Michel Reybier, has taken then over managing duties. Consulting oenologist here is Pascal Chatonnet from Lalande de Pomerol, who among his clients has such prominent names as Vega Sicilia in Spain and Chateau de Beaucastel in Chateauneuf du Pape. Technical director Dominique Arangoïts has been at Cos since 2004.
Cos d'Estournel is 91 ha of vines, planted with 60% Cabernet Sauvignon and 40% Merlot. There are many parcels (61), among these small ones of Cabernet Franc and Petit Verdot. The vineyard's average age is 45, but several vines are between 80 and 100 years old, and Grand Vin is made from vines with an average age of 55. The soil here is mostly gravel with large stones on the surface.
The vintages below show different Cos' styles, making this property incredibly interesting. Especially the mix of power and elegance is thrilling! The competition between two Saint-Estephe giants, Cos d'Estournel and Montrose, vintage for vintage, which we've seen for many years, is excellent to watch.
In addition to Grand Vin, a second wine Pagodes de Cos, white Cos d'Estournel and Goulée by Cos d'Estournel (mostly Merlot from Nothern Medoc) are produced.
Several vintages listed below were tested on the 29th of November 2017 in beautiful settings at Copenhagen's oldest wine merchant shop, Kjær & Sommerfeldt, created in 1875.
-----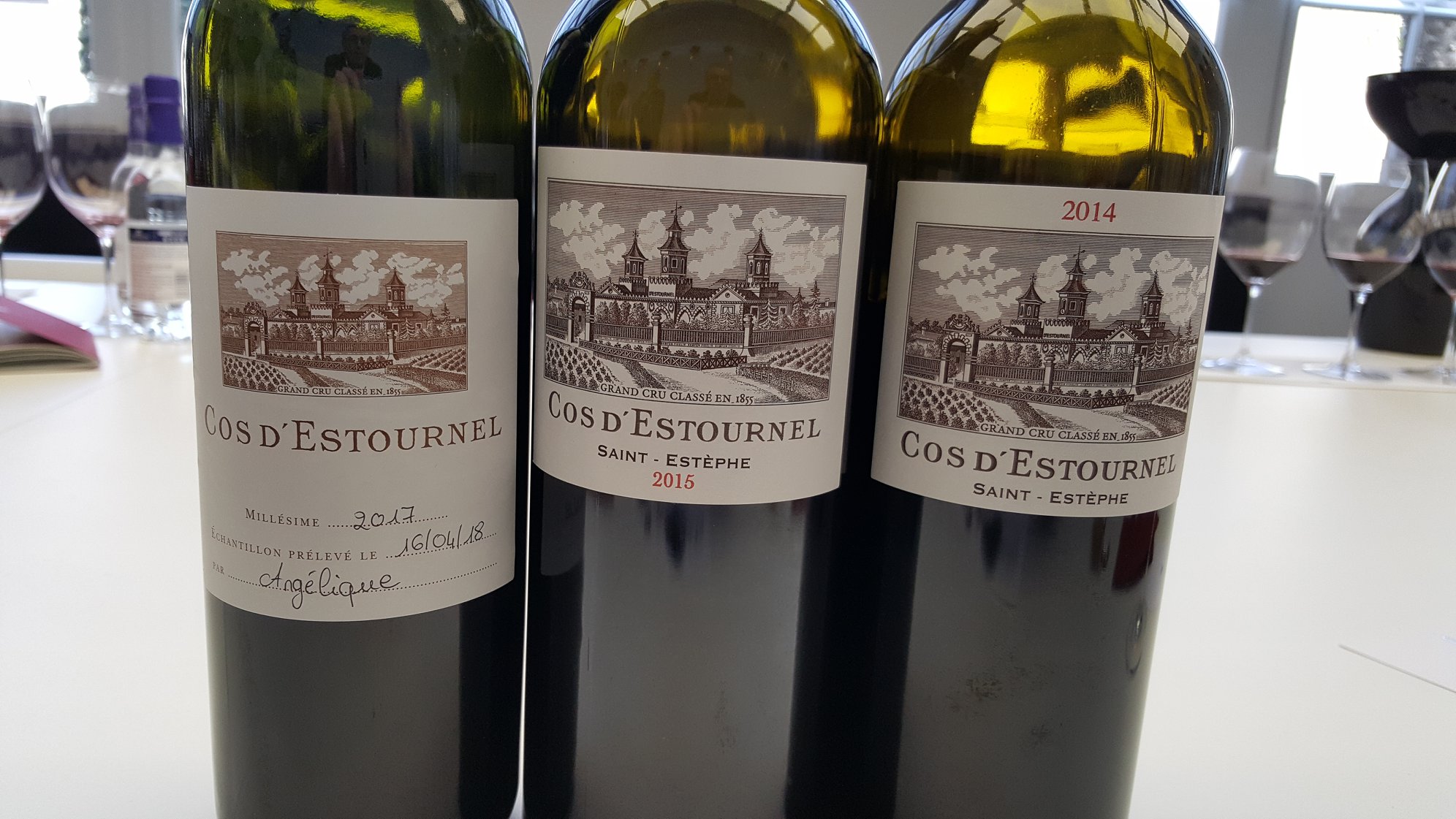 Yummy vintages!
-----
Cos d'Estournel 2021 (barrel sample) 98-99p
Tasted in April 2023. 61% C. Sauvignon, 8% C. Franc, 37% Merlot and 1% P. Verdot. 14.04% alcohol. Tight, intense violets, crushed cherries/blackcurrants, minty, mineral, yogurt, strong backbone, vibrant, complex, and sophisticated. Long and persistent finish. Upper class!
Cos d'Estournel 2021 (barrel sample) 95-96p
Tasted in April 2022. 64% C. Sauvignon, 4% C. Franc, 30% Merlot and 2% P. Verdot. 12.74% alcohol. C. Sauvignon was shining here. Gentler extraction and less oak in 2021, Tight, intense, violets, some black winter truffle, minty, Mineral (crushed rocks), great depth, vibrant, utterly complex, and sophisticated. Long and persistent finish. Sheer class!
Cos d'Estournel 2020 (barrel sample) 98-99p
Tasted in May 2021. 62% Cabernet Sauvignon + 38% Merlot. 15% more Merlot in 2020 compared with the 2018 vintage. 13.46% alcohol. This wine is a very St.Estephe, much Cabernet Sauvignon, yet taking advantage of more Merlot in the blend. Grilled bacon, cigar box, and tobacco, excellent mid-palate, strong backbone, yet vibrant and juicy. Fantastic complexity and a long-lasting finish. Spectacular effort.
Cos d'Estournel 2019 99-100p
Tasted twice - last time in February 2022. Consistent notes. 65% C. Sauvignon + 35% Merlot, 14% alcohol. The wine here breaks up with old-style Cos with the gentler and more soil character-oriented style, which started in 2014. The fabulous nose of blueberries and violets, tobacco leaf flavors, grilled bacon, and graphite are typical for C. Sauvignon. A scent of black winter truffle on the palate. Extremely refined and sophisticated on the nose and palate, multilayered with stunning complexity, depth, and length. Touch down!!
Cos d'Estournel 2018 99-100p
Tasted three times - last time in December 2020. Consistent notes. 74% Cabernet Sauvignon, 23% Merlot, 2% Cabernet Franc and 1% Petit Verdot hit "bull's eye" in 2018! It was an extraordinary effort, iron-strong backbone, very concentrated, and could be sliced in tranches, so fat are fruit and tannin. Creamy. There is elegance, sophisticated touch, astonishing complexity, style, and a long, long finish. Wow! 14.59% alcohol (well-hidden by fruit), only 50% new barrels. All the wonderful promises from the barrel are now evident in the bottle!
Cos d'Estournel 2017 96-97p
Tasted twice - last time in June 2022. Consistent notes. 66% Cabernet Sauvignon, 32% Merlot, 1% Cabernet Franc and 1% Petit Verdot. It displayed a specific flavor while tasted, like a milky or yogurt one on the nose, which I often find tasting Cos. It comes from the soil. Tight, strong and well-balanced, aromatic, great acidity, vibrant. Tobacco leaf and cigar box. Magnificent structure and depth. Long and persistent aftertaste. You get grace and power at the same time.
Cos d'Estournel 2016 (barrel sample) 97+p
Tasted in April 2017. This wine was imposing with no over-extraction, elegant, finesse, and sophisticated, silky fruit and tannin, the hallmark of the vintage, great acidity, and great length. Stunning effort.
Cos d'Estournel 2015 98p
Tasted twice - last time in June 2022. Consistent notes. Very aromatic on the nose with fully ripe blackcurrants, creamy and luscious on the palate with fat and ripe tannin. Juicy and lively. A considerable amount of oak was kept quiet by plenty of flashy fruit. Great complexity, splendid structure, and a long meaty finish. This wine will surely gain even more complexity in the coming years - mesmerizing effort!
Cos d'Estournel 2014 96-97p
Tasted twice - last time in June 2022. Consistent notes. A Bordeaux vintage marked by excellent acidity and almost perfectly ripe fruit and tannin. Cos fitted perfectly in that description. Firm, tight, and plenty of fruit and tannin. Strong backbone, vibrant, great acidity, impressive structure and depth, and long persistent finish. Classic as it can be. Long-time keeper. By the way, it was the year of the arrival of new technical director Aymeric de Gironde, who replaced Guillaume Prats.
Cos d'Estournel 2013 92p
Tasted in April 2014. Made in a modern style, I couldn't find any over-extraction. Aromatic and tasty cherries on the nose and palate, mineral with fine acidity, long meaty aftertaste. A lovely effort for vintage and clever winemaking.
Cos d'Estournel 2012 93p
Tasted in June 2022. This Bordeaux vintage offered many beautiful, tasty, and immensely attractive wines. They may not have the structure, complexity, and length of the famous vintages like 2010, 2015, 2016, 2018, and 2019, but they are an extremely affordable and excellent choice at restaurants. Furthermore, 2012 can now be enjoyed while you wait for the big vintages. Cos was just like that, juicy, luscious, and had a caressing finish.
Cos d'Estournel 2011 93p
Tasted twice - last time in June 2022. Consistent notes. Unstable weather conditions in 2011 didn't allow winemakers in Bordeaux to accomplish great things. No full ripeness of the grapes and tannins. Cos made a pretty nice wine anyway. The exciting thing was that Jean-Guillaume Prats, manager of Cos, didn't overdo and over-extract this wine as he did to some extent in 2010. This wine was powerful and had rough edges and rusticity. Very Cabernet Sauvignon. It needs time to soften and reveal its qualities because of its potential.
Cos d'Estournel 2010 96p
Tasted in May 2013. Black fruit en masse and alcohol (cherry vodka) are very evident on the nose and palate, compelling wine with fatty fruit and tannin. The fruit is on the border of over-ripeness, and this wine is hugely massive and, imho not typical of Bordeaux. Close to Napa Valley style. Either you like it, or you hate it. I've to be neutral here and can't abstract from the fact that this is high-quality wine.
Cos d'Estournel 2009 98p
Tasted twice - last time in June 2022. Consistent notes. 65% C.Sauvignon + 33% Merlot + 2% C.Franc. This is an excellent vintage for Cos. Intense and aromatic nose of black fruit with the scent of yogurt, distinguished and classy. Luscious blackcurrants, grained tannin, great acidity, highly complex, and very long on the palate. Silky with great elegance. There is absolutely nothing to complain about here. Perfect modern Bordeaux with style. One to enjoy over many years to come.
Cos d'Estournel 2007 89p
Tasted in November 2017. 85% C.Sauvignon + 12% Merlot + 3% C.Franc. Difficult vintage, especially for Merlot; that's why there is more C.S. in the blend. This wine is well-made with fresh acidity, lovely balance, and a round finish despite its lack of maturity. Should keep for another 6-10 years.
Cos d'Estournel 2006 93p
Tasted twice - last time in June 2022. Consistent notes. 78% C.Sauvignon + 20% Merlot + 2% P. Verdot. Rare inclusion of Petit Verdot in the blend. Damp and humid weather conditions in Bordeaux and Cabernet Sauvignon came through these much better than Merlot. Cos is the typical Cabernet Sauvignon wine with power, strong backbone, minerality, acidity, vibrancy, big tannin, and a meaty finish. It's still very youthful and needs a couple of decades to mature.
Cos d'Estournel 2005 98+p
Tasted in November 2017. 78% C.Sauvignon + 19% Merlot + 3% C.Franc. Creamy wine, sweet and fat on the nose and palate. Extraordinary complexity and sophisticated touch. Exceptional balance and length. Just stunning wine and it gives a 2009 run for the money!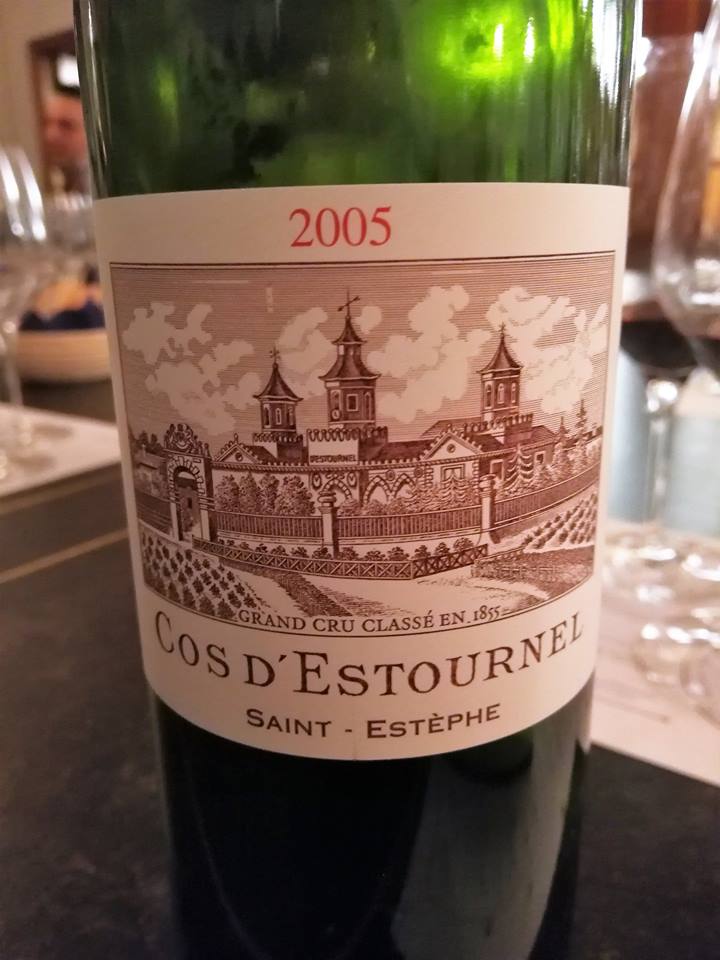 Cos d'Estournel 2004 94p
Tasted in November 2017. 74% C.Sauvignon + 23% Merlot + 3% C.Franc. Delicate on the nose, black fruit, yogurt scent, quiet and coolish. Splendid backbone, depth, and length. It is impeccably made wine. It, however, doesn't have the power and intensity of 2005 and shows more elegance.
Cos d'Estournel 2003 94p
Tasted twice - last time in November 2017. Not consistent notes. 68% C.Sauvignon + 30% Merlot + 2% C.Franc. Truffles, intense yet elegant, well matured, and with a round finish. 2003 was a vintage experiencing very high temperatures (+40 degrees C in August), and wines from this vintage won't keep for many years. I tasted this wine 5-6 years ago (2012), which was fresher and younger.
Cos d'Estournel 2002 93p
Tasted in June 2022. You can easily say it was a Cabernet Sauvignon vintage, as Merlot had great difficulty reaching good ripeness because of challenging weather. Anyway, Cos managed to make a wine of satisfactory quality, displaying well the typicity of Cabernet Sauvignon. Leather, cedar wood, forest floor, mineral, strong backbone and structure, sappy, long, and persistent finish. Has a long life ahead.
Cos d'Estournel 1998 96p
This vintage in Bordeaux was blessed by sunny weather and incredibly successful at Right Bank, with many magical wines produced. Left Bank wines hadn't been largely successful. But Cos contradicted this postulate and was a badass wine. Intense on the nose and palate with creamy blackcurrants, mineral, delicate acidity, sweet tannins, and great complexity. Vibrant and lovely structure. Long lingering finish.
Cos d'Estournel 1996 95p
Tasted in June 2022. Served from a magnum bottle. You can compare it to other vintages ending with the "6" digit, but the fruit ripeness here was better than in 2006, and perhaps the complexity in 1996 was slightly more remarkable than in 1986. To be drunk by your children when they reach the legal drinking age.
Cos d'Estournel 1995 90p
Tasted in June 2022. I'm not convinced this vintage was splendid on both Left and Right banks. Merlot ripened, in my opinion, better than Cabernet Sauvignon. Cos in this vintage displayed some peppery notes and a slight lack of ripeness. Edgy, firm, and stern. Maybe it will soften at some point in its life.
Cos d'Estournel 1988 94p
Tasted in June 2022. This vintage is considered better on Right Bank than on the Left because Merlot ripens perfectly. Wines on the Left Bank suffered a little from Cabernets not reaching perfect maturity. Cos made much more than solid wine. Very Cabernet Sauvignon wine with tobacco/cigar box, wet earth, cassis, and black truffle. Robust, strong backbone, vibrant, splendid complexity, and long aftertaste. It's classic St. Estephe wine for long-term cellaring.
Cos d'Estournel 1986 95p
Tasted twice - last time in April 2022. Consistent notes. After a solar 1985, everything returned to a more classic Bordeaux style in 1986. Cos was a traditional St.Estephe wine with a lot to offer. Full-bodied, big fruit intensity, mineral, wet earth. Cabernet Sauvignon in full blossom, great structure, and midpalate. Vibrant. Long meaty finish. Many years to go.
Cos d'Estournel 1985 96p
Tasted twice - last time in June 2022. Consistent notes. My first Bordeaux vintage was to be experienced live on-site in September 1985. Perfect sunny weather through the harvest. Despite huge yields, the wines from this vintage have kept exceptionally well. It was called a feminine vintage by several wine critics, but it's not entirely correct, imho. Cos greatly expressed this vintage's grace, elegance, sweetness, and power. There was a very noticeable scent of yogurt, robust, spicy with truffles, sappy, firm structure and backbone, lovely balance, complexity, depth, and length: roasted bacon, sensual, sophisticated touch, and long lingering aftertaste. I had a slightly better example of this wine in 2015, but no complaints here! Sorry for swearing, but it was the mother….. of wine, potent and full of life; give it 20 more years!
Cos d'Estournel 1982 98p
Tasted in June 2022. It is counted among the best vintages in Bordeaux's history and one that, after 40 years, still keeps its fine ingredients intact. Cos was a peach of the wine with gorgeously intense Cabernet Sauvignon displaying leather, cedar, and tobacco leaf. Plenty of creamy blackcurrants and grained tannin plus sweetness. Vibrant, refined, and sophisticated. In full blossom. Can live forever!
Cos d'Estournel 1981 93p
Tasted in June 2022. This vintage looked sensational before harvest, and many wine people in Bordeaux expected a repeat of 1961. Unfortunately, it rained a lot during the entire crop. However, several properties managed in some way to produce splendid wines, and Cos was one of them. Powerful with a strong backbone, mineral, great structure, delicate balance, complexity and length, and long finish. It can easily keep for 10-15 more years.
Cos d'Estournel 1977 88p
Tasted in June 2022. I didn't expect this wine to be that lovely, considering all the weather problems this vintage experienced. A sensual nose of ripe(!) blackcurrants, fine acidity, tasty, complex, beautiful finish. It's nice to drink now and for 3-5 more years.
Cos d'Estournel 1976 94p
Tasted in June 2022. A hot and humid vintage in Bordeaux. Cos seemed not to be affected by that and displayed some fine things. Cabernet Sauvignon had flavors of crushed rocks, tobacco leaves, and grilled bacon, with lively, lovely complexity and structure. Persistent aftertaste. A lot of great pleasure here.
Cos d'Estournel 1975 88p
I tasted it in October 2015, blind, during dinner at Domaine de Chevalier. The 1975 vintage hasn't an excellent reputation on Left Bank; many wines are too heavy and dry. I could feel the same soil flavors as in the 1925 version, adding graphite and roundness, but this wine was without the elegance and finesse of 1925.
Cos d'Estournel 1973 89p
Tasted in June 2022. Surprise! Cold and rainy summer and rain during the harvest didn't promise good things for the vintage, but I've to say Cos made quite a fine wine. Aromatic and delicate, with gentle tannin, milky (yogurt) on the palate, vibrant with lovely complexity.
Cos d'Estournel 1955 99p
Tasted in November 2017. Cork is in ridiculously fantastic shape, promising that this wine will deliver. An excellent dark color for a 62-year-old wine. Stunning nose of red fruit with great distinction and intensity. Yogurt tones. Great complexity, power, and elegance. Great length. Sheer delight! This wine was bought en primeur and stored all its life in Kjær & Sommerfeldt's cellars. Fantastic experience. Twenty years more, at least - I'm pretty sure of that!
Another bottle tasted in June 2022 wasn't in perfect condition. Bordeaux bottling. It was similar to 1953, with little fruit left, dried-out tannin, and champignon taste. 85p.
Cos d'Estournel 1953 86p
Danish bottling. This bottle we had during vertical in June 2022 had probably traveled worldwide because it tasted old. Sappy and still alive, the fruit was somewhat champignon-like, and tannin was drying out.
Cos d'Estournel 1952 97p
Tasted in November 2017. Danish bottling by Kjær & Sommerfeldt. Served blind in pair with Montrose 1952. I guessed this wine to be from 1953 and Saint-Estephe. From the start, I was seduced by the catchy aroma of raspberry drops on the nose. An incredibly delicious wine with a lot of fresh raspberry fruit on the palate and sweetness. Great in everything. Many years are left in this wine. It's a stunning effort here.
Another bottle was tasted in June 2022. Bordeaux bottling. I strongly suspect that the 1950s in our vertical came from the same cellar. Why? Because this particular vintage tasted similarly past its peak and tasted quite old compared with 1955 and 1953. 86p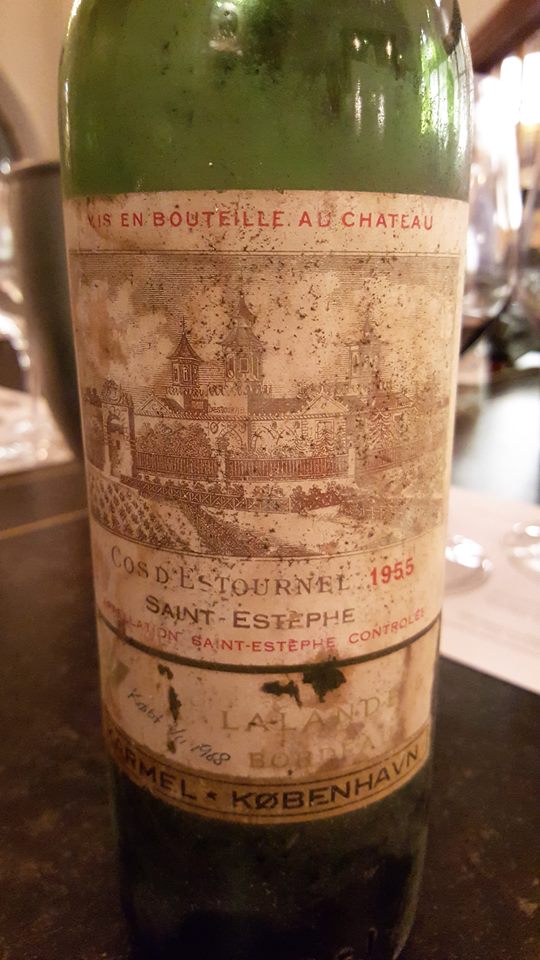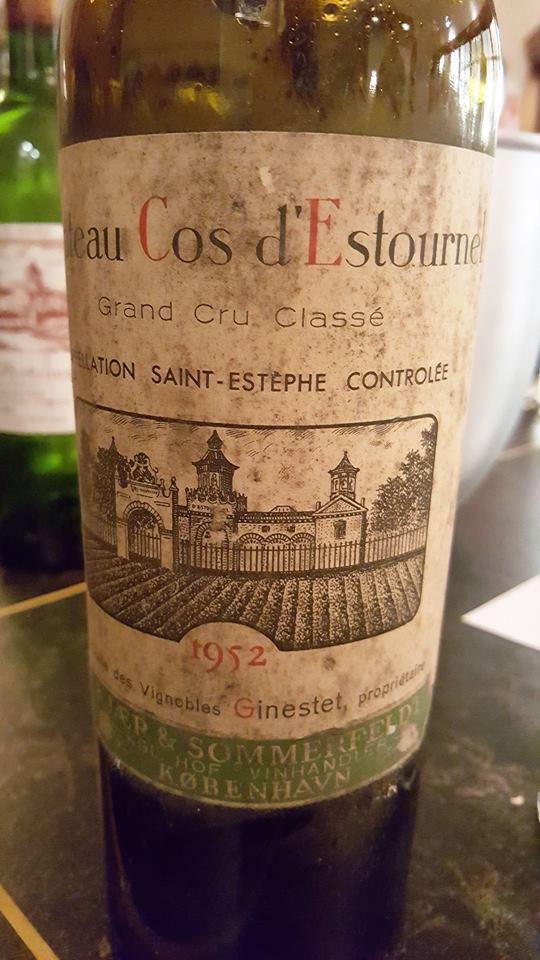 Great pair of blasts from the past!!
Cos d'Estournel 1929 95p
Tasted in March 2019, blind, during dinner at Domaine de Chevalier. Fine old wine with the delicious aroma of truffles, sophisticated with great elegance and finesse. A real treat!
Cos d'Estournel 1928 92p
Tasted in November 2002. This wine displayed very ripe fruit with aromas of chocolate and cocoa. It was slightly tart on the palate, but the balance was delicate. Quite elegant. A wine with big belief.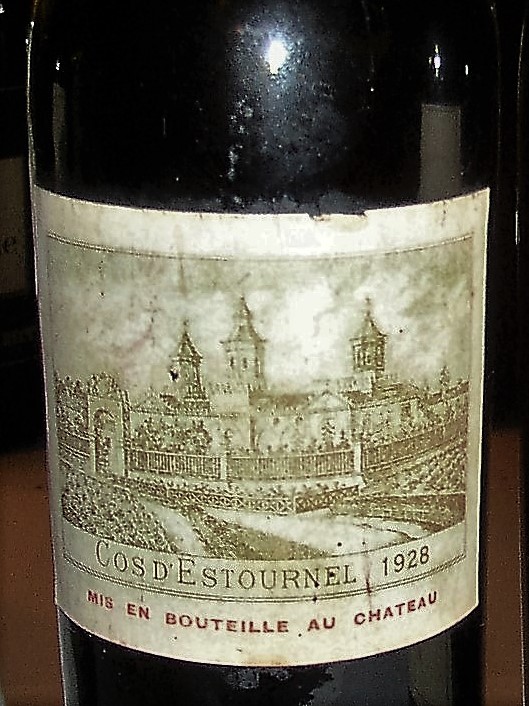 Cos d'Estournel 1926 91p
Tasted in June 2022. Bordeaux bottling. Sappy with nice acidity, lively, tasty, nicely balanced, and delicate finish. Still alive and a pleasant one to taste.
Cos d'Estournel 1925 93p
Tasted in October 2015, blind, during dinner at Domaine de Chevalier. It was a great wine bottle with truffles, remarkable elegance and finesse, and a well-balanced and pleasing length. There were different guesses, but they were all wrong, and when Olivier Bernard revealed that this wine was Cos d'Estournel 1925, we were amazed. An achievement perfectly fits the often-used phrase - "there are only great bottles, not great vintages"!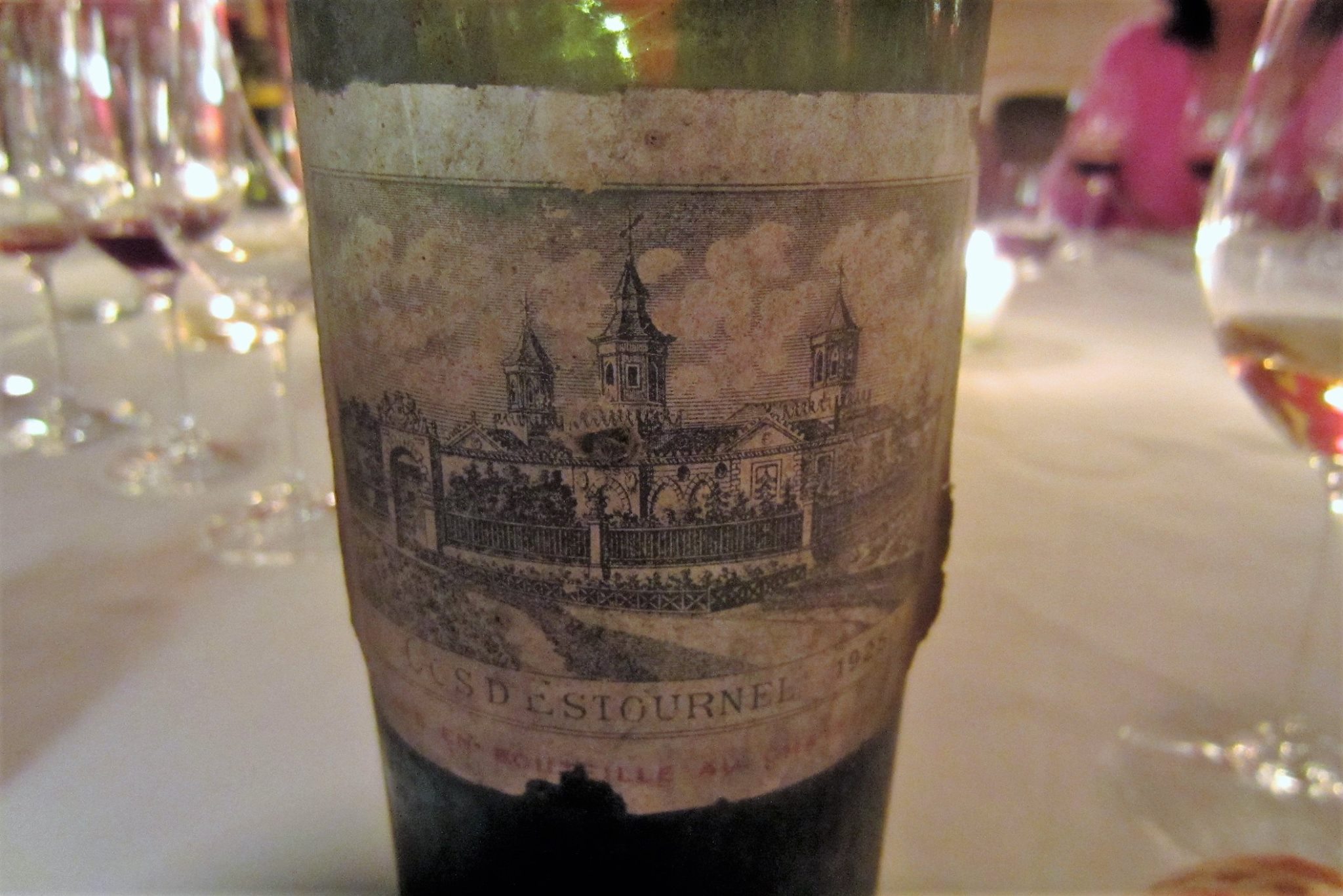 Cos d'Estournel 1918 92p
I tasted in November 2018. Very elegant and refined with a sophisticated touch. Light on the palate, and it tastes better than it is on the nose. There's nothing to be disappointed about here, as this wine still keeps well for its age. Chateau bottled.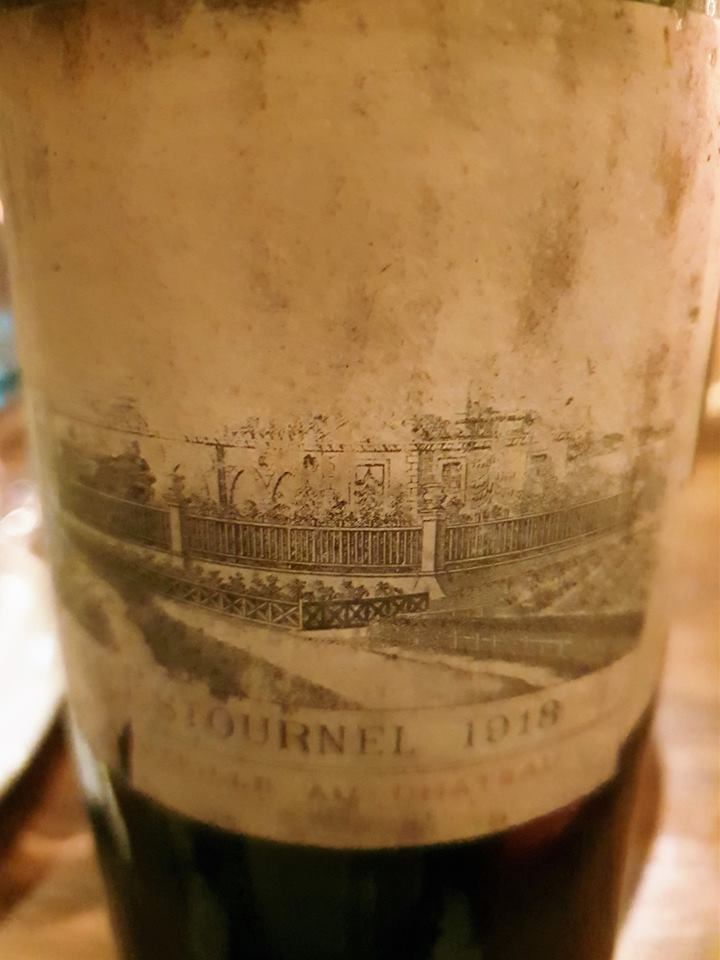 Cos d'Estournel 1916 89p
Tasted in June 2022. Danish bottling. Made during First World War by women as male workers were sent to the front. It was keeping well for a 106-year-old wine, a bit mushroomy but otherwise pleasant, round, and soft.