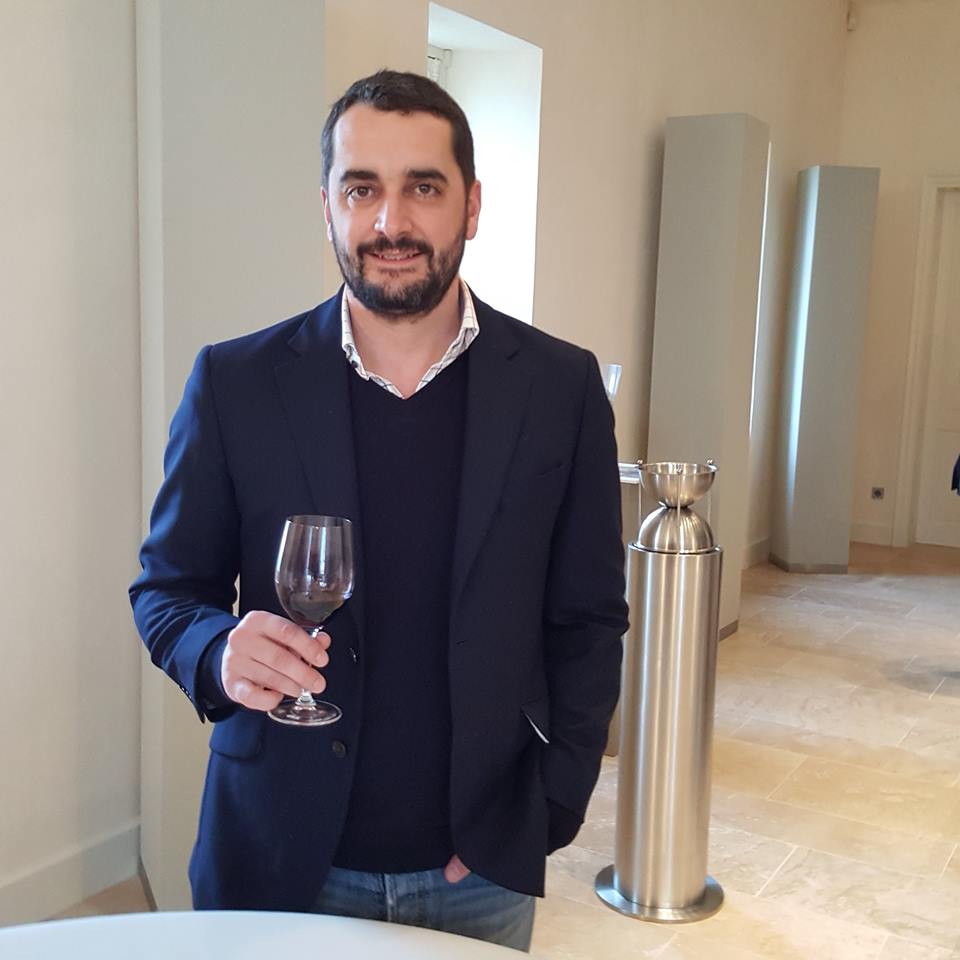 Olivier Berrouet, Petrus' winemaker, April 2017
Pétrus' soil has a 60 cm deep layer containing clay and sand in ratio 90:10 on its upper part. This kind of surface is only to be found at Pétrus and no other places in Pomerol! The subsoil is "crasse de fer" and clay. It can barely surprise anyone, that Merlot has a smashing time here because growing conditions at Pétrus are just perfect for this grape variety.
Petrus' vineyard is 11,5 ha big, planted with 95% Merlot and 5% Cabernet Franc, vines are on average 35 years old and wine is kept for 20 months in 100% new barrels. Since January 2008, it's Jean-Claude Berrouet's (former cellarmaster at Petrus) son, Olivier Berrouet, who's the manager of the property and responsible for the winemaking.
At its best, Pétrus is an incredibly intense, concentrated, nuance-rich, refined and extremely multidimensional wine, which demands absolute attention and one's senses running at full speed. Pétrus does normally shut down quickly after "birth" and should therefore not be touched before it has aged for 10-15 years. It is extremely long-lived, especially in the superb vintages, and can with advantage be stored for 25-30 years or even longer.
-----
Petrus 2018 (barrel sample) 100p
Tasted in April 2019. Enormous intensity, enormous complexity, everything velvety and silky, incredible complexity, sophisticated touch, refinement, richness and breathtaking length. A true legend in making.
Petrus 2017 (barrel sample) 98+p
Tasted in April 2018. It displayed great freshness, great complexity and purity, stunning complexity and length. Awesome purity also present. 2017 is going to be a fabulous vintage for this Pomerol jewel.
Petrus 2016 (barrel sample) 98+p
Tasted in April 2017. Stupendous effort in 2016, seamless wine, very sophisticated, rich, velvety and silky, precise. A strong candidate for a three-digit score.
Petrus 2015 (barrel sample) 97-98p
Tasted in April 2016. This is a very sublime wine which clearly benefitted from 4 dry months, April, May, June and July. Harvest was prolonged and finished at the end of September. Subtle, lot of finesse, sophisticated and incredibly complex. Not the most powerful and concentrated vintage of Petrus, but 2015 has stupendous elegance and richness instead.
Petrus 2014 (barrel sample) 97p
Tasted in April 2015. Was harvested between 23rd September and 4th October, the yield is only 30hl/ha. Freshness, very sophisticated with great complexity, stunning richness, excellent structure and awesome long finish. Among the best wines of the vintage, that's for sure.
Petrus 2013 (barrel sample) 93-94p
Tasted in March 2014. It was harvested on 2-3-4 October, only 26 hl/ha, lost around 40% of the potential crop during flowering. Late harvest in 2013 for this property was very beneficial and it reflects in the wine. Excellent effort, very refined, balanced, sweet fruit, excellent acidity, structure and complexity.
Petrus 2012 (barrel sample) 95p
Tasted in April 2013. I found 2012 here quite similar to 2011. Elegant style, finesse, refined, long on the palate. Aromatic black cherries, exquisite balance, silky and velvety fruit/tannin. Great complexity and sophisticated touch. Harvest finished at Petrus on the 8th of October, before the arrival of big rain, which came one week after.
Petrus 2011 (barrel sample) 95p
Tasted in April 2012. This wine had fresh acidity, fine berry fruit, discrete oak and excellent balance. Lighter than usual but with excellent richness and finesse.
Petrus 2010 (barrel sample) 98-99p
Tasted in April 2011. Grapes obtained 14.5% alcohol, yield 35 hl/ha and was harvested between 27th September and 2nd October. An incredibly complex wine, refined, silky and sophisticated on the palate, more than 30 seconds long finish. Exceptional stuff, but I think 2009 was maybe a bit richer and deeper than 2010. It can, however, change with ageing. 98-99p.
Petrus 2009 (barrel sample) 98-100p
Tasted in April 2010. This wine brought great intensity, depth and sophisticated nose of black cherries. Velvety and very concentrated on the palate with enormous depth and richness. Probably the most accessible wine at "baby" stage from this property, I've ever tasted. A future legend.
Petrus 2007 (barrel sample) 90+p?
Tasted in April 2008. This wine didn't make the headlines at all in April 2008. Rather subdued and oaky. I guess adding press wine will do Petrus 2007 a really great favour. I didn't have a chance to retaste this wine yet - maybe retasting would give much better TNs.
Petrus 2006 (barrel sample) 95-96p
Tasted in April 2007. Black red. Incredibly aromatic, sophisticated and incredibly well-constructed wine. Huge amounts of dark cherries/blueberries and ripe tannin. The balance was completely breathtaking in this wine, but so was the length on the palate. Still, in my opinion, it's not better than the 2005 version.
Petrus 2005 (barrel sample) 98-100p
Tasted in April 2006. Well, not quite as gracious as Lafleur, but there was an enormous concentration of everything, unbelievable nuance richness and extreme depth. Silky aftertaste. Early harvest paid really off! Oh-la-la wine.
Petrus 2003 (barrel sample) 95p
Tasted in April 2004. Very dark, not as strong as usual, deep nose of spicy raspberries, blueberries and blackberries. Exemplary structure and many layers of everything. Very refined and sophisticated with ling aftertaste. A stunning wine, which can be cellared for 20 years. Wine-team at Pétrus chose the time of the harvest perfectly, for nuances of cooked fruit, marmalade and dry tannin, which many properties in Pomerol suffered from in 2003 because of the extremely hot weather, aren't present in this wine.
Petrus 2001 98p
Tasted twice - last time in September 2012. Consistent notes. Almost black red, dense and compact with an intense aroma of aroma dark cherries, raspberries and truffles. There are many layers of everything on the palate, great depth, beautiful structure and big concentration of fruit. It all is tremendously put together and this wine is a delicious experience from the beginning to the end. The perfect balance in this wine assures long life – 20-30 years. In September 2012, this wine was tasted from the bottle and it confirmed 100% what barrel sample promised. Thick raspberries with blackberries on the nose and palate, very strong structure, incredible richness and length.
Petrus 2000 (barrel sample) 99-100p
Tasted in June 2001. Like Lafleur, Pétrus is an astonishing example of 2000 vintage's heavenly quality. Merlot is simply outstandingly fantastic. Maybe Pétrus is barely so charismatic and monumental as Lafleur just now, but after 15-20 years, the difference between those two wines will be zeroed and Pétrus can match Lafleur at every level.
Petrus 1999 93p
Tasted in September 2003. This wine is almost an exact copy of 1995, but significantly lighter and not so sophisticated. Here we have for a change a feminine version of Pétrus. It tastes really splendid already now and will continue with that in the next 10-15 years.
Petrus 1997 86p
Tasted in September 2003. Elegant but tart wine. Not the usual concentration and weight. This wine tastes somewhat disconnected. Not my cup of tea.
Petrus 1996 88p
Tasted in September 2003. Not exactly in balance, tart, light and in the whole quite tannic. Merlot had big problems with ripeness in this vintage and you can taste it.
Petrus 1995 98p
Tasted in September 2003. Black red, intense and dense. Truffles everywhere, extremely concentrated, classic with enormous length and aftertaste. This is Pétrus at its apogee! Perfect exploitation of vintage's raw material. This wine has at least 20 years of eventful life ahead.
Petrus 1994 93p
Tasted in September 2003. A terrific and splendid wine for the vintage. Pomerol was the only district in whole Bordeaux, which produced eminent wines in 1994. Great depth on the palate, incredibly intense and with excellent balance. A delicacy for 15-20 years enjoyment.
Petrus 1992 90p
Tasted in September 2003. From magnum. Surprisingly deep on the palate with ripe fruit. Slightly edgy tannin but in the whole a well-made wine, in spite of vintage's problems (rain during harvest). Fine concentration and length. Will keep for additional 5-8 years.
Petrus 1989 99p
Tasted in September 2003. A wolf in sheep's clothing. No sign of age in this wine. Extremely sophisticated and incredibly promising. Very complex and with enormous length on the palate. Let it rest horizontally for 10-15 years more.
Petrus 1985 94p
Tasted in September 2003. Very deep on the nose and palate. Perfectly ripe fruit with toasty character, lots of nuances and beautiful length on the palate. Superbly balanced. It's a stunning Pétrus, but there's a feeling of missing final touch. This vintage is the last one, where filtration of the wine was done. Just perfect to be consumed today.
Petrus 1976 86p
Tasted in September 2003. Dry, hot fruit, kind of fragile structure, edgy and not quite harmonious. Not a big deal – not any deal at all. Disappointing wine for Pétrus' standard. I think this wine will fell apart very soon.
Petrus 1974 88p
Tasted in September 2003. Red-brown. Well-preserved prune marmalade, Holds on ingredients quite well, strong tannin but not edgy. Fine balance. This wine is just up to standard in this difficult vintage. Ready to drink now and won't improve by additional keeping.
Petrus 1967 95p
Tasted in November 2019. Despite this vintage experiencing bad weather and unripe grapes, Petrus managed to make wine of the vintage. Our bottle showed incredibly complex, sophisticated, rich and fruity wine.
Petrus 1964 99p
Enjoyed during dinner at Domaine de Chevalier with other excellent wines in April 2014. Seemed like bottle kept under pristine conditions - youthful dark colour, almost black ink, powerful, extraordinary complexity, structure, depth and length. Despite 50 years on its birth certificate already, I'm pretty sure this wine will easily live for another 50 years!! Heavenly stuff.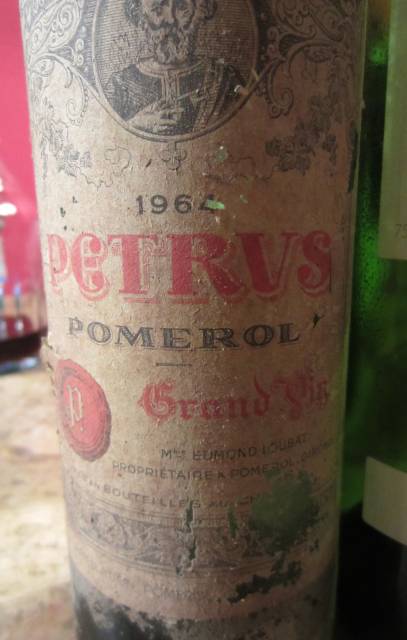 Petrus 1955 97p
Enjoyed during dinner at Domaine de Chevalier with other excellent wines in March 2015. Powerful and well-equipped with lush fruit, tannin and acidity. Breathtaking richness and depth, long long finish. Great, great bottle!
Petrus 1947 100p
Tasted in September 2003. Belgian bottling. It was after all a fantastic finale of the tasting – a showstopper. It was a wine with a fabulously fine and intense nose of ripe berries mixed with truffles, chocolate and cacao. Fabulous everywhere and extraordinary sublime. There is still plenty of life in this artwork of a wine.