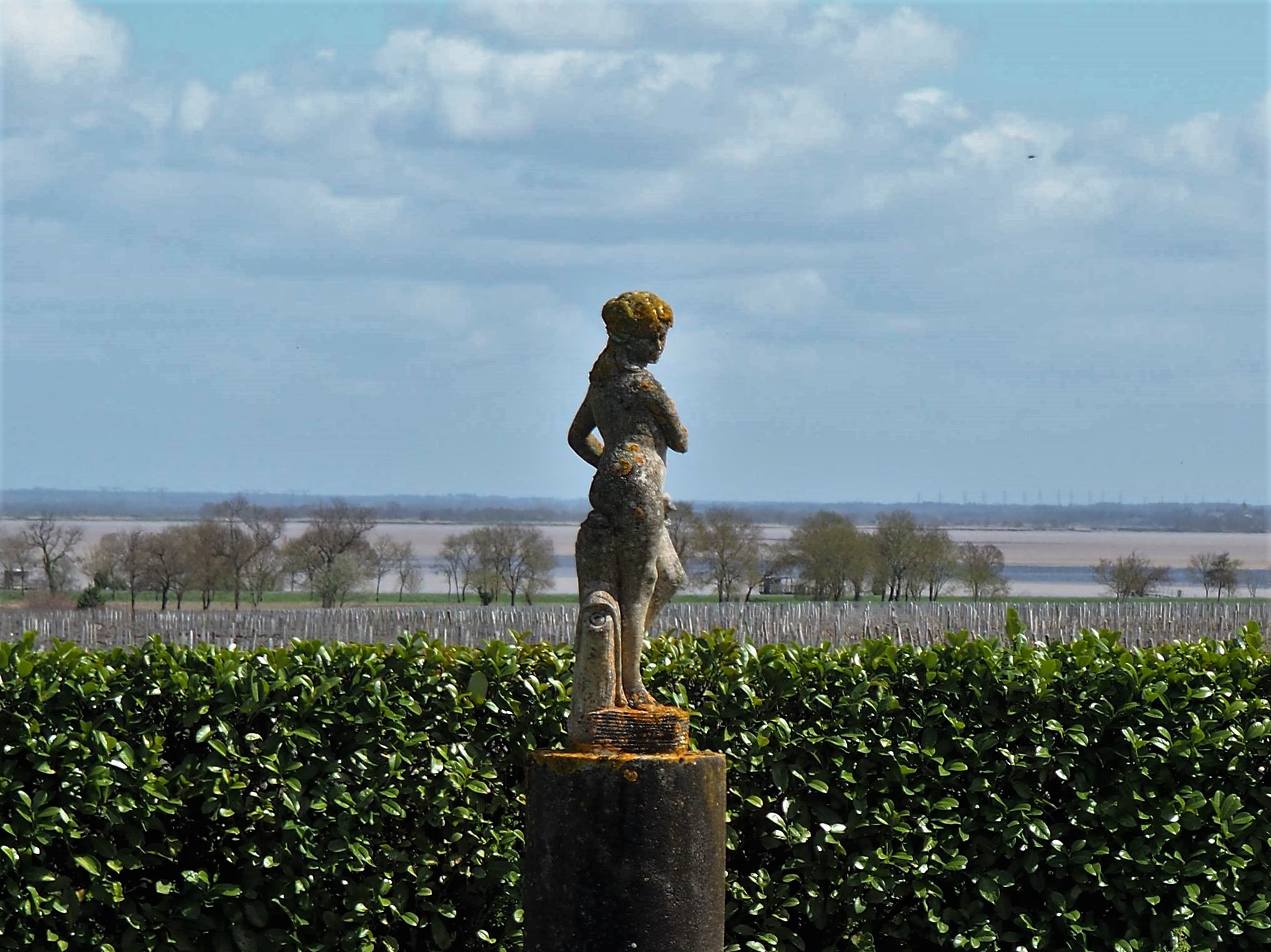 Spectacular view from Montrose vineyard towards Gironde river
It's been one of my favorite Bordeaux wines for a long time. While particularly strong in the 1950s and 1960s, Montrose got the nickname "Latour of Saint-Éstephe" due to its power, strength, massive concentration, depth, and long finish. It's always been a classy, stylish Bordeaux with long life. When mature, it's a beautiful wine to enjoy. Vintages like f.i. 1952, 1953, 1955, 1959, 1961, and 1964 (harvest just finished a few hours before massive rainfall) are legendary. Not to mention outstanding vintages like 1989 and 1990.
After the long reign of the Charmolüe family, Montrose changed hands in 2006 when the Bouygues family bought this property. The new owners hired the famous Jean-Bernard Delmas as a consultant, responsible for many stunning vintages at Haut Brion/La Mission Haut Brion. Herve Berland, previously managing director at Mouton Rothschild since 2006 and retired in 2011, took over technical director duties at Montrose in April 2012.
Montrose enjoys a highly favorable location close to the banks of the Gironde river, which ensures a very stable microclimate. This micro-climate prevents frost from damaging here - Montrose lost only 10% of its vines in the spring of 1991 when the "black" frost (gelée noir) hit Bordeaux and destroyed many thousands of vines all over the area. There is 95 ha of vines, all in one block, growing on a 3-4 meters deep layer of heavy gravel mixed with ferrous sand and a subsoil of clay and marl. Cépage is 65% Cabernet Sauvignon, 25% Merlot, and 10% Cabernet Franc; vines are more than 30 years old on average.
Since Montrose's acquisition in 2006, new owners have done extensive work to modernize, improve facilities, and streamline logistics. A new cellar, for instance, looks monumental. Because of solar cells, Montrose is more than self-sufficient in electricity. Montrose has appointed a new cellar master from 1st June 2014.
Montrose is, without a doubt, a Super Second wine. The style of Montrose changed a bit after the change of ownership, and it's become more modern with slightly more extraction and more use of oak. Still, Montrose is a very true Bordeaux wine, reflecting the terroir.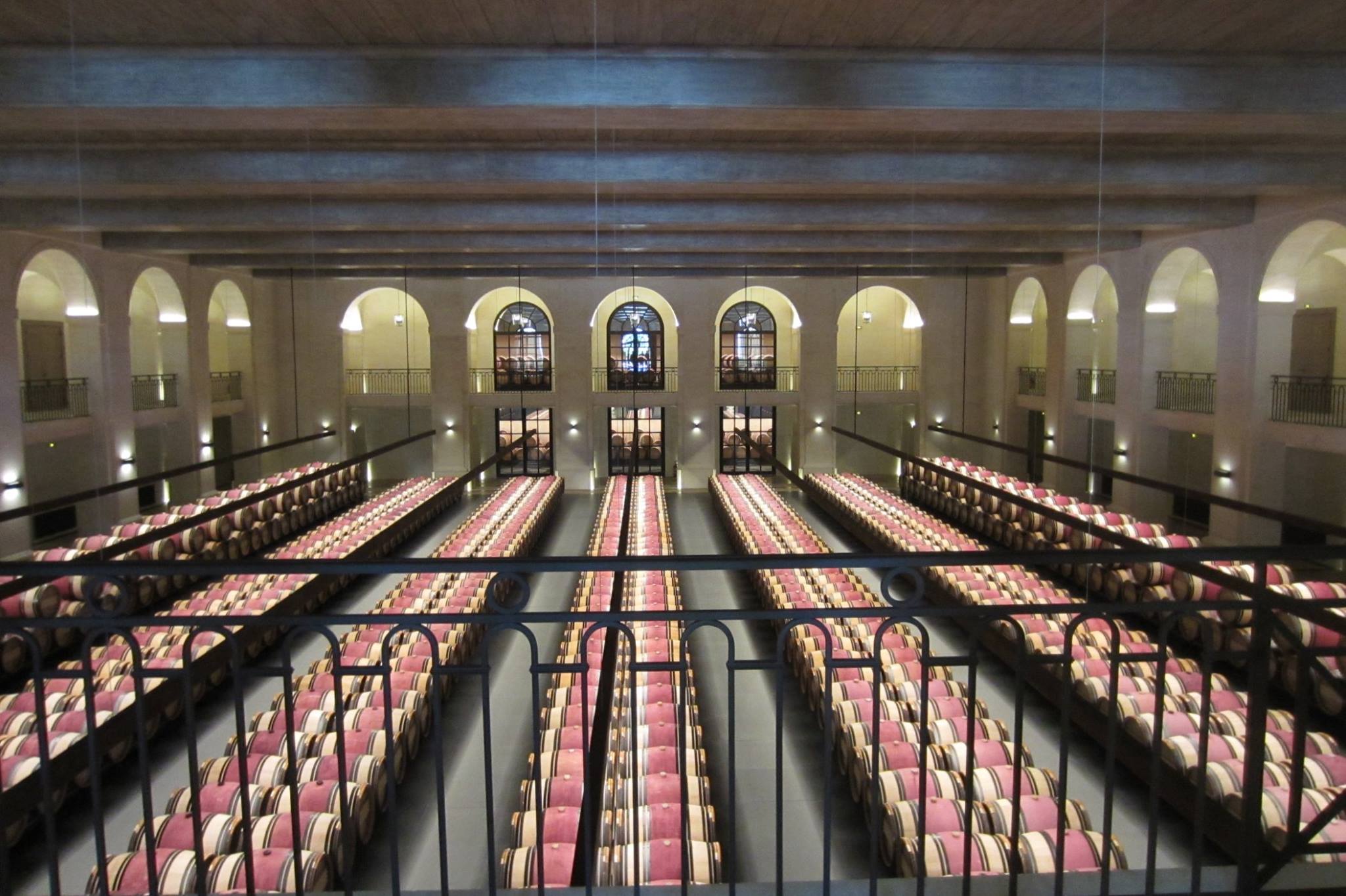 A new cellar at Montrose, as seen in April 2014 - looks fantastic.
-----
MONTROSE 2021 (barrel sample) 94-95p
Tasted in April 2022. 62% C. Sauvignon, 6% C. Franc, 31% Merlot, and 1% P. Verdot. 13% alcohol. More elegant than powerful in 2021. tight and mineral-like. Silky tannin, great complexity, and a delicate mid-palate. Knowing this property is always a long-run runner and needs many years to show its glory, I won't exclude a higher rating after bottling.
MONTROSE 2020 (barrel sample) 99p
Tasted in November 2021. 72% C. Sauvignon, 20% Merlot, 6% C.Franc and 2% Petit Verdot. An intense and classy nose of ripe blackcurrants and wild black cherries. Succulent berries on the palate with vibrancy, perfect structure, and complexity. Long creamy finish. Yet another mind-boggling wine from Montrose!
MONTROSE 2019 98+p
Tasted in November 2021. 64% C. Sauvignon, 30% Merlot, 5% C.Franc and 1% Petit Verdot. Yes, it was a powerful wine, but it also had a lot of elegance and finesse. A little bit lighter in concentration than in 2020, with silky berries and tannin. Great complexity, depth, midpalate, and luscious aftertaste. Fabulous effort.
MONTROSE 2018 98+p
Tasted twice - last time in December 2020. 72% Cabernet Sauvignon, 20% Merlot, 6% Cabernet Franc and 2% Petit Verdot. 14.8% alcohol, but you can't feel it due to fruit and tannin fully integrating it. Classic Montrose and very classic for the district. Powerful, "an iron fist in the velvet glove"! Bulldozering but moving elegantly. Creamy and with incredible complexity and length. Knowing that Montrose is a slowly maturing wine, it can quickly improve with age.
MONTROSE 2017 97p
Tasted twice - last time in November 2021. Consistent notes. This property once again produced a stellar wine. Great aromatic nose of black fruit, great acidity and complexity, strong structure, and impressive length. A fresh and classic wine with both power and subtlety.
MONTROSE 2016 98p
Tasted twice - last time in November 2021. Consistent notes. This wine had a lot of silky fruit, tannin gently wrapped up by oak, great aromatic black fruit and a strong backbone, and astonishing complexity and length on the palate. Immensely impressive.
MONTROSE 2015 (barrel sample) 98-99p
Tasted in April 2016. 67% Cabernet Sauvignon, 29% Merlot and 4% Cabernet Franc. 13,8% alcohol. "Iron fist in the velvet glove" or "wolf in sheep's clothes", boom, the big concentration of everything, enormous depth and length, great complexity, and richness. Magnifique! Indeed, it ranks among my top ten wines of 2015. 1. Growth quality!
MONTROSE 2014 (barrel sample) 95p
Tasted in March 2015. a chewy and robust wine with excellent acidity and a full-bodied and tannic structure. It has a rock-solid foundation on which fruit and tannin can "play" together for many years. This wine can develop into something spectacular.
MONTROSE 2013 (barrel sample) 92p
Tasted in April 2014. It was very well knit, complex and finely structured, lighter than usual, equipped with silky fruit and tannin, and a smooth finish. one to enjoy before the big and long-lived vintages of 2005, 2009, and 2010.
MONTROSE 2012 94p
Tasted five times - last time in June 2016. Consistent notes. In April 2013, this wine had an excellent nose of black cherries/blueberries, aromatic and seductive, velvety palate, and a perfect length. On the light side. Gained in weight and concentration during the second year in barrel, confirmed while tasted in March 2015. Truffy and elegant wine. Even better in November 2015 with a delicious nose of grated chocolate, great intensity, splendid structure, impressive length, and finish. Same in June 2016.
MONTROSE 2011 93p
Tasted six times - the last time in June 2016. Consistent notes. It displayed an enchanting nose of black fruit, seductive and intense, silky texture overall, well-structured and well-balanced, and a long finish. Splendid for the vintage. Now in the bottle (April 2014), this wine has improved in intensity, complexity, depth, and length. Confirmed in March 2015 and June 2016. Not the same level of sweetness here as in 2012, but more depth and concentration.
MONTROSE 2010 100p
Tasted five times - last time in June 2016. Consistent notes. This monster wine with its thick aroma of black fruit, enormous concentration, strong backbone, perfectly ripe fat fruit, and fat tannin, stunning complexity and structure, and impeccable balance. Incredibly stylish 2010 and showing 100% what this vintage has to offer. Mind-boggling effort.
MONTROSE 2009 98-100p
Tasted three times - last time in June 2016. Consistent notes. It was incredibly intense, strong, and robust, with sweet tannin, plenty of chocolate, great depth, length, and a silky finish. Extremely rich and complex. Twin brother of 2010. Outstanding wine.
MONTROSE 2008 94p
Tasted three times - last time in April 2013. Consistent notes. This wine displayed a very intense and spicy scent of a cedar tree, leather, and mocha, a strong backbone, robust structure, and a long finish. You could feel the character of the soil here. This wine was made under new management and a new cellar master who arrived in 2007.
MONTROSE 2007 90p
Tasted in April 2011. A pleasant surprise indeed, even if this wine didn't have the ripeness, depth, and concentration of 2008. Well-balanced, lovely tasty fruit, round and with excellent length.
MONTROSE 2006 92p
Tasted twice - last time in April 2011. Not consistent notes. It was made by entirely new technical staff after the change of ownership. The barrel (April 2007) was strong and distinct, with a spectacular structure, great depth, and a beautiful balance between dark berries and fat tannin. In April 2011, it tasted closed, and I was unwilling to reveal anything. Certain dryness was noticeable, not because of unripe fruit but because oak flavors were not fully integrated yet. It'll take time for this wine to come out from its shell.
MONTROSE 2005 97p
Tasted four times - last time in June 2016. Consistent notes. This wine had an incredibly seductive nose of truffles and cocoa powder, a strong backbone, a powerful attitude, a strong iron structure, excellent balance, and a mega-long finish. A fantastic example of how exceptional this vintage is! Grace and sophisticated touch for all the money.
MONTROSE 2003 99p
Tasted twice - last time in June 2016. Consistent notes. Distinguished truffy nose of leather, cassis, and smoked tobacco leaves. Rich and sophisticated on the palate, with exquisite balance, complexity, and staggering richness. There is no sign of the hot fruit. Fresh and with an incredibly long finish. This is a fantastic tribute to the vintage as well.
MONTROSE 2001 95p
Tasted in November 2021. 62% C. Sauvignon, 34% Merlot, 1% C. Franc and 3% Petit Verdot. This wine was made by previous winemaking staff as Montrose changed hands in 2006. Seductive nose with ripe berries, plenty of well-defined fruit, and corresponding tannin on the palate. Full-bodied, harmonious, and with bright acidity. Typical wine for the property and the district of St. Estephe. Great effort.
MONTROSE 2000 97p
Tasted four times - last time in December 2016. Consistent notes. Extremely complex on the nose with overwhelming aromas of blueberries, rich, deep, long, and wonderfully structured on the palate. A fantastic tribute to the vintage.
MONTROSE 1999 89p
Tasted in May 2012. Very truffy wine with lovely fruit intensity, elegant and supple, charming and tasty. Slightly dry on the finish.
MONTROSE 1995 93p
Tasted in June 2016. Magnum bottle. Graphite and pencil, strong backbone, polished, fine structure and complexity, well-balanced and persistent finish. Splendid for the vintage.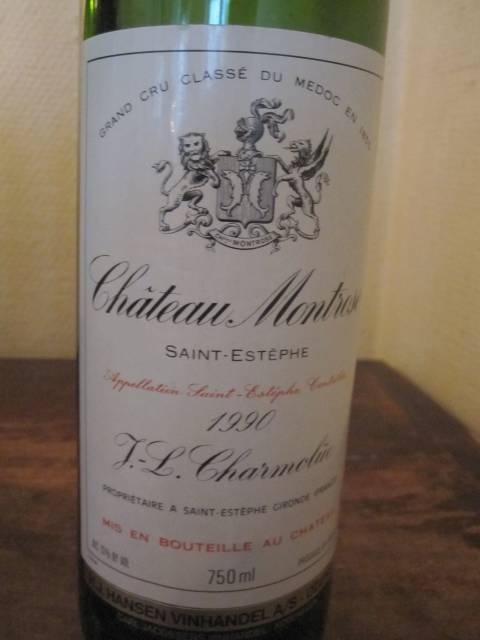 Legendary wine!
MONTROSE 1990 100p
Tasted four times - last time in December 2016. Consistent notes from perfect bottles. Animal, concentrated truffles, incredibly thick intensity, then an explosion of everything on the palate are sensational. This is a legend of perfection and phenomenal wine. Paradise in heaven!
Some history of making this vintage at Montrose. Bruno Lemoine (now at Larrivet Haut Brion) was the technical director at Montrose then, and he decided to do an extensive green harvest during the summer of 1990. Jean-Luis Charmolüe, the owner, wasn't happy, constantly reminding Bruno Lemoine of a possible mistake by doing the green harvest. However, he stopped complaining when wine critics, led by wine guru Robert Parker, praised this wine to the sky from the bottle with a perfect score of 100p!!
MONTROSE 1986 92p
Tasted twice - last time in June 2014. Consistent notes. Mature wine with truffles and tobacco leaves. Lovely fruit intensity, balance, and soft finish. Very enjoyable.
MONTROSE 1970 94p
Tasted three times - last time in February 2020. Consistent notes. A significant graphite flavor is earthy and polished, well-structured with splendid complexity, velvety texture, and a long finish. It was much better all three times I tasted it than reviews on this wine from other wine critics!
MONTROSE 1964 93p
Tasted in September 1988 at the property. Very rich and graceful, with a lot of sweetness, extraordinary balance, and some age-entertaining stuff.
MONTROSE 1959 97p
Tasted in September 1989 in a horizontal tasting of 25 wines from the 1959 vintage. This bottle didn't come from the cellars of the property. Incredibly well-composed, aromatic, the lovely sweetness of fruit, sophisticated, fantastic richness, power, and length. Great, great bottle!
MONTROSE 1955 95p
Tasted in March 1989. Came directly from the cellars of Montrose. Fat, compact, imposing depth and breed, and astonishing length complexity and richness. A fantastic future is in sight!
MONTROSE 1953 96p
Tasted twice - last time in September 2016. Consistent notes. Tasted for the first time in March 1989, the bottle came directly from the cellars of Montrose. Even better than 1955, with more intensity, complexity, and heart-breaking finesse and sweetness. Simply heavenly stuff. Then tasted it again 27.5 years later, and the bottle was bought through an internet auction. It was a distinguished, classy, sophisticated wine with a lot of sweetness, excellent balance, and riveting elegance. It's aged gracefully.
MONTROSE 1952 99p
Tasted in December 2007. Here I became speechless. You name it, and a distinctive aroma of truffles and tobacco came from the glass. It was stunningly composed with exemplary, incredibly sophisticated, and rarely unique complexity. An immensely rich aftertaste completed this perfect wine. Everything I love about Bordeaux was here! Montrose was particularly strong in the 1950s with magnificent 1953, 1955, and 1959, but this 55-year-old beauty ranks among the best wines of this vintage!
MONTROSE 1928 94p
Tasted in November 2002. Very dark and dense color. Chocolate, splendidly built together, luscious with exquisite balance and long aftertaste. A great bottle.