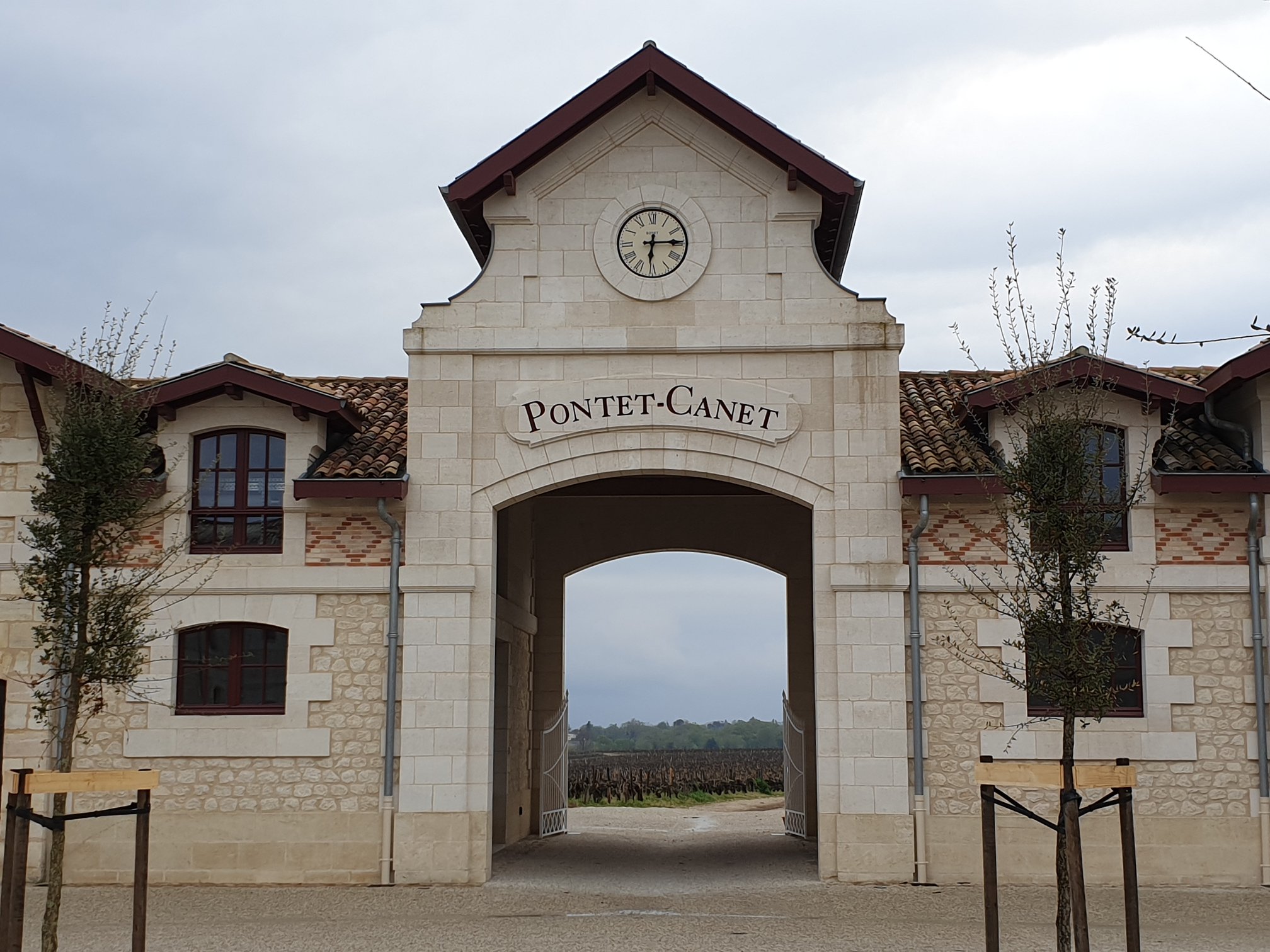 Pontet Canet is 81 ha, situated in Pauillac's northern part, close to Mouton Rothschild. Alfred Tesseron has been here since 2000. Before his arrival, this property suffered a lot because of a lack of money, which prevented essential improvements in the vineyard and cellar. He's worked closely with long time cellar master Jean-Michel Comme, who was in charge of vineyard and vinification. However, Jean Michel Comme left Ponet Canet in 2020, and Mathieu Bessonet replaced him.
Michel Rolland is a consultant here, and Alfred Tesseron greatly appreciates his deep vineyard knowledge.
Vines planted are Cabernet Sauvignon 62%, Cabernet Franc 4%, Merlot 32%, Petit Verdot 2%, they're 40 years old on average. Pontet Canet ages in 60% new oak.
Since 2004 vintage Pontet Canet has been organic and biodynamic. Today there are five horses to plough vineyard, and there is a special device, so the worker can sit on a chair while steering the horse.
Alfred Tesseron impeccably runs Pontet Canet and has brought the quality of the wine to new heights. Since the 2005 vintage, Pontet Canet has produced wines very close to 1. Growth quality.
In 2016, Alfred Tesseron's niece, Melanie Tesseron, who was supposed to run the property shortly, changed her mind and went back to London to pursue another work direction. Alfred Tesseron's daughter Justine works now with the Pontet Canet team, and she'll run the property when her father steps down.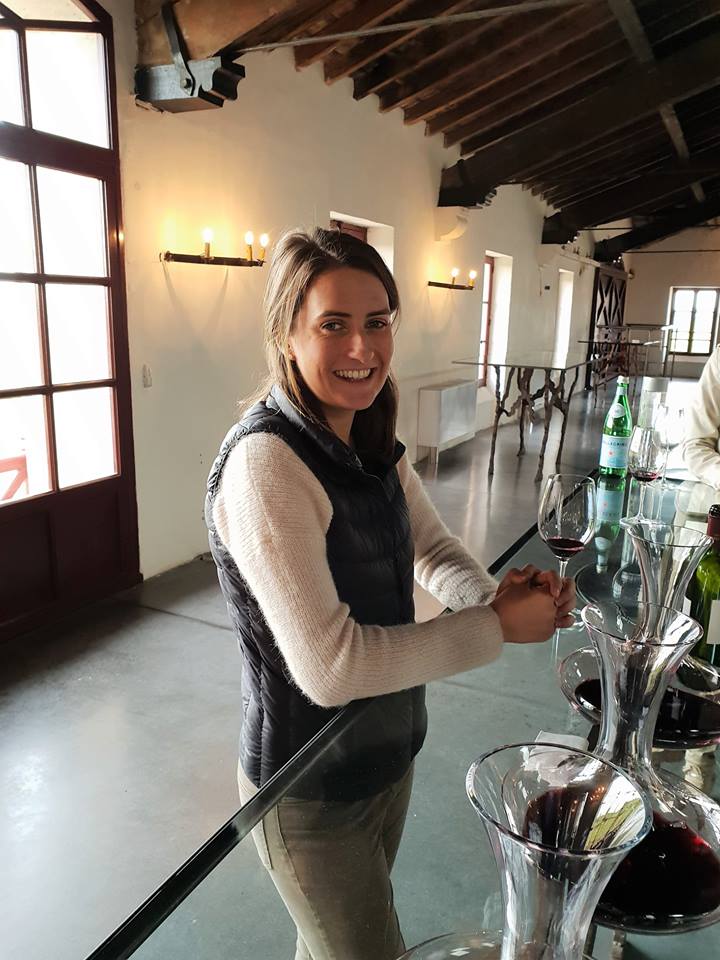 Justine Tesseron, young generation at Pontet Canet
-----
Pontet Canet 2018 96-97p
Tasted twice - last time in December 2020. Consistent notes. 70% Cabernet Sauvignon, 22% Merlot, 5% Cabernet Franc and 3% Petit Verdot. Yield only ten hl/ha due to mildew in the spring. I wrote this after tasting from the barrel - "This vintage is by no means a powerhouse at Pontet Canet, merely an elegant wine with much finesse, style, great complexity and excellent length." Now in the bottle and the description is different! Intense nose of tobacco leaf, cigar box and mint on the nose, strong and tight on the palate, creamy blackcurrants and fat tannin, exquisite complexity and long-lasting aftertaste. Awesome stuff.
Pontet Canet 2017 (barrel sample) 95-96p
Tasted twice - last time in October 2018. Consistent notes. 64% Cabernet Sauvignon + 31% Merlot + 4% Cabernet Franc + 1% Petit Verdot. One-third of production was in new amphoras (concrete outside, clay inside). Elegant, finesse, silky texture, splendid depth and great complexity. Very successful for the vintage.
Pontet Canet 2016 97p
Tasted twice - last time in October 2018. Consistent notes. 60% Cabernet Sauvignon + 35% Merlot + 4% Cabernet Franc + 1% Verdot, treated with 55% new oak, 35% amphora and 10% 1 year old barrels. Better after bottling. Powerful, distinguished, velvety, great balance, dense, complex and precise, long and silky.
Pontet Canet 2015 96p
Tasted twice - last time in October 2018. Consistent notes. It had an intense nose of black fruit, great complexity and style, great sweetness and complexity, sophisticated touch, long fruity finish. 95% of the production went into Grand Vin, and yield per ha was 33 hl.
Pontet Canet 2014 (barrel sample) 94+p
Tasted in March 2015. Meaty wine, very stylish, refined, silky fruit and tannin, long finish. Also, acidity so remarkable in the 2014 vintage has its well-defined role, assuring long life.
Pontet Canet 2013 (barrel sample) 92-93p
Tasted in April 2014. This wine was aromatic with splendidly ripe fruit on the nose and palate, silky texture, freshness, great balance and elegance. Finesse rather than power and muscles.
Pontet Canet 2012 (barrel sample) 94p
Tasted in April 2013. here was made from 65% C.Sauvignon, 30% Merlot, 4% C.Franc and 1% P.Verdot. It is ageing in 35% amphora tanks, 50% new oak and 15% one-year-old barrels. Very enchanting and seductive nose of black cherries. Refined, excellent fruit ripeness and excellent balance, lush, silky fruit and tannin, long and silky finish. Impressive stuff.
Pontet Canet 2011 (barrel sample) 94p
Tasted in April 2012. This property produced an elegant wine in 2011. Not quite in the league of 2010, 2009 and 2005 vintages, but you can't take away finesse, refined touch and silkiness from this catchy wine.
Pontet Canet 2010 (barrel sample) 96p
Tasted in April 2011. This wine had an extraordinarily aromatic and intense nose with sweet black cherries, strong structure, excellent balance and stunning length. It was sophisticated and nuanced. Less concentrated than 2009, but still a great effort!
Pontet Canet 2009 97p
Tasted twice - last time in October 2012. Consistent notes. Very ripe fruit on the nose and palate, very long on the palate, velvety with silky fruit and silky tannin. An impressive sweetness of the fruit. Rich and sophisticated. Excellent balance. Surprisingly drinkable now. It's like more finesse and elegance than power and strength, I did expect more concentration here, but maybe this wine represents the vintage style. Awesome effort but not 100p wine for me.
Pontet Canet 2008 95p
Tasted in October 2012. More intense and powerful than 2006, better complexity, deeper and longer, strong structure, sophisticated, and stunning length. Excellent stuff. Again a great, stylish and classy Pauillac/Bordeaux wine.
Pontet Canet 2007 91p
Tasted twice - last time in October 2012. Consistent notes. Light version of 2006, very fruity, charming and round, well-balanced, smooth and graceful finish. Great success for the vintage.
Pontet Canet 2006 93p
Tasted twice - last time in October 2012. Consistent notes. Very intense and fresh nose of aromatic blackcurrants and blackberries, tannin is very finely grained, impressive balance, splendid concentration, complexity and length. Very stylish wine for long keeping.
Pontet Canet 2005 97p
Tasted twice - last time in October 2007. Consistent notes. Black red. It had a lot of new oak and black cherries as well. It was a potent wine with stunning balance, multilayered structure and very long aftertaste, which came agonisingly close to 1. Cru quality! Breathtaking! Tasted again in October 2007 at the property (already bottled), and it was even better with fabulous texture, fantastic balance and exceptional richness.
Pontet Canet 2004 94p
Tasted twice - last time in October 2012. Consistent notes. Impressive, very aromatic and sappy wine, many ripe blackcurrants and blackberries here, lovely structure and length on the palate. Velvety. Great balance and rich in nuances. Excellent stuff.
Pontet Canet 2003 93p
Tasted in October 2012. Alfred Tesseron calls this wine a "Mediterranean" style. I don't quite agree, as it didn't show any "warm" flavours on fruit, and tannin wasn't dry. It showed more concentration, more depth and better complexity than in 2001. Long finish. Superb wine.
Pontet Canet 2002 90p
Tasted three times - last time in September 2010. Consistent notes. An elegant and fruity wine with a nice balance and long aftertaste. A joy to drink now.
Pontet Canet 2001 91p
Tasted twice - last time in September 2009. Consistent notes. It catches your attention with aromatic flavours, superb structure and splendid balance.
Pontet Canet 1999 87p
Tasted in August 2005. Charming and ready to drink. It should be consumed quickly.
Pontet Canet 1994 85p
Tasted in September 2004. This vintage didn't provide grapes with enough maturity, a bit of greenness on the nose and on the palate. Lean and with wet cardboard flavour.
Pontet Canet 1918 93p
Tasted in November 2018. Fresh on the nose, real bang on the palate, fine acidity and depth, delicate complexity and length as well. Eschenauer bottling.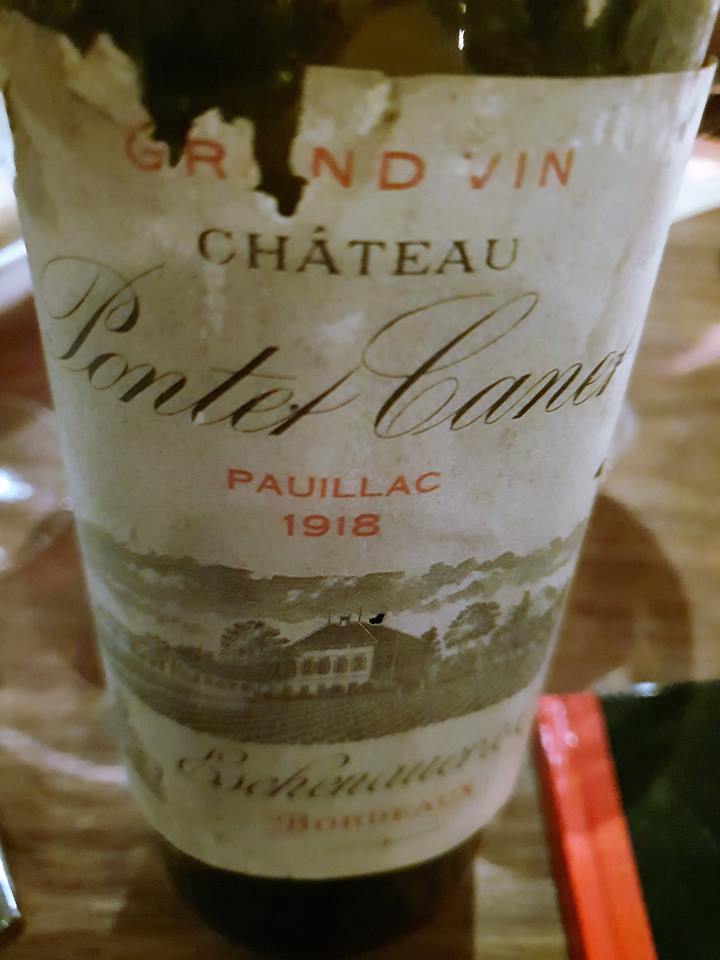 -----
Tesseron family also produces excellent Cognac (picture below).