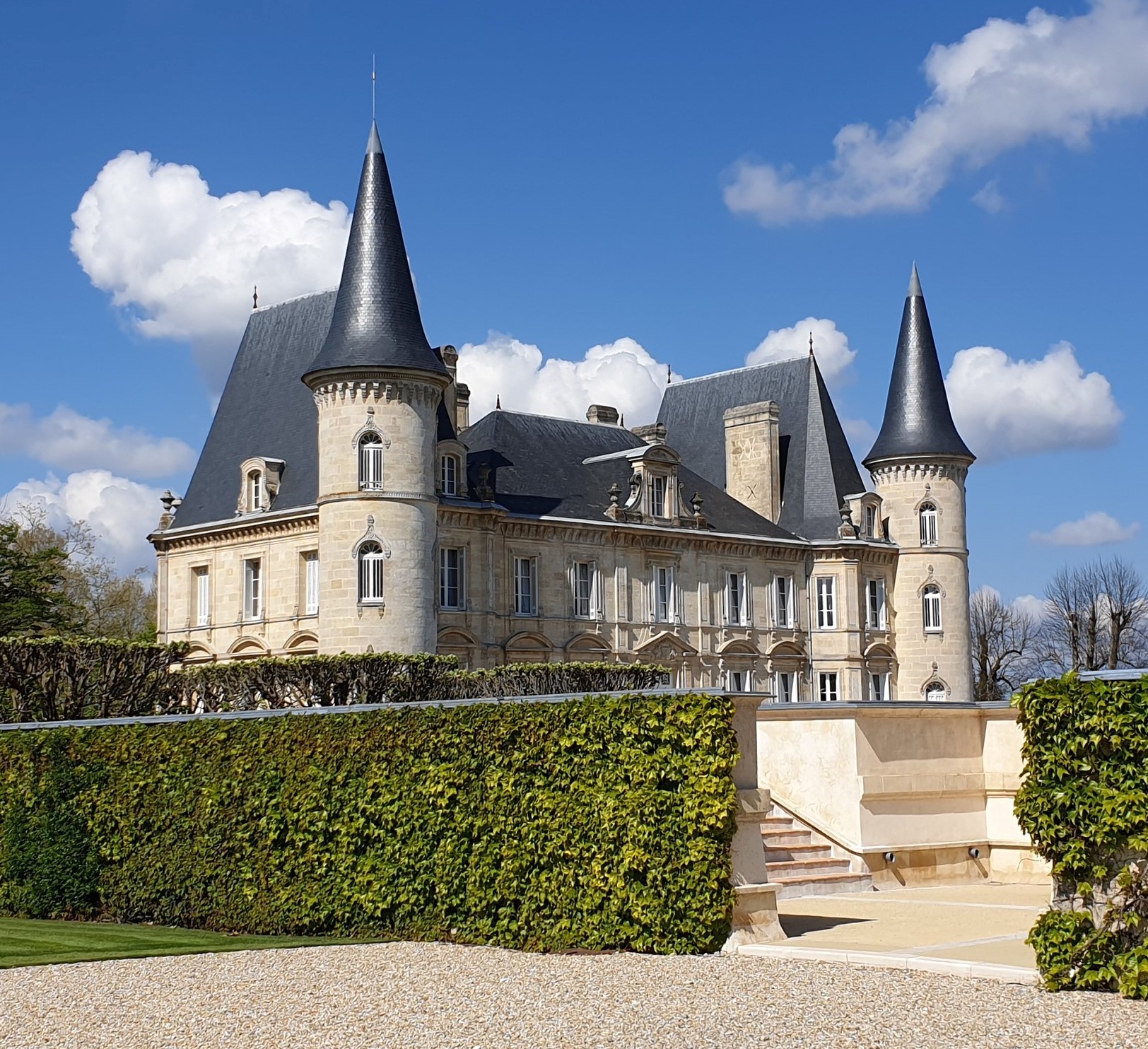 Looks stunning, doesn't it!
Chateau Pichon Baron has a long, long history, and I'll mention the most important facts here.
In 1850, Pichon Longueville Baron, according to the will of Baron Joseph de Pichon Longueville after his death the same year, was split among his 5 children. Two sons inherited the part known as Pichon Longueville Baron, and 3 daughters were granted property on the other side of the road, which later became Pichon Longueville Comtesse de Lalande.
From the 1930s and until the mid-1980s, Pichon Baron was owned by the Bouteiller family. Under their ownership, the quality of the wine wasn't worth its status with thin and bland wines.
In 1987 French insurance company AXA Millesimes purchased this property, and Jean-Michel Cazes from Lynch Bages was appointed as manager. After a short time, he was replaced by Jean-Rene Matignon, who has been technical director of Pichon Baron since then. In 1988, renovation of the chateau and creating a new cellar for vinification and ageing had begun. Under the new ownership, the quality of Pichon Baron started to be better, especially in 2005, 2009, 2010, plus the last five vintages (2014, 2015, 2016, 2017 and 2018) are excellent.
Pichon Baron covers 73 ha of vines which average age is 35 years. Planted grape varieties are 65% Cabernet Sauvignon, 30% Merlot, 3% Cabernet Franc and 2% Petit Verdot.
In addition to Grand Vin, two second wines are produced, Les Tourelles de Longueville and Les Griffons de Pichon Baron. Les Tourelles has more Merlot than Cabernet Sauvuignon in the blend, while Les Griffons has more Cabernet Sauvignon than Merlot.
Pichon Baron is a true Pauillac wine with power, a strong backbone and big concentration. It's a modern touch to it. While it's masculine, which corresponds very well with the fact that men inherited it in 1850, the other part of at that time big property, across the road, inherited by women and becoming Pichon Comtesse, is much more feminine wine, with more elegance and finesse.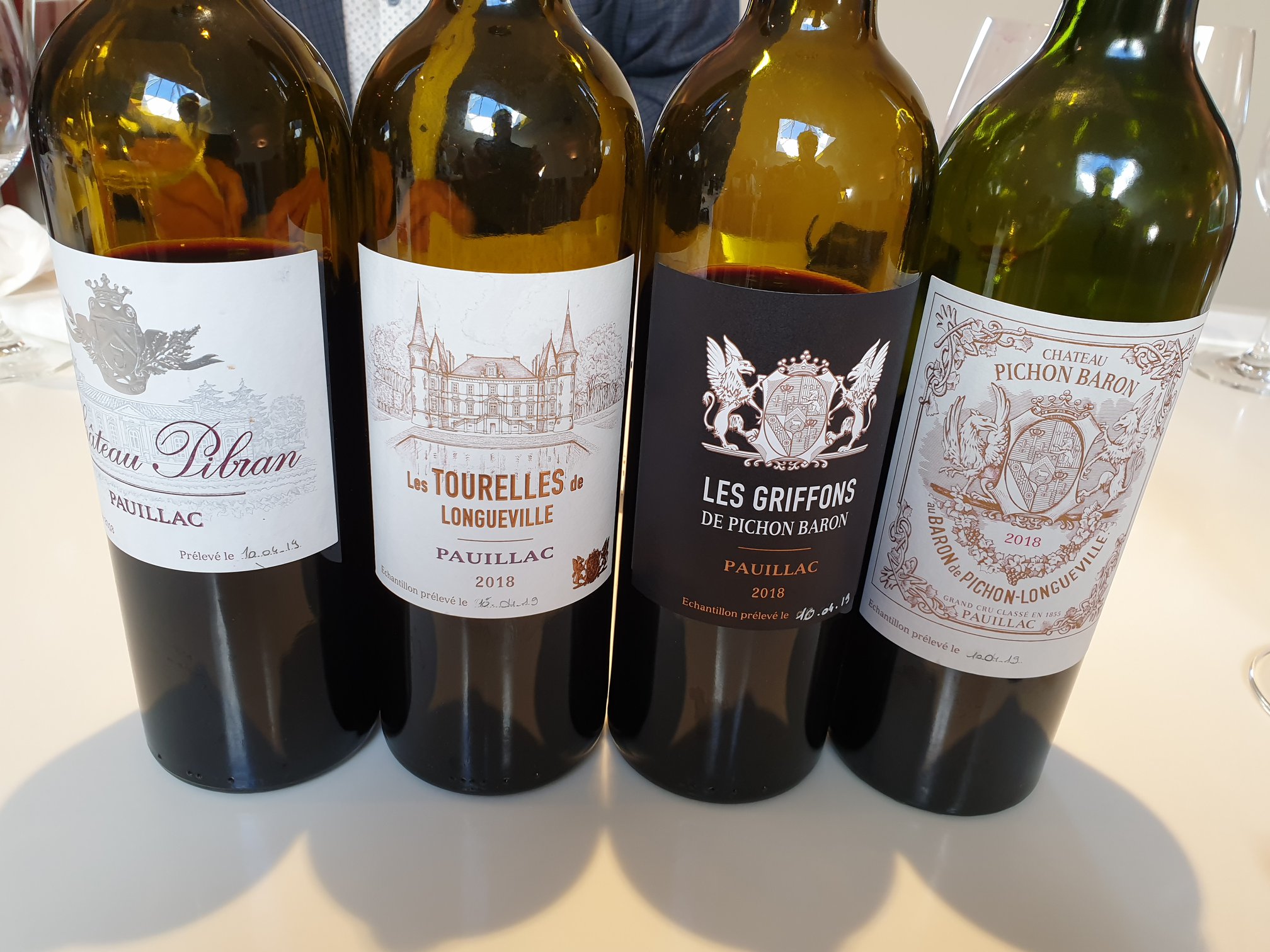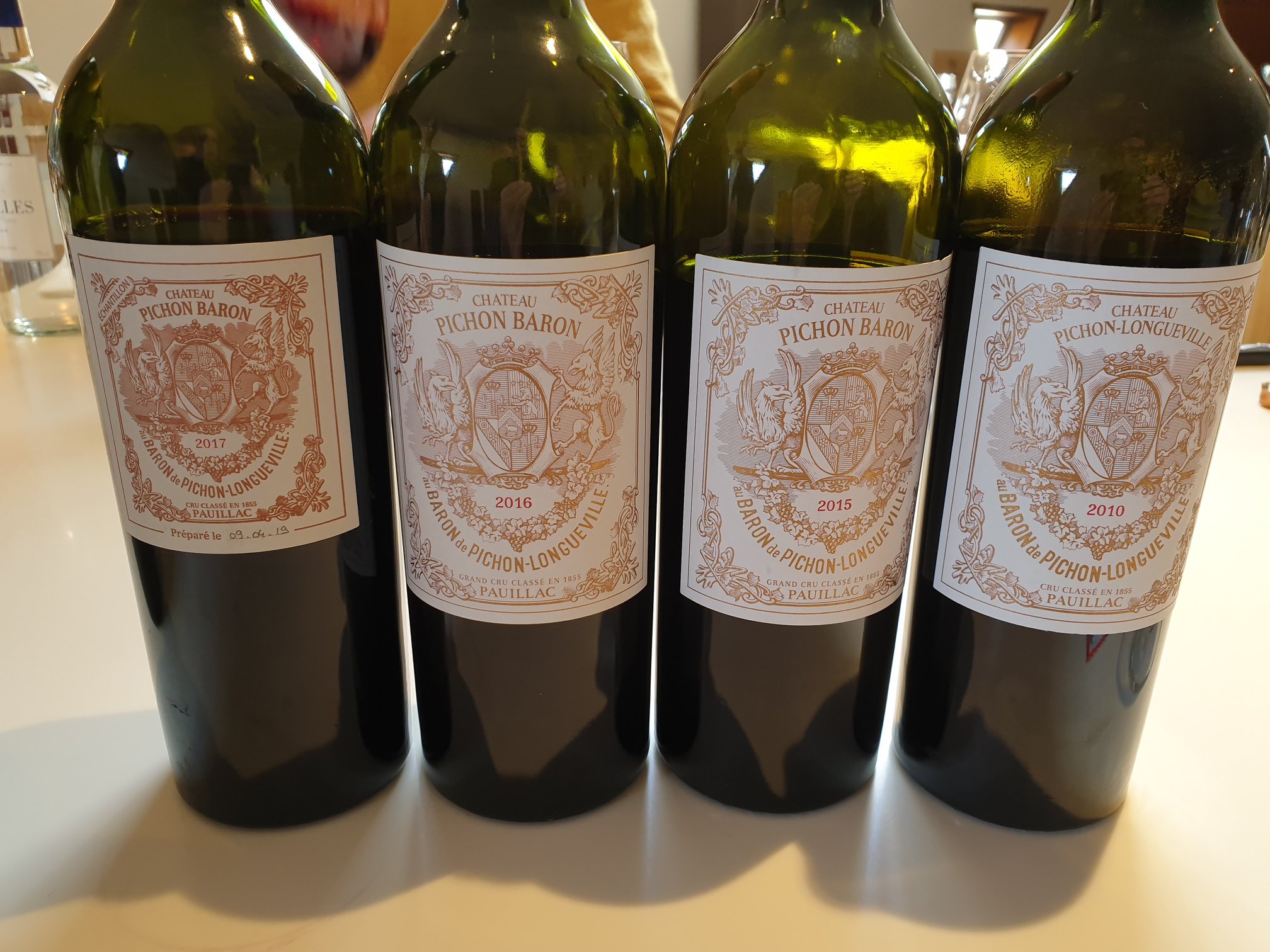 Wine menu for a day in April 2019 at Pichon Baron, left and right!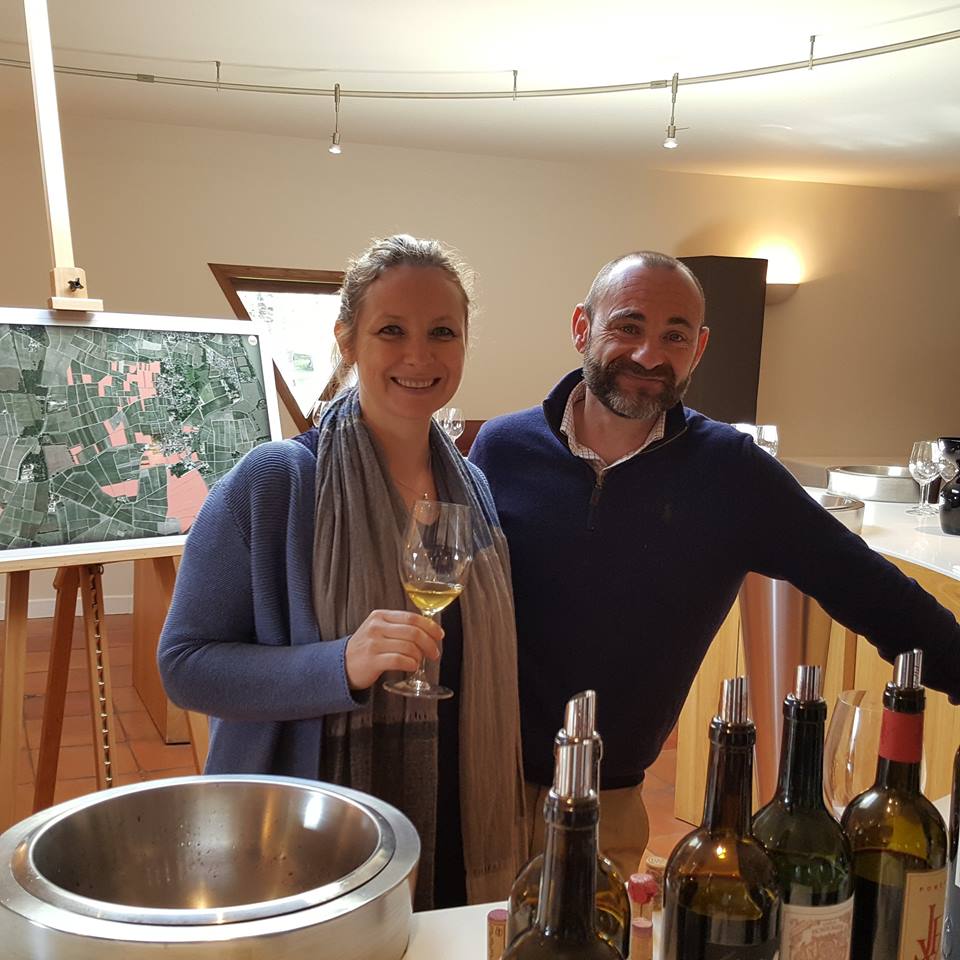 Corine Ilic and Nicolas Santier from Pichon Baron's communication department
-----
2020 Pichon Baron (barrel sample) 98+p
Tasted in May 2021. 76% Cabernet Sauvignon + 24% Merlot. Very intense nose of tobacco and grilled bacon, tight, dense, fat and luscious on the palate with a strong backbone. Tannin seemed to be a bit firmer than compared to vintages 2018 and 2019. Nevertheless, it's a complete wine with great complexity, rich, and excellent length. Stupendous wine.
2019 Pichon Baron 98+p
Tasted twice - last time in November 2021. Consistent notes. 87% Cabernet Sauvignon + 13% Merlot. 87% C. Sauvignon + 13% Merlot. Sheer power and concentration, rows and rows of creamy blackberries and sweet tannin, remarkable complexity and depth, luscious and with many layers. Big meaty finish. Riveting effort.
2018 Pichon Baron 98-99p
Tasted three times - last time in December 2020. Consistent notes. Tight, dense, very powerful with strong backbone, fabulously complex, chewy, rich and with stunning length. Emphatic and stupendous wine! 78% Cabernet Sauvignon + 22% Merlot. In my opinion, the best vintage made during AXA's ownership!
2017 Pichon Baron 96p
Tasted twice - last time in November 2021. Consistent notes. 79% C. Sauvignon + 21% Merlot. Freshness. Tobacco leaves and graphite on the nose. The palate had power and elegance with fine acidity and lovely complexity, fine structure and balance. More accessible than the highly heralded vintages 2019 and 2020.
2016 Pichon Baron 97+p
Tasted in April 2019. Very aromatic and intense on the nose, very powerful yet elegant at the same time, rich, noble and with a meaty finish. Exceptional effort.
2015 Pichon Baron 97p
Tasted in April 2019. More spicy fruit and more "muscles" than 2016, but this wine still had the same power and length. Fabulous stuff.
2014 Pichon Baron 95p
Tasted three times - last time in September 2019. Consistent notes. Classic Bordeaux style with tightness, strong backbone and massive approach. This wine has everything and needs some time to develop.
2010 Pichon Baron 98p
Tasted twice - last time in April 2019. Not consistent notes. Big balls wine with power and concentration at highest gear, dense and tight, and with unlimited longevity. Like many other wines in vintage 2010, I remember that this wine wasn't that stunning and expressive from the barrel in April 2011. After bottling, it's become a different animal that improved a lot and has turned into a true superstar.
2005 Pichon Baron 95+p
Tasted in April 2018. Powerful and tight, dense, with a strong backbone, great depth and excellent complexity. Still in their prime youth. We have to wait at least 10 years more to get a complete insight into this wine's further development.

2004 Pichon Baron 95p
Tasted in April 2018. Similar to 2005, the fruit here isn't as ripe as in 2005, and tannin is not ripe and finely grained. Many years to go with wait for tannin to soften a great deal.
2002 Pichon Baron (barrel sample) 91p
Tasted in September 2003. Well-made wine with lovely complexity, superb structure and delicious fruit.
2001 Pichon Baron 95p
Tasted five times - last time in October 2020. Consistent notes. Perfectly ripe and beautifully aromatic. Chocolate flavours in large quantities, stylish and incredibly tasty. This wine continues to be simply beauty and sheer joy. Barely open when tasted in October 2020, 11 years after the last time I tasted it. Closed and needing 10-20 years to be accessible.
1996 Pichon Baron 95p
Tasted in April 2007. Aromatic and powerful on the nose, deep on the palate with strong structure. Very concentrated and long on the aftertaste. Superb wine.
1926 Pichon Baron 92p
Tasted in April 2018. Fishy (oyster) nose but tasted well alive. Better on the palate, clean, pleasing, delicate palate and nice fruity finish.