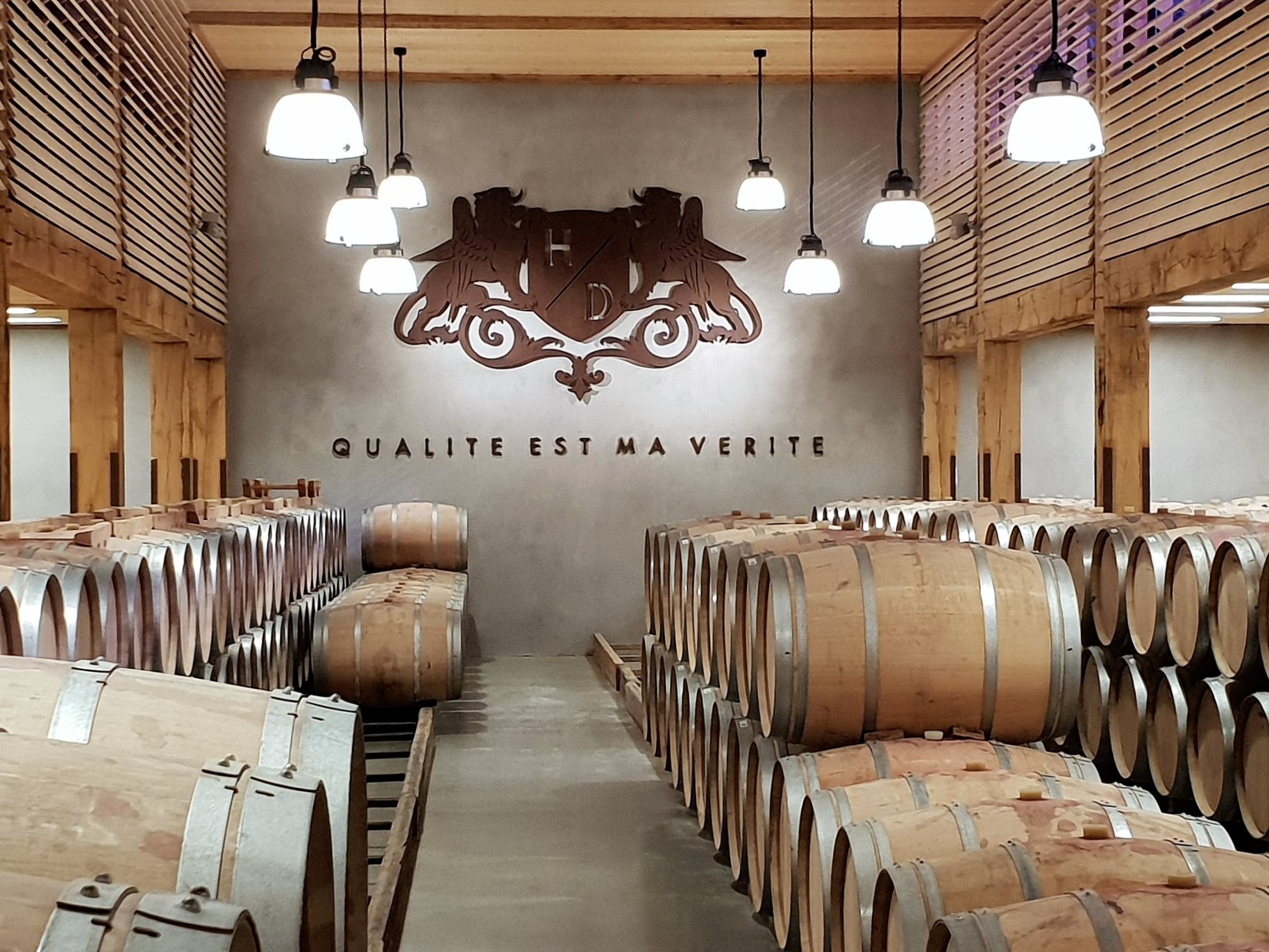 In the cellar of Haut Marbuzet with the famous slogan of Henri Duboscq printed on the wall - "Quality is true me"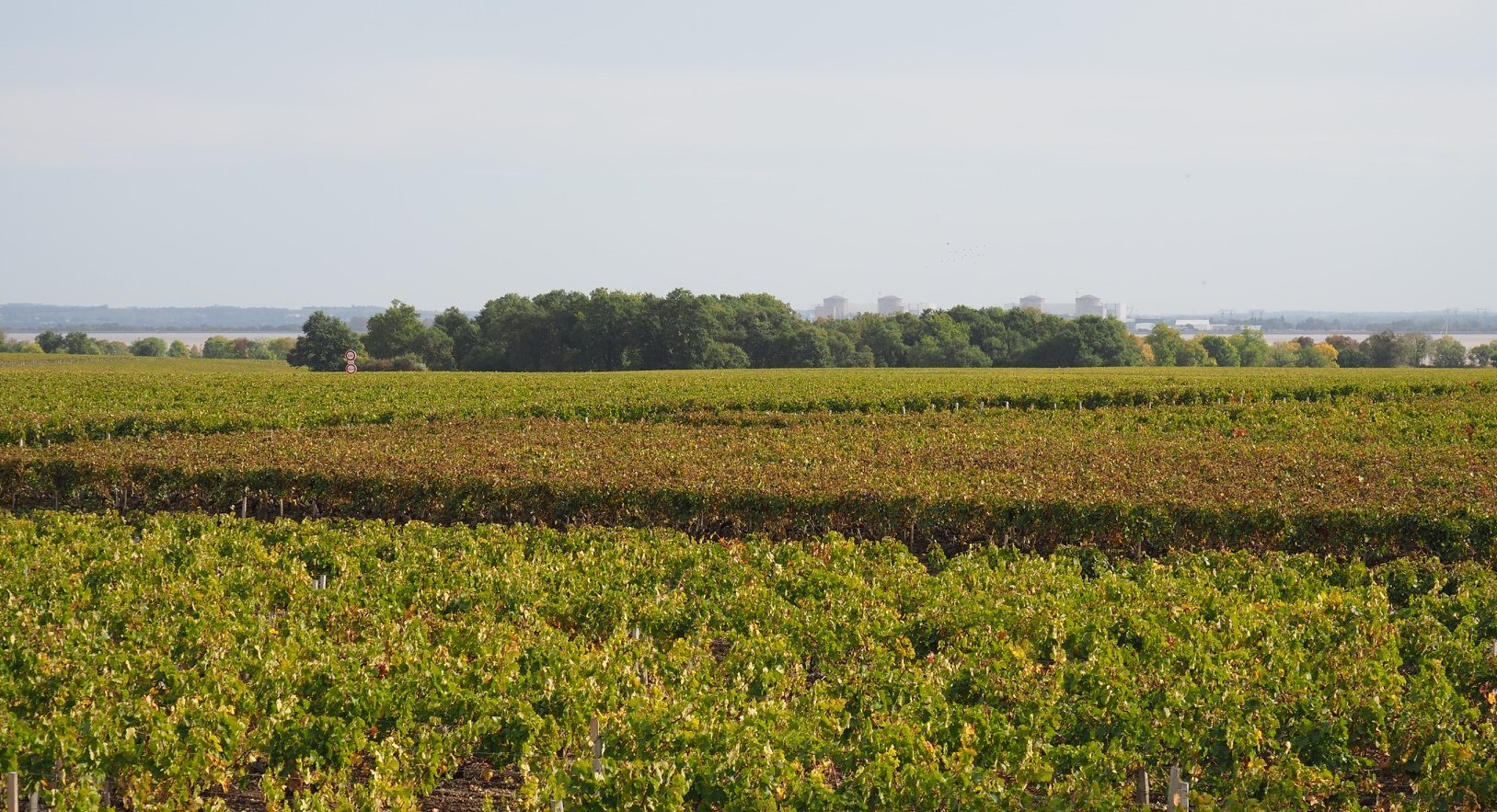 Haut Marbuzet is enjoying an extremely favourable location close to Gironde river
This property can be traced to 1815, when family Mac Carthy, Jacobins from Irland were the owners. Because of problems to pass the vineyard to next generation, they were forced to sell in pieces in 1854. In this way Poissonnier family got 9 ha in their hands. This vineyard plot was later named Haut Marbuzet. Approximately 100 year later, in 1952, Herve Duboscq purchased several vineyard plots, in all 7 ha. His dream was to recreate the original vineyard from Mac Carthy's time of ownership. 10 years later, his son, Henri Duboscq, joined him and in 2005 the vineyard has reached whole 66 ha through the purchase of additional plots from neighbouring vineyards over the years. Today (2019) the vineyard area is 75 ha.
Haut Marbuzet is situated on the same hills as Montrose and Meyney, overlooking Gironde River. The vineyard is planted with 50% Cabernet Sauvignon, 40% Merlot, 5% Cabernet Franc and 5% Petit Verdot. The soil here is typical of the commune - gravel of the bed of clay and limestones. Vines are on average 30 years old. The wine matures in 100% new oak for 15 months.
I remember visiting this property regularly in the 1990s, when they had a young English woman Rachel, pretty and charismatic daughter of some high profile wine-merchant in London, doing her wine training and customer care at Haut Marbuzet. You could say that she and excellent wine quality attracted quite many people to visit Haut Marbuzet!
Henri Duboscq, the owner, has always compared his wines to beautiful women like f.i. Sophia Loren, Marylin Monroe and Julia Roberts. In his words, his wine should be captivating and sexy, have flesh and be packed in silk. A wine of this quality can't be resisted, can it?!
I remember him also saying a famous quote with a twinkle in his eyes - "Haut Marbuzet is Henri Duboscq in the first two years (smiling and charming), then the next 15 years it's Saint-Estephe with no rough edges!"
Not surprisingly, the style here is catchy, attractive and fruity wines with great deal of elegance and finesse, intensity and length. Captivating and sensual wines. Not so concentrated and firm as Meyney and Phelan Segur, but more delicate and elegant.
Haut Marbuzet is a great qpr for money and its quality equals several classified Crus'.
-----
2018 HAUT MARBUZET (barrel sample) 93-94p
Tasted in April 2019. 13.5% alcohol, 50% Merlot, 40% Cabernet Sauvignon, 5% Petit Verdot and 5% Cabernet Franc. Very seductive, sexy, fruity, well-defined wine with a lot of elegance and finesse. Very impressive indeed and for me the best vintage for the property in the last 25 years.
2017 HAUT MARBUZET (barrel sample) 91p
Tasted in October 2018. 48% Cabernet Sauvignon, 40% Merlot, 10% Cabernet Franc and 2% Petit Verdot. Silky texture, velvety fruit and tannin, aromatic, with fine composition and length. Captivating stuff.
2016 HAUT MARBUZET 93p
Tasted in October 2018. 55% Cabernet Sauvignon, 35% Merlot, 5% Cabernet Franc and 5% Petit Verdot. Seamless structure, great intense aroma of perfectly ripe blackberries/black cherries and violets, sophisticated touch and great complexity. Impressive effort.
2015 HAUT MARBUZET 92p
Tasted in October 2018. 50% CS, 40% M, 5% CF and 5% PV. Only 13.5% alcohol here, succulently sweet, well-balanced and with great finesse. Very attractive wine indeed!
2010 HAUT MARBUZET (barrel sample) 91-92p
Tasted in April 2011. Showed brilliantly with aromatic intensity, chocolaty flavours, ripe berries, fine concentration, depth and finish.
1990 HAUT MARBUZET 93p
Tasted many times since release - last time in October 2014. Consistent notes! This wine has been a pure delight from the first time I tasted it. 24 years after its birth it still catches attention. Delicious nose of sweet blackcurrants, very attractive and captivating on the nose and palate, exquisite balance, velvety texture and firm fruity finish. On its apogee now but will easily keep on like that until 2024.
1989 HAUT MARBUZET 90p
Tasted in June 1990. Dark red, exotic on the nose, deep and intense, catchy fruit sweetness, tasty with exotic fruit, long silky finish. Entertaining wine for sure!
1985 HAUT MARBUZET 92p
Tasted in June 1990. Rich and exotic, elegant with finesse. Superb balance, catchy sweetness. A true heartbreaker wine!
1982 HAUT MARBUZET 90p
Tasted in June 1990. Very attractive and catchy wine which immediately draws your attention with perfectly ripe fruit, striking sweetness and silky texture. Sexy wine by all means!