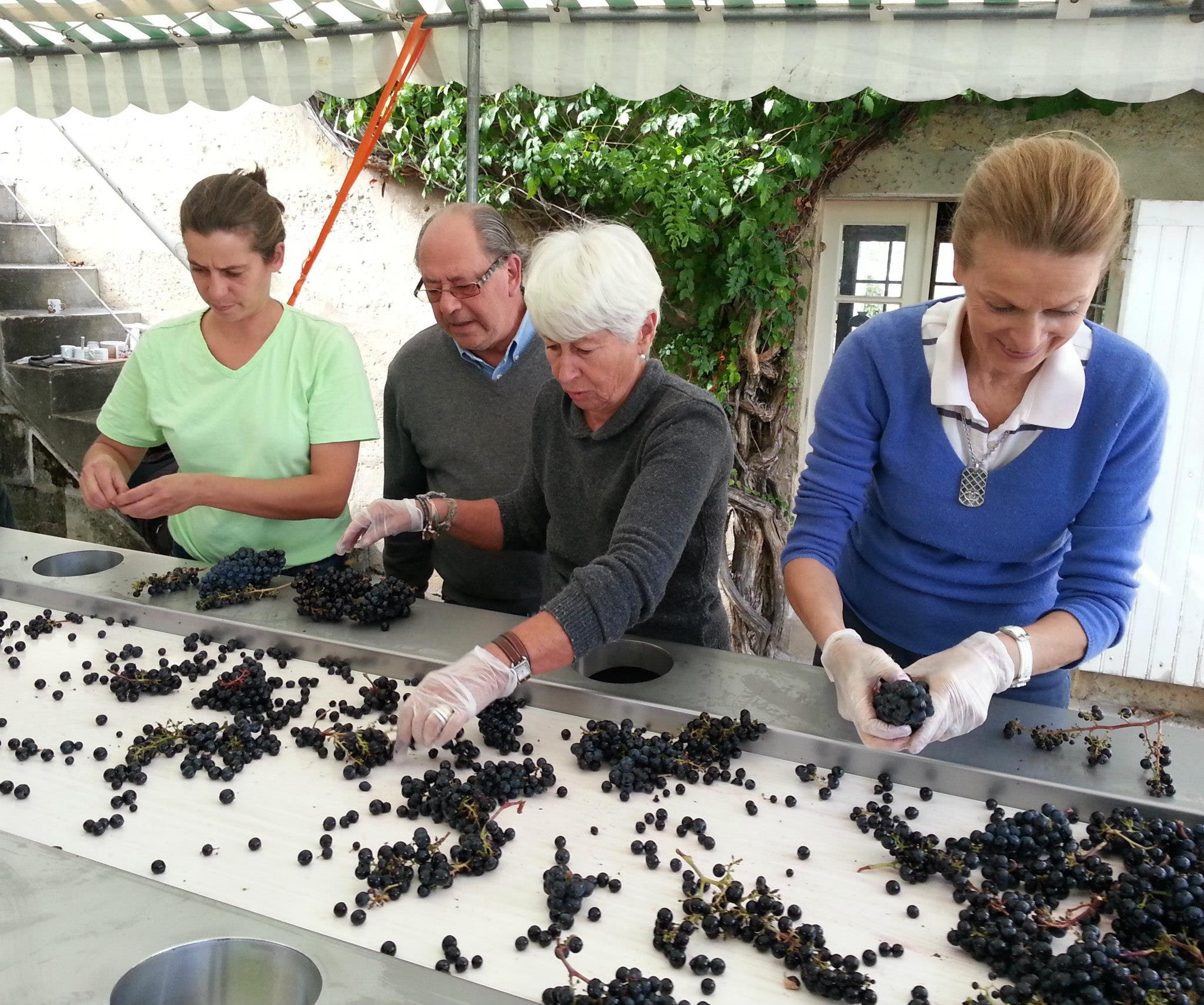 Sorting table - Bourgneuf on the 1st October 2012 - Merlot grapes from parcel near Trotanoy. From left to right - Frederique Vayron, Xavier Vayron, a worker from sorting staff and Dominique Vayron.
Bourgneuf is situated just behind famous Trotanoy. It's been run by Dominique and Xavier Vayron for many years. In 2008 they were joined by their daughter, Frederique, who stepped in as winemaker. Until 2009 vintage, Bourgneuf was traditionally made Pomerol with a lot of tannins and backward appearance. Frederique's main aim was to give Bourgneuf more roundness, more softness and obtain more ripeness and sweetness in grapes by harvesting late, doing more selection and performing gentle vinification. She also wanted the wine to be more precise and focused. It's truly succeded!
In 2008 vintage, it was obvious to taste her influence in vinification (she made this vintage together with her father), and she's succeeded greatly with it in vintages 2009, 2010, 2011, 2012, 2014, 2015 and 2016. Beginning from 2009 vintage, the label on the bottle only displays Bourgneuf. Until 2009 this property carried the name Bourgneuf Vayron.
In March 2012, Vayron family arranged on my kind request a very interesting tasting of 15 vintages - 1985-1989-1990 (magnum)-1995-1999-2000-2001-2003-2005-2006-2007-2008-2009-2010-2011. It was a great opportunity for me to experience several surprises, diversity of styles and influence of young winemaker's generation on making wine. It was really great to see that Bourgneuf still maintains the traditional Pomerol style and doesn't fall down in the trap of modern vinification gimmicks.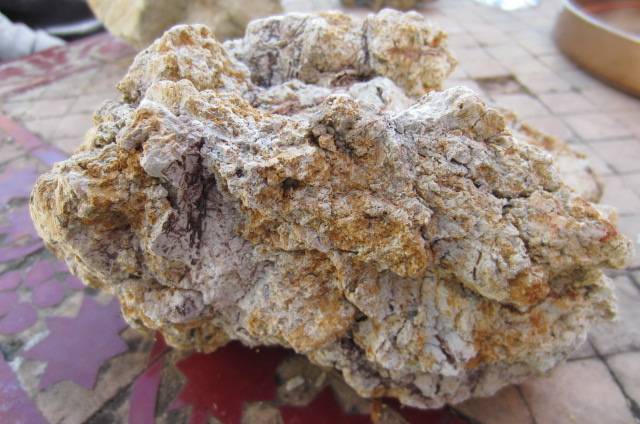 Crasse de fer from the soil of Bourgneuf. It's iron dirt or stoned firm yellow clay, containing iron oxide (brown spots).This is the famous subsoil of Pomerol!
-----
2018 BOURGNEUF (barrel sample) 95+p
Tasted twice - last time in October 2019. Consistent notes. Rather elegant than powerful wine with creamy fruit, finesse, chocolate flavours, velvety, complex and with a fat fruity finish. Splendid effort. This was in April 2019. Six months later, it put on weight and tasted more concentrated, more complex and with a lengthy finish.
2017 BOURGNEUF 93+p
Tasted three times - last time in October 2019. Consistent notes. This property produced a really seductive wine with fine elegance, charm, silky fruit and tannin and fine fruity finish. Delicate, stylish and with much finesse.
2016 BOURGNEUF 95p
Tasted five times - last time in October 2019. Consistent notes. Elegant, distinguished, precise and focused, with silky fruit and tannin. Great complexity and persistently fruity finish. Aristocratic. Heartbreaker wine. Awesome vintage for the property.
2015 BOURGNEUF 94-95p
Tasted seven times - last time in April 2019. Consistent notes. Very pretty and aromatic wine. Great complexity and smooth fruity finish. had a lot of violets, blackberries, typicity of Pomerol, very dense, tight, strong backbone and long finish. Great effort for the vintage and I'm sure of excellent evolution of this wine in coming years. 34 hl/ha.
2014 BOURGNEUF 93-94p
Tasted six times - last time in October 2018. Consistent notes. 85% Merlot + 15% Cabernet Franc. Very aromatic with seductive black fruit and violets and splendid length. Quite a significant scent of "crasse de fer" on the palate. Really splendid for the vintage and clear proof of winemaker Frederique Vayron's fine skills. Displays fine acidity and classic cool Pomerol style with splendid structure and depth. Firm finish. Has many years to go.
2013 BOURGNEUF 87p
Tasted three times - last time in April 2018. Consistent notes. Mineral, fine acidity, black and red fruit, fresh and lively, precise winemaking. Lighter than 2012 and a bit short on the palate. After bottling, there's little to be excited about. Light, charming, round and short on the palate. Quick consumption recommended.
2012 BOURGNEUF 92p
Tasted six times - last time in April 2018. Consistent notes. This wine displayed elegant style, seductive, aromatic nose of blueberries, silky fruit, velvety tannin and smooth finish. Silky tannin. This wine has clearly benefitted from ageing in barrel, putting on weight and concentration. Seductive and aromatic, fine ripeness, silky fruit and tannin, fruity finish. A fine effort for the vintage.
2011 BOURGNEUF 93p
Tasted seven times - last time in October 2015. Consistent notes. From barrel, it gave an impression of extremely well-made wine - very, very captivating aroma of crushed black cherries mixed with cocoa and grated chocolate, strong and refined on the palate, finesse, great length and formidable finish. Among top wines in Pomerol in this vintage! Lost a bit of baby fat after bottling, but I don't complain - this wine is just excellent for the vintage. In March 2014 it was closed, tannic and not giving much from itself. Still, it had enough potential. Woke up again in March 2015 - splendid wine. Also splendid in October 2015.
2010 BOURGNEUF 95+p
Tasted nine times - last time in October 2017. Consistent notes. Already from the barrel, it performed fabulously. Chocolate and truffles on the nose, powerful structure, great depth, richness, strong backbone, packed with black cherries and fat tannin on the palate. Extremely well-made wine. While tasted in March 2012, also from the barrel, it didn't lose anything of its spectacular performance from one year before. In September 2012, I tasted it from the bottle and it was a stunning experience. This wine showed even more intensity and concentration than 6 months before. Extremely impressive and exciting wine! In April 2013, this wine refused to "speak" - it was totally closed. In September 2013, it opened floodgates again. A thick aroma of black fruit on the nose, alcohol evident on the nose but not abusive or interfering, well-crafted, strong structure, beautiful balance, powerful tannin which needs to age. What a beautiful wine! Still beautiful in October 2015! In April 2016, this wine was fat, very concentrated, with great depth and structure, great complexity too. A lot of terroir on the palate here, lot of nuances and persistent finish. This is imho undoubtedly the best vintage ever at Bourgneuf, since present winemaker, Frederique Vayron, took over from his father in 2008. In October 2017 this wine was truly a monster, like an iron fist in the velvet glove. Frederique revealed in October 2017 during my visit at the property, that the yield in 2010 was as low as 22 hl/ha. This explains the fatness and impressive concentration, intensity and length of Bourgneuf!
2009 BOURGNEUF 94+p
Tasted seven times - last time in September 2013. Consistent notes. This wine had some great intensity of sweet black cherries on the nose, chocolate flavour, fat ripe tannin, great balance, seamless structure, depth and long, intense and fruity finish. Really great effort for the vintage and with Frederique's clear stamp on it. Tasted a bit closed in April 2013, but its great potential is imho indisputable. This wine too opened floodgates again when tasted in September 2013 - was almost a copy of 2010 with same quality and style. Alcohol wasn't that evident but tannin seemed at the time of tasting a tad less ripe than in 2010. Great future here.
2008 BOURGNEUF VAYRON 92p
Tasted six times - last time in October 2017. Consistent notes. This wine is the first vintage made by Frederique Vayron with the help of her father. It appeared tight and backward with splendid concentration, well-balanced, mineral, long and nuanced. Cool style.Splendid effort for the vintage.
2007 BOURGNEUF VAYRON 87p
Tasted twice - last time in March 2012. Consistent notes. This wine had a hint of cocoa powder, truffles, was light and with not exactly ripe fruit, round and with good grip. Pleasant to drink already.
2006 BOURGNEUF VAYRON 90p
Tasted twice - last time in April 2013. Consistent notes. Backward, less concentrated than 2005 and fruit not that ripe like in 2005.
2005 BOURGNEUF VAYRON 94p
Tasted four times - last time in October 2015. Consistent notes. Made by Frederique's father and reminds 2000 vintage in quality. Tight and muscular, great ripeness of fruit, great depth, sweetness and balance. 100% Pomerol wine here for long, long keeping. Kudos to Xavier Vayron for making this beautiful wine!
2003 BOURGNEUF VAYRON 93p
Tasted in March 2012. This wine was a really great surprise and confirmed, that in 2003 vintage where many properties in Pomerol made uninspired wines and some even hadn't found their wines worthy to put a label on, you still could be able to find some spectacular wines. And this with spectacular was really the case with 2003 Bourgneuf Vayron. Very much truffle aroma on the nose, captivating and delicate, supple and velvety on the palate with lovely elegance, complexity and caressing aftertaste. No sign whatsoever of excessive hot fruit and liquorice flavours so typical for the vintage.
2001 BOURGNEUF VAYRON 94p
Tasted twice - last time in September 2012. Consistent notes As impressive as 2000 vintage! Same traditional but classic style with strong structure and firm tannins. Great future expected as well.
2000 BOURGNEUF VAYRON 93+p
Tasted four times - last time in March 2014. Consistent notes. Excellent wine in all aspects. Powerful, meaty, concentrated and with a lot of perfectly ripe blackberries, blueberries and cherries. You also taste the subsoil here - "crasse de fer" (iron dirt). Great future. I remember being at Bourgneuf in September 2000 and looking at Xavier Vayron who held measure cylinder with black coloured must and looked like saying - "I've something really excellent and special here!"
1999 BOURGNEUF VAYRON 90p
Tasted in March 2012. This wine displayed violets was metallic with quite ripe fruit, light, round with no edgy corners. Very drinkable now.
1998 BOURGNEUF VAYRON 91+p
Tasted in April 2010. Real "vin de garde". Still tight and closed after almost 12 years. Hasn't opened the gates yet. I believe in 4-5 years time it'll become "available".
1996 BOURGNEUF VAYRON 91p
Tasted in February 2010. As backward as 1998. Have patience.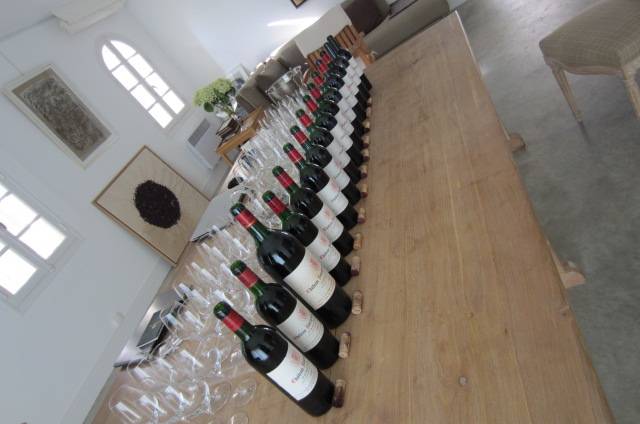 All bottles for tasting lined up in March 2012
1995 BOURGNEUF VAYRON 93p
Tasted twice - last time in December 2012. Consistent notes. This wine had a splendid and very intense nose of truffles and black cherries, fine acidity and tannins, finished well with a meaty and smooth aftertaste. Long-lived wine. A fine effort here for the vintage.
1990 BOURGNEUF VAYRON 92+p
Tasted in March 2012 from magnum. Similar to 1989 with more concentration and length. Splendid wine indeed.
1989 BOURGNEUF VAYRON 92p
Tasted in March 2012. It showed elegance, truffles, traditional style, well-balanced, fine length and smooth caressing aftertaste. A tasty and impressive wine.
1985 BOURGNEUF VAYRON 95p
Tasted three times - last time in March 2012. Consistent notes. Low yield - only 32 hl/ha. A perfect example of mature Pomerol wine. Truffles, perfect maturity, incredibly elegant, sophisticated and with a lot of finesse. A beautifully balanced wine, which can keep for 10 more years. Awesome treat. In March 2012, during vertical of 15 vintages of Bourgneuf, the first bottle tasted considerably older than previous ones, but the second bottle was like I remembered it. These two bottles tasted in March 2012 didn't come from Bourgneuf cellar - they were bought from other sources. Rating is based on the best bottle.
There's a funny story about 1985 Bourgneuf Vayron - Jean Claude Berrouet (J-P.Moueix' winemaker - now retired) presented this wine blind for students at wine university in Bordeaux and majority of them wrote in their comments, how well fruit was integrated with oak in this wine. Their faces turned in blushing red when Jean-Claude Berrouet told them that this wine never had seen oak during vinification...!
1975 BOURGNEUF VAYRON 92p
Tasted twice - last time in September 2012. Consistent notes. 10 years older than the excellent 1985, but you really can't complain about this wine. Perfectly mature bottle. Lighter and with less intensity than 1985, but delicate, very tasty, splendid balance, splendid structure and caressing finish with fine acidity which keeps this wine together. 37 years old wine at its very peak and just delicious. This bottle was purchased from a fine source in Copenhagen in the middle of September 2012 and tasted one week later. I retasted this wine at the property (bottle coming from Bourgneuf's cellar) also one week later and it was a bit older on nose and palate than "my" bottle.