Magnificently looking chateau!
You will find this very imposing property on the left, app. half a kilometre from the round-about just when you arrive at Saint Emilion village from Libourne.
Soutard had already been mentioned in the 16th century, and the most crucial thing was ownership by the de Ligneris family from 1919 to 2006. In 2006, the biggest insurance company in France, AG2R, already the owner of another GGC in Saint Emilion, Larmande, acquired Soutard. In 2009 they bought neighbouring Chateau Cadet Piola, and in 2012, both merged.
It's a 30 ha large property with a vineyard in a single block, and 20 ha of these provide wine production. The vineyard is planted with 63% Merlot, 28% Cabernet Franc, 7% Cabernet Sauvignon and 2% Malbec Vines are 30 years old on average. Soutard has an excellent soil typical for Saint-Emilion - limestones and clay, where most vines grow.
For many years this property was rarely consistent with their wines. Still, it changed significantly starting with the 2012 vintage, when cellarmaster since 2006, Veronique Corporandy, was handed total responsibility for making wine. She seems to have added stability, focus and precision to Soutard, and wine-lovers can't complain about vintages 2012-2013-2014-2015, 2016 and 2017! The prices are very reasonable. She also makes wine at sister chateau, Larmande, Grand Faurie la Rose and recently acquired Petit Faurie de Soutard.
Soutard is open all week for tourism and visits. However, people interested should contact the property beforehand, and there's a wine shop too. Website - www. soutard.com
-----
2021 SOUTARD (barrel sample) 92-93p
Tasted in April 2022. Flowery with cherries, fleshy on the palate, vibrant, grained tannin, well-defined, complex, and delicious cherry finish. Splendid effort.
2020 SOUTARD (barrel sample) 94-95p
Tasted in November 2021. Violets and crushed dark berries on the nose, vibrant, finesse and elegant, complex, stylish, and with a lingering finish. Superb effort for the vintage.
2019 SOUTARD 94+p
Tasted in November 2021. It was fragrant on the nose with black cherries and violets, succulent and complex, luscious fruit and silky tannins, splendid structure, length, and lush lingering aftertaste. Terrific effort.
2018 SOUTARD 95p
Tasted three times - last time in November 2021. Consistent notes. 63% Merlot, 28% C. Franc, 7% C. Sauvignon and 2% Malbec. Very sleek and seductive, with lots of blackberries and blueberries. Velvety texture, silky fruit, and tannin, very complex with finesse. Long fruity finish. Excellent wine with flair.
2017 SOUTARD (barrel sample) 93p
Tasted twice in April 2018. Tasted both at UGCB tasting in Bordeaux and the chateau. Same impression. Exquisite wine with deliciously tasty fruit, silky texture, finesse, superb balance, and complexity. Persistent fruity finish. A really fine effort for the vintage.
2016 SOUTARD 94p
Tasted twice - last time in November 2021. Consistent notes. Polished wine, noble, discrete acidity, Perfectly ripe fruit and silky tannin, great complexity and distinction, precise and focused wine.
2015 SOUTARD 93-94p
Tasted in April 2018. Almost as delicate as 2016, with tannin slightly less fat. Great complexity, structure, and length here.
2014 SOUTARD 93p
Tasted in April 2018. Classic Saint-Emilion wine with superb tannin, delicate complexity, structure, and length. This wine has a splendid future coming.
2013 SOUTARD 90p
Tasted in April 2018. A fine example of the skills of a new winemaker at Soutard. She made a fruity, round, tasty, approachable, and balanced wine in this challenging vintage.
2012 SOUTARD 92p
Tasted in April 2018. Veronique Corporandy made the first vintage 100% on her own, and what a significant jump in quality for Soutard! Natural candy wine, captivating, tasty, well-constructed, silky texture, deliciously fruity with a gentle kick of tannin. Heartbreaker wine.
2011 SOUTARD 88p
Tasted in April 2018. More restrained than younger vintages. Fruit and tannin are not fully ripe. Soft and round but lacks more freshness.
2010 SOUTARD 88p
Tasted in April 2018. The same story as in 2011. Some sloppy work from the previous winemaker in vintage was effortless to make.
1985 SOUTARD 90p
Tasted in April 2018. Ripe fruit and tannin tasted well for 33 years old wine. Nice balance and a deliciously fruity finish. Still alive.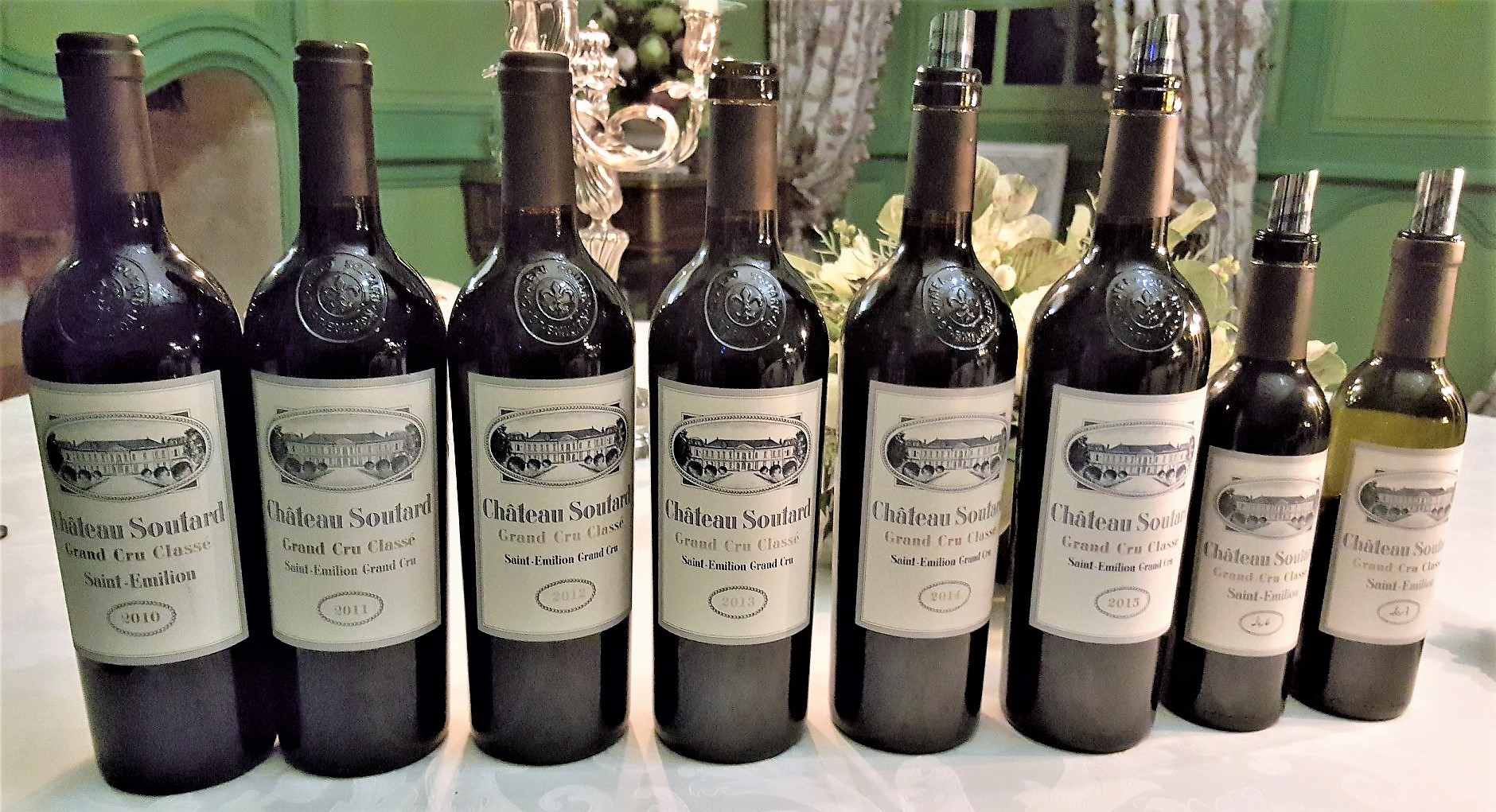 Vertical of Soutard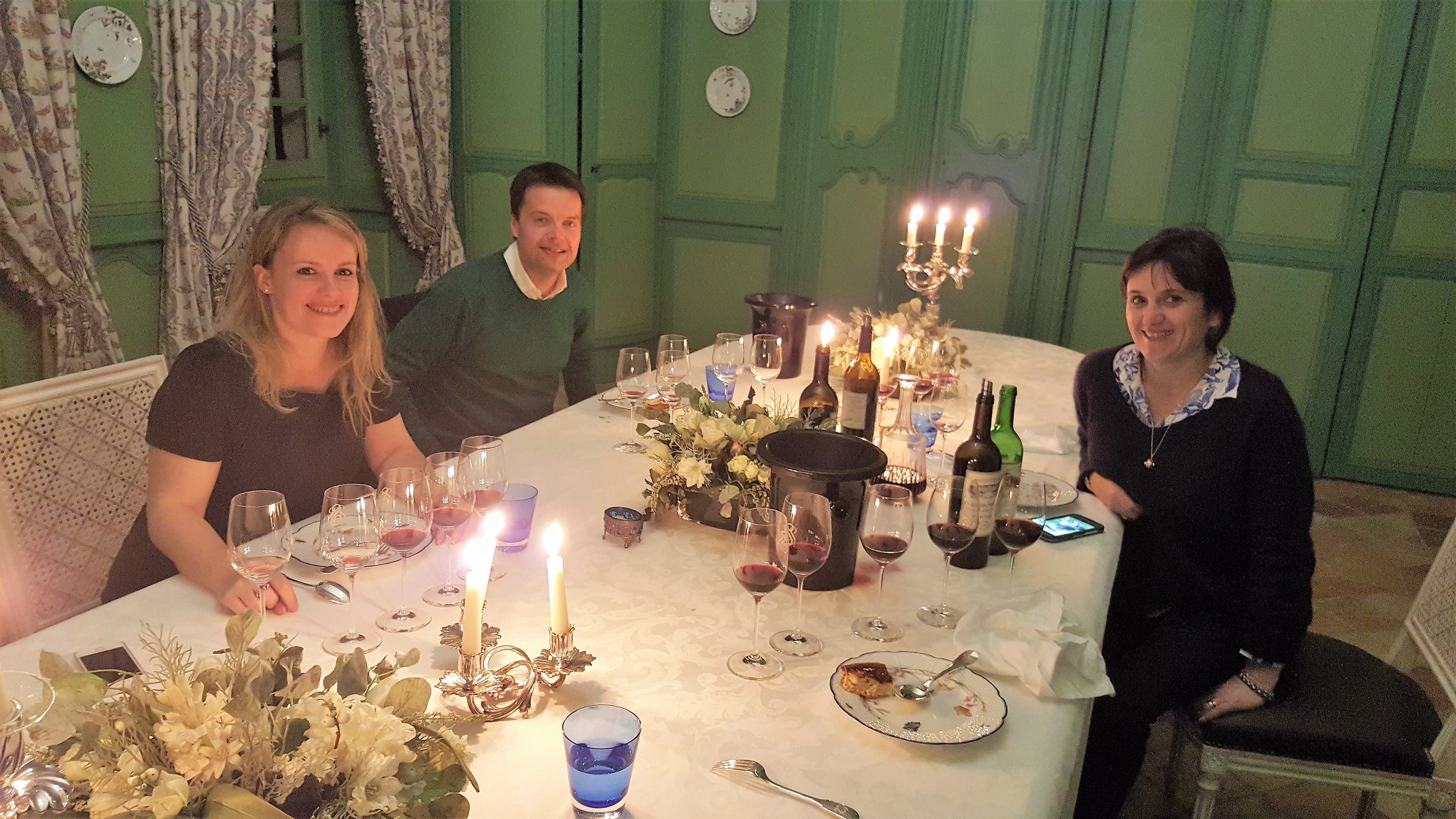 Great and happy times at Soutard! From the right - Veronique Corporandy, the winemaker, Niko Dukan, who's a Croatian wine journalist and Adeline Tanguy, who's responsible for commercialization and PR