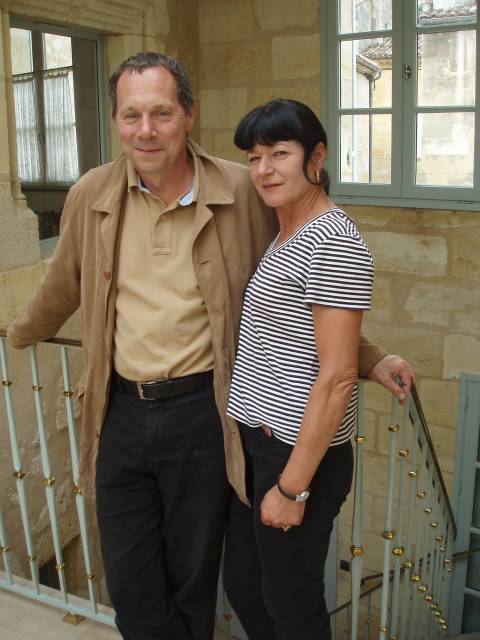 Jean-Luc Thunevin and Murielle Andraud
Chateau Valandraud was created in 1989, when Murielle and Jean-Luc Thunevin bought a small parcel of vines, 0.6 ha, in the outskirts of Saint-Emilion up the hill near Pavie Macquin. After several purchases since then, they have today app.10 ha big vineyard with parcels placed in various areas of St.Emilion appellation. Before they started as vignerons, they owned three restaurants in Saint-Émilion and have created their wine merchant business, which still is very successful. Both didn't have any wine courses and when they started to make wine, it was Alain Vauthier from Chateau Ausone, who helped them with some advice and borrowed them wine equipment. However, this 0.6 ha parcel hasn't had the best soil around.
I'm honest and have to admit, that I wasn't impressed at all with Jean Luc's Valandraud when I tasted it for the first time in Spring 1998. I think it was vintages 1995 and 1996. At that time, everybody spoke of garage wines, the old guard of vignerons on the Left and Right Bank was left sleepless, looking at great reviews of Valandraud by Robert Parker. Jean-Luc Thunevin was called names like "black sheep" or "Bad Boy", for making technical wines without the character of the soil. This was at least what many wine-journalists including myself thought at that time. Looking back I confess, that I was too quick in judgement and forgot one important thing - you don't build Rome in one day, everything takes time and you can't put your personal style on the wine being winemaker for short time.
The funny thing was that several old guard vignerons and younger ones criticised Jean-Luc in the '90s for bringing in new things in winemaking, and I remember young vigneron from the famous property in Saint-Émilion saying to me during the visit, "I'll always make wine in the traditional way, no new gimmicks and no copy of Valandraud style of winemaking, blah, blah...", during my visit in 1996, and then reverting completely half a year later to modern style. I won't mention his name here.
Then Valandraud and Jean-Luc wasn't my main priority to visit, due to f.i. obligation to write certain articles for wine-magazines and research on other properties, mainly in Pomerol.
First, in 2007, I decided to revisit wines of Jean-Luc and tasted 2006-2005-2004 vintages of Valandraud. I was not only impressed by the stunning quality of these wines, but also of how much style and character of terroir these wines possessed. And this stunning quality has continued since then, which I've witnessed during my visits (twice a year) since 2007. I'm very happy to have rediscovered Valandraud.
Jean-Luc Thunevin is a great wine personality with an awesome sense of humour, blisteringly fast remarks and witty tongue. He passed his winemaking duties to his wife Murielle in 2007, choosing instead promotion of his wines around the world. Murielle's first vintage is 2008 and she told me during the visit in April 2011, that Valandraud already was a complete wine thanks to Jean-Luc's winemaking skills before she stepped in, but she wanted to add more softness and richness to it, in which she's succeeded extremely well. She already participated a lot during 2007 harvest, when she tried to learn as much as possible, working with her husband Jean-Luc, before taking over 100% for 2008 harvest. She wants to harvest late when grapes have reached full phenolic ripeness. Woman touch - just try to taste f.i. vintages 2010-2009-2008!
She also oversees the harvest and vinification of white wine. "White" vineyard is situated after the cellars of Chateau Fleur Cardinale and she started with white wine in 2003. M. Fakonellis (associated with Michel Rolland), who was consulting famous domains in Burgundy, is consulting here, and vinification is made after Burgundy method (batonnage de lie, etc).
Murielle is also a fabulous chef de cuisine and imho could work at any famous restaurant in the world. Everybody who's had the chance to participate in lunch/dinner at Murielle and Jean-Luc's home can confirm that.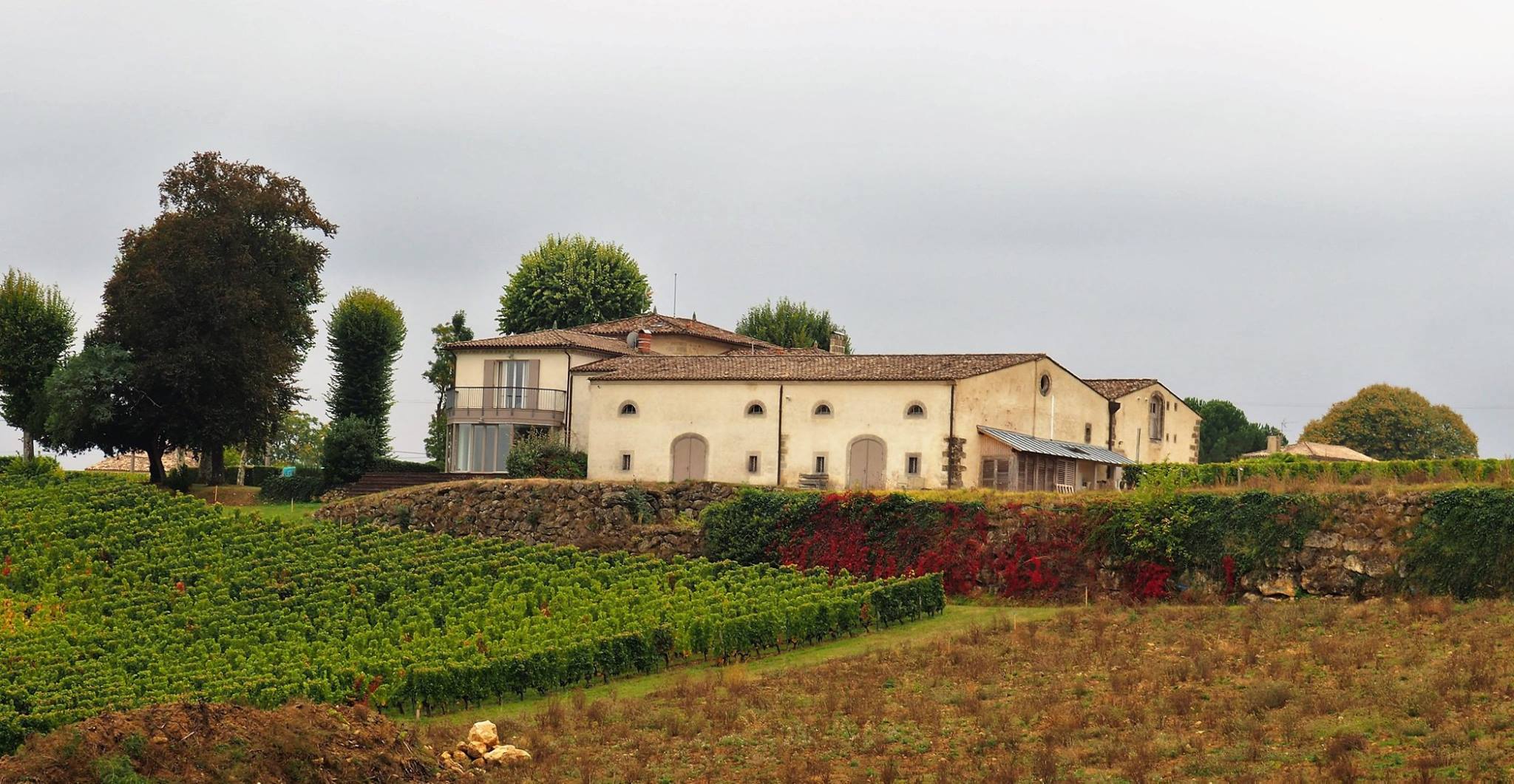 Chateau Valandraud as seen from vineyards of Fleur Cardinale (October 2018)
-----
In August 2019, courtesy of Pekka Nuikki (founder of Fine Wine magazine and tastingbook.com), it was possible to taste all the vintages of Valandraud produced and bottled, meaning 1991 to 2016. Pekka Nuikki wanted to celebrate his 30th anniversary of love with wine and it was very appropriate that time to do it with Valandraud's vertical as he had all bottles. Jean-Luc and Murielle did also start their wine business in 1989. The tasting took place in his summer house near Helsinki, Finland. A very interesting tasting indeed. Different styles were shown because of different parcels going into Grand Vin in some vintages (very informative reading about this in Neal Martin's article about vertical of Valandraud in December 2017) and not entirely sufficient wine equipment in the beginning. NB! All wines were tasted with the label and the majority of participants agreed not to rate 2016 as we considered it to be was a faulty bottle.
-----
2019 (barrel sample) 96-97p
Tasted in June 2020. 90% Merlot + 7% Cabernet Franc + 3% Cabernet Sauvignon. Not a powerhouse in 2019. Still, a wine with pure elegance and finesse, It's also refined and sophisticated with a velvety texture. Remarkable complexity and long lingering finish. Sheer class and refined style we have here!
2018 (barrel sample) 98p
Tasted twice - last time in October 2019. Consistent notes. It showed excellent purity, precision and focus, great complexity and finesse, sophisticated touch and great length. Highly impressive. Best ever vintage for Valandraud.
2017 95p
Tasted twice last time in October 2019. Consistent notes. Now in the bottle and confirms the initial impression from tasting barrel sample. Powerful, polished and juicy with silky fruit and tannin. Fine complexity. Splendid for the vintage.
2016 97p
Tasted four times - last time in October 2019. Consistent notes. It was a very potent wine, excellent complexity, structure and depth, rich and with a sophisticated touch. A winner. Same impression on all occasions. Also tasted in Helsinki, Finland, in August 2019 during Valandrauds vertical, but the bottle was off.
2015 96p
Tasted four times - last time in August 2019. Consistent notes. Powerful and intense, excellent structure, length and finish. Great class. Chewy and fat texture. A winner! This was in April 2018. Closed when tasted in August 2019 but displayed enormous potential.
2014 93+p

Tasted four times - last time in August 2019. Consistent notes. Very seductive and intense næse of blackberries, rich and multi-layered, great acidity and length. Very stylish wine for the property in this vintage.
2013 91p
Tasted twice - last time in August 2019. Consistent notes. This wine was well made with splendid complexity, ripe fruit and ripe tannin, silky texture and long smooth finish. On the light side. Very nice for the vintage but will mature quickly.
2012 93+p
Tasted four times - last time in August 2019. Consistent notes. Very ripe fruit, strong and powerful, fresh, big ripe tannin. Sappy and lush. Intelligent winemaking and a big success for the vintage.
2011 94p
Tasted four times - last time in August 2019. Not consistent notes. It offered extremely complex nose of black cherries with great intensity, length, depth and structure on the palate. A very rich and complex wine. This was in March 2015. In August 2019, this wine seemed closed and edgy.
2010 96+p
Tasted six times - last time in August 2019. Consistent notes. This wine had a seamless composition, long, deep, exquisite blend of black cherries and chocolate, sophisticated touch, sweet fat tannins, impeccable balance and long caressing finish. Sublime stuff and maybe the best wine ever made here.
2009 95+p
Tasted four times - last time in September 2012. Consistent notes. This wine had more intense nose than 2010, but less richness. Nothing to complain, however - extremely well-made, fat, rich and sensual wine. Kudos to Murielle Thunevin!
2008 94+p
Tasted five times - last time in August 2019. Consistent notes. Great nose of black cherries (cérise noir) and blackberries, strong backbone, fabulous structure, great concentration and length. A very elegant wine with finesse. The first vintage made entirely by Murielle Thunevin.
2007 92p
Tasted three times - last time in August 2019. Consistent notes. Very aromatic cherry fruit, round, silky fruit, silky tannins and finishing soft and tasty. Very seductive wine with delightful balance.
2006 93p
Tasted four times - last time in August 2019. Consistent notes. Beautifully composed wine, ripe berries, splendid balance, chewy, complex, fine concentration and length. Fabulous effort despite Merlot not really achieving full ripeness. One of the best wines in Saint-Emilion in this vintage, that's for sure.
2005 96p
Tasted five times - last time in August 2019. Consistent notes. Black red. Fabulous intensity on the nose of black cherries, blueberries and blackberries. Great intensity and concentration of sweet, perfectly ripe berries, and impressive fatness and length. This wine is a real treat for wine-lovers. All the five times I've tasted this wine, it was breathtaking and a fantastic tribute to the vintage!
2004 90p
Tasted twice - last time in August 2019. Not consistent notes. Very seductive wine with aromatic cherries and immediate appeal. This was in October 2007. Almost 8 years later, this wine was closed and hadn't revealed much. I'm not sure if it's experiencing bad period or will stay like that for several years.
2003 87p
Tasted in August 2019. Slightly liquorice, rather light, fruity, warm vintage as fruit displays heated flavours I believe this vintage won't make old bones here.
2002 91p
Tasted in August 2019. Fruit drops, nice concentration and intensity, good structure and complexity, very good balance, smooth fruity finish. A fine effort for the vintage.
2001 94p
Tasted in August 2019. I was surprised how well this vintage showed when compared to 2000! Potent with a lot of tasty fruit and ripe tannin, complex and fresh, fine complexity and length. Smooth and fruity finish. A fabulous effort, no doubt about it!
2000 94-95p
Tasted twice - last time in August 2019. Consistent notes. Creamy black fruit on the nose, very aromatic. Creamy black fruit on the palate, tight and concentrated, great complexity, balance and length. Smooth and long aftertaste. Impressive stuff from Jean-Luc Thunevin. This was in December 2013. Almost 6 years later it still holds its ground well and I think it'll even improve with more age. Makes a great pair with 1998!
1999 87p
Tasted in August 2019. Some grapes in this vintage came from the acquired property in 1999, Bel-Air Ouÿ in Saint-Etienne de Lisse, neighbour to Fleur Cardinale. Concentrated and rough, could have benefitted from more ripeness. Slightly dry tannin. I'm not convinced it'll age and get better.
1998 94-95p
Tasted twice - last time in August 2019. Consistent notes. Very aromatic on the nose and palate, sweet fruit, elegant and well-balanced. Seductive wine with silky fruit and tannin, velvety texture. At its apogee and delightful to drink now. This was in September 2015. Tasted even better in August 2019. Great winemaking skills from Thunevins in this vintage!
1997 89p
Tasted in August 2019. Although the weather didn't allow the winemaker to get the vintage really going, the result is OK, meaning ripeness of Merlot was better than in 1996. This wine is well-constructed with very good structure and length. Nice complexity and fruity finish.
1996 86p
Tasted in August 2019. Oaky. Merlot didn't do well on Right Bank and hadn't reached full ripeness. Lacks freshness and complexity.
1995 90p
Tasted in August 2019. A gentle and elegant wine, tasty and well.balanced. Complex with fine structure and smooth finish. Well-made.
1994 88p
Tasted in August 2019. Rough edges, tannin is strong and acidity is strong as well. Some time is required here to soften the edges.
1993 89p
Tasted in August 2019. Neither 1993 vintage in Bordeaux was blessed by good weather, but Jean-Luc and Murielle made much more than respectable wine. Nice fruitiness and structure, nice complexity, good balance and length.
1992 87p
Tasted in August 2019. This vintage in Bordeaux followed the frost affected 1991, but 1992 wasn't been blessed by good weather at all. However, this wine was still alive, but tannic and a bit rustic and otherwise OK. Some of the other participants in the tasting were convinced that this bottle was corked, I did disagree on that.
1991 86p
Tasted in August 2019. Not clean flavours, in my opinion, this wine was probably chaptalized, still alive to be honest, a bit jammy. OK, one. However, the terrible spring frost didn't have any negative effect here. The first vintage of Valandraud.