Petit Village can trace its roots to the 18th century but became known when the family Dufresne (vintners) from Libourne purchased it after the French revolution (1799). In 1919, a well known Bordeaux negociant, Fernand Ginestet, already the owner of Cos d'Estournel and Chateau Margaux, bought Petit Village. Because of bad times financially in the 1970s, Ginestets were forced to sell Petit Village, and the buyer was Bruno Prats in 1970, who also bought Cos d'Estournel in the same year. In 1989, Bruno Prats sold Petit Village to an insurance company, AXA Millesimes.
There is 10.5 ha of vines, with 78% Merlot, 18% Cabernet Franc, and 7% Cabernet Sauvignon. 60% new oak + 40% one-year-old barrels are used for a maturing period of 5 months.
Petit Village was for many decades an underperforming property making hit-and-run vintages. From excellent to mediocre, and there was no consistency at all. It was strange and not understandable since it's known that this property lies in the best part of Pomerol, the so-called "Le Plateau Argileux" just outside the village of Catusseau. Its neighbours are La Conseillante, Hosanna, Le Pin and La Croix St.Georges.
"Le Plateau Argileux" is only 900 meters broad, 40 meters above sea level, and has a circle. The soil here is mostly clay with stony rock subsoil containing a massive amount of iron oxide. All the best properties in Pomerol are located inside this circle.
When Diana Berrouet-Garcia, sister-in-law of Olivier Berrouet (technical director at Petrus), arrived at Petit Village in the summer of 2015, few expected better times to come quickly to this property. She followed previous technical director Marielle Cazaux, who moved to La Conseillante the same year.
She immediately introduced a rigorous selection of the grapes in vineyards and at the sorting table, starting with the 2015 harvest. Each plot was vinified separately, and only grapes from old vines went to make Grand Vin. With one "touch", wine quality increased significantly, and the 2015 vintage marked a new era for this property. The following vintages, 2016, 2017 and 2018, confirmed with a vengeance that the progress made at Petit Village has resulted in much better wine with more precision and focus.
At the beginning of 2020, AXA Millesimes sold Petit Village to a consortium that already owned Beauregard in Pomerol. Diana Garcia Berrouet left the position as technical director/winemaker in December 2021, and Vincent Priou, manager of Beauregard, will now run both Beauregard and Petit Village.
-----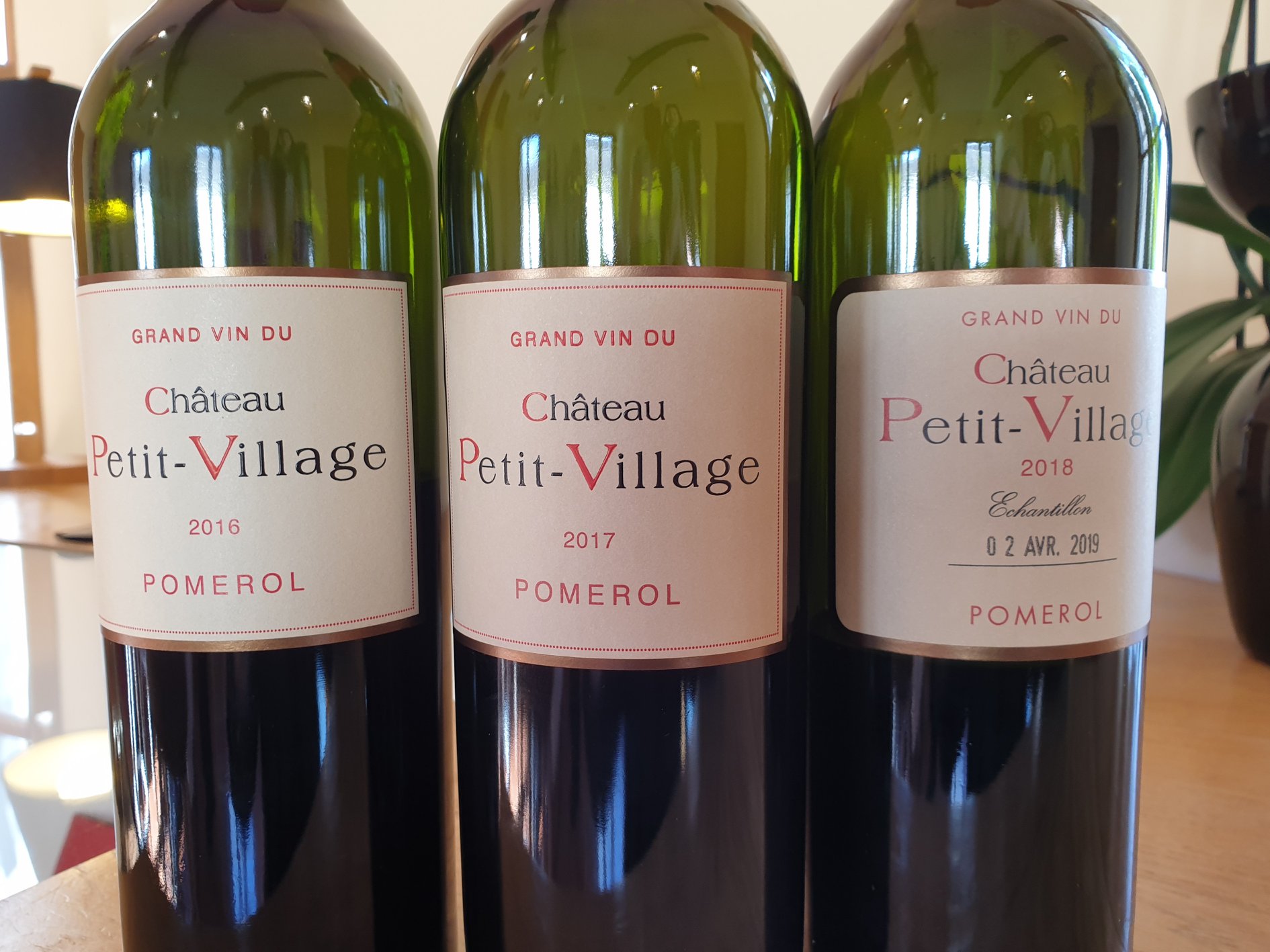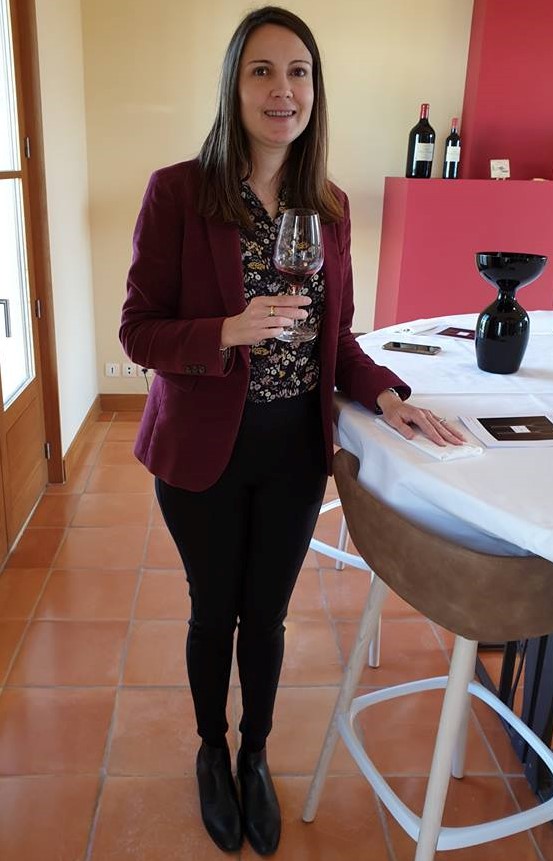 Wines tasted in April 2019, and winemaker since 2015, Diana Garcia-Berrouet.
-----
2021 (barrel sample) 93+p
Tasted in April 2022. 60% Merlot, 32% C. Franc and 8% C. Sauvignon.13.5% alcohol. Floral with violets, raspberries, sappy, strong backbone provided by C. Franc, complex, fine midpalate and structure, persistent aftertaste. More elegant and lighter than 2020 and 2019, but still splendid for the vintage.
2020 (barrel sample) 96+p
Tasted twice - last time in April 2022. Consistent notes. 60% Merlot, 32% Cabernet Franc, and 8% Cabernet Sauvignon. 14.5% alcohol. 27 hl/ha. A small number of plots were ageing in amphoras. For the first time, there is more Cabernet Franc in the blend (10%), which seems to have given the wine a more robust backbone and tannic approach. Intense nose with freshly sliced black winter truffle aroma and great depth and length on the mid-palate. This vintage is probably the most precise and focused one Diana Garcia Berrouet has made during her reign! The new label has been introduced for the 2020 vintage because the new owners wanted to mark their arrival, and it's incredibly stylish and inspired by the labels from the 1920s and 1930s. The vax covering the cork with engraved PV letters is also pretty cool.
2019 95p
Tasted twice - last time in April 2022. Consistent notes. 10.5 ha, 80% Merlot + 15% Cabernet Franc + 5% Cabernet Sauvignon, 14.5% alcohol. Very fragrant on the nose with seductive violets and blueberries. Distinguished and refined. Unique complexity and creaminess on the palate, silky fruit and tannin. The acidity keeps everything in place here. This wine is a more sophisticated and less concentrated version of 2018. Still a beautifully made one!
2018 96p
Tasted three times - last time in December 2020. Consistent notes.14.3% alcohol. 72% Merlot, 20% Cabernet and 8% Cabernet Sauvignon, 40% new oak and 5% amphoras. Intensely aromatic on the nose with dark berries, Creamy and both powerful and at the same time graceful, stylish, deep and long, finesse, refinement and sophisticated touch. This wine s a real thrill and significant proof of massive improvement of the quality here since the arrival of Diana Garcia Berrouet!
2017 (barrel sample) 95p
Tasted three times - last time in September 2018. Consistent notes. This property delivered a true heartbreaker wine with silky fruit and tannin, velvety structure, pure elegance and finesse.
2016 95-96p
Tasted three times - last time in April 2019. Consistent notes. It is focused, precise, aromatic, deep and long, elegant, sensual, seductive, and complete. It looked like being covered by cashmere. Simply awesome wine!
2015 95-96p
Tasted four times - last time in September 2017. Consistent notes. 71% Merlot + 20% Cabernet Franc + 9% Cabernet Sauvignon. So distinguished, so rich. An utterly expressive and impressive wine.
2014 91-92p
Tasted twice - last time in September 2017. Consistent notes. Potent, fruity, crisp, well-structured, fine acidity, firm aftertaste. Fine effort.
2012 (barrel sample) 91p
Tasted in April 2013. This property had undergone a massive upgrading of cellar facilities, improvements in vineyard and more precise winemaking. In May 2012, Marielle Cazaux became a new technical manager. She was determined to bring Petit Village quickly to step up in quality. Well-made wine with aromatic black cherries on nose and palate, silky texture, fine backbone and delicate balance.
2010 93p
Tasted in September 2013. Better ripeness, concentration, structure and length on the palate compared to the 2005 vintage. Fatter and riper tannins too. Great complexity, depth and lingering finish. A significant outcome of vintage's potential. Excellent effort by all means.
2005 88p
Tasted in September 2013. The truffles' scent on the nose was lightly textured, nicely composed and smooth, but not 100% ripe fruit and tannin. This property should have done much better in this easy-to-make vintage.
2001 89p
Tasted twice - last time in September 2010. Not consistent notes. When tasted in August 2006, it was deep red and had an aromatic and catchy nose of ripe berries, it was luscious on the palate with finesse and elegance. This wine showed more age in September 2010, with truffles and tannin starting to control this wine.
1971 93p
Tasted in July 2020. Very seductive on the nose, which increases in intensity and flair. Ripe cherries. It is exquisite with finesse on the palate, sweet cherries, delicate balance, and silky with grained tannin. Delightfully fruity and caressing finish. Impressive stuff.
1964 95p
Tasted in October 2017. Frankly, I didn't expect such thrilling wine! Fresh and tight, the aroma of dark chocolate, truffles, concentrated fruit with catchy sweetness, excellent balance, silkiness, refined and with a long aftertaste. Big surprise and confirmation that this property could produce perfect wine if everything goes right in the vineyard and cellar. It outlasted 1988 and 1964 Certan de May tasted on the same occasion.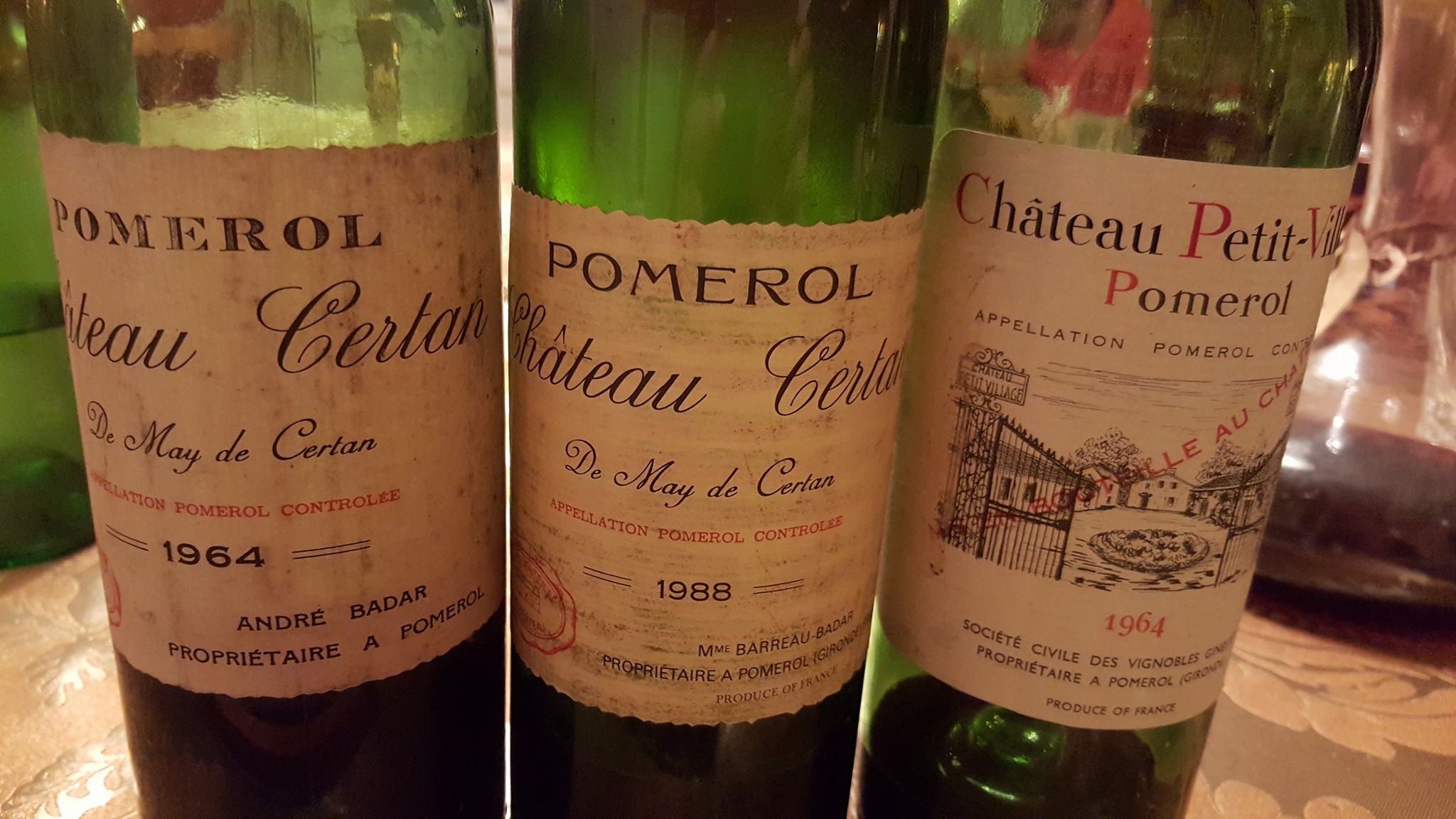 1950 92p
Tasted in November 2019. Unknown bottling, probably Bordeaux negociant one. Surprisingly well-preserved and vivid. Of course, this vintage has an excellent reputation, but Petit Village wasn't that stable then. However, absolutely no complaints here, for this wine was deliciously fruity, elegant and attractive, well-balanced with finesse and smooth fruity finish. Impressive stuff.
1929 96p
Tasted in March 2021. Chateau bottled. Old vintages from this property continue to impress me a lot. This 92-year-old wine was just ethereal! The black truffle on the nose and raspberry jelly on the palate added elegance and finesse. Great complexity and wonderfully refined finish. It's pretty remarkable how exceptionally well this wine was keeping its strides. Awesome effort!