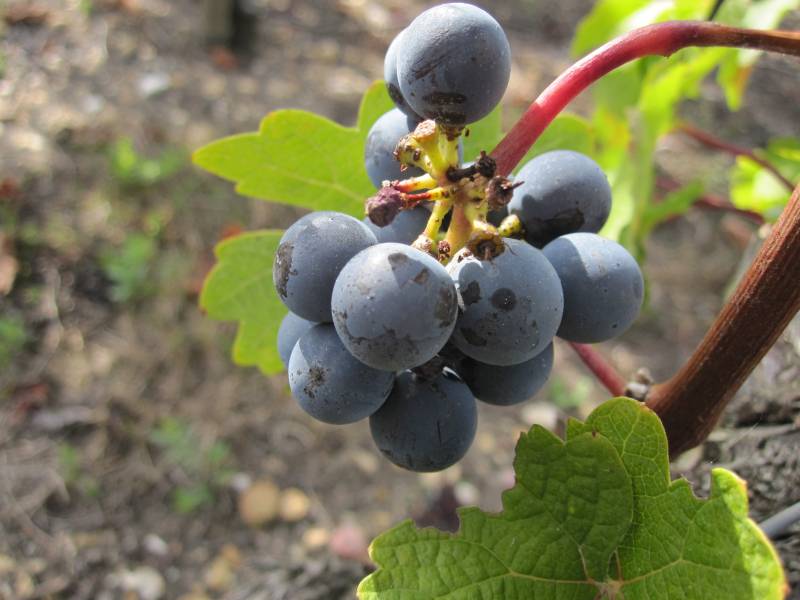 Perfectly looking but not yet ripe (skins) Cabernet Sauvignon grapes at Seguin.
VOYAGE DE PRESSE - GRAVES & PÉSSAC-LÉOGNAN
Monday, the 27th of September 2010
Arrived at Château Seguin in Canejan (Pessac-Léognan appellation) in the evening, looked at the vineyard, and visited the ultra-modern cellar with all necessary facilities. The owner of this property, Denis Darriet, was making jewelry for famous people worldwide before he arrived at Seguin.
Seguin is 31 ha, and the vineyard is planted with 50% Cabernet Sauvignon and 50% Merlot. Denis Darriet told me he wants to make wine that reflects much of the terroir. This was obvious when I tasted 2009 vintage from different barrels with fine aromatic Merlot, intense and strong backbone, and powerful and complex Cabernet Sauvignon. It looked like it would be a splendid wine in the bottle.
I also tasted 2005 which expressed lots of blueberries and blackberries, delicate aromas of perfectly ripe fruit, and was well-structured and elegant. Fine wine for the vintage. Denis Darriet told me that, in his opinion, the 2008 vintage was the first to show Seguin's true soil. He expected to harvest later in the week and was very happy with the quality of grapes, which he thought were riper and more concentrated than in 2009!
At the end of the tasting, he presented me with a wine he makes from a selection of the best parcels of Seguin, Confidence(s) du Château Seguin. It was vintage 2004, and this wine was utterly impressive with incredibly aromatic black fruit (blueberries), tight, concentrated, very complex, well-structured, and splendid long finish. It was an excellent treat!
It was my first visit to Seguin, and I was impressed with my taste. It will be interesting to retaste 2009 and try 2010 next year during primeur week.
Tuesday, the 28th of September, 2010
The day started with a cold morning (7 degrees Celsius), then a warm afternoon (25 degrees Celsius), beautiful sunshine, and wind-still weather. Busy schedule waited.
Château Roquetaillade La Grange
First visit of the day and quite an interesting one. Situated in Graves appellation, this property is run by three brothers, Dominique, Bruno, and Pascal Guignard. They also have a property in Sauternes, Lamothe Guignard. When I arrived, the harvest was going on - harvesting was done by machine. Pascal Guignard, who received me, was delighted with the already harvested white grapes and incoming red grapes.
Roquetaillade La Grange red is 50% Cabernet Sauvignon, 37% Merlot, and 13% Cabernet Franc planted on a 30 ha big vineyard. The wine stays in oak for 14 months. I tasted 2008 with a delicate aroma of crushed berries (blackcurrant and raspberries), perfect ripeness, and subtle and well-balanced. Fine effort. 2007 had barely the same fruit ripeness and aromatic touch of 2008, while 2006 followed in the tracks of 2008 with a tighter and stronger structure. 2005 provided a perfect example of why this vintage is so successful in every corner of Bordeaux. Delicate, very aromatic, the enchanting sweetness of fruit, coating palate, and caressing finish. A real heartbreaker wine.
Roquetaillade La Grange white 60% Sémillon, 20% Sauvignon Blanc and 20% Muscadelle planted on 15 ha big vineyard. I tasted 2009, a lovely wine with seductive aromas of apple and pear, sufficient acidity to keep the freshness intact, and a smooth finish. Enjoyable.
Château de Chantegrive
This property hosted a tasting of 2007 red (19 wines) and 2008 white (11 wines), both Graves appellation.
Among reds, I was particularly impressed by Chantegrive, Lusseau, Magneau, and Saint Robert Poncet Deville for their aromatic fruit, ripe and tasty, with a lot of charm and superb balance. They were very well-made in the context of a difficult vintage as 2007. Caillivet, du Haut-Maray, Haut-Reys Cuvée Vieilles Vignes, des Fougères "La Raison", Lasalle, Pessan, Rahoul, and Thibaut Ducasse, were reasonable wines with good fruit, soft texture, good balance, and short but smooth finish.
Among whites, Chantegrive Cuvée Caroline was my cherry-pick with strong aromas of acacia flower, pineapple, and pear, powerful and with great acidity, fine concentration, and delicate balance. Clos Floridene was a tad less intense and aromatic than Chantegrive C.C. but of the same splendid quality. Roquetaillade La Grange showed a lovely fruit intensity, acidity, balance, and structure. Gaubert, Magence, de Portets, Tentation du Chateau Le Bourdillot, and Tour de Calens were pleasant, round, charming, light, and uncomplicated. Already very drinkable.
I tasted excellent 2007 Chantegrive Cuvée Caroline white during lunch, which had better acidity, more intense acacia flower, apple, and lemon flavors, and a longer finish than the above wines. 2000 Chantegrive red was a real treat and a classic example of this vintage's immense quality. Powerful, intense nose of perfectly ripe blackcurrants and raspberries, strong structure, and excellent length 2007 Chantegrive Cuvée Henri Leveque had considerable oak taste well balanced with concentrated fruit, power, and strong backbone. Fine effort.
Chantegrive red (40 ha) and Chantegrive Cuvée Henri Leveque red (3 ha) have the same grape varieties in the blend, 50% Cabernet Sauvignon and 50% Merlot. Still, the latter is fermented in new oak and stays for three months longer. Chantegrive Cuvée Caroline white is planted with half Sauvignon Blanc and Sémillon on 10 ha, vines are 30+ years on average, and wine ages in barrels for nine months.
Château Venus
This was the last visit of the day. Venus is situated in Preignac and has 6.2 ha of vines planted with 70% Merlot and 30% Cabernet Sauvignon. I tasted 2008, 2007, 2006, and 2005 and found them too commercial, with marked dryness. I respect the way owner wants to make his wine, but they would benefit significantly from harvesting a week or two later and better selection.
Wednesday, the 29th of September 2010
In the morning, I had an exciting tour of André Lurton properties, La Louviere, Couhins, Rochemorin, and Cruzeau, with PR manager Mme Véronique Bouffard providing beneficial information, "checking" how the harvest was going. It was a quick tour but very informative.
Later, there was a tasting at Château La Garde of 2007 red (18 wines) and 2008 white (16 wines), both Péssac-Léognan appellation.
Later, there was a tasting at Château La Garde of 2007 red (18 wines) and 2008 white (15 wines), both Péssac-Léognan appellation.
Among AOC red wines, I was impressed by Couhins, La Garde Lafargue, Larrivet Haut Brion, and Le Sartre, who all managed to produce charming and seductive wines with mature fruit, nicely balanced and with a smooth finish. Ferran and Domaine de La Solitude were more straightforward, lighter, and enjoyable wines.
Among Cru Classes, Domaine de Chevalier showed excellent aromas of ripe fruit, length, depth, and persistent finish. Pape Clement was at the same level concerning the quality as D.d.Chevalier, but the style here was modern (extracted flavors). De Fieuzal, Latour Martillac, and Malartic La Graviere showed a considerable concentration of ripe fruit, silky tannin, and delicate balance.
Among AOC whites wines, I particularly liked Domaine de La Solitude, La Garde, Lafargue, Larrivet Haut Brion, and Le Sartre, all having fresh attitude, seductive aromas of acacia flower and lemongrass, and personality.
Among Cru Classes, Domaine de Chevalier showed great subtlety, sophisticated touch, structure, and finish. Pape Clement was as excellent as D.d.Chevalier, while Couhins and Latour Martillac were impressed by extensive aromas and fine acidity. De Fieuzal and Malartic Lagraviere did almost as well as Couhins and Latour Martillac, with less intensity and a shorter finish.
Ferran
Ferran produces both red and white wine. Red is 18 ha vines planted with 65% Merlot and 35% Cabernet Sauvignon, 20 years old, and the wine is aged in 30% new oak. White is 50% Sémillon and 50% Sauvignon Blanc.
I tasted 2008 Ferran white which was missing at La Garde tasting, and it was gentle and soft wine with an aroma of pear, elegant and round. 2007 Ferran white appeared fresher than in 2008, with better acidity, more opulence, and deeper and longer on the palate. Very fine indeed.
We next followed an entertaining 2005 Ferran red with fine intensity of perfectly ripe black fruit, aromatic touch, superb balance, and palate coated with sweet cherries. Great joy to drink. 2003 Ferran red was typical of the vintage with warm fruit, licorice taste, and dry tannin. Ferran 2001 red was very supple, fruity, and soft with a soft texture. Fully mature now.
It was a well-organized trip this Voyage de Presse and an excellent opportunity to learn about less-known properties from Graves/Pessac-Léognan. Thanks!
Many of the mentioned properties have their website, so if someone needs more detailed information, try Google or ask both Syndicats.
IMPRESSIONS FROM HARVEST 2010 AND TASTINGS AT OTHER PROPERTIES
Thursday, the 30th of September 2010
Domaine de Chevalier
I arrived mid-morning, and the weather was again sunny after some rain fell at night. This property I've followed with great admiration since my first visit here in March 1984.
Before tasting 2005, 2007, 2008, and 2009 D.d.Chevalier in red and white, I was offered the first juice of 2010 from Sauvignon Blanc and Sémillon. Both expressed wonderful and intense flavors of acacia flower, apple, and lemongrass, excellent acidity, and potentially 13.5% alcohol. Olivier Bernard expects this vintage to be an absolute stunner, maybe one of the best he's ever made! Merlots were scheduled to be harvested next week, while Cabernet Sauvignon had to wait two weeks, with the approximate end of the harvest around the 20th of October. "Vendange tardive" anyone ;)
The tasting started with 2007 red D.d.Chevalier, a wine with the aroma of ripe Cabernet Sauvignon, good bite, excellent structure, and nice length on the palate. Finishes smoothly. To be enjoyed while big vintages take their time to mature. 2008 was well-balanced wine with a fine concentration of ripe berries and ripe tannin, splendid acidity, great depth, and length. Big success for the vintage. 2005 showed the great intensity of fruit, perfectly ripe tannin, richness, elegance, and finesse. Sublime effort. 2009 was packed with energy and youthfulness. Very aromatic, subtle, and concentrated and had a long finish. Great wine. At lunch, I tasted 2002 red which was very seductive, aromatic, elegant, and tasty with a fine finish. Very enjoyable to taste now. 2003 red showed charm but also very ripe fruit with a touch of heat/baked flavor (licorice) and some dryness on the palate. Atypical for the property, imho. 2004 red impressed a lot with a fabulous aroma of black fruit on the nose, splendid structure, and impeccable balance. Fabulous wine with style and grace.
Among whites, I began with 2009, which had acacia, apple, and lemon flavors, richness, splendid acidity, excellent balance, and a smooth aftertaste. Great elegance and style. 2008 was a better wine for me than 2009, with a mineral touch, deeper, more length, and longer finish. Sublime and sophisticated wine. 2005 presented multi-dimensional and fabulously structured wine with exquisite aromatic expression, excellent balance, and persistent aftertaste. Incredible wine. 2007 was even better than 2005 with a very mineral "look" and more of everything. Fantastic effort. 2000 tasted during lunch offered immediate appeal, roundness, and charm. Very enjoyable now.
Haut Brion/La Mission Haut Brion
After Domaine de Chevalier, I went to Haut Brion/La Mission Haut Brion with Robert Cottin, president of Dubos Fréres, a big Bordeaux negociant. He was a great company.
I've admired both estates since my first visit here in March 1984.
The always smiling Turid Alcaras, PR manager at both estates, welcomed us. We tasted 2008 and 2009 from both estates in red and white. In Bordeaux, you always taste red wine before white because if you do the opposite, the acidity in white wine will make tannin taste more acidic and sharper.
2008 La Chapelle de La Mission Haut Brion expressed very aromatic blackberries, ripe tannins, fine structure, concentration, and lengthy finish. The splendid second wine from La Mission. 2008 Le Clarence de Haut Brion, the second wine of Haut Brion, was more powerful, concentrated, and tannic than 2008 La Chapelle. Splendid effort. 2008 La Mission Haut Brion looked like a beautiful cloth creation of haute couture - sublime, elegant, finesse, silky, and smooth. 2008 Haut Brion was, on the other hand, a robust wine, classy, very long, mineral, velvety, and with astonishing balance. There's a fabulous potential here.
2008 Laville Haut Brion (last vintage with that name) displayed a very aromatic fruit of acacia flower, peach, and lemon supported by great acidity and balance. Excellent wine. 2008 Haut Brion white showed more class and style than Laville, with more intensity, finesse, and sophisticated touch. Fantastic effort.
2009 La Chapelle de La Mission Haut Brion was stronger, slightly riper, and deeper than 2008. Delightful wine. It was the same story with the 2009 Le Clarence de Haut Brion. 2009 La Mission Haut Brion did improve its appearance since April this year with an extremely aromatic, deep, sophisticated, and long attitude. Extremely sublime and enchanting wine. Wow! 2009 Haut Brion was like a granite rock you had to split into pieces with a hammer to get the goodies out. Enormous potential here.
2009 La Clarte de Haut Brion (a combination of second wine from La Mission white and Haut Brion white) was a pleasant wine with good intensity, acidity, and structure. 2009 La Mission white and Haut Brion white expressed more intensity, minerality, and acidity than their 2008 counterparts.
Friday the 1st of October 2010
Nairac
I arrived by train in the morning at one of my favorite properties in Sauternes & Barsac and said hello to the very kind and hospitable Hetter-Tari family. I always visit Nairac while I'm in Bordeaux.
I had an excellent opportunity to retaste 2005, 2006, 2007, 2008, and 2009 vintages prepared by Nicolas Heeter-Tari, the winemaker at Nairac. This property has been on an excellent run since the 2001 vintage and is getting better.
2005 had a wonderfully scented nose of peach and acacia, an excellent pairing of sweetness and acidity, finesse, and sophisticated touch. Fabulous stuff. 2006 was less refined than 2005 but impressed with delicate botrytised flavors of peach, apricot, and honey melon on the palate. Splendid balance and a lot of finesse. 2007 had a deep intensity of botrytised flavors on the nose and was very concentrated on the palate. Long and refined with a persistent finish. For me, 2007 is close to 2005, but the coming years will show which of those two vintages will prevail. 2008 was a bit more restrained than 2006, same style, fine acidity, and smooth finish. 2009 showed a fabulous range of botrytised aromas, great complexity, great "understanding" between sweetness and acidity, great intensity, and a long, caressing finish. Sublime stuff!
Gilette
During the busy harvest period, Julie Gonet Medeville had time to prepare a tasting of 2009s for me and one 2008 at her office in Preignac. I've visited Gilette since 1987 and remember the extremely hospitable reception by Julie's parents.
Julie & Xavier added in 2009 during summer two estates on the Left Bank to their portfolio of properties - Cru Monplaisir (Bordeaux Superieur, situated close to Gironde, just outside Margaux appellation) and Eyrins in Margaux commune. The first vintage of both wines showed careful and subtle winemaking, resulting in aromatic, perfumed, and well-balanced wines with fine depth, structure, and smooth finish. Great start, and hopefully, it will continue in the coming vintages.
Respide Medeville red was a great value for the money, with plenty of ripe berries and ripe tannin, a strong backbone, and a long finish. Respide Medeville white was a delightful experience with a very aromatic approach, fine acidity to balance the fruit, and a caressing aftertaste.
2008 Les Justices showed nice botrytised flavors, sweetness, acidity, elegance, and roundness, while its younger sister was impressive with thrilling sweetness and supporting acidity and having a better intensity of botrytised flavors.
Raymond Lafon
I always visit this property in Bordeaux, and it's one of my favorite sweet wines. Raymond Lafon is an incredibly great value for the money and, for a long time, among the top wines in Sauternes & Barsac. Some plots were harvested the day I visited this property, but Jean-Pierre Meslier told me they waited for enough rain to kick-start botrytis, as they didn't get anything between the 29th and 30th of September. I tasted 2002, 2005, and 2009 vintages.
2002 displayed a lovely intensity of botrytised flavors and corresponding acidity. This wine gives you a lot of satisfaction with a nice creamy texture, elegance, and finesse. To drink while waiting for big vintages. 2005 has since its "birth" been some darling wine for me. Sensual wine with intense botrytised flavors, purity, richness, excellent balance, and sophisticated touch. Stunning potential here! 2009 turned out to be a great favorite of wine critics worldwide, and considering the low primeur price, it's a steal for the money among sweet Bordeaux wines. Revelation in April this year during primeurs, and having tasted it six months later, I must admit that this is heavenly stuff and maybe the best effort in the last 20 years.
Seeing 2010 grapes looking stunningly beautiful, can we expect even better things than in 2009?! I tasted the first press of juice, and it promised a lot.
SCNF (French Rail) allowed me kindly to come safely back to Bordeaux by not suspending train traffic as they, unfortunately, did in April this year.
Monday, the 4th of October 2010
Jean-Luc Thunevin
It rained from midday, and traffic jam from Bordeaux to Libourne delayed my visit to Jean-Luc Thunevin's wine shop by 45 minutes. At the time of my visit, the harvest wasn't yet started at his properties, and Jean-Luc Thunevin told me that it was beneficial to wait because grapes were in excellent shape and still trying to obtain full phenolic ripeness. I was presented with wines from Jean-Luc Thunevin in vintages 2008 and 2009.
The tasting started with 2008 Bad Boy, an enjoyable, pleasant, round, and soft wine. Good start. Then followed five wines in two vintages, tasted in pairs. 2008 Domaine des Sabines from Lalande-de-Pomerol was a delightful wine with a seductive nose of black cherries soft, round, elegant, and smooth aftertaste. Very enjoyable. The 2009 vintage of the same wine was seductive and displayed more depth, concentration, and richness. Fine winemaking here! 2008 Le Clos du Beau-Pere from Pomerol followed well in tracks of Domaine des Sabines from the neighboring district with cherry aromas, more complexity, and a long finish. 2009 vintage of the same wine was more concentrated. Delightful wines.
2008 Virginie de Valandraud displayed elegance and grace, subtlety, splendid balance, and smooth aftertaste, while the 2009 vintage had a stronger backbone, more depth, and displayed more oak. For a second wine, both were glorious efforts. 2008 Clos Badon offered a delicate aroma of cherries and chocolate, a strong backbone, and a chewy texture. Stupendous effort. 2009 version of the same wine had more concentration and more oaky palate, but both wines deserved applause.
Honestly, 2008 and 2009 Bellevue de Tayac weren't my cherry picks during the tasting. Both seemed closed, rustic, earthy, and difficult to assess. There's potential in both, but they need time to soften.
2008 Valandraud was even better than I tasted one year ago, with a stunning nose of black cherries (cérise noir) and blackberries, strong backbone, fabulous structure, superb concentration, and length, while 2009 was more massive, more concentrated, and deeper. Fantastic stuff!
I knew what to expect from the 2009 vintage, but the 2008s impressed me immensely.
At the end of my visit, I was treated by two whites from Jean-Luc Thunevin, both in vintage 2008. The first one I tasted was Valandraud white (JLT nr.2), which displayed freshness, nice acidity well supported by tasty fruit, charm, and a seductive approach. Very enjoyable. Valandraud white nr.1 offered freshness, great acacia flower, apple, and lemon aromas, splendid interplay between fruit and stunning acidity, and sophisticated touch. Great effort.
Tertre Roteboeuf
Francois Mitjavile expected to start harvest next week (around 11th October), and like the owners/winemakers at the other properties I visited, he expected 2010 to be a great vintage, maybe like 1990. I tasted his properties, Tertre Roteboeuf and Roc de Cambes, in vintages 2007, 2008, and 2009.
Both 2007s had lovely aromas of black cherries and blackcurrants, a nice structure, and were well-balanced. Charming and seductive wines. 2008 Tertre Roteboeuf seemed to suffer from the recent bottling and was slightly disjointed. I will retaste it on the first given occasion. 2008 Roc de Cambes showed a strong backbone and was full-bodied, intense, and long on the palate. Splendid effort. 2009 Tertre Roteboeuf displayed richness, extremely well-knitted structure, great complexity, and caressingly long aftertaste. Stunning wine. 2009 Roc de Cambes was just as impressive with power, splendid intensity on the nose with black fruit, harmony, and firm aftertaste.
Le Gay/La Violette
I arrived on a stormy and cold day and was welcomed by the owner, Catherine Pere-Verge. Harvest had yet to start on her properties. Jean-Christophe Meyrou, manager of all these four estates, had great hopes for the 2010 vintage if the weather was warm and sunny through October.
La Graviere 2009 had a sweet and attractive nose of black cherries, freshness, delicate balance, and a long aftertaste. Very impressive wine for the district (Lalande-de Pomerol). Montviel 2009 - presented itself even better than in April this year with the catchy aroma of blackberries, an adequate amount of tannin, balance, and quite a long finish. Le Gay 2009 - powerful, plenty of black cherries and violets, strong structure with great depth, structure, and length, incredibly strong backbone, and an extremely long aftertaste. A very classy wine with charisma and great style. La Violette 2009 - very much violet aroma on the nose, and there was a taste of violet on the palate, an unmistakable aroma of truffles, deep and very long on the palate with a persistent aftertaste. Great treat.
Tuesday the 5th of October 2010
Palmer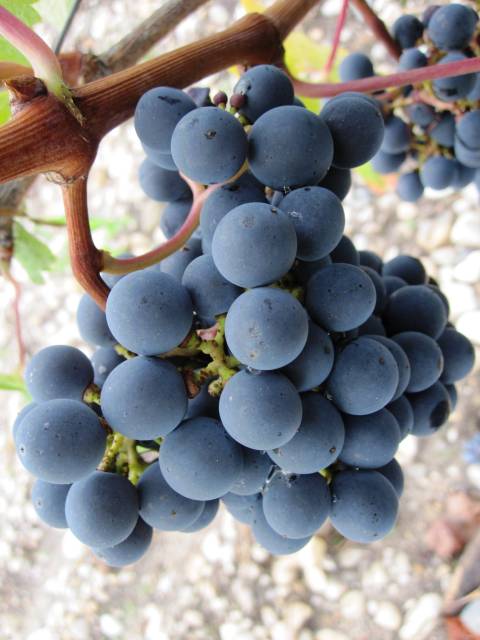 Exceptionally looking grapes at Palmer - Cabernet Sauvignon.
Happily, French trade unions didn't choose my travel day to strike, so I came unscathed by train from Bordeaux to Margaux train station well before my scheduled visit at Palmer. After 15 minutes walk, I was standing in the vineyard of Palmer looking at these beautiful grapes, small and thick-skinned. After taking several pictures in the vineyard, I entered Palmer and met my host for the day, Claire Casimir, Palmer's PR- manager. She prepared a tasting of four vintages of Alter Ego and Palmer, 2009, 2008, 2007, and 2006, but I didn't taste these wines in that order.
On my request, we started with 2007 vintage. 2007 Alter Ego was quite aromatic with a nice bite and round and smooth finish. It was already drinking well. 2007 Palmer offered an unmistakable aroma of dark cherries, softness, and delicacy. Maybe the lightest of all Palmer in this decade, but class and style remain there! 2006 Alter Ego showed more ripeness, more depth, better structure, and longer finish than 2007. Fun to taste. 2006 Palmer was a refined, classy, sophisticated wine with beautiful balance. Aristocratic wine! 2008 Alter Ego expressed itself better compared to 2006. Joyful and seductive wine. 2008 Palmer was even better than 2006 with beautifully scented flavors of dark berries, excellent structure, length, silky tannins, and persistent finish. Wonderful stuff. Both 2009 Alter Ego and Palmer were more challenging, heavier, more aromatic, and intense than their 2008s, but elegance and finesse were intact. Exquisite tasting!
After tasting, we were to leave for a tour of the different parts of Palmer's vineyard when Thomas Duroux (Palmer's technical director) arrived at the office and was extremely happy with the quality of harvested grapes, saying that they seemed to be even better than in 2009 concerning intensity, acidity and tannin. At the end of touring the vineyard, we stopped at a parcel of Merlot, where boys and girls from 3 classes of Danish primary school from Holstebro (Jutland island) harvested intensely. Palmer has since 1998 always had Danish pickers from the same school to help with the harvest. Harvest at Palmer started on the 22nd of September with Merlot.
Thanks to my very patient and charming host, Claire Casimir, it was a delightful visit. And the weather was sunny and lovely too!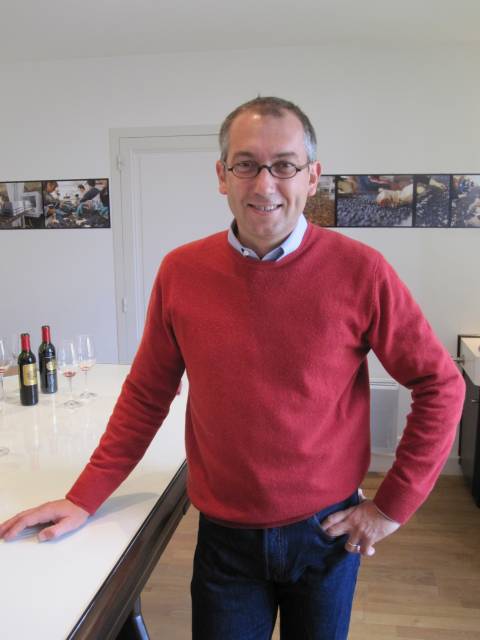 Thomas Duroux, general manager at Palmer, is an extremely happy man!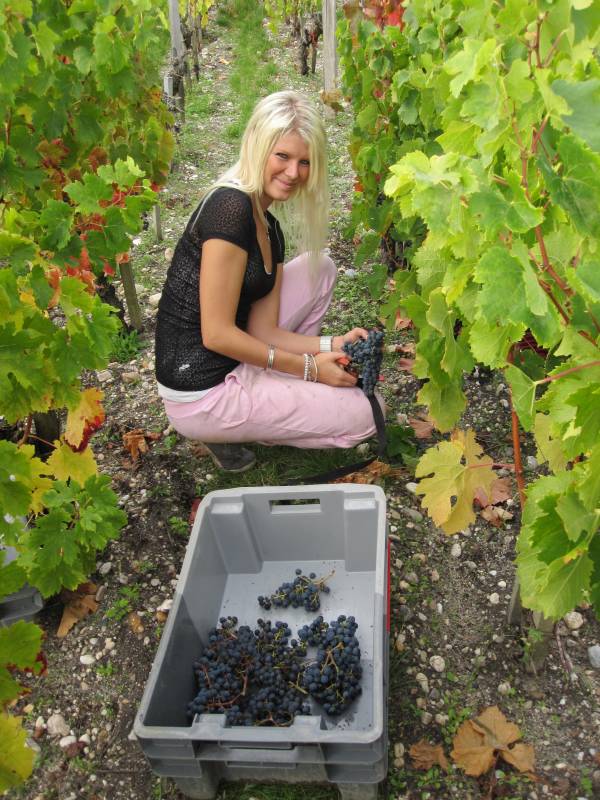 One of the Danish pickers - a pretty young girl
Labegorce/Marquis d'Alesme
I arrived directly from nearby Palmer during a hectic harvest time and was welcomed by Delphine Dariol Kolasa, public relation manager. We did a tour of both properties and tasted the 2009 vintage.
Labegorce was bought by Hubert Perrodo in 1989, and the neighboring property of Labegorce Zédé in 2005, reuniting the original Labegorce property. However, the wines of Labegorce and Labegorce Zédé were made separately until the 2009 vintage, the first vintage made from the entire property. Labegorce is now around 55 ha planted with 30+ years old vines on average.
The winemaker at Labegorce has been "inherited" from Labegorce Zédé. 2009 Labegorce is 50% Cabernet Sauvignon, 38% Merlot, 8% Petit Verdot, and 4% Cabernet Franc, yield per ha 44 hl and aging in 50% new oak. This 2009 is an immense success for the property, very true Margaux wine with grace and style. Labegorce is a wine to watch!
Same Hubert Perrodo bought neighboring Marquis d'Alesme in 2006 but died tragically in December 2006, so his daughter has been responsible for Marquis d'Alesme and Labegorce since then.
Marquis d'Alesme is classified as 3rd growth, covering 15 ha with 40 years old vines on average. 2009 is 61% Cabernet Sauvignon, 17% Cabernet Franc, 15% Merlot, and 7% Petit Verdot, yielding 44 hl/ha and aging in 60% new barrels. This vintage is the best I've ever tasted from this property, and it promises a lot for coming vintages. Michel Rolland is now consulting Marquis d'Alesme, and according to Delphine Dariol Kolasa, they appointed him to get more from the grapes and improve vinification.
She was confident the 2010 vintage would be an even greater break-trough for both properties. I've no reason to doubt it.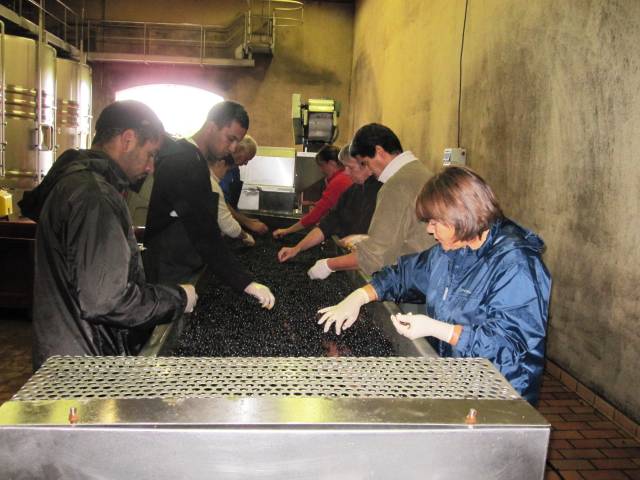 Sorting table at Marquis d'Alesme