UNBELIEVABLE! AFTER 2015, 2016 AND 2018, IT LOOKS LIKE 2019 IS SHAPING UP TO BE AN EXCEPTIONAL VINTAGE!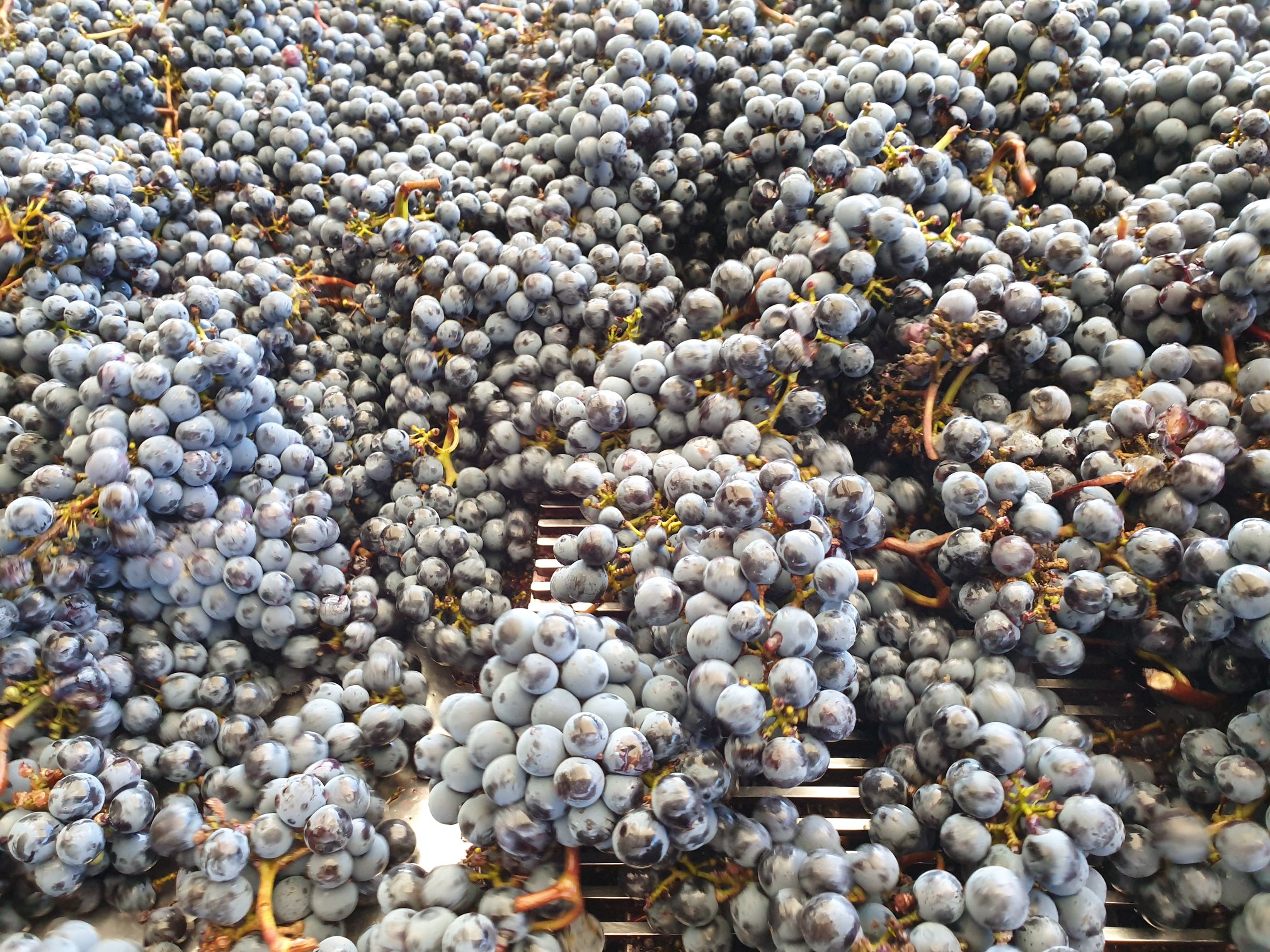 Perfect Cabernet Sauvignon! Domaine de Chevalier in October 2019. I did taste the grapes - yummy!
Let me say that and it's my honest opinion based on experiencing 20 harvests between 1985 and 2019 - 2019 vintage's looking no less than incredibly promising.
Despite somewhat rainy and cold spring resulting in occasionally spread-out of coulure and millerandage, there were no really violent outbursts from weather Gods through spring and summer. Flowering went more or less free of problems, only affected a little bit by continous rain in the end of it. Then followed a very dry summer and well-needed rain in the end of July, which started ripening process for real.
Rains in mid September came at perfect time and helped to separate seeds from pulp in already very concentrated grapes, diluted sugar content meaning less alcohol and tightened skins. Rains were especially advantageous for Cabernet Sauvignon. Leaf thinning was not really used that much because winemakers didn't want to risk getting grapes burnt. Neither green harvest was widespread in 2019. The amount of grapes brought in will be normal for Bordeaux in 2019.
It'll be a vintage of different styles and characters as winemakers have broken the rules of harvesting dates and harvested either early or late. The normal order for who did harvest first and who harvested late was not valid in 2019!
Some winemakers were afraid of getting too much alcohol in grapes, so they harvested early, some harvested late, to get right balance in the grapes. Also different soils reacted differently in 2019 and winemakers had to adjust themselves to that. Global warming guilty of that?
During my recent trip in Bordeaux between 7th and 12th October, I tasted a lot of fresh grape juice at different properties, mostly Merlot before and after alcoholic fermentation, and it promised a great deal. Lot of sugar and rich juice with fat and big tannin. Almost black colour after one day's maceration in vat! IPT= Index Polyphenol Totale in grapes was really high in 2019, 80 or more, meaning high quantities of tannin. I believe this combined with ripeness of the grapes, will make the vintage fascinating to watch and taste.
For the most part in Medoc harvest was over by mid October. On the Right Bank, majority of properties have grapes in the cellar. In Pessac-Leognan, most properties have finished harvest before mid October.
I have no doubt that 2019 will be an excellent vintage, possibly as equally stunning as 2010, 2016 and 2018, but of different character however. We have to wait until January 2020 when malolactic fermentation is over and quality of tannin to be discovered, before there is a clear view of 2019 in red.
White dry wines are rumoured to be of very fine quality with much better acidity than in 2018 and 2016, while harvest of grapes in Sauternes & Barsac is still going on (mid-October), but first reports say that 2019 will be very small in quantity (Raymond Lafon lost 50% of grapes due to excessive heat wave in August/September) but similar in quality to 2017.
-----
08.10.2019
Jean-Luc Thunevin
At the time of my visity, 2019 harvest at Valandraud has just started.
I asked to taste 2017s but the line-up didn't have that many wines due to frost in the spring.
Virginie Thunevin - fruity and silky, uncomplicated, round and very tasty. Aged 1 year in vats. Perfect restaurant wine. 87p.
Bad Boy Syrah - very characteristic for this grape vaiety, spicy, flowery and with nice acidity. 88p. 2.000 bottles produced.
Bad Boy L'Original - god value for money. Meaty and fruity wine with some complexity. Tasty and attractive. 89p.
Domaine des Sabines - splendid acidity, spicy fruit, well-structured and with meaty finish. Fine quality. 90p.
Valandraud - production down to 25.000 bottles compared with normal 40.000 bottles. Polished, great aromatic nose, delicate, silky fruit and tannin, great complexity and length. 95p.
Valandraud 2016 - very potent wine, excellent complexity, structure and depth, rich and with sophisticated touch. Silky and distinquished. 97p.
Valandraud 2018 - excellent purity, precision and focus, great complexity and finesse, sophisticated touch and great length. If this wine will act like this after bottling, then we have best Valandraud ever produced. 98p.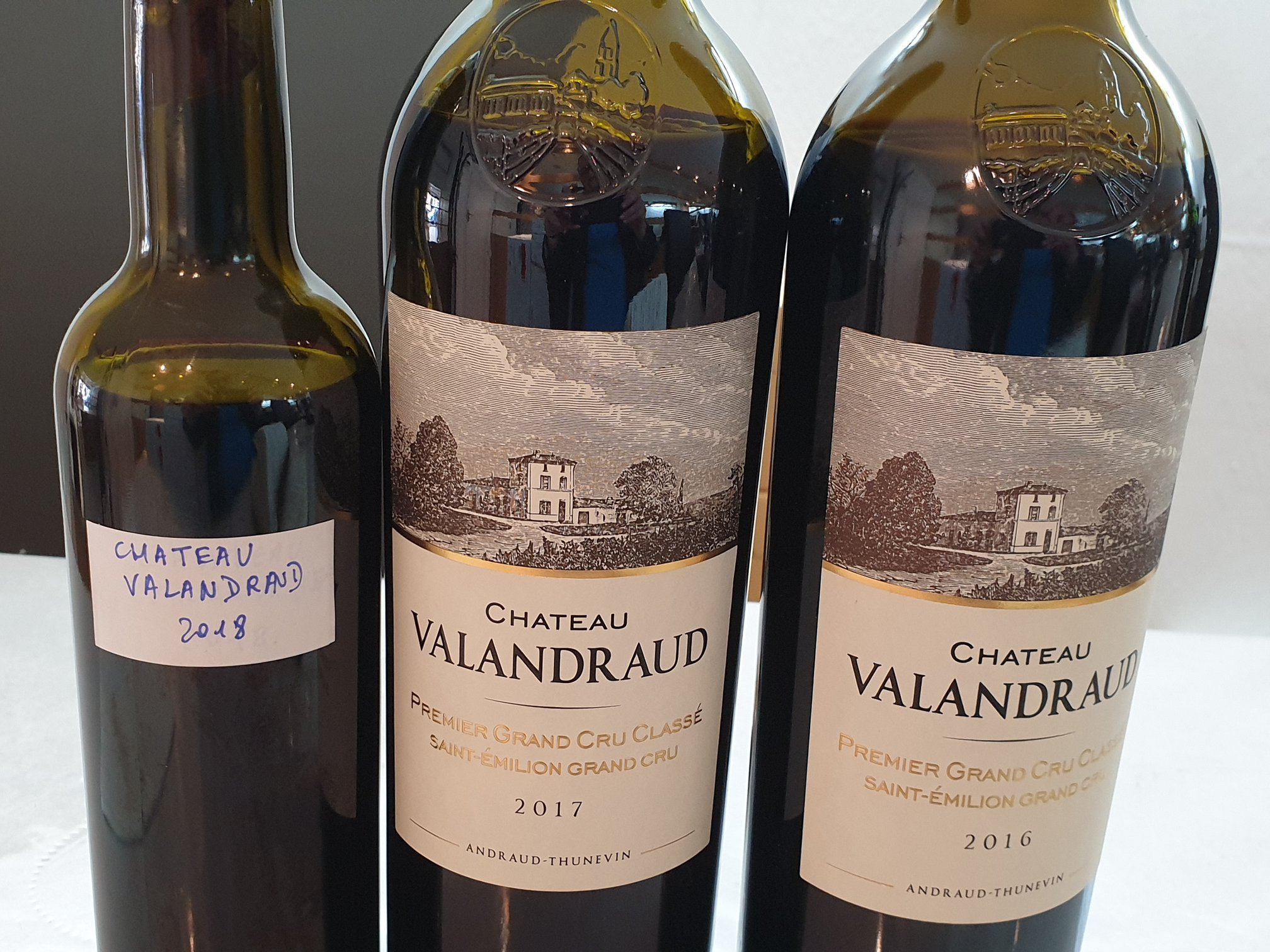 Tertre Roteboeuf
As every year, visit at Tertre Roteboeuf and talking to Francois Mitjavile was one of the highlights of my trip. This time our schedules allowed us to have plenty of time to talk and taste. I haave known this winemaker genius since 1988.
The incredible thing is, that I did discover this time a few things more about how he makes his wine. I knew before, that he uses all kind of grapes (different maturity) during vinification to obtain as many flavours as possible. The new info was, that all vin de presse and vin de lie goes into Grand Vin and Francois Mitjavile says that this gives the flavour of roses to his wine. Nothing really goes to waste at Tertre Roteboeuf!!
I kindly asked Francois to taste 2018, 2017 and 2016 of both Tertre Roteboeuf and Roc de Cambes. Tertre Roteboeuf 2018 and 2016 were two touch downs, wonderful wines with unique style. 2018 was stronger while 2016 was more noble. 99-100p respective 99p. 2017 was a bit scaled down, still refined and sophisticated. Bottled in mid September 2019. 96p.
2018 Roc de Cambes was strong and powerful. full of ripe cherries. 94p. 2016 was similar and will fight with 2018 to become the best RdC ever produced. 2017 tasted lighter and less intense. Still splendid wine. 92p.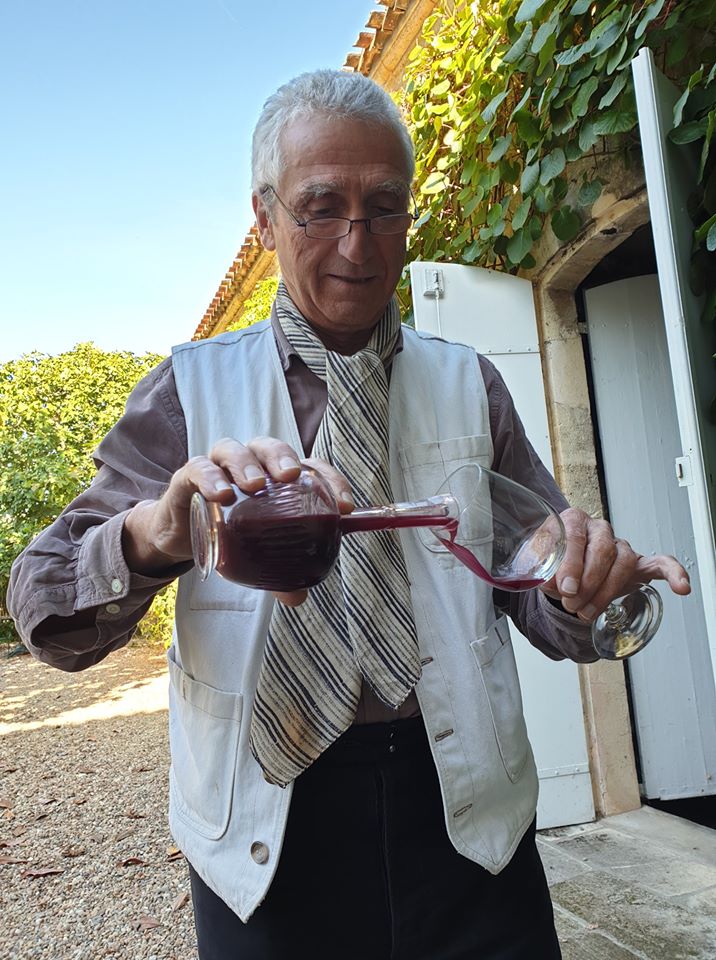 2019 juice from carafle into a glass - Francois Mitjavile at work!
There was also time to taste 2019 grape juice which was very aromatic, gentle, delicate and noble. Lot of promises.
L'Envers du Decor
I returned from Tertre Roteboeuf to Saint-Emilion for lunch and tried my luck at L'Envers du Decor. This restaurant was purchased in February 2017 by Perse family from Francois de Ligneris who owned Chateau Soutard until 2006. Perse family owns nearby Hostellerie de Plaisance (app. 50 meters from L'Envers du Decor). Normally it's fullly booked but I was lucky that particular day because it'd several tables vacant. I wasn't disappointed, Quick service, really tasty food (3 course menu for 32 Euros.) and a very attractive and tasty Lalande de Pomerol wine, 2009 Haut Goujon to accompany the food.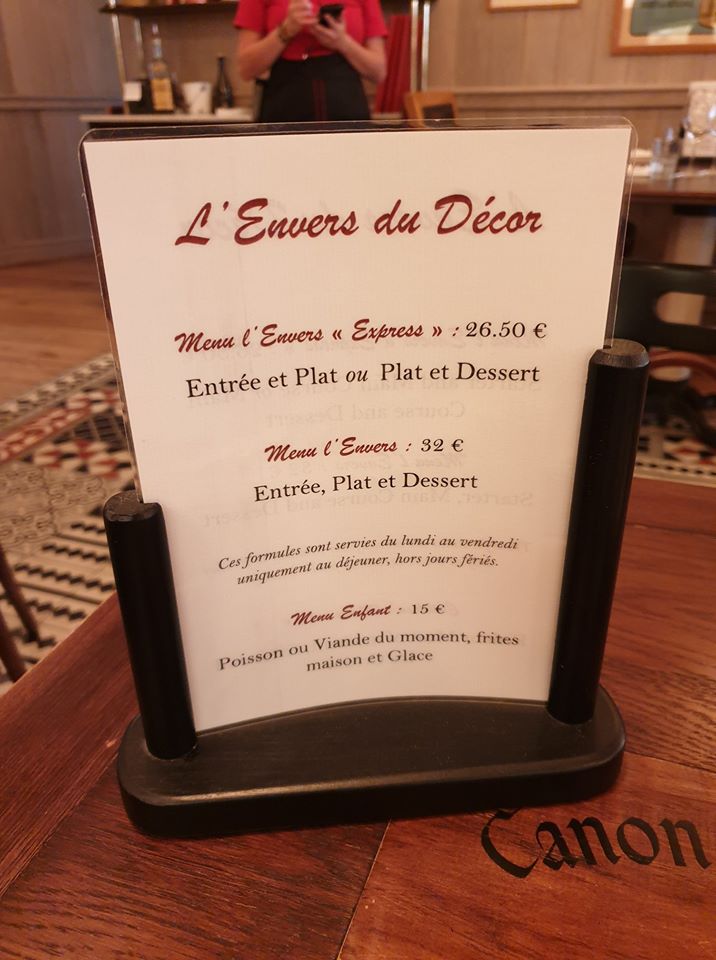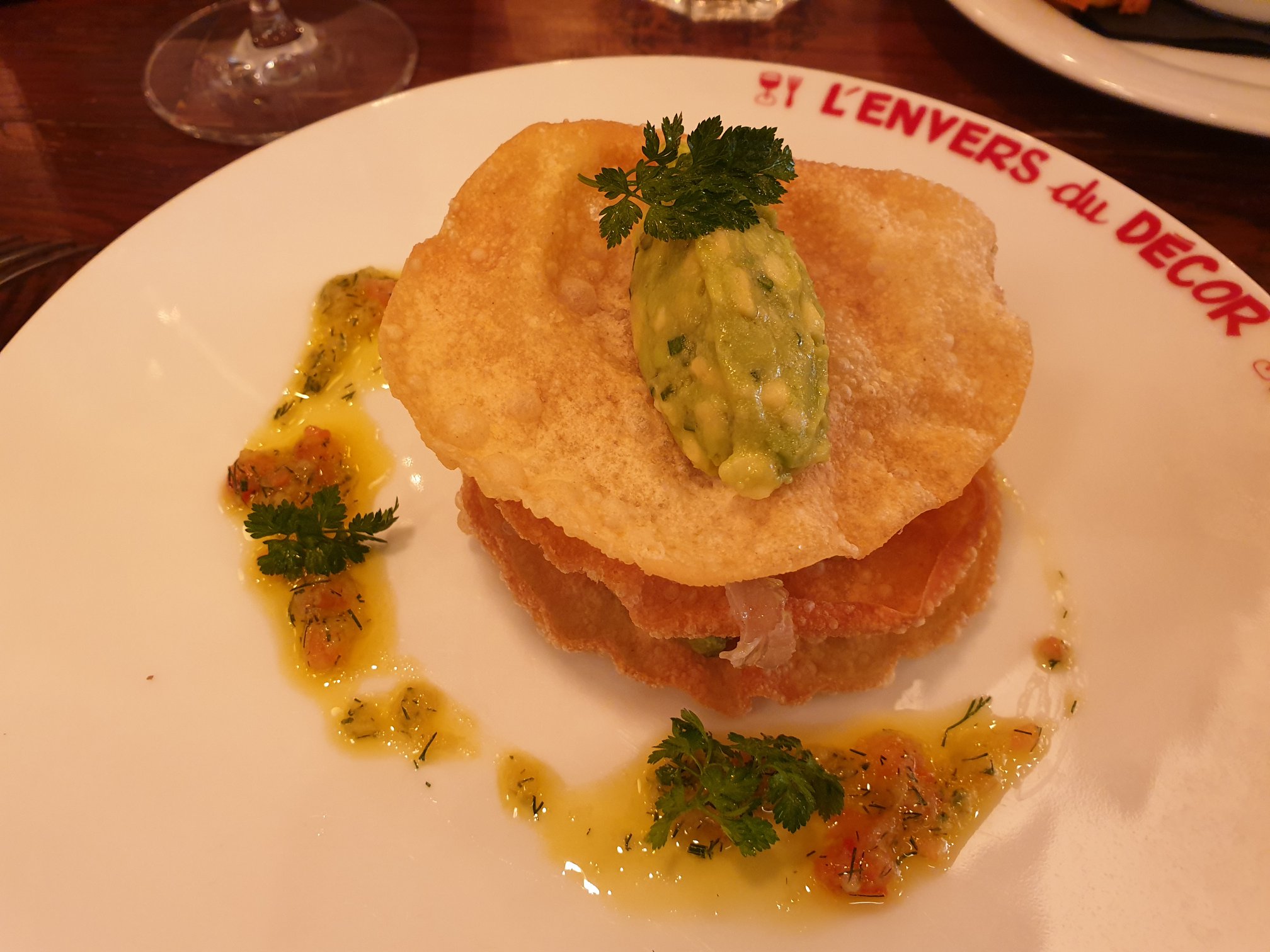 Larmande
As last year in October, I found my way to this property again. I met Veronique Corporandy, the winemaker there and at sister property Soutard on the other side of the road. Cabernet Franc (8th October) was being harvested and looked/tasted magnifique. She was very happy and optimistic that 2019 would be as exceptional as 2018. I tasted some vats with Merlot after alcoholic fermentation and they were very promising with intense flavours and fat tannin.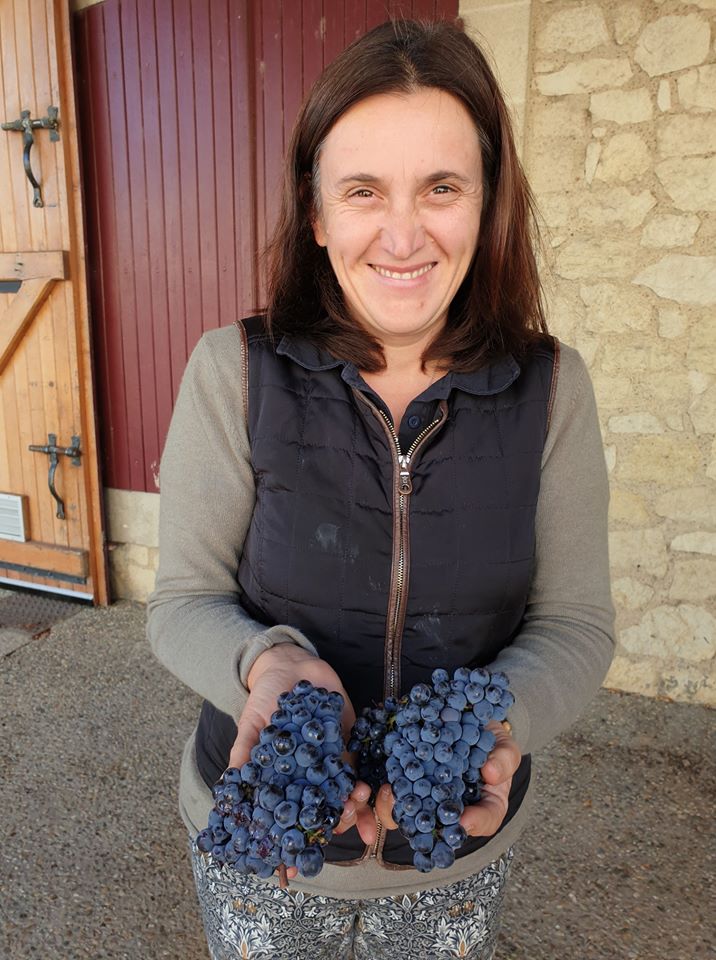 Winemaker Veronique Corporandy with gloriously looking/tasty Cabernet Franc anno 2019!
Croix de Labrie
Quick visit at this little property in Saint Christophe de Bardes together with the owner Pierre Courdurie, who showed me around the property. I visited its cellar where I spotted a barrel of 2019 grapes owned by Pierrre's daughter Camille, 11 years old, who "vinifies" it everyday after school.
Pierre Courdurie strongly belevies that 2019 at Croix de Labrie will be at least as exceptionel as 2018 or maybe even better.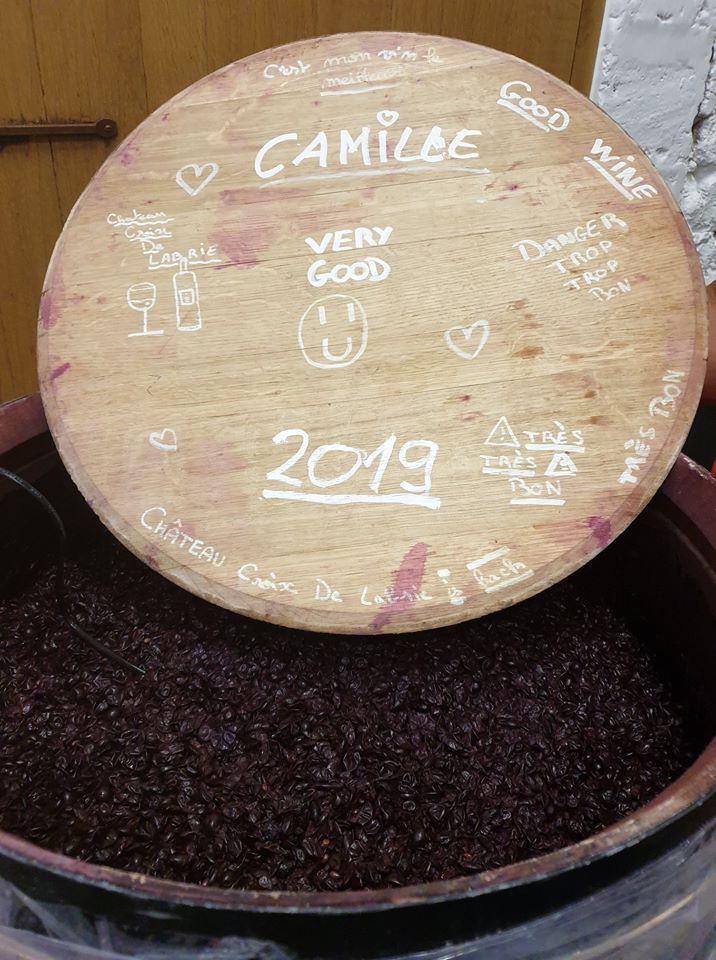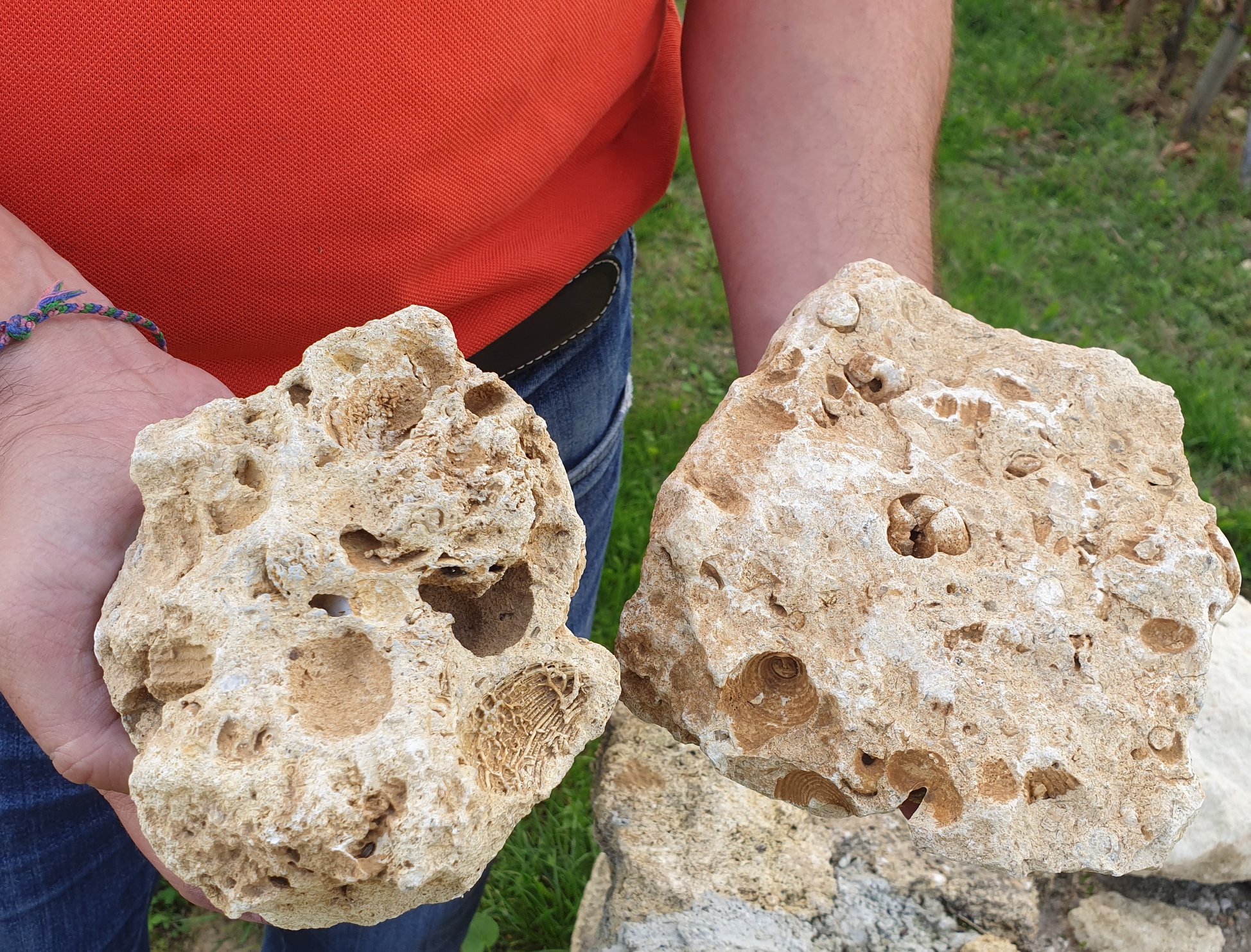 Left: Famous barrel of Camille, Pierre Courdurie's daughter. Right: Subsoil at Croix de Labrie
Cheval Blanc
I arrived late afternoon amid workers celebrations of finished harvest, Gerbaude, and had a very quick tasting of 2017s, which were in bottle since June.
Quinault L'Enclos was strong, spicy, meaty, good complexity and balance, persistent finish. 90p.
Petit Cheval (48% CF + 52% Merlot) also show some muscles with more complexity and stronger finish than Quinault. 92p.
Cheval Blanc, which lost 1/3 of potential grapes due to frost in April 2017, resulting in yield per ha reaching 21 hl, showed more power, concentration and length, than in April 2018 from barrel. Impressive. 96p.
After tasting I tried to catch a taxi or Uber to come back to Libourne, but with no luck. So I'd to walk and when I reached Petit Village, a car stopped close to me and somebody well-known to me offered a ride to Libourne. Who was she? - Mme Dominique Vayron from Bourgneuf! Pure telepatie.
Jean-Philippe Janoueix
I talked to him during the months of September and October and he was very exicited about the prospect of 2019. He's never before seen so high ITP in his grapes and the quality was excellent. He brought grapes in at properties he owns (f.i. La Croix St. Georges and La Confession) and rents in very favourable conditions, and he expects 2019 to be at least at same quality level as 2018 or maybe even better!
09.10.2019
Jean-Pierre Moueix
My first visit and I was welcomed by export director for Europe, Frederic Lospied, whom I've known since 1985. Vintage 2017 was on the wine menu that day and I did taste 6 wines. Despite big frost in April 2017. Moueix managed to come unscathed through it and produced excellent wines for the vintage.
La Grave - nice fruity nose of blackberries/cherries, spicy and a bit peppery on the palate. Nice structure and meaty aftertaste. It's obvious that grapes come from sandy soils. 90p.
Latour-a-Pomerol - more polished and detailed than La Grave, very good acidity and velvety structure, more bite and intensity here, round and tasty. Splendid effort for the vintage. 92p.
Hosanna - coming from the best part of Pomerol, "Le Plateau Argileux", this wine offers big scaled black fruit with scent of truffles, big intensity and depth, great complexity and structure, and long caressing finish. This is stylish Pomerol with modern inputs. 94+p.
La Fleur Petrus - very catchy blackberry nose, sublime, pure elegance and finesse, great complexity and length, velvety structure, long finish. Pure delicacy. 96p.
Trotanoy - intense blacberries/raspberries, elegant and sublime, sophisticated, excellent structure and complexity, nother a powerhouse but rather finesse and subtlety here. Decadent stuff. 96-97p.
Belair Monange - this property's really been on the run since Christian Moueix' son, Edouard moved in and manages it. It's same blend of Merlot (90%) and Cabernet Franc (10%) as Trotanoy. It resembled a great deal Trotanoy, but displayed slightly more power and intensity. Simply fabulous wine! 96-97p.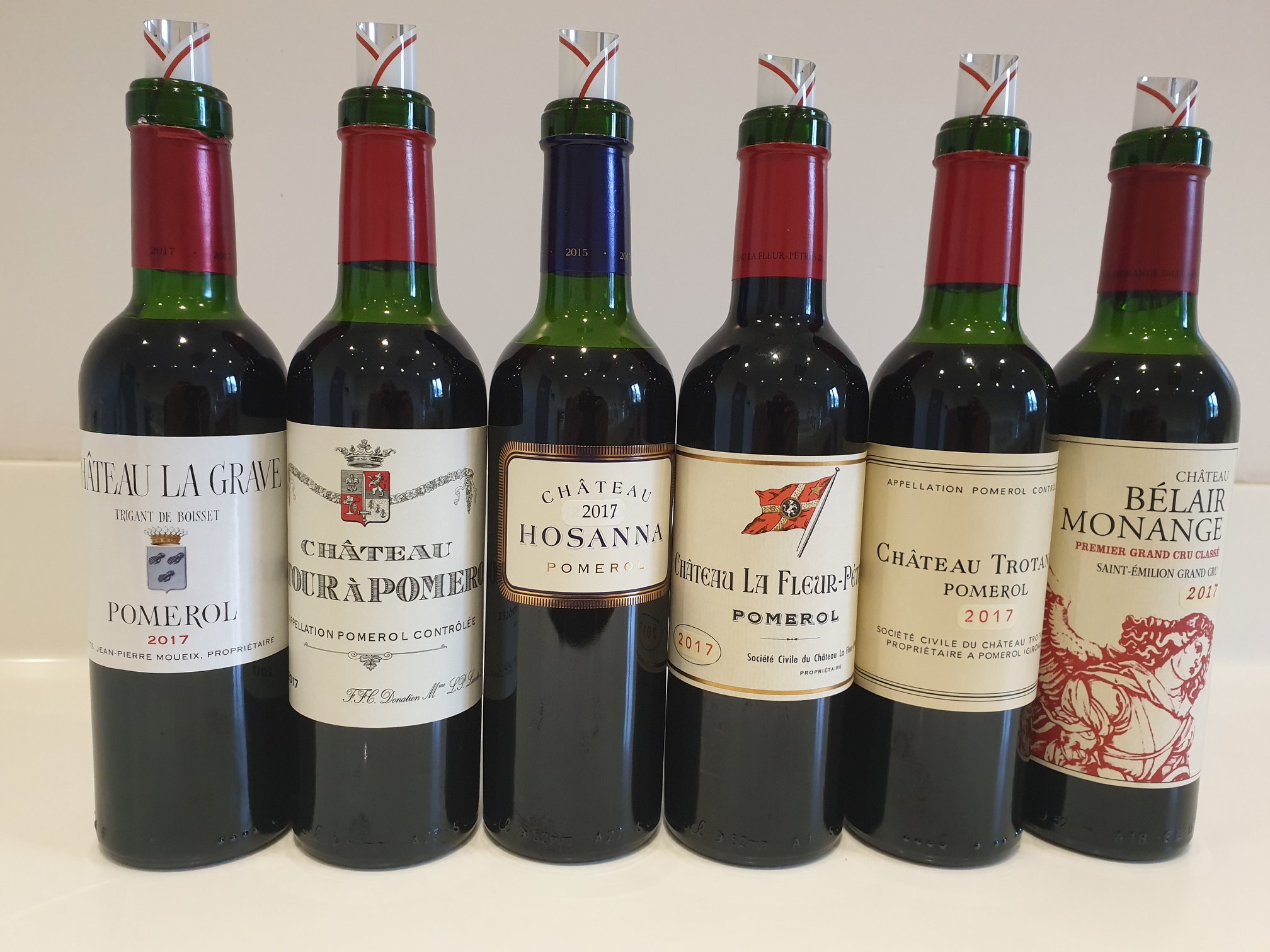 Bourgneuf
I always visit this property when I'm in Bordeaux. As usual I was treated with last three vintages, this time 2018, 2017 and 2016.
2018 - creamy with dense fruit and tannin, very complex and long. 95+p.
2017 - 20% of production lost due to frost in April. elegant with finesse, very seductive with splendid complexity. Stylish wine. 93p.
2016 - elegant, distinguished, precise and focused, with silky fruit and tannin. 95p
When I arrived, the harvest was finished app. a week ago and winemaker Frederique Vayron told me that she had big expectations concerning 2019 vintage.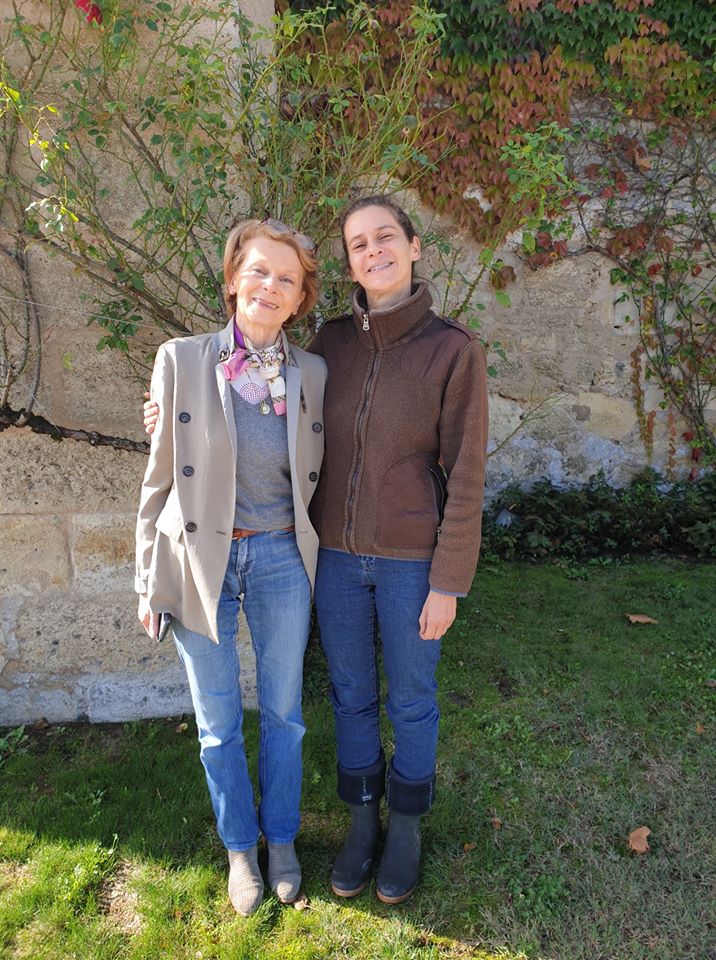 Mother and daughter, Dominique Vayron and winemaker Frederique Vayron
La Commanderie, Haut Chaigneau and La Sergue
While tasting many wines at Grand Cercle in April this year, I came across La Commanderie in Pomerol, which impressed me a lot and was rewarded by rating 92-93p from me. Then I met the owners since 2013, Melody and Andrew Kuk, at Jurade's Gala Dinner for Vinexpo hosted by Chateau Soutard in May 2019. They were very happy to hear about my rating of 2018 La Commanderie.
During my usual harvest trip to Bordeaux in October 2019 I wanted to visit this property and taste recent vintages. As Kuk couple, who nomally is present at La Commanderie during harvest, didn't want to travel from Hong Kong this year because of unstable political situation, I was contacted by Pascal Chatonnet, consulting oenologist here, other wine properties in France and many places abroad. He's some very famous clients. He advised Kuk couple to buy La Commanderie when it was put on sale.
You will find La Commanderie when you enter village of Catusseau and turn right after passing Nenin and before wine laboratory of Dany & Michel Roland. This property is really well-equipped with modern installations. Kuk couple has really invested a lot of money in La Commanderie.
This property is 5.80 ha, sandy clay with some gravel and crasse de fer (iron dirt) in the subsoil, vines are on average 46 years old, grapes are hand picked and sorted manually, mechanically and optically, cold maceration for 5-7 days, alcoholic fermentation parcel by parcel in stainless steel vats of varying capacity depending on the size of the parcel, malolactic fermentation in 100% new barrels and maturing in app. 70% new barrels for 13-16 months.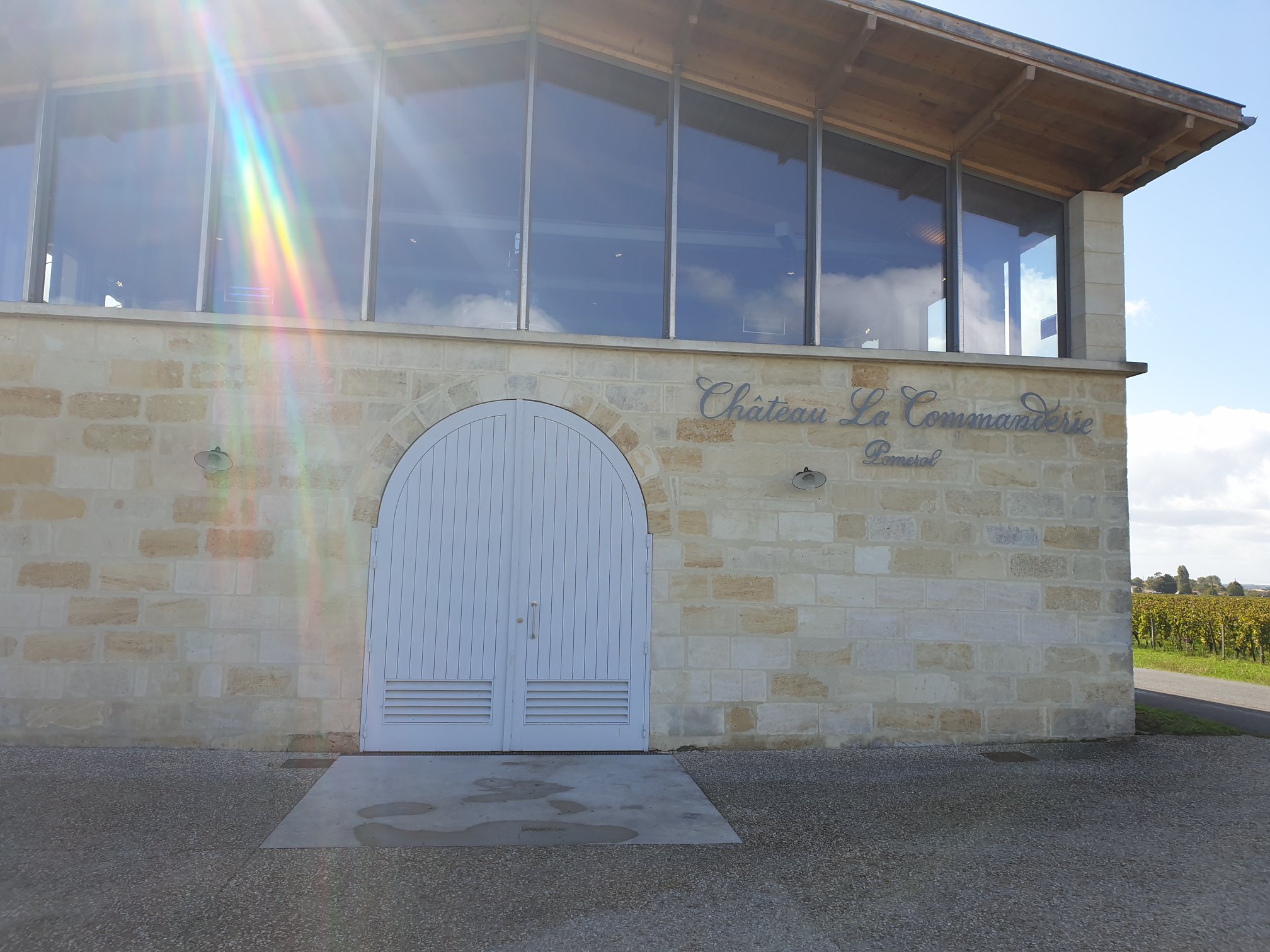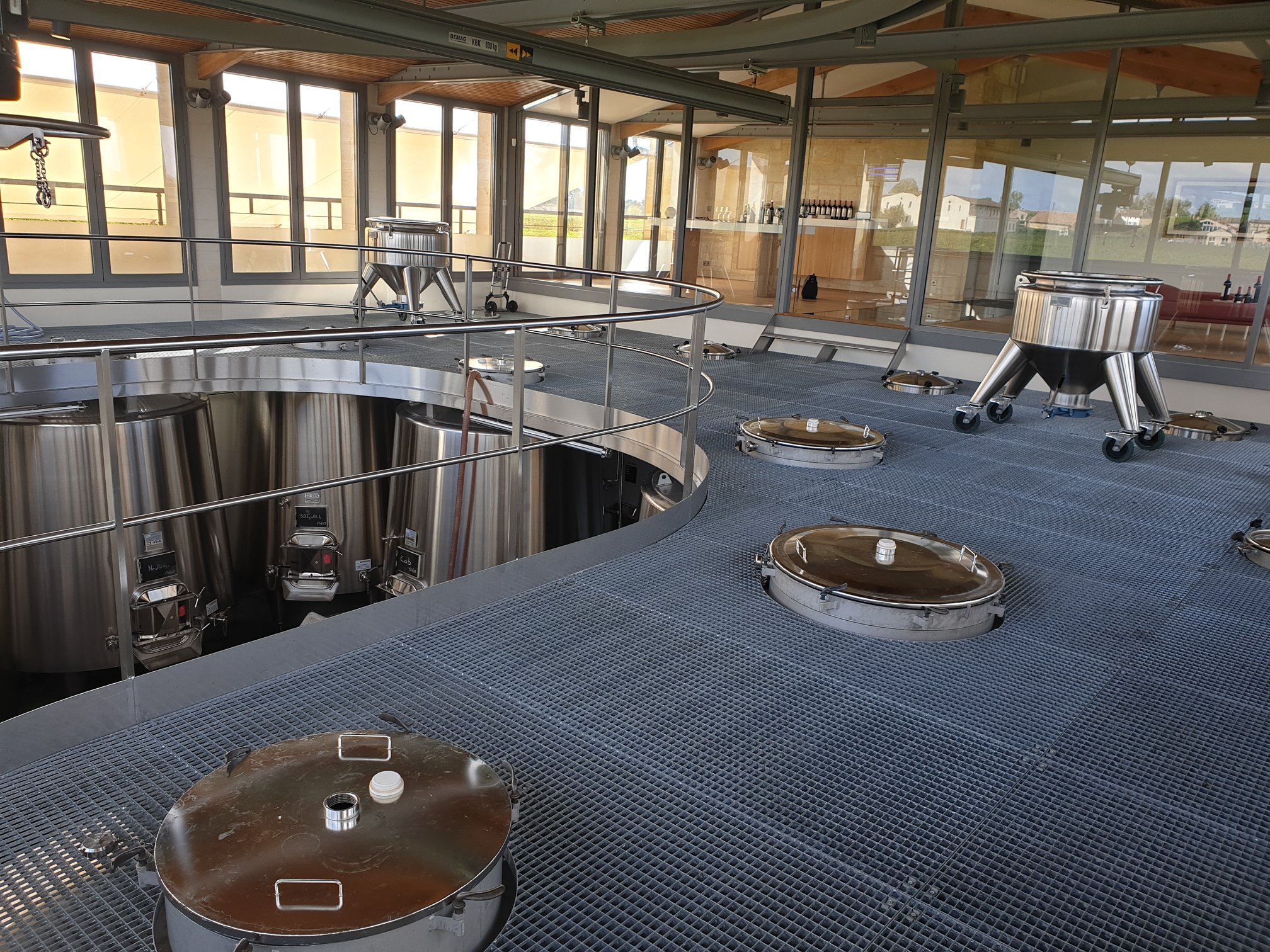 Very modern and well-equipped vinification cellar at La Commanderie
I tasted 2015, 2016, 2017 and 2018 vintages.
2015 - 72% Merlot + 28% Cabernet Franc. A vintage with much old Cabernet Franc in the blend. Spicy fruit, nice acidity, elegant, a bit on the light side. Attractive and tasty wine, but it's not quite at the level with 2018 and 2016. 88p.
2016 - 93% Merlot + 7% Cabernet Franc. Silky fruit and tannin, velvety structure, perfectly ripe black fruit, splendid acidity, complexity and length. Noble wine with some style. Splendid effort. 93p.
2017 - 90% Merlot + 10% Cabernet Franc. Black and red berries, elegant and subtle, attractive and tasty, smooth fruity finish. 91p.
2018 - 91% Merlot + 9% Cabernet Franc. Yield only 25hl/ha! I was impressed by this wine during Grand Cercle tasting in April 2019 and it showed even better in October 2019. More powerful and concentrated than 2016. Slightly longer finish. This is a real treat! 93+p.
La Commanderie is certainly a property to watch in the future because it's big potential and I really look forward to taste their 2019 next year during primeur.
Afterwards Pascal Chatonnet and me went for lunch to nearby restaurant La Table de Catusseau, which serves excellent food for reasonable money, maleric and extremely tasty. It's must place to eat when you're in Pomerol.
Then it was time to visit Haut Chaigneau in Lalande de Pomerol, a property owned by Pascal Chatonnet and his home, and taste some samples of 2019. Some of these belonged to special selection of best grapes from different plots (La Sergue) and had Malbec in the provisory blend. It was very interesting to taste these samples. This is a pure science to make everything suit together in future blends!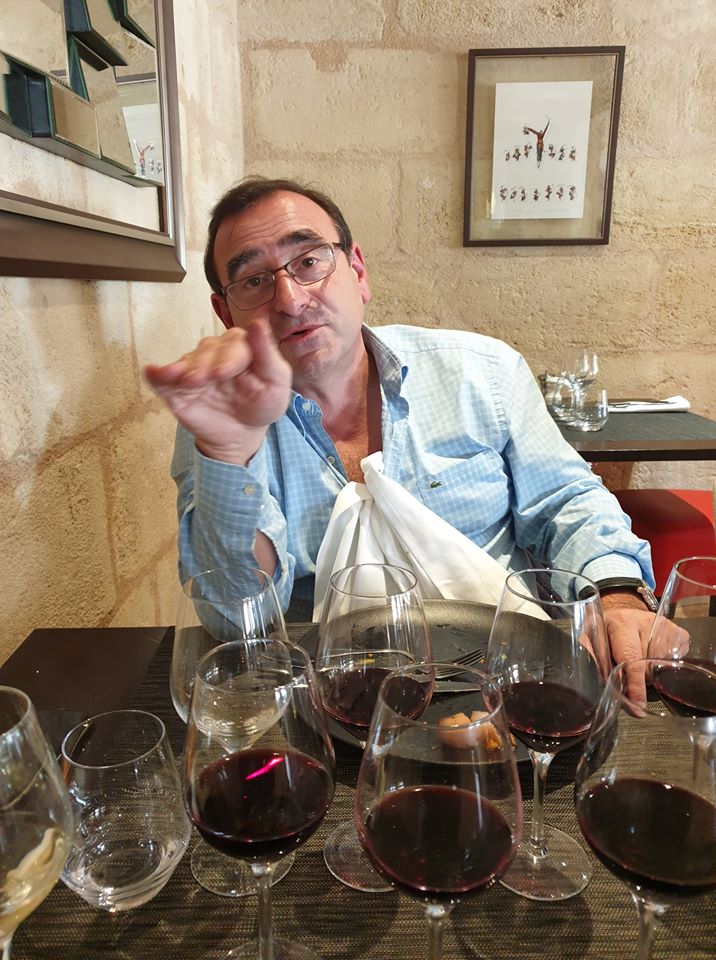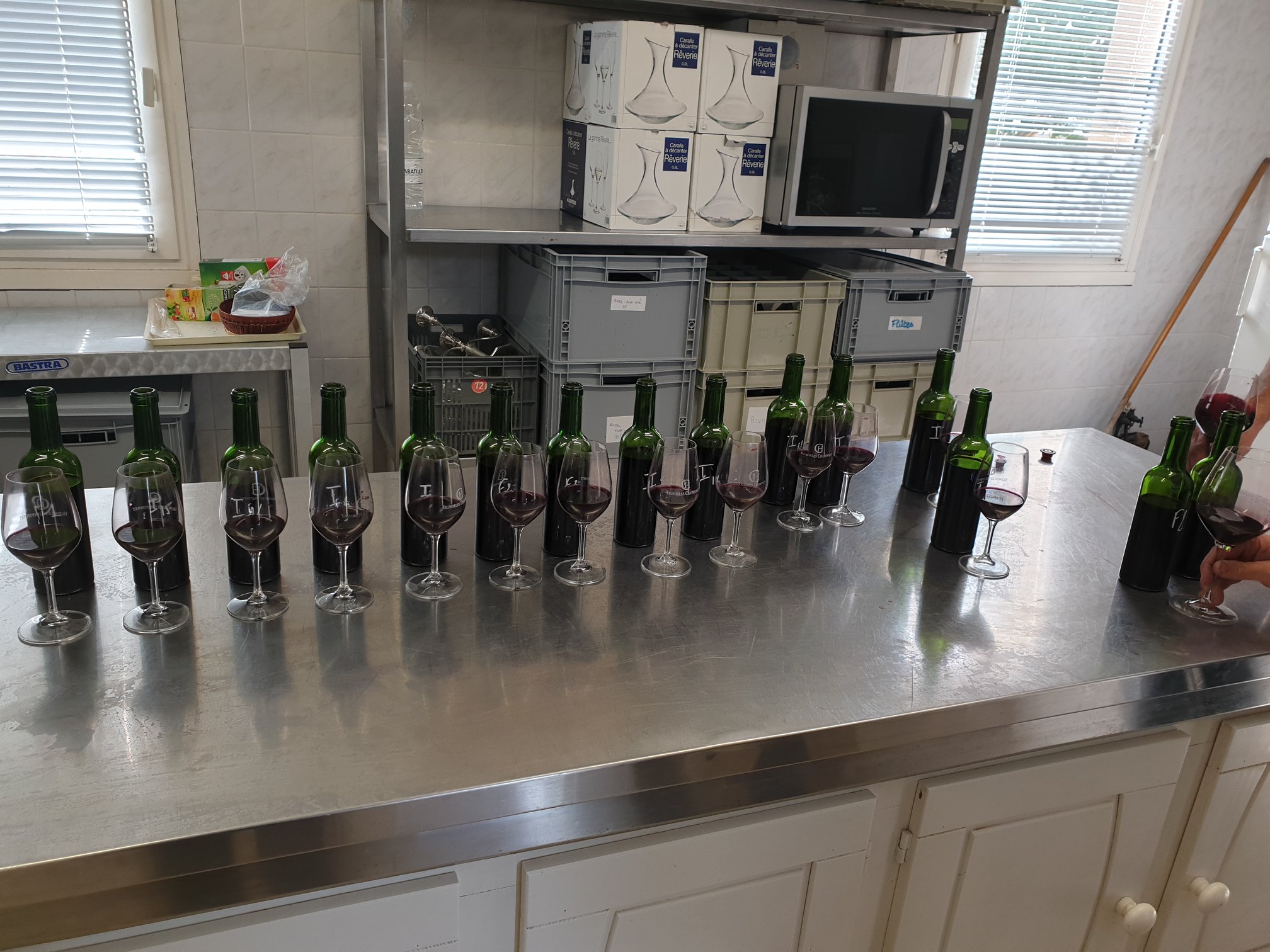 Left: Pascal Chatonnet. Right: Very interesting tasting of different 2019 cuvees at Haut Chaigneau.
VCC
Quick vist and retasting 2018, which was as thrilling as in April 2019. 98p. Alexandre Thienpont expected 2019 to be an awesome vintage, maybe as exciting as 2018 and 2016. He told me that rains shortly after mid September really did bring balance in the grapes, diluted sugar/alcohol and made the phenolic ripeness finish its job perfectly!
Le Pin
After VCC I went to Le Pin and had meeting with Jacques Thienpont. Can't believe I met this guy by accident 34 years ago in 1985. Retasted 2018, which tasted exactly as kinky as in April this year. 98+p. I also tasted a sample of 2019, which displayed huge promise. Jacques Thienpont was really excited about 2019 prospects. Both 2018 and 2019 went then back from my glass to respective barrels!!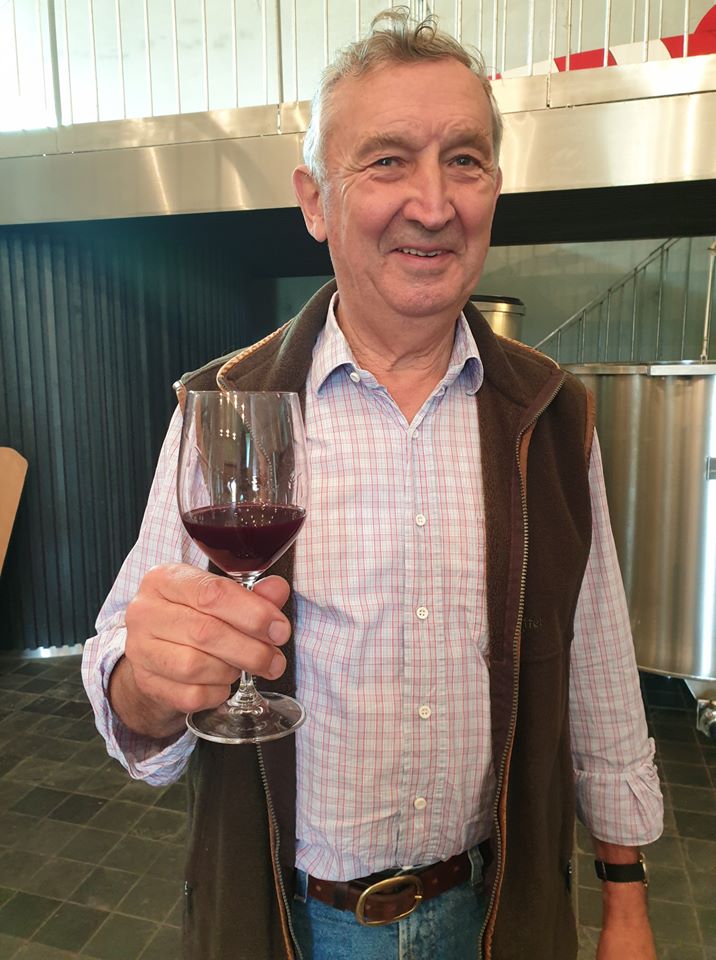 Jacques Thienpont with sample of 2019 Le Pin
10.10.2019
Beychevelle
Arrived there in the morning and harvest of Cabernet Sauvignon was still going on. Grapes looked stunning and tasted stunning. We began at the upper floor of the cellar tasting some Merlot 2019 from different plots together with PR-chef Geraldine Marquay Santier and Romain Ducolomb, Beychevelle's technical director since 2012 (see the picture below). It was incredibly interesting look into birth of the vintage and you could taste lot of promises.
Beychevelle has in all 80 different parcels (plots) of their grape varietes, so it's really a big work to find the right parcels and right blend for Grand Vin when time comes.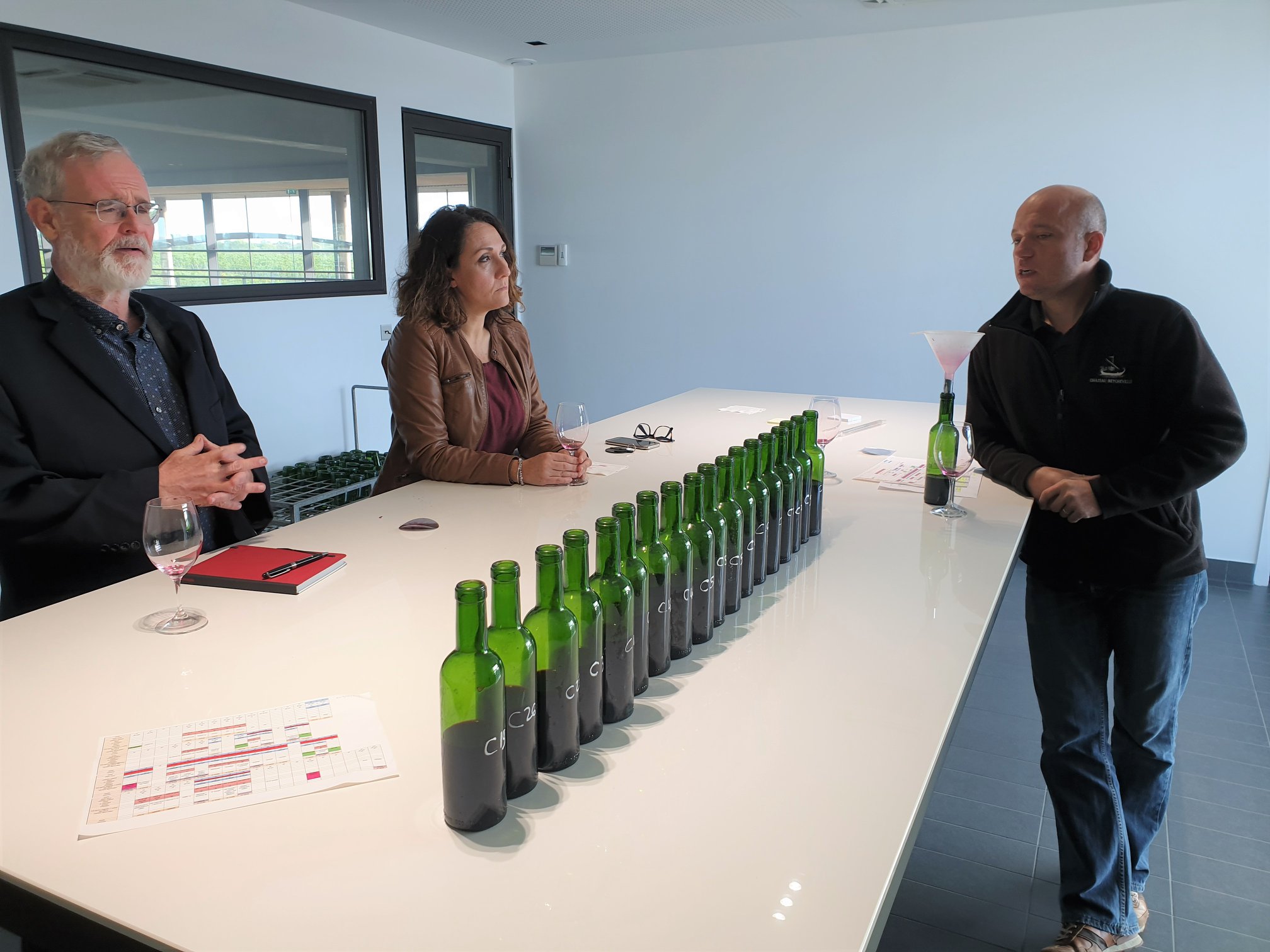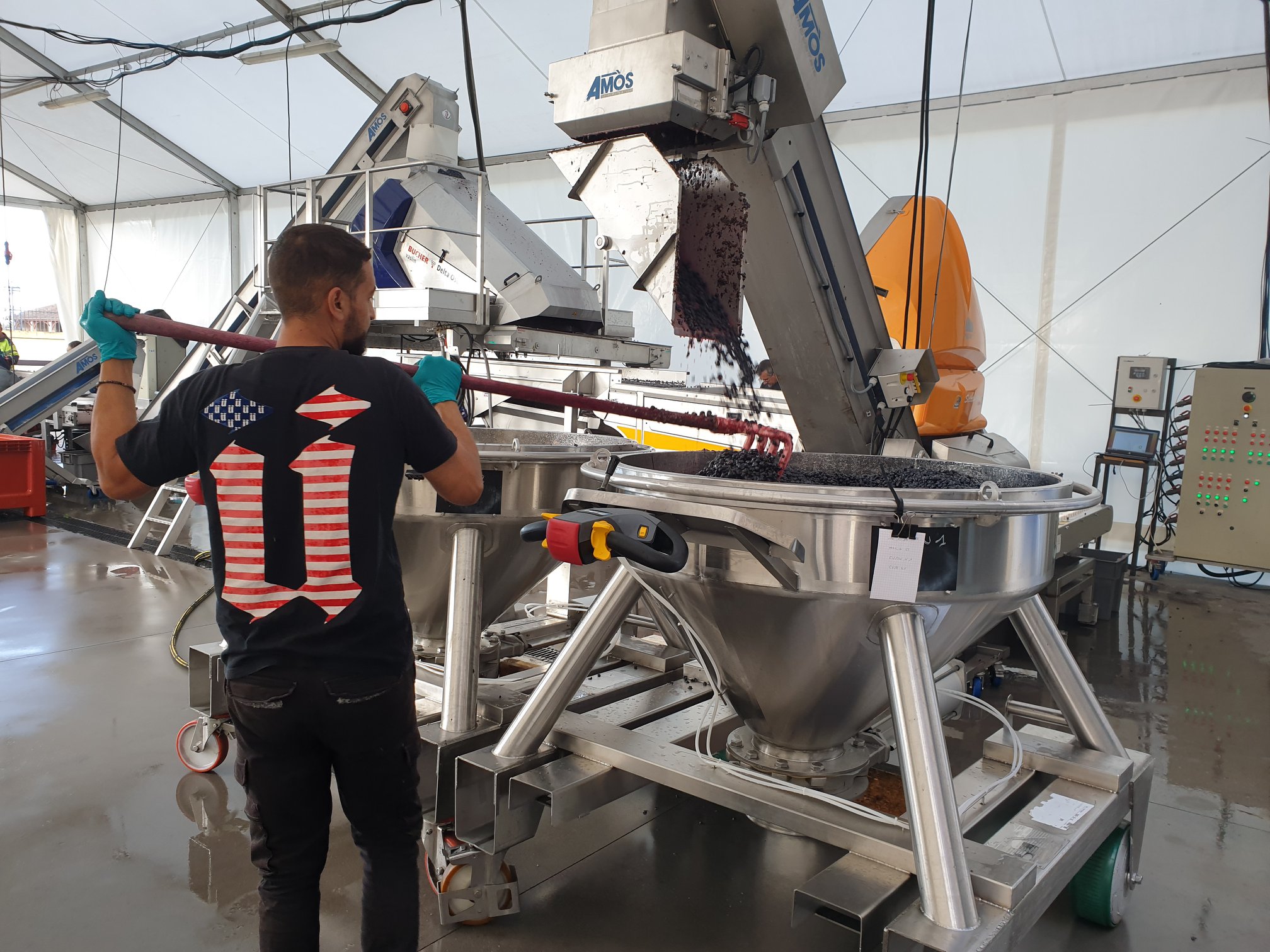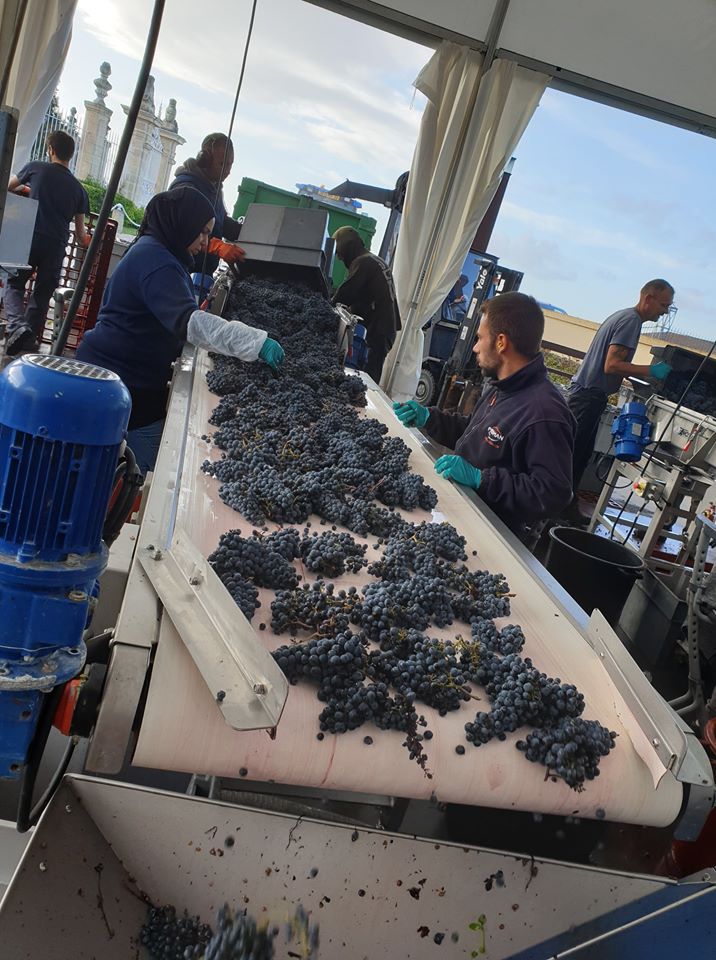 Cabernet Sauvignon coming in at Beychevelle. Notice the big bunches of grapes.
Afterwards, it was time to taste 2017 and 2016 Beychevelle. 2017 was an elegant wine with finesse, splendid complexity and persistent finish. 50% Cabernet Sauvignon + 45% Merlot + 5% Petit Verdot + 1% Cabernet Franc. 13.4% alcohol. 92p. 2016 behaved like a noble aristocrat with great complexity, silkiness and sophisticated touch. 47% CS + 47% M + 5% PV + 1% CF. Fabulous effort. 96p.
Leoville Barton
I often pass by Leoville/Langoa Barton when I'm in Bordeaux, either for primeurs or during the harvest. But strangely enough, I've never visited this property before, despite coming to Bordeaux for 35 years. Boooo, shame on me!! I'm sorry, but I don't really have any explanation!
When planning my 20th harvest trip to Bordeaux this year, I realized that it was really the time to see something new and complete my triple of Leovilles by including Barton one. It's the first Leoville you see on Route des Chateaux coming from Bordeaux, the two others are app. 1 km further the road from Barton.
The owner, Lilian Sartorius Barton, whom I meet every year at Beyerman tasting in Copenhagen in September (new vintage + an older one from app. 40 chateaux) and who I was sitting next to by the table at Vinexpo's Yquem dinner in May 2019, was so kind to invite me and my friend from Bordeaux to so-called Gerbaude. Gerbaude is tradition, a lunch to say thank you very much from the owner to all people involved in the harvest. Harvest finished the day before, Wednesday the 9th October. Lunch was cooked by people participating in the harvest from local ingredients, including famous cepes and girolles from Medoc forests! The dishes were delicious!
Before Gerbaude lunch, we tasted Leoville Barton and Langoa Barton in vintages 2015-16-17-18 plus Mauvesin Barton (Barton's property in Moulis ) 2015-16-18. Classic and stylish wines of very high quality. I rated Leoville Barton 96+p (2018), 94p (2017), 96p (2016) and 95p (2015), Langoa Barton (93+p (2018), 92p (2017), 93+p (2016) and 93p (2015) and Mauvesin Barton 91p (2018), 90p (2016) and 90p (2015). More detailed tasting notes are to be found on my website in profile of Leoville Barton/Langoa Barton.
Now all excitement is directed towards 2019, which Lilian Sartorius Barton expects to be a stunner vintage.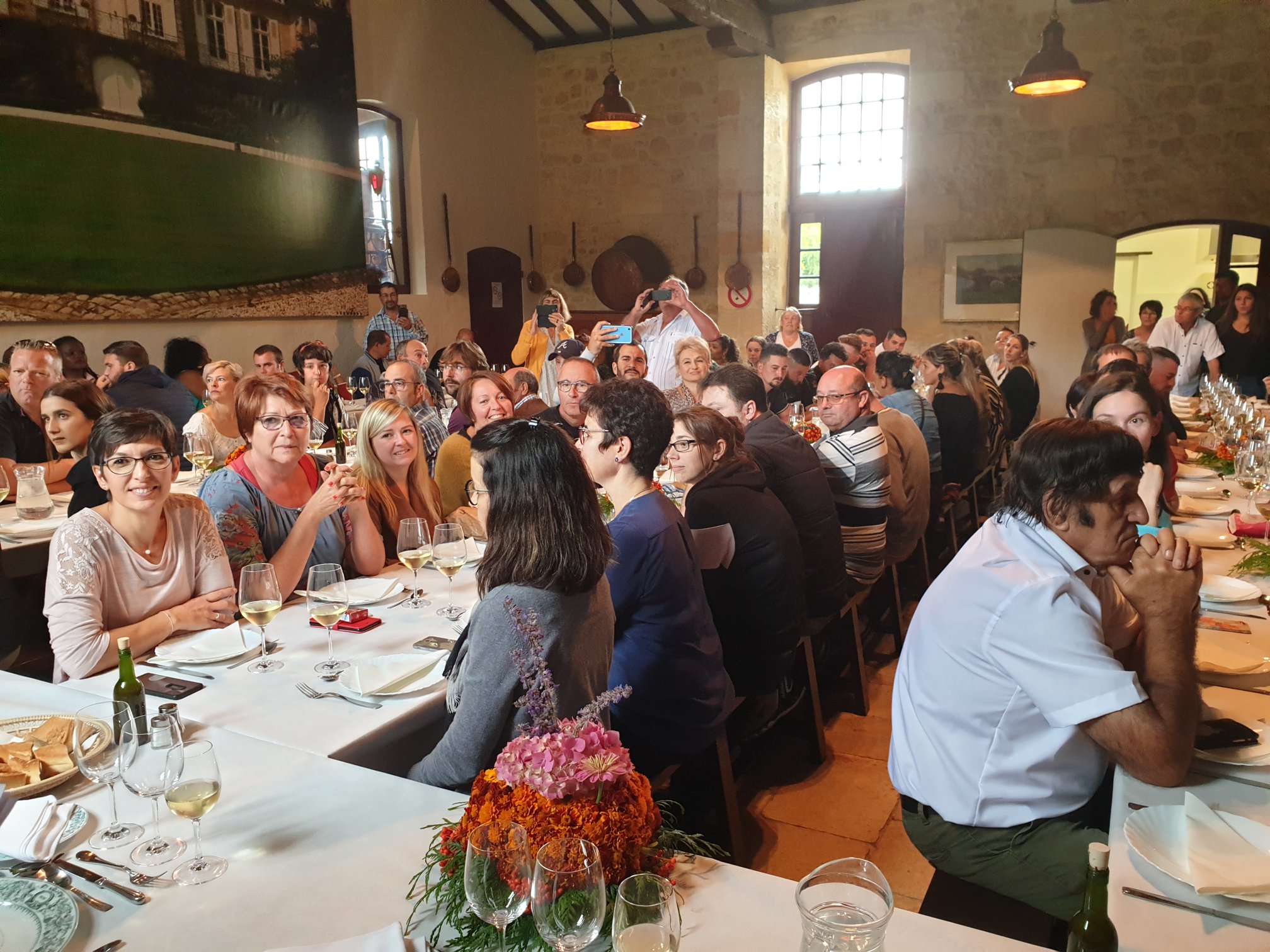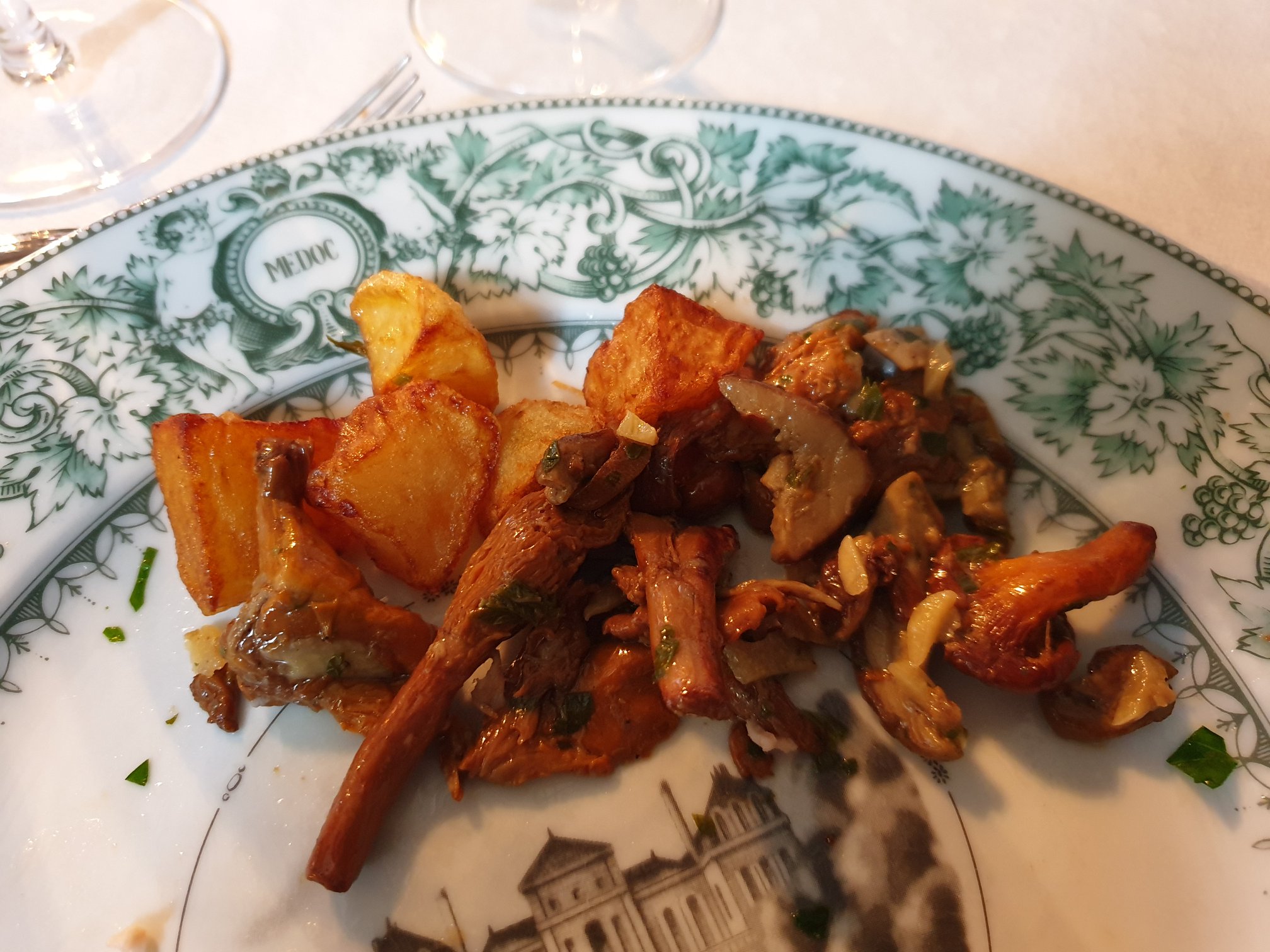 Left: Many very happy faces during Gerbaude lunch. Right: Extra portion of cepes and girolles
Pichon Comtesse
For the second time in the row, me and my friend were met by Stephanie Danglade, oenologist at Comtesse. She did also receive us back in April this year. She lives not that far from the property and she told us that it's very convenient to have short travel from home to work. Especially, when the things get urgent and need to be resolved immediately.
They are very enthusiastic about 2019 at Comtesse. Will it be Nicolas Glumineau's best vintage ever? We'll know more in 6 months time!
After short info about 2019 harvest, we went to tasting room, to retaste 2017 and 2018 vintage.
Since 2017 vintage, second wine has changed its name from Reserve de La Comtesse to Pichon Comtesse Reserve.
2017 Pichon Comtesse Reserve - quite powerful with nice backbone, fruity (raspberry drops), some mint flavour too, well-balanced and with persistent finish. Fine effort indeed.
2017 Pichon Comtesse - 13.2% alcohol. Thick and tight. Very impresive intensity and concentration for the vintage. Sensual and seductive. Many layers to discover. Exceptional effort. 97p.

2018 Pichon Comtesse Reserve - corpulent, meaty, aromatic, splendid structure and length. Seemed to have gained some more weight since tasting it in April 2019. Excelllent second wine. 92-93p.
2018 Pichon Comtesse - big, bold and massive, an epitomi of sophisticated touch, sensuality and richness. A bit more weight here than in April 2019. Wood and fruit are building together a true monument here. This is a masterpiece. 98-99p.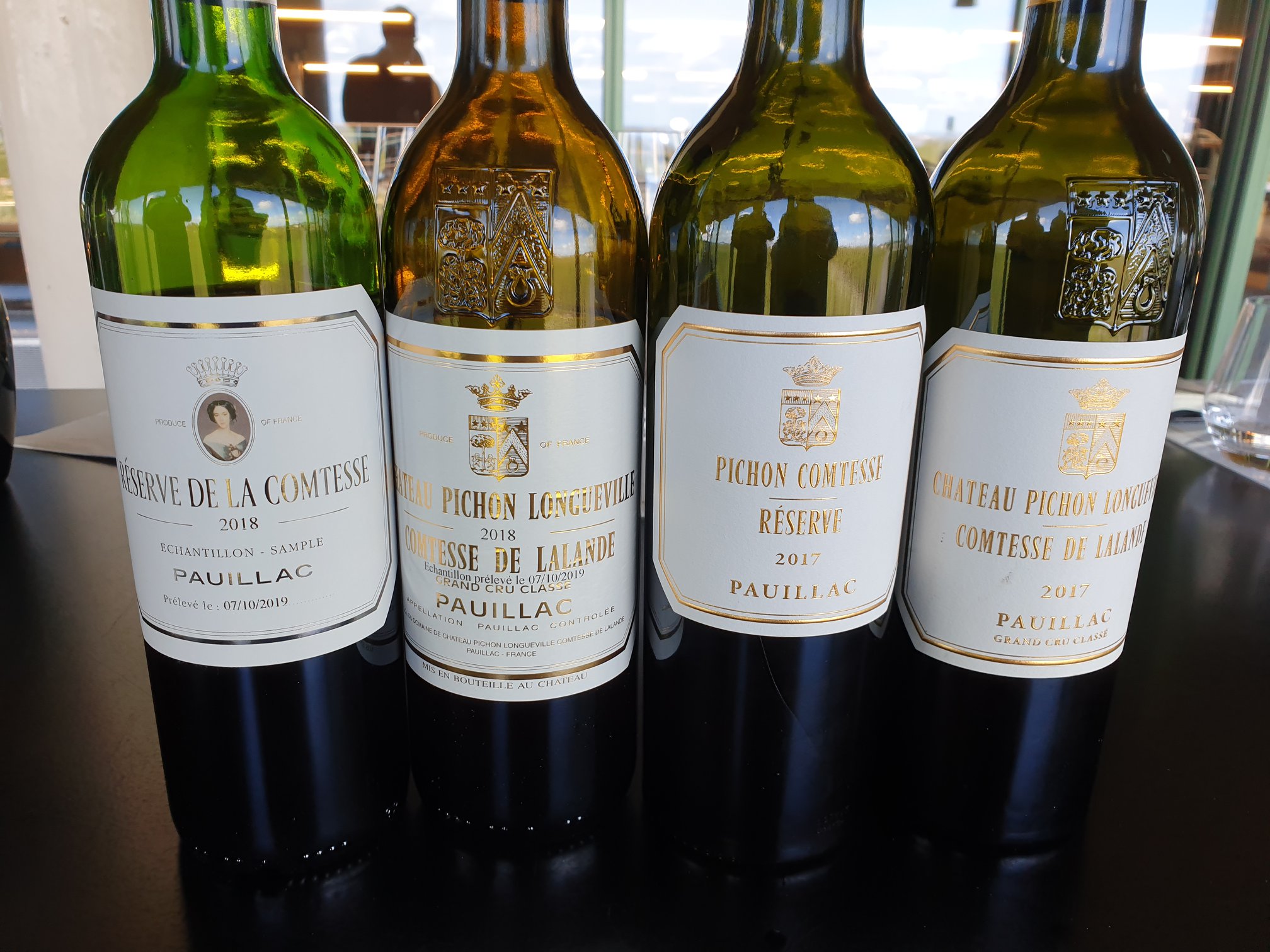 11.10.2019
Haut Brion
We went straight to tasting room for tasting line-up of 2016 as I kindly requested. Reds in vintage 2016 in Bordeaux are fantastic while white wines lacks acidity and suffer a bit from Semillon not being perfect.
Reds:
Clarendelle is a wine based on grapes bought around Bordeaux and the ones not used at HB/LMHB samt Quintus.
Clarendelle Bordeaux - easygoing, supple, round and soft. 86p.
Clarendelle Medoc - more inensity and concentration, nice acidity, nice length and finish, tasty fruit. 87p.
Clarendelle Saint-Emilion - light, gentle. Soft, round and tasty. 85p.
Clarendelle Pessac-Leognan - fruity and meaty, very nice structure, length and finish. 87p.
La Chapelle de LMHB - juicy and sappy, splendid structure, cherry flavors, fine ripe tannin and fine acidity on palate, well-balanced and with smooth finish. Fine effort. 92p
Le Clarence de Haut Brion - slightly more intense and longer on palate than La Chapelle, otherwise same style. 92p.
La Mission Haut Brion - closed a bit that particular day and therefore not showing everything. Still, the enormous potential of this wine was more than obvious. 95+p.
Haut Brion - this wine was in excellent mood bringing everything forward. Stunning depth and concentration here, noble yet voluptuous style, sophisticated touch and mega long finish. Awesome wine. 98-99p.
Whites:
La Clarte - lemon grass, citrus, green apple, very nice acidity, crispy and with smooth finish. 90p.
La Mission Haut Brion - fine aromas of pear and peach, crispy and vibrant with excellent acidity and depth, great complexity and balance. Splendid for the vintage. 94p.
Haut Brion - offered more of everything than LMHB, especially concentration depth and finish. 96p.
Seguin
When we arrived, the workers were cleaning of the equipment after harvest finished few days earlier. Seguin's cellarmaster, Xavier, let us taste some samples of 2019, which promised a lot by having lot of sugar and fat tannin. He told us, that he considered 2019 to be hotter year than 2018 and that Merlot was simply perfect in 2019 while Cabernet Sauvignon slightly less so. After losing 100% potential grapes to frost in 2017, they're very happy at Seguin to have another and possibly excellent vintage following 2018, safe in the cellar.
Domaine de Chevalier
Me and my friend from Bordeaux, Alex Rychlewski, arrived at very busy time, amid harvest of Cabernet Sauvignon, and spent just a short time with extremely busy Olivier Bernard. He was extremely happy with what he already had in the vats but said that Cabernet Sauvignon would be an "icing on the cake!" I remains to be seen and tasted if this vintage here will exceed 2018 and 2016!
After short look in the backyard at incoming Cabernet Sauvignon, we went to tasting room to taste 2017s.
Reds:
Domaine de la Solitude - fruity, easy to taste, soft texture, charming and attractive. Nice to drink already. 87p.
Lespault Martillac - more spicy character here than in DdlS, rather tannic with good zest and firm aftertaste. 89p.
L'Esprit de Chevalier - resembles Lespault Martillac to great extent with similar style and concentration. Ready to drink in few years time. 90p.
Domaine de Chevalier - lot of elegance, finesse, minerality and fine acidity. Great effort for the vintage. 94p.
Whites:
Clos des Lunes d'Or - pleasant semi-sweet, round and tasty. Apertif wine. 86p.
Clos des Lunes Argent - more crispiness and sweetness, concentration and length. Will go well with light dishes of chicken and pates/rilletes. 88p.
Domaine de la Solitude - acacia flower, lemon grass, crispy, fine acidity and structure, fine concentration as well. Tastes well. 91p.
Lespault Martillac - more of everything than in DdlS, deeper and longer, catchy flavour of peach and green apple, attractive. 92p.
L'Esprit de Chevalier - similar to Lespault Martillac. 92p.
Domaine de Chevalier - as usual lot of nuances and aromas, sophisticated touch, great depth, long finish and great complexity. 96p.
Suau (Sauternes) - splendid botrytised flavours of mandarines and oranges, splendid acidity as well, elegant with fine length, honeyed finish. Fine effort for the vintage. 93p.
Les Carmes Haut Brion
We, my friend from Bordeaux Alex Rychlewski and myself, arrived at the property with great expectation concerning what Guillaume Pouthier would have to say about new vintage baby, 2019.
As the day we arrived at LCHB was his birthday, I brought a box of Danish chocolate from Løgismose as a gift for him.
We started our visit with tasting of recently bottled 2017 Grand Vind. 40% whole bunches used during maceration, aged in 75% new barrels, 15% 2 years old foudres and 10% amphoras. Creamy, very aromatic, excellent grained tannin, fruity and with silky texture, elegance and fruity finish. Great, great quality and style. 95p.
Afterwards, we had a very interesting lecture as he spoke to us about what he seeks in the wine and what is important for him to have in the wine:
1. Balance.
2. Complexity.
3. Typicity of the place (terroir).
4. Capacity of aging.
5. Pleasure.
It was a very informative go through every aspect of winemaking!
Then we were allowed to taste 3 different samples of 2019 from 2 weeks harvest.
1. Cp 7. 70% Merlot + 30% Cabernet Franc - very creamy and tasty.
2. Cp 3. 70% Cabernet Franc + 30% Merlot - coming from 90 years old vines - dense, creamy, very flavourful and concentrated.
3. Cp 5 . 30% Cabernet Franc, 30% Cabernet Sauvignon and 30% Merlot - big freshness, Cabernet Sauvignon had slighty degradated flavours, thick and dense, big exquisite tannin.
2019 vintage will be really something spectacular, be sure of that!!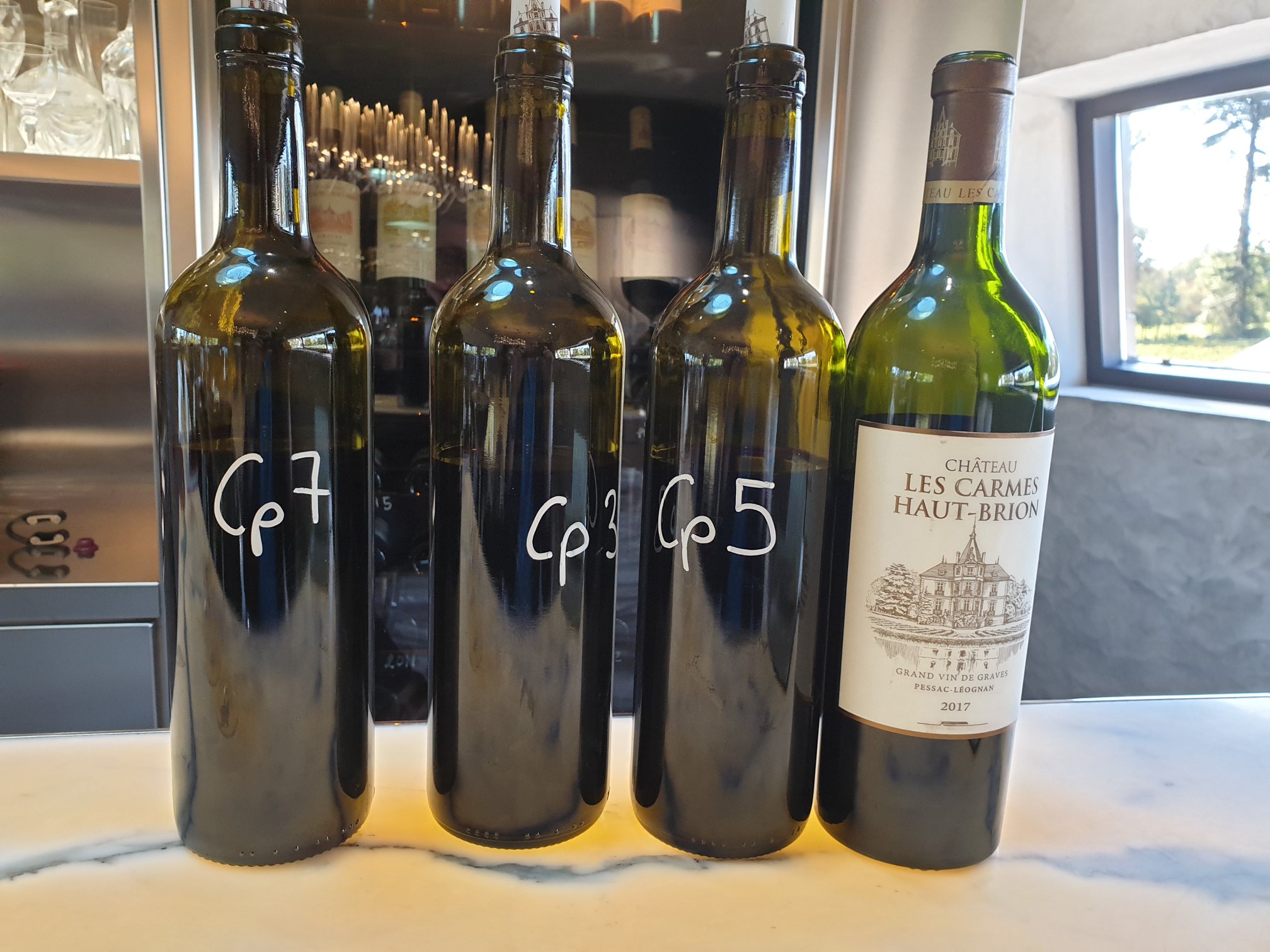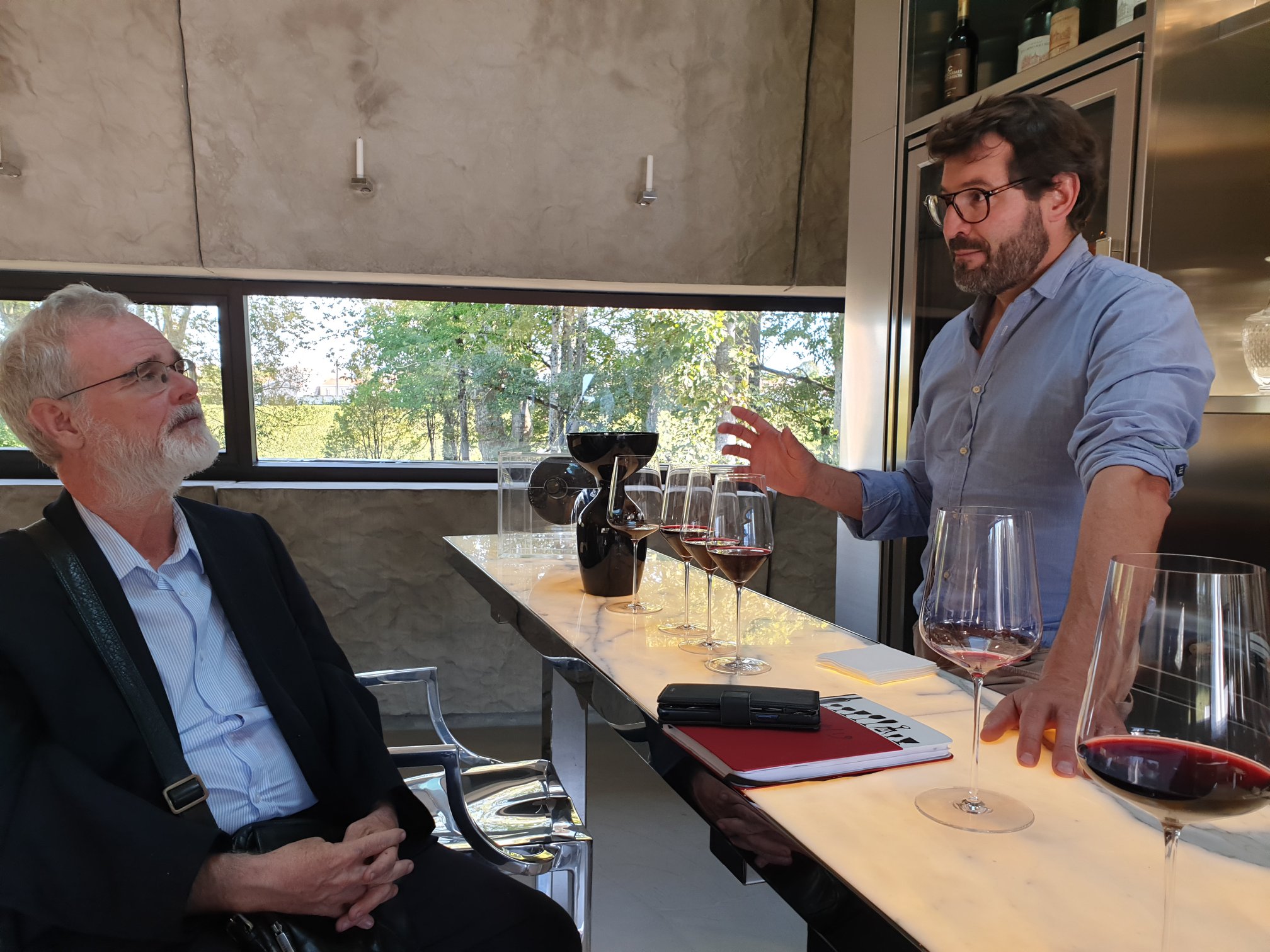 My friend from Bordeaux, Alex Rychlewski, listening carefully to Guillaume Pouthier's speech