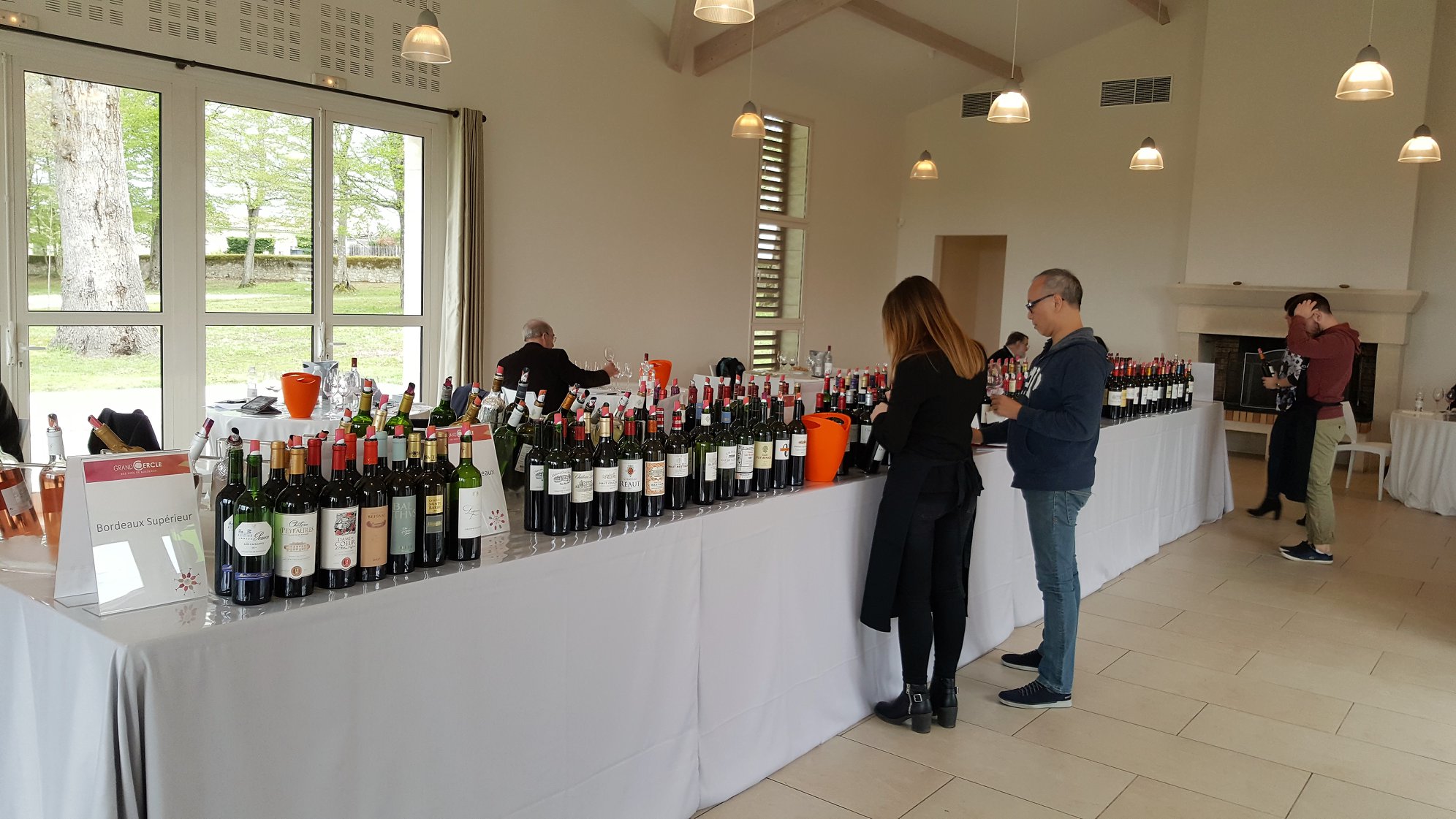 2017 Grand Cercle tasting at La Dauphine. Self-service!
Same procedure as every year! Every year since 2002, I come for primeur tastings in springtime in Bordeaux, so in April 2018, it was my 16th primeur. How time goes fast!!
Experience:
During these 16 years, I have also been to 14 harvests except for the 2002 and 2005 vintage, so I've been well-prepared for tasting new vintages, seeing the birth of these, and their further development. All these harvests were different weather-wise, resulting in variable vintages, and one learns a lot from these continuous tasting of vintages from the barrel and after bottling.
Weather:
The beginning of the year was dry, and winter was relatively cold. At the end of March, temperatures rose significantly, and early bud break took place, app. one week ahead of the normal time. Then at the end of April, a disaster struck Bordeaux.
On the 26th of April, frost hit Bordeaux with temperatures between -3 to -5 Celcius, and it stayed there for 2-3 nights. However, it wasn't a frost like in 1991, coming from above and hitting even vineyards on the hill.
This time, it was white frost coming from below the surface. Vineyards close to the Gironde river in Medoc escaped damage 100%, while in Saint-Emilion, the lower-lying vineyards were severely hit with some exceptions. In contrast, those on the hillsides/hills largely escaped the frost. Strangely enough, there were a few unexplained scenarios of some properties at the slopes and hills being hit but close neighbors not. Graves and Pessac-Leognan suffered quite a lot, and several properties frosted 100%. In Pomerol, properties at the so-called "Le Plateau Argileux" in the center worked together against frost (L'Eglise Clinet. Le Pin, Clinet and Bourgneuf) and survived, while in other places in the district, there were mixed fortunes.
Burning big candles filled with paraffine oil, heaters, helicopters, and windmills were largely used in Bordeaux to protect vines from frosting dead.
High temperatures in May speed up flowering, which was copious and fast. It began around one week from the end of the month and finished in less than a week. At that time, vines were two weeks in advance in development. June was sweltering, with temperatures exceeding 40 degrees C during Vinexpo in the middle of the month.
July and August were relatively dry and cool, while September was cool and humid before the harvest. The phenolic ripeness of the grape skins was quickly completed. Then one of the earliest harvests in Bordeaux history happened two weeks earlier than the expected average date.
Primeur tastings of the 2017 vintage:
I spent 2.5 weeks in Bordeaux in April, starting before primeur week, and finishing after primeur week, tasting app. 400 samples of 2017 and app. One hundred wines from other vintages.
So what's the deal with the 2017 vintage? It's a winemaker's vintage - The ones who vinified carefully and avoided falling into the trap of harvesting too late or too early, pushing extraction too much, and using too much new oak made some stunning wines. Imho, 2017 is similar in quality to the 2014 vintage but without the roughness of tannin of this vintage. The fruit is riper in 2017 and tannin, too, compared to 2014. The silkiness and velvety texture remind me of 2012 and 2016, and freshness and acidity were like in 2014. Many wines have a lot of charm, elegance, and finesse. Generally, 2017 hasn't had the density, concentration, and complexity level as 2015 and 2016, but wait a minute…..some properties managed to touch the niveau of the 2015 vintage!
It's exciting to see many different styles of winemaking in 2017. You can recognize the direction a given chateau goes towards. It's also great to see some chateaux leave the modern way (big extraction and excess use of new oak) of making wines and go back to the more expressing character of the soil and traditional style of wine from a given district/commune.
Pauillac, Saint Estephe, and Pomerol have been the most consistent wine-producing areas in Bordeaux and made the best wines in 2017 among red wines. Saint-Emilion, Margaux, Pessac-Leognan, and Saint-Julien are close but significantly more irregular. Dry whites and dry sweet are considerably better than their counterparts in 2016 and 2015 and are, imho on the level of the 2013 vintage, which was very successful for whites in Bordeaux.
At the time of writing this report (end of April 2018), several chateaux came out with 2017 prices and 20% down on 2016 prices could be a reality and trend to follow. Let's hope so. Update at the end of May 2018 - several properties have come out with prices close to 2016, and it seems they have significantly overpriced their wines. Not a very good sign, I've to say!
RATINGS
Grading of my ratings:
98-100p - perfectly made wines, well on the way to becoming legends.
96-98p - truly remarkable wine with a lot of style and class, great potential, fabulously made.
94-96p - very focused wines with great precision, personality, and complexity.
92-94p - remarkable wines with style and grace.
90-92p - well-made wines with personality and focus.
88-90p - very good quality.
86-88p - correct wines.
+ after rating means the given wine is better overall than the one without it.
Notice - all wines listed here weren't tasted blind, and many of these have been rated at Hangar 14 in Bordeaux, Grand Cercle tasting, Vintex tasting, Rolland tasting, and, of course, during visits at many chateaux.
Sauternes & Barsac:
Bastor-Lamontagne Sauternes 92 Broustet Barsac 91 Clos Haut-Peyraguey Sauternes 95 Coutet Barsac 95 de Fargues Sauternes 96 de Rayne Vigneau Sauternes 95 Guiraud Sauternes 92-93 Lafaurie-Peyraguey Sauternes 96 La Tour Blanche Sauternes 94 Lafaurie-Peyraguey Sauternes 96 de Myrat Barsac 94 Raymond Lafon Sauternes 95-96 Sigalas Rabaud Sauternes 94 Suau Sauternes 93-94 Suduiraut Sauternes 94 Yquem Sauternes 99-100
Overall 2017 vintage for sweet wines in Bordeaux is better than 2016 and 2015. It reminds me of the 2013 vintage with 2014's acidity. 2014'se of frost, which mainly hit the Barsac area, there were few wines from this commune in 2017. Coutet was a wine with delicate complexity, structure and length, splendid flavors, elegance, and finesse. Long aftertaste. De Myrat was similar to Coutet, with a pleasing sweetness and acidity.
The best wine in Sauternes & Barsac is the king, Yquem, with its enormous sweetness, acidity, power, and intensity of botrytized flavors. Wow!
De Fargues, Lafaurie Peyraguey, Raymond Lafon, de Rayne Vigneau, and Clos Haut Peyraguey made impressive wines with freshness, great acidity, and sweetness. La Tour Blanche, Sigalas Rabaud, and Suduiraut (tasted at Hangar 14 and Pichon Baron with the same result) followed closely after with the same fine quality.
At Raymond Lafon, Jean-Pierre Meslier kindly allowed me to taste additional vintages. 2016, 2015, 2014, 2013, 2011, and 2009. My cherry picks were vintages 2009, 2013, and 2015, all three with freshness and great acidity, splendid sweetness, refined and sophisticated. I rated 2009 96p, 2013 got 95p and 2015 was rated 94-95p. 2014 had remarkable acidity, and 2011 tasted slightly lighter than I remember. 94p for 2014 and 93p for 2011.
At de Rayne Vigneau, I tasted vintages 2017-2016-2015-2013 and 2012 of Grand Vin, plus 2017 and 2015 of the dry white. 2017 de Rayne Vigneau has already been mentioned above, so I go straight to 2016. Not so refined and well-proportioned as 2017, with less acidity, botrytized flavors, and complexity. 92-93p. 2015 however, showed the same fine qualities as 2017 and was more potent and stronger, with more acidity and length. 94p. 2013 displayed great potential and may edge 2015 in the long run. 94-95p. 2012 reminded me of 2016, pleasant, round, and tasty. Perfect as aperitif wine for receptions. 92-93p.
Le Sec de Rayne Vigneau 2015 had lovely freshness and acidity and was pleasant and tasty. 2017 displayed more acidity, zest, and crispiness. 89p.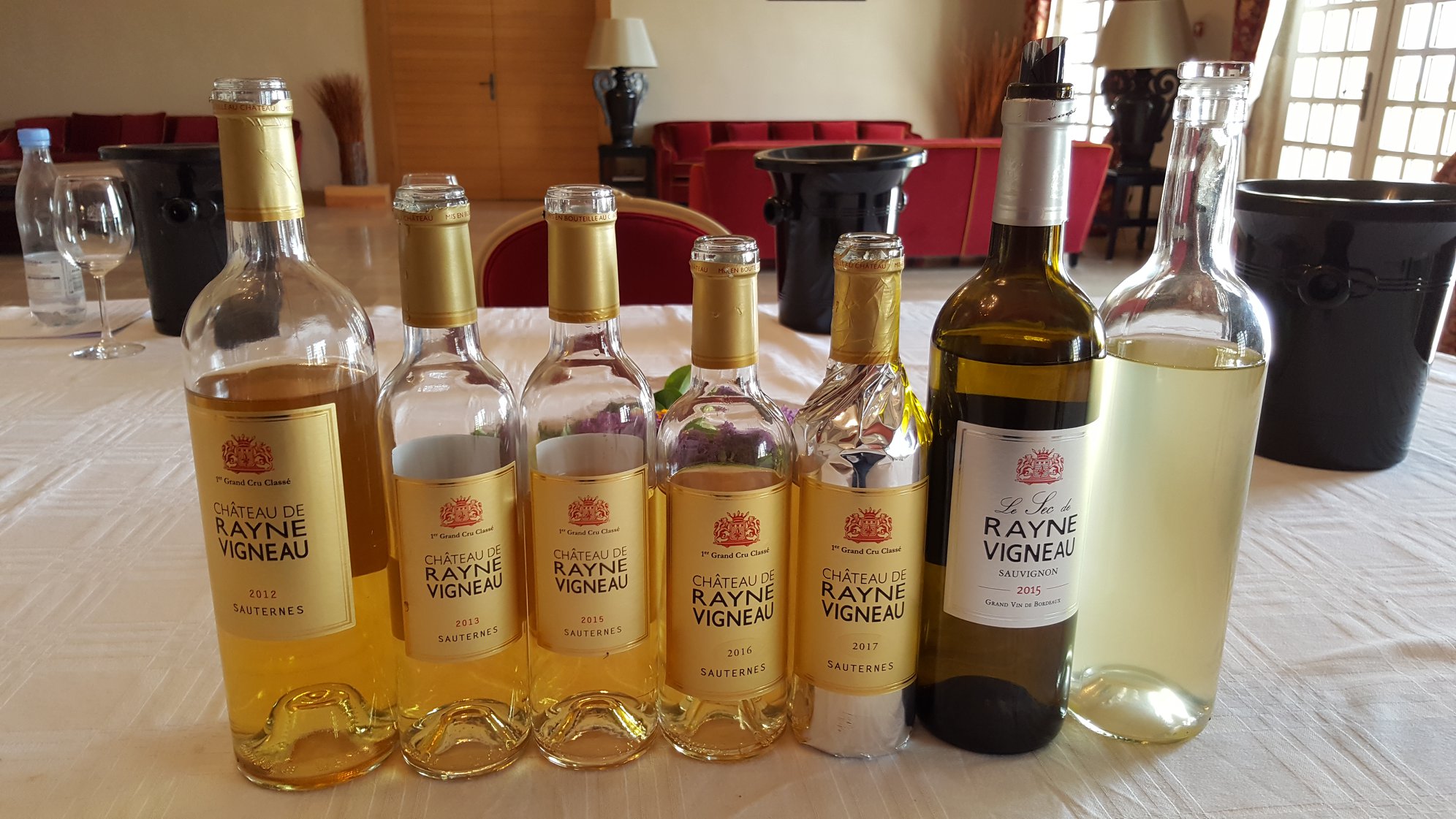 Graves & Pessac-Leognan red and white:
Bouscaut Pessac-Léognan 89 Bouscaut white Pessac-Léognan 91-92 Brown Pessac-Léognan 87 Carbonnieux Pessac-Léognan 91 Carbonnieux white Pessac-Léognan 92 Chantegrive white (Cuvée Caroline) Graves 90 Clos Floridene Graves 88 Clos Floridene white Graves 92 Clos Marsalette Pessac-Léognan 88 Clos Marsalette white Pessac-Léognan 90 Crabitey Graves 87 Cruzeau Pessac-Léognan 89 Cruzeau white Pessac-Léognan 92 Domaine de Chevalier Pessac-Léognan 95 Domaine de Chevalier white Pessac-Léognan 96+ Ferrande Graves 88 Ferrande white Graves 91 Haut Bacalan Pessac-Léognan 87 Haut Bailly Pessac-Léognan 96 Haut-Brion Pessac-Léognan 97+ Haut-Brion white Pessac-Léognan 98-99 Haura Graves 88 La Chapelle de La Mission Haut-Brion Pessac-Léognan 91 La Clarté de Haut-Brion white Pessac-Léognan 91-92 La Louvière white Pessac-Léognan 93 La Mission Haut-Brion Pessac-Léognan 96 La Mission Haut-Brion white Pessac-Léognan 97+ La Parde de Haut Bailly Pessac-Léognan 91 Larrivet Haut-Brion white Pessac-Léognan 91 Latour-Martillac white Pessac-Léognan 92 Le Clarence de Haut-Brion Pessac-Léognan 91 Le Pape Pessac-Léognan 91 Les Carmes Haut-Brion Pessac-Léognan 95-96 Les C de Carmes Haut Brion Pessac-Léognan 92 Lespault Martillac Pessac-Léognan 90 Lespault Martillac white Pessac-Léognan 92 Malartic Lagravière white Pessac-Léognan 93 Olivier white Pessac-Léognan 93 Pape Clément Pessac-Léognan 92 Pape Clément white Pessac-Léognan 95 Picque-Caillou Pessac-Léognan 89 Picque-Caillou white Pessac-Léognan 92 Rahoul Graves 89 Rahoul blanc Graves 92 Rochemorin white Pessac-Léognan 91 Roquetaillade La Grange Graves 87 Smith Haut Lafitte Pessac-Léognan 94 Smith Haut Lafitte white Pessac-Léognan 96
Frost hit here occasionally, so some properties lost 100%, some less than that, and some nothing. Generally, reds produced are superb quality but in a different league than 2015 and 2016. More like 2014, I believe. Whites are just splendid, with a lot of freshness, acidity, crispiness, and aromatic touch. Many well-made wines!
REDS:
Haut Brion and La Mission Haut Brion made excellent reds with great acidity and complexity, many aromas (violets), and a long aftertaste. As usual, Haut Brion was more concentrated and longer than La Mission, but La Mission was more elegant and noble than Haut Brion.
Haut Bailly continues its hot streak of producing excellent vintages with complete wine, showing freshness, perfect structure, and great complexity. 60% Cabernet Sauvignon, 32% Merlot, 4% Cabernet Franc and 4% Petit Verdot.
Les Carmes Haut Brion with its winemaker since 2012, Guillaume Pouthier, has once again produced a stellar wine, very aromatic, fruity and with a silky texture, elegance, and fruity finish. A real heartbreaker wine. Here, 50% of the whole bunches were going into barrels. During vinification, 70% new oak, 20% one-year-old barrels, and 10% amphoras were used. 41% Cabernet Franc, 30% Merlot and 29% Cabernet Sauvignon.
Domaine de Chevalier showed a lot of elegance, finesse, minerality, and fine acidity. Great effort for the vintage.
Smith Haut Lafitte made similarly elegant and gracious wine.
Seguin lost everything in April 2017 during three days of frost. Zero 2017 then. While visiting it just before the start of primeur week, I tasted 2016, 2015, and 2014 vintages of Seguin and 2015 and 2014 vintages of their luxury cuvee, Confidence(s) de Chateau Seguin. 2016 and 2015 were very impressive, aromatic, sleek, and seductive. 95p for 2016 and 94 for 2015. 2014 was a classic and stylish wine with splendid structure and length.
2015 Confidence(s) contains 70% Cabernet Sauvignon. Tight, concentrated, very aromatic with black cherries, a lot of substance, great complexity, and excellent balance. 95+p. 2014 Confidence(s) showed more intensity, concentration, depth, and length than regular cuvee. 60% Cabernet Sauvignon. 94+p.
WHITES:
Haut Brion created a monster wine with immense intensity and complexity, many aromas, and stunning complexity.
La Mission Haut Brion was more elegant, had more finesse than Haut Brion, and had great acidity and crispiness. Very sophisticated wine.
Domaine de Chevalier displayed a lot of nuances and aromas, sophisticated touch, great depth, a long finish, and great complexity.
Pape Clement and Smith Haut Lafitte were also excellent, with great acidity, aromatic touch, crispy flavors, and complexity.
There were splendid efforts from La Louviere and Olivier. Other wines rated 92p (see above) were delicate, tasty, and crispy.
Bordeaux, Bordeaux Superieur, Blaye Cotes de Bordeaux, Cadillac Cotes de Bordeaux, Castillon Cotes de Bordeaux, Cotes de Bourg, Entre-deux-Mers and Francs Cotes de Bordeaux:
d'Ailguilhe Castillon Côtes de Bordeaux89 Acte 9 G de Guinaudeau Bordeaux Superieur 88 Aile d'Argent white Bordeaux 92 Alcée Castillon Côtes de Bordeaux 91 Bad Boy Bordeaux 90 Clarendelle Bordeaux 88 Clos des Lunes Lunes d'Argent Bordeaux 89 Clos des Lunes Lunes d'Or Bordeaux 90 Clos Lunelles Castillon Côtes de Bordeaux 91-92 Cos d'Estournel white Bordeaux 92 Cote Montpezat Castillon Côtes de Bordeaux 88 Croix Mouton Bordeaux Superieur 90-91 de Francs Francs Côtes de Bordeaux 86 de Reignac Bordeaux Superieur 89 Domaine des Cambes Bordeaux 90 Grand Village Bordeaux Superieur 88 Grand Village white Bordeaux 92 Haut Bertinerie Blaye Cotes de Bordeaux 88 Joanin Becot Castillon Côtes de Bordeaux 92 La Brande Castillon Côtes de Bordeaux 88 La Prade Francs Côtes de Bordeaux 90 L'AurageCastillon Côtes de Bordeaux 90 Le Nardian (white) Bordeaux 93 Le Sec de Rayne Vigneau Bordeaux 88 L'Esprit de Pavie Bordeaux 90 Les Champs Libres (white) Bordeaux 93 Monbousquet white Bordeaux 91 Montlandrie Castillon Côtes de Bordeaux 92 Pavillon Blanc de Margaux Bordeaux 94 Penin Bordeaux Superieur 87 Puy Arnaud Castillon Côtes de Bordeaux 90 Puygueraud Francs Côtes de Bordeaux 90 Puygueraud white Francs Côtes de Bordeaux 92-93 Reaut Cotes de Bordeaux 88 Reynon Premieres Cotes de Bordeaux 88 Roc de Cambes Côtes de Bourg 93 S de Suduiraut Bordeaux 91 Sainte Barbe Bordeaux Superieur 88 Sainte Marie Vieilles Vignes Entre-deux-Mers 88 Suduiraut white dry Bordeaux 90 Valandraud white Bordeaux 93 Veyry Castillon Côtes de Bordeaux 92 Virginie de Valandraud white Bordeaux 92
Lots of pretty splendid wines in different appellations. Standouts are:
Pavillon Blanc de Chateau Margaux with great aromas, acidity, and complexity, Le Nardian (white) from Jonathan Maltus with delicate freshness, crispiness, and acidity. Valandraud (white) with splendid aromas, crisp flavors, impressive length, Les Champs Libres (white) from Sylvie and Jacques Guinaudeau with tropical flavors of mango and guava, fine acidity. Sauvignon Blanc vines at LCL are from Sancerre.
We all know Roc de Cambes from Francois Mitjavile, a potent and complex wine.
Médoc/Haut Médoc:
d'Arsac Haut-Médoc 88 d'Arcins Haut-Médoc 88 Belgrave Haut-Médoc 91 Cantemerle Haut-Médoc 87 Charmail Haut-Médoc 91 Citran Haut-Médoc 87 Clement Pichon Haut-Médoc 88-89 Coufran Haut-Médoc 87 de Lamarque Haut-Médoc 91-92 Goulée Médoc 90 Greysac Haut-Médoc 88-89 La Cardonne Médoc 86 Chapelle de Potensac Haut-Médoc 88 La Lagune Haut-Médoc 95 La Tour Carnet Haut-Médoc 86 La Tour de By Médoc 88 Lanessan Haut-Médoc 91-92 Malescasse Haut-Médoc 89 Potensac Haut-Médoc 88-89
Here, the absolute star is La Lagune, 3rd Growth. This property made a heartbreaker wine in 2017, 70% C.S. + 25% Merlot + 5% Petit Verdot. Very captivating on the nose and fresh with splendid acidity, Cabernet Sauvignon steals headlines with remarkable contribution, finesse, silkiness, and velvety texture. Charismatic wine and an impressive effort from the property and its winemaking staff! It stole my heart, and therefore I rate it so high. 95p
I also tasted 2016 and 2015 together with Maylis de Laborderie, head winemaker of La Lagune. They are beautiful wines with elegance, finesse, minerality, and sweetness. Right now, I like 2015 a bit more than 2016. Ratings - 96p for 2015 and 95-96p for 2016.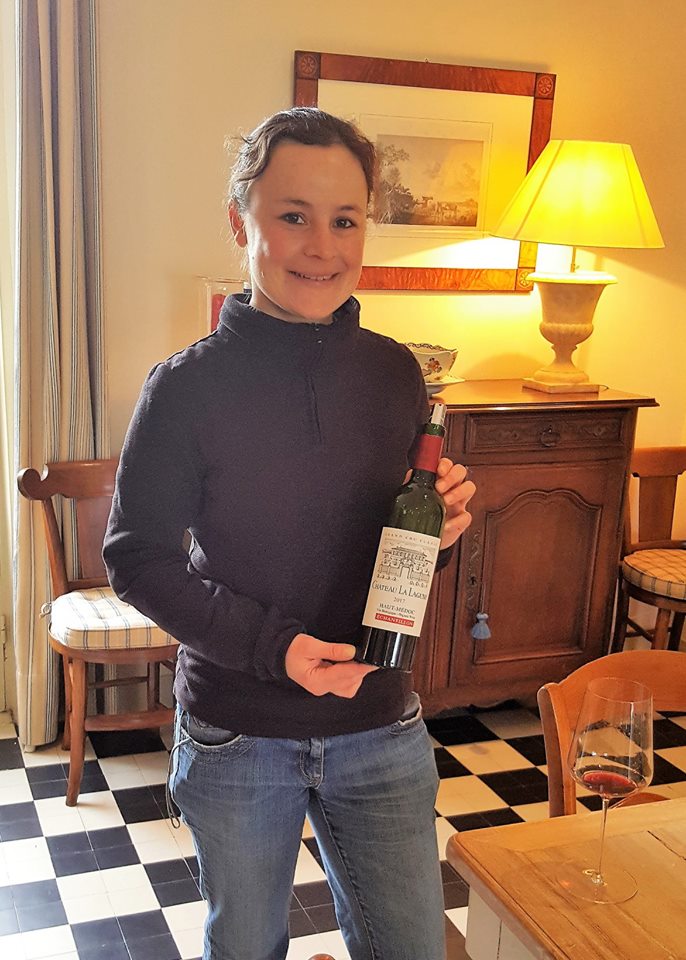 Maylis de Laborderie, cellar master at La Lagune
Other wines here to be picked out - were very good performances from Belgrave, Charmail, de Lamarque, and Lanessan.
Chasse Spleen Moulis 89-90 Clarke Listrac 90 Fonréaud Listrac 91 Fourcas Dupré Listrac 91 Fourcas Hosten Listrac 91 Maucaillou Moulis 86 Poujeaux Moulis 86
Very good appearances here from Fonreaud, Fourcas Dupre, Fourcas Hosten, and Clarke, all fruity wines with nice complexity and intensity.
Margaux:
Alter Ego de Palmer 91-92 Brane-Cantenac 93-94 Cantenac Brown 93-94 Dauzac 93 Desmirail 93 Dufort Vivens 90 du Tertre 91 Ferrière 92 Giscours 90-91 d'Issan 92-93 Kirwan 92-93 Labégorce 92 Lascombes 93 Malescot Saint-Exupéry 91 Margaux 97 Marojalia 90 Marquis d'Alesme 93-94 Marquis de Terme 91 Monbrison 91-92 Palmer 96 Pavillon Rouge de Margaux 92 Prieuré-Lichine 92 Rauzan Gassies 92 Rauzan-Ségla 94 Siran 91
Very successful commune in 2017 with plenty of heartbreaker wines. Not in the league with 2015 and 2016, but there are great purchases if the price is right.
Ch. Margaux was sophisticated and pure, elegant with finesse, precise and rich. A bit less intense and concentrated than in 2016, but still, it's spectacular quality. Only 37% of the crop went into Grand Vin. 89% Cabernet Sauvignon + 8% Merlot + 2% Cabernet Franc + 1% Petit Verdot.
Pavillon Rouge de Chateau Margaux showed freshness, aromatic fruit, and elegance. Silky tannin and smooth finish. Very adorable.
I also could taste 2014 Margaux, an immense showing of great class and style, richness, aromas, sophisticated touch, acidity, and length. Fabulous stuff! 96+p.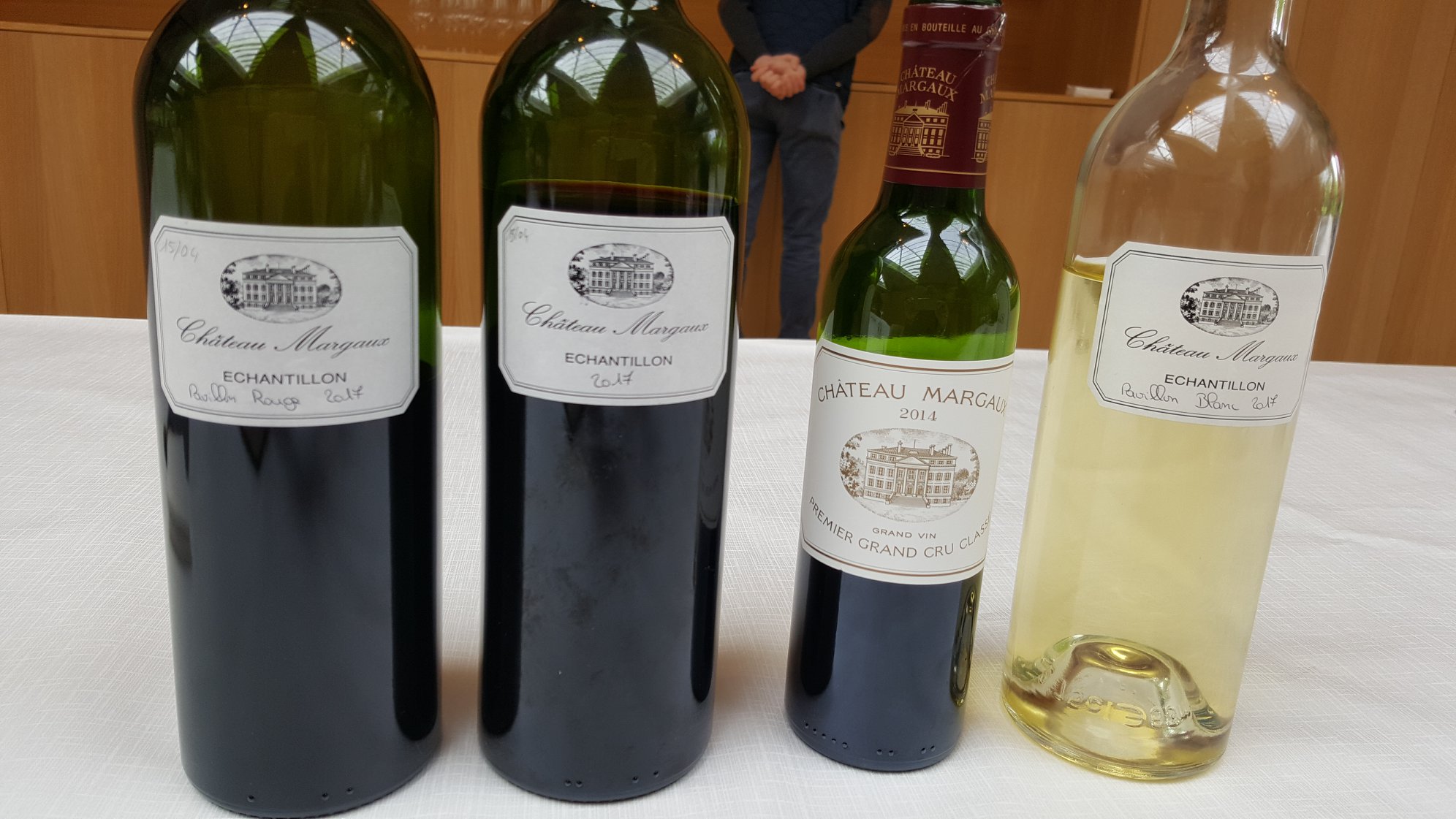 Palmer showed freshness, pure elegance, excellent acidity, and structure. Sophisticated on the palate with a meaty finish. Top, top quality. 54% Merlot + 42% Cabernet Sauvignon + 4% Petit Verdot. Alter Ego was salty and mineral, lighter than usual, round, and charming. 53% Merlot + 41% Cabernet Sauvignon + 6% Petit Verdot.
Rauzan Segla showed an intensely aromatic nose of black fruit and violets, finesse and elegance, steely backbone and concentration. Excellent structure and complexity. A winner.
Brane Cantenac was well-made, with ripe fruit and tannin, quite complex and lengthy. Splendid structure, backbone, and length. Excellent for the vintage. Cantenac Brown was similarly excellent, showing slightly more acidity and length.
Marquis d'Alesme displayed a splendid aromatic nose of black cherries, great acidity and structure, delicate fruity palate, and long finish. Simply delicious wine.
Dauzac, Desmirail, and Lascombes had a pretty aromatic nose of black fruit, a healthy dose of oak, and splendid complexity and length. Persistent finish. Well-made wines.
d'Issan and Kirwan had the same splendid qualities as Dauzac with slightly less intensity and length. Very seductive wines indeed.
Ferriere, Labegorce, Prieure Lichine, and Rausan Gassies were fresh, well constructed, and had excellent acidity, structure, and length. Velvety texture with silky fruit and tannin. Beautiful wines.
Saint-Julien:
Beychevelle 92 Branaire-Ducru 92 Clos de Marquis 92 du Glana 88 Gloria 91-92 Gruaud Larose 93 La Petite Marquise 88-89 Lagrange 92-93 Langoa Barton 92-93 Le Petit Lion 91 Léoville Barton 94 Leoville Las Cases 98+ Saint-Pierre 90 Talbot 90
Like other places in Haut Medoc, frost didn't affect vineyards near the Gironde river and only attacked properties inland. I didn't taste many wines from this commune in vintage 2017 and didn't want to make a hasty conclusion. But except for Leoville Las Cases, I miss a bit more excitement in other wines, which, imho are lesser compared to the 2015 and 2016 vintage.
Leoville Las Cases was elegant and refined, with great complexity and structure, rich, long on the palate, great depth, and a very long persistent finish. Impressive effort for the vintage. The second wine, Le Petit Lion, had delicate fruit, acidity, structure, and balance. Clos de Marquis also had a velvety texture with silky fruit and tannin. The second wine, La Petite Marquise, was a joy to drink now with its roundness and charm. Potensac offered delight, roundness, tasty fruit, and pleasure, while its second wine, La Chapelle de Potensac, was uncomplicated, straightforward, and delicious.
I was also treated with 2015 vintage Leoville Las Cases, Le Petit Lion, Clos de Marquis, and Potensac. Leoville Las Cases was an utterly impressive and expressive wine with its strong backbone and structure, extraordinary complexity, and long and meaty finish. I'm thrilled I have a few bottles of it in my cellar! 98-99p. Le Petit Lion was creamy and fruity, with silky tannin, quite intense and seductive. 92p. Clos de Marquis did much better than the 2017 version, with far more intensity, concentration, and a long finish. 93+p. Potensac was fatter, more structured, and longer than in 2017. 90p.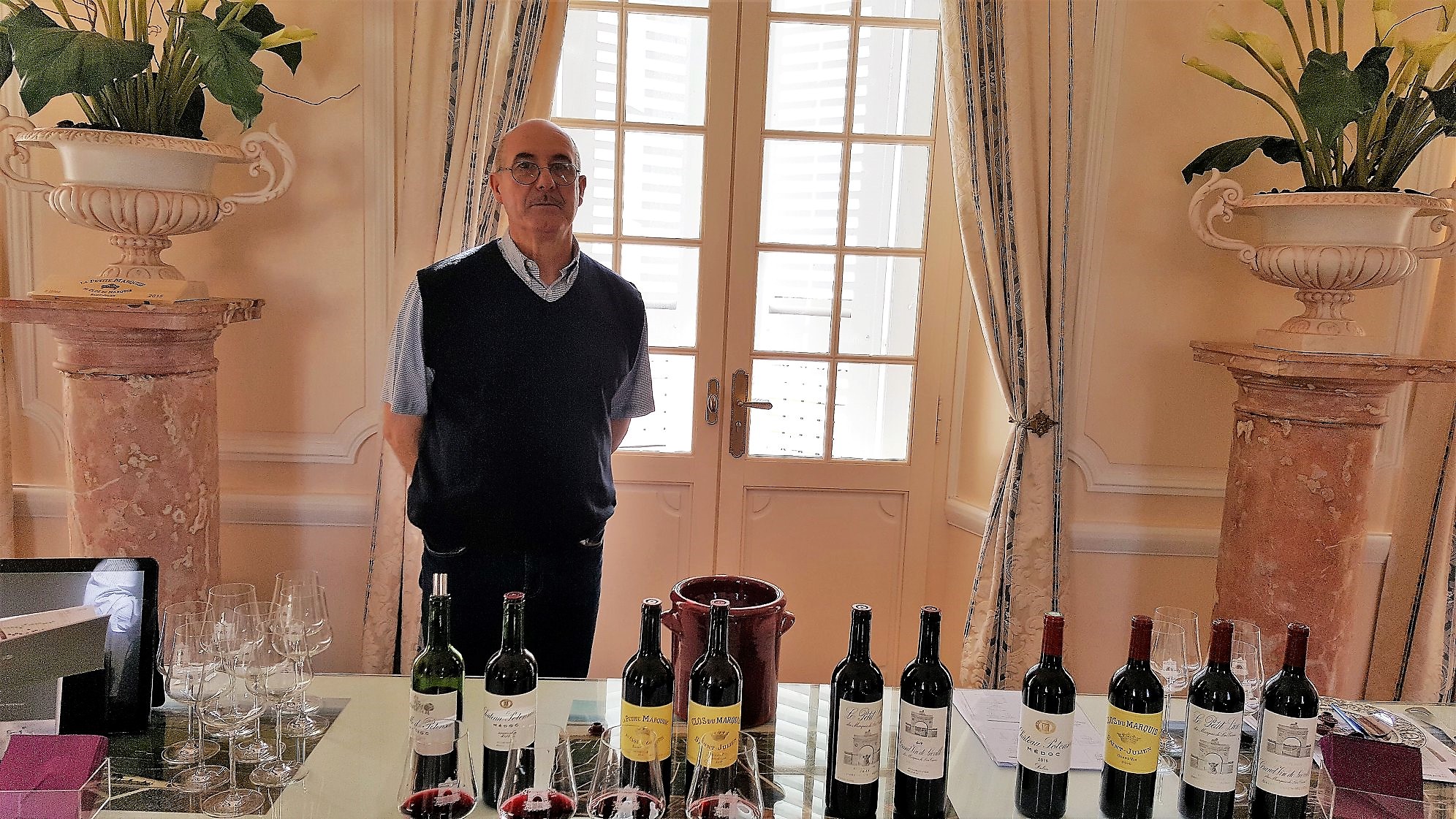 Leoville Las Cases' cellar master, M. Roland will retire after primeur next year.
Forty-six years of genuine commitment to his job!!
Leoville Barton 2017 had a splendidly scented nose, aromatic and classy, velvety texture, and delicate palate covered with silky fruit and tannin. A stylish wine with great complexity.
Beychevelle, Branaire Ducru, Gruaud Larose, Lagrange, and Langoa Barton made fine wines in 2017. Fruity with delicate complexity and fine structure as well.
d'Armailhac 91-92 Batailley 91-92 Carruades de Lafite 92 Clerc Milon 92 Croizet Bages 91-92 Duhart-Milon 91 Grand-Puy Ducasse 91-92 Haut-Bages Libéral 92 Lafite Rothschild 98+ Latour 97-98 Le Petit Mouton de Mouton-Rothschild 91-92 Les Forts de Latour 92 Les Griffons de Pichon Baron 91 Les Tourelles de Longueville 90 Lynch-Bages 92 Lynch-Moussas 91-92 Mouton-Rothschild 97-98 Pauillac de Latour 90 Pedesclaux 92-93 Pibran 91 Pichon Baron 95-96 Pichon Comtesse 96+ Pontet-Canet 95 Reserve de la Comtesse 91
Lafite Rothschild made a dense and polished wine with its trademark elegance and finesse, spiced up with richness and sophisticated touch. Excellent stuff and one of the very best wines of the 2017 vintage. 96% Cabernet Sauvignon + 3.5% Merlot + 0.5% Petit Verdot. Carruaders de Lafite was splendid for a second wine, smooth, pure, polished, and long. Duhart Milon displayed freshness, aromatic fruit, good acidity, and roundness.
Latour (92% Cabernet Sauvignon) showed the feminine side in 2017. Elegant with finesse and excellent acidity, very sophisticated, rich, and long. Steely backbone and perfect structure. This wine will show even better when in a bottle. Les Forts de Latour 2017 was well made with grip, fine structure, and length, and Pauillac 2017 did similarly lovely. Early drinking for the latter.
Additionally, I tasted Latour 2006, which wasn't showing well, was dry, and the fruit tasted a bit warm. Awkward stage? 92p. Les Forts de Latour 2012 confirmed this vintage's great seduction in Bordeaux. Beautiful, fruity, big pleasure, ready to drink, velvety texture, reasonable structure, and depth. 92p.Pauillac 2013 was ready to drink, simple, round, and charming, 87p.
Mouton Rothschild 2017 tasted oaky, but it has great potential. Very classic nose of well-grown Cabernet Sauvignon with tobacco leaves and roasted bacon, intense, sophisticated, fabulous complexity and richness. It will be a spectacular thrill when in the bottle. 90% Cabernet Sauvignon + 9% Merlot + 1% Petit Verdot. D'Armailhac appeared lighter than usual, round, fruity, tasty, and charming. Clerc Milon had more to offer with greater intensity, concentration, delicate complexity, and fine structure. Le Petit Mouton de Mouton Rothschild was similar to Clerc Milon with the same delicate complexity, fruitiness, and aftertaste.
Pichon Comtesse made excellent wine in 2017, similar to 2015. Nicolas Glumineau, the managing director, told me that in this vintage, he was 100% satisfied with the precision he enriched in 2017! Better precision than 2016 and 2015, he said! 70% Cabernet Sauvignon + 23% Merlot + 6% Cabernet Franc +1% Petit Verdot. Cabernet Sauvignon's power and ripeness were remarkable: tobacco leaves, creaminess of the fruit, fleshy and sophisticated palate, fabulous complexity, and length. Yeah, this is just perfectly made wine.
The second wine, Reserve de La Comtesse, tasted like candy (raspberry drops), with some mint flavor, was well-balanced, deliciously tasty fruit, and had a smooth finish. Very adorable wine. 60% Cabernet Sauvignon + 36% Merlot + 2% Cabernet Franc and 2% Petit Verdot.
Afterward, during lunch, I tasted delicious 2009 Roederer champagne and vintages from 2003, 1991, 1989, and 1982.
2003 is a hot vintage (+40 degrees Celcius in August); you can taste some heat in the fruit. Nevertheless, it's a lovely wine with fine structure and complexity, tasty and firm on the finish. It'll not keep that long compared to big vintages. 92p.
1991 was the first time I ever tasted it. In this vintage, famous for black frost, which wiped out a lot of vines in the whole of Bordeaux, properties situated along Gironde river lost just a little. This wine surprised me greatly with an excellent nose of ripe blackcurrants (!), finely structured palate, complexity, and length. Twenty-seven years old wine from the vintage many called disastrous, and what do you taste here? Delicious one! 93p.
1982 is one of the best examples of this vintage and also one of the very best wines ever for the property. It was in 1996 when I tasted it last time. Twenty-two years later, this wine seems to have some "wrinkles on the "face", and it's not that profound anymore. However, though, it's still an exceptional wine. 98p.
1989 is the opposite of 1982; it tasted better than 22 years ago! Tight, complex, sophisticated, and with great structure. Fully great wine. 95p. Impressive stuff.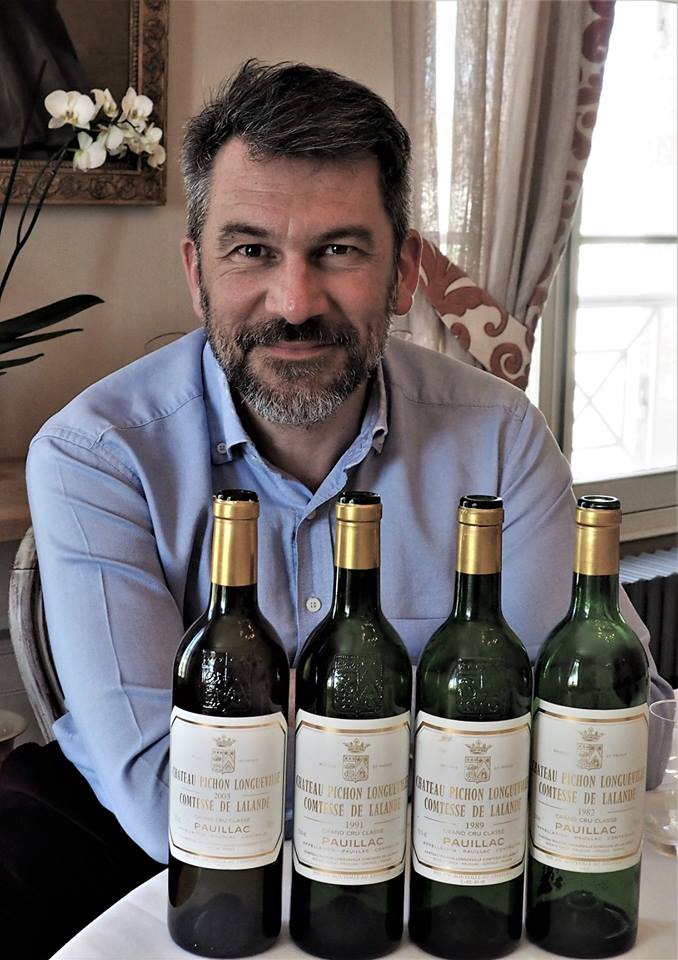 Nicolas Glumineau, P. Comtesse's manager, with wines for lunch
Pichon Baron 2017 appeared powerful with freshness, strong backbone, great depth, complexity, and steely structure. Modern style but no complaints. High quality, indeed. 79% Cabernet Sauvignon + 21% Merlot.
Les Tourelles de Longueville was very fruity, fresh, and well-balanced. Tasty with a velvety texture and fruity finish. 55% Merlot here. Les Griffons de Pichon Baron contains 52% Cabernet Sauvignon so, compared with Les Tourelles, there were more concentration and length in Les Griffons. Equally well-balanced and tasty with freshness. Pibran has always been consistent wine and has excellent quality for money. It didn't disappoint. Deliciously fruity with splendid acidity and structure, excellent acidity, and persistent fruity aftertaste. 68% Merlot + 32% Cabernet Sauvignon
Then, my friends and I had 2004 and 2005 Pichon Baron for dinner. My friend contributed with vintage 1926 Pichon Baron, which Jean-Rene Matignon tasted very glad. Pichon Baron 2005 and 2004 were powerful and tight, dense, with a strong backbone, great depth, and excellent complexity. Still in their prime youth at age 13 and respectively 14 years. 2005 has slightly riper fruit and riper tannin. We must wait ten years to gain full insight into their further development. 95+p for 2005 and 95p for 2004. Pichon Baron 1926 had a fishy (oyster) nose but seemed alive. Better on the palate, clean, fine, delicate palate, and a nice fruity finish. 92p.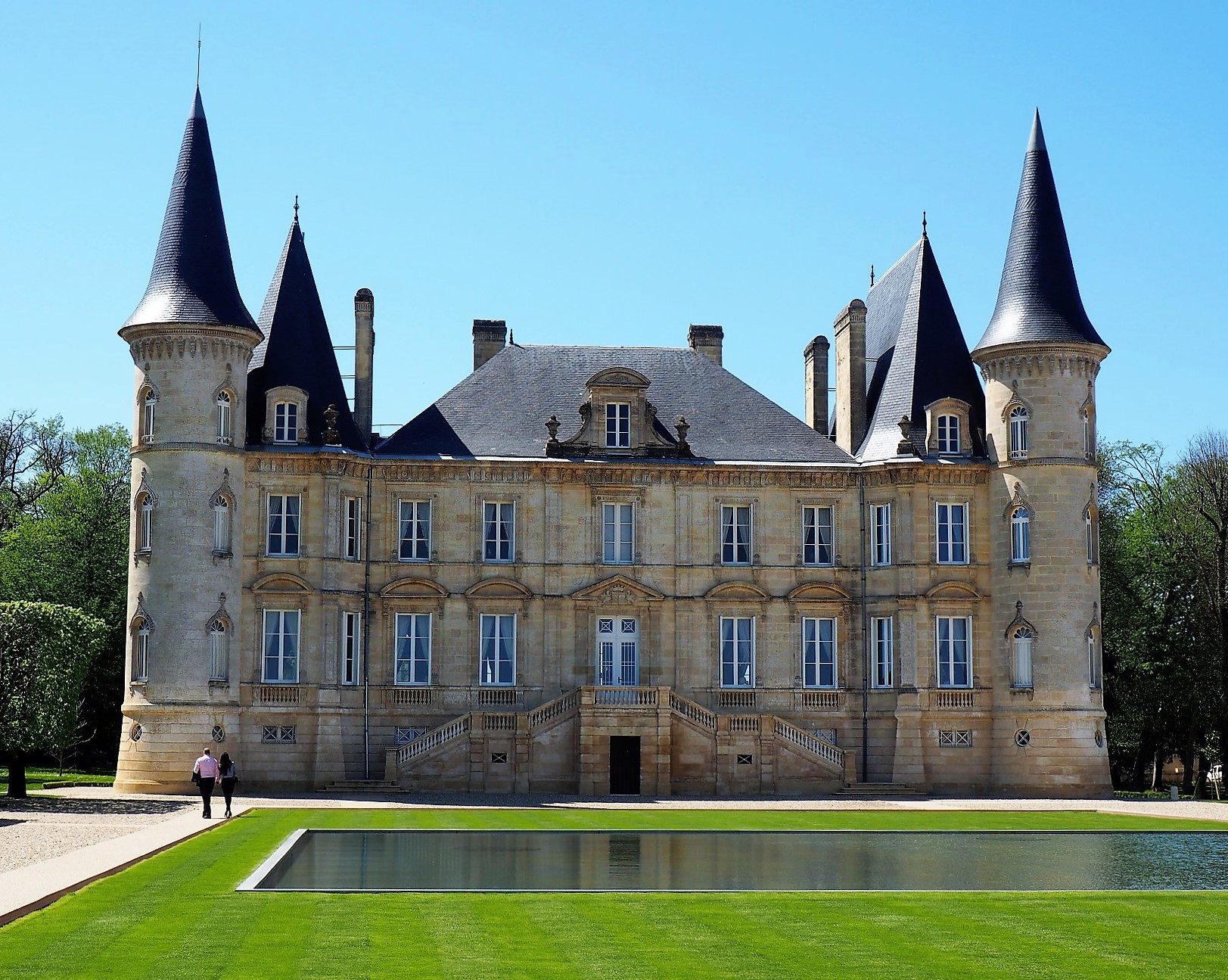 Majestic chateau, isn't it?!
Pontetisn'tt was relatively fresh, well-composed, with splendid depth and great complexity. Very successful for the 2017 vintage. 64% Cabernet Sauvignon + 31% Merlot + 4% Cabernet Franc + 1% Petit Verdot.
Haut Bages Liberal, Lynch Bages, and Pedesclaux showed a lot of oak and fruit and were well-made, with pleasing complexity, structure, and length.
Saint-Estephe:
Calon-Ségur 96 Capbern 92 Cos d'Estournel 97-98 Cos Labory 93 de Pez 92-93 La Dame de Montrose 92 Lafon-Rochet 92 Le Marquis de Calon 91-92 Les Ormes de Pez 91-92 Meyney 93 Montrose 98 Pagodes de Cos 91 Phélan Ségur 92 Tronquoy-Lalande 90
This commune was greatly successful in 2017 with a string of beautifully crafted wines. April frost was absent here due to the close location to Gironde river.
Cos d'Estournel performed a spectacular showing in 2017. Tight, strong, well-balanced, aromatic, great acidity, refined and sophisticated. Great structure and depth. Long, long finish. Immensely impressive. 66% Cabernet Sauvignon, 32% Merlot, 1% Cabernet Franc and 1% Petit Verdot. The second wine, Pagodes de Cos, was packed with fresh, aromatic black fruit well-supported by ripe tannin and had nice acidity and fruity aftertaste.
I was also offered to taste the 2015 and 2014 vintage. 2015 Cos d'Estournel was potent and creamy on the palate and had a lot of oak. Great complexity and a long finish. 98p. 2014 Cos d'Estournel displayed classic Bordeaux style, strong and tight, lot of fruit and tannin. Great acidity, impressive depth, and finish. 97p. Powerful performances here. The second wine, Pagodes de Cos, did brilliantly in 2015 with a very aromatic and meaty wine backed up by fine tannin and sweetness. 92p. In 2014, Pagodes de Cos was tough, chewy, spicy, and with a firm aftertaste. 91p.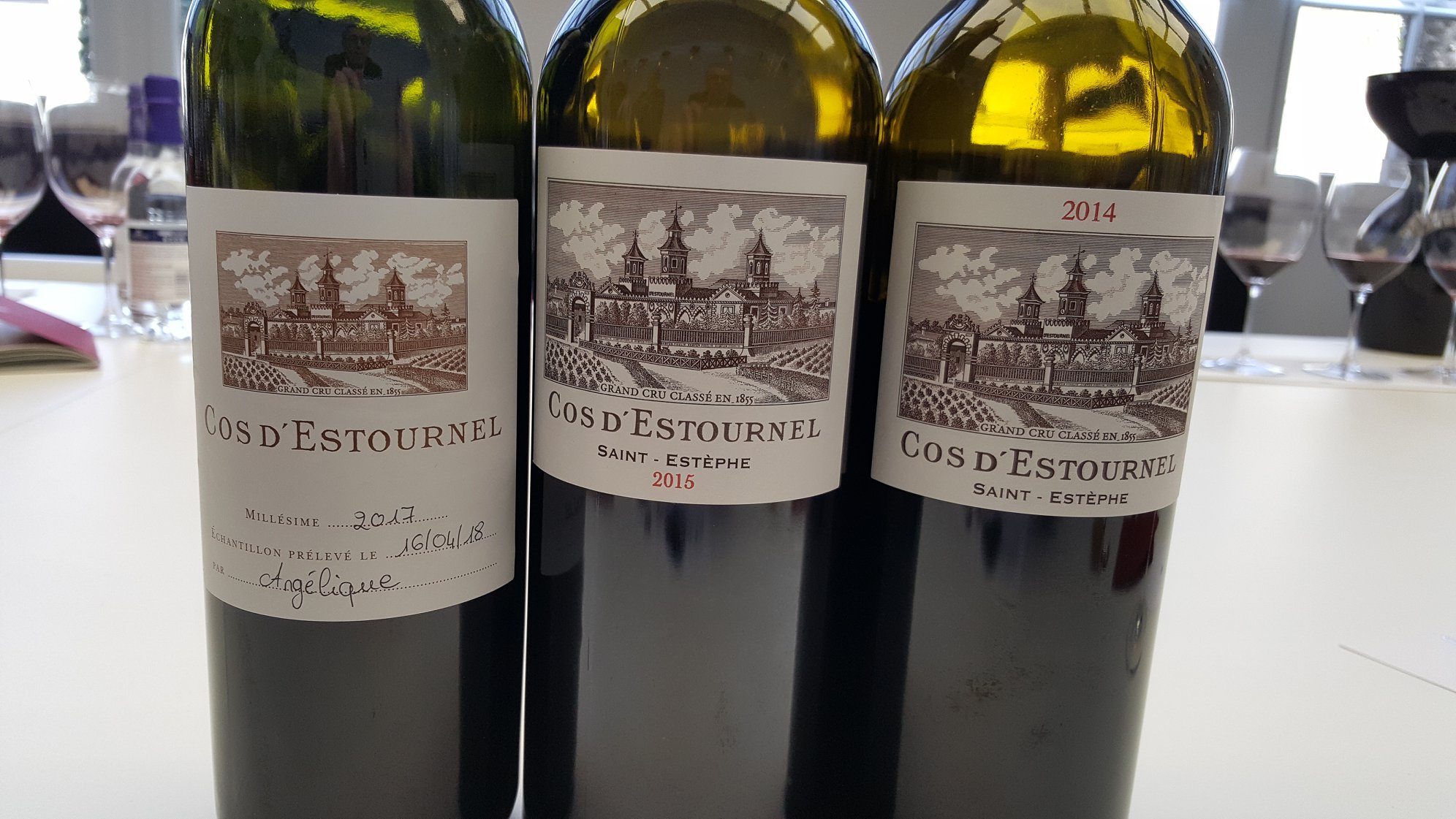 Montrose once again produced a stellar wine in 2017. Great aromatic nose of black fruit, great acidity and complexity, strong structure, and impressive length. A fresh and classic wine with both power and subtlety. The second wine, Dame de Montrose, displayed elegance, fruitness, silky fruit, tannin, and splendid balance. Tronquoy Lalande was round and charming, with lovely spicy fruit and a good structure.
Calon Segur has been extremely consistent for a long time, and its 2017 blends excellently with power and elegance. Very potent, firm, tight, very complex, and aromatic. Stylish with elegance. Of 76% Cabernet Sauvignon in 2017 Calon Segur, 15% are ten-year-old vines. The remaining grape varieties are 13% Merlot, 9% Cabernet Franc and 2% Petit Verdot.
The second wine, Marquis de Calon Segur, was splendid with a catchy aromatic nose, silky texture, balance, depth, and length. 57% Merlot, 38% Cabernet Sauvignon and 5% Cabernet Franc. Capbern is an excellent value for money annually, and it delivered the goods in 2017. Fresh, well-balanced, splendid acidity, very aromatic, and splendid length.
I also tasted the highly acclaimed 2015 vintage; all three wines were stunning. Calon Segur with 82% Cabernet Sauvignon, 16% Merlot, and 2% Petit Verdot was even better than I remember it from the barrel. Fresh, aromatic, potent, long, and with a persistent finish. 96-97p. Capbern was dense with black fruit, spicy, fine intensity, and fruity finish. 92p. Le Marquis de Calon Segur. Appeared more mellow than Capbern, with a softer texture and softer aftertaste. 92p.
Meyney always offers excellent value for money, and 2017 didn't disappoint with freshness and acidity, silky fruit and tannin, velvety texture, and fine structure with a gentle kick typical for St. Estephe's coarseness. Quite well made! 58% Cabernet Sauvignon, 31% Merlot and 11% Petit Verdot. The latter grape variety adds a strong backbone to this wine.
Anne Le Naour, Meyneys manager, was kind and prepared some other vintages to taste. 2016 was powerful with a strong structure, strong backbone (Petit Verdot!), and splendid length. 94p. 2015 was of similar splendid quality, a bit less concentrated than 2016. 93-94p. 2014 showed remarkable acidity, the hallmark of the vintage, freshness, a lot of ripe fruit and tannin, fine structure, and a meaty finish. Classic cool climate vintage. 92-93p. An impressive showing of Meyney's big potMeyney'sCos Labory, Lafon Rochet, and Phelan Segur did very well in 2017 - meaty wines with fine acidity and ripe fruit, well-balanced, complex, and long finish. Les Ormes de Pez followed closely after with less intensity and concentration but still did very well.
Canon-Fronsac/Fronsac:
Dalem Fronsac 92 de La Riviere Fronsac 91 Fontenil Fronsac 91 Gaby Canon-Fronsac 88 Haut Carles Fronsac 87 La Dauphine Fronsac 91 La Vieille Cure Fronsac 90 Les Troix Croix Fronsac 90 Moulin Haut Laroque Fronsac 90 Moulin Pey Labrie Canon-Fronsac 90-91 Villars Fronsac 87
A lot of really good wines were produced, but nothing spectacular. 2016 and 2015 vintages excel significantly 2017 vintage here in both areas.
Lalande de Pomerol:
de Chambrun 85-86 Jean de Gue 90 La Chenade 91-92 Les Cruzelles 91-92 Moncets 91 Perron La Fleur 90 Tournefeuille 87
This neighboring district to Pomerol was severely hit by frost, with some properties losing 100% of their potential harvest. A few good-quality wines can be found. La Chenade and Les Cruzelles, made by highly capable Denis Durantou, owner of L'Eglise Clinet, with freshness, plenty of black fruit, and a long finish. Moncets produced delicious wine.
Pomerol:
Beauregard 90-91 Belle Brise 93 Bourgneuf 93+ Cantelauze 93 Certan de May 95-96 Clinet 95 Clos de la Vieille Eglise 88 Clos l'Eglise 94+ Domaine de L'Eglise 90-91 Fayat 89 Feytit Clinet 92 Gazin 92 Haut Maillet 92 La Cabanne 93 La Clemence 92 La Commanderie 91 La Conseillante 94+? La Croix Pomerol 92+ La Croix de Gay 90-91 La Croix du Casse 91 La Croix Saint-Georges 94+ La Fleur de Gay 91 La Petite Eglise 92 La Violette 95 Lafleur 98 L'Evangile 96 Le Bon Pasteur 92-94 Le Clos du Beau-Père 91 Lecuyer 91 Le Gay 94-95 Le Moulin 88 Le Pin 98-99 L'Eglise-Clinet 98+ L'Enclos 91 Mazeyres 91 Pensees de Lafleur 93 Petit-Village 95 Petrus 98+ Plincette 90 Rouget 90 Sácre Coeur 93+ Taillefer 88 Vieux Château Certan 98+ Vieux Maillet 89 Vray Croix de Gay 91
One of the most successful districts/communes in 2017. Properties in the center of the appellation came largely unscathed through frost as many joined forces with candles and fires. Few properties on the other side of N89 miraculously escaped the devastating frost.
Petrus displayed great freshness, purity, stunning complexity, and length. Excellent purity was there too. 2017 is going to be a fabulous vintage for this Pomerol jewel.
Le Pin was creamy to a great extent, sophisticated, elegant, and with fabulous structure and complexity. 100% Merlot. Top quality in 2017 for a lot of money, but if you can afford it, you will be thrilled!
Father and son at Le Pin - a new generation is presented!
L'Eglise Clinet was a textbook Pomerol with plenty of black fruit, fatness and creaminess, fabulous complexity and depth, sophisticated and excellent structure, and a long finish. Stunning, stunning, and stunning wine! 90% Merlot + 10% Cabernet Franc. The second wine, La Petite Eglise, impressed a lot with creamy fruit, round tannin, splendid acidity, and fruity finish.
I was thrilled when Denis Durantou poured his magnificently delicious 2015 vintage into the glass afterward. Lots of tannin and sweet ripe fruit, very creamy, deep, and long. Awesome wine, and I'm thrilled that I purchased a few bottles of it en primeur.
Vieux Chateau Certan was well packed with high-quality fruit and ripe sweet tannin and had a great freshness, excellent structure and length, pure elegance, and sophisticated touch. 81% Merlot + 14% Cabernet Franc + 5% Cabernet Sauvignon. This 2017 is a magnificent effort from Alexandre Thienpont.
Lafleur was an incredible, deep, tight, dense, and long wine. I'm not sure if it delivered everything the day I tasted it, but I'm sure it will do it the next time I taste it. 47% Merlot + 53% Cabernet Franc. Pensées de Lafleur was also dense and tight, with excellent depth and finish. Excellent second wine.
L'Evangile was 1L'Evangile in 2017. Polished and oaky but with plenty of black fruit, fat and creamy tannin, strong structure, and long with persistent finish. Only 20 hl/ha was produced due to the April frost. Fabulous wine.
Certan de May keeps the quality bar very high indeed. 2017 (65% Merlot, 30% Cabernet Franc and 5% Cabernet Sauvignon) is delicious stuff with sweet fruit, truffles, power and elegance, great complexity, density and depth, and a long finish. Impressive. The second wine, introduced in 2017, Croix de Certan (90% Merlot + 10% Cabernet Franc), tasted deliciously lovely, fruity, pleasant, and round. It would make a perfect restaurant wine. Jean-Luc Barreau made my day by opening Certan de May 2016, 2015, and 2014.
2016 was strong, dense, and tight, with velvety fruit and tannin. Meaty with great complexity and structure. Precise winemaking. 96p.
2015 did similarly to 2016, with more candy wine, maybe more complete and deeper wine. Great, great effort. 96p.
2014 was more traditional and Pomerol, a little rustic and meaty, strong backbone and firm finish. Many years to go here. 94+p.
A lot is happening now at Certan de May - a new cellar is being built, and this project will take approximately two years to finish.
Clinet acted very aromatic and very flowery, elegant, charming, and complex in 2017. Much seduction here. 92% Merlot + 8% Cabernet Sauvignon.
La Violette (100% Merlot) had a yield per ha of 35 hl in 2017. Modern with flashy fruit and tannin but excellent ripeness, complexity, structure, and length here. Very tasty indeed.
Due to frost, Le Gay (90% Merlot + 10% Cabernet Franc) produced only 25 hl/ha in 2017. Tight, earthy flavors, concentrated, big fruit supported by creamy tannin. Just excellent wine, so typical for the district.
Some days later, I returned to taste 2015 and 2008 La Violette and Le Gay. La Violette 2015 had great sweetness and complexity, silky texture, ripe fruit, and tannin with fine length. 95-96p. 2008 was just earthy and a bit rough/tarty. 93p. Le Gay 2015 turned out big and strong. 93+p, while Le Gay 2008 was well-made, with many truffles and a fine soil character. 93p.
Petit Village continues its revival. After the spectacular 2016 and 2015, 2017 delivered a true heartbreaker wine with silky fruit and tannin, velvety structure, pure elegance, and finesse. Same beautiful appearance when tasted at Pichon Baron one week later. The new winemaker since 2015, Diana Garcia Berrouet, has changed the fortunes at the property!
La Croix St.Georges from Jean-Philippe Janoueix was potent, fresh, and meaty with ripe fruit and tannin and displayed splendid acidity, structure, and length. Clever winemaking. 91% Merlot + 9% Cabernet Franc.
La Conseillante 2017 was tricky to taste that particular Monday, the first day of primeurs in April. There were far too many people, and some of them were wearing strong perfume. Next time I'll come and taste it another day. Indeed, the rating will be higher then.
Clos L'Eglise is a neighbor to L'Eglise Clinet and is run by Helene Garcin Leveque and her husband, Patrice. It's a great effort in 2017 for Clos L'Eglise, delicate with violets and flowers on the nose, a meaty and nice load of finesse, long fruity finish. 80% Merlot + 20% Cabernet Franc.
I was also treated with 2016 and 2015 vintages of Clos L'Eglise. 2016 wL'Egliseg, mineral, and meaty with a long finish. 94p. 2015 tasted more elegant, with more finesse, and had more complexity, depth, and length than 2016. 95+p.
Helene Garcin-Leveque is responsible for Clos L'Eglise and two other wines, Barde Haut and Poesia.
Bourgneuf did very well in 2017 and produced a seductive wine with refined elegance, charm, silky fruit, tannin, and a delicate fruity finish.
Additionally, I had the opportunity to taste vintages in 2016, 2015, 2014, and 2012. 2016 was meaty, concentrated, intense, long, focused, and precise. Impressive effort. 94+p. 2015 displayed black fruit, sappiness, freshness, and velvety texture. Great balance and length. 95p. 2014 displayed fine acidity and classic cool Pomerol style with splendid structure and depth. Firm finish. Has many years to go. 93-94p. 2012 was gentle, tasty, velvety, seductive, and aromatic, with fine ripeness. 92p.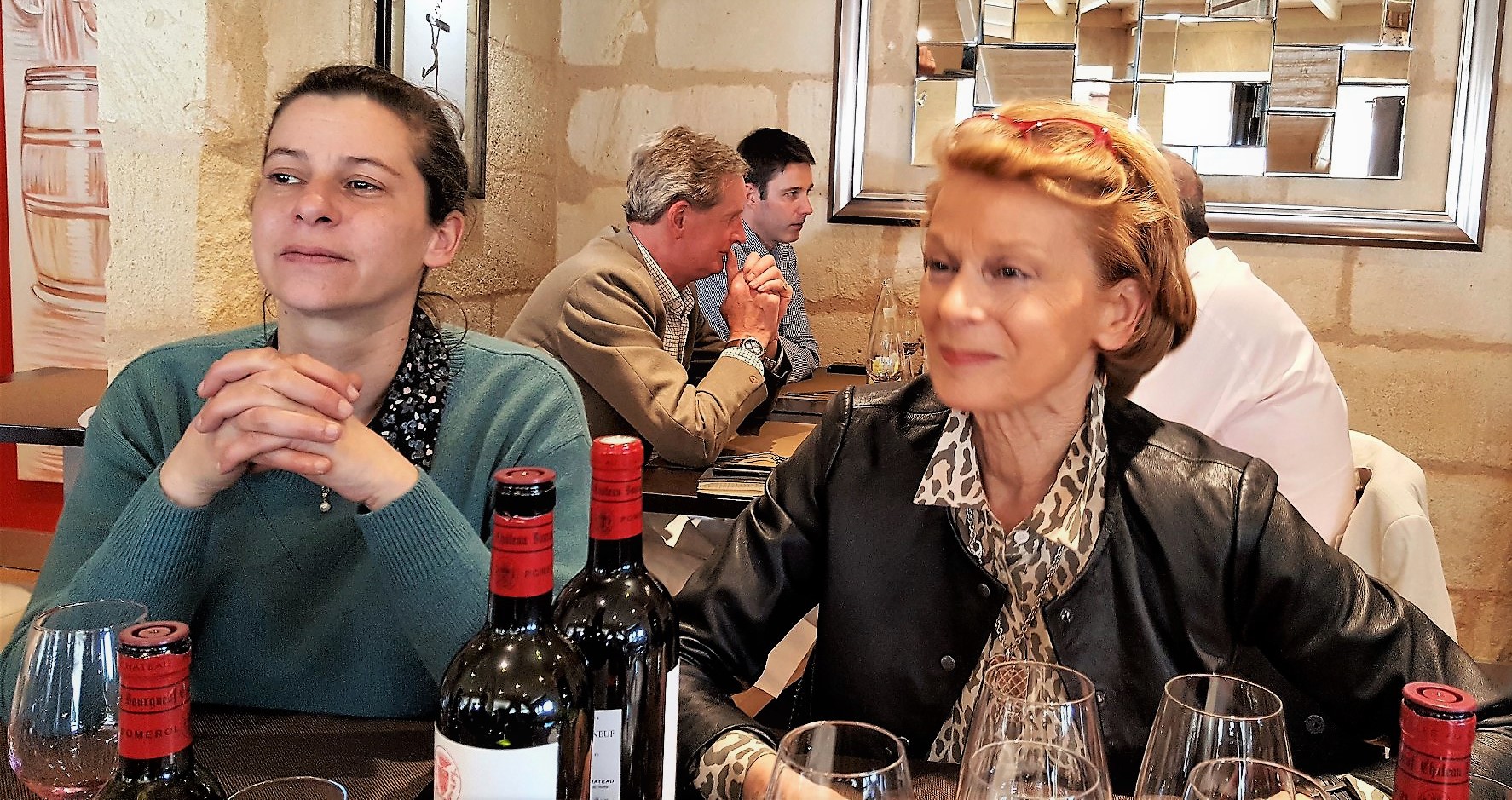 From the left - Frederique and Dominique Vayron. The daughter is the winemaker, and the mother is the owner. At La Table de Catusseau
Remarkable efforts for the vintage - Belle Brise, Cantelauze, La Croix, Le Bon Pasteur, and Sacre Coeur.
At Belle Brise, which miraculously escaped the 2017 frost despite neighboring properties being hit, its owner Bruno de Coincy let me taste 2016 and 2015 vintages. 2016 was stronger than 2017, with lots of cherry fruit and sweet tannin, all covered in velvet. 94+p. 2015 presented itself as an Incredibly aromatic wine (black cherries), velvety, packed with perfectly ripe fruit and tannin, seamless, long, and sophisticated. For me, it's better than it's 2016. 95+p.
Montagne Saint-Emilion/Puisseguin Saint-Emilion/St. Georges Saint-Emilion:
Cap St.George St.Georges-Saint-Emilion 92+ Clos de Bouard Montagne Saint-Emilion 87 Soleil Puisseguin Saint-Emilion 91
Cap St.George from Jean-Philippe Janoueix did very well in 2017 with a fresh attitude, fine acidity, structure, and balance. A catchy aroma of black fruit. Soleil did very well in 2017.
Saint-Emilion:
Amélisse/Saintayme 91 Angelique de Monbousquet 90 Aromes de Pavie 90 Ausone 98-99 Balestard La Tonnelle 88 Barde Haut 92 Beausejour Duffau 95 Bellevue Mondotte 95-96 Bellefont Belcier 90 Berliquet 90 Canon 96 Canon La Gaffelière 92-93 Cap de Faugeres 88 Cap de Mourlin 88 Cheval Blanc 96-97 Clos de L'Oratoire 91 Clos Dubreil 90-91 Clos Fourtet 94-95 Corbin Michotte 93 Croix de Labrie 91-92 Dame de Trottevieille 87 Destieux 87 Faugeres 91 Fleur Cardinale 94 Fonplegade 92 Fonroque 92 Franc-Mayne 90 Grand Mayne 90 La Chapelle d'Ausone 92 La Chapelle Lescours 88-89 La Clotte 90 La Confession 94+ La Couspade 91 La Croizille 91 La Dominique 92 La Marzelle 86 La Mondotte 94+ Laforge 91 L'Eveche 88 Larcis Ducasse 94 Le Carre 92 Le Dôme 95 Le Dragon de Quintus 88 Le Tertre Roteboeuf 99-100 L'If 94 Les Asteries 93-94 Lynsolence 90-91 Magrez Fombrauge 93 Mangot 91 Mangot Todeschini 92 Monbousquet 91 Montlabert 91-92 Moulin Saint-Georges 91 Pavie 97 Pavie Decesse 95-96 Pavie-Macquin 95-96 Petit Cheval 90-91 Poesia 91 Pontet Labrie 91-92 Quinault L'Enclos 88 Quintus 92 Relais La Dominique 86 Ripeau 93 Rocheyron 92 Rol Valentin 91 Sansonnet 92 Soutard 93 Soutard-Cadet 88 Tauzinat L'Hermitage 91 Teyssier 88 Tour Baladoz 88 Tour St.Christophe 90 Troplong Mondot 96+ Trottevieille 92 Valandraud 95-96 Vieux Chateau Mazerat 93 Villemaurine 87 Virginie de Valandraud 91 Yon Figeac 90
Many excellent wines, especially from the properties situated on hills and hillsides. Several properties on the "flat" land (plateau) suffered greatly from the frost in 2017.
Tertre Roteboeuf is just magical wine from the hands of a true magician winemaker in Bordeaux. Fantastic nose of black fruit with immense delicacy and charisma. Subtle and creamy with great complexity and depth. Wine of the vintage for me, and if you don't believe me, it'll certainly be among the top ten wines of the vintage!
Ausone from Alain and Pauline Vauthier wasn't affected by frost and produced an absolute blockbuster of a wine. Powerful with exceptional fruit, great acidity, sophisticated, with immense depth and length. Excellent structure and complexity. 55% Cabernet Franc + 45% Merlot. The second wine, Chapelle d'Ausone, was fine with silky fruit and tannin, a well-balanced, nice structure, and a persistent fruity finish.
Of other Vauthier wines, only Moulin St.Georges and La Clotte survived the frost. Moulin St. Georges made an attractive wine with silky fruit and tannin.
Pavie continues with its new style, focusing more on elegance, freshness, fruitiness, and soil character. 2017 is just impressive! Bellevue Mondotte and Pavie Decesse are as remarkable as their big brother, and I couldn't spot excessive extraction, dryness, or overripe fruit in both wines.
Cheval Blanc lost one-third of its vines due to frost in 2017 and ended with yield per ha at 21 hl. It's, of course, higher in concentration and intensity than 2016 and 2015 but possesses pure elegance and finesse, sophisticated touch, and splendid complexity. The second wine, Petit Cheval, was very round, tasty, and charming.
Troplong Mondot had an intense nose of black fruit and a heavy dose of new oak in 2017. Maybe the most concentrated wine of all in Saint Emilion.
Pavie Macquin, Beausejour, and Larcis Ducasse from Nicolas Thienpont succeeded in 2017. Fresh and oaky but with a lot of fruit, freshness, juiciness, and length.
Canon made an impressive 2017 with elegance and finesse, beautifully scented fruit, and silky tannin.
Valandraud 2017 was powerful, polished, and juicy with silky fruit and tannin. Splendid complexity. I was also treated kindly by Jean-Luc Thunevin, who opened the 2016 and 2015 Valandraud.
2016 Grand Vin showed great class, riveting sweetness, and nobility. Outstanding quality. 97p.
2015 Grand Vin was close to 2016, only having less concentration. Same stunning performance. 96p.
Among 2017 wines from Jean-Luc Thunevin, which were few to taste because of April frost, Bad Boy had all the charm and Le Clos de Beau Pere power. Both whites, Valandraud and Virginie de Valandraud, were impressive with freshness, acidity, and crispiness.
La Confession from Jean-Philippe Janoueix displayed a delicate fruity nose, elegance, splendid concentration, meaty palate, and fruity finish in 2017. 70% Merlot + 28% Cabernet Franc + 2% Cabernet Sauvignon. A week after tasting 2017, I had the opportunity to check out all the vintages of La Confession (2001-2016). Very, very interesting to see how the wines presented themselves. I will publish a profile here on the website at the end of May 2018.
L'If, owned by Jacques Thienpont of Le Pin fame, was fresh, potent, composed with finesse and a long aftertaste. Excellent effort. 91% Merlot + 9% Cabernet Franc.
Fleur Cardinale did exceptionally well in 2017, despite losing 80% of vines because of frost. They will only produce 1000 magnums, individually signed, through their net of negociants/wine shops. The wine showed splendidly aromatic fruit, silky tannin, bright acidity, and complexity. Long finish. To protect the vines in 2018, they bought 18 big "hairdryers" which blow hot air, and it was a sage decision, as there was one night at the beginning of May 2018 when the temperature fell below zero, and these "hairdryers" helped immediately then!
Other remarkable wines - Les Asteries, Corbin Michotte, Magrez Fombrauge, Ripeau, Soutard, and Vieux Chateau Mazerat.
Thanks to the very kind Veronique Corporandy, winemaker and cellarmaster at Soutard, I could taste and learn about nine vintages of this property. 2017-6-5-4-3-2-1-0 and 1985. The profile of Soutard has already been published here on the website.
Closely after and worth attention - Barde Haut, Fonplegade, Fonroque, La Dominique, Le Carre, Mangot Todeshini, Rocheyron, Quintus, Sansonnet and Trottevieille.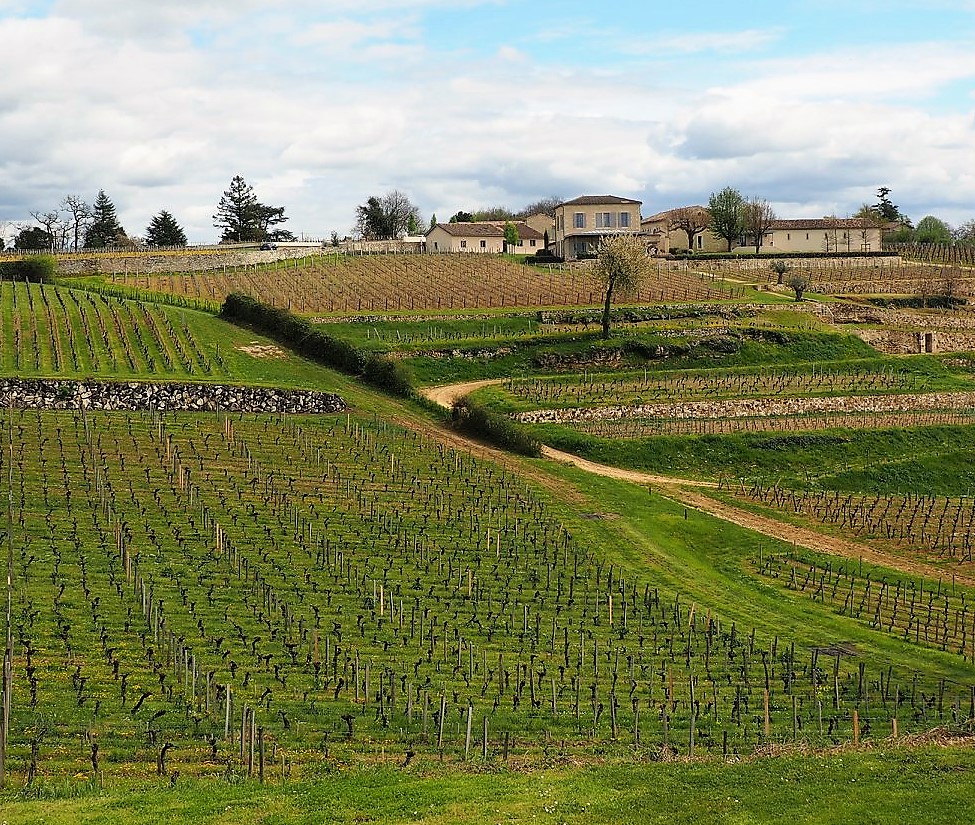 Magnificent view from Barde Haut towards Tour St. Christophe in Saint Emilion
At Quintus, the manager, M. Capdemourlin, prepared a tasting of Grand Vin in vintages 2017, 2016, 2015, and 2014 and also second wine, Dragon de Quintus, in the same vintages. This property enjoys a magnificent placement on the top of the hill, about one and a half kilometers from Angelus.
Quintus 2017 was well-made, with nice complexity and length. Silky fruit and tannin. Very tasty. 92p. Dragon de Quintus 2017 was straightforwardly fruity, charming, round, and soft. 86p.
Quintus 2016 and Dragon de Quintus 2016 edged their 2017 counterparts with more intensity, length, and concentration. 93p for Grand Vin and 87 for a second wine.
Quintus 2015 was yummy, full of perfectly ripe sweet, silky, captivating fruit. 93+p. Dragon de Quintus 2015 was a more concentrated copy of 2017. 87p.
Quintus 2014 appeared meaty and intense, with fine acidity and a firm finish. Fine quality, 92p. Dragon de Quintus had more acidity and roughness than in the abovementioned vintages. Nicely made. 86p.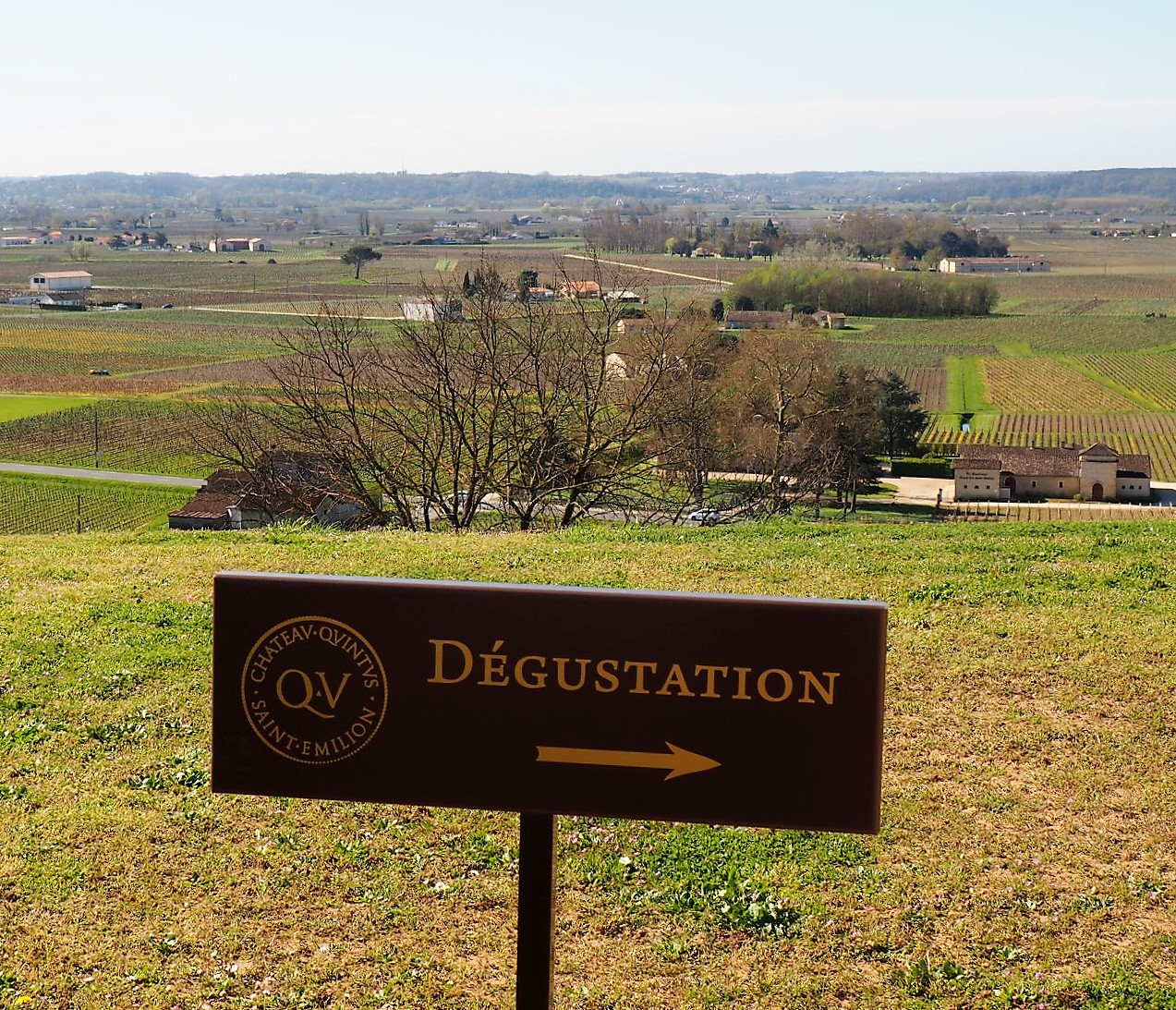 I'm going to taste something!
Just a few words about a crazy and unforgettable evening at Domaine de Chevalier with Olivier Bernard as a fantastic host.
After tasting several 2017s (Domaine de Chevalier and Lespault Martillac), I attended the usual dinner at D.d, Chevalier before primeur week, and with the theme of vintage, with the last digit being 8, was a kaleidoscope of many wines. I didn't take tasting notes of all of the wines, but the mind-boggling highlights were Lafite 1908 (99p), Mouton Rothschild 1928 (96p), Suduiraut 1928 (98p), Citran 1918 and Madeira 1848 from Robertson. Pure paradise!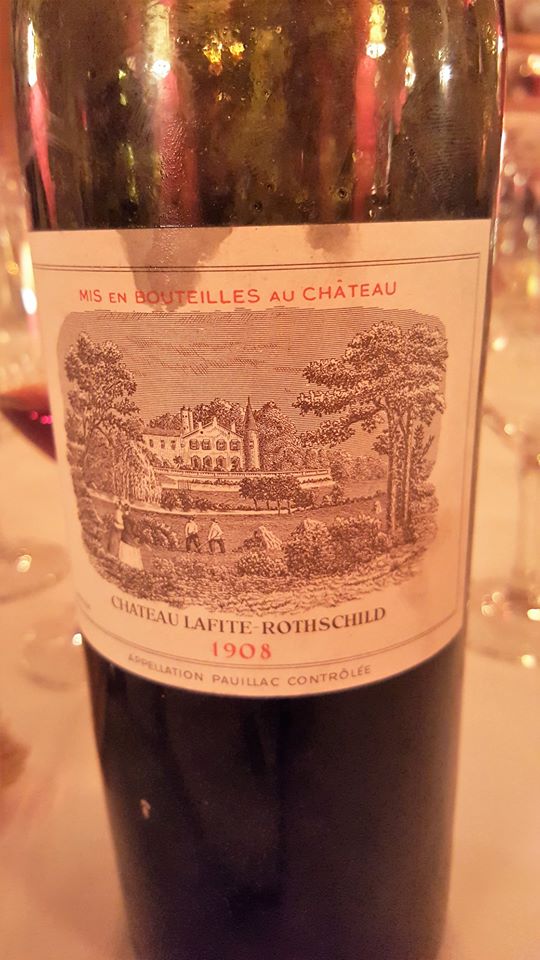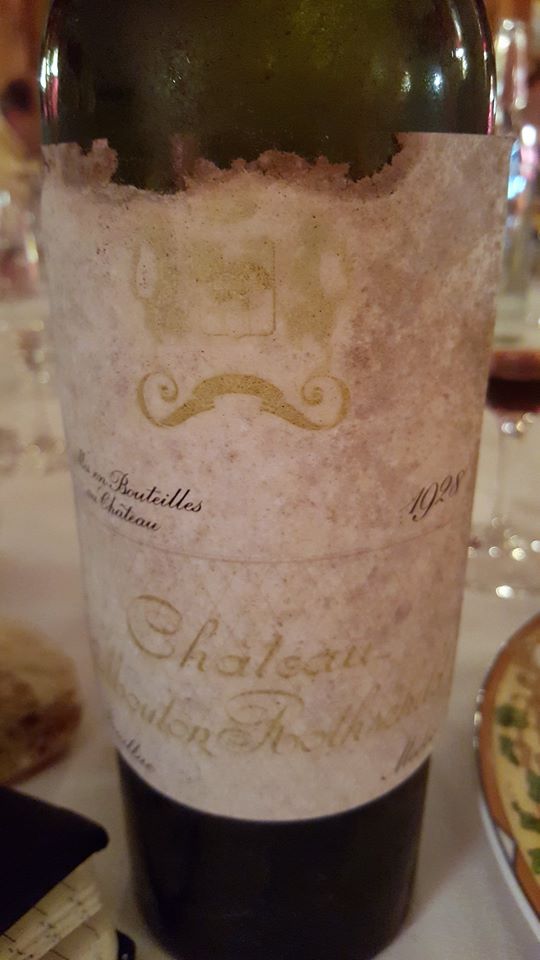 Emotional blasts from the past!