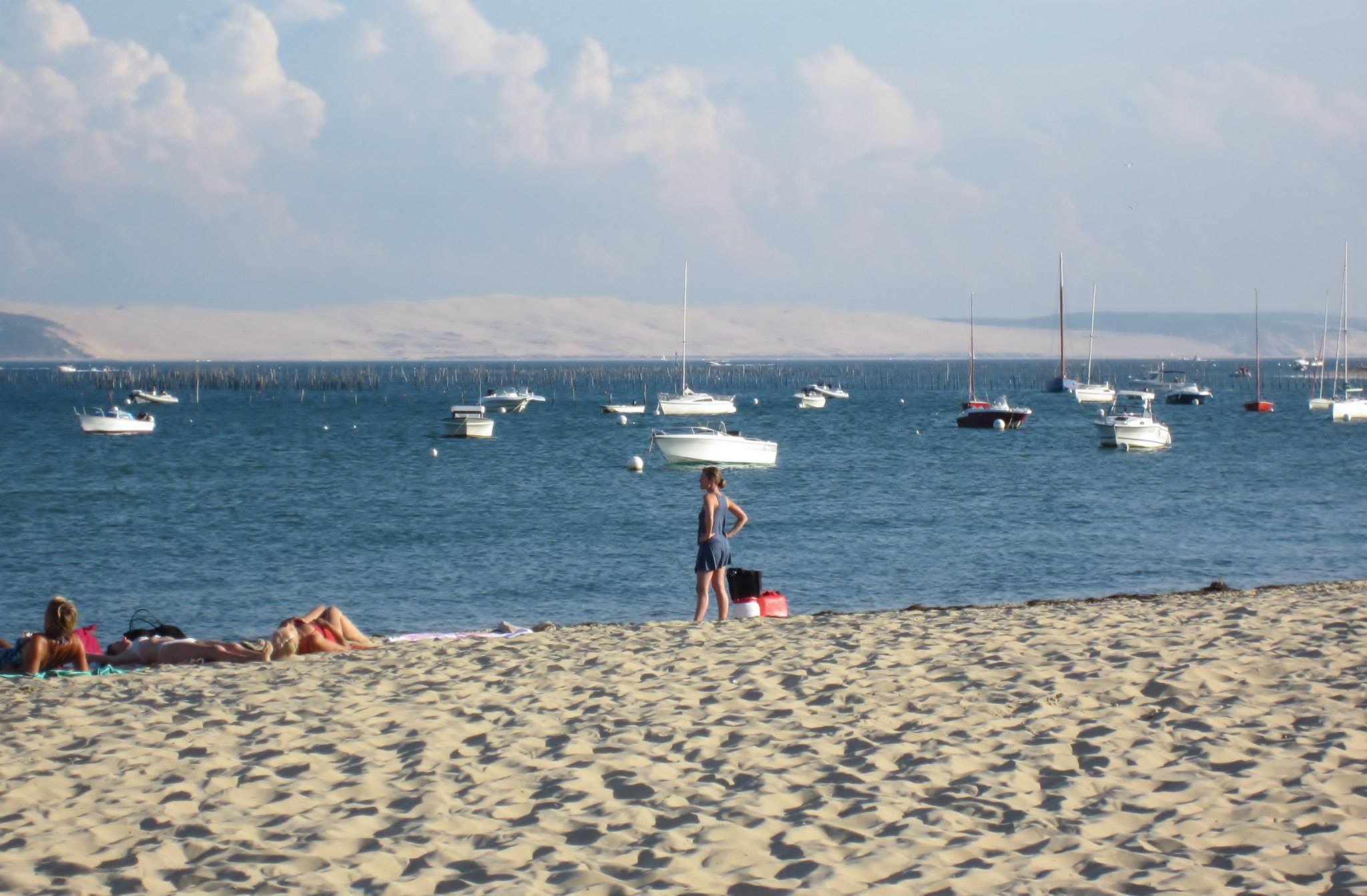 Bassin de Cap-Ferret - excellent September weather for people and grapes! Sunday, the 21st September 2014
I visited Bordeaux between 21st September and 27th September 2014. Days from 22nd to 24th September were devoted to Voyage de Presse 2014 – Graves & Pessac-Léognan. As in September 2010, September 2012 and September 2013, when I attended these Voyage de Presse events, some properties are chosen for me to visit this time weren't ones I heard so much before.
I really like this kind of event where you are completely down to earth and refresh/widen your wine horizon. This was very much opposite of what I normally do during primeur time, running from one high-esteemed property to another. I've had a great time yet again and the organization of this fourth Voyage de Presse was excellent.
During my stay in Bordeaux, only 2014 white grapes were picked and the potential of these is expected to be excellent in terms of fruit intensity and acidity, despite very bad conditions in Spring and early summer. Some places they started harvesting Merlot but not grapes for sweet whites. It'll be interesting to see, what Bordeaux will be capable of this time. Because of fantastic September in terms of sunshine and hot temperatures and little wind, grapes speeded up on everything, and it looks like this month literally saved 2014 vintage. At the time of writing (mid-October), Merlot has been safely brought in most places. Now it's Cabernet Sauvignon's and Petit Verdot's turn to ripe perfectly and make 2014 even better. Only 2 months ago Bordeaux winemakers were depressed and disappointed with the development of the vintage, now there is a great hope. And it's been fulfilled as Cabernet Franc, Cabernet Sauvignon and Petit Verdot came unscathed through rain and enjoyed perfect weather last 10 days. Many properties finished harvest during week of 20th-26th October.
Here are my impressions:
VOYAGE DE PRESSE 2014 - GRAVES & PÉSSAC-LÉOGNAN
Monday, the 22nd September 2014
Seguin
Seguin's owner, Dennis Darriet told me that Merlot grapes looked wonderful but they still waited with harvest at Seguin as grapes haven't approached the full phenolic ripeness. It was expected that the harvest of Merlot would start next Monday (29th September). He sets his standards high and believe his wine is as great as wine from many classified growths.
I tasted 5 vintages of Seguin and two of Seguin's "crème de tete", Confidence(s) du Chateau Seguin.
2012 was elegant, fruity, with tasty cherries, well-balanced, round and soft. This vintage shows a lighter style of Seguin. 91p.
2011 offered splendid nose of ripe cherries, very good depth and intensity. Silky on the palate with strong structure, fine length and smooth aftertaste. Splendid effort for the vintage. 92p.
2010 (50% Cabernet Sauvignon + 50% Merlot) left me a bit puzzled. Like in March 2014, this wine has shed its "baby fat" away and became quite tannic and closed. Underneath, it has a lot to offer but doors are closed. Unquestionably, this wine has great potential, but we have to wait with patience. 95+p?
2009 was another story than 2010. Open arms! Very ripe grapes, lot of sweetness, great complexity and depth. Really attractive wine. 94p.
2008 showed not as flamboyant as 2009, but there was nothing to complain about. This wine was very mineral, multifaceted, well constructed and structured, big on the palate and with a sophisticated touch. Splendid effort for the vintage.
Confidence(s) du Chateau Seguin:
2009 - this luxury cuvee which is made from old vines, was of course more concentrated, deeper and had longer finish than normal cuvee. Very impressive and stunning wine. 95p.
2006 - dusty flavours, a bit earthy, ripe grapes, nice intensity and length, lacking maybe precision. 91p.
Tuesday, the 23rd September 2013
GRAVES
Haut Selve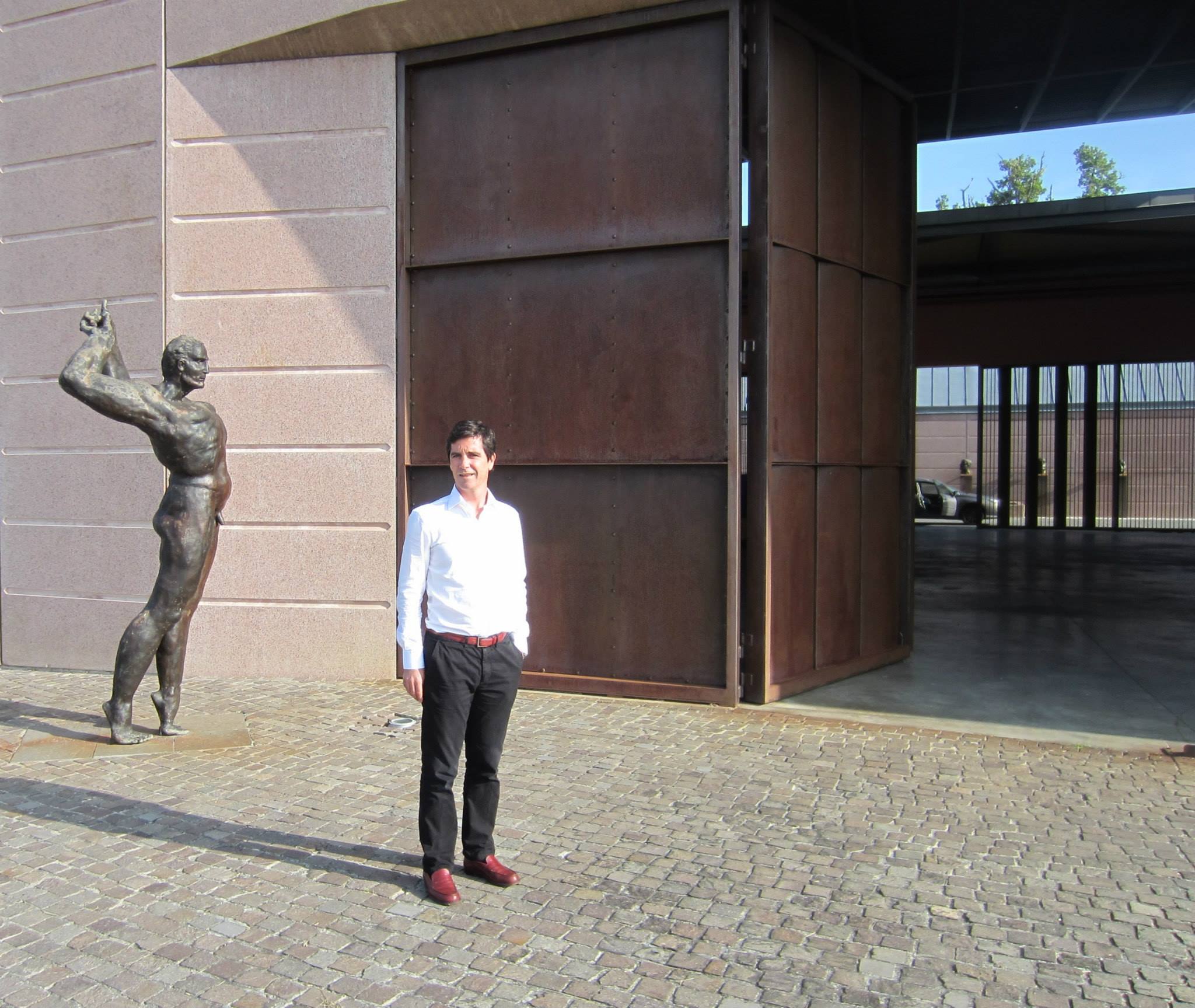 Arnaud Lesgourgues, manager of Haut Selve
Very interesting visit. Lesguorgues family who originates from South France, owns top-rated Chateau de Laubade in Bas Armagnac. In the beginning of '90s, they decided to invest in Bordeaux. In 1993 Chateau Haut Selve was created without any mansion, only by building cellars, vines have been planted, red and white. As owners like art a lot, several sculptures related to wine are placed around the property (see pictures above).
Haut Selve is situated in the commune of Saint-Selve and covers 11 ha white vines, Sauvignon Blanc 50%, Semillon 40% and Sauvignon Gris 10%, and 32 ha red ones, Merlot 50% and Cabernet Sauvignon 50%. Red wine is aged in 33% new oak for 1 year while white wine is fermented, stirred and aged in oak barrels for 6 months. Harvest of red grapes is 30% manual and 70% by machine for normal cuvee (100% by hand for "Reserve"), while the harvest of white grapes is 100% by hand.
2012 red Haut Selve had a very nice balance, good bite and good structure while "Reserve" version of this wine, coming from 2 ha planted with 55% Cabernet Sauvignon and 45% Merlot, malolactic fermentation in 100% new oak and ageing in same barrels, had more structure, more stuffing, more depth and more complexity than normal cuvee. 2010 red Haut Selve Reserve showed very ripe grapes, strong backbone, splendid intensity and long finish. 2013 Haut Selve white (50% Sauvignon Blanc, 10% Sauvignon Gris without wood treatment and 40% Semillon) was full of freshness, aromatic with acacia flower and lemongrass and tasty.
Wines from Haut Selve are imho worth looking for, especially "Reserve" version of red wine. Website - http://www.vignobles-lesgourgues.com
Tasting of 2011 red Graves and 2013 white Graves at Chateau Ferrande
At Ferrande tasting, the best wine of all imho was Chantegrive, which distanced all other wines by a good margin. Very good intensity and concentration, fine level of ripeness of fruit, very nice structure and depth. 89p. Magence was aromatic, corpulent, well-defined wine with nice fruit and a nice bite. 87-88p. Callivet, Clos Floridene, Crabitey, Doms Cuvée Amelie, Ferrande, Haut Reys, Haut Selve, Lasalle, Lusseau, Pont de Brion, de Portets, Rahoul, Roquetaillade La Grange and Saint Robert were all nicely made wine with ripe fruit, very nice balance, good structure, and fruity aftertaste. All wines rated 87p. De Lionne, Lutece and Villa Bel-Air were nice, round and fruity but lightly structured. 86p.
Among 2013 whites, Chantegrive Cuvee Caroline stood out above other wines with splendid intensity, acidity, complexity, structure and length. Well-deserved 91p. Crabitey, Clos Floridene, Ferrande, Lusseau and Rahoul showed compelling freshness, very good acidity and depth, and fruity aftertaste. 89p. Other wines which caught my attention were Grand Abord, Haut-Selve, Lasalle and Roquetaillade La Grange All deserving 87-88p. There were also some very good 2012 whites presented and I liked a lot Ferrande, de Lionne, Pont de Brion and Saint Roberts, with nice freshness and nice acidity. 87p.
Lutéce
This property was bought in 2011 by French actor from Paris, Frédéric Vaysse and renamed Lutéce. It's situated in Illats commune and there are 4 ha of red vines (75% Merlot + 25% Cabernet Sauvignon). White is 85% Semillon, 12% Sauvignon Blanc and 3% Muscadelle. 2014 is the first vintage of dry white Graves, before that it was made as Ceron's (semi-dry white wine). Red wine is vinified in 50% one-year-old barrels and 50% stainless steel vats for a period of 6 months.
2011 Lutéce red was round, charming, easygoing wine, fruity, attractive and very tasty. 2012 had more fruit, intensity and concentration and was velvety on the palate. Very seductive wine. 2013 Lutéce Ceron's was a pleasant dry wine with some Sauternes sweetness. The second vintage of this wine.
Curiously, Lutéce is bottled in 1/2 litre bottles instead of 0.75 liter. Wines here are for enjoying young (3-5 years), not to keep for many years.
Frédéric Vaysee hasn't abandoned his actor profession and from time to time, when free of his winegrower duties, he goes back to Paris to perform. Website - www.chateaulutece.fr
Clos Floridene
My visit took actually place at Chateau Cantegril in Sauternes as Clos Floridene was still undergoing extensive renovation works. Both properties are owned by Denis and Florence Dubordieu, who also have Chateau Reynon and Chateau Doisy Daëne in the family business. Denis Dubordieu is famous oenologist and consultant for many properties in Bordeaux, especially concerning white wine, f.i. Domaine de Chevalier.
When I arrived at Cantegril, I was received by Jean-Jacques Dubordieu, Denis Dubordieu's son. It was a short visit as Jean-Jacques had several teams out to harvest and was very busy. I managed to taste 2012 white and red Clos Cloridene and red 2012 Haura.
2012 Clos Floridene white (52% Sauvignon Blanc, 47% Semillon and 1% Muscadelle, soil consists of gravel and limestones) was very aromatic with flavours of green apple and acacia flower, splendid acidity and complexity, and long finish. Splendid effort in this difficult vintage. Clos Floridene is one of the best buys for money in white Bordeaux.
2012 Clos Floridene red (50% Cabernet Sauvignon, 5% Cabernet Franc and 45% Merlot, soil consist of gravel and limestones) had very appealing fruity flavours (blackcurrants and raspberries) with splendid structure, depth, strong backbone, fine balance and long fruity finish. Very well-made! As white wine, Clos Floridene red is worth all the money.
2012 Haura (60% Cabernet Sauvignon + 40% Merlot, on so-called "fermage" to Dubordieu family) surprised me with fruity and potent style, smoky fruit, strong bite on the palate, splendid structure and firm aftertaste. Close to 2012 Clos Floridene.
www.denisdubordieu.fr provides a lot of information about the properties mentioned above.
This interesting day ended on a very high note in intimate surroundings at high-esteemed Chateau Pape Clement with extremely well-prepared dinner. We were only 9 participants, our hostess included, so the conversation was lively. I didn't take many notes on wines tasted, but remember quite nice Pape Clement red 2007.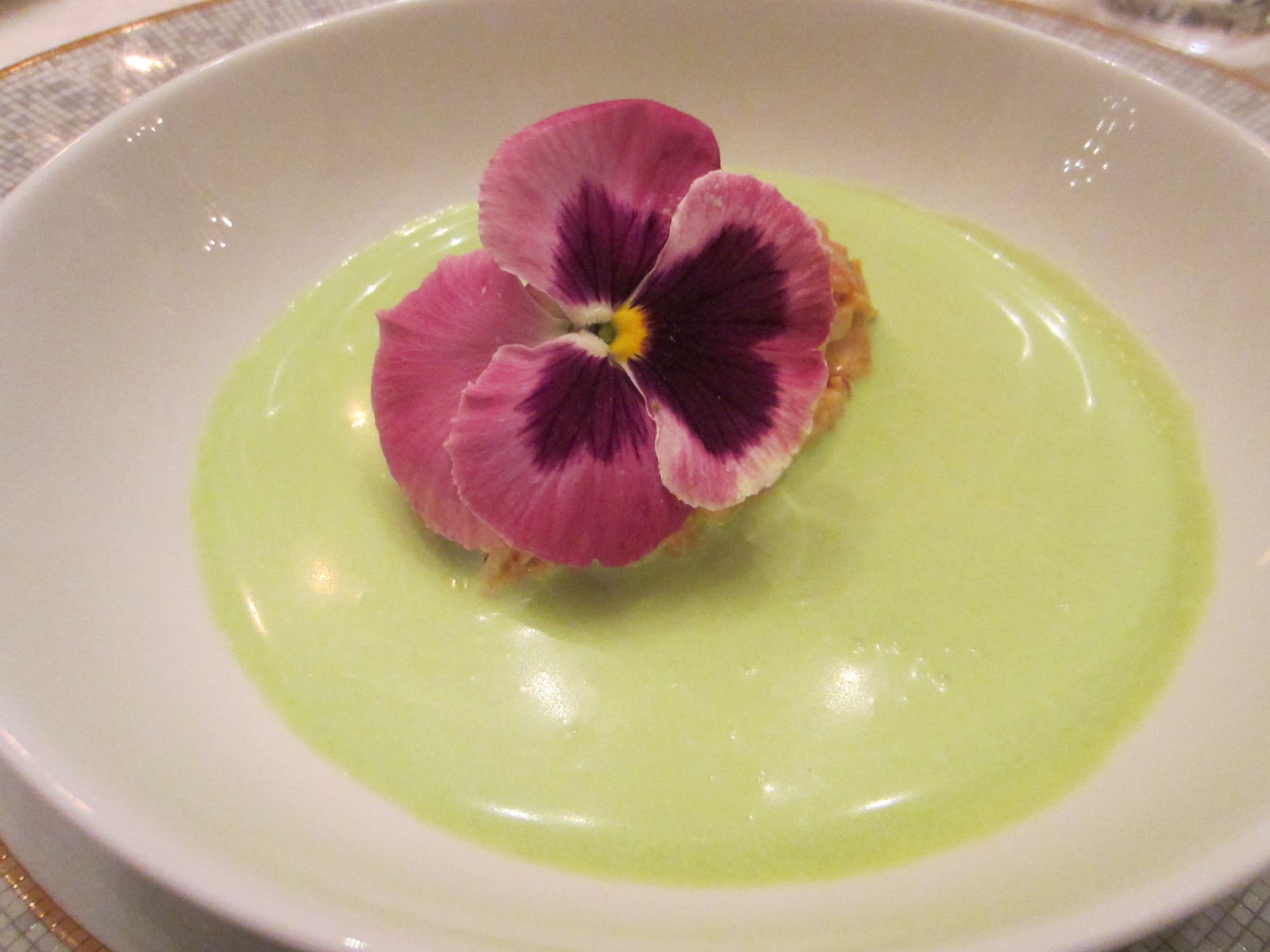 First dish of the dinner - "Hache menu de homard, crème de petits pois et fleur de pensée"
Wednesday the 24th September 2014
PESSAC-LEOGNAN
de France
This property is situated in Pessac-Léognan district and its closest neighbour is Chateau de Fieuzal, less than 100 meters walk from de France. There are 35 ha for red wine planted with 55% Cabernet Sauvignon and 45% Merlot, and 4 ha for white wine planted with 80% Sauvignon Blanc and 20% Semillon. Red wine is aged in 50% new oak + 50% one-year-old barrels for 12-14 months, while white undergoes alcoholic fermentation in barrel and is aged app. 9 months in 30% new barrels + 70% one-year-old barrels. de France is owned by Thomassin family.
In July 2011 de France experienced a major fire caused by an explosion of a tractor, which destroyed cellars and vinification equipment. Because of that, de France was forced to make their wines other places. 2011 white was made at Chateau Haut Bailly, while red 2011-2012-2013 were made at Chateau de Fieuzal. Happily, a new cellar was ready for use just in time for 2014 harvest. Arnaud Thomassin, who received me at de France, took me to parcel where Merlot harvest was ongoing, we also stopped at family's another property Chateau Coquillas with interesting terroir (shellfish) and which makes second wine to de France.
I know very well wines from de France as these participate in Union des Grands Crus de Bordeaux primeur tastings every year. Wines here are really well made, certainly worth the money and especially white wine has been making great progress recently.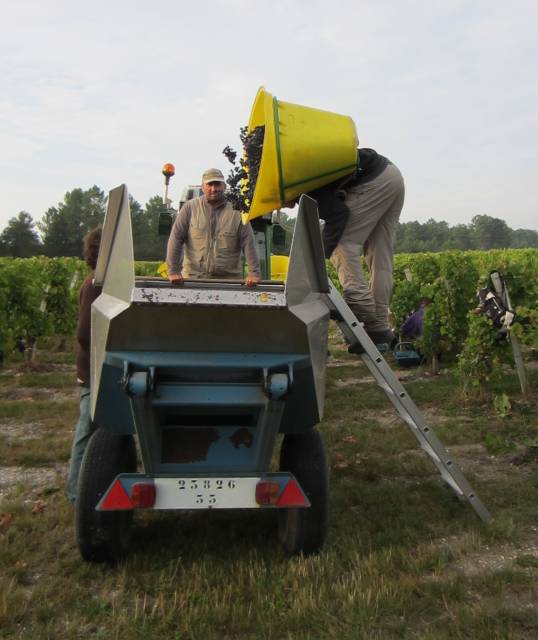 Merlot harvest at de France
Tasting of 2011 red Pessac-Leognan (classified and not classified properties) at Chateau Smith Haut Lafitte
Out of 35 wines presented, many were splendid to excellent, very aromatic, complex and well-structured. Splendidly balanced and tasty.
Best wines - Carbonnieux, Domaine de Chevalier and Smith Haut Lafitte, all rated 93p. Haut Bailly, Larrivet Haut Brion and Malartic Lagraviere, well-deserved 92-93p. Bouscaut, Couhins, de Fieuzal, Latour Martillac, Malartic Lagraviere and Olivier, all rated 92p. Les Carmes Haut Brion, Haut Bergey and Seguin were rated 91-92p. Cruzeau d'Eck, Ferran, de France, La Garde, Rouillac and Le Sartre deserved 90-91p, while Bardins, Cantelys, Haut Bacalan, Lespault Martillac, La Louviere and Rochemorin were rated 90p.
Larrivet Haut Brion
This property situated in Leognan I know very well, as its wines appear every year in UGCB tastings during primeur week and also appear when negociant firm Beyerman visit Copenhagen every year in the beginning of September. There are 72.5 ha planted with vines - 61 ha red (55% Merlot, 40% C.Sauvignon and 5% C.Franc, the average age of vines is 25 years) and 11 ha white (60% Sauvignon Blanc and 40% Semillon, the average age of vines is 20 years). Gervoson family bought this property in 1987 and in 2007 they hired Bruno Lemoine (who worked at Montrose and Lascombes as manager/winemaker before joining Larrivet Haut Brion) to improve quality of wines. He runs Larrivet Haut Brion together with Emilie Gervoson, a young energetic woman with great sense of humour and very amiable personality.
I was invited to lunch at LHB last year as a part of the Voyage de Presse program and had great company of Emilie Gervoson and Bruno Lemoin. The woman who prepared a meal for lunch is a very talented chef and she made an incredibly tasty carpaccio of young cépes. This September, invitation to lunch repeated. In addition to Emilie Gervoson and Bruno Lemoin, line-up for the lunch included Alice, Bruno Lemoin's daughter and Alex Rychlewski who runs translation company in Bordeaux and who was among the 20 journalists/bloggers assigned for Voyage de Presse 2014. We discussed many things and my part of it was asking Bruno how he managed to make one of the ultimate Bordeaux legends, 1990 Montrose. "Green harvest" and yield of 35 hl/ha was the secret, he answered. Bruno's daughter, Alice, runs LHB' boutique since July this year and when I met her again at the gala diner at Fieuzal, she told me proudly that she managed to sell several cases of red and white wine to a large group of visitors same day.
Red wine is aged in 50% new barrels for 16-18 months and white in new oak barrels for 12 months. I find red and white wine coming closer and closer to top wines in the district but there is a little way to go. Especially red has been in very fine form since 2010 vintage and white in splendid form since 2008. And both wines are still improving. 2010 white Larrivet Haut Brion tasted during lunch was excellent with creamy fruit, great acidity and complexity, and long fruity finish. 2006 red Larrivet Haut Brion showed smoky fruit, elegance and firm finish.
www.larrivethautbrion.fr
Chateau Haut Brion
Our journalist group was presented for information about the history of the Chateau, winemaking and at the end of the visit, we tasted 2012 Haut Brion and 2012 La Mission Haut Brion. Both wines were pretty well-made, fruity and well-defined, but I felt this particular evening, that they tasted lighter than I did remember from primeur visit at Haut Brion in March 2013. I rated both 93p.
Tasting of 2013 white Pessac-Leognan (classified and not classified properties) at Chateau de France
Surprisingly, 2013 wines showed very well, despite weather problems. Wines mentioned below are all well-made, tasty, fresh and they will provide a great deal of pleasure in the coming years.
Best wines for me in alphabetical order - Bouscaut 92p, Carbonnieux 92p, Fieuzal 92p, Larrivet Haut Brion 92p, Latour Martillac, Malartic Lagraviere and Olivier 92p. Couhins Lurton, de Cruzeau, de France 91-92p and La Louviere 91-92p. Bardins and Ferran, both 91p. La Garde, Luchey Halde, Rochemorin and Rouillac, 90p. Couhins 88p.
Some properties didn't present their 2013 vintage and provided 2012 vintage instead. My cherry picks were: Smith Haut Lafitte (91-92p) and Fieuzal (91-92p). Haut Bergey and Le Sartre did well and deserved 90p, while Cantelys, Lespault Martillac and Domaine de La Solitude were correct wines for early consumption. 87p.
After tasting of whites, our group went over to neighbouring de Fieuzal, where gala dinner for the press and owners took place. Good food, good wines and nice company rounded off well-organized Voyage de Presse 2014.
IMPRESSIONS/TASTING NOTES FROM VISITS AT OTHER PROPERTIES IN SEPTEMBER 2014 (in chronological order)
Visits which took place before Voyage de Presse described above
Monday the 22nd September 2014
Before coming to my place to stay for Voyage de Presse 2014 (Chateau Seguin in Canejan), I managed to visit Chateau Haut Brion, Chateau Nairac and Chateau Raymond Lafon.
Haut Brion/La Mission Haut Brion
On the day of my visit, Merlot harvest at Haut Brion has already been going on for several days. Merlot grapes looked great! Tradition wise, I tasted last bottled vintage here in red and white, which meant 2011 one this time.
Reds:
Le Clarence de Haut Brion, the second wine of Haut Brion was fruity, round, a bit vegetal and finished a bit dry, and finished with a smooth fruity finish. 87p. La Chapelle de La Mission Haut Brion, the second wine of La Mission Haut Brion had better intensity and depth with longer finish. 88p. La Mission Haut Brion had La Clarte de Haut Brion (white wine) had a very aromatic nose of acacia, lemongrass, apple and same flavours on the palate, fine acidity, balance and fruity aftertaste. 88p. La Mission Haut Brion tasted a bit closed with tannin up front, no doubt however that it will come back with more to offer. 93-94p. Haut Brion had more of everything and was in the whole better wine than La Mission. 94p.
Whites:
La Carte de Haut Brion was fresh with flavours of lemongrass and acacia, touch of grapefruit, nice acidity and intensity. 90p. La Mission Haut Brion white displayed splendid intensity of acacia flower and green apple, splendid balance, complexity and acidity, fine elegance and sophisticated touch. Beautiful wine. 95-96p. Haut Brion white had more intensity and concentration than LMHB. Great acidity. Oozed of class. Less elegant and less finesse here than in LMHB, but had more richness and depth. 97p.
Nairac
At the time of my visit (22nd September) harvest didn't start yet, there was the cleaning of bad grapes in bunches at vines and waiting time for botrytis to show up in the vineyard. It'll be late harvest in 2014.
I tasted vintages 2012-11-10-09-05-96
2012 showed aromatic scent of grapefruit and acacia honey, nice intensity and acidity and nice complexity. Lighter than usual. 90p.
2011 had petrol on the nose, big range of botrytised flavours like grapefruit, lemon peel, pineapple and pear. Distinguished, rich and long on the palate with great sweetness, acidity and graceful aftertaste. Silky texture. Very impressive wine. 94+p.
2010 seemed to be slightly less intense and less rich than 2009. Seemed a tad closed at the moment (September 2014). Stunning wine anyway. 95+p
2009 had very impressive nose of sweet pineapple, peach and apricot, stunning richness, acidity, balance and length. Very long honeyed aftertaste which went on and on. More open now than closed 2010. Exceptional wine. 96p.
2005 was very closed but underneath there was everything you wanted. Patience required. 95p.
1996 had toffee aroma and smell of shoe polish, brown sugar, candied apricots. Well-aged wine with fine structure and nice complexity. 92p.
Raymond Lafon
At the time of my visit (22nd September), harvest wasn't yet started. Jean-Pierre Meslier told me, that 2014 grapes looked extremely promising.
I tasted vintages 2011-2010-2009-2007.
2011 - aromatic with acacia honey, sophisticated, long, great intensity of aromas (mango, honey melon) and great acidity. Very long honeyed aftertaste. Excellent effort for the vintage. 95+p.
2010 - showed considerably more of everything than 2009. Fabulous acidity, excellent balance and finish. Excellent stuff. 96p.
2009 - petrol, elegance, refined, great intensity of botrytised flavours, excellent balance and sweetness, fabulous complexity, balance and length. Exceptional wine. 96+p.
2007 - sophisticated, long, great intensity of aromas (mango, peach, honey melon) and striking acidity. Very long honeyed aftertaste. Great effort for the vintage. 95p.
Visits which took place after Voyage de Presse described above
Thursday the 25th September 2014
Emmanuel Boidron
I met Emmanuel Boidron at the Brasserie (on top of La Dominique's cellar) and tasted 2013 and 2011 vintage of Boidron wines. He told me, that there was no news about an ongoing court case concerning the degradation of Corbin Michotte from Grand Cru Classe group.
2013 Calon (St. Georges Saint-Emilion) showed tasty soft fruit, light texture, smoothness and good balance. 87p. 2013 Calon (Montagne St-Emilion) was similar to St.Georges one with slightly more intensity and sappiness. 87p as well. 2013 Corbin Michotte had fine aroma of grated dark chocolate, splendid ripe dark fruit, remarkable acidity and minerality, fine balance and persistent finish. Splendid effort for the vintage. 91p. 2013 Cantelauze had the same fine qualities as Corbin Michotte, same aroma of chocolate and sensual touch. 91p. 2011 Calon St. Georges showed a little better than its 2013 counterpart, 87-88p. 2011 Corbin Michotte reminded a lot of 2013 version with slightly better ripeness. 91p. 2011 Cantelauze was surprisingly lighter than the 2013 version. Seemed quite closed. 90p.
Tertre Roteboeuf
No harvest activity here on the day of my visit (25th September) - harvest was at least 2 weeks away. Quick visit - I only tasted wines from 2013 vintage and Tertre Roteboeuf from 2010 vintage.
2013 Domaine de Cambes was soft textured, very fruity and with good balance, very attractive. Chocolate aroma. Good effort for the vintage. 87p. 2013 Roc de Cambes had well-integrated ripe fruit with tannin, soft and with mellow structure. Lighter structure than usual this time. 89p. 2013 Tertre Roteboeuf was gracious and aromatic, sublime, dense, very ripe fruit and somewhat fresh. Impeccable winemaking. 94p. 2010 Tertre Roteboeuf didn't want to show anything - it was totally closed.
Belle Brise
The owner Henri Bruno de Coincy welcomed me and he told me that he expected quite fine 2014 vintage. Harvest here was more than a week away. Tasting grapes revealed, that skins hadn't obtained yet full phenolic ripeness. They were healthy and in huge quantities as the picture below shows.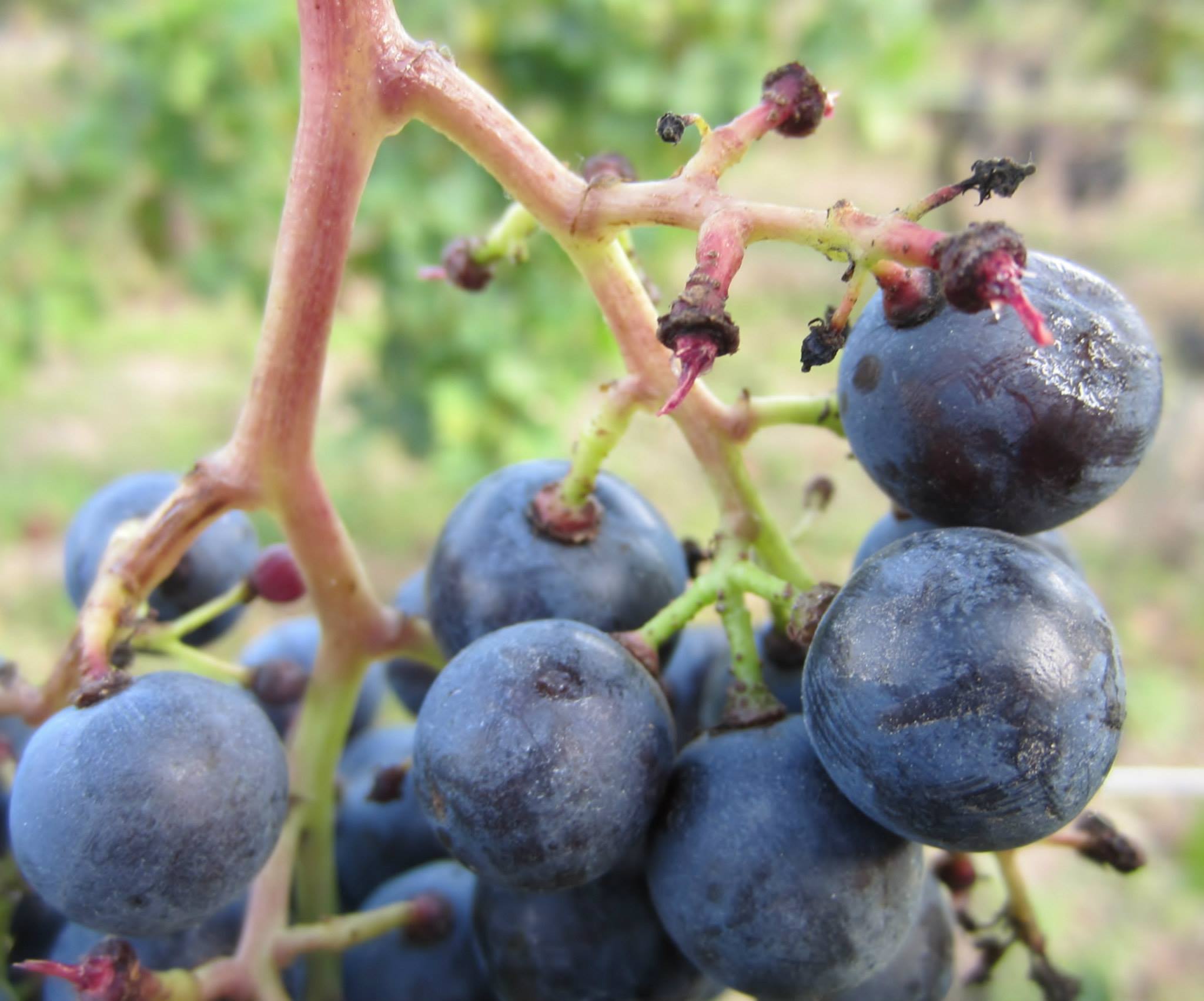 Merlot's pipes are red to light red at Belle Brise - an obvious sign of excellent maturity