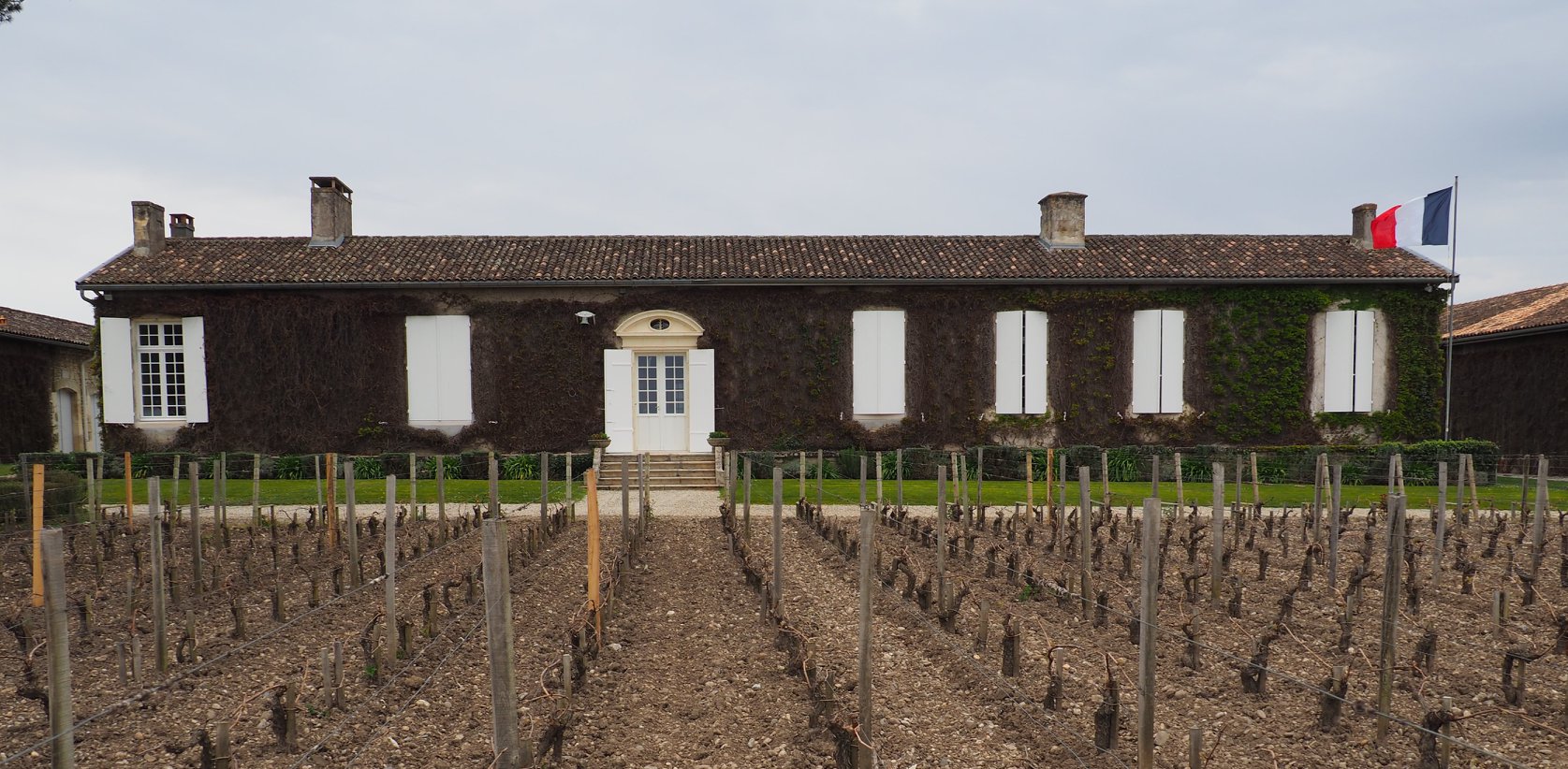 Modestly looking chateau but the wine produced here is excellent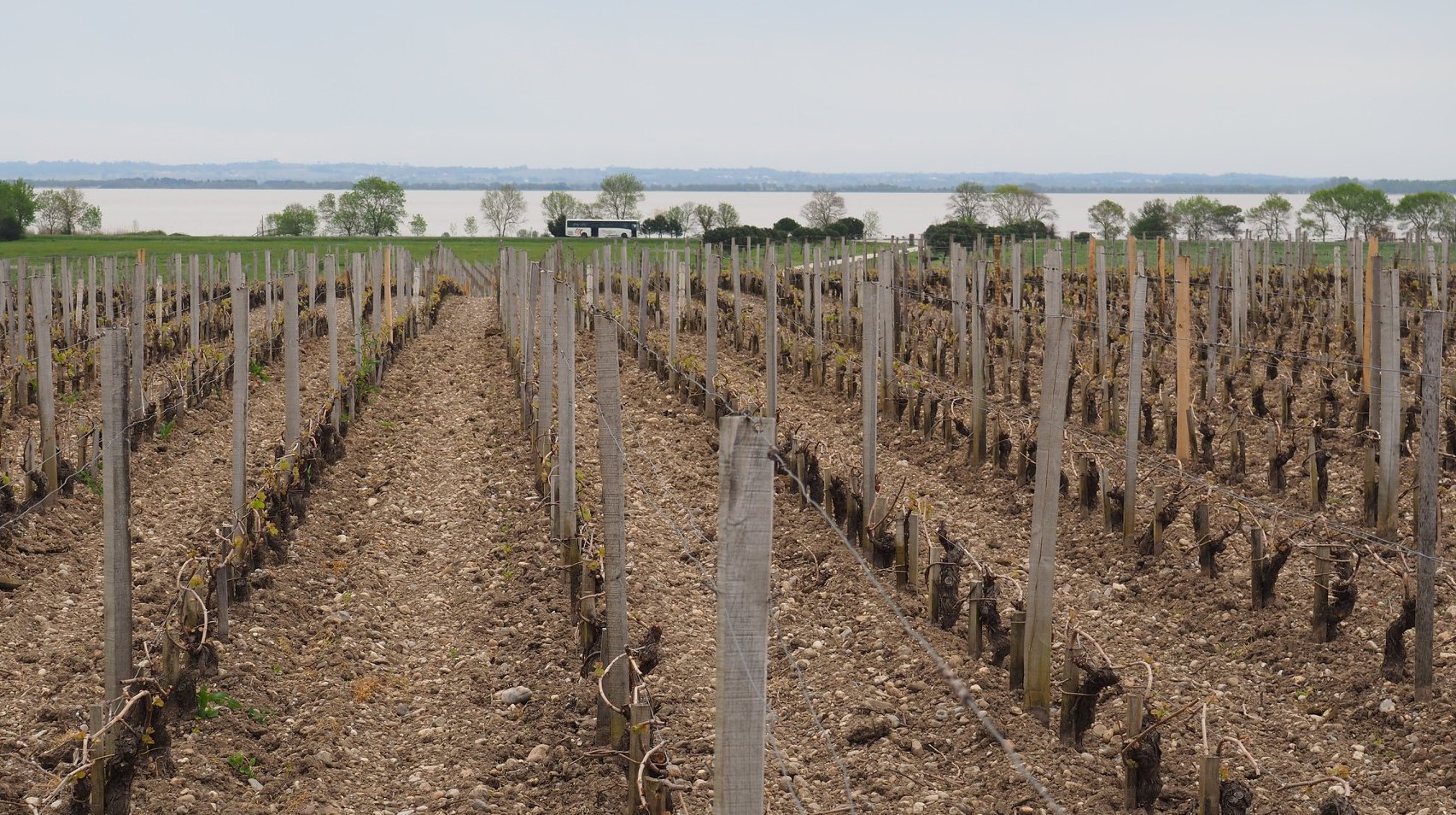 Perfect location close to Gironde river and well-protected from the frost - Meyney in April 2019
Meyney can date it its roots back to 17th century. It was then owned by Luetkens family until 1919 when Desiré Cordier purchased it. In 2004, a company under Credit Agricole, CA Grand Crus, acquired Meyney.
This property is situated in Saint Estephe and overlooks the estuary of Gironde river. This assures that frost is a very, very rare guest here if not totally absent. The entire vineyard, 51 ha in all, is around the chateau. It's planted with 60% Cabernet Sauvignon, 30% Merlot and 10% Petit Verdot. Vines are on the average app. 40 years old. The soil here is mainly gravel with a 3 meters layer of blue clay in the subsoil. It's certainly as excellent as at many classified growths. Meyney is a close neighbour to famous Chateau Montrose and they share the same exceptional location on the little hill.
Harvest is done manually with sorting out in the vineyard and by optical sorting machine at arrival to the cellar. Must macerate for one month and the wine matures in 40% new oak for a period of 18-24 months. Since 2013, wine consultant here have been Hubert de Bouard from Chateau Angelus and it resulted in more precision and focus in Meyney, beginning with vintage 2014. Anne Le Naour has been technical director at Meyney since 2016 and she plays a big part in the recent success vintages at the property.
Meyney is typically robust and stylish St.Estephe wine and can often challenge classified growths with great success. This property's been on fire since 2010 vintage.
-----
2019 MEYNEY 95p (barrel sample)
Tasted in June 2020. Whole 16% Petit Verdot in the blend (18% in 2018) and remaining parts split equally between Cabernet Sauvignon and Merlot. Voluptuous, strong backbone, lush and concentrated on the palate, full-bodied, creamy and with complexity. Continues well in tracks of an excellent 2018 but I taste more elegance here.
2018 MEYNEY 94+p
Tasted twice - last time in January 2021. Consistent notes. Intense on the nose, potent on the palate, juicy and creamy, has a strong backbone, great complexity, depth, and length. Fat fruit and tannin. Long, long finish. Best vintage for this property in the last 25 years imho and a steal for the money!
2017 MEYNEY 93p (barrel sample)
Tasted in April 2018. This property always offers great value for money and it's 2017 doesn't disappoint. Splendid freshness and acidity, silky fruit and tannin, velvety texture, fine structure with a gentle kick of typical for St.Estephe coarseness. Really, really well made! 58% Cabernet Sauvignon, 31% Merlot and 11% Petit Verdot. The latter grape variety seems to add a strong backbone to this wine. No frost here!
2016 MEYNEY 94p
Tasted in April 2018. Powerful with strong structure, strong backbone (Petit Verdot!) as well and splendid length. An awesome mixture of power and distinguished touch!
2015 MEYNEY 93-94p
Tasted in April 2018. Similar splendid quality, maybe a bit less concentrated than 2016. Still, it's a very impressive effort for the vintage!
2014 MEYNEY 92-93p
Tasted in April 2018. Remarkable acidity, the hallmark of the vintage, freshness, lot of ripe fruit and tannin, fine structure and meaty finish. Classic cool climate vintage. The impressive showing of Meyney's big potential!
1947 MEYNEY 95p
Tasted in April 2011. From magnum. A great wine from legendary vintage, still fresh and lively, intense blackcurrants on the nose and palate, great elegance and persistent aftertaste. Awesome treat.