A look over to Trotanoy from a neighbour vineyard, Gombaude Guillot - November 2021
In the middle of the 17th century, this property was created by the Fontemoing family, which also owned Canon in Saint-Emilion. Some hundred years later, the new owner was the Giraud family. Giraud's ownership lasted until shortly after World War II when Trotanoy was sold to the Pecresse family. Pecresses kept Trotanoy for approximately eight years and sold it in 1953 to Jean-Pierre Moueix.
From having around 25 ha of vines in the middle of the 19th century, the vineyard became smaller and smaller in size due to several parcels being sold because of inheritance problems and lack of money. It covered only 11 ha in 1929. Today, Trotanoy is approximately 7.2 ha.
Trotanoy is situated in the middle of the Pomerol district. You reach it when passing the railway line after leaving Libourne, coming to the little round-about where D244 road to Catusseau starts and turns left. Few kilometres. It's located just outside the eastern part of the district, called "Le Plateau Argileux", where clay and famous "crasse de fer" (iron dirt) are very predominant and where all the best properties in Pomerol are situated. Trotanoy vineyard borders the north hamlet of Bourgneuf and Chemin de La Cabanne road to the east.
This property, however, isn't a neighbour to its famous brother estate, Petrus, situated further east, as some media sources write. The distance between those two properties is app and 1.8 km; both vineyards don't touch each other. Trotanoy is recognisable and easy to find because of an alley leading to the property with cypress trees on both sides (see the picture above).
Trotanoy's soil is gravel on heavy black clay mixed with gravel and iron dirt (crasse de fer). It's like that in the lower part of the vineyard, while there's much more clay in the more elevated position, still a black one. Its name probably originates from "trop ennui" (hard to work with), referring to soil composition. 7.2 ha vineyard is in one block and planted with 90% Merlot and 10% Cabernet Franc, vines are on average 35 years old, and the wine spends 16-18 months in 50% new barrels after traditional vinification in small concrete vats.
Occasionally, a second wine, called Esperance de Trotanoy, is produced. It's 100% Merlot and comes from two parcels, rarely going into Grand Vin. The first vintage made was 2009, then 2010, 2011, 2012, 2014, 2015, 2016 and 2017.
By the end of 2018, I had collected 23 vintages of Trotanoy in my cellar, purchased from different sources in Denmark and abroad - 2015-14-12-10-09-08-05-04-01-00-1998-95-90-1986-85-83-82-1978-75-71-70-1966 and 1916. A few months before the tasting took place in Copenhagen, March 2020, I bought a perfect bottle of 1964 Trotanoy and decided to replace 1986 Trotanoy with it. I've always wanted to learn more about this property since I only tasted very few vintages from the bottle before, and most of my TNs were from barrel tastings during primeurs. I was fortunate with my purchases - only one vintage out of 23 presented at the tasting was corked, and it was 1995.
Trotanoy is an utterly complete wine, robust, fleshy and with a strong backbone, but also with much elegance, finesse and sophisticated touch. It's a long life span, so you think Trotanoy can live forever! Occasionally, it gives his famous brother, Petrus, a run for its money. For me, it's among the three very best Pomerols, together with Petrus and Lafleur. And, of course, it's one of Bordeaux's best wines!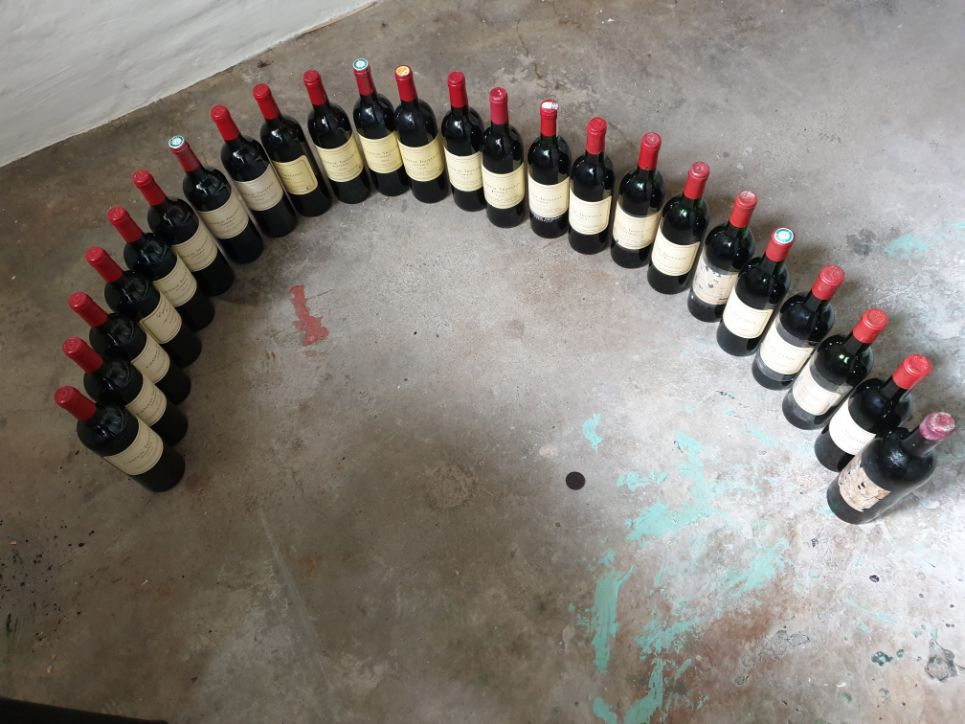 All 23 vintages of Trotanoy + 1 of second wine are lined up here in a room next to my cellar. They were safely stored in the basement cellar.
----
2021 (barrel sample) 95-96p
Tasted in April 2022. 100% Merlot. Dense colour, robust approach, floral nose of violets, crunchy raspberries and dark chocolate, black winter truffle, great structure, midpalate and length. Strong mineral finish. Outstanding effort.
2018 (barrel sample) 99p
Tasted in April 2019. 90% Merlot + 10% Cabernet Franc. A huge, colossal wine, lots and lots of everything, thick, luscious and dense, stunning complexity and length. It's simply a mind-boggling effort!
2017 96-97p
Tasted in October 2019. Intense blackberries/raspberries, elegant and sublime, sophisticated, excellent structure and complexity, not a powerhouse but finesse and subtlety here. Decadent stuff.
2016 98+p
Tasted in October 2018. Thick, thick aroma of superbly intense black cherries and blackberries, exceptional purity and precision, velvety tannin, ultralong and coating aftertaste that lasts more than 30 seconds. Bull's eye!!
2015 97p
Tasted twice - last time in March 2020. Consistent notes. Fat wine with a thick texture, gobs of fruit and tannin, bright scent of terroir (crasse de fer - iron dirt), truffles, outstanding balance and great length. A great, great vintage for the property. Bottle tasted in March 2020 was stand A.
2014 94p
Tasted in March 2020. Not the perfect showing right now, and it looked like this bottle suffered very slightly from oxidation. It is a bit edgy, tannic, concentrated with firm acidity, and needs time to soften. It's a young Trotanoy that has closed its doors for several years. I acquired it together with 2015, 2012, 2010 and 2009 from the same Danish wine merchant who gets Trotanoy directly from ETS. Jean-Pierre Moueix. Stand A.
2012 95p
Tasted in March 2020. Intense raspberry drops are powerful yet elegant, dense structures refined with splendid complexity. Fresh and with marked acidity, which keeps everything together and chic. Young and vibrant wine, which is 10-15 years, is a great delicacy to drink. Stand A.
2010 98p
Tasted in March 2020. You look at 2005 and 2000 on the same flight and compare it to this one (2010). I could say 2000 was slightly less intense than 2010, and 2005 had less fine tannin than 2010. The truth is that they were similar and had the same fantastic quality all three! Stand A.
2010 Esperance de Trotanoy (Trotanoy's second wine) 92p
Tasted in March 2020. 100% Merlot. Tasted blind together with 2010 (Grand Vin), 2005 and 2000. Very aromatic nose of black cherries/blueberries, straightforward wine, dark chocolate and cocoa scent, focused and well-balanced. Silky texture and smooth lingering finish. Drinks exceptionally well right now. Stand A.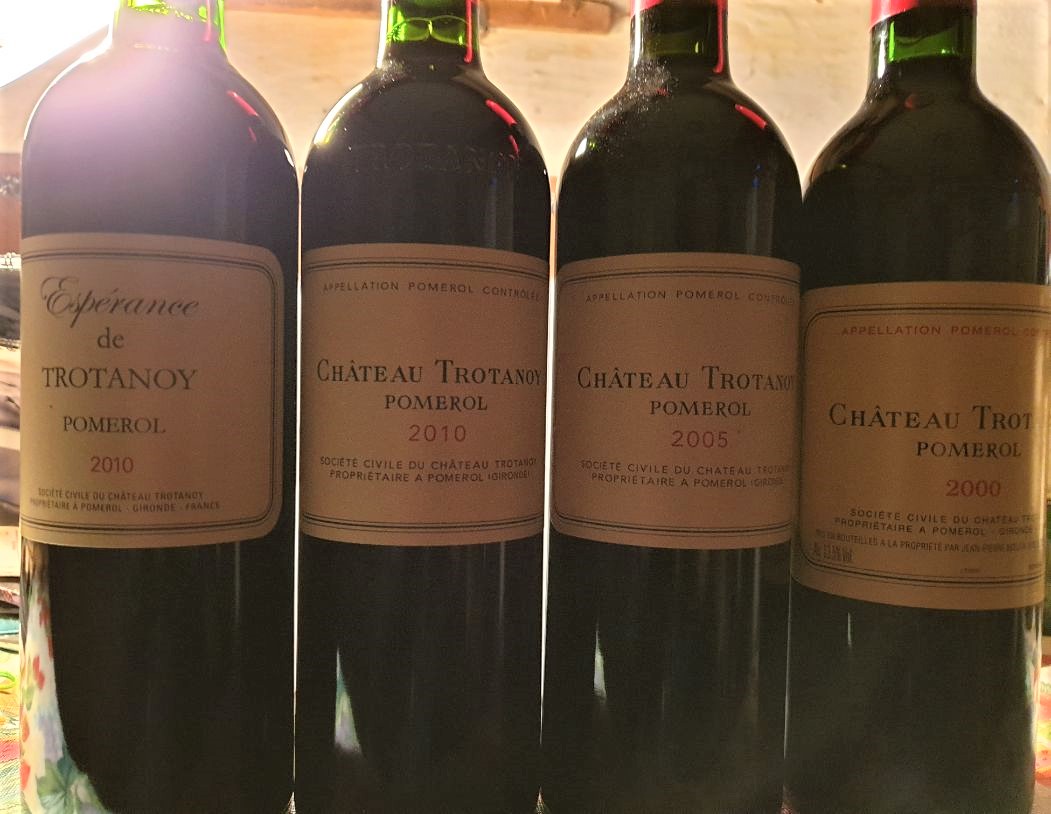 2009 95p
Tasted in March 2020. It competed with 2015 and 1998 in the flight and was a challenging ride! These two vintages outdid it and felt a bit diluted compared with its competitors. Splendidly put together, very complex and lengthy, but for me, it lacked a bit of excitement, fatness and intensity of 2015 and 1998. Stand A.
2008 97p
Tasted in March 2020. A clear winner of the flight. Very strong and concentrated with gobs of dark cherries and truffles, all controlled by acidity, high complexity and depth. Refined and sophisticated with stupendous length. Stunningly sublime wine. Stand A.
2005 97p
Tasted in March 2020. Fat, dense, powerful, cherry, an iron fist in the velvet glove, concentrated and intense, strong backbone, great complexity and length. Long finish. So typical for the vintage! Stand A.
2004 94p
Tasted in March 2020. So typical for the vintage with tannic profile, tightness, strong iron structure, copious cherry fruit with truffy scent. A very balanced wine, which needs more than ten years to soften. The future is more than bright. Stand A.
2001 95p
Tasted in March 2020. Together with 2004 and 2008, this bottle was purchased from a very reliable wine shop in mid-France; bottles came directly to it from Ets. Jean-Pierre Moueix and were stored in perfect conditions. Aromatic with a splendid intensity of black fruit and cherries. Sophisticated and elegant, delicious, very potent with great complexity. Silky texture. Many years to go. Delightful effort. Stand A.
2000 98p
Tasted in March 2020. It was a great bottle from a magnificent vintage. Competed with Trotanoy 2010, Esperance de Trotanoy 2010 and Trotanoy 2005 in the same flight. Incredibly exciting to compare some of Bordeaux's most exceptional vintages to date! This wine was super confident, dressed in truffles and black cherries, extraordinarily refined and sophisticated, and had a strong backbone, significant depth, fabulous complexity and length. Stand A-A/B.
1998 98p
Tasted in March 2020. Fat, ironclad truffles, plenty of perfectly ripe fruit and grained tannin, tons of black cherries, impressive structure, complexity and length. Sophisticated and utterly remarkable wine! At least 25 more years to live, if not much longer! Purchased en primeur in Denmark for a ludicrous amount of 66 Euros per bottle in 1999. Only one travel for this wine - from France to Denmark. Stand A.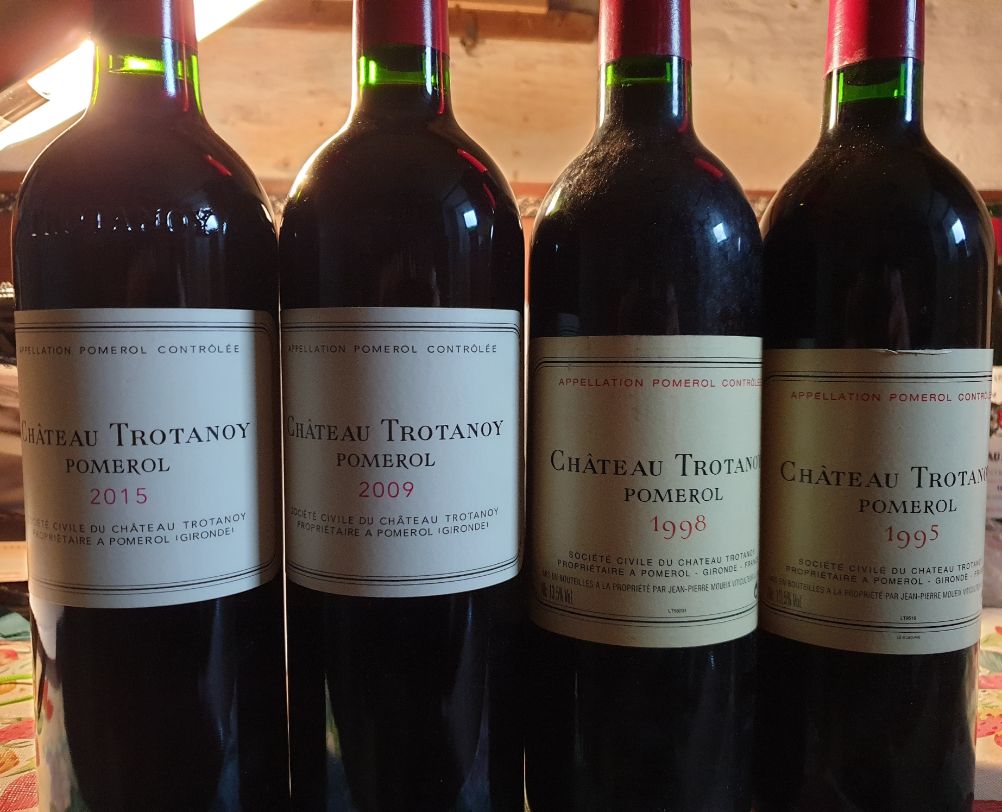 1990 95p
Tasted in March 2020. Showed all the goodies associated with the character of this vintage, which was very successful in Pomerol. Strong and potent, well-equipped with black cherries and truffles, silky texture, excellent balance, deep and refined with unique complexity and length. Long finish. Impressive stuff. Long, long life. Stand A-A/B.
1985 93p
Tasted in March 2020. It was a big harvest in Bordeaux in this vintage. I was in Bordeaux during harvest, and the grapes were big but in excellent condition. Yield per ha around Bordeaux reached 70 hl at many estates. I think this vintage suffers a bit of dilution, but on the whole, it's a pretty, feminine wine, graceful and tasty, cherries and grated chocolate, well-balanced and with a smooth fruity finish. Stand B.
1983 96p
Tasted in March 2020. The big surprise here. Sourced from a winemerchant in Holland, it was an epic wine to taste. Put in the flight together with 1970 and 1978. 1983 had blown wines both far, far away down the road. Might you think this wine was not up to its one-year younger brother from a more famous vintage (1982)? Think again! It was almost equally impressive! Powerful, youthful, stunning depth and complexity and silky. Stand A.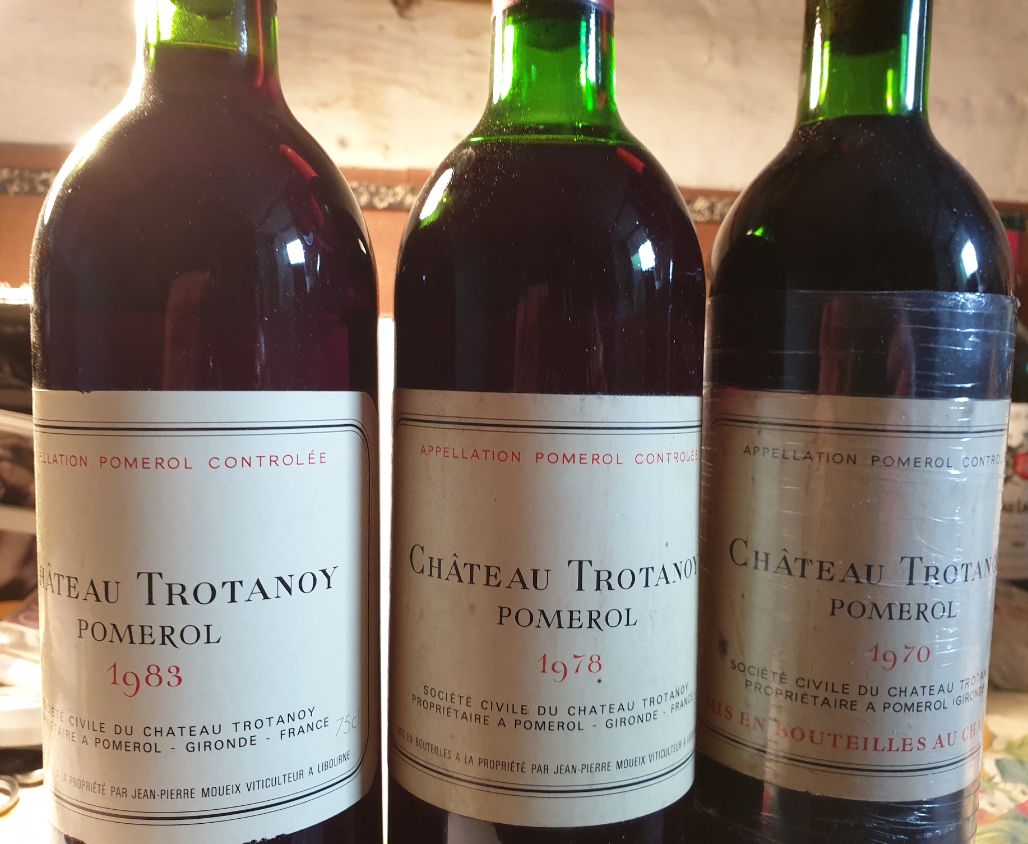 1982 98p
Tasted in March 2020. Bull's eye! This bottle did catch my attention immediately. It is strong and compact with an aura of sophisticated touch, luscious cherry fruit, truffles and chocolate, silky texture, extraordinarily structured and long. Simply an impressive bottle to taste! Stand B/C.
1978 90p
Tasted in March 2020. Delicious wine, but that's it. It didn't challenge the other wines in the tasting simply because it lacked their intensity, concentration and depth. It is elegant, round and tasty but also starting to be well past its peak. Stand B/C.
1975 97p
Tasted in March 2020. Very close to 1971 and 1964 in terms of power, structure and length. Great, great complexity, richness and sophisticated touch. Utterly impressive wine with still many years left in the tank. Stand B.
1971 97p
Tasted in March 2020. Accompanied in same flight by 1964, 1966 and 1975. As spectacular wine as 1964! Same description, little difference in style, very typical wine for this property. 10-15 years more in the cellar for sure. Stand B.
1970 94p
Tasted in March 2020. A lighter version of 1971 also shows more age. 1971 vintage is considered a better one on the Right Bank than 1970. However, there is nothing to complain about here because there are finesse and elegance, plus an adequate portion of black cherries with truffles to please the taster. At its peak now. Stand A-A/B.
1966 92p
Tasted in March 2020. A bit edgy and does not show that much fruit. It's a typical wine for this vintage that isn't "friendly" and open for business. However, the structure, balance, depth and length are very much in the right place. Stand B/C.
1964 97p
Tasted in March 2020. It turned out to be a fabulous example of Trotanoy. Fat and dense with a very intense nose of black cherries and truffles, packed with fruit and a good portion of grained tannin. Strong backbone, great complexity, sophisticated and long, long finish. It's hard to believe that this wine is only 56 years old because it tasted younger than that! Stand B.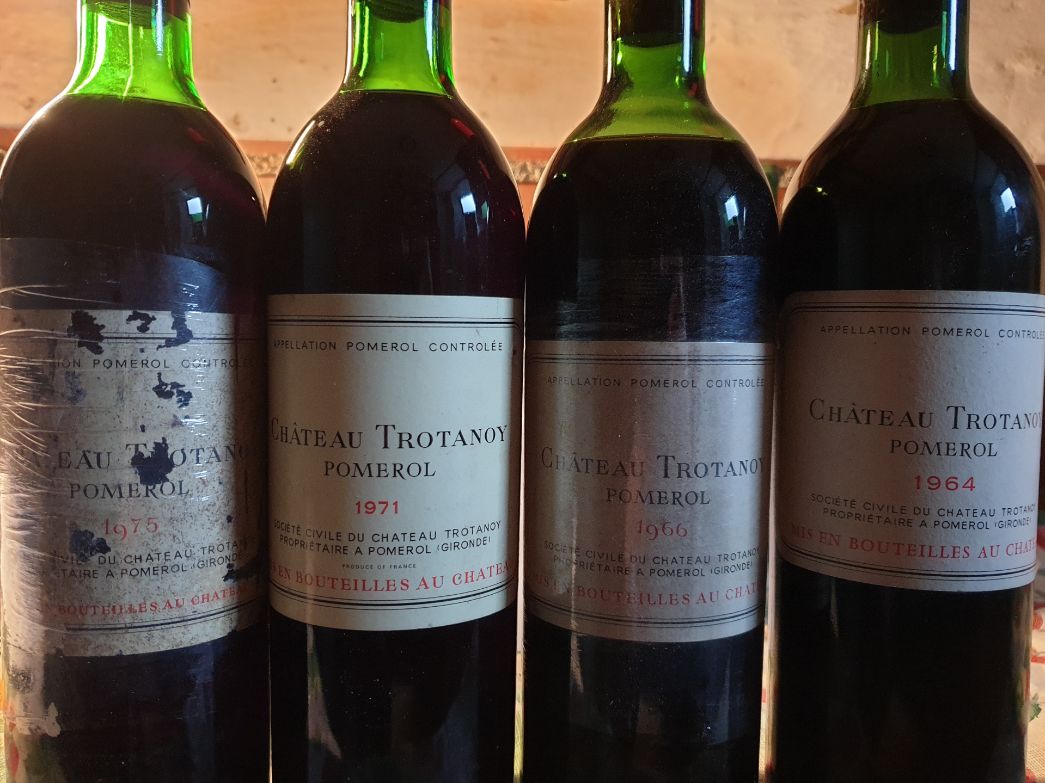 1916 84p
Tasted in March 2020. A true rarity, I have to say. It was an old heavy Bordeaux bottle, label muggy and not that readable. I don't think it was a chateau bottling and looked like a negociant one. Little fruit, a bit medicinal, still some truffles left. More curiosity than a bottle of genuine wine. Stand D.