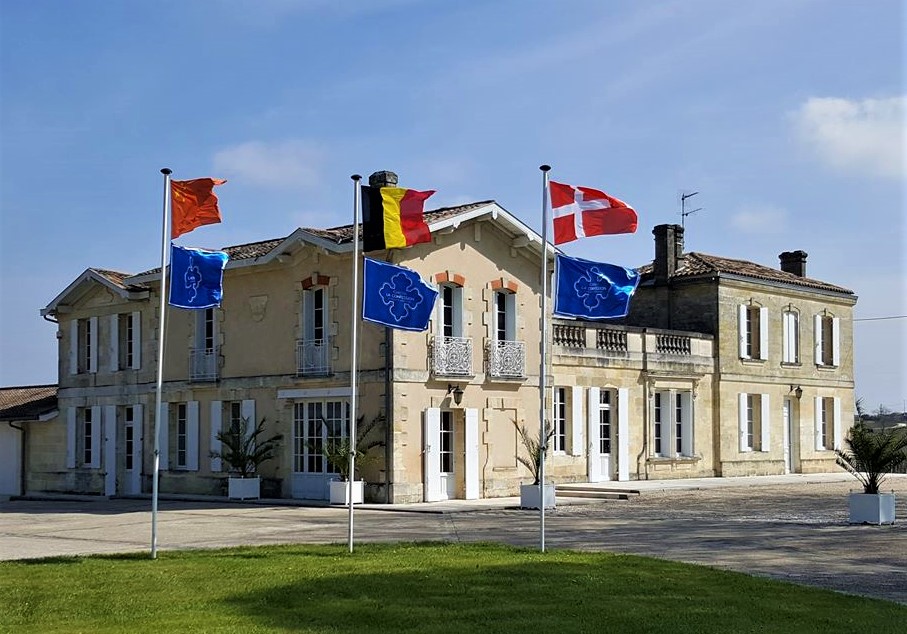 I had known Jean-Philippe Janoueix since May 1996, when I met him at his father office in Libourne. He was then 25 years old, already married, and had a US property management diploma. In 1993, while in military service, he finished a national degree in viticulture (BTAO).
I spent one month in Bordeaux collecting material for my book about Pomerol. We went to several Pomerol properties owned by his father to taste, and then he drove me to Chateau de Chambrun in Lalande de Pomerol, a little property he bought in 1994. It was his first acquisition of a vineyard.
After de Chambrun, he acquired Chateau Croix Mouton (1997) just outside Fronsac appellation and close to Dordogne river, neighbouring estate Chateau Le Conseiller (2002) planted 20.000 vines per ha and created a vineyard called 20 Mille. In 1999, he took full responsibility for winemaking and commercialisation at Chateau La Croix St. Georges in Pomerol. He created Sacre Coeur in Pomerol in 2010 and Chateau Cap St.Georges in St.Georges-Saint-Emilion (2014). He's also been doing harvest and vinification of Chateau La Croix since the 2016 vintage, owned by his father. Busy guy indeed.
In 2001 he bought some hectares of vines opposite Taillefer and created Chateau La Confession. In 2007, after selling de Chambrun, he purchased Chateau Haut Pontet in the sector of Grand Pontet, very close to the village of Saint-Emilion. This new vineyard had overtaken the name of Chateau La Confession from the one opposite Taillefer; the second wine got the name Haut Pontet and incorporated Merlot grapes from the first "version" of La Confession.
His winemaking style is semi-modern, which means fair use of modern techniques combined with useful "old" ones and emphasis on keeping the character of the soil in the wine. His main aim is to maintain the freshness and fruity of the wine underpinned by a sufficient dose of new oak. Jean-Philippe Janoueix's taking no prisoners with his approach to winemaking, for you never get tired, musty, unbalanced and edgy wines from him.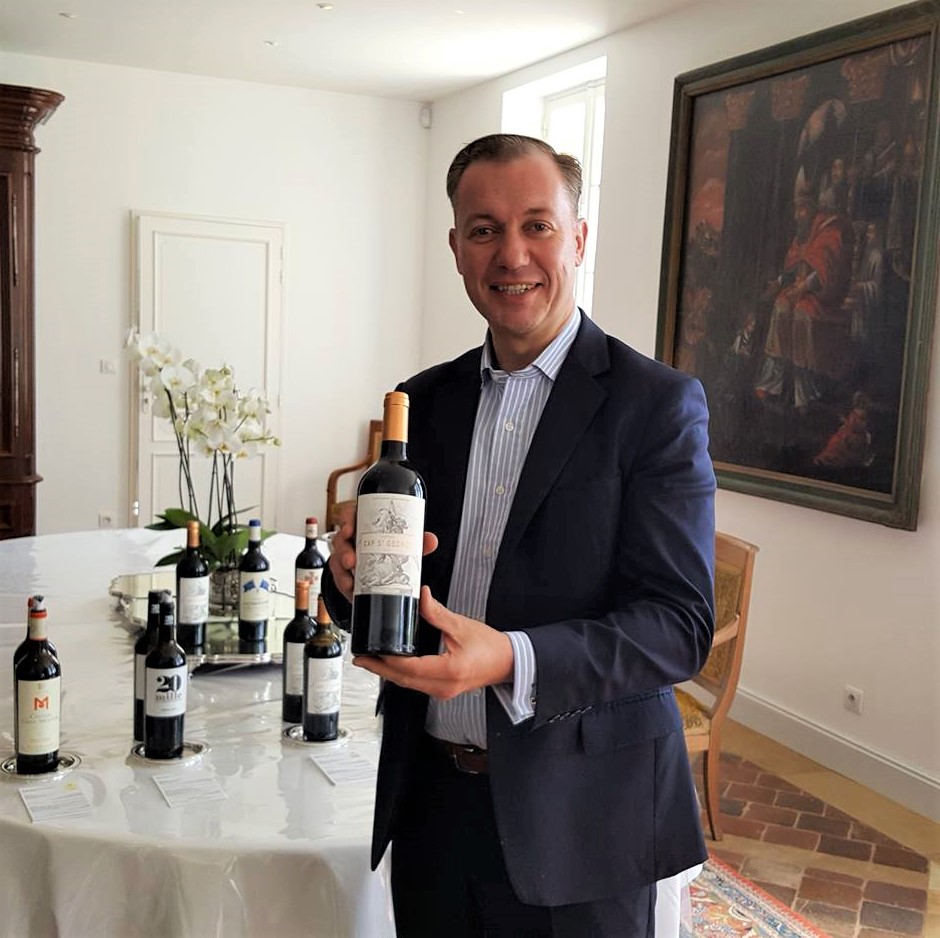 Jean-Philippe Janoueix has a very nice portfolio of properties he owns!
During harvest 2017, I presented Jean-Philippe Janoueix that it would be a great idea to do a vertical of all vintages made at La Confession in April 2018 during primeur time. He did jump the idea, and it was exciting to taste vintages and contributions from the winemaker, moving from one type of soil to another and how the vintages responded to their fame. Moving to better soil has meant a significant jump in quality for La Confession.
NB. Wines were tasted from oldest to youngest and not blind.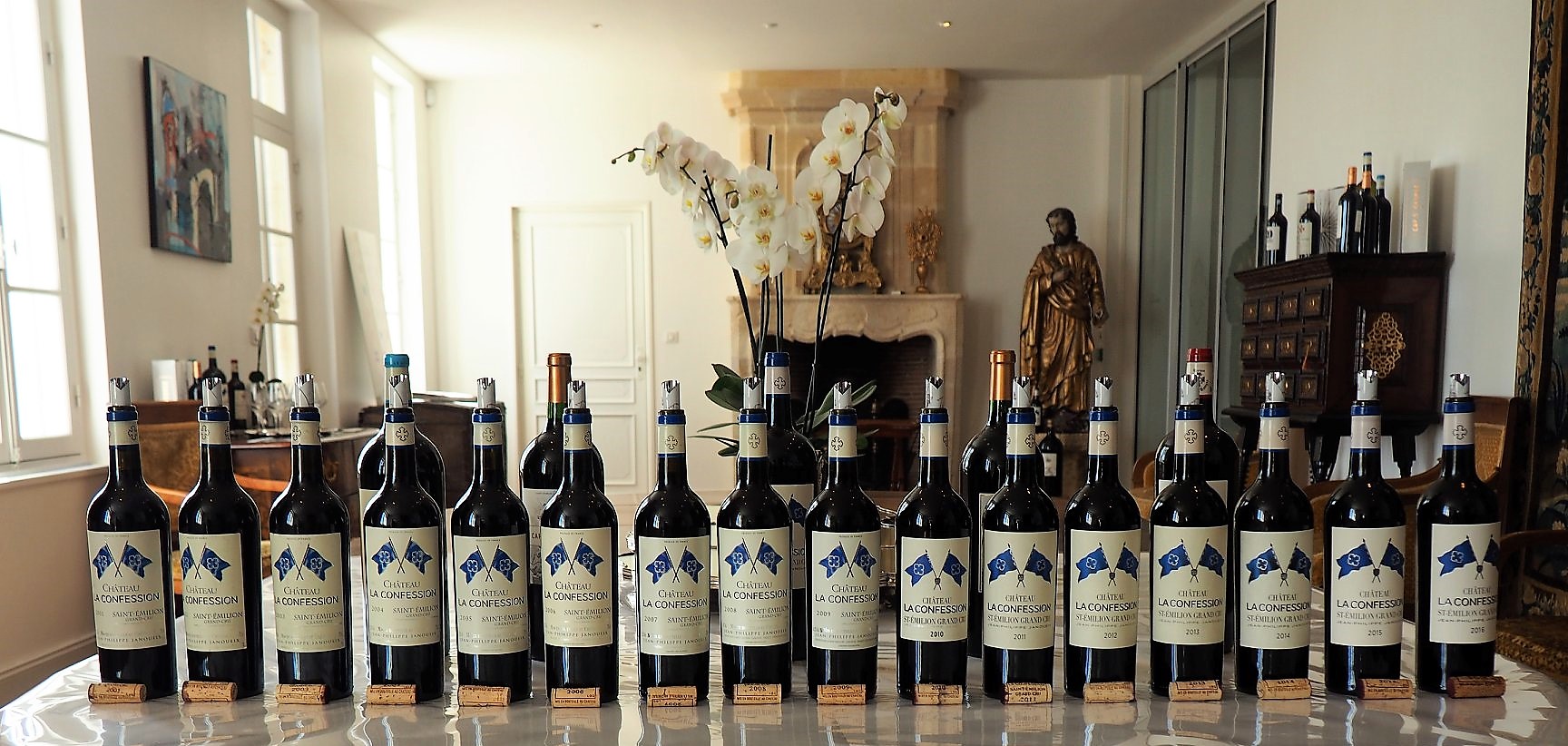 Sixteen vintages ready to taste!!
-----
LA CONFESSION MARK 1. 2.9 ha big vineyard opposite the Taillefer, clay and sand, 60% Merlot + 35% Cabernet Franc + 5% Cabernet Sauvignon.
2001 91p
Tasted in April 2018. Debut vintage for La Confession and praised by Robert Parker when released! It's approaching full maturity now (2018), with ripe fruit and tannin, spicy, well-composed and well-balanced. Nice complexity. Persistent fruity finish.
2002 91p
Tasted in April 2018. More acidity here than in 2001, and it seemed that this wine had a better structure and depth. However, 2001 had more length on the palate. Round, soft texture and fruity finish. Complex. Splendid effort for the vintage.
2003 90p
Tasted in April 2018. It was a year of extremely high temperatures, and this wine had a significant scent of plums (yellow ones, mirabelles) and was very attractive. Nice acidity. Round, tasty and enjoyable right now.
2004 88-89p
Tasted in April 2018. While compared to 2001 and 2002, it tasted a bit lighter and was more elegant. Lovely structure and length. Smooth finish.
2005 93+p
Tasted in April 2018. Ripe fruit on the nose, grated chocolate and cocoa tones, ripe fruit on the palate and ripe tannin, very complex, great acidity and great length. Fine persistent and fruity finish. The winemaker here seemed to have got the max out of the material Mother Nature gave him. He didn't overdo the vinification at all, meaning no overripeness and excessive maceration are present here. Big, big jump in quality compared with 2004 vintage. Impressive effort.
2006 87p
Tasted in April 2018. Last vintage from the old vineyard. Merlot was not particularly successful on the Right Bank due to unfavourable weather conditions, and this wine reflected that. A bit dry on the palate, spicy fruit and not perfectly ripe. Anyway, this wine kept its balance and was round and straightforward.
LA CONFESSION MARK 2. This new vineyard was purchased in June 2007 and renamed from Haut Pontet to La Confession. Different soil here from Mark 1, mostly clay and limestones. 6.9 ha, 70% Merlot + 28% Cabernet Franc + 2% Cabernet Sauvignon, 40 years old vines on average. There is no clarifying and no filtration of the wine.
2007 88-89p
Tasted in April 2018. A promising beginning in this challenging vintage! Short time to clean the vineyard and prepare for harvest. More minerality here, more precision and focus. Round and tasty. Yes, light, but compared to 2006, it didn't have dryness on the palate and had better fruit
2008 93p
Tasted in April 2018. Splendid minerality and acidity here. The first year, Jean-Philippe Janoueix could exploit 100% of the soil! Long palate with fine structure, length and complexity. Not a blockbuster but a well-made wine.
2009 94p
Tasted in April 2018. Powerful backbone, fine minerality, great complexity, great structure and finish. Alcohol touch on the fruit, which hopefully will integrate shortly. Excellent effort.
2010 95p
Tasted in April 2018. More of everything here compared with 2009. More sweetness, more grained and riper tannin. Dark cherries and blackberries in vast quantities. On the nose and palate. Imho, the third-best vintage of the winemaker.
2011 92p
Tasted in April 2018. Fine ripeness, clearly lighter than 2010, round and fruity. Clean, tidy and well-focused. Attractive and tasty.
2012 92p
Tasted in April 2018. Very fruity and aromatic, soft texture, approachable, round and tasty, lovely minerality and acidity. Heartbreaker wine.
2013 88p
Tasted in April 2018. This vintage did provide winemakers with an average quality of grapes because of the bad weather conditions. Anyway, this is uncomplicated wine on the light side, soft, round and charming. All is set here for immediate consumption.
2014 94+p
Tasted in April 2018. Dark chocolate and black fruit on the nose with great intensity, significant complexity and length, remarkable acidity and character of the soil. So typical St.Emilion. A big surprise for me as it rivals the 2015 vintage here!
2015 95p
Tasted in April 2018. Candy nose, sweet fruit and tannin, velvety texture, alcohol touch evident, considerable acidity and balance, great structure and fruity finish. Excellent effort.
2016 95+p
Tasted in April 2018. Already six weeks in the bottle, different than 2015 and more scaled. Flowery, stylish, silky fruit and tannin, excellent balance and complexity, delightful sweetness and persistently creamy finish. For me, the best vintage of La Confession, Jean-Philippe Janoueix, has ever been made.
2017 (barrel sample) 94+p
Tasted in April 2018. 75% Merlot + 25% Cabernet Franc. Yield 29hl/ha. I tasted it just one week before the vertical took place.It displayed a delicately fruity nose, elegance, splendid concentration, meaty palate and fruity finish. Similar to 2014 with more charm.
2018 95-96p
Tasted twice - last time in April 2021. Consistent notes. 73% Merlot + 27% Cabernet Franc. Fresh, dense and tight, powerful, plenty of fat fruit and tannin, vibrant, strong structure, striking complexity and length. Another badass wine. You can't complain about alcohol level here, and it would be ridiculous if you did, only 13.71%! Cabernet Franc contributed significantly to the very high quality of this wine.
2019 96+p
Tasted twice - last time in November 2021. Consistent notes. 73% Merlot + 27% Cabernet Franc, 14.2% alcohol. 73% Merlot + 27% C. Franc, 14.2% alcohol. A very dense and opulent, big and intensely scented nose of black cherries and currants. Vibrant with strong backbone provided by C. Franc, great structure, tight, great complexity, and long persistence. I think it's the best La Confession ever made. Utterly stupendous effort.
2020 (barrel sample) 95-96p
Tasted in May 2021. 74% Merlot + 26% Cabernet Franc. 14.73% alcohol. Exceptionally aromatic on the nose with black cherries and boysenberries. It was a powerful and tight wine, precise and focused, had lots of perfectly ripe dark berries and sweet grained tannin. Very complex, vibrant and perfectly balanced and an imposing effort, indeed.