SAINT-EMILION'S TRUE PEARL AND DIAMOND WINE!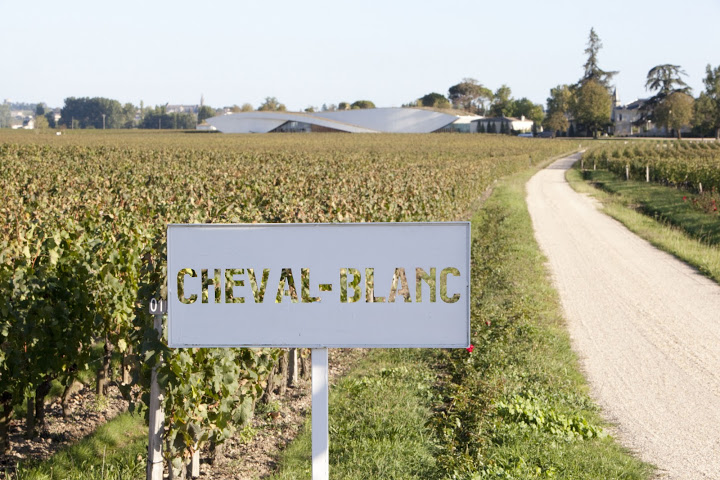 Vineyard and buildings (chateau + cellar). © Gerard Uferas, September 2011
You will easily find Cheval Blanc after leaving the village of Catusseau, then passing Petit Village and L'Evangile on the left, before turning right on the junction and taking way to Saint-Emilion. After few hundred meters you notice big vineyard on the left with imposing cellar which was built some years ago.
My first ever visit at Cheval Blanc took place in September 1985, same year I accidently run into Jacques Thienpont from Le Pin, and it was Jacques Hebrard and his famous dog (same dog who did bite wine-guru Robert Parker), who welcomed me. However, this visit included only 3 minutes "sightseeing" in the cellar and no wine tasting. Fortunately, I've managed to revisit and taste Cheval Blanc many times since then.
Soil of Cheval Blanc is quite special as it's three different types of it. Clay soil mostly because Cheval Blanc is bordering Pomerol (only a little road, 3-4 meters wide) separates Cheval Blanc and Pomerol, and then two more typical soils of St.Emilion, fine gravel with sand and gravelly one with large stones. Vineyard is 39 ha big planted with 49% Cabernet Franc, 47% Merlot, and 4% Cabernet Sauvignon. There are 45 plots and depending on quality and importance each plot is vinified separately.
It's not that easy to assess Cheval Blanc. I've experienced in several vintages, that this wine tastes light from barrel and doesn't show all its qualities. But Cheval Blanc transforms to a lethal one when in bottle, showing why it's one of Bordeaux' all time best wines.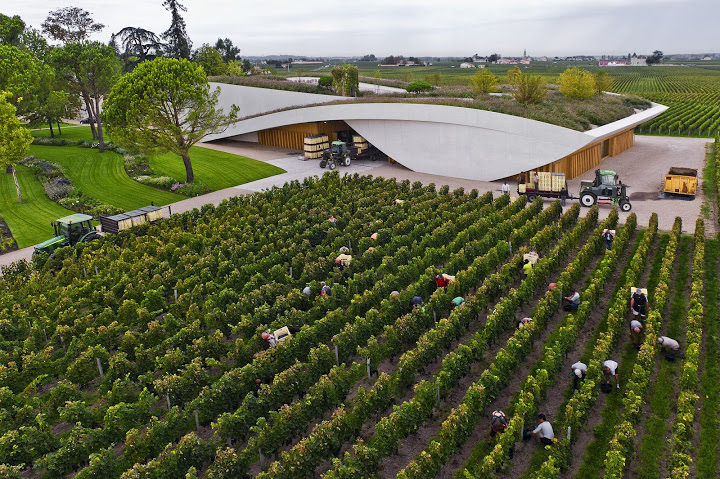 Harvest 2011 at Cheval Blanc. © F. Poincet
-----
2018 Cheval Blanc (barrel sample) 98-99p
Tasted in April 2019. 54% Merlot, 40% Cabernet Franc and 6% Cabernet Sauvignon. Iimmensely refined and sophisticated, distinguished nose, aromatic, great structure and richness, mega long aftertaste. Simply extraordinary effort. For me, it surpasses 2016. Cabernet Franc was phenomenal in 2018!
2017 Cheval Blanc (barrel sample) 96-97p
Tasted in April 2018. This property lost one third of its vines due to frost in 2017 and ended with yield per ha at 21 hl. It's of course lighter in concentration and intensity that 2016 and 2015, but possesses pure elegance and finesse, sophisticated touch and splendid complexity.
2016 Cheval Blanc 97-98p
Tasted twice - last time in April 2019. Consistent notes. This wine was sophisticated and refined, with finesse, incredibly complex, rich, velvety texture, great structure and long aftertaste. Very impressive.
2015 Cheval Blanc (barrel sample) 97+p
Tasted in April 2016. This wine showed pure elegance and finesse, great richness and depth, sophisticated touch and velvety texture. Great concentration and length. Incredibly stylish and classy wine, which imho will improve from further ageing in barrels.
2014 Cheval Blanc 95+p
Tasted twice - last time in April 2017. Consistent notes. Succulent and refined wine with great complexity, well-constructed with great depth, length and smooth and fleshy finish. This wine has big, big potential and can keep for several decades.
2013 Cheval Blanc (barrel sample) 92p
Tasted in April 2014. This wine had silky fruit and tannin, light texture and fine structure, complexity and length. Elegant style with finesse here. 92p. Tasting Cheval Blanc from barrel is always tricky, as this wine tends to appear light and diluted, but it's only a disguise. It will first start to put on weight and develop complexity and richness when in bottle. It remains to be seen if it happens here.
2012 Cheval Blanc 94p
Tasted twice - last time in November 2015. Consistent notes. From barrel not unlike 2013 vintage, soft and light textured. In November 2015 clearly big improvement and a proof then this property often undergo a big change when in bottle. Great aromatic nose, very elegant with finesse, better fruit intensity now and silky fruit/tannin.
2011 Cheval Blanc 96p
Tasted twice - last time in April 2016. Consistent notes. This wine was silky with excellent intensity and complexity, fabulous structure and depth, lot of richness, finesse and sophisticated touch. Great persistent and caressing finish.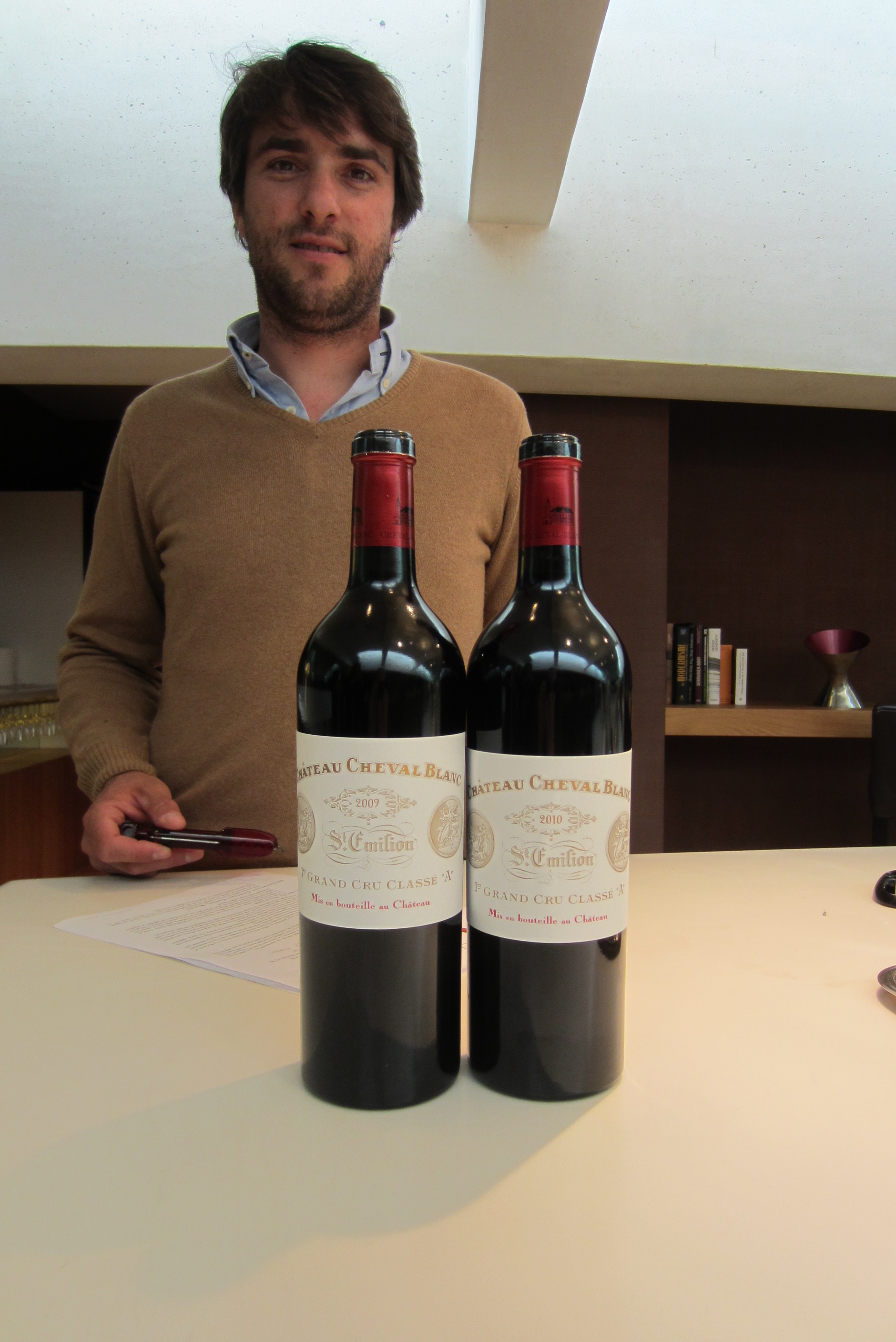 Pierre Olivier Clouet, Cheval Blanc's technical director since 2008, presents two wine jewels, 2010 and 2009 Cheval Blanc. April 2014.
2010 Cheval Blanc 100p
Tasted twice - last time in April 2014. Consistent notes. 2010 had more intensity of flavors than 2009 version, same mix of cherries and grated chocolate, more strong and fatter tannin, same refinement and sophisticated touch. Liquid velvet or liquid silk, you choose. Heavenly stuff.
2009 Cheval Blanc 98-99p
Tasted three times - last time in May 2019. Not consistent notes. A bit bland from the barrel but changed much to better after bottling. In April 2014, this wine had a great aromatic nose of black cherries mixed with grated Varlhona chocolate, excellent acidity and minerality, velvety structure, strong backbone and structure, fruit and tannin possessed excellent ripeness and was fat. Great sophisticated touch to this wine. Exceptional stuff. In May 2019, it was still young and a bit closed, but with great, great potential.
2008 Cheval Blanc 96p
Tasted twice - last time in September 2015. Consistent notes. Pierre Olivier Clouet's first vintage. From barrel, it was extremely impressive caused by perfect maturity for Cabernet Franc in this vintage. There were plenty of perfectly ripe fruit, silky ripe tannins, pure elegance, finesse and sophisticated touch, all combined with excellent balance and long smooth finish. In September 2015, this wine was just as excellent.
2007 Cheval Blanc (barrel sample) 92p
Tasted in March 2008. It had cherry and raspberry drops on the nose, fine aromas and fine intensity, fine depth, concentration and length on the palate. Fine effort for the vintage.
2006 Cheval Blanc 93-94p
Tasted twice - last time in September 2015. Not consistent notes. From barrel, it was wonderfully refined and elegant wine with great finesse. Beautifully composed, rich and with excellent future. In September 2014, this wine was strong, quite tannic with not á point ripe tannin, truffy and with firm aftertaste.
2005 Cheval Blanc (barrel sample) 97-100p
Tasted in March 2006. This wine was more full-bodied than usual plus fatter and richer, and acted as an incredibly refined, incredibly well composed and subtle wine with sheer elegance. At least 25-30 years long life. Fantastic stuff.
2001 Cheval Blanc 93+p (barrel sample)
Tasted in March 2002. A bit lighter than usual but beautiful aristocratic style, finesse and great balance. Soft and lingering finish. Will probably put on weight when in bottle.
2000 Cheval Blanc 100p
Tasted twice - last time in May 2019. It displayed lots of blueberries, blackberries and dark cherries. Silky and soft tannin and gorgeous sweetness of fruit. Magnificent depth, incredibly many nuances and refinement combined with fantastic length on the palate. Masterly made wine, which will delight wine-lowers for many decades to come because of its exceptional balance. This was in 2003 when this wine was just a little baby. 16 years later, this wine is still kicking ass, a monumental one, still timeless and seamless. At least 50 years more to experience a dream of the vintage!
1998 Cheval Blanc 98p
Tasted in September 2000. Incredibly complex and refined nose of perfectly ripe fruit. Incredible structure, depth and richness on the palate. Very sophisticated wine and great delicacy.
1990 Cheval Blanc 98p
Tasted twice - last time in December 2016. Consistent notes. Very dark color. Very deep, intense and complex nose of perfectly ripe blueberries, raspberries and blackcurrants, refined and with finesse. Incredible depth, richness and length. Star studded wine.
1985 Cheval Blanc 95p
Tasted four times - last time in November 2015. Consistent notes. Very deep and tight, great complexity and breathtaking richness, perfectly ripe fruit, fat and ripe tannin, longlasting and lingering aftertaste. Stunning effort for the vintage! This was in June 1993. 22.5 years later - truffles, very refined, sophisticated and with great elegance. Shows some age. It's however still an excellent sip.
1971 Cheval Blanc 95p
Tasted in October 2014. Sweet nose of dark cherries, fresh, tannin is resolved just fine on the palate. Sweet fruit, forest soil, finishes fruity with great elegance and refinement. Excellent wine with pure grace and style.
1964 Cheval Blanc 94p
Tasted in October 2014. Fine and distinguished nose of red fruit, very intense on the nose and palate, sweet bacon, great sweetness and balance, lingering aftertaste. Sublime wine.
1959 Cheval Blanc 97p
Danish bottling by Kjær & Sommerfeldt in Copenhagen from barrels sold by French negociant Cruse. Tasted in February 2014. Incredible sweetness on the nose and palate, pure, astonishingly rich and deep, sophisticated with fabulous complexity and balance. This wine is heavenly treat!
1953 Cheval Blanc 97p
Tasted in June 1992. Irresistible wine with great degree of sweetness, sophisticated stuff and extraordinary richness. Can keep for many years yet.
1952 Cheval Blanc 93p
Tasted in October 2014. Truffles and dark chocolate, cherries, sappy, well-defined, rich and with great length. Could have more depth. At age of 62 years, this wine seems to have more to show in few years time!