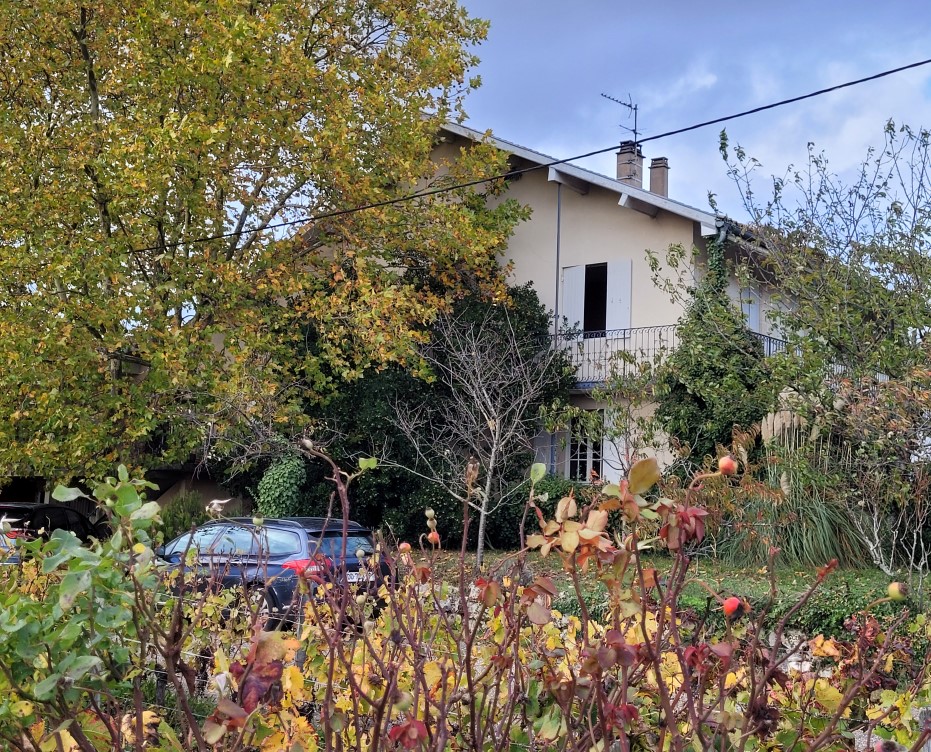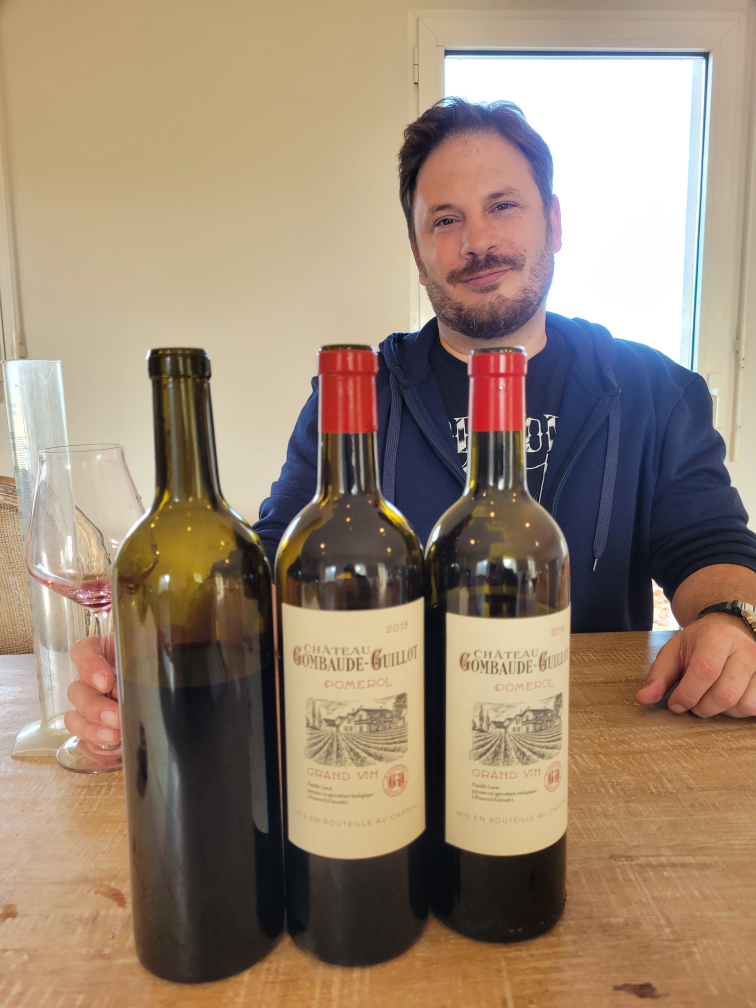 Left/up - Gombaude Guillot is modest-looking property. Right/down - Olivier Techer, the winemaker.
------
Gombaude Guillot is located in the best part of Pomerol, Le Plateau Argileux, with close neighbors like Clinet and Trotanoy. This property caught the attention of Bordeaux geeks in the mid-1980s when the owner's daughter, Claire Laval, took over winemaking duties and asked her father to allow her to use new oak to age a part of the production. He said OK to that, and she then used 100% new oak in vintages from 1985 to 1990. The wine was called "Cuvee Speciale" and received some excellent ratings from critics. However, the regular cuvée matured in the used barrel was also produced.
Claire Laval's son Olivier Techer took over winemaking in 2010. He likes rock'n'roll and blues as I do, so we have similar music tastes!
Only one version of Gombaude Guillot is made now, aged 30-50% new barrels. This property's been under the radar in recent vintages. You get some excellent Pomerol for little money here!!
2020 Gombaude Guillot (barrel sample) 94-95p
Tasted in November 2021. 60% Merlot + 40% C. Franc. 13.8% alcohol. You can easily say that this vintage displays a perfect blend of the 2018 and 2019 vintage with both great intensity and elegance. It possesses splendid complexity and midpalate. It keeps the genuine style of the property intact. Utterly excellent.
2019 Gombaude Guillot 94-95p
Tasted in November 2021. 55% Merlot + 45% C. Franc. Intense wild cherries on the nose, fresh and vibrant, splendid acidity, and great balance. Elegant and refined effort. Silky fruit and velvety tannin. Fabulous stuff. True Pomerol wine!
2018 Gombaude Guillot 94-95p
Tasted in November 2021. 60% Merlot + 40% C. Franc. A beautifully scented nose of black cherries, black truffles, and grated dark chocolate, splendid complexity, and length. Impressive midpalate. More precise and focused than the 2010 version. Hattrick!!
2017 Gombaude Guillot 92-93p
Tasted in September 2021. This wine showed elegance and finesse, black cherries and black winter truffles on the nose, Splendid midpalate, and balance. Slightly lighter than the "big" vintages. Lingering finish. Terrific for the vintage.
2016 Gombaude Guillot 94p
Tasted in November 2021. 75% Merlot + 25% C. Franc. Another wine with a beautifully aromatic nose of dark berries and a secondary aroma of cocoa and dark chocolate. Freshness, vivid and distinguished. Splendid acidity, balance, and long finish. I love this wine!
2015 Gombaude Guillot 93-94p
Tasted in September 2021. Close to 2010 vintage in terms of appearance and quality, and more elegance and finesse are present in 2015 than in 2010. Vibrant, very cherry on the nose and palate, and very stylish. Impressive.
2014 Gombaude Guillot 92+p
Tasted in September 2021. This wine had much to offer, but you must be patient. Potent and concentrated with fine acidity, balance, and big tannin. Truffy and complex with delicate mid-palate. A splendid future awaits.
2012 Gombaude Guillot 92p
Tasted in September 2021. I love wines from the 2012 vintage, and Gombaude Guillot didn't disappoint in this vintage. It is a heartbreaker wine with its seductive nose and palate of black fruit and black winter truffle. Delicate, delicious, and perfect for enjoying now.
2011 Gombaude Guillot 88p
Tasted in September 2021. Musty and a bit diluted. Otherwise, good intensity and structure. This wine showed the problems of not getting perfect ripeness for Merlot in this vintage because of ever-changing weather conditions.
2010 Gombaude Guillot 94p
Tasted in September 2021. Black cherries, violets, and a dash of black winter truffle. It was concentrated on the palate with a pure style, great midpalate, finely-grained tannin, and perfectly scaled fruit. Long on the palate with a creamy texture, great complexity, and depth. Impressive effort!
1985 Gombaude Guillot "Cuvée Speciale" 94-95p
Tasted three times between 1989 and 2000, and on all occasions, it was a fabulous wine with great midpalate, depth, and length.