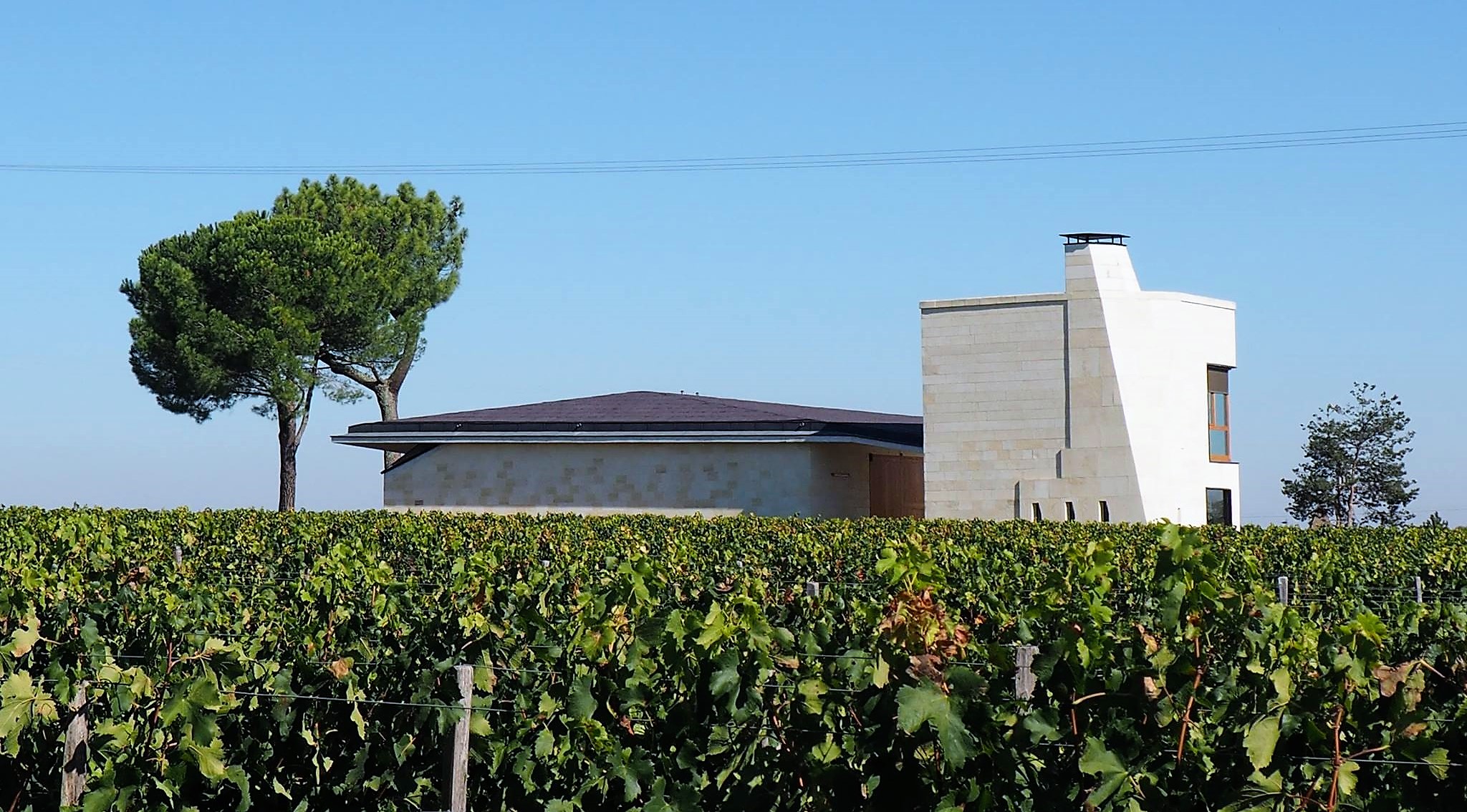 Le Pin with new cellar and offices since the summer of 2011 (picture was taken in October 2015)
Jacques Thienpont with one of his two sons
This little property gem is now one of Bordeaux's most expensive and sought-after wines. But before 1985, Le Pin was not well known and not that expensive.
Only in September 1985 I knew very little about Le Pin's existence, so discovering this property was a proper stroke of luck because my visit was not even planned. When I was on my way to Cheval Blanc from Libourne, I lost my way (with excellent help from "conversation" with local dogs) by turning left after the cellars of La Croix St.Georges and not continuing straight down the road from Catusseau and turning right by crossroad app. 500 m from Catusseau.
I did ask one of the harvesters from a nearby vineyard about the correct way, and he sent me to a very sympathetic and smiling gentleman who worked at the neighboring vineyard on the right side. In this way, I've learned to know Jacques Thienpont from the well-known wine-merchant family Thienpont, who originates from Etikhove in Belgium. He promised to show me the way to Cheval Blanc, but I should first taste his wine, 1984. It tasted splendid. A few months later, I bought Robert Parker's book "Bordeaux" and learned quickly which wine I learned to know!
Jacques' father, Marcel, and his brother Gérard bought Le Pin in March 1979 from heirs after a certain Mme Laubie. She owned the property from 1924 to 1979, and in all these years, she sold the wine as nameless bulk to Bordeaux wine negociants. Jacques Thienpont, educated at a wine university in Bordeaux, became responsible for the property and wine. 1979 was the very first vintage of Le Pin with this name on the label.
There is no château here; only a humble farmer's house was inhabited by a couple who took care of Le Pin, while Jacques Thienpont (who has a little négociantfirm in Belgium) frequently traveled between Etikhove and Pomerol. The property's name has always been "Le Pin" (stone pine), referring to a big tree growing by the vineyard. In 2010, the house was demolished, cellars moved temporarily to the new place, and in 2011 for primeur week, a new state-of-the-art building with a tasting room and cellars were open for visitors. This giant tree was gone too.
Le Pin is situated on the outskirts of Catusseau, in the middle of the clayey plateau and app. 1 km southwest of Vieux Château Certan. The soil's surface here consists mainly of gravel mixed with a bit of clay and sand, while the underground has two layers: first, a blend of rock and sand, then an app. 2.5 m deep layer of clay mixed with iron dirt ("crasse de fer"). The soil here is very poor due to no fertilization during Mme Laubie's ownership, so the vines' roots have to search deep down in the subsoil and fight to find nutrition.
That is why the yield per ha here rarely exceeds 30 hl, meaning the wine gets more concentration. There was 1.25 ha (1979), and later came 0.3 ha (1984) with 30 years old vines between Vieux Château Certan and Petit Village. In 1985 Jacques Thienpont bought for a lot of money a 0.7 ha big parcel, "Domaine de Vieille École," with 70 years old vines bordering Le Pin's vineyard. Jacques Thienpont is a talent-blessed winemaker who always tries to improve his wine.
In 1979, Michel Rolland and Jacques Thienpont started experimenting with alcoholic fermentation in barrels in Le Pin cellars. This vinification technique has been broadly used since the 2004 vintage. Le Pin's soil is considered hot, which means early harvest (Le Pin is one of the first properties to start earliest) and is very vulnerable to drought and vast quantities of rain.
Le Pin is, without exaggeration, an exceptional to fantastic wine. It immediately captures the attention of a wine-lover with its incredibly tempting appearance, very marked lusciousness, and exotic character. However, this exotic character has been missing since the 2005 vintage, which doesn't make Le Pin lower in quality, only that this wine became more typical Pomerol. In 2010, 2016, and 2018 vintage, the kinky and exotic style of Le Pin has come back!
With such small qualities for the whole world, it is easy to understand why Le Pin has the status of a cult wine and why it is so much in demand. There is so little of it that the price for the last 10+ vintages has reached astronomic heights. Not many can afford this wine!
In April 1995, I persuaded Jacques Thienpont to come to Denmark. A little circle of wine lovers had a rare opportunity to taste 12 vintages of Le Pin in Copenhagen and meet the man behind the wine, Jacques Thienpont. We tasted vintages 1993, 1992, 1991, 1990, 1989, 1988, 1987, 1986, 1985, 1984, 1981, and 1979.
Since January 2022, Diana Garcia Berrouet (previously Petit Village) has replaced Jacques Thienpont, who decided to go on retirement. She'll take care of the management of Le Pin and Jacques Thienpont's other property, L'If in Saint-Emilion. Guillaume Thienpont, son of Alexandre Thienpont (Vieux Chateau Certan) is the winemaker.
-----
Le Pin 2022 (barrel sample) 98-100p
Tasted in April 2023. 100% Merlot, 14.4% alcohol, 29 hl/ha. Violets, black cherries with grated black winter truffle, seamless structure, excellent midpalate, vibrancy, refined and sophisticated. The texture was like a liquid cashmere. Hedonistic effort.
Le Pin 2021 (barrel sample) 95+p
Tasted in April 2022. 100% Merlot, 13.4% alcohol. Violets, a scent of black winter truffles, seamless structure, excellent midpalate, vibrancy, refined and sophisticated. The texture was like a liquid cashmere. Hedonistic effort.
Le Pin 2020 (barrel sample) 99p
Tasted in November 2021. Great density, liquid silk or cashmere, long, sophisticated, decadent, and fantastic mid-palate. Heavenly stuff. 99-100p.
Le Pin 2019 99-100p
Tasted in November 2021. I'll use the exact words to describe this wine as I did for 2020. Because it was similar to its one-year younger brother, and the only difference was a little more kinkiness in 2019 than in 2020.
Le Pin 2018 99p
Tasted twice - last time in November 2021. Consistent notes. 100% Merlot. 14.5% alcohol. I lack words to describe this wine. So it will be a short description. Fantastic density, kinkiness, and excellent mid-palate. Liquid cashmere.
Le Pin 2017 (barrel sample) 98-99p
Tasted in April 2018. This barrel sample was creamy to a great extent, sophisticated, elegant, and with excellent structure and complexity. 100% Merlot. Top-quality in 2017 for an awful lot of money, but if you can afford it, you will be thrilled!
Le Pin 2016 (barrel sample) 98-100p
Tasted twice - last time in October 2017. Awesome wine here, 100% Merlot, low yield per ha (only 28 hl!); I would have liked to compare it to 2015, but it wasn't possible as 2015 was resting in vats for upcoming bottling. A distinguished, refined, rich, velvety wine with stunning complexity and depth. By the way, 2016 was the first vintage at the property to be harvested in October (4th-8th)!
Le Pin 2015 94+p
Tasted in October 2017. 2015 wasn't quite up to 2016, another style, more red fruit, and barely as noble and kinky as 2016. Still, it's splendid wine in terms of quality.
Le Pin 2014 (barrel sample) 94p
Tasted in March 2015. Very intense nose of black fruit, good acidity, well-defined and well-composed, with splendid structure and finish. Superb wine, but imho it lacks a bit more depth and complexity, as you would have expected from a wine at this price level. Several wines in Pomerol are better than Le Pin in this vintage, but it can change when this wine is in the bottle.
Le Pin 2013 - the whole crop was declassified due to the poor quality of the grapes not being up to the standards of the property.
Le Pin 2012 (barrel sample) 94+p
Tasted in March 2013. Silky, velvety, very mineral, elegant with many finesses, subtle and refined.
Le Pin 2011 (barrel sample) 95p
Tasted in March 2012. Kinky wine with a silky texture.
Le Pin 2010 (barrel sample) 97-99p
Tasted in March 2011. A sublime nose of chocolate mixed with beautiful black cherries, violets, a silky palate filled with black cherries, astonishing richness, balance, and structure.
Le Pin 2009 (barrel sample) 97-98p
Tasted in March 2010. This wine showed a fresh, meaty, silky texture, great intensity and concentration, sophisticated touch, and stunning length. Fascinating wine.
Le Pin 2008 (barrel sample) 95-96p
Tasted in March 2009. It displayed a fresh, silky texture, great finesse, sophisticated touch, and stunning length. Fascinating wine.
Le Pin 2007 (barrel sample) 91p
Tasted in March 2008. Aromatic, light, round, and without that many nuances. A vintage that won't be mentioned in history books.
Le Pin 2006 (barrel sample) 94-95p
Tasted in April 2007. Extremely seductive and silky wine all the way. Fabulous lusciousness and breed. A massive success for the vintage.
Le Pin 2005 (barrel sample) 95-97p
Tasted in April 2006. Immensely seductive and silky wine all the way. It had a wonderful sweetness of fruit and breed.
Le Pin 2003 - no Grand Vin produced.
Le Pin 1994 94p
Tasted in November 2013 against another Pomerol big gun, Lafleur. Elegant, sophisticated, surprisingly á point fruit ripeness (sweetness), excellent balance, and delicate aftertaste. A complete wine, rich and enchanting. Fantastic quality for the vintage.
Le Pin 1993 87p
Tasted in April 1995. Intense and nuanced. Concentrated berry fruit with lusciousness, exotic scent, breed, and fitness. Fine length and aftertaste. It will last for 8-12 years.
Le Pin 1992 82p
Tasted in April 1995. Pleasant aroma of wild berries with lusciousness and spices, toasted fruit, light and elegant. Dilution in concentration caused by rain is very obvious here. Jacques Thienpont refused to "save" this vintage using new up-concentrating machines.
Le Pin 1991 86p
Tasted in April 1995. A very positive surprise with a nice concentration of luscious fruit, fine structure, and complexity. It has a nice length and is a delicious mouthful.
Le Pin 1990 96p
Tasted three times - last time in December 2016. Almost black-red. Has an enormous intensity of ripe blackcurrants and blackberries. What depth, complexity, and nuance-richness are here! Incredibly well-composed with many layers of superbly concentrated blackcurrant/blackberry fruit with lusciousness. Very long aftertaste. "Bull's eye!". Tasted in September 2015 from half bottle - not in good form, but stunning in December 2016 (rated 99p).
Le Pin 1989 95p
Tasted in April 1995. A more spicy and "sweeter" version of 1990, but maybe a bit less concentrated. Just perfect. Bright future, which means a 10-15 years-long life.
Le Pin 1988 94p
Tasted in April 1995. Very deep with a lot of chocolate and sweet fruit on the nose; what a complexity. Densely packed, compact, and very concentrated, with plenty of perfectly ripe and sweet fruit. Exceptional wine and what potential it has! It easily matches vintages 1990 and 1989.
Le Pin 1987 91p
Tasted in April 1995. Very aromatic with splendid depth and breed, long on the palate with coffee and chocolate, splendid structure, nice amount of concentrated and luscious fruit. An incredibly delicious wine for the vintage.
Le Pin 1986 93p
Tasted in April 1995. Dark red. Has a tremendous intensity of fruit, a pronounced exotic flavor, fat and ripe tannin, and a superbly concentrated berry fruit. "Thick" and with a long aftertaste. I will keep it for at least ten years.
Le Pin 1985 89p
Tasted in April 1995. It has a special aroma, something like a blend of wild cranberries and currants, elegant and with finesse, light and delicate. For some reason (slightly overripe Merlot?), this wine is not typical Le Pin, and we disagreed much about it.
Le Pin 1984 84p
Tasted in April 1995. Fragile and elegant with moderate fruit intensity and good length and aftertaste. Just lovely wine, which reflects Merlot's ripening problem in this vintage. Drink it by 1997.
Le Pin 1981 93p
Tasted in April 1995. Glorious color, dark and dense. Fabulously well-composed with much finesse, incredibly attractive, ripe berries with sweetness, superbly concentrated, truffles everywhere. It is Pomerol's best wine in this vintage! It had at least ten years of life ahead.
Le Pin 1979 82p
Tasted in April 1995. Acetone, chemical, old confiture, not entirely passé, but wine's age is apparent. Jacques Thienpont arrived in March 1979, so there was neither time to clean up the vineyard and cellar nor money to buy new barrels.