.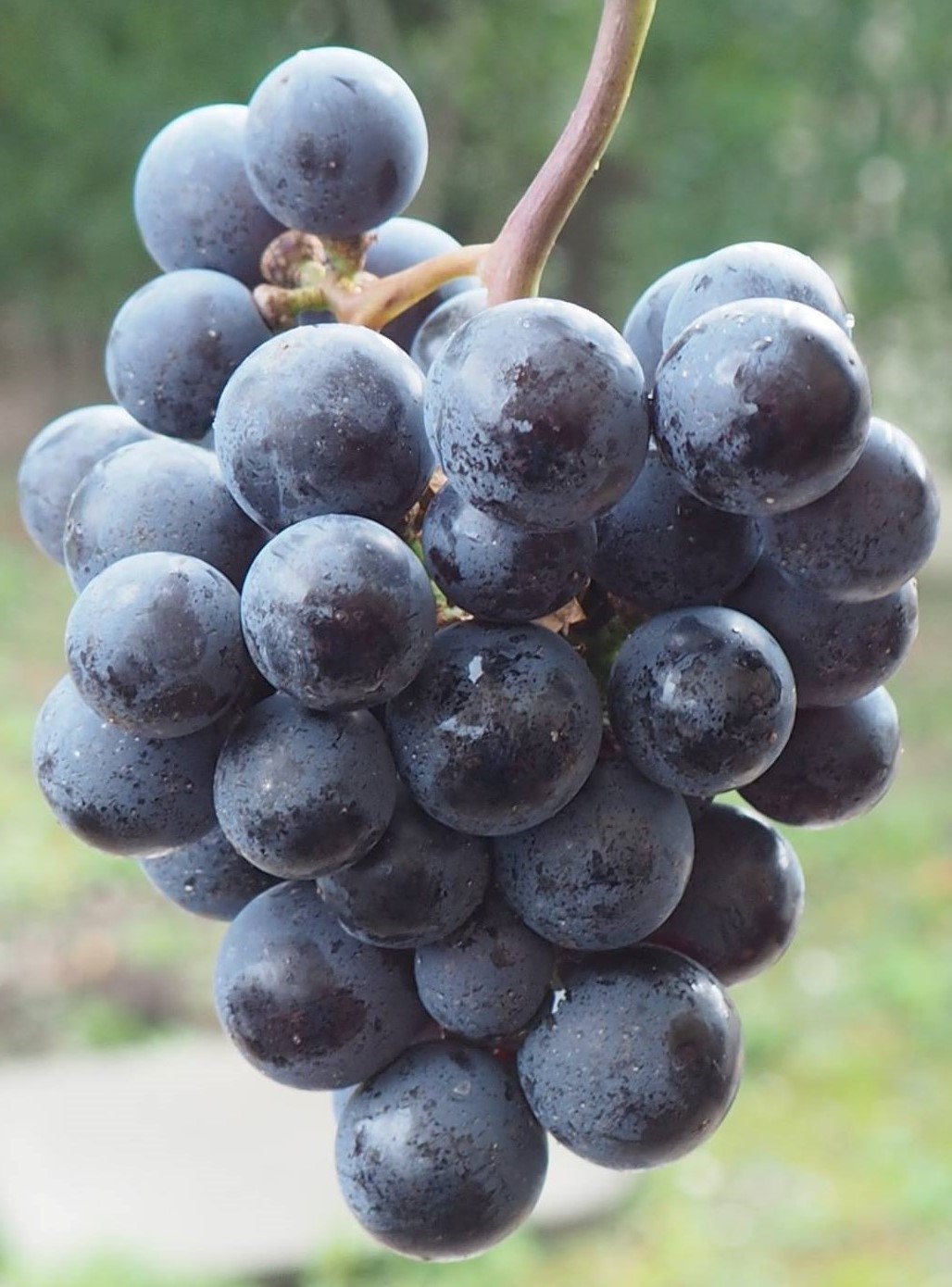 Perfect bunch of 2015 Cabernet Sauvignon grapes at Lascombes - October 2015
After rather cold and rainy winter + rainy and rather cold spring, good weather came in May and assured almost perfect flowering which finished in the beginning of June, copious, zero diseases and perfect weather. Only old Merlot had some minor problems. July was hot and almost dry with temperatures reaching over 40 degrees Celsius. Bordeaux needed some substantial amount of rain after that heatwave. Some rain fell during in the end of July, app. 16 mm. On the 8th August St.Emilion got 26 mm and several mm of rain fell on 12th August). This was very welcomed by vines.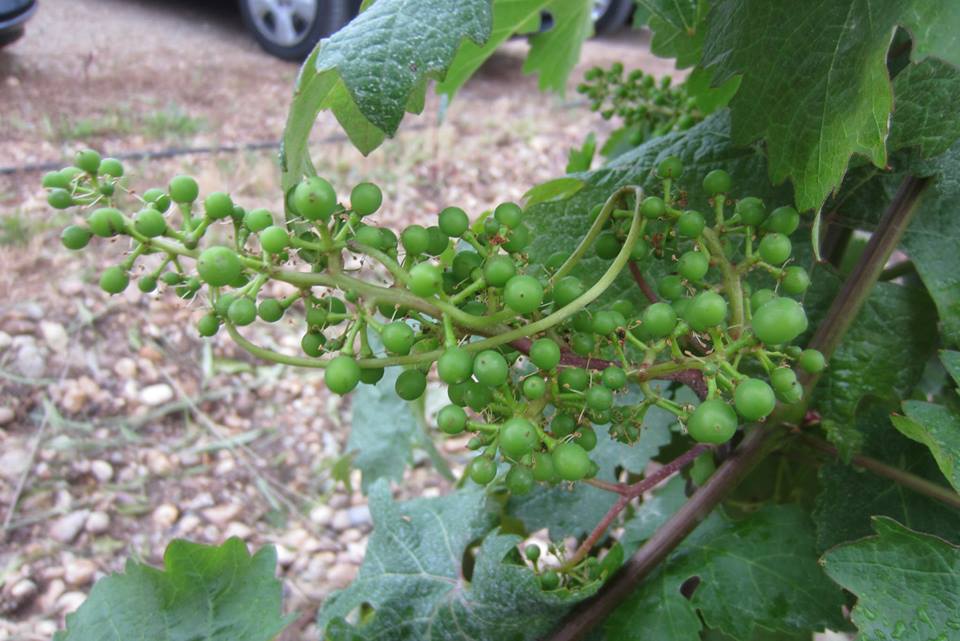 Perfect flowering at Smith Haut Lafitte as seen on the 13th June 2015
By the end of August harvest of "white" has been ongoing for at least one week and many growers had finished harvesting their Sauvignon Blanc. This wasn't the case for Domaine de Chevalier, who finished harvesting Sauvignon Blanc week after (beginning of September). The quality of white dry Bordeaux is said to be staggering with concentrated and very aromatic grapes, and surprisingly much acidity, however at a lower level than in 2014.
For precisely a month (12th August to 12th September) Bordeaux enjoyed perfect sunny and warm weather, which made 2015 vintage look like million dollars! Some rain but not excessively much fell during the weekend of 11-13th September and through the next four days, mostly in Pauillac and Saint-Estephe (around 80-100 mm). half of it in Graves/Pessac Leognac and significantly less on Right Bank. Then beautiful weather lasting until 2nd October!
Arrived at Bordeaux on the 28th September, beautiful weather, sunny, blue skies, no wind, 25 degrees C, everything is looking perfect, excellent weather forecast until Saturday, at Ch. Seguin in Canejan, small CS grapes, 14 per cent alcohol in Merlot, sweet tannins, this is looking more and more like a blend of 2005 and 2009. The trend continues - 1945-55-75-85-95-2005 and now 2015, another trend is 2000-2005-2010 and 2015. Paradise!
Sunny weather until yesterday evening (2nd October), light thunderstorm this morning (3rd October), quite some rain since during weekend (2-3-4th October). Rain fell mostly in Bordeaux and on Left Bank. Indifferent weather than with rainy spells on the 4th, 5th, 6th and 7th October. I left Bordeaux on the 7th October.
Quality of grapes is astonishing all over the place. On Right Bank and especially in Saint-Emilion they're finished with harvesting their Merlot, and finished harvesting their Cabernet Franc in the beginning of October, weather was perfect. On Left Bank, the majority of properties are done with harvest of their Cabernet Franc/Sauvignon and Petit Verdot. Many properties there have safely brought in their Merlot. Good weather predicted until mid-October, sunny, not that warm during the day and cold nights.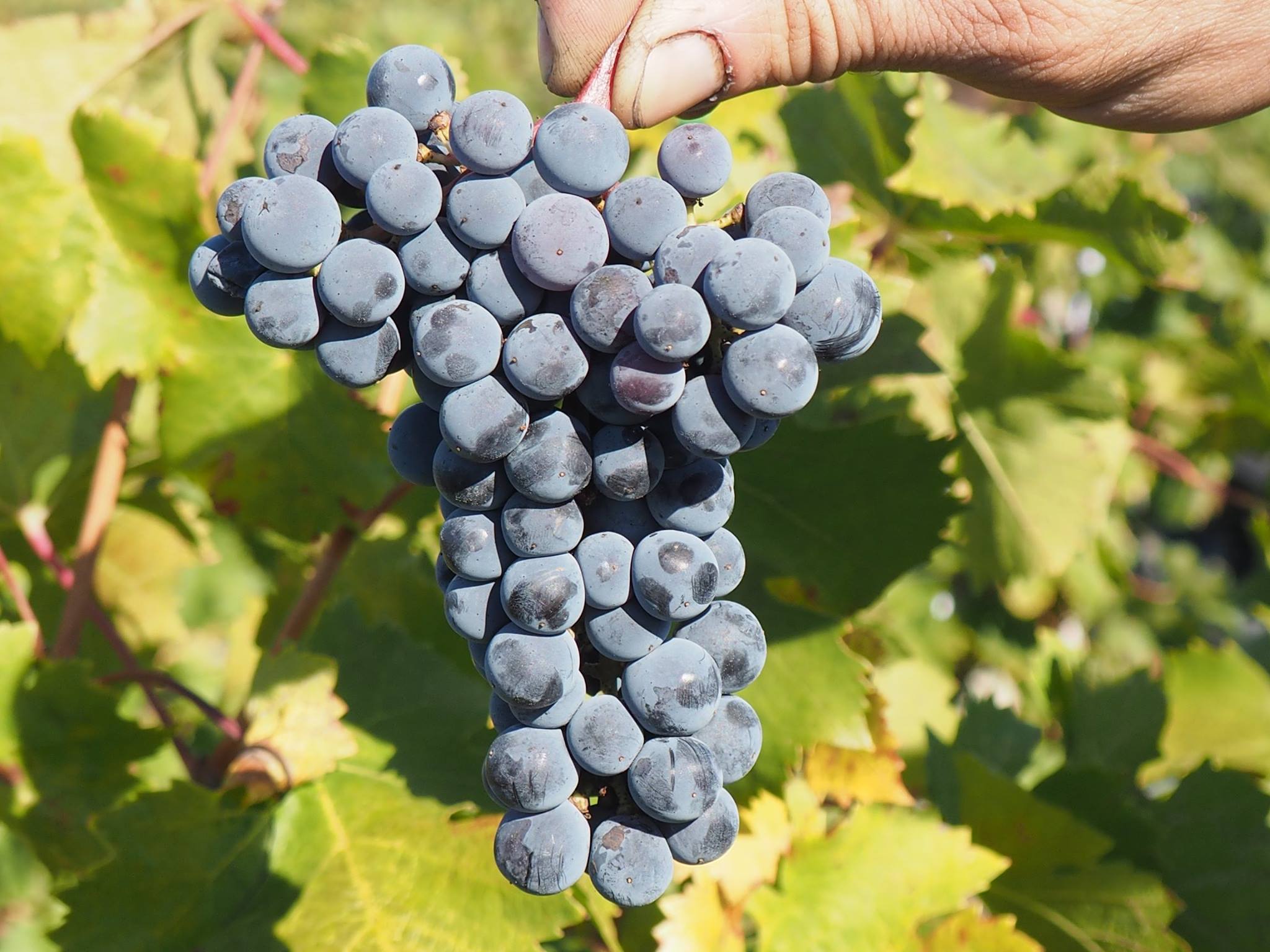 Perfect Cabernet Franc grapes at Chateau Lafleur
All grape varieties are providing small and concentrated grapes with thick skins, brown shoots (arms of vines on where grapes are growing) and brown seeds, which tells us vineyards are in perfect balance with perfect maturity. Merlot won't probably reach the same alcohol levels as in 2009 and 2010, but some places Cabernet Franc surpassed 12% potential alcohol and Petit Verdot 14% potential alcohol. Tannin won't be as fat and concentrated as in 2010.We will know more in January 2016 after malolactic fermentation is over, but already now is it more than obvious, that 2015 will be a great vintage, clearly surpassing 2014, 2013, 2012 and 2011. For the moment Right Bank looks a winner, and it remains to be seen, how rain did affect harvest on Left Bank in mid-September and beginning of October. I guess that 2015 is agonizingly close to 2005 vintage with some characteristics of 2010 and 2009 vintage. Sweetness of 2009, concentration of 2010 and tannins of 2005.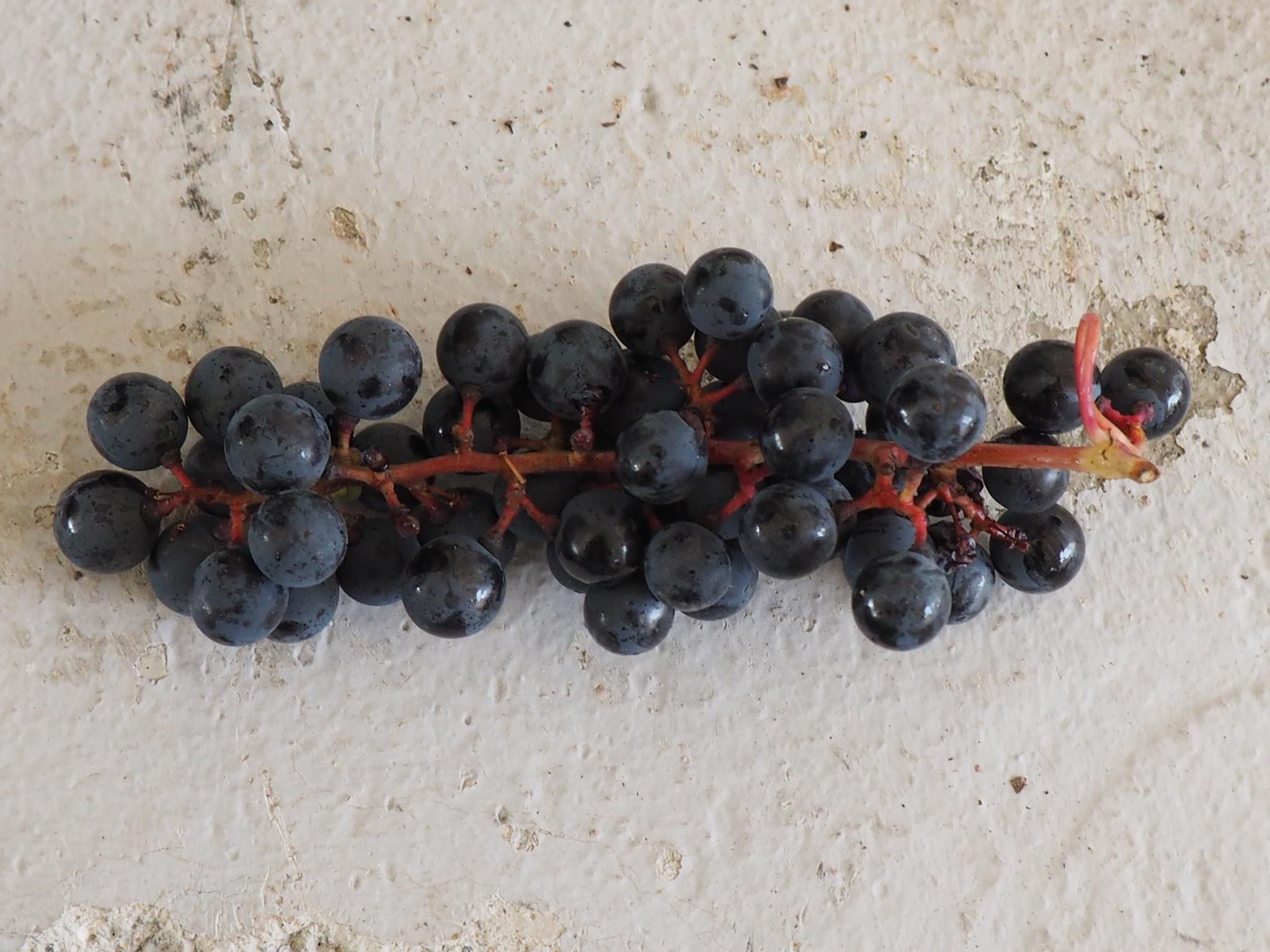 Please notice the brown colour of bone + stalks in this Cabernet Sauvignon bunch - perfectly ripe. Chateau Beychevelle
Some info from Francois Mitjavile (Tertre Roteboeuf and Roc de Cambes) - "Just to say a lot of great growths harvested in first weeks of October…Even Ausone, generally harvesting early, had not yet harvested, on 5th of Oct !! Same for Troplong Mondot, La Mondotte, and so on…Figeac has not yet finished today its…merlots ! Close to 2005 with some characteristics 2010-2009, yes it seems, but…let's see, such a surprising vintage I don't understand now....."
Funny to understand, as everybody in Bordeaux predicted early harvest...., I believe this vintage will be one of the kind and will further surprise us. For the record, TR's harvest was over last Saturday and Roc de Cambes' yesterday. Ausone finished harvest on 15th October and Angelus one day before. Both harvested during one month as did several properties on the Left Bank!! Valandraud will finish their Cabernet Sauvignon on Monday or Tuesday next week (19th or 20th October). A real "vendange tardive"!
One of these long harvesting Left Bankers is Domaine Chevalier and Olivier Bernard told me when I talked to him on the 15th October - "We were not in hurry and we had time to wait for perfect ripeness of our red grape varieties. We expected some rain during harvest and got it but it neither did any damage in the vineyard, nor was influential to disturb final harvest days. This one-month long harvest made tannins extremely fine-grained and cool nights assured grapes keeping aromas inside. 2015 vintage looks just wonderful, it's too early to say now what we have in our hands, but if I've to compare to another vintage with the same characteristics, I would say 2005."
Whites are stunning, probably less concentrated than 2014 and have less acidity than 2014. Sweet whites harvest isn't over yet, but what they have in their cellars right now looks extremely promising! All properties in Sauternes & Barsac should have finished harvesting by the end of October. I received an email from Jean-Pierre Meslier on the 22nd October in which he wrote - "We finished the picking this very morning with cloudy sky but no rain. A total of 4 pickings. We can confirm that 2015 will be an excellent vintage at Raymond-Lafon and indeed everywhere in Bordeaux. Good sugar levels, great fruit, no fruit flies, very little sour grapes indeed discarded. Great conditions to make another outstanding vintage. It is too early to say it will resemble 2009 or 2005 or 2011 or even 2001".
Last news - several winemakers from Left Bank properties have recently admitted, that rains in September/October didn't have any effect on grapes, leaving even better hopes for final products. It also seems there will be both classic and exotic wines in 2015, especially on Left Bank, all depending on when properties did harvest and how wines were vinified. Nevertheless, it'll be for sure an incredibly interesting primeur week in April 2016.
Updated the 16th December 2015
VISITS (28th September to 6th October)
Monday the 28th September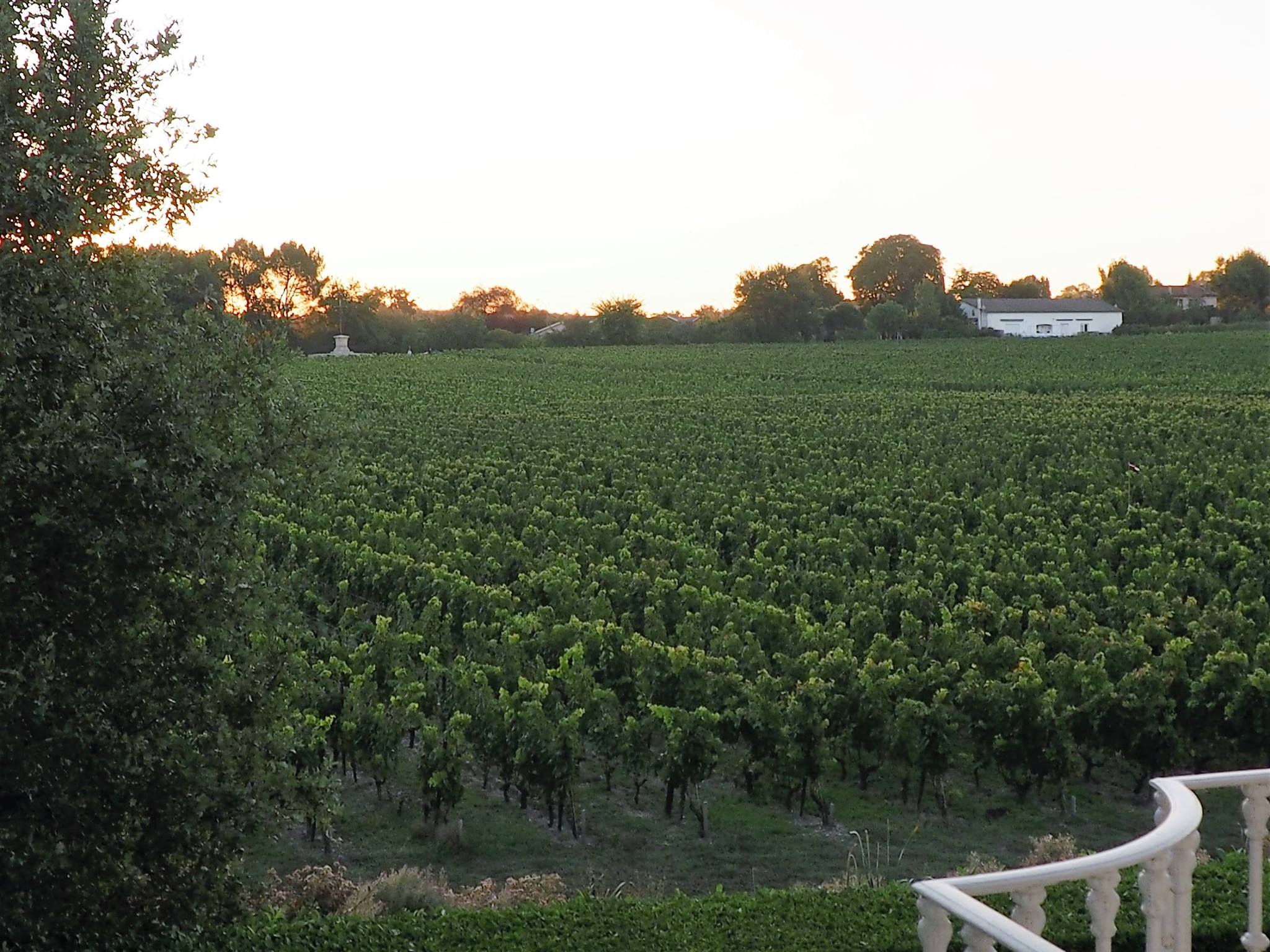 Morning look at Seguin's vineyard
The first visit was Chateau Seguin in Canejan, a little town situated app. 11.5 km from Bordeaux and which borders famous communes in outskirts of Bordeaux town, Pessac & Leognan. Seguin is one of only two wine properties existing in Canejan. Seguin has several parcels around the town. They were not harvesting on the day of my visit, started with young Merlot a few days before but planned to harvest "old" Merlot by the end of the week and then Cabernet Sauvignon if ripe. I "visited" two vineyards of Seguin, small sweet grapes on both Merlot and Cabernet Sauvignon and a lot of grapes. 2015 is a vintage which looks just extremely fabulous here.
I tasted 2014 (barrel sample), 2012, 2011, 2010 and 2005 of Seguin, 2012 organic version of Seguin (Cuvée de La house) and 2010 luxury cuvée of Seguin, Confidence(s) de Seguin:
2014 Seguin - impressive nose of violets and black cherries/blueberries, splendid acidity, excellent structure, fine complexity, splendid balance, long finish. Excellent effort for the vintage. 93+p.
2012 Seguin - aromatic, very fruity, very well-balanced, velvety texture. Not bad at all! 91+p.
2011 Seguin - succulent, violets, fleshy, crisp fruit, great acidity, depth and length. Fine wine work. 92+p.
2010 Seguin - fat fruit and tannin with perfect ripeness, rich, big structure, exquisite balance and long, long finish. Best Seguin ever made. 95p.
2005 Seguin - not made by present winemaker, but it doesn't matter really, as this wine is just a beauty with an excellent aromatic nose of dark cherries and blueberries, stunning complexity and length. 94p.
2012 Seguin Cuvée de la House - not distributed commercially. Similar to normal cuvée, slightly fresher and fruitier than normal cuvée. 91+p.
2010 Confidence(s) de Seguin - edges normal cuvée with more concentration and depth. Exceptional stuff. 95+p.
After Seguin finished the harvest in mid-October I got a message from the owner, Denis Darriet, that he expected 2015 vintage at Seguin to be a mix of 2009 and 2010 vintage. I'll check this "forecast" in March/April next year.
Tuesday the 29th September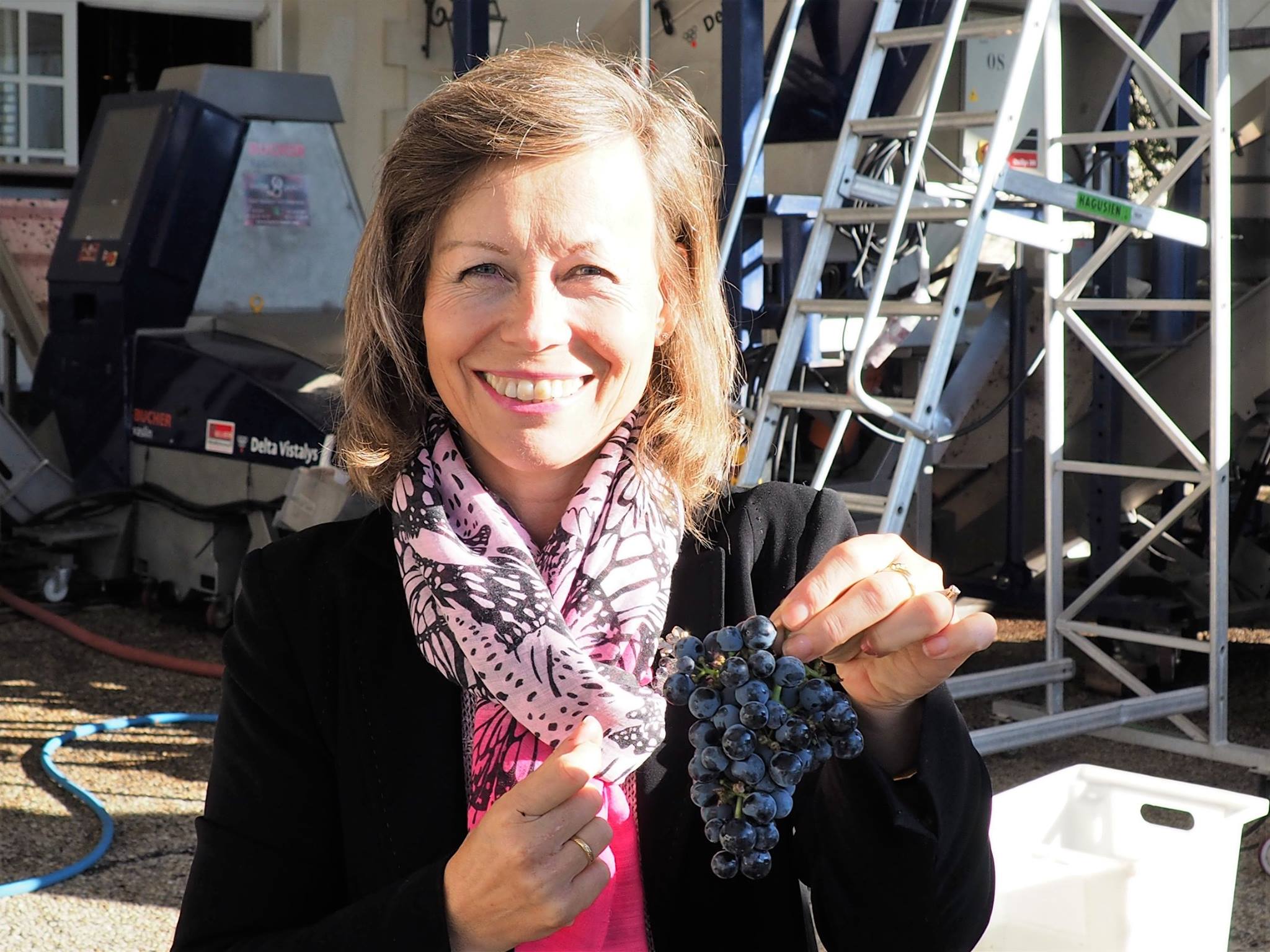 This day started with a tasting of 2005 vintage at Chateau Haut Brion, but before it my host, Turid Alcaras (see above), and I went to the vineyard in the front of Haut Brion to see the harvest of Cabernet Sauvignon. Grapes looked wonderful, were in excellent shape and tasted very sweet and concentrated. Astonishing quality. Afterwards, we went to see the sorting table and optical sorting machine at work. Great sightseeing! Use of an optical sorting machine was very widespread all-over Bordeaux during 2015 harvest.
Tasting of 2005s started with second wine of La Mission, 2005 La Chapelle de LMHB - dusty cherry flavours on the nose, fine ripe tannin, fine acidity and bite on palate, well-balanced and with the fleshy finish. Splendid for the vintage. 90p. Then second wine of Haut Brion, 2005 Bahans de HB - similar to La Chapelle with more grip, concentration and depth. 91p.
2005 La Tour Haut Brion - very well-knitted wine with fine midpalate and fine acidity, well-balanced with tasty cherry fruit and a long sweet finish. 91+p.
2005 La Mission had chosen to show its tannic "face" this particular day, but also the exquisite complexity, depth and sophisticated touch. In deep sleep. 98+p.
2005 Haut Brion welcomed me with open arms, showing powerhouse approach, fatness and thick flavours, stunning depth, was crammed with perfectly ripe fruit and tannin and showing fantastic structure and finish. 99-100p.

2005 Les Plantiers de Haut Brion joint second white wine made from blend of LMHB and HB "leftovers", had fine acidity, flavours of acacia flower, apple, gooseberry and lemongrass. Soft and mellow finish. 88p.
2005 Laville Haut Brion (72% Semillon + 28% Sauvignon Blanc) displayed great classy nose of acacia flower and lemongrass, splendid acidity and depth, great complexity, balance, structure and length. Impressive effort. 96p.
2005 Haut Brion white (52% Sauvignon Blanc + 48% Semillon) showed as impressive as Laville Haut Brion and the only thing which put Haut Brion in the front of Laville, was more intensity, bigger acidity and longer finish. 97p.
2005 vintage has been incredibly successful here and we sincerely hope 2015 will follow in 10 years older brother/sister footsteps.
Les Carmes Haut Brion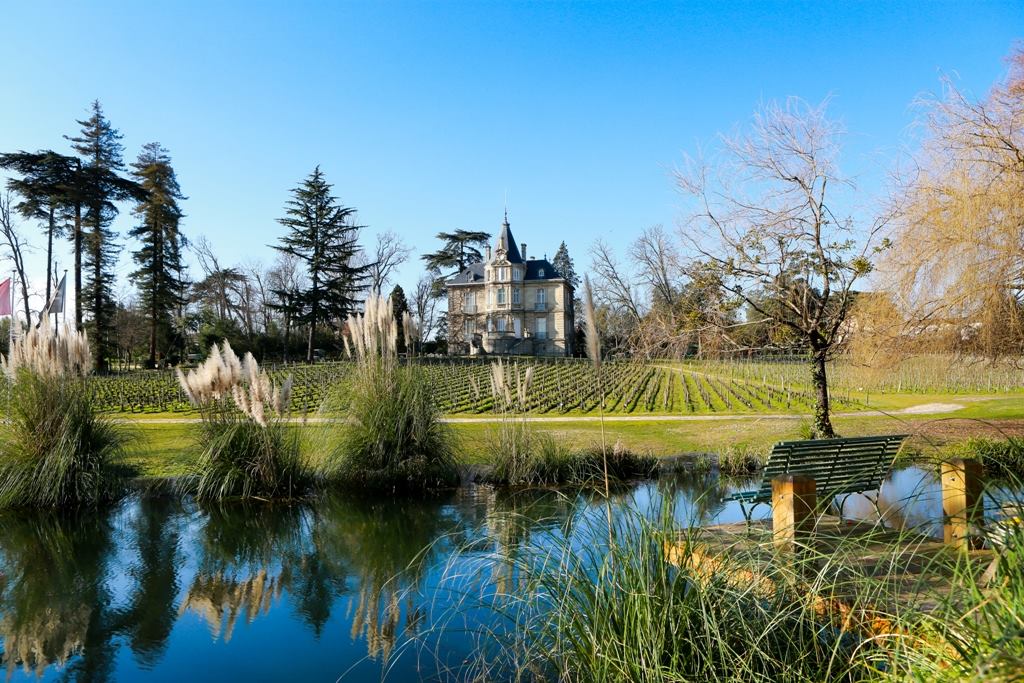 New cellar at Les Carmes Haut Brion (Copyright: Philippe Labeguerie)
I was picked-up at Haut Brion by Stephanie Libreau, public relations responsible at Les Carmes Haut Brion, with whom I arranged the visit, while she visited Copenhagen at the beginning of September this year with negociant Beyerman, to present 2014 vintage. I knew her already from Troplong Mondot, where she worked before moving to Ulysse Cazabonne in Margaux and arrival at LCHB in October 2013. After a few minutes drive, we arrived at LCHB. My first visit here.
Actually, this property is situated inside the Bordeaux city limits, even closer than Haut Brion and La Mission Haut Brion are. After several purchases of vineyards, there are now around 29 hectares vineyard with 35 years old vines, planted with 55% Merlot, 30% Cabernet Franc and 15% Cabernet Sauvignon. Les Carmes Haut Brion changed hands in 2010. The surroundings are beautiful with a lake, a large park and an old bridge.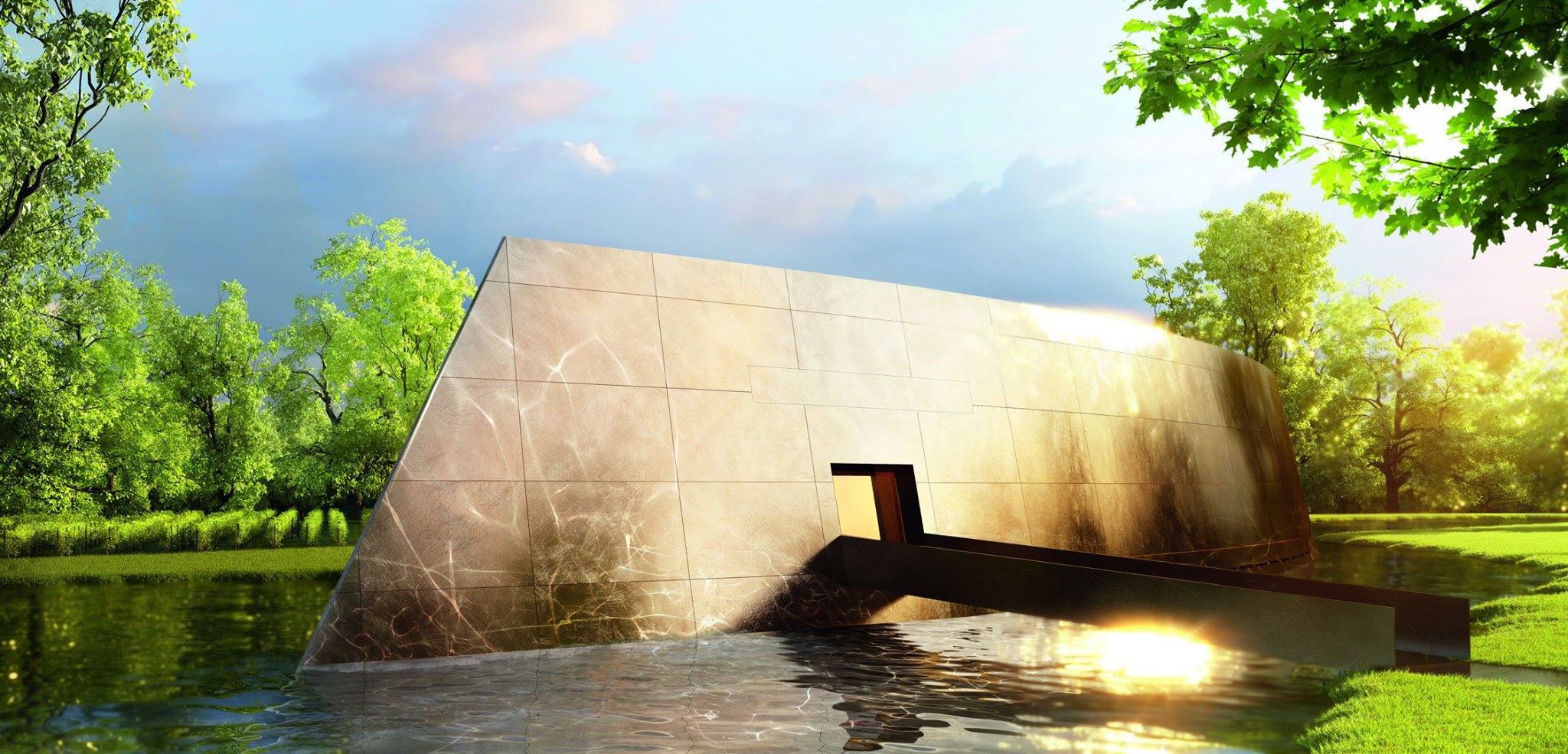 ,Two famous French architects were hired by the new owner to design a new cellar Copyright Giorgio Bocoshvili)
It looks like a ship lying upside down, in black colour. Changes colour when the sun is shining directly at it. For 2015 vintage, Les Carmes will use different vat for each grape variety, concrete one for CS, stainless steel one for Merlot and a wooden one for Cabernet Franc. All these three types of vats are of course equipped with thermoregulation. According to demands of the future vintages, the choice of vats for given grape variety can be changed. Parcels are vinified separately. The entire work at the property wasn't yet finished when I visited it, but the new cellar was 100% functional.
The present manager/director of Les Carmes Haut Brion, Guillaume Pouthier, who arrived from the same position at a famous producer in Rhone, Chapoutier, in 2012, has introduced a special technique, which winemakers frequently use in Rhone. Instead of putting already sorted grapes in vats, whole bunches of grapes are placed in there before fermentation and maceration. It should give more freshness, flavours and aromas to the wine. This technique was introduced first time at Les Carmes in 2012 vintage. This property has never before made hugely concentrated wines, merely elegant and graceful ones.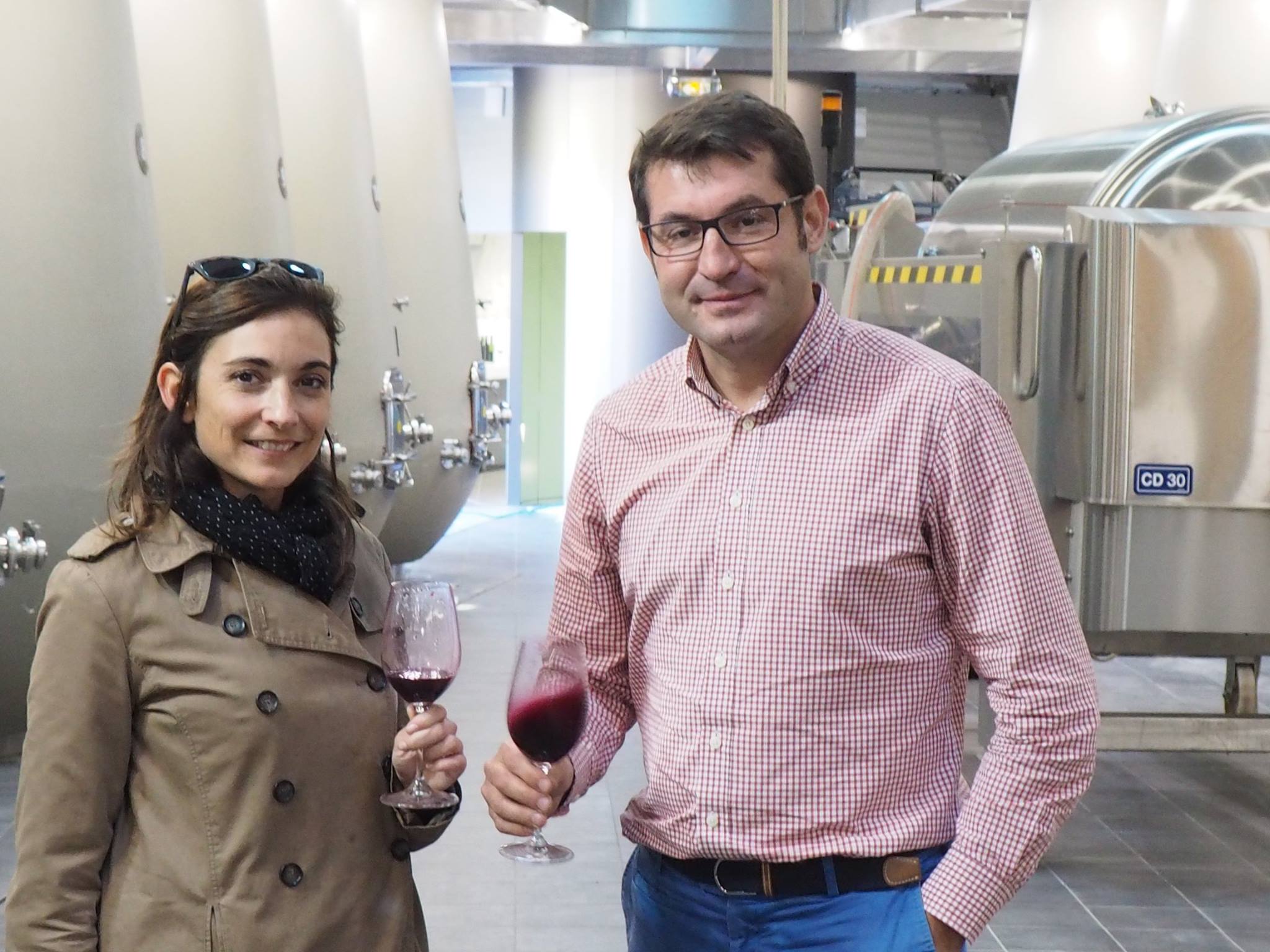 Stephanie Libreau and Guillaume Pouthier
I was treated with a little vertical tasting of Les Carmes - 2012, 2010, 2007 and 2005.
2012 (40% M, 40% CF and 20% CS) was really impressive for the vintage, very aromatic with Cabernet Franc really shining through, silky and smooth, complex, graceful and with excellent balance. I gave it 91p for barrel sample in 2013, but now it's in the bottle and even better! What a transformation - new technique responsible? 93p.
2010 (55% M, 30% CF and 15% CS) couldn't hide at all the superlatives this vintage really deserves. Happily for previous staff at Les Carmes, they knew exactly what they were doing. A beautiful wine crammed with perfectly ripe fruit and as ripe fat tannin, excellently constructed with great complexity, grace and depth. Exquisite balance. As many other 2010s did, this wine improved dramatically after a stay in the barrel and when in the bottle. As in 2005 elegance is well-present here. 94+p.
2007 (55% M, 30% CF and 15% CS) expressed softness spiciness, nice acidity, smoky fruit and light structure. Quite mature already and ready for consumption. 87p.
2005 (50% M, 35% CF and 15% CS) confirmed all the great things about this vintage. Personally, I regard this vintage as one among the very best since 1961! Very enchanting and captivating aroma of blueberries, perfectly ripe fruit, finely grained tannin, excellent acidity, depth, balance and long caressing aftertaste. More emphasis here on elegance than on concentration. No sign of advanced ageing here! Heartbreaker wine of great calibre. 94p.
Les Carmes Haut Brion started 2015 harvest on 21st September and finished on 8th October. On the basis of extremely high quality of harvested grapes, they expect a great vintage here. I'm pretty sure they will come up with something really extraordinary.
Short but incredibly interesting visit!
Chateau Mangot
I met Todeschini Karl a few years ago when visiting Tertre Roteboeuf and he invited me to come and see this estate. I went there in April this year with my Croatian wine journalist friend, Niko Dukan, but he got lost on the road and we arrived late and we didn't have time to do a proper visit.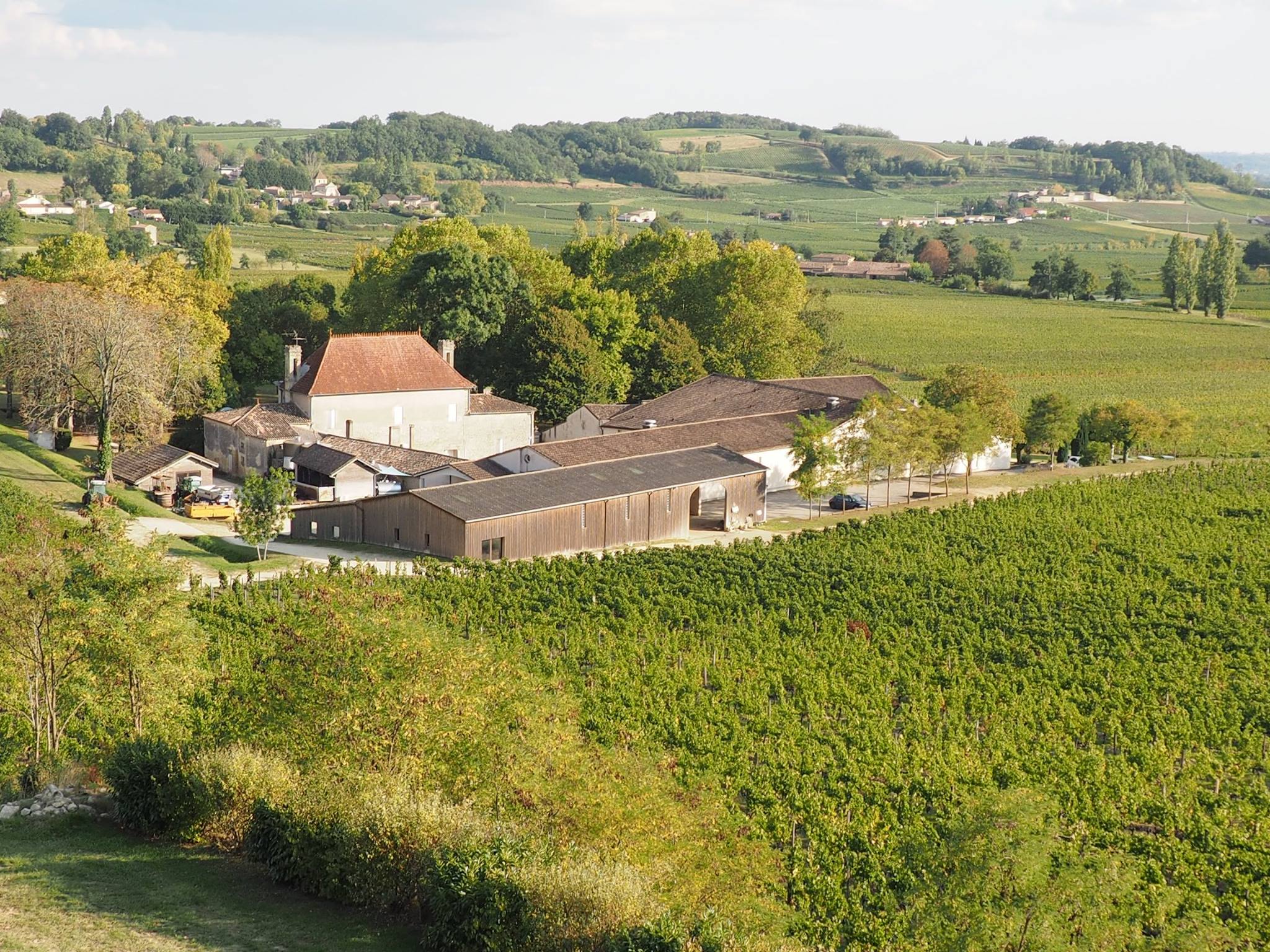 However, I had plenty of time while visiting Bordeaux during harvest 2015 in September/October, so after Les Carmes Haut Brion I took a train to Libourne and then taxi to Mangot.
This property is situated in the commune of Saint-Etienne- de-Lisse, about 5 km drive from St.Emilion. Mangot is 34 ha of vines divided in 21 parcels lying between 45 and 89 meters above sea-level, situated on a plateau, foot of the hill, hillsides and on top of the hill. Soil here is different clay-limestone combinations. Michel Rolland, a famous consultant of wines around the world, says that soil of Mangot is of PGCC quality. Todeschini family own also Chateau La Brande situated in Castillon, Cotes de Bordeaux.
The view from Mangot building towards vineyards and from hills toward Mangot is simply priceless and stunningly beautiful.
Mangot is made in three versions, standard version, Quintessence and Todeschini. Standard version is made from 80% Merlot, 15% Cabernet Franc and 5% Cabernet Sauvignon, vines are 37 years old, wine is aged in 40% new oak for 13-15 months. Quintessence is made from 4 ha old vines (60+ years old), 100% Merlot growing on clay/limestone soil with a bed of rock. Half of the grapes undergo breaking the cap (pigeage) in the vat, the remaining half is vinified in barrel, malolactic fermentation is in 100% new barrels and the wine matures there for 14 months. Todeschini is made from three grape varieties growing on 4 blocks, 40% Cabernet Franc, 30% Cabernet Sauvignon and 30% Merlot, all vinification is performed in 100% new barrels and the wine stays in barrel for 16 to 18 months.
Todeschini Karl was kind to open bottles with 2010 and 2005 vintage of family wines.
2010 La Brande (75% Merlot) was strong with earthy flavours, ripe fruit and tannin, firm aftertaste. Needs time to soften but will be a really nice wine in 5 years time. 88-89p.
2010 Mangot had powerful nose of blueberries, quite some fat fruit and tannin on the palate, fine concentration and depth, and long finish. Splendid future here but this wine needs time to soften. 91p.
2010 Mangot Quintessence (95% Merlot + 5% C.Franc) displayed more depth, purity and longer finish than Mangot, more softness and precision. Polished fruit and tannin. Complete wine here worth rating of 92-93p.
2010 Mangot Todeschini was very strong and concentrated, fat and creamy, but also very tannic (ripe tannins!). Excellent future but this wine needs to soften. 93+p.
2005 La Brande displayed spicy flavours, slightly warm fruit and nice tannin. God fruity finish. 86p
2005 Mangot was strong and truffy, concentrated and with a long finish. 90p.
2005 Mangot Quintessence reminded a lot of its 2010 sibling with this fat, creamy fruit and tannin, complexity, great balance and long creamy finish. 92p.
The day I visited Mangot they didn't harvest, the next day they did and continued until 20th October. Todeschinis have great hopes for the 2015 vintage. For me, it was a great visit at a lower classified property with some clever and talented brothers winemakers trying to improve their wine as much and soon as possible. I'll look forward to taste what they have accomplished in 2015 vintage.
Wednesday the 30th September
It turned out to be a long day with many visits. I had an appointment early morning at a wine shop in Saint-Emilion, L' Essentiel situated below the offices of Jean-Luc Thunevin, but before that, I went from Saint-Emilion train station to Chateau Pavie to collect three small jars of honey, acacia, early flowers and late flowers. 2015 is the first vintage of honey at Pavie and as a honey aficionado, I can say these three types of honey tasted just great! It was quiet at Pavie and manager, Henrique Da Costa told me, that they haven't started harvest yet here, waited for grapes to be perfectly ripe and expected great things.
At L'Essentiel I tasted a range of wines in 2014 vintage, produced and consulted by Jean-Luc Thunevin plus Valandraud in vintages 2009, 2008 and 1998. I was told that besides white grapes already harvested and young Merlot, harvest hasn't started yet at Murielle and Jean-Luc's properties.
2014 Domaine Virginie de Thunevin, St.Emilion - round with freshness, fruity and attractive wine, good acidity, nice balance and nice finish. 88p.
2014 Bad Boy, Bordeaux - tasty, ripe fruit, nicely knitted, charming and attractive. 88p.
2014 3 de Valandraud - meatier than Bad Boy, more fruit intensity, more tannic and longer finish. 88+p.
2014 Domaine des Sabines, Lalande de Pomerol - fleshy, ripe spicy fruit, very good structure and length. 88-89p.
2014 Le Clos de Beau Pere, Pomerol - powerful, fleshy fruit and tannin, good backbone, very good future. 89-90p.
2014 Clos Badon (organic), St.Emilion - sappy and juicy, splendid acidity, strong backbone, quite complex with splendid length. Fleshy finish. 90p.
2014 Virginie de Valandraud, St.Emilion - aromatic cherries, silky fruit and tannin, nice structure, fine complexity and fruity aftertaste. Really nice wine for the vintage. 90-91p.
2014 Valandraud, St.Emilion - great nose and palate, excellent acidity and complexity, fabulous structure and depth. This is just so impressive wine! 95p.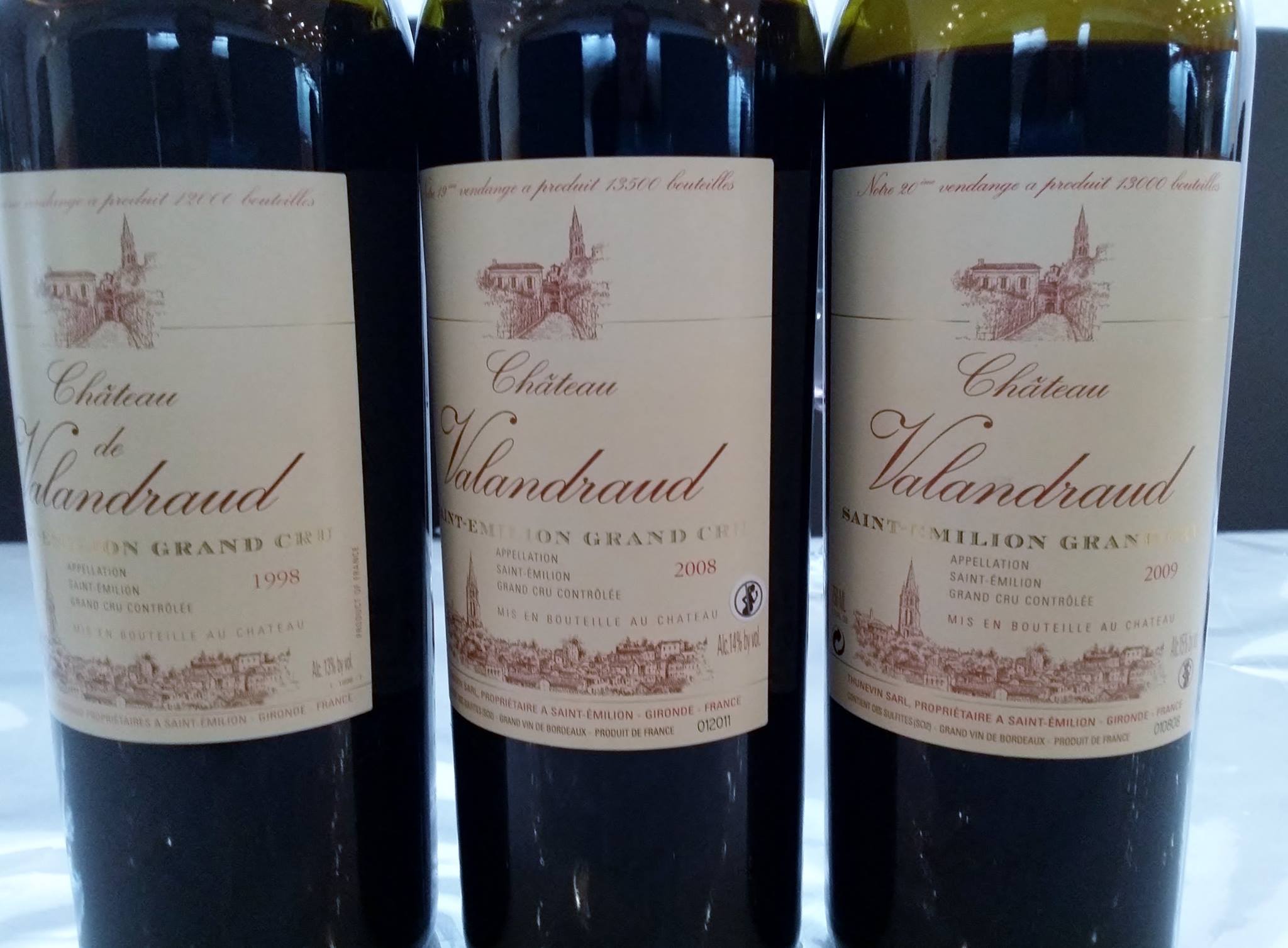 1998 Valandraud, St.Emilion - attractive sweetness, very aromatic, elegant and well-balanced, on the light side but very seductive with silky fruit and tannin. At its apogee now and joy to drink. 93p.
2008 Valandraud, St.Emilion - crammed with ripe fruit and ripe tannin, great complexity, excellent balance and finish. Very, very classic wine for the district! 94p.
2009 Valandraud, St.Emilion - smoky, tight, powerful, meaty and long on the palate, great depth and structure. It hasn't reached it apogee yet. 95p.
2014 Virginie de Valandraud white - excellent acidity, aromatic with acacia flower and lemon/lemongrass, fine structure and mellow aftertaste. 89p.
2014 Valandraud white - more intense, tighter and with more depth and length than Virginie. 91p.
Tertre Roteboeuf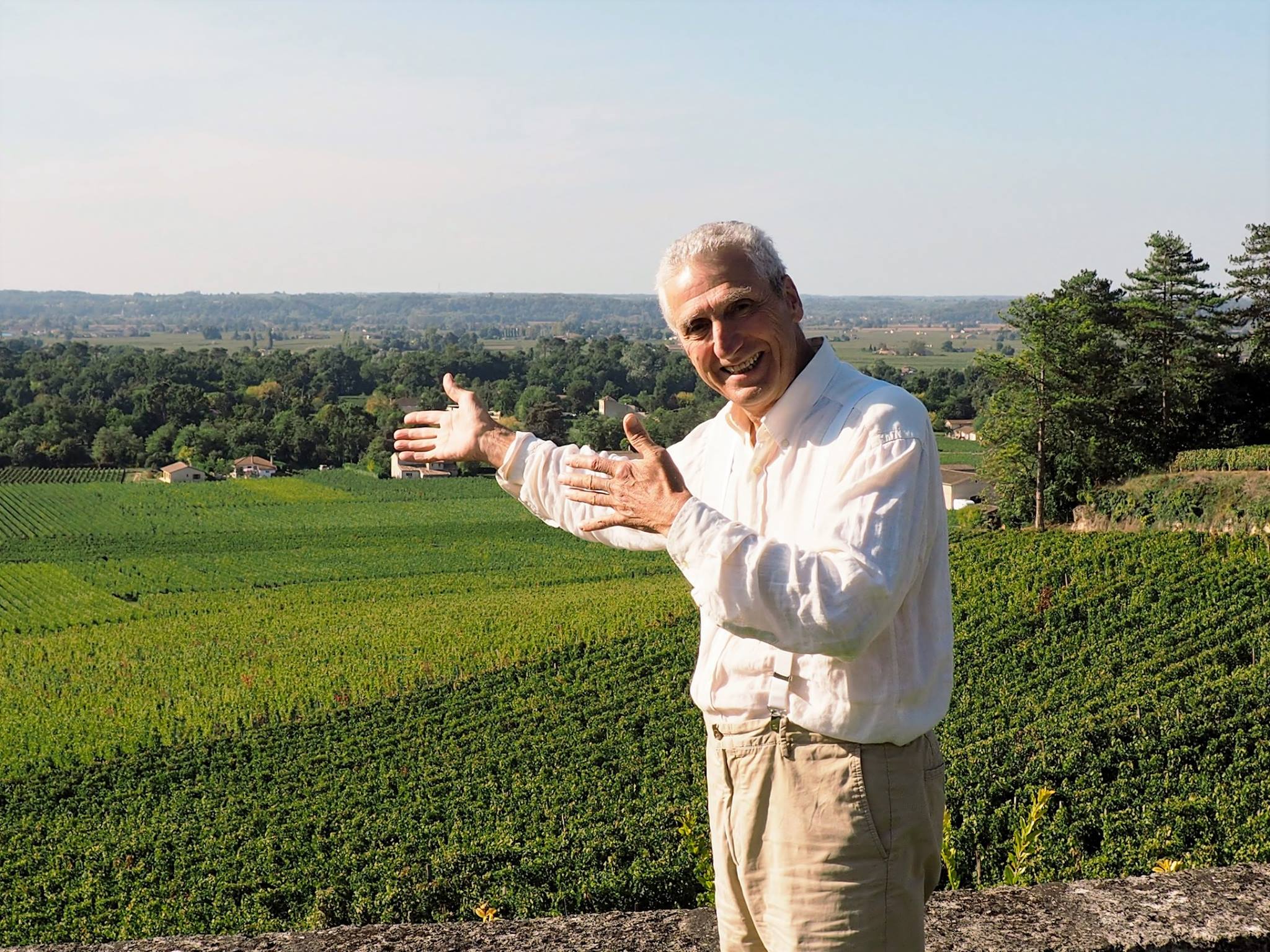 "Welcome to my world", says Francois Mitjavile
Visiting this property is always one of the highlights of my trip. You simply don't find a winemaker like him and wines he makes in Bordeaux. They are of astonishing quality and incredibly distinctive. Francois Mitjavile told me that neither Tertre Roteboeuf nor Roc de Cambes were ready to be harvested, as grapes needed more time to ripe inside and outside. Slow maturation indeed. At Tertre Roteboeuf harvest finished 10th October. He told me also that he's had difficulty to understand this vintage's weather influence on long harvesting time. He's never experienced vintage like that, but was never in doubt that he'd have magnificent grapes in the cellar.
He treated me with vintages 2014, 2011 and 2010 of both wines.
2014 Tertre Roteboeuf - beautifully scented nose and palate filled with aromatic cherries and blueberries, just utterly sublime wine with fabulous structure, depth and balance. Sophisticated and rivetting. Awesome stuff! 96p.
2014 Roc de Cambes - more acidity, more tannin here, fleshy and strong. Great potential but this wine needs time to soften. 91-92p.
2011 Tertre Roteboeuf - impressive stuff, sublime wine with great complexity, style and length. 95+p.
2011 Roc de Cambes - Extremely aromatic, black cherries everywhere, grilled flavours, perfect balance, mineral, sappy, persistent and meaty aftertaste. Impressive effort. 92p.
2010 Roc de Cambes - crammed to the edge with fruit, fat tannin, strong and powerful structure. Everything was in great balance. Fantastic wine with incredible aromatic touch and complexity. Surely the best RdC I've ever experienced here. You could cut this wine in "slices"! 94p.
2010 Tertre Roteboeuf - imho one of the best wines of the vintage and for sure the best vintage ever produced by Francois Mitjavile. Already a legend, fantastic all the way with an unforgettable finish. 100p.
After this extraordinary visit, I went for lunch at a very recommended restaurant in St.Emilion, Logis de La Cadene. I had a company of two guys from California, Andy Katz (father) and Jesse Katz (son), who I've met at Tertre Roteboeuf. Andy is a well-known photographer and Jesse makes wine at Devil Proof Vineyard in Alexander Valley.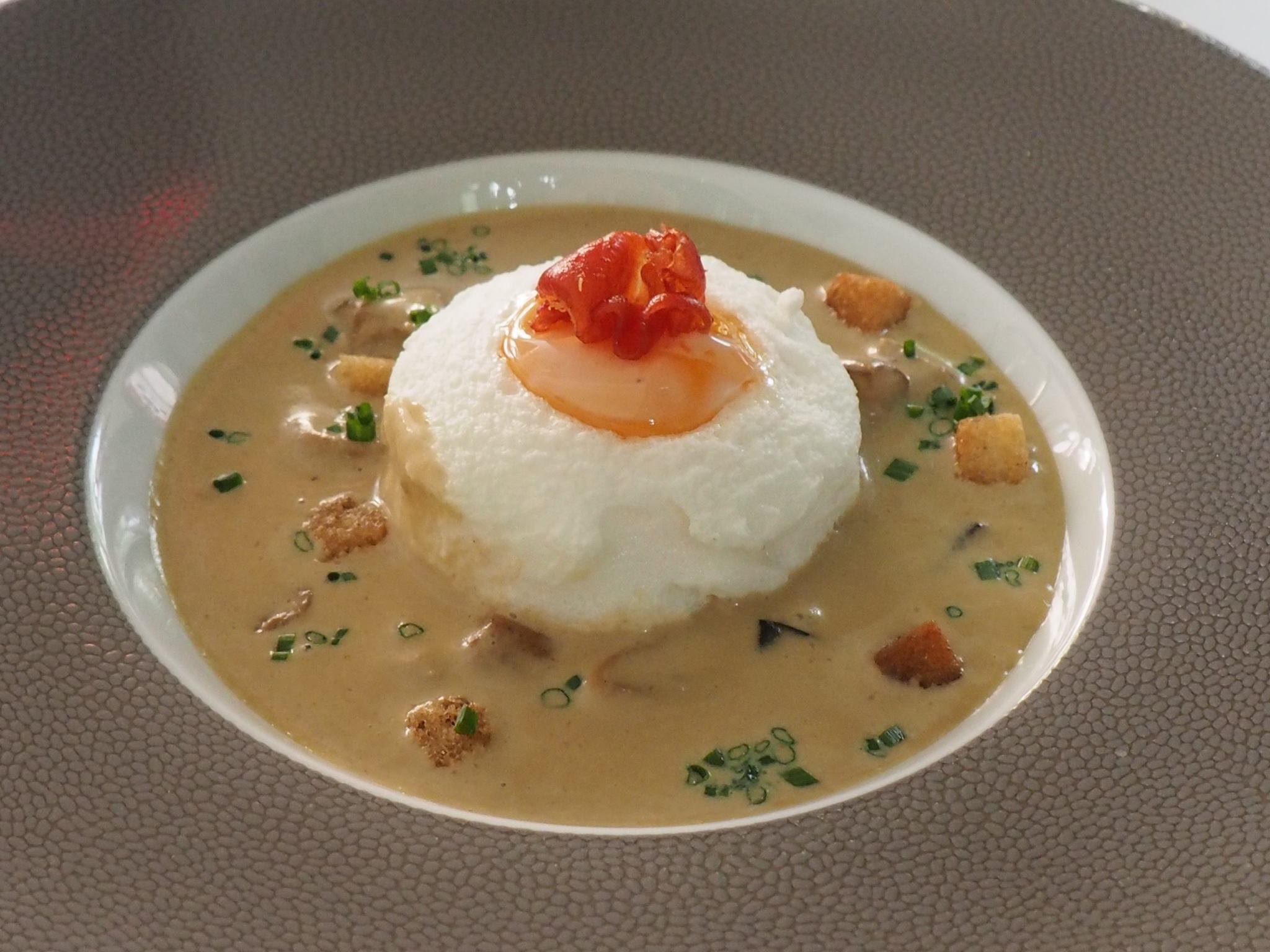 Soup made from cèpes served at Logis de la Cadene
Great location of this restaurant, well-prepared food, elegant and tasty dishes. Next time I'll have dinner at this place. Logis de La Cadene is now owned by de Bouard family from Angelus.
La Confession
After lunch I made a quick visit to this property, situated app. 1 kilometre from St.Emilion town, to see harvest there. Grapes looked beautiful, small, thick-skinned and very sweet. Jean-Philippe Janoueix was extremely happy with the quality of the grapes and compared 2015 vintage to 2009. I'm pretty sure he'll come up with something quite extraordinary.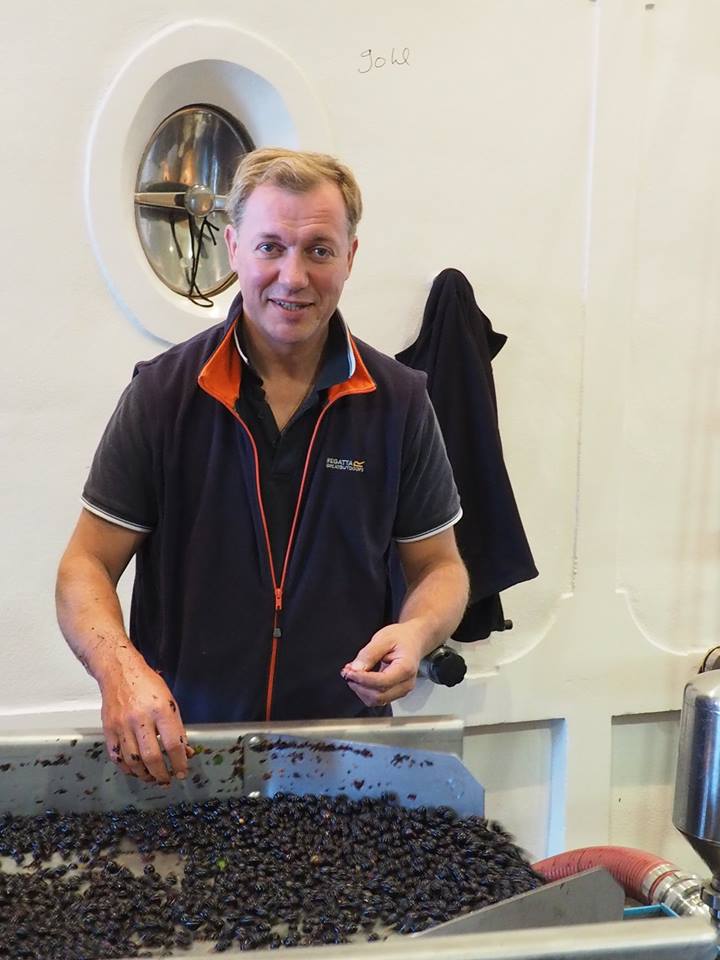 Jean-Philippe Janoueix sorting La Confession's "black caviar"!
Clos Fourtet
It was quite some time ago I did visit this PGCC property, so I was ready and fresh for an update. On my way to Clos Fourtet from La Confession, I met Michel Rolland who is a consultant for three other properties owned by Cuvelier family since March 2013, Les Grandes Murailles, Cote de Baleau and Clos St. Martin, close neighbours to Clos Fourtet. I couldn't resist to ask him about his view on the 2015 vintage - he told me that it seemed to be a cross between 2005, 2009 and 2010.
Clos Fourtet did harvesting this particular day, so everyone was busy. Matthieu Cuvelier who is in charge of Clos Fourtet and Poujeaux in Moulis as well, prepared a little vertical for me, Clos Fourtet in vintages 2014-2012-2010-2005 and Poujeaux in vintages 2014, 2012 and 2010.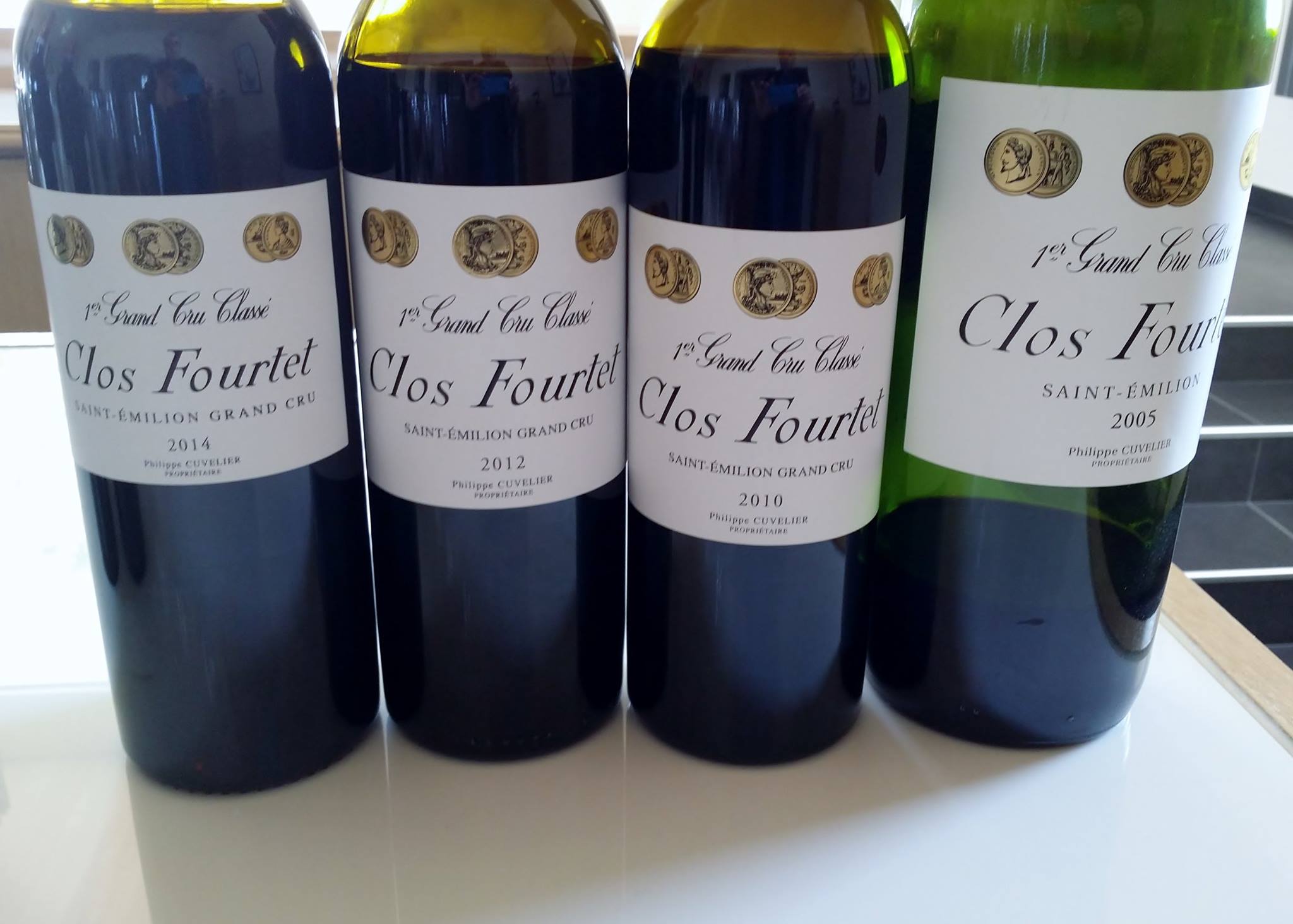 2014 Poujeaux - powerful, chewy and meaty, remarkable acidity, depth and balance. Well made. 90p.
2012 Poujeaux - vegetal, earthy and spicy flavours, nice concentration, fine acidity and presentable length. Not bad for the vintage. 88p.
2010 Poujeaux - as expected lot of perfectly ripe and concentrated fruit and tannin, great depth and complexity, finishing fruity and caressing. 92p.
2014 Clos Fourtet - elegant and aromatic nose of flowers, excellent acidity, depth and length, classy and well-knitted. 93+p. This was a major improvement compared to barrel sample tasted 6 months ago.
2012 Clos Fourtet - fruity, soft, round and tasty, fine ripeness of fruit and tannin, mellow and fruity finish. 91p.
2010 Clos Fourtet - excellent ripeness here, fat fleshy fruit and tannin, big concentration and strong structure. Killer wine. 95+p.
2005 Clos Fourtet (magnum) - similar to 2010 but tannins are a bit different, more delicate and silkier. 95p.
Poujeaux is great value for money and Clos Fourtet is made in a semi-modern way. High quality of the latter is indisputable.
Corbin
Then I came over to nearby Corbin and I expected that Anabelle Cruse Bardinet (see picture below) was harvesting this particular day, but she wasn't. She told me, that all the staff, including her, took a well-deserved break from harvest. She confirmed what many other proprietors said already - 2015 vintage will be a great one at Corbin, no doubt about it!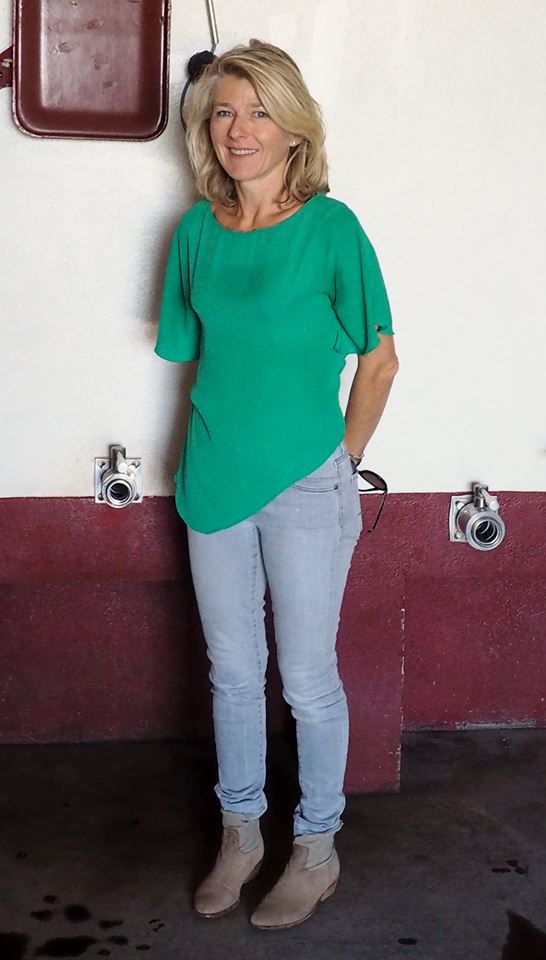 Cheval Blanc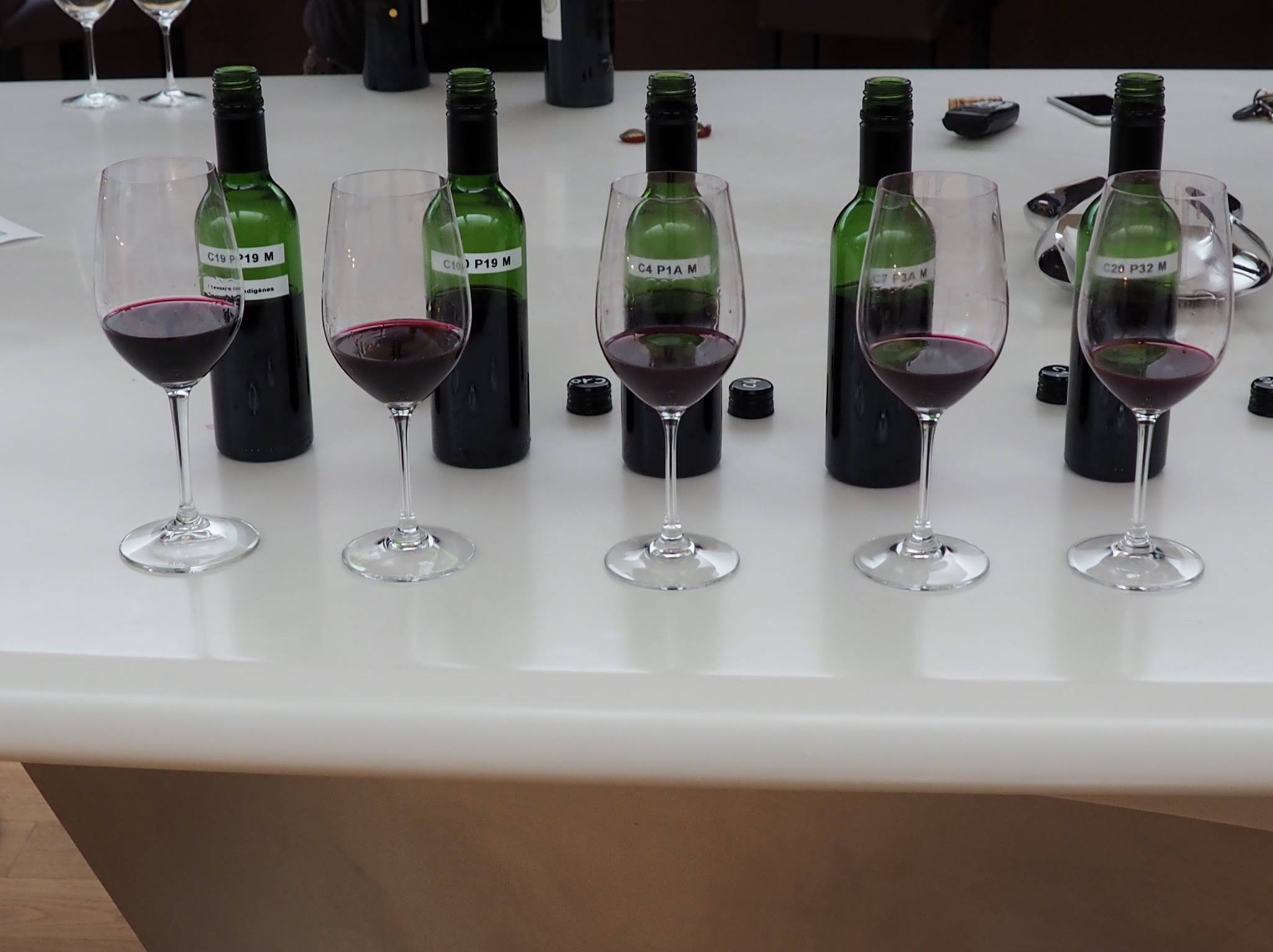 I arrived during a busy time there but they didn't harvest this particular day. Soon I had a short meeting with Cheval Blanc's technical director, Pierre Olivier Clouet, who's just finished tasting samples from different vats/parcels (mainly Cabernet Franc) with the staff. He kindly allowed me to taste these samples (see picture above) and yet again increase my wine-knowledge ;-). It was quite an experience and especially parcels with old Cabernet Franc vines tasted tremendously. Pierre Olivier Clouet was extremely satisfied with the quality of grapes in 2015 and expected exceptional vintage, but didn't want to reveal which another great vintage he compared it to.
Then I tasted vintages 2006 and 2008 of Cheval Blanc, the first one wasn't made by Pierre Olivier Clouet and the latter was his responsibility.
2006 - 60% Merlot + 40% Cabernet Franc. Strong, tannic and truffy, a bit dry tannin. Not up to promises barrel sample offered, seems a bit lean. I agree 100% with Neal Martin's recent comment on this wine. 92p.
2008 - 56% Cabernet Franc + 44% Merlot. Cabernet Franc reached perfect maturity in this vintage and it shows. Plenty of perfectly ripe fruit, silky ripe tannins, pure elegance, finesse and sophisticated touch, all combined with excellent balance and long smooth finish. Simply excellent stuff. 96p.
Belle Brise
I arrived at this little property or merely garden with vines and to my big surprise, I was told that harvest took place more than two weeks ago. Henri-Bruno de Coincy and staff were afraid of damage by rain, but maybe they took a hasty and wrong decision, because in 2015 there was absolutely time to wait according to other winemakers I talked to, and vines weren't that sensitive to rain. We will certainly see during primeur if this decision had backfired.
2014 Belle Brise, which tasted light and watery in April this year (weather was cold and rainy on the day of tasting), showed a great deal better this September day. Truffy on the nose with this special flavour of crasse de fer, very stylish and sophisticated, silky fruit and tannin. Simply delicious wine. 93-94p.
Thursday the 1st October
Bourgneuf
When I arrived, I could notice that there was no harvest activity at the property, but much activity in the cellar (pumping over). Looking at the relatively old cement vats, I was wondering a little, if Frederique Vayron, the winemaker, has considered to invest in 1-2 stainless steel vats to try vinification in these of separate parcels.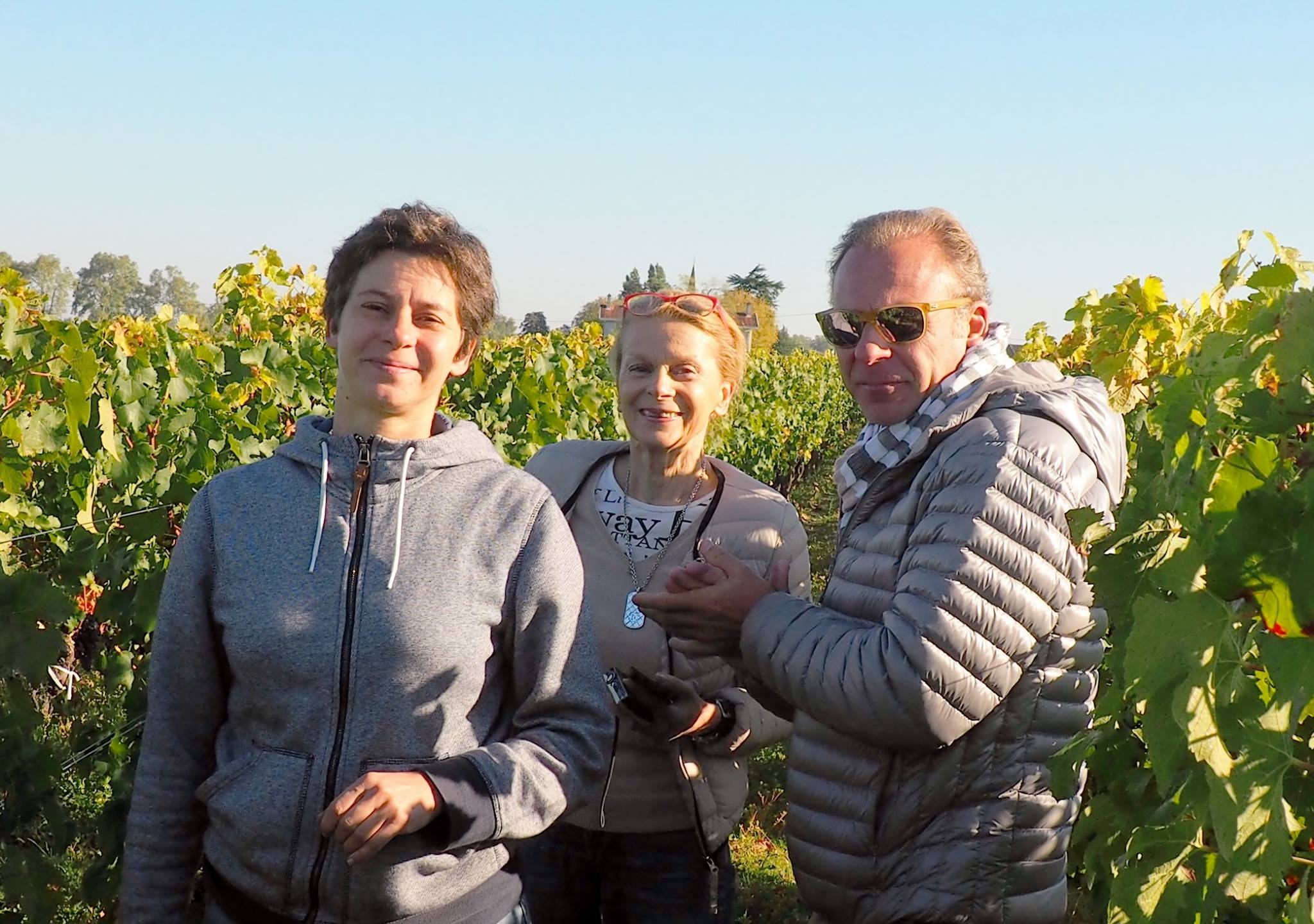 Frederique Vayron, Dominique Vayron and Bourgneuf's oenologist
After a short visit in a parcel of old Cabernet Franc close to Trotanoy (grapes looked just fantastic) with Dominique Vayron, Frederique Vayron and their oenologist, I tasted vintages 2013, 2012, 2011, 2010 and 2005.
2013 - very little to be excited about. Light, charming, round and short on the palate. Seems that stay in barrels didn't improve this wine. 87p.
2012 - much, much better than 2013, gained a lot from staying in the barrel. Seductive and aromatic, fine ripeness, silky fruit and tannin, fruity finish. 91-92p.
2011 - tasted tighter and longer than 2012, had better acidity and more depth. 92-93p.
2010 - clearly fatter in fruit and tannin than 2011, ripeness here is perfect, great depth and bigger complexity. This wine's left "baby fat" stage and is moving in more rustic direction now and showing more and more of soil character. Still, this vintage is the best one ever made by Frederique Vayron during her reign. 95p.
2005 - made by Frederique's father, Xavier. Very reminiscent of 2010 and a clear proof that this vintage's made itself. According to many winemakers, this vintage was very easy to make and didn't need much intervention. Still, it's great work by Xavier Vayron. 94p.
Le Pin
I managed to arrange a meeting with Jacques Thienpont, a winemaker I met first time in September 1985. 30 years ago! Time goes quickly! As he was busy with some important meeting but there was time to talk and taste afterwards, I borrowed a bicycle from him and went for a short drive lasting app. 10 minutes to Lafleur. After half an hour I was back.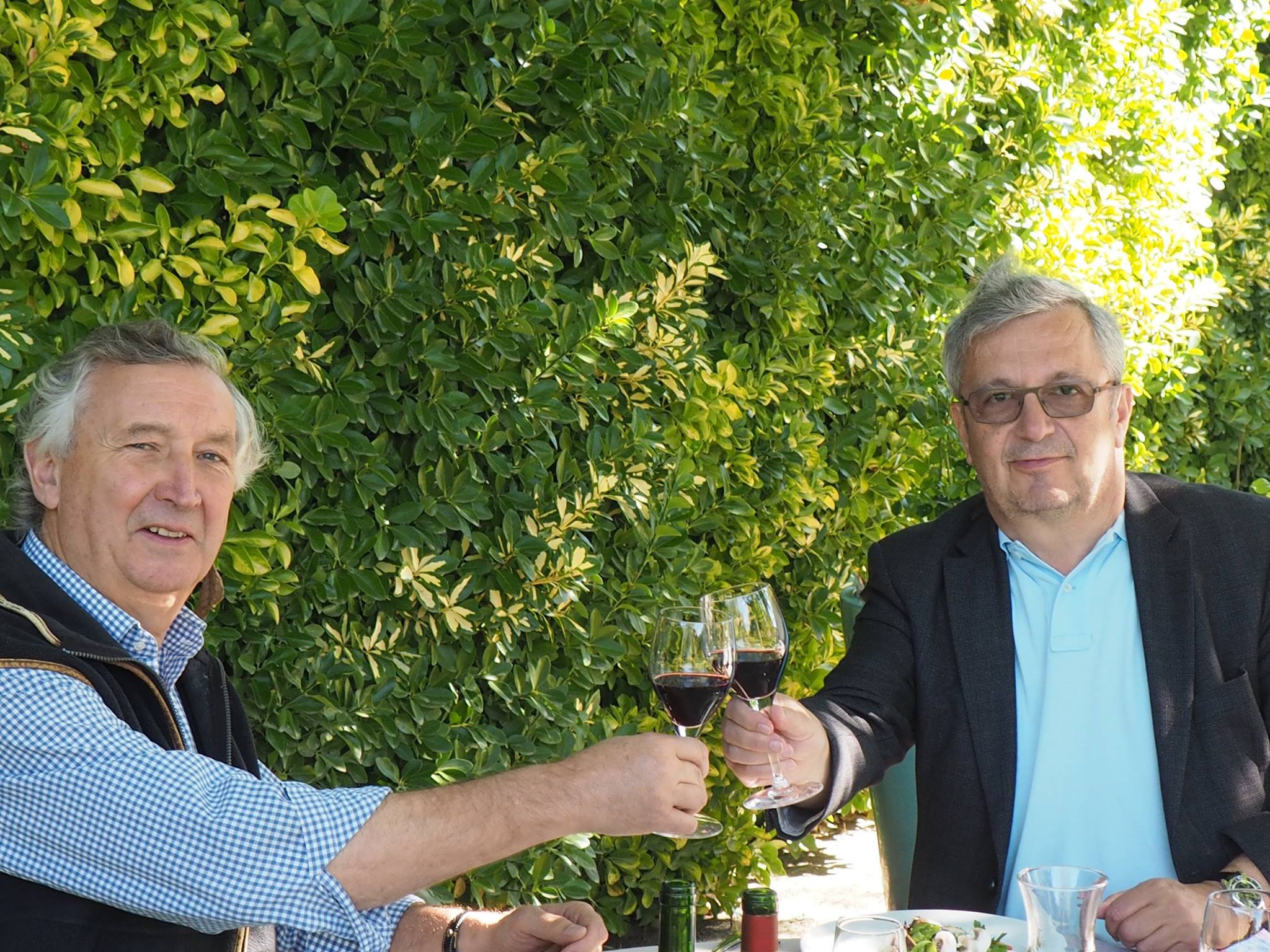 In 2015, Jacques didn't harvest all in one day, he went through vineyard three times in space of week(s). He told me that grapes were just magnificent. It'll interesting to taste during primeur next year what he did accomplish.
Jacques was very kind to open half bottles of 2011 and 1990 for me.
2011 - kinky wine with silky texture, great complexity, seductive sweetness, exquisite balance, fabulous depth and creamy finish. Impressive. 95-96p.
1990 - Jacques wasn't that satisfied with this bottle, he told me that he did have better ones before. "Our" bottle had remarkable sweetness and sign of advanced age, spicy flavours and excellent balance. Fine aftertaste. 93-94p
Lafleur
Very short "sightseeing" as I had to come back to Le Pin. Harvest at Lafleur was happening at full speed. They were harvesting Cabernet Franc and grapes looked and tasted just astonishing. Sylvie and Jacques Guinaudeau, their vineyard chef and cellarmaster, were big, big smiles! (see down left).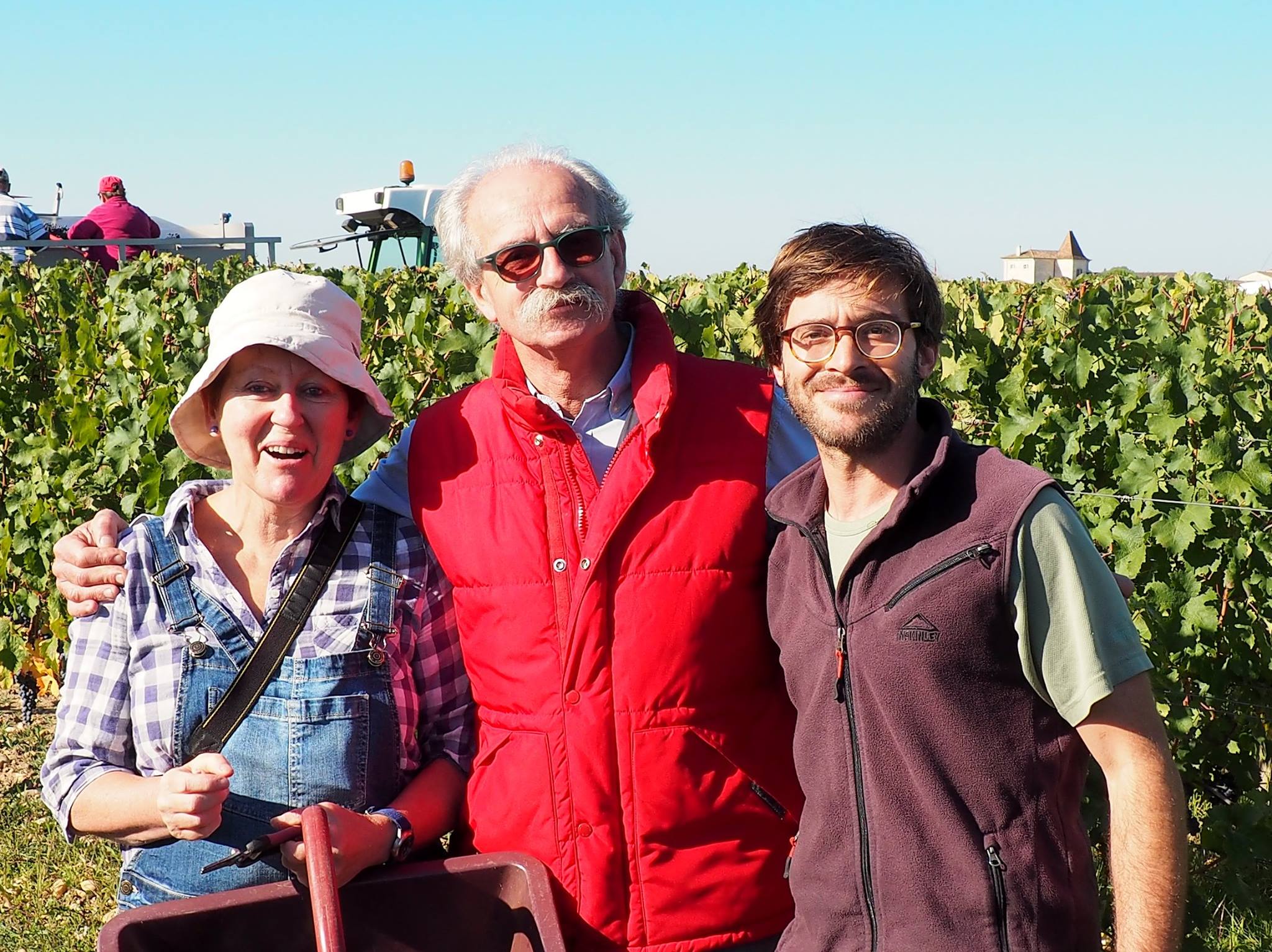 From the left, Sylvie Guinaudeau, Jacques Guinaudeau and Omri Ram (vineyard's manager)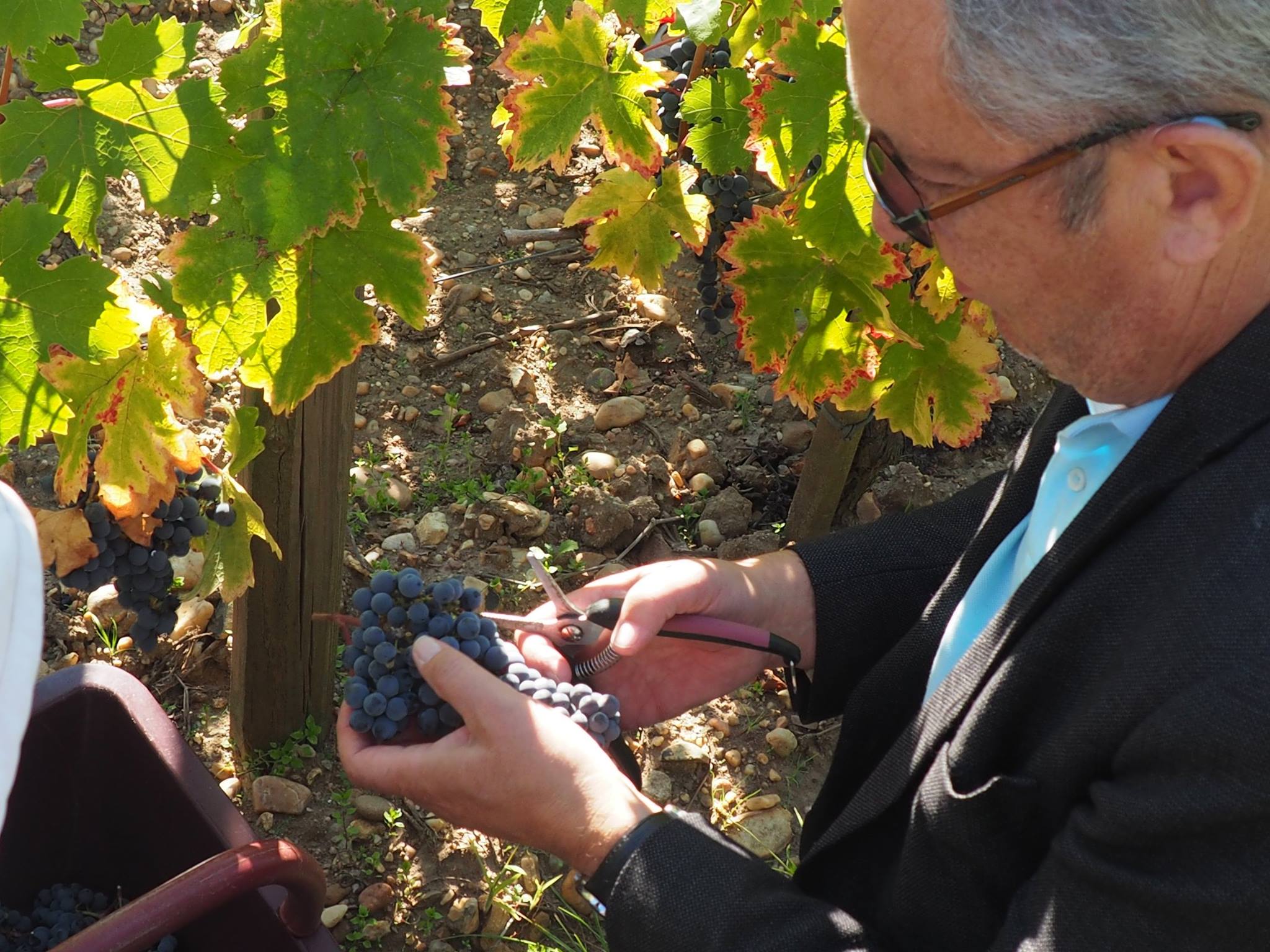 My contribution to Lafleur 2015!
Certan de May
This property had already 2015 grapes in its cellars. Jean-Luc Barreau presented following vintages for me 2014-2012-2011-2010.
2014 - powerful wine with remarkable acidity, tannic, broad, very good potential. 91+p.
2012 - fresh and aromatic with some sweetness, fine grip and structure, finishes fleshy and fruity. 91p.
2011 - muscular, ripe to the edge, splendid acidity and grip, Firm meaty aftertaste. 91+p.
2010 - Sappy and powerful, tight and complex, concentrated. A bit rustic style. 92p.
Domaine de Chevalier
I went there in the evening. Funny enough they didn't harvest either at D.d.Chevalier this particular day. As Olivier Bernard later told me, there was no hurry for him to pick grapes, he could just wait for optimal harvesting conditions.
Tasting started with line-up of Clos des Lunes wines. Clos des Lunes is situated between two communes in Sauternes & Barsac district, Sauternes and Bommes, and covers app. 55 ha vineyard planted with 35 years old vines of 70% Semillon and 30% Sauvignon Blanc. Olivier Bernard became interested in this vineyard some years ago after realising how excellent Semillon was growing there and that he could produce a high-quality white wines, different than his own D.d.Chevalier white. First vintage at Clos des Lunes was 2012.
Clos des Lunes is made in three versions; Lune Blanche which is the dryest one, to enjoy young with its fruitiness and freshness, it's matured in small vats for 6-7 months. Next is Lune d'Argent which is treated with 6-7 months in 25% oak and 75% small vats, it's more sweetness. The third version is Lune d'Or, which is kept in barrels for 15 months, and has more depth, vibrancy, sweetness and purity than Lune Blanche and Lune d'Argent.
2014 Clos des Lunes Lune Blanche - aromatic with nice acidity, green apple and acacia flower. 88p.
2014 Clos des Lunes Lune d'Argent - more complex, intense and with better structure than Lune Blanche. 89p.
2013 Clos des Lunes Lune d'Or - on the line with Lune d'Argent 2014, maybe less intense. 89p.
2012 Domaine de La Solitude white - 52% Sauvignon Blanc + 48% Semillon. Splendid acidity and depth, fresh, aromatic, green apple and acacia. 88p.
2013 Lespault Martillac white - 70% Sauvignon Blanc + 30% Semillon. Powerful, fresh, lot of acacia flower and green apple, splendid acidity and long finish. 91p.
2012 L'Esprit de Chevalier white - similar to 2013 Lespault Martillac with less concentration and length. 90p.
2012 Domaine de Chevalier white - pure joy, sophisticated, Fine aromatic nose of apple and acacia, lush palate with excellent acidity, fine balance, smooth aftertaste. Great complexity and sophisticated touch. Stunning wine for the vintage. 94-95p.
After tasting we went for "sightseeing" in the cellar, where we tasted fresh 2015 juice in both colours, astonishing 2014 white Chevalier (97p) and excellent 2014 red Chevalier (94p) and stopped to look at one single barrel of grapes from 200 years old vine growing at Place de la Victoire (see picture at the end of this article).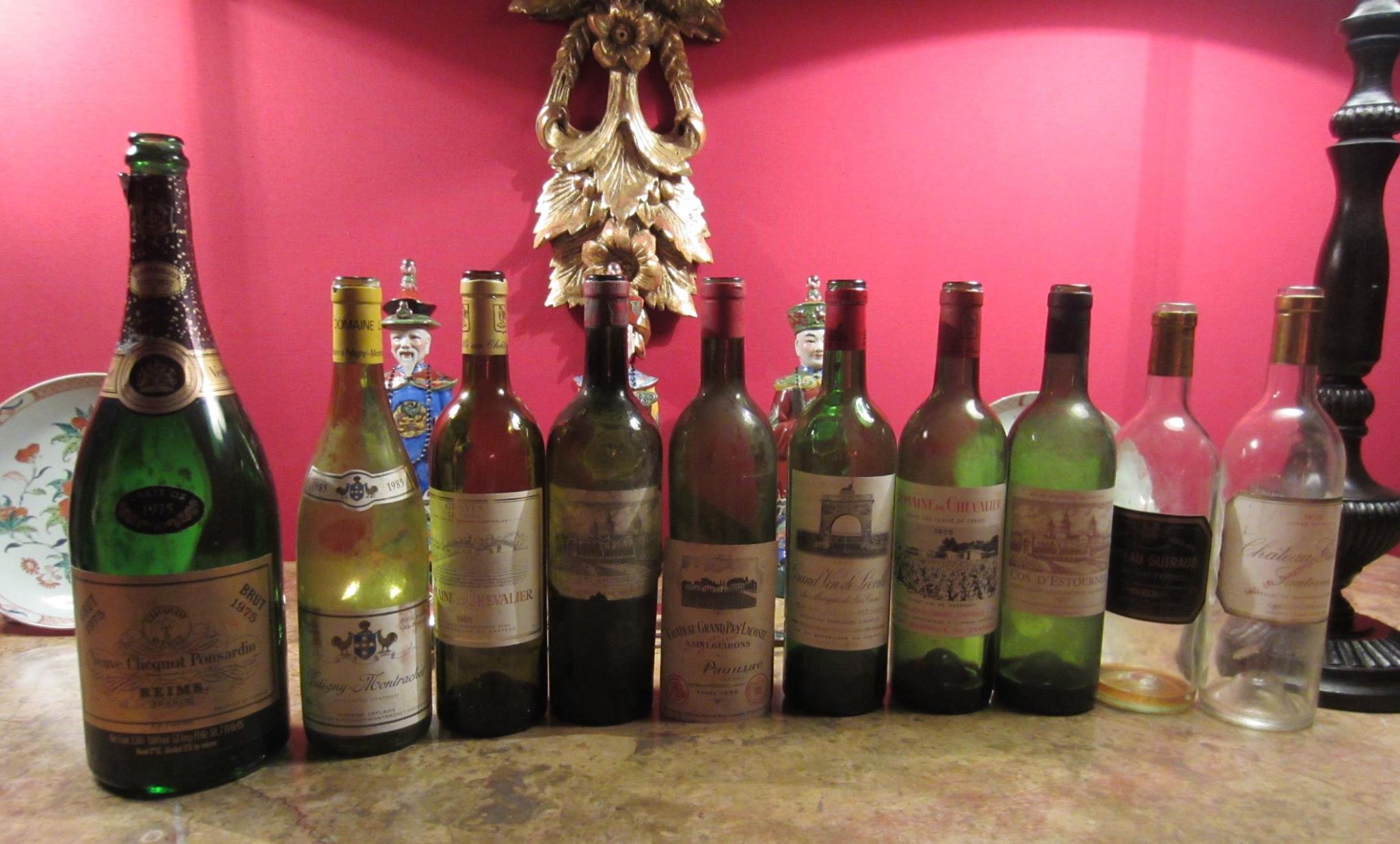 Dinner wines at Domaine de Chevalier
Olivier Bernard always serves wines for dinner with vintage which the last digit is the same as the present year one. So we were treated with wines with digit 5 ending the vintage. After being welcomed with excellent champagne, 1975 "Carte d'Or" from Veuve Clicquot in magnum, we then had two whites poured in our glasses. I quickly guessed that it was Burgundy Chardonnay on the left and white Bordeaux on the right. It was correct! Knowing that both wines had 5 as the last digit in the vintage and neither too young nor too old flavours, I came to the conclusion that both wines were 1985. It was correct too! Olivier Bernard then revealed that on the left it was Puligny Montrachet Village from Leflaive and Domaine de Chevalier on the right. Both fresh and tasty with Domaine de Chevalier better with its great complexity and refinement. PM 92p and DdCh 95p.
So on to red wines. First one was a great bottle of wine with truffles, remarkable elegance and finesse, well-balanced and fine length. There were different guesses, but all wrong and when Olivier Bernard revealed that this wine was Cos d'Estournel 1925, we all were much surprised. 93p. Second one was 1955 Grand Puy Lacoste, aromatic and truffy nose but on the palate it had gas like champagne or unfinished fermentation. Not rated.
Then a trio of wines, which we all quickly detected as 1975s. We had Leoville Lascases, Domaine de Chevalier and Cos d'Estournel. 1975 vintage hasn't a great reputation on Left Bank, many wines are too heavy and dry. However, I was pretty pleased by the performance of all three wines - I could feel the same soil flavours in 1975 Cos d'Estournel as in 1925 version added graphite and fine concentration. 88p. 1975 Domaine de Chevalier had fine fruit and tannin, remarkable complexity and length. 89p. 1975 Leoville Lascases had also graphite scent on the nose and powerful structure. 88p.
We rounded off with two sweet wines, which didn't need much guessing concerning vintage (also 1975), but it was difficult with the name of the property. First one was fresher, had better sweetness and balance, more acidity and longer finish. It turned out to be 1975 Guiraud (94p). Second one had a heavier style, sweeter and was somehow a bit clumsy. It turned out to be 1975 Gilette Creme de Tete (92p). I know this property very well and it has a special way of keeping wine in small concrete vats for 20+ years before release.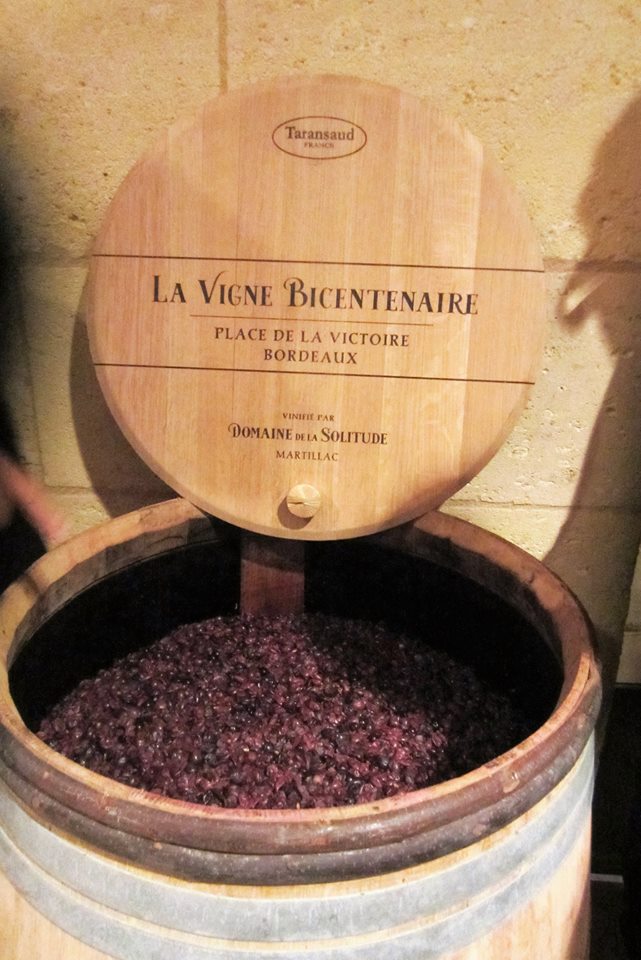 Friday the 2nd October
Raymond Lafon
Jean-Pierre Meslier, who welcomed me, told me that also here at Raymond Lafon harvesting wasn't happening as they waited for further attacks of botrytis (see picture below).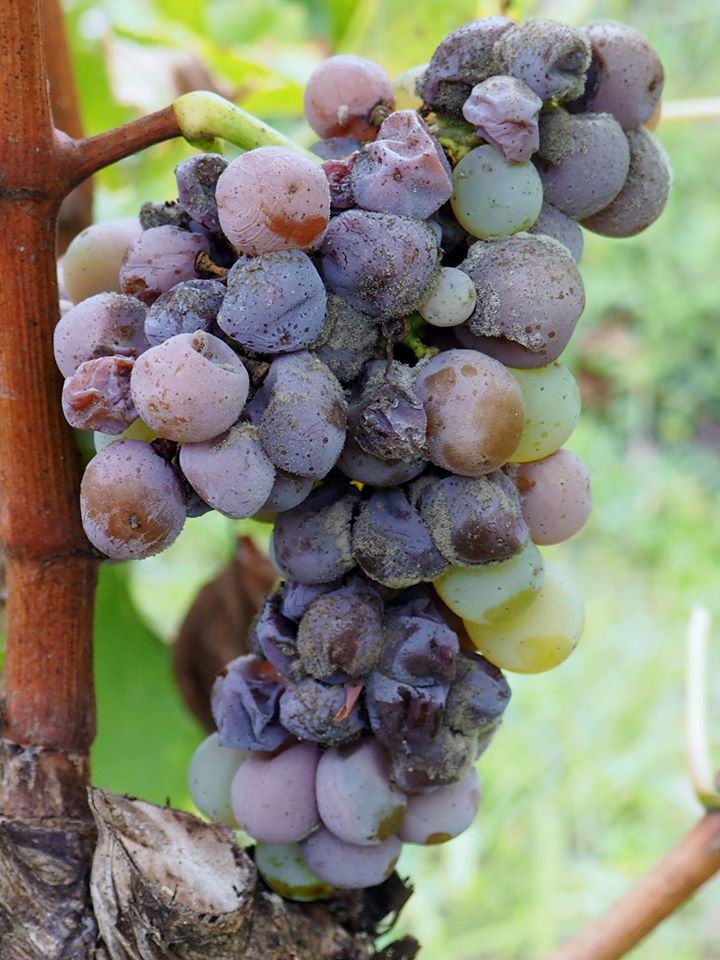 Jean-Pierre Meslier, who welcomed me, told me that also here at R.L. harvesting wasn't happening as they waited for further attacks of botrytis (see left).
Anyway, there were some nice lots already in the cellars. As usual, he prepared a little vertical for me.
2014 - striking acidity and sweetness, botrytised flavours of peach, oranges and mango, citrus fruits, very rich and refined, great complexity and structure, long honeyed finish. 95p.
2013 - pineapple, high acidity, pear and mango, sophisticated, great balance and depth, creamy aftertaste. 94+p.
2009 - walnuts and almonds and grapefruit, great acidity, very rich, complex and with excellent length. Refined and sophisticated. Exceptional wine. 96p.
2010 - vast quantities of pineapple and grapefruit aromas, very sophisticated and rich, exquisite balance. Utterly impressive. 96+p.
2011 - almonds, candied oranges/orange peel, apricot, grapefruit, very intense, great complexity and length. This fine is really something! 95p.
Nairac
Neither at this property I could notice any harvest activity, Nicolas Heeter-Tari and me went for inspection of vineyard/vines and everything looked great.
This time I asked Nicolas to let me taste vintages with an odd number as the last digit.
2013 - only bottled in the middle of September, slightly disturbed, not easy to taste. 92+p?
2011 - this wine offered a big range of botrytised flavours like almonds, candied mandarines, grapefruit, lemon peel, pineapple and pear. Distinguished and long on the palate with great sweetness, acidity and graceful aftertaste. Silky texture. Extremely impressive wine. 94+p.
2009 - very aromatic, sweet pineapple, apricot, honey melon, excellent support of acidity to intense and luscious fruit, long and honeyed aftertaste, great complexity and style. Sophisticated and refined. Better than 2011. 95+p.
2007 - this wine showed big, big nose candied oranges, orange peel and pineapple. Full-bodied, great depth on the palate, splendid acidity and great balance. Rich and refined. Fabulous stuff. 96p.
2003 - wonderful sweetness and great acidity. Acidity was criticized by many for not being present in this vintage and not supporting enough sweetness. They have been totally wrong as this wine proves the exact opposite. Candied mandarines and heather honey. Extravagant firework of flavours. Long lingering aftertaste. Simply perfect wine. 97+p.
2001 - while 2003 vintage isn't considered as a classic vintage in Sauternes & Barsac, this vintage is exactly the one and a big milestone in the history of the district. Stunning acidity, stunning richness and elegance, perfect balance and richness. Sophisticated and refined. Heavenly stuff! 98p.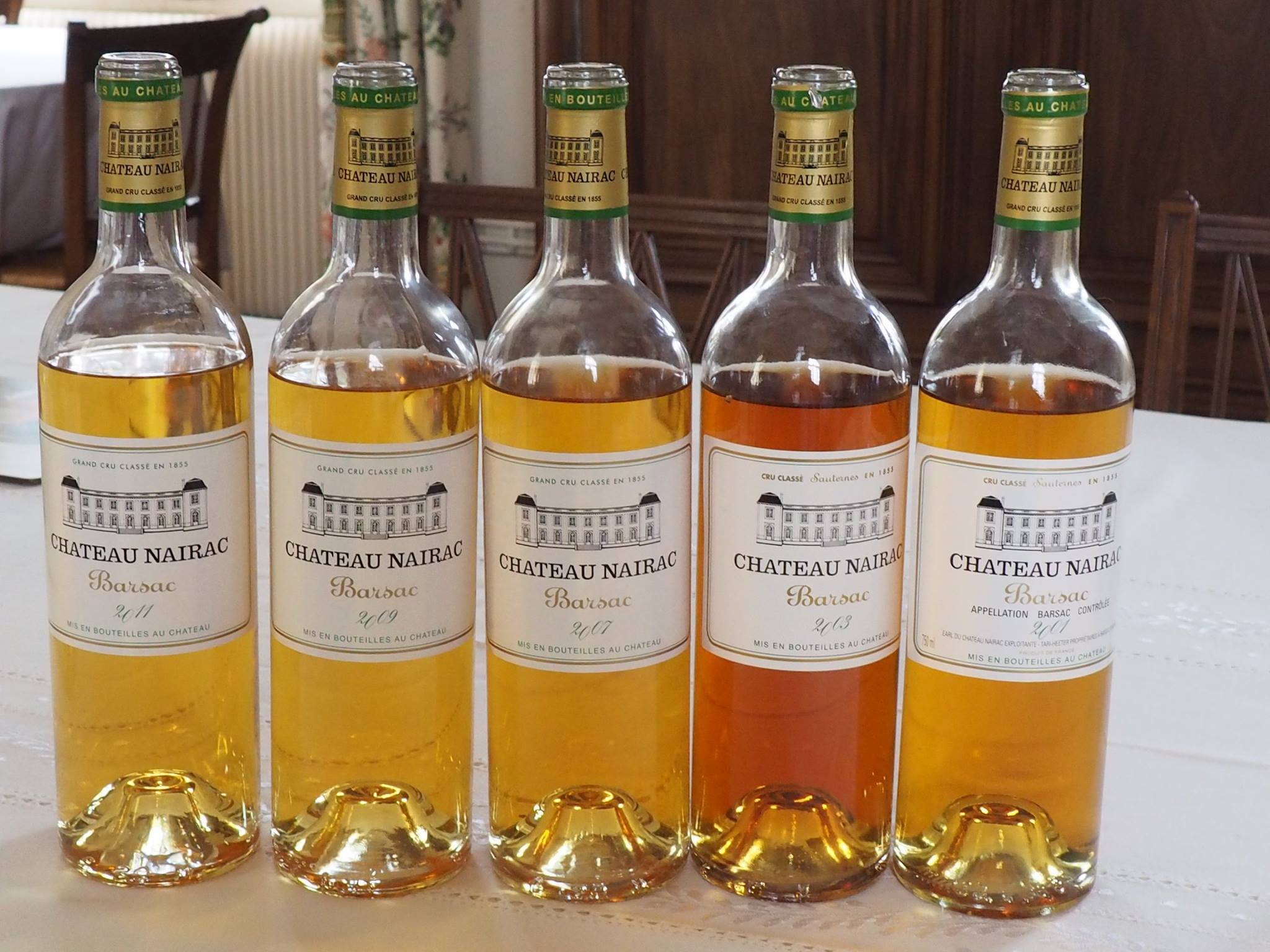 Doisy Daëne
I'd an appointment with Jean-Jacques Dubourdieu (see picture below), son of famous oenologist and white wine expert, Denis Dubordieu. Before tasting wines, we had a little tour in the vineyard and I saw old buildings bordering Doisy Daëne. Jean-Jacques told me, that these were Doisy Dubrocas ones. Denis Dubordieu acquired all of Doisy Dubroca in 2014 from Lucien Lurton, father of Berenice Lurton from Chateau Climens. Already in 2012, all vines were pulled up, as no one from Lurton family wished to be responsible for making wine at Doisy Dubroca. Denis Dubordieu will plant new vines next year and renovate the whole property with storage building and new offices.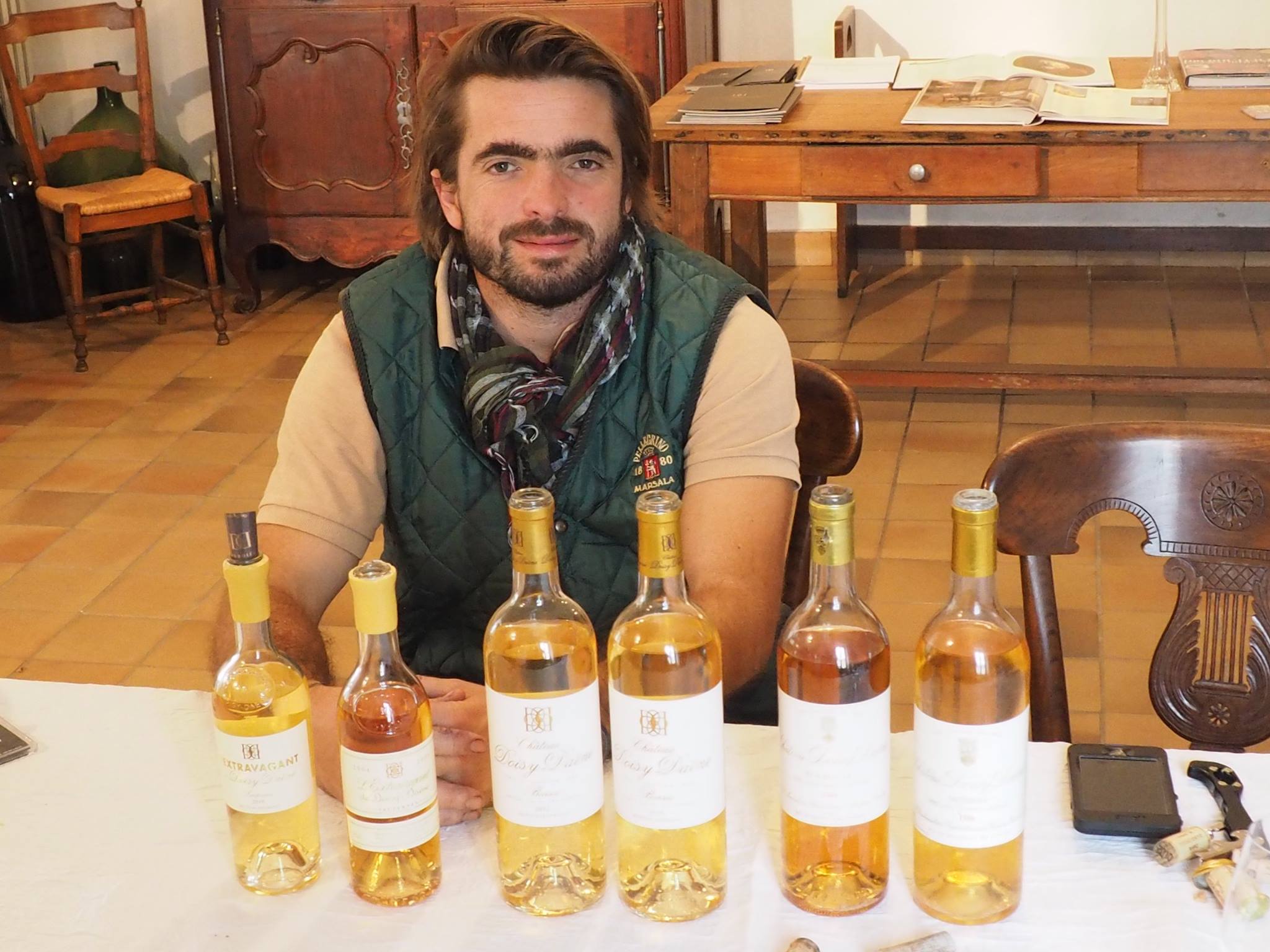 While walking around I saw a big hole in the wall (see below) separating Doisy Daëne and Doisy Dubroca and I asked Jean-Jacques where it came from. He told me that his grandfather Pierre waited so long time to reunite both properties, so when the purchase was confirmed, he took a hammer and made this hole in the wall!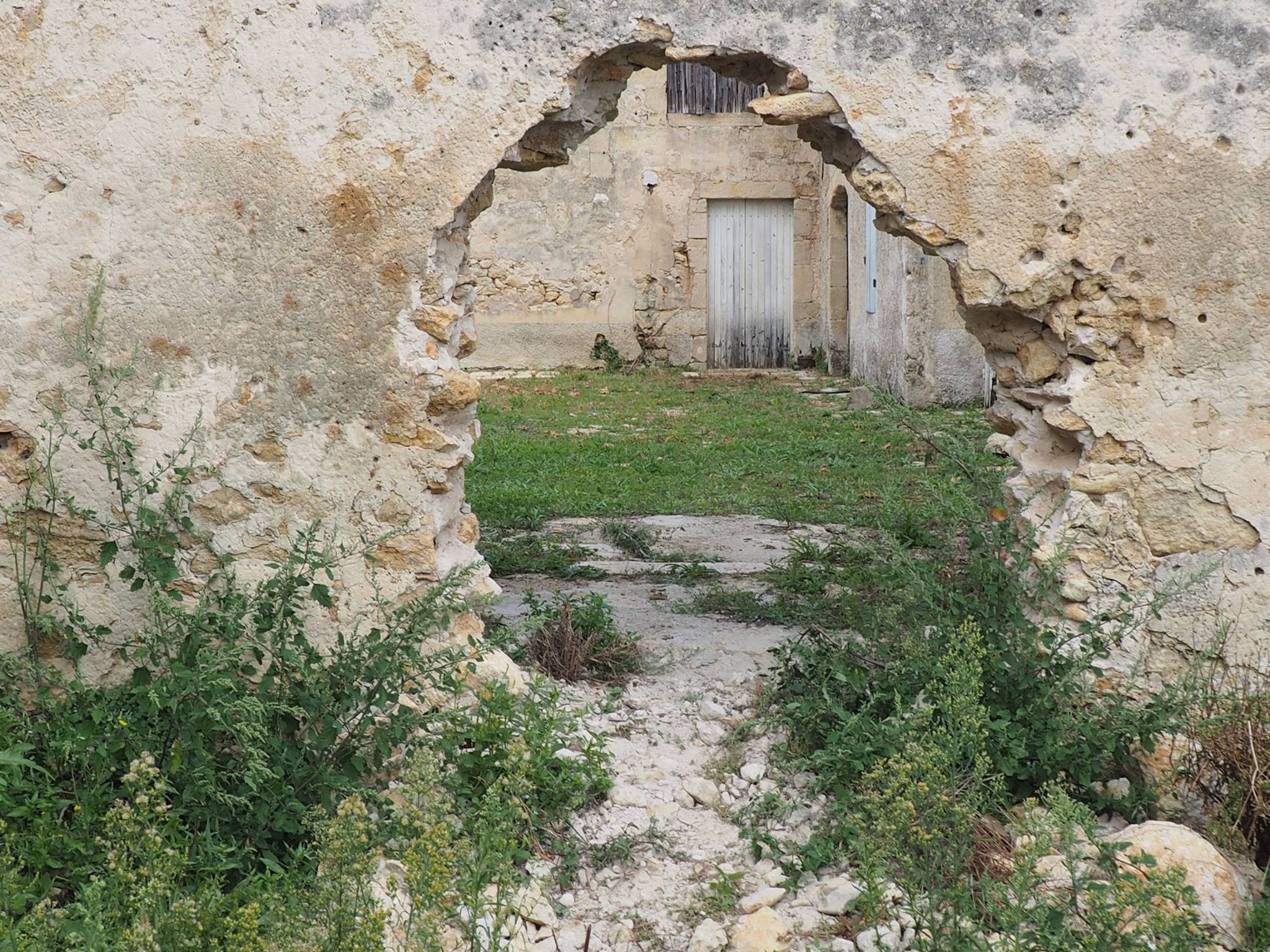 Afterwards, there was time to taste some vintages of Doisy Daëne and its luxury cuvée, L'Extravagant. While tasting, Jean-Jacques told me that quality of whites (Reynon and Clos Floridene), reds and sweets in 2015 was staggering.
2012 Doisy Daëne - 90% Semillon + 10% Sauvignon. Elegant, acacia honey on the nose and palate, candied oranges, orange peel, splendid acidity and depth. Very reliable wine. 91p.
2010 Doisy Daëne - 89% Semillon + 11% Sauvignon. Obviously more concentration in this wine of botrytised flavours, remarkable richness, splendid sweetness and acidity, very significant taste of rasp honey and orange peel flavour, fine structure and persistent aftertaste. 93p.
1989 Doisy Daëne - brown sugar, candied oranges, creme brulee, elegant and with great length. Pretty flavourful. 92p.
1986 Doisy Daëne - very similar to 1989 in terms of style, slightly less concentrated with less sweetness and more apparent acidity. 90p.
L'Extravagant de Doisy Daëne - luxury cuvée of Doisy Daëne. It's made from old vines. First vintage of L'Extravagant was 1990.
2004 - 80% Semillon and 20% Sauvignon. Extremely concentrated wine with exceptional acidity, sweetness and richness. 94p.
2010 - 60% Semillon + 40% Sauvignon. More richness and complexity here than in 2004. Delicate and sublime wine with remarkable sweetness, acidity, depth and length. Big concentration and intensity of flavours. Fabulous quality. 96p.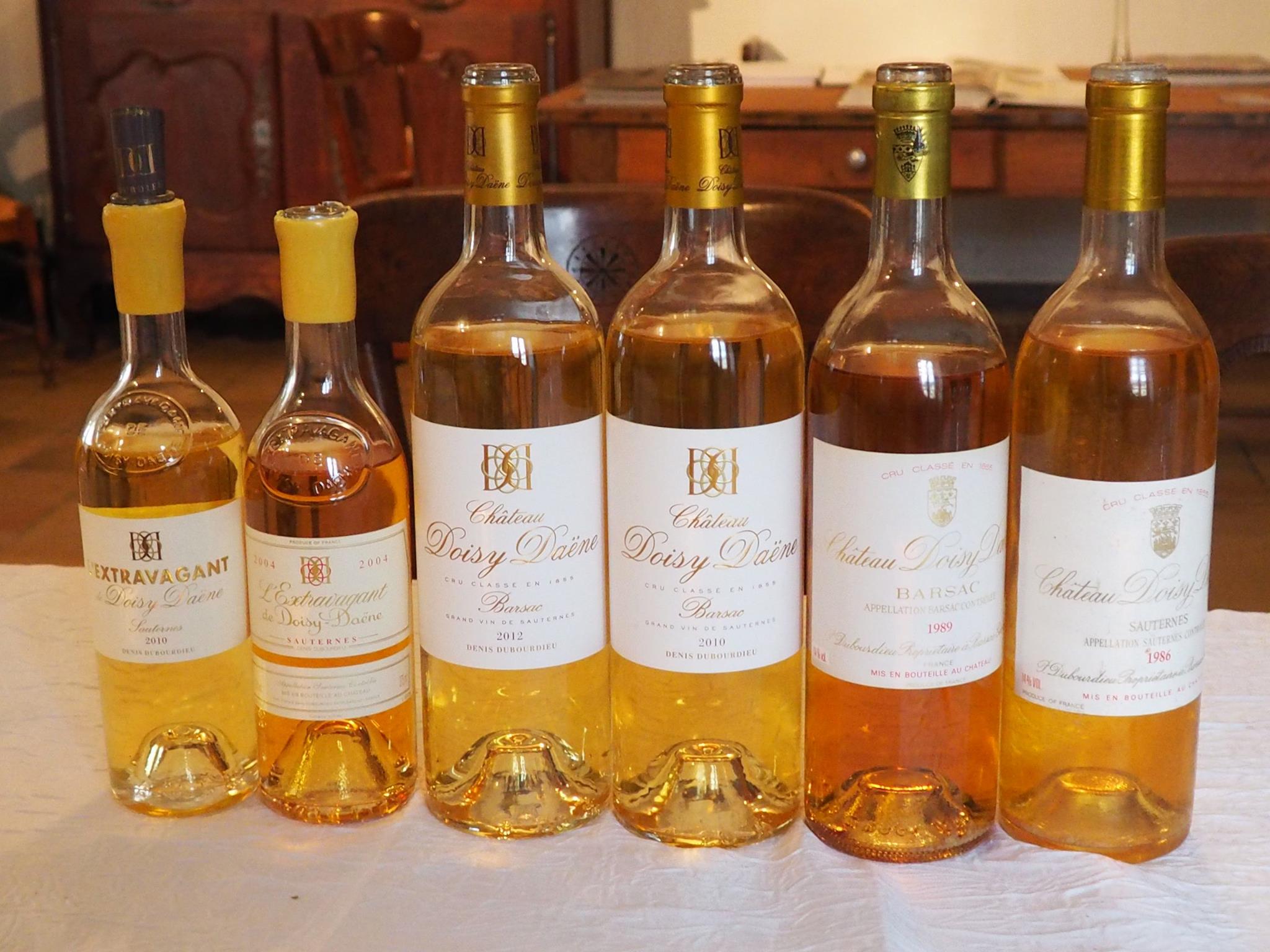 Monday the 5th October
Chateau Margaux
I'd company of Alexandre Rychlewski, owner of Traduction Aquitaine in Bordeaux and big wine aficionado, when visiting this property. We were welcomed by Sebastien Vergne, who's been technical director at Chateau Margaux since June 2014 (see picture below).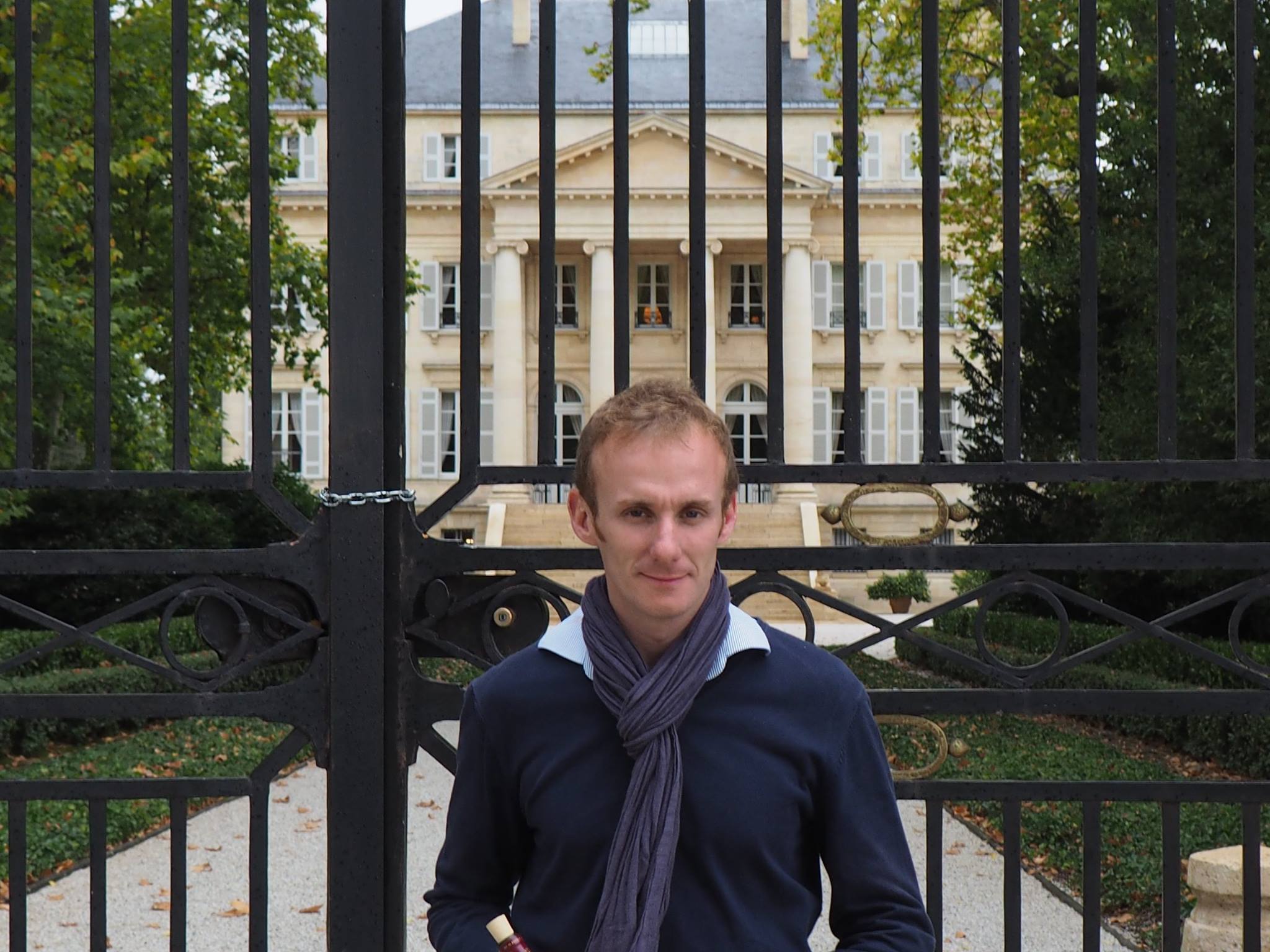 Harvest was expected to finish tomorrow (6th October) and as every place I visited, hopes for yet another great to exceptional vintage were big. We tasted 2005 and 2014 of both Pavillon Rouge and Grand Vin in the underground's tasting room.
2005 Pavillon Rouge - delicate and soft, nice intensity and complexity, round and tasty, silky fruit and tannin. 89p.
2005 Chateau Margaux - sophisticated and classy nose of blackcurrants and blueberries, refined with great complexity, remarkable purity and long finish. Striking elegance and sheer class. 98p.
2014 Pavillon Rouge - very fruity and impressive on the nose with the scent of violets and blueberries, excellent depth and complexity, remarkable acidity and persistent aftertaste. Very impressive wine. 92p.
2014 Chateau Margaux - This wine hasn't changed since tasting it in April this year. Still a lot of freshness, strong structure, splendid depth and long aftertaste. More masculine wine this term thanks to perfectly ripe Cabernet Sauvignon. 96p.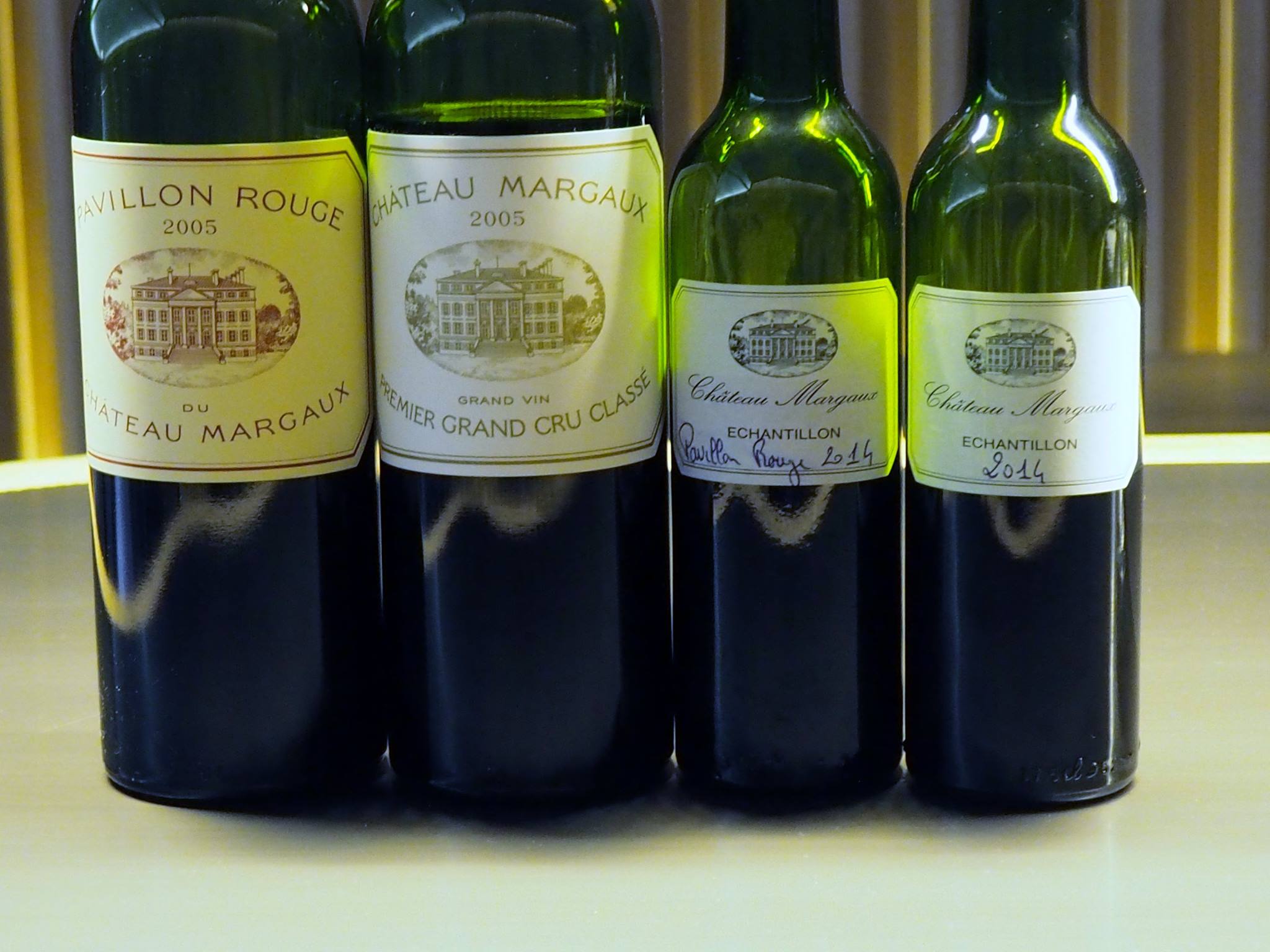 Lascombes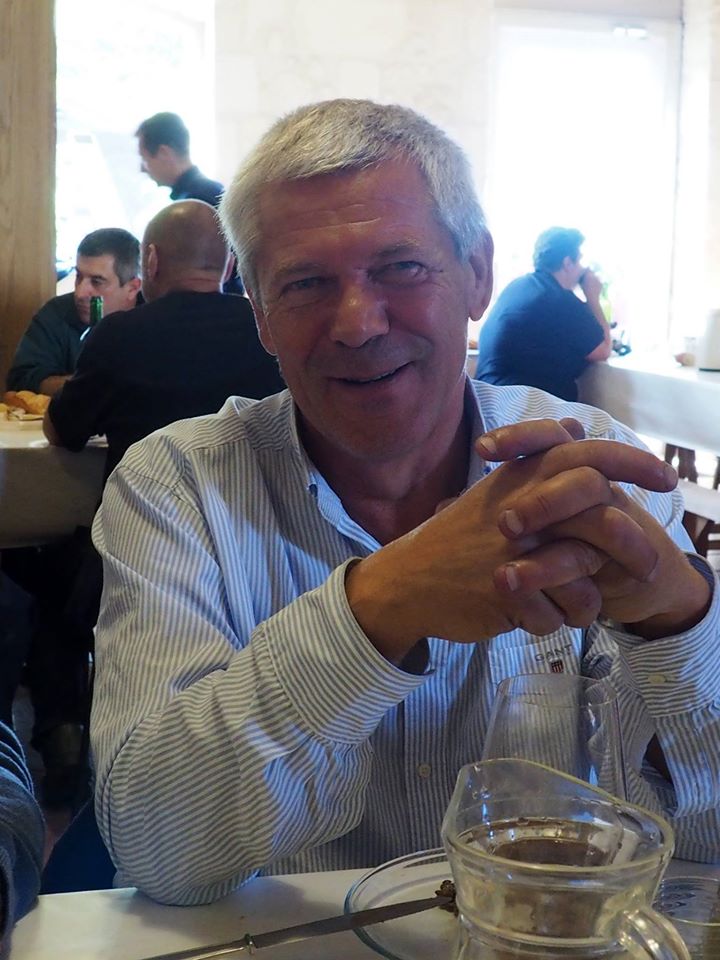 We arrived in the middle of harvest, it was Cabernet Sauvignon on the day. Dominique Befve (see picture above), Lascombes' manager since 2001, was a very happy man - quite sure that 2015 will be an excellent vintage! Fresh, unfermented juice from the vat tasted sweet and concentrated. At Lascombes, they practise cold maceration - 1 week at 6 degrees C with the addition of dry ice. Expected to finish harvesting their Cabernet Sauvignon in the beginning of next week(12-13th October).
After detailed "sightseeing", we tasted 2014 Merlot, 2014 Cabernet Sauvignon, 2014 Petit Verdot, 2014 Chevalier de Lascombes (second wine of Lascombes) and 2014 Grand Vin.
2014 Merlot - fine acidity and tannin, ripe fruit, silky texture, long aftertaste.
2014 Cabernet Sauvignon - strong structure and backbone, big acidity and big tannins, remarkable acidity and big concentration.
2014 Petit Verdot - very powerful, almost iron strong structure, remarkable depth and concentration. It's obvious how much this grape variety completes a wine! Kicks ass!
2014 Chevalier de Lascombes - good grip, a little kick of tannin, good acidity, soft texture, nice fruity finish. 87p.
2014 Lascombes - barrel sample tasted in April 2015 wasn't that exciting, maybe this sample suffered from something during UGCB tasting at Rauzan Gassies. It got much better when tasted again during Vinexpo in June 2015 and tasting at Lascombes confirmed it. Very fine acidity, elegant with finesse, fine structure and length, oak taste is gentle and working fine with fruit. 92+p.
Pichon Comtesse
When you are in Pichon Comtesse's tasting room you will be rewarded with not only high-class wines, but also priceless view to Gironde river (see below!). Vineyard is Latour's.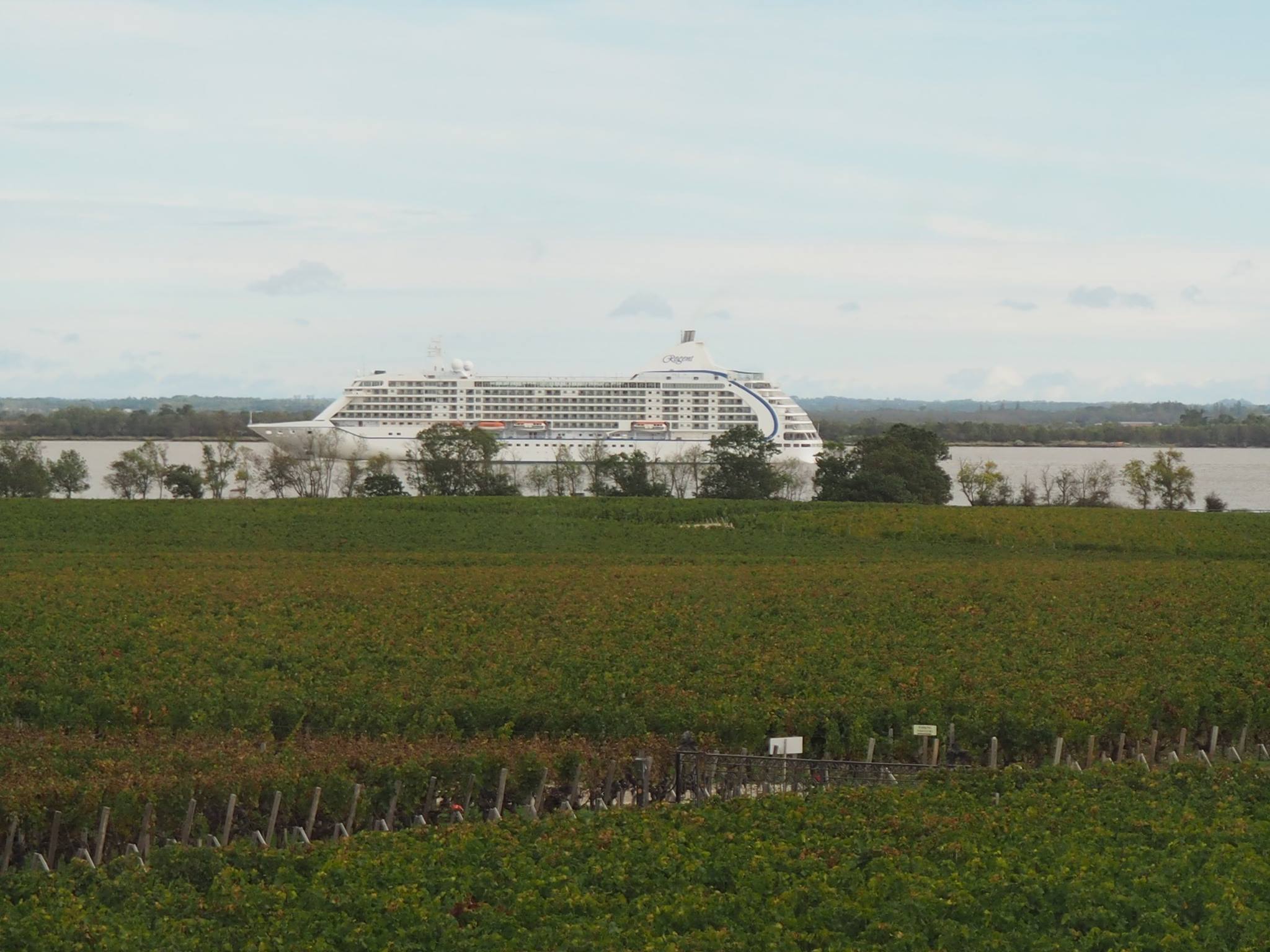 Harvest was still on with Cabernet Sauvignon the one to be harvested on the day. After looking around, seeing harvest and work in the cellar we were treated with 2014, 2012, 2011 and 2010 Grand Vin. However, we tasted wines in a rather unusual order. During the tasting, we had a little conversation with Nicolas Glumineau, Pichon Comtesse's technical director since November 2012, who was unsure if 2015 could be compared to 2005.
2012 - 59% Cabernet Sauvignon + 28% Merlot + 8% Cabernet Franc + 5% Petit Verdot. Quite tight, well-knitted, long, complex and well-balanced. Fine smooth finish. Well-made and successful for the vintage. 92p.
2011 - 78% Cabernet Sauvignon + 12% Merlot + 8% Cabernet Franc + 2% Petit Verdot. Lot of acidity here, tannic and rather dry. An unusually high proportion of Cabernet Sauvignon in this vintage, so patience is required for this wine to soften. 90p.
2014 - 65% Cabernet Sauvignon + 22% Merlot + 7% Cabernet Franc + 6% Petit Verdot. Even more evident acidity here, great complexity and length, powerful with strong backbone, remarkable depth and finish. Excellent for the vintage. 94+p.
2010 - 66% Cabernet Sauvignon + 24% Merlot + 7% Cabernet Franc + 3% Petit Verdot. Strong and powerful, tight, fat fruit and tannin with excellent ripeness, remarkable depth, complexity and balance. Impressive effort for the vintage. 95-96p.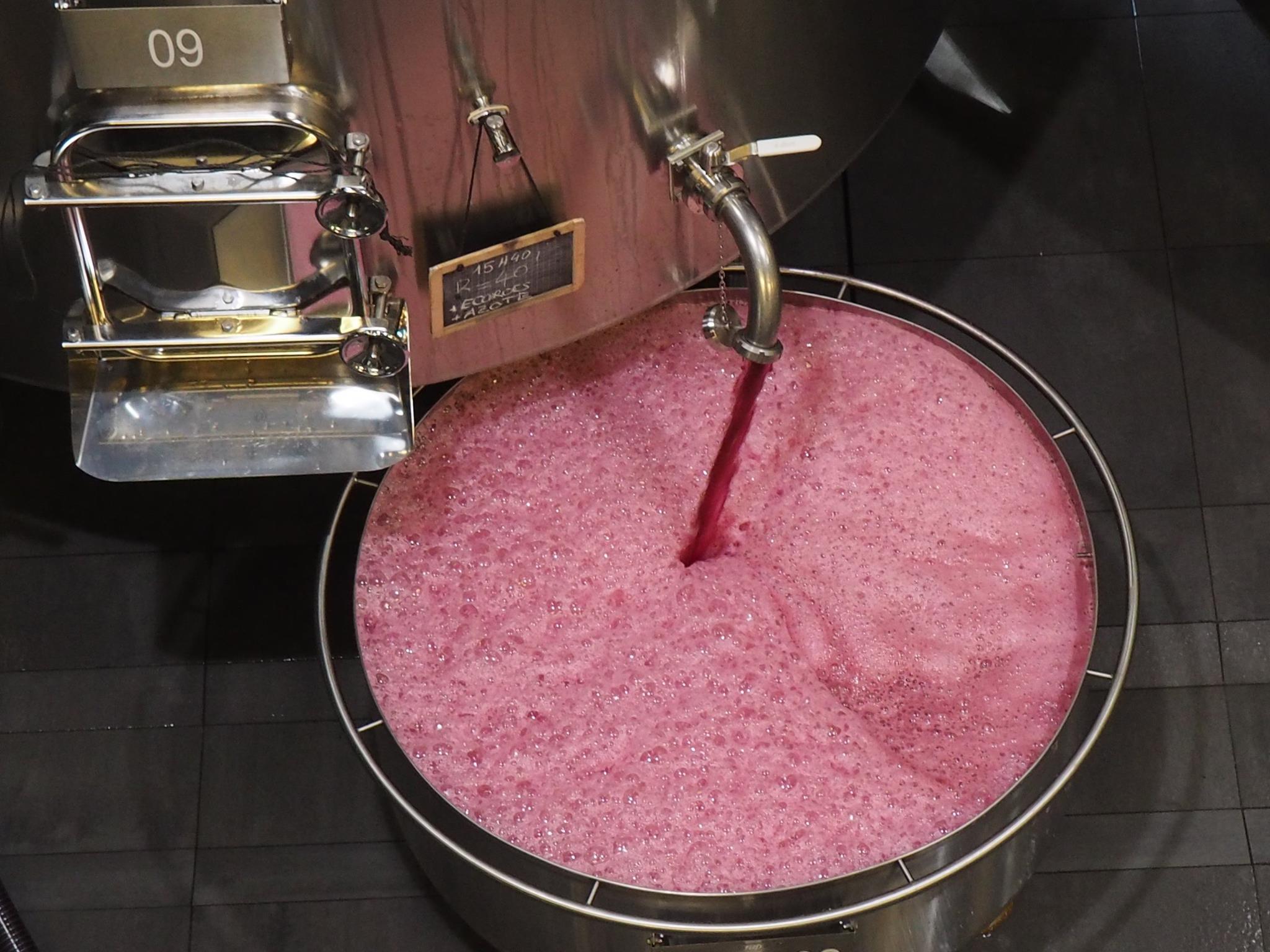 Remontage (pumping over) at Pichon Comtesse
Beychevelle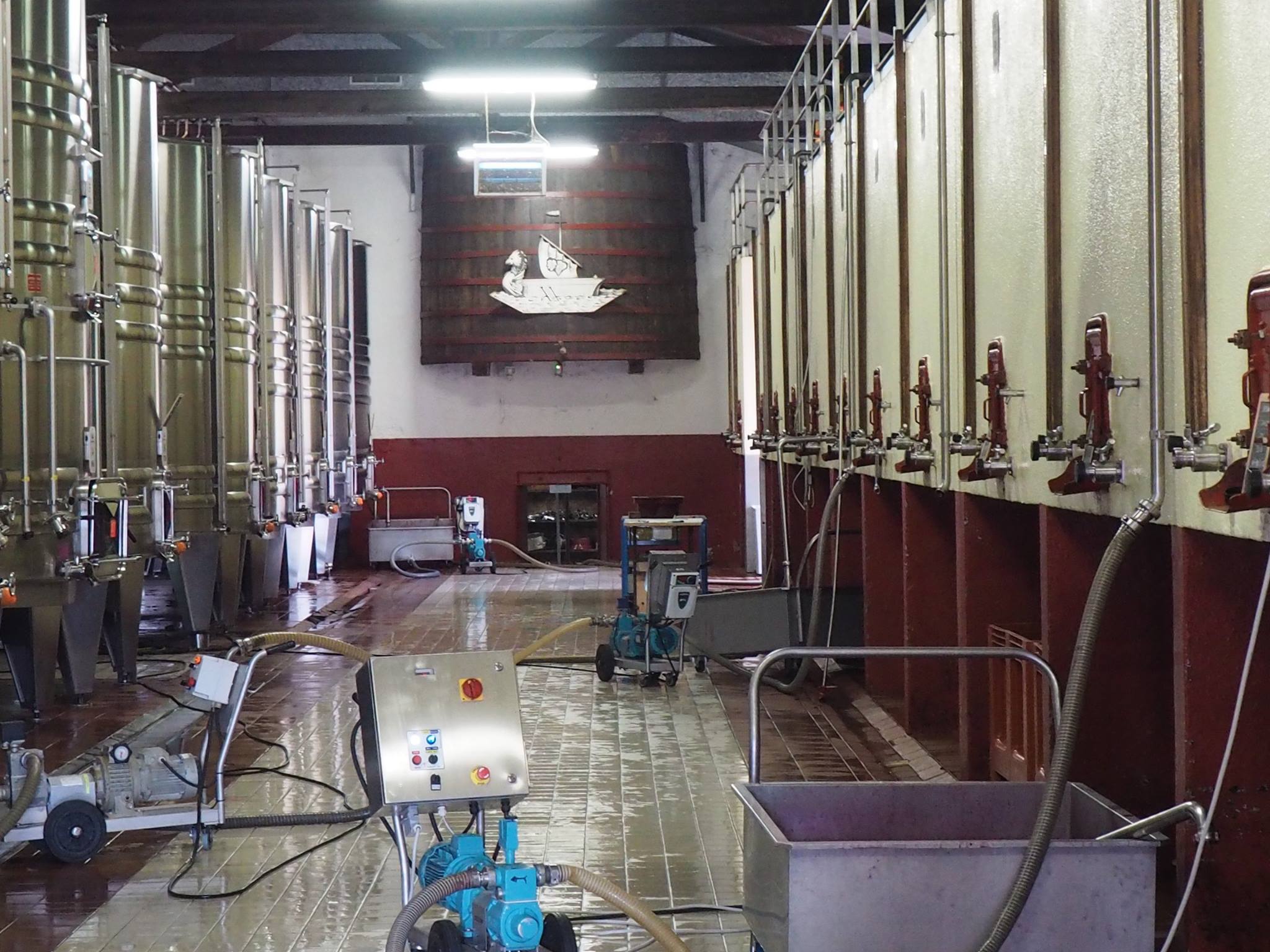 This cellar will be soon a distant memory because of modernization works taking place at Beychevelle
There's a lot of modernisation going on at Beychevelle. New cellar, new facilities like f.i. reception and tasting room. It'll very interesting to see how the new buildings will melt together with already beautiful other parts of this property, when the entire modernisation work is finished.
Merlot harvest started at 22/9 and finished on 29/9, Cabernet Franc and Cabernet Sauvignon started on the 30th September and were still harvested, while Petit Verdot would be harvested in all on the day of our visit.
I don't want to repeat myself too much, but Philippe Blanc, Beychevelles manager, expected as other winemakers in Bordeaux, 2015 to be very close to 2005. He arranged a little vertical for us.
2014 Amiral de Beychevelle - 57% Cabernet Sauvignon + 43% Merlot. Big acidity, meaty with earthy flavours, tannic. Very different from tasting it in March this year, where this wine was rounder, fruitier and more accessible. 88p.
2014 Beychevelle - 39% Cabernet Sauvignon, 51% Merlot, 5% Cabernet Franc and 5% Petit Verdot. Very aromatic, velvety, excellent acidity, full of blackberry fruit, pure elegance and finesse, lot of style and long aftertaste. More tannin detectable this time. Sublime effort and kudos to Philippe Blanc for creating this beauty! 94+p.
2012 Beychevelle - 47% Cabernet Sauvignon + 44% Merlot + 4% Cabernet Franc +5% Petit Verdot. Very aromatic, fine ripeness for the vintage of both fruit and tannin, a bit light but very seductive, long fruity aftertaste. 92p.
2011 Beychevelle - deeper and longer than 2012, stronger structure, creamy fruit. 92+p.
2010 Beychevelle - 54% Cabernet Sauvignon + 38% Merlot + 5% Cabernet Franc + 3% Petit Verdot. Aromatic, chocolate, cacao, fat fruit and tannin, sophisticated and refined, long, rich and with great complexity. Beauty wine and extremely graceful one. 95p.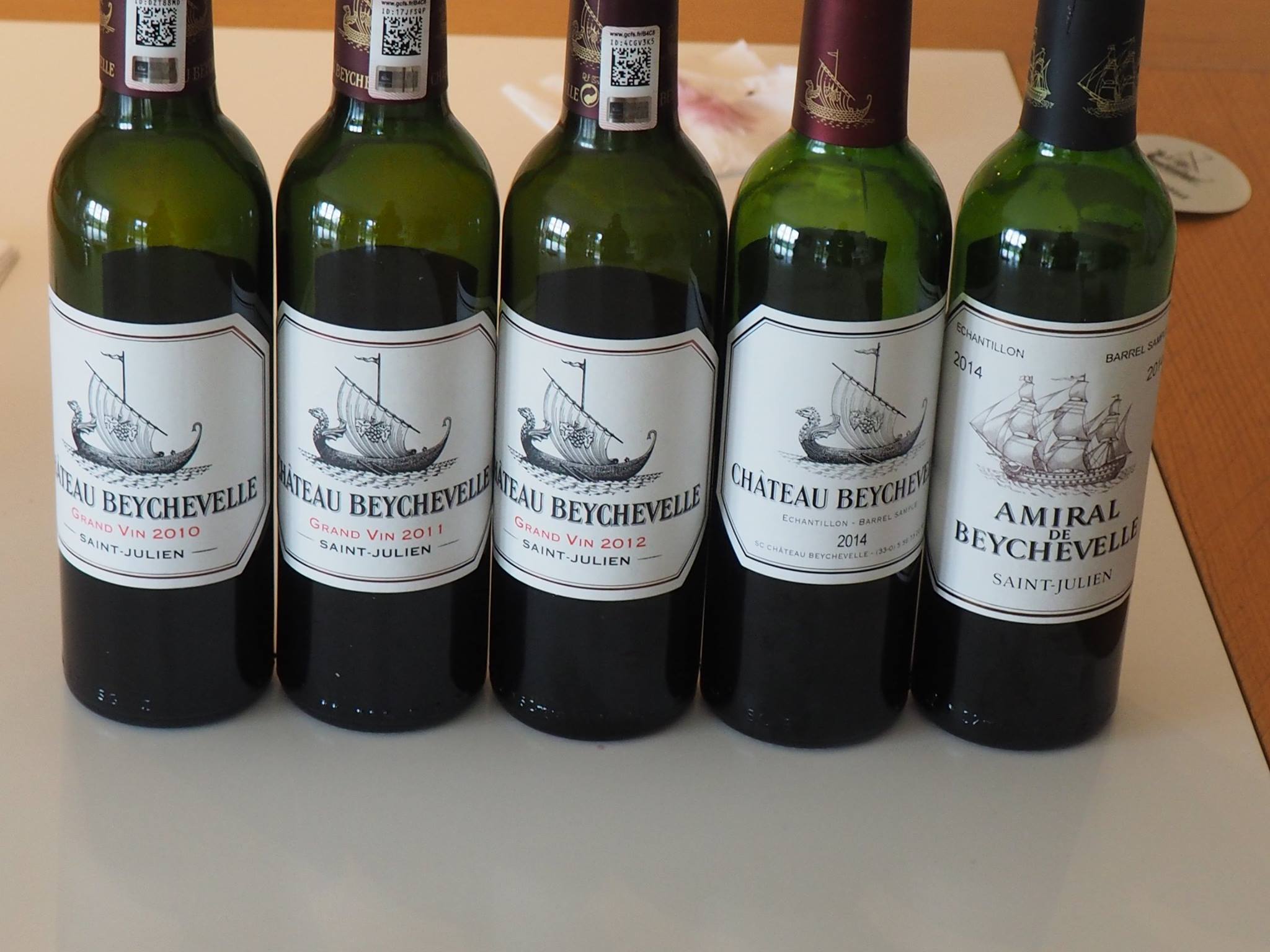 Tuesday the 6th October
Palmer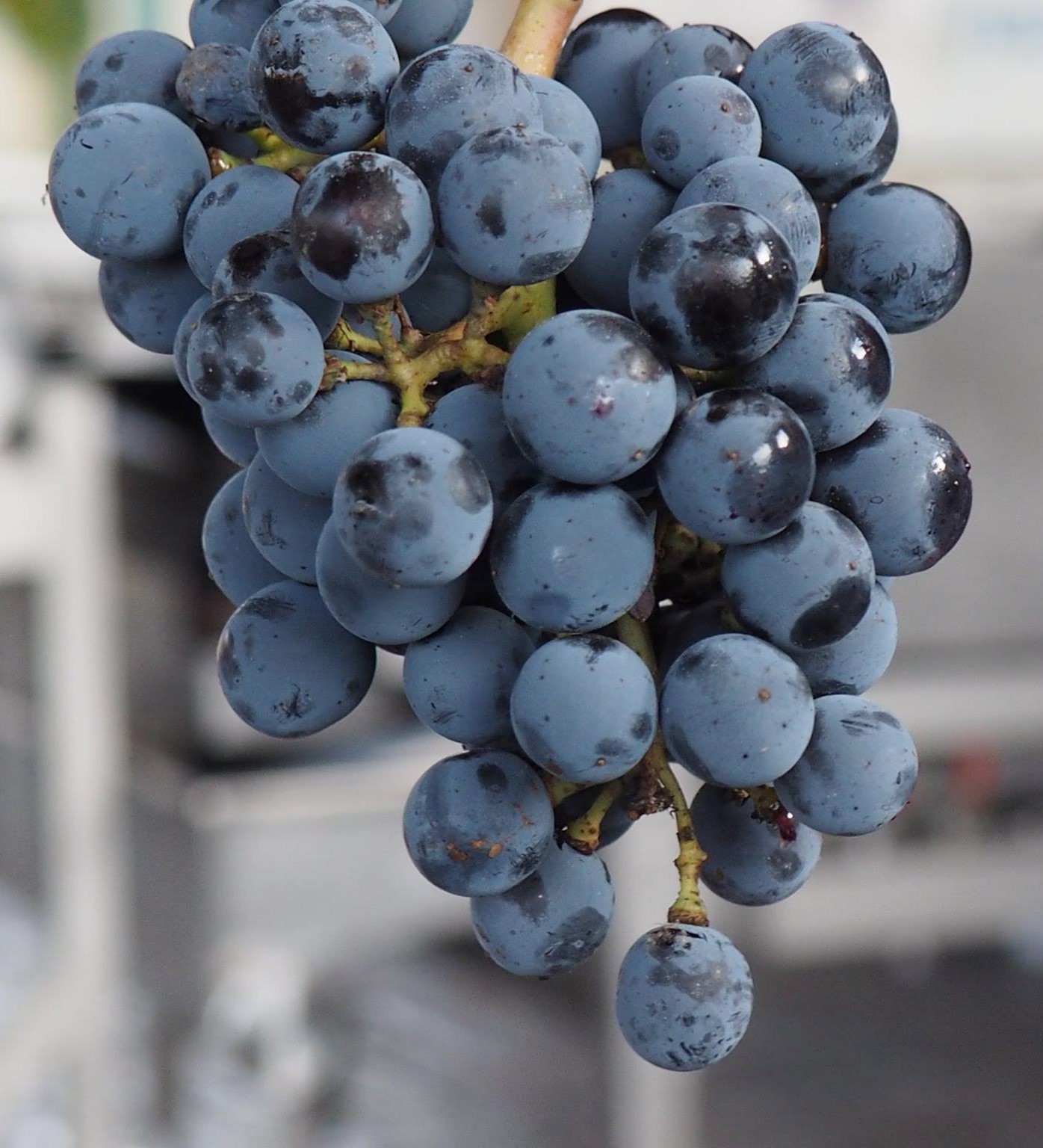 Perfect Cabernet Sauvignon at Palmer!
My only visit of the day and last one of my trip. They harvested Cabernet Sauvignon and wanted to finish at the latest next day. Harvest of Petit Verdot finished on Monday the 5th October. It seemed to me that they were a bit afraid of possible more rain coming, so there was a little hurry. Cabernet Sauvignon looked stunning and my host for a day, Chris Myers (Palmer's export director for Europe), told me that until mid-September 2015 looked a copy of 2010 vintage, but then hopes faded a bit because of rain.
Chris Myers arranged a little vertical of Palmer for me - 2012-2011-2009-2005.
2012 - 48% Merlot + 46% Cabernet Sauvignon + 6% Petit Verdot. Really splendid, well-knitted. fine acidity, great complexity and sheer class, sophisticated and with a long finish. Fabulous style. 95p.
2011 - 55% Merlot + 45% Cabernet Sauvignon. Quite similar to 2012, but more concentration here and more softness. Aristocratic. 95p.
2009 - 52% Merlot + 41% Cabernet Sauvignon + 7% Petit Verdot. meaty, excellent complexity and structure, refined and deep. Very stylish and sophisticated wine with an extremely well-established combination of elegance and power. A wine of great charisma and excellent quality. 97p.
2005 - 40% Merlot + 53% Cabernet Sauvignon + 7% Petit Verdot. Great stuff with grace, finesse and elegance. Incredibly classy and stylish. Immense depth and complexity. Fantastic effort. 97p.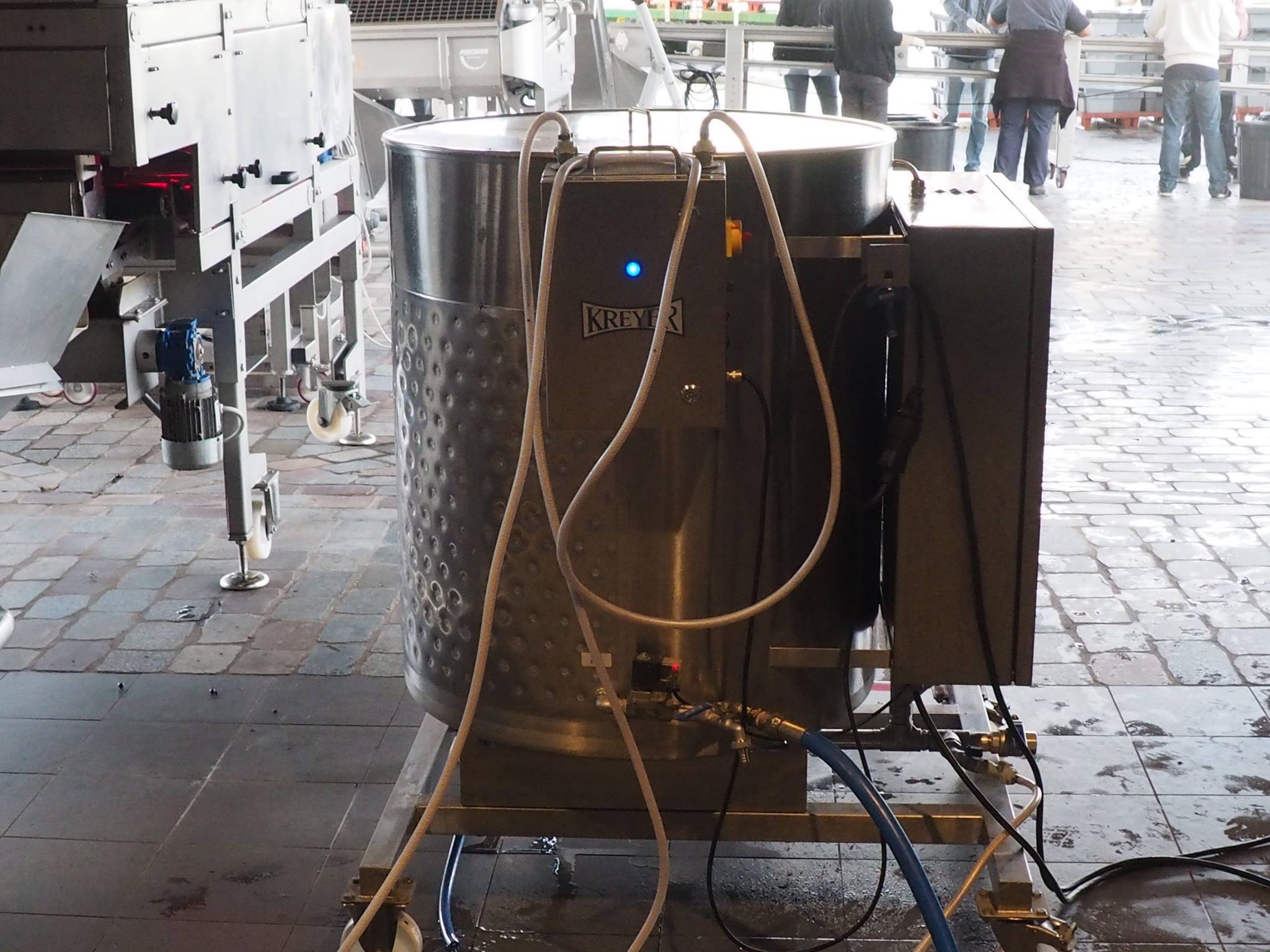 This machine (picture above) at Palmer adds microorganisms for fermentation while grapes are transferred to vats, so the use of sulphur can be vastly decreased.