I spent two weeks in Bordeaux from mid-April, tasting approximately 350 barrel samples of 2022 vintage, close to 80 2020s, and a few 2021s.
I won't write a long poem about the weather. My dear colleagues in the wine writing business have fully covered this topic. You can find details about it month by month in many places on the Internet, so I only will put the essential info here.
2022 was a year of extremes in Bordeaux with frost, forest fires, lack of rain, and several heat waves. Winemakers had to be careful in the vineyard and not do the green harvest. Some properties sprayed leaves in the vineyard with finely pulverized white clay mixture to cool vines down.
Alfred Tesseron told me while tasting his 2022 at Pontet Canet – "It was difficult to do nothing in 2022 vintage!". Why? Because this vintage required minimum intervention in the vinification cellar, meaning gentle extraction/maceration at max. 25-26 degrees C and very few pump-overs/punching down the cap. This was how to handle these very concentrated small grapes Mother Nature presented for winemakers.
Because of high temperatures, and lack of water, you will see low yields in several places in Bordeaux, but only in some places. It was an early harvest for many years, taking place at the beginning of September.
Although 2022 vintage can be similar to 2003 weather-like, you can't compare them. Technology, vineyard management, and vinification were much better in 2022. Vines adapted exceptionally well to extremely challenging weather conditions, producing grapes of outstanding quality. You will find a few over-extracted and overripe wines here and there in Bordeaux, but there were a few around them.
Red wines are very strong on both banks, and there are some potential legends among these with the prospect of achieving three-digit scores. They're followed by a large group of im impeccably made wines with ratings in the high nineties. You can't say 2022 is a consistent vintage everywhere in Bordeaux, but several properties have made their best wine ever. It's difficult to say which commune/district/area is the best-performing one, and you would immediately think wines produced from limestone/clay soils are the best. Yes, it's true, but many properties on gravelly/stony soils did as astonishingly well.
White dry wines are of excellent quality, tasting very lemony among many wines and with fine minerality. They could use more acidity, but weather conditions didn't allow it. Wines are similar in style to 2020 vintage.
White sweet wines will enjoy a great vintage thanks to the excellent quality of botrytized grapes harvested in October/November, meaning big concentration and great acidity.
Primeur prices have just started to come out (mid-May 2023), and they are higher than for 2020 vintage. To buy or not to buy? Difficult question because Bordeaux already has 2016, 2018, 2019, and 2020. It's totally up to the wine consumer and his money!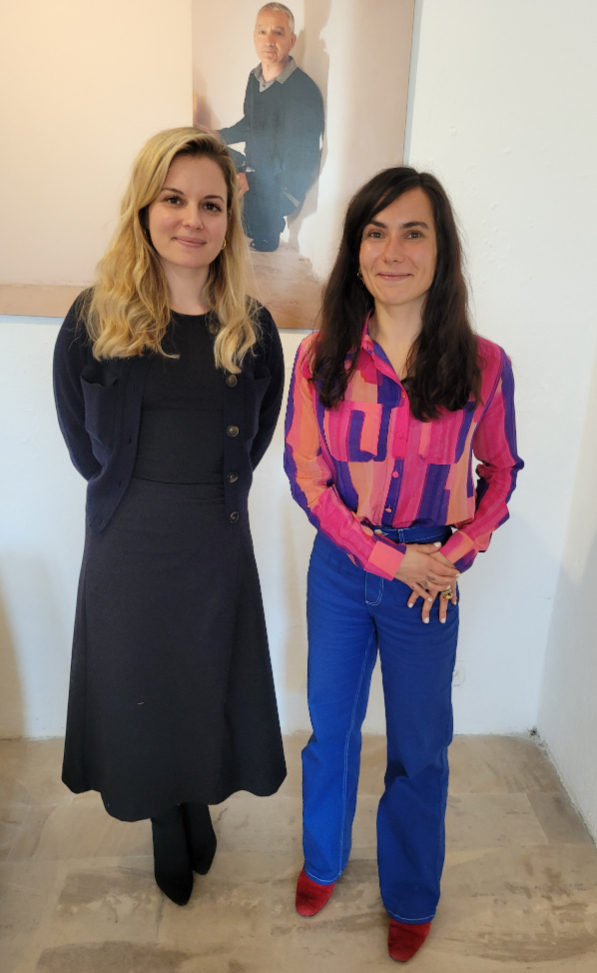 From left - Constance and Nöemie Durantou. Denis Durantou looks like watching over them from the picture on the wall and saying, "You did an excellent job, my dear daughters," because 2022 vintage is fantastic here!!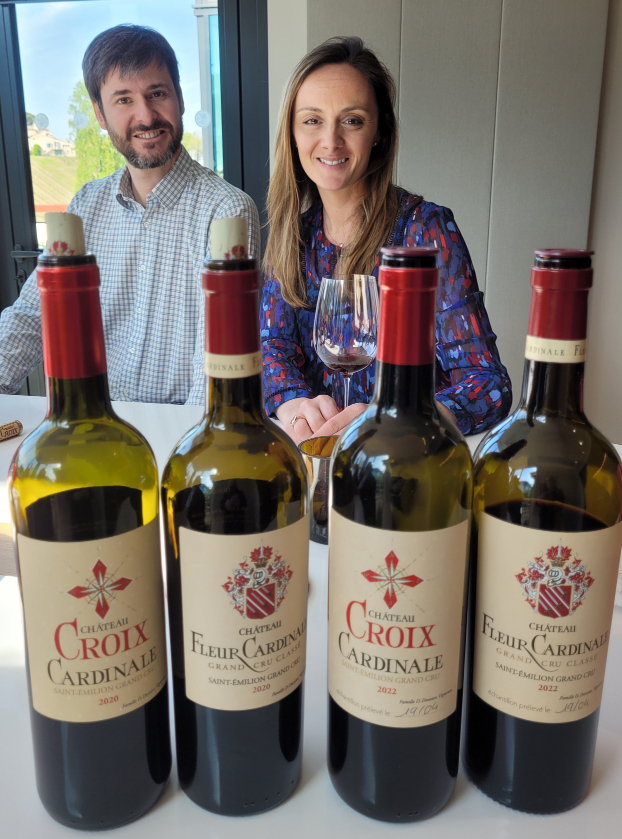 Ludovic and Caroline Decoster. Their wines rock heavy in 2022 and 2020 vintages, and they are true rock star vignerons in Bordeaux!
SAINT EMILION
Beausejour Duffau Lagarrosse
Josephine Duffau Lagarrosse arrived at BDL in April 2021, after working for Bernard Magrez. Before her stint with Bernard Magrez, she gained a lot of winemaking experience in Napa Valley, New Zeeland, Mexico, and Burgundy (Domaine Georges Noëllat in Vosne Romanée). She corrected the blend of 2020 BDL (done originally by Nicolas Thienpont and David Suire) by adding more Cabernet Franc at the expense of Merlot. 2021 was the first vintage of her own.
The soil here, a limestone one, is exceptional, and in 2022 it's "cooled" down the vines with a fantastic result! For me, 2022 marks a style change towards a more elegant, refined, and sophisticated one than vintages 2019, 2018, and 2016. A wine with a well-integrated mix of finesse and underlying power, minerality, and Burgundian delicacy and opulence of highly-esteemed Grand Cru wines from Chambolle Musigny/Gevrey Chambertin. The blend has 10% more C. Franc than in previous vintages - 69% Merlot + 31% C. Franc, pH. 3.5, harvest of Merlot took place from the 6th to the 9th of September, and C. Franc was collected on the 23rd of September. ABV is 14.9%, but you can't feel it while tasting. This is a mind-boggling effort and clear proof of extraordinary winemaking skills from Josephine Duffau Lagarrosse. Bravo!! 98-100p.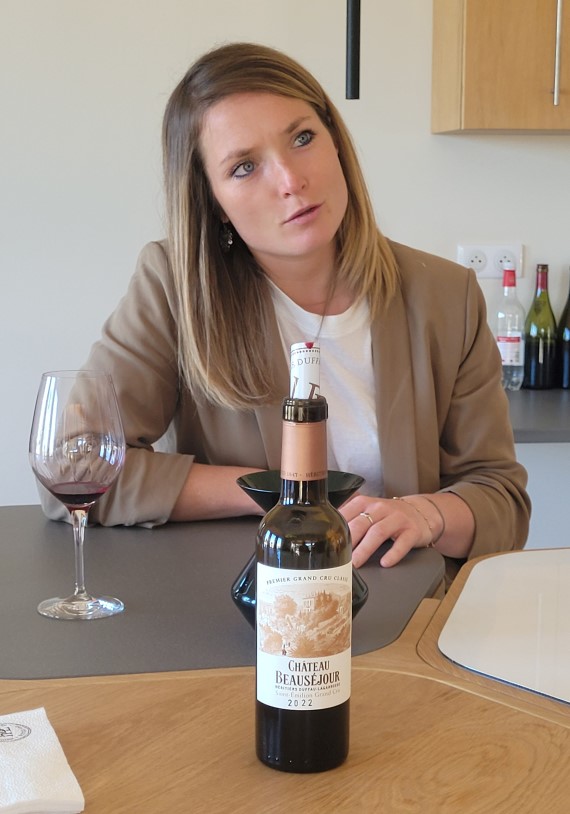 I also tasted excellent and still improving 2021 (95+p) and fabulous 2020 (98+p), and the tasting was an excellent opportunity to compare all three vintages.